Tower 10'4'' Mermaid iSUP Review
Pros
Manages mild chop well thanks to the nose rocker and touring-style tip.
Takes little effort to turn and maneuver due to it being a 10'4'' x 32'' SUP.
The deck pad is comfortable and provides nice traction. It's thick yet soft and has deep-cut diamond grooves.
Minimal clutter on deck! The simple and sleek design has just enough room for personal items and that's it.
Very affordable board that comes with a 3-piece paddle, a hand pump, and a center fin.
Cons
We would love for Tower to include a leash in the package.
We'd prefer a snap-lock center fin with a US fin box so you have the ability to swap out the fin for one of your choice.
Adding a splash of color to their 10'4 iSUP lineup is the Mermaid by Tower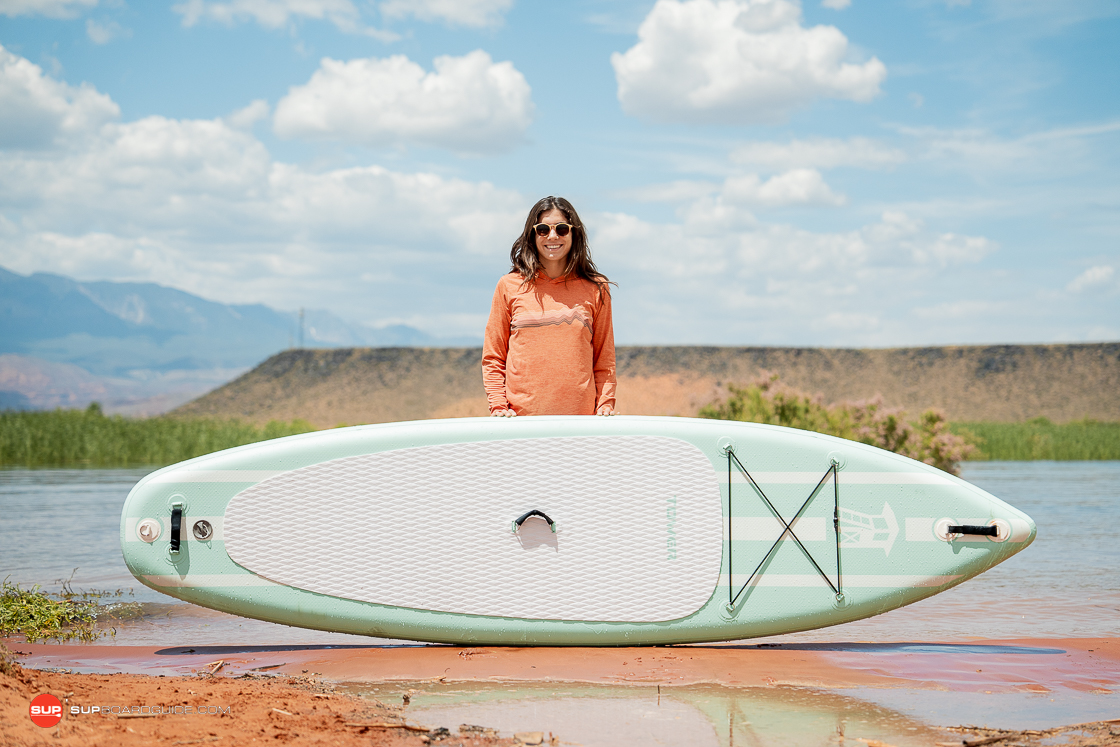 This Tower 10'4 iSUP review is similar to our Tower 10'4 Adventurer 2 review, and that's simply because this SUP has the exact same dimensions and specs as it, but with a new stylish color – light teal! The Tower 10'4 Mermaid is an inflatable sup board that we found to function well as an all-around for small to average-sized paddlers.
Its widest zone is 32'' wide and extends towards the tail and the nose before tapering into a touring-style point. Because the wide zone extends out and puts a large amount of even surface area in direct contact with the water, it has a nice stability that supports beginner paddlers. Because it has a touring-style nose, it is able to move over chop more easily than a more typical, rounded-nose all-arounder would. Additionally, it's only 10'4'' long, so it's very maneuverable. Overall, it has a nice feel on the water and is best suited for smaller paddlers, or those more slightly more skilled paddlers who want a maneuverable iSUP.
We think the Tower 10'4 Mermaid would be a great SUP for paddlers who:
Are under 6' and 190 lbs and are looking for a maneuverable all-around iSUP at a great price
Like a touring-style nose instead of a rounded one
Prefer a simple deck pad with only one bungee cargo holder for personal items
Tower 10'4 Mermaid: Spec Sheet

Main Category: All-around
Board Dimensions: 10'4 x 32'' x 6''
Listed Board Weight: 26 lbs
Listed Max Capacity: up to 400 lbs
Recommended PSI: 12 PSI
Fins: 2 + 1 plastic single center fin
Paddle: 3-piece fiberglass
Materials: Double-layer hand-glued
Warranty: 2 years
Performance Review of the Tower 10'4 Mermaid Stand Up Paddle Board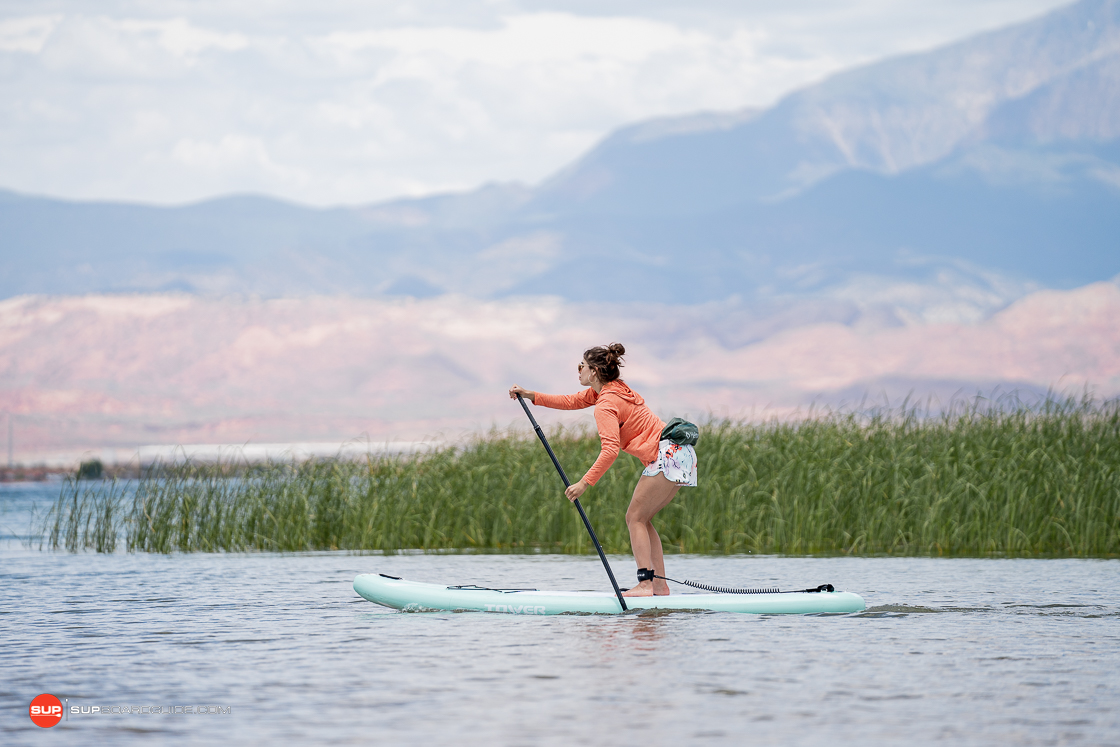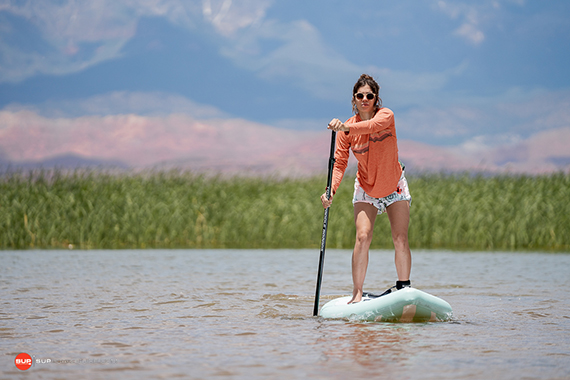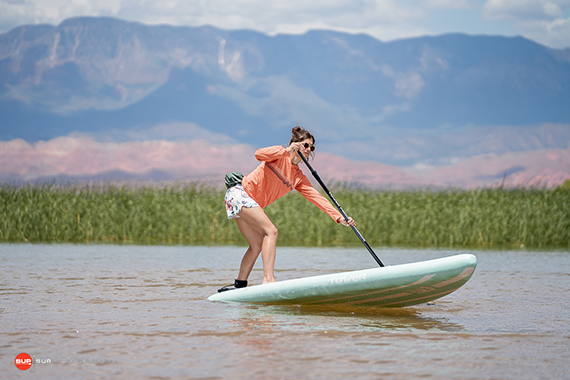 Overall Score: [8.1/10]
Stability: 8.1/10
Speed: 7.7/10
Tracking: 7.8/10
Maneuverability: 8.8/10
Construction Quality: 8.2/10
Features/Accessories: 8.2/10
Stability Rating: [8.1/10]
The Tower 10'4 Mermaid is reasonably stable for smaller to averaged-sized paddlers due to being 32'' wide, with the wide zone extending towards the tip and tail of the board. This gives it a large chunk of even/flat surface area in direct contact with the water. However, because it's only 10'4' long with 4 inches of nose rocker, only 10' of the board is actually in direct contact with the water. Being quite a short board, we found our team members who are over 6' and novice paddlers to struggle with finding their balance on this SUP. But that's not to say that you won't be able to find your balance, say if you're an experienced paddler or you are willing to work through the learning curve and develop more balance.
While Tower does have the X-class Xtreme board that is meant for larger paddlers, it is still 10'4'' with nose rocker. We would like to see Tower create an all-around style board that is longer (perhaps up to 11') with the same 32'' width, so taller and heavier folks who are new to paddleboarding have an easier time finding their balance right off the bat.
Speed Test: 7.7/10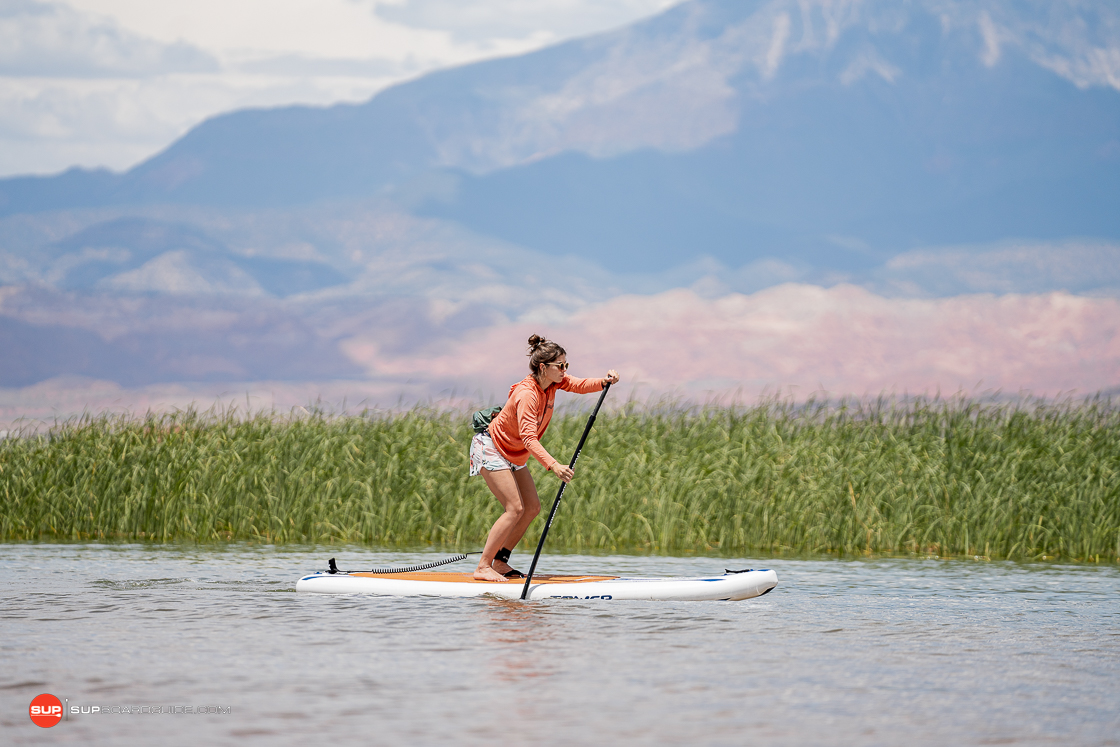 | | |
| --- | --- |
| Top Sprint Speed: | 4.95 MPH |
| Average Cruising Speed: | 3.9 MPH |
SUP Board Guide's Speed Testing:
To obtain our speed test results, we use a Speed Coach Sup 2. This gives us accurate readings on how fast we are paddling and our current stroke rates. For the top sprint speed, we paddle as hard as we can for approximately 10-15 seconds and then record our average speed. For the casual test, we paddle at 40-35 strokes per minute for approximately 30-60 seconds and record the average speed.
Although hardly a speed demon, it's still possible to maintain a comfortable cruising pace and push it slightly faster if you want to. Its dimensions—10'4″ x 32″—and general layout are designed to be entertaining rather than fast.
Tracking: 7.8/10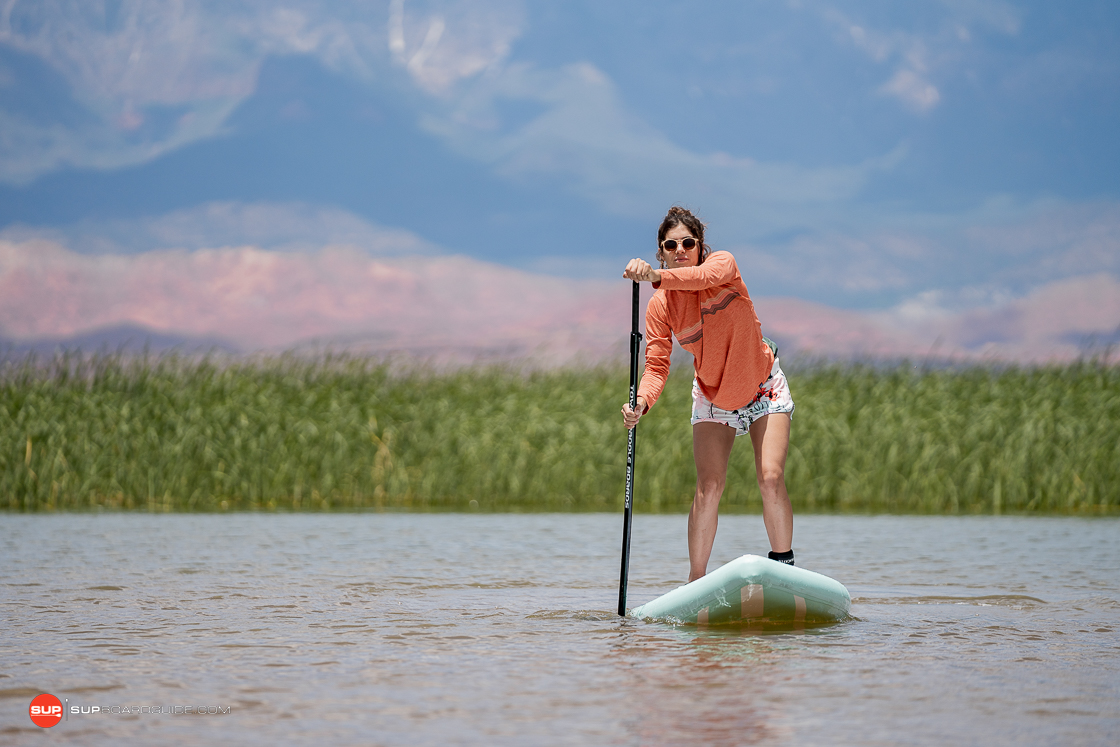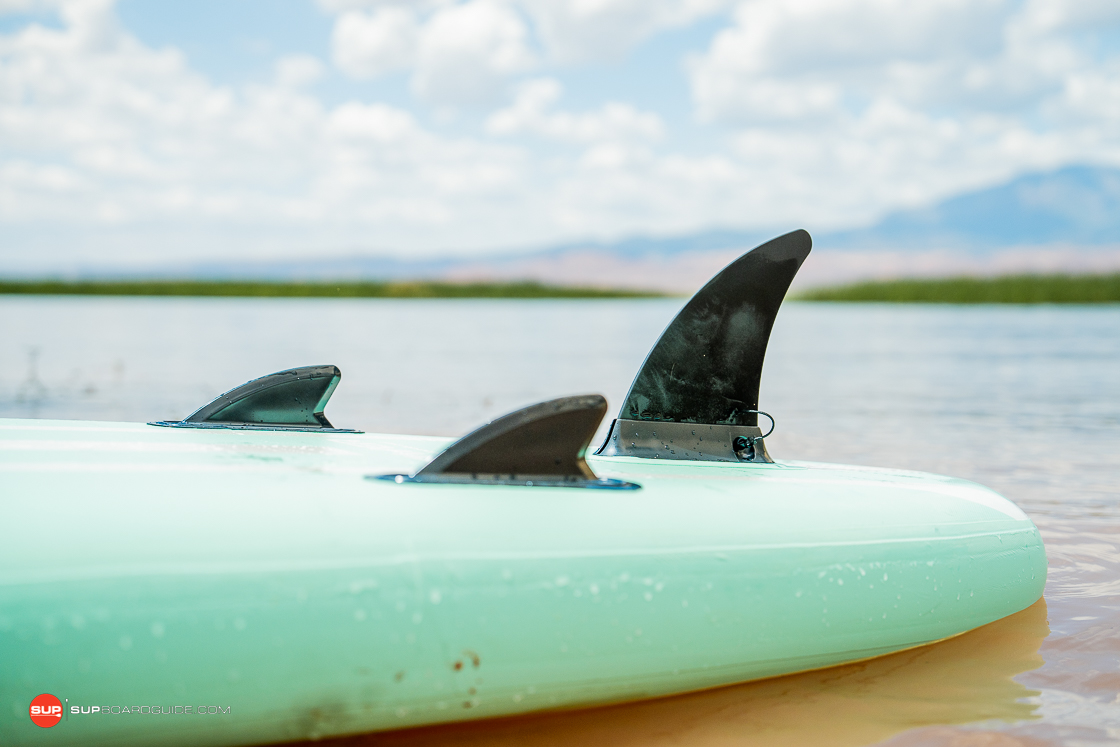 Although a 10'4'' x 32'' iSUP is always going to be more maneuverable than trackable due to its shorter length, it still tracks well enough to paddle forward with about 5 strokes on each side. Using a bigger fin would further improve the tracking. However, that is not an option because the board is not equipped with a fin box that allows for swapping fins out.
We would love to see Tower use a more generic fin box so folks have the option of using a larger fin, or even a smaller one if they want to paddle in shallow waters.
Maneuverability: 8.8/10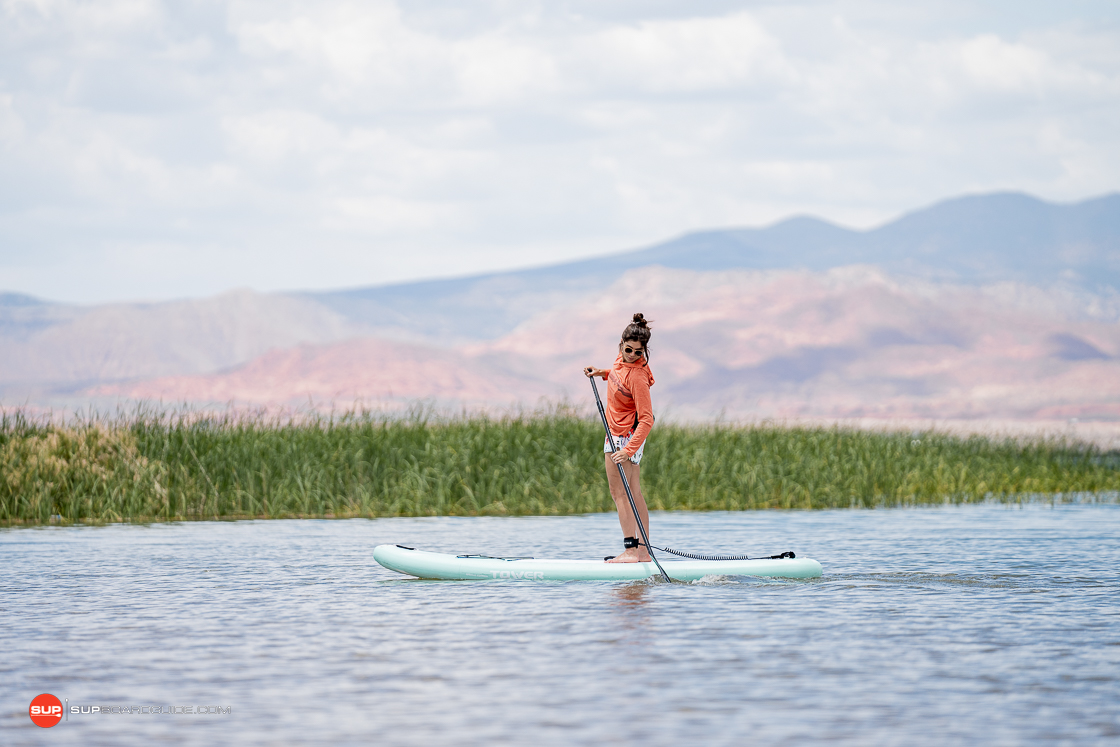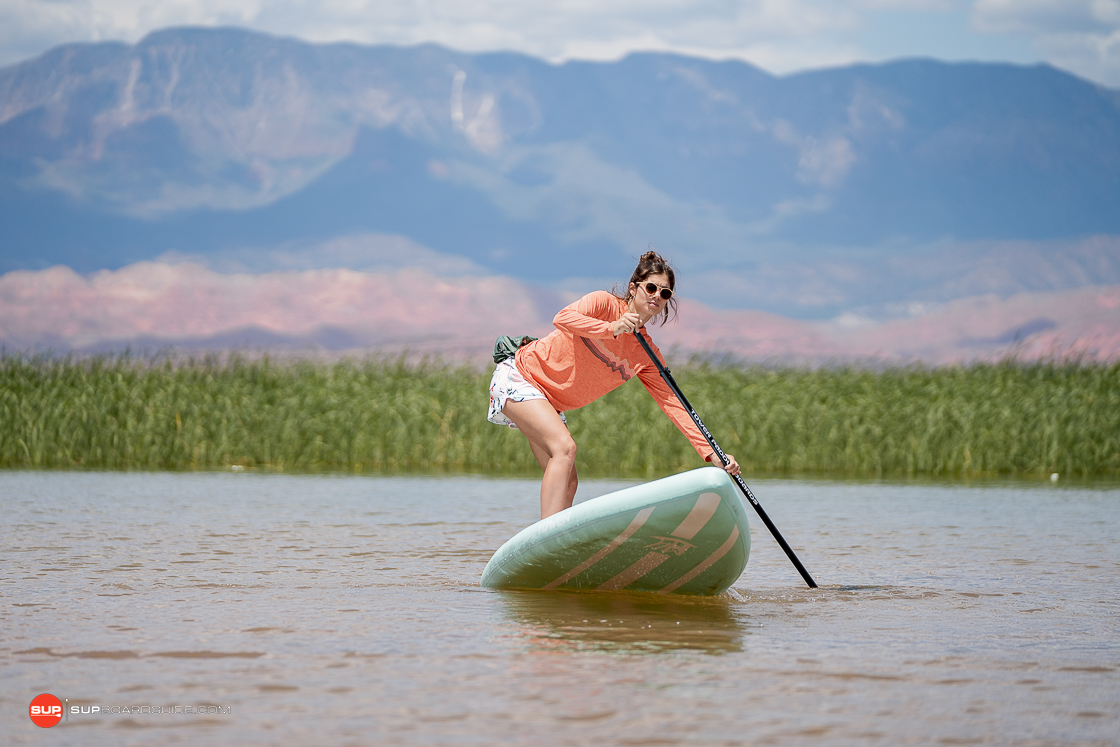 We already touched on the maneuverability capabilities of a shorter board in the tracking section of this Tower 10'4 Mermaid review, but to reiterate, this board is quite responsive to turning and steering. At 10'4'', it's even shorter than a standard all-arounder (usually about 10'6''). It only took us about 4 reverse sweep strokes to turn the board a full 360 degrees, which is a score that we consider to be very minimal and indicate high maneuverability.
As for step-back turns, it's fairly easy to get the board going and it is a fun board to practice these turns on. As you shift to the back of the board, the nose will naturally begin to lift. It weighs 26 lbs, as opposed to the Tower S-Class's 20 lbs, so the nose doesn't instantly begin rotating like it does on the S-class. With that in mind, you have a little more control when practicing your step-backs. Leave your paddle in the water at all times to help with balance, and put some pressure behind your stroke to get the board moving in a circle.
Construction Quality: 8.2/10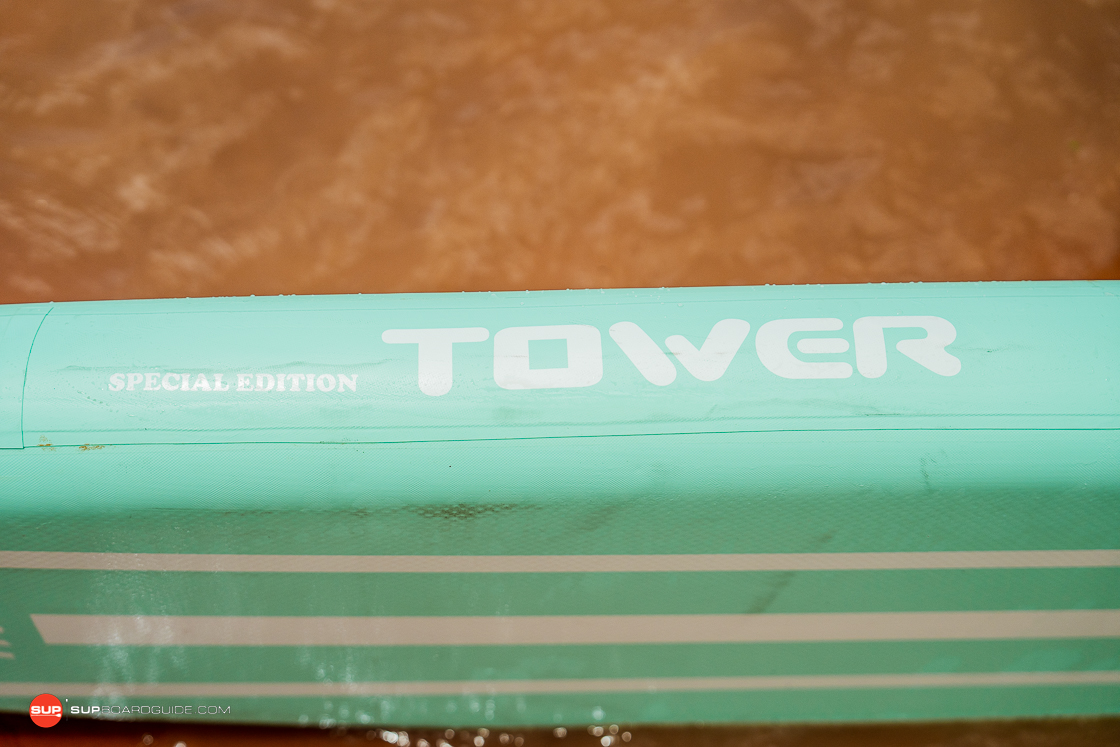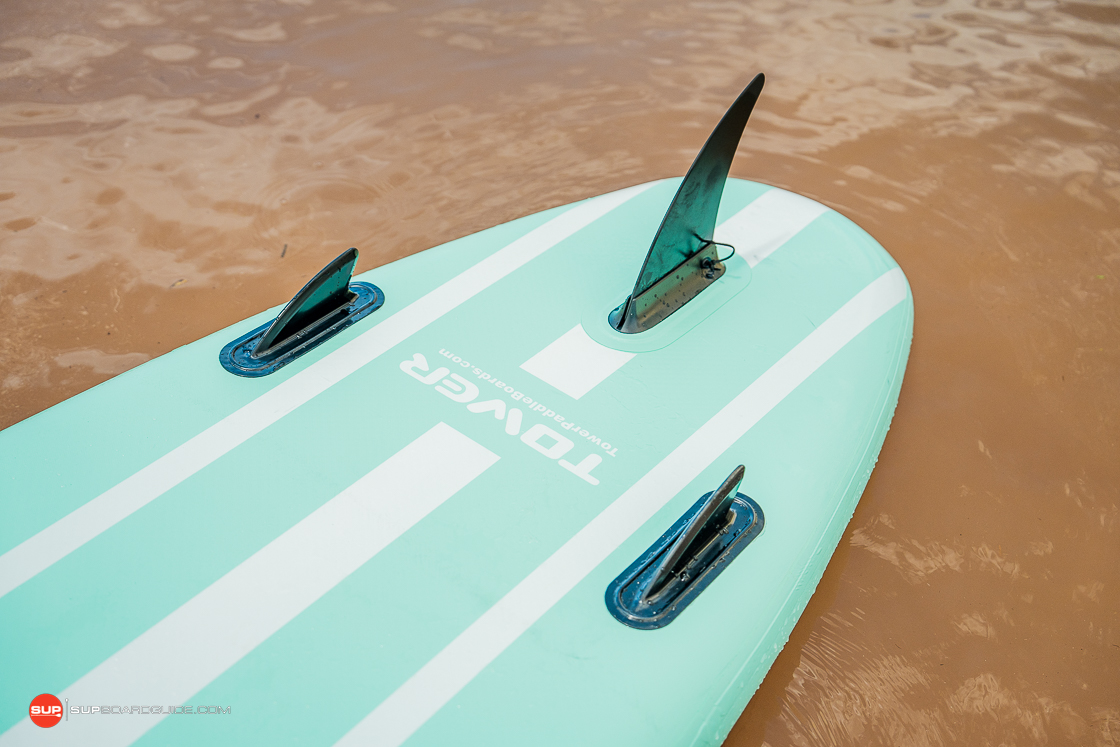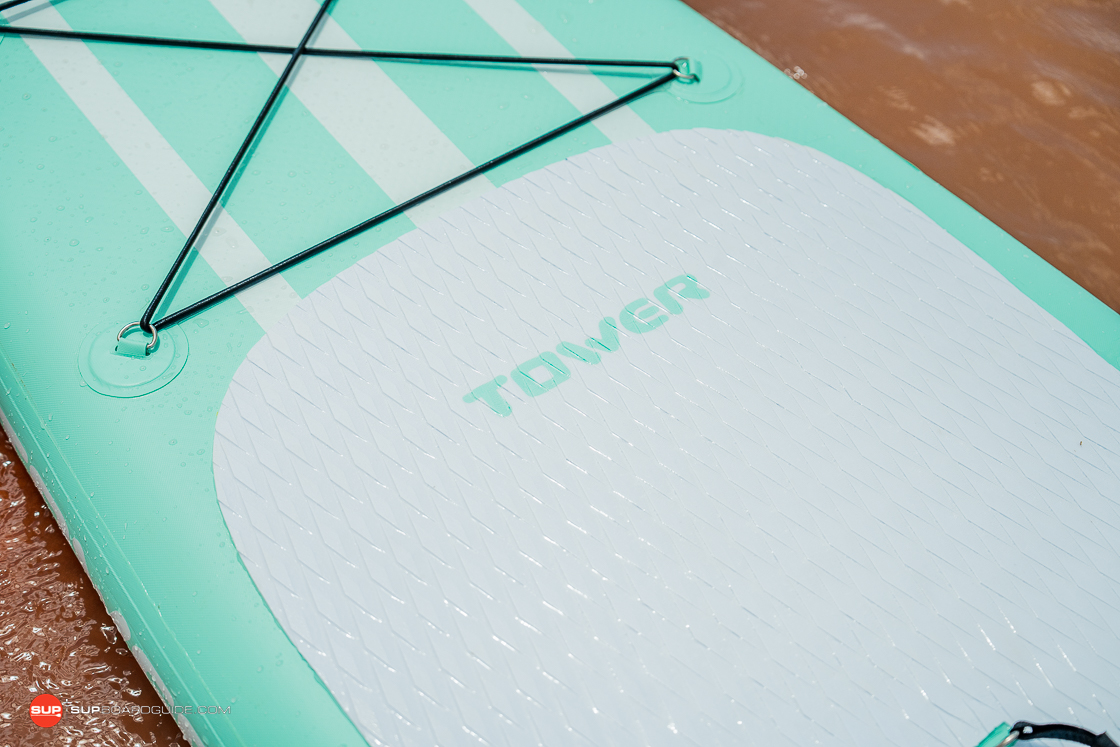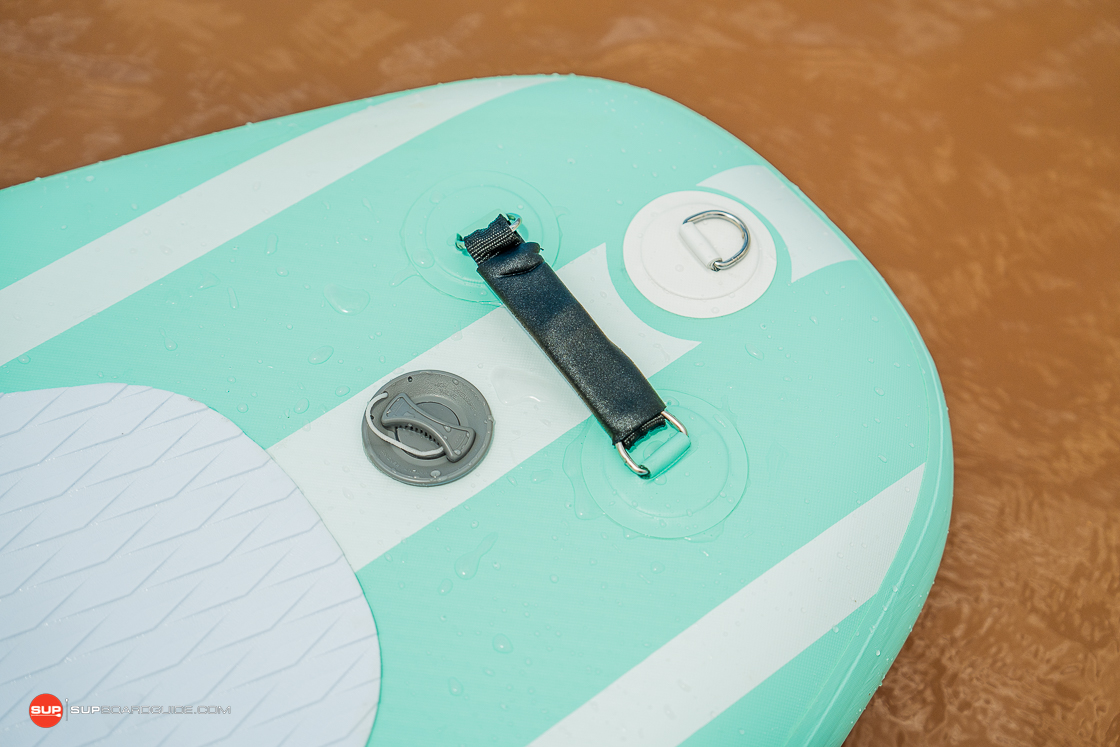 Tower describes the construction as a double-layer, hand-glued 6'' thick board. On the website, Tower provides an iSUP Construction Methods page that describes this in even more detail. For the double-layer boards, there is a graphic and key that shows the double-layer boards have a 2.2mm deck assembled by the method of a PVC Tarpaulin sandwich.
This 2.2mm deck is achieved by sandwiching a 500D 12×23 Scrim between two 0.7mm PVC layers. That makes up the 1.4mm PVC top layer that is then hand-glued to a 0.7mm PVC layer laminate that is adhered to the drop-stitch core. That brings it to the approximately 2.2mm in total top layer deck, which is repeated on the hull as well. Tower makes it clear that these are all approximate measurements, which is why the total does not come to exactly 2.2mm. The drop-stitch core is described as being made out of warp-knit polyester yarn.
The Tower 10'4 Mermaid differs from the Tower S-class because there is no fusion method involved, which is the process of using heat and pressure instead of glue. While we have seen both fusion and non-fusion construction processes produce great boards, we cannot say for certain which construction method turns out more durable/rigid boards. We like both construction methods, and only time will tell which method lasts longer.
Board Stiffness: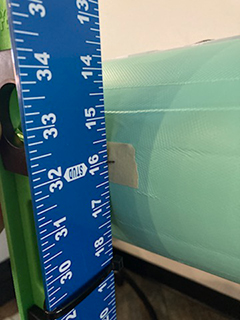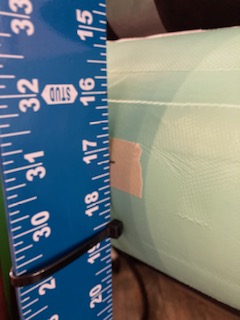 Stiffness Test: 1.125" Bend
SUP Board Guide's Bend Testing:
In order to attest to the rigidity of each board, we use a bend test curated by Supboardguide. In order to obtain the results, we inflate the board to its maximum recommended PSI and then place it across two sawhorses that are 7 feet apart. We then take a measurement in the middle of the board. Then, we place 150 lbs worth of sandbags on the middle top of the SUP. Last, we record its displacement (the movement from its original position). We use this method for every board we test as a way to mathematically compare boards across a common denominator.
After placing 150 lbs worth of sandbags on the top middle of the Tower 10'4 Mermaid, it bent 1.25 inches. This board has a recommended capacity of 12 PSI, and with that in mind, we are very satisfied with its bend test results. Bending barely over an inch at 12 PSI is a solid score.
Features/Accessory Review: [8.2/10]
Features:


The Tower 10'4'' Mermaid has minimal features. There is only one bungee cargo area on the nose, which is sufficient for storing personal items such as a water bottle(s), a small dry bag, shoes, etc. The deck pad extends up to the start of the cargo area, and back to the valve. You may step on the valve when backing up. Which in a positive light, you could use as your indicator for being far back enough for a step-back turn. It's also very comfortable. It's thick and cushions your feet, and has deep diamond grooves that are great for both traction and minimizing the amount of water that pools on top of the board.
There are three carry handles in total: one on the nose, one on the tail, and one in the middle. This makes it an easy SUP to either carry by yourself or with a partner, as well as launch off of the shore. While we could recommend that Tower be less conservative in the features arena and perhaps add an action mount, we actually like this minimalistic design because we think it is practical and caters to those who want to fitness/recreational paddle without any fuss at all.
Included Accessories: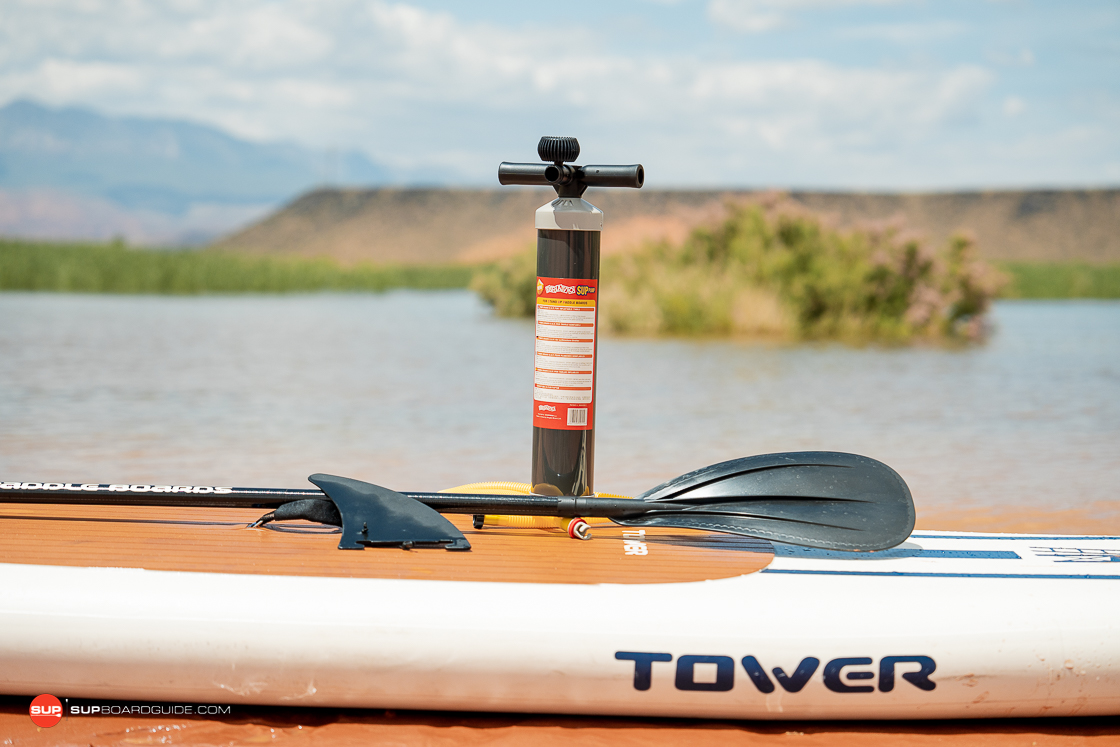 You can either purchase the Tower 10'4 Mermaid as a stand-alone board with the fin or as a package deal. If you purchase the package, you will receive the iSUP, a 3-piece fiberglass paddle, a hand pump, and the fin. As a package, the price only increases by 48 dollars, so we can't see any reason to choose just the board unless you already have a favorite paddle. Of course, this is a budget-friendly board so don't expect the 3-piece paddle to be top-tier. It gets the job done, but it is not spectacular. For novice paddlers or for those who just want to have some fun, you will be happy with the package deal. If you're the type of person to put a ton of force behind each paddle stroke, you may notice that the paddle has some flex to it. If you want a SUP bag, Tower offers one on the website for only 59 dollars.
Summary Review of the Tower 10'4 Mermaid – 2023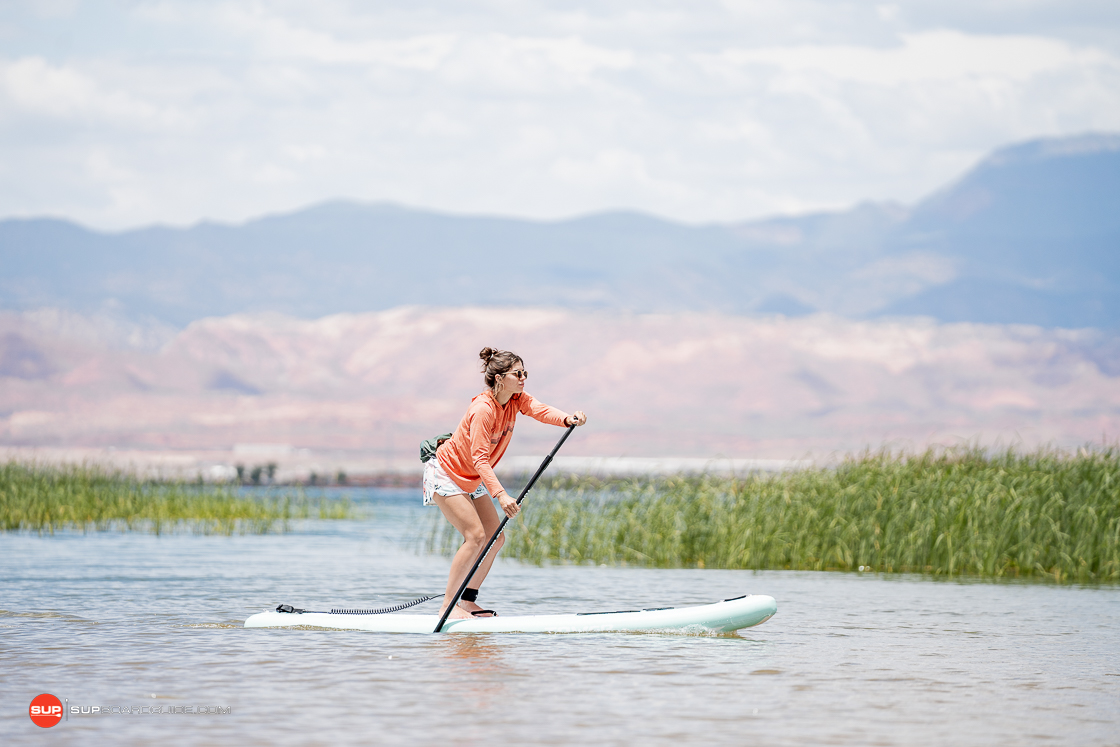 Overall, this is a fun little all-arounder for the small to average-sized person. It's a very maneuverable board, with a touring-style nose that makes it easier to move through mild chop. Overall, we think Tower would be suited to offer a second size option for larger paddlers, and lean even further into providing more color options to appeal to even more paddlers.
One final note to wrap up our review of the Tower 10'4 Mermaid SUP: While tower markets this as a board for women, in reality there aren't specific design features for any SUP which would only apply to a particular gender, and indeed the only difference in this board vs Tower's other all-around SUPs is the color. The size, shape, and features are all the same. We do like the color and would love to see more colorway options from Tower in the future.
Happy paddling! We hope you enjoyed this review of the Tower 10'4 Mermaid. If you have any questions or comments please leave us a comment below!
The following two tabs change content below.
Latest posts by Laura Coor (see all)