ERS 10'7'' Skylake Blue SUP Board
Pros
Good stability, beginner and teenage paddler friendly.
Very lightweight at just 21 lbs, but still very durable and offering good all-around performance.
Enhanced dynamic rail, increasing SUP firmness while keeping the board lightweight
Ability to really fine-tune fin set up via US fin box. Comes standard with 2 center fin options and 2 side fins.
Hybrid deckpad, extra traction in the back for advanced techniques, smoother surface in the center for comfortable paddling.
Adjustable padded backpack for comfortable carrying. Forward wheels for additional transportation options.
Cons
The lightweight SUP is easy to carry with the center handle, but a nose and rear handle would help even more.
Dual-chamber pump as an option would be great, though the electric pump is discounted with the purchase of a new SUP.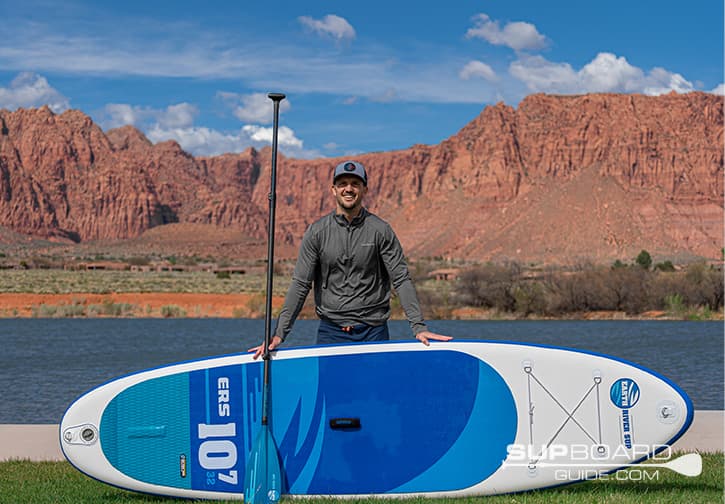 The ERS 10'7'' Skylake Blue is a very solid, clean, lightweight SUP for those who want an all-around focused on performance. The all-around shape board is great for light touring, racing, and even a bit of river running while being stable enough to accommodate beginners to SUP sports. The 10'7'' is very nimble and maneuverable, with the 5'' thickness lowering your center of gravity for increased stability, and will perform almost as well in calm and windy settings alike. The Skylake Blue kit also stands out with a highly customizable 4-piece fin set, further letting you fine tune your performance on the water. If you're looking for a lightweight SUP that is easy to hike with while still maintaining high levels of performance, consider the ERS 10'7'' Skylake Blue.
SUP Board Specs
Length
10'7''
Width
32''
Thickness
5″
Weight
21 lbs
Rider Capacity (lbs)
225 lbs
Recommended Inflation
12-15 PSI
Fins

Two US center fins (8″, 4.5″)
Two side click fins (4.5″)

Paddle Type
Carbon blend shaft, nylon blade, 25 ounces
Construction
Fusion:Drop Stitch Fabric + Woven Fabric + Plastic Coating
Who Should Buy This Stand Up Paddle Board:
As an all-around SUP, you'll be able to use the 10'7'' Skylake Blue for most types of paddleboarding activities and have a great time. Those we think will be able to enjoy the 10'7'' Skylake Blue the most include:
Recreational paddlers looking for a performance focused, lightweight SUP. For those beginner paddlers weighing more than 200 lbs, consider the 11' Skylake Blue instead.
Those who are getting into paddleboarding and want something that is very easy to handle.
Advanced paddlers who want something they can hike in with to tackle speedier, more challenging waters.
Paddlers who are interested in an all-around SUP that's good for touring, racing, and other casual activities.
Anyone who wants a smooth, clean surface and high quality deck pad.
We really like how the 10'7'' Skylake Blue performs in the water. For the best experience, try to stick to:
Wide open water areas like your typical lake, bay, or marinas.
Calm or slow moving waters. The 10'7'' Skylake Blue can handle some chop and wind without too much performance loss.
Some light surfing, once you've gotten some experience with the 10'7'' Skylake Blue.
For whitewater fans, we'd recommend looking at the ERS V3 version. You get the same shape but an additional PVC layer and higher performance.
Performance
Stability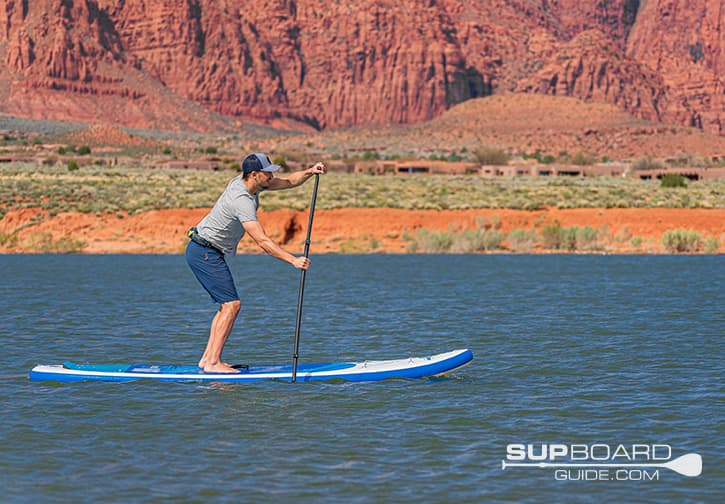 The Skylake Blue 10'7'' is a stable SUP with a recommended weight capacity of 225 lbs. Built with their very durable Skylake Fusion design, the 10'7'' is very solid to stand on while staying lightweight. There is also a dynamic rail system that will further help you feel stable as you're making turns or are paddling in rougher waters. This is a beginner friendly board that also allows you to really grow and develop your paddling skills.
We also want to highlight the 5'' thickness lowers your center of gravity, which in turn increases stability without having to significantly increase the volume and weight of the SUP. Those switching over from hard paddleboards will also find the 5'' thickness to provide a more familiar paddling experience compared to 6'' inflatable SUPs. If you are interested in yoga, ocean surfing, or river running activities, you'll have the stability you need coupled with great maneuverability, which you can read about next.
Maneuverability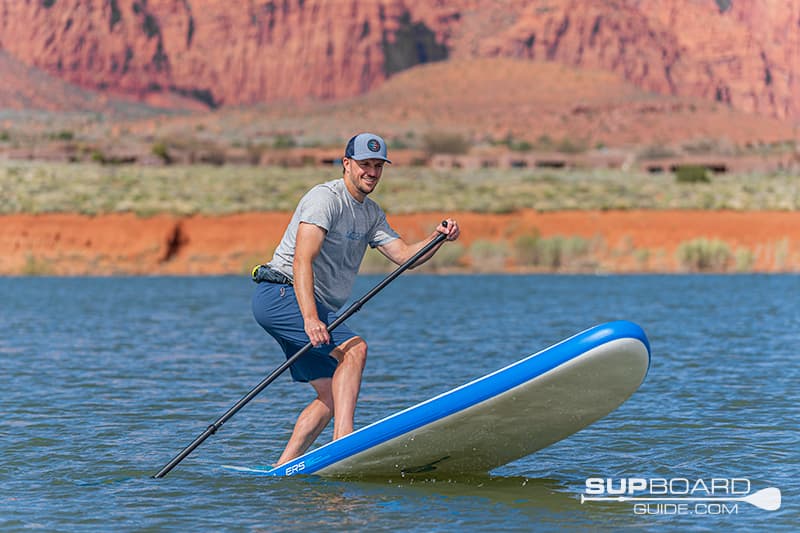 We love how nimble and maneuverable the 10'7'' Skylake Blue is on the water. It's very easy to turn around, whether it be with just a few twists of a paddle or a step back turn. This board also features a raised heel, making it easy to step back without even having to look down to check your feet placement. The arch support in the raised heel also helps you maintain your stability as you push the tail of the SUP down in the water. It's a ton of fun just to see how high you can raise the nose of Skylake Blue with your friends, if your group doesn't mind getting wet!
We also like how you can really fine-tune your fin setup to increase maneuverability, which is something that helps this board stand out in the performance-level category.
Tracking/Glide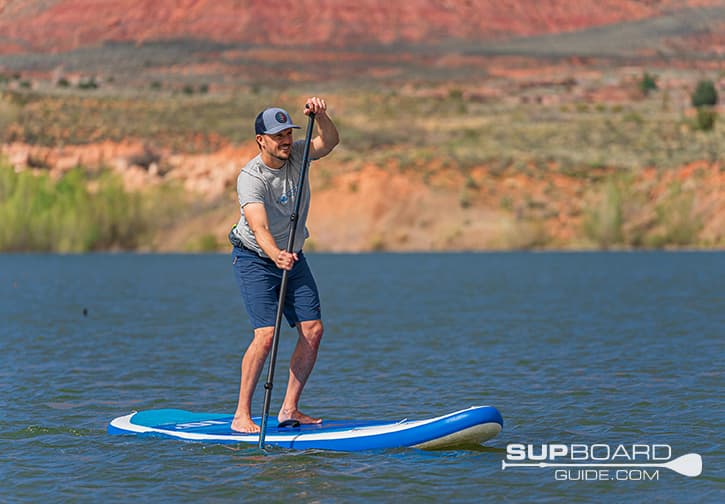 The 10'7'' Skylake Blue also has good tracking and glide, making it great for calm water and some moderately choppy areas alike. The rocker is moderately raised, helping the nose handle the swells that come your way. You'll feel yourself rising and dropping with the waves, but you should also feel steady and comfortable as you glide over the water.
By itself, the 10'7'' has sufficient tracking that, with the right paddling technique, you'll keep a straight course. Something that really helps with not just the tracking but also the stability and maneuverability is the included fin set. The 8'' center fin will offer a great boost in tracking and overall performance, especially in tandem with the 4.5'' side fins. ERS has also included a 4.5'' center fin for shallow water, or those who want even tighter turning. These fin options really help you optimize your board performance as you want it, which you can read more about in the fins section below.
Materials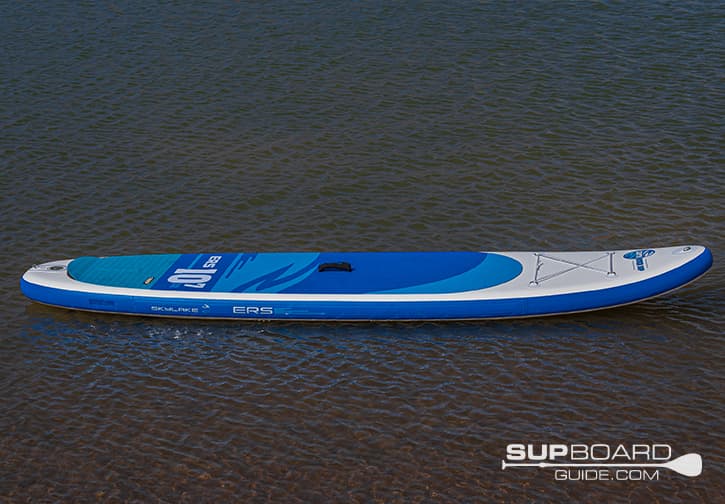 ERS has developed a construction methodology they call 'Skylake Fusion' to create a very durable SUP that is both rigid yet lightweight. They do this by starting with a tight drop stitch core, where two sheets of fabric are connected to each other with thousands of internal threads. As this fabric core is inflated with air, the threads go taught and form the inflatable shape you see above instead of a more rounded shape typical of most inflatables.
ERS then fuses an additional layer of fabric to the drop-stitch core, before applying a coating of PVC protection to the outside. This 'fusion' method increases the overall durability of the SUP, without having to significantly increase the weight of SUP by just relying on multiple PVC coatings – and is not something you see in a lot of other less expensive 'fusion' boards on the market. The additional internal fabric layer makes the 10'7'' Skylake Blue more rigid and firm, increasing total performance, besides being harder to puncture or damage. There's also the added benefit of increasing total protection without having to significantly increase the price either, helping maintain the affordability of the 10'7'' Skylake Blue!
Board Design/Shape
At 10'7'' long, this version of the Skylake Blue offers a nice balance of tracking and maneuverability, allowing you to paddle in a straight line but able to turn quickly if you need to. The 32'' wide deck gives you the space you need to stand or even spread out on, while staying lean enough to be fast and nimble in the water. The 5'' thickness really helps with performance though, keeping you nice and low on the water while maintaining a very firm deck, thanks in part to the dynamic rail system. When inflated to 15 PSI, the Skylake Blue weighs a very light 21 lbs, making it a great SUP to hike around with. It's also a great option to train younger, shorter paddlers unable to handle heavier and larger SUPs, a perfect companion if you want to paddle with your kids.
All-around boards typically don't excel in any one area, but the performance focused nature of the 10'7'' Skylake Blue will help you keep up with other, specialized SUPs. You can have a grand time doing some light touring or racing, or by trying to ride a few waves on the ocean. The deck pad is comfortable enough to do some yoga on, especially due to the lack of D-rings and other add-ons to get in your way. If you want to try a little bit of everything with a SUP, the 10'7'' Skylake Blue would definitely be an option worth considering.
Board Features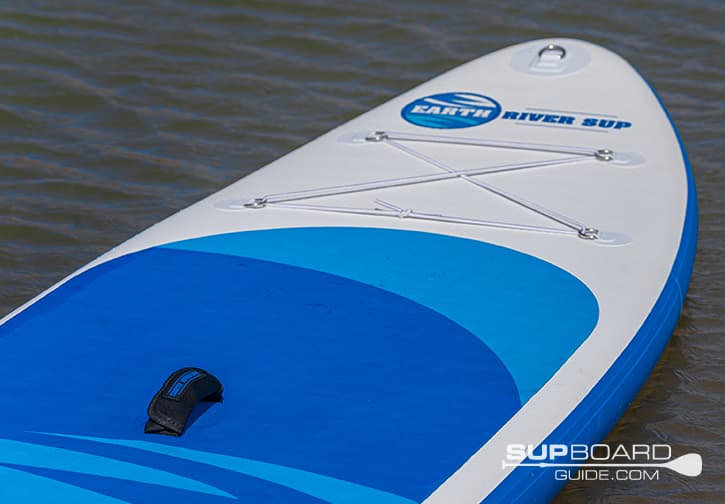 The 10'7'' tries to keep the deck pad clean, ensuring you make the most of it and the board itself as you paddle. There are also some great features though that you might not notice, features that make the already good performance even better. Some of the most important features packed into the Skylake Blue include:
Dynamic rail system: he dynamic rail system increases the overall performance of the SUP, without adding several lbs like carbon rails or having to rely on removable rods. As you apply for force to the SUP, the dynamic rail system responds by increasing board resistance and rigidity. You'll find that when you're trying to make a turn or when paddling in rougher water, the Skylake Blue feels more stable without causing your glide to suffer. It's a great inclusion, giving you the added performance when you need it while keeping the Skylake Blue light.
Lightweight Fusion PVC construction: Instead of weighing the board down with heavy PVC coatings, the 10'7'' Skylake Blue uses an internal fabric fusion system for increased durability and support. The result is a very strong paddleboard that weighs just 21 lbs when inflated to 15 PSI!
6 D-rings: You have just enough D-rings to attach your speaker, dry bag, or phone case without littering your SUP with rings that would just get in your way. There's also a flexible, removable bungee system on the nose for securing coolers and other containers.
Carbon Fiber paddle shaft + Nylon Blade: Weighing 25 ounces, this is a great paddle for beginner to advanced paddlers alike. Easy to assemble and adjust, but very solid so your strokes feel powerful as you paddle. Discounted upgrade options at checkout for an even lighter paddle too!
Neoprene center carry handle: Neoprene is a step above traditional SUP handles, which can chafe against cold or wet skin. You'll be able to carry the 10'7'' Skylake Blue comfortably, no matter the conditions outside.
Hybrid Deck Pad: The main bulk of the 10'7'' Skylake Blue is covered with a reptile skin texture for improved grip while staying comfortable enough to stand or even do yoga on. The tail section instead uses a diamond groove pattern for additional grip support as you perform step back turns. The deck pad feels thick and sturdy, with some nice colors that looks great when compared against the water!
Fins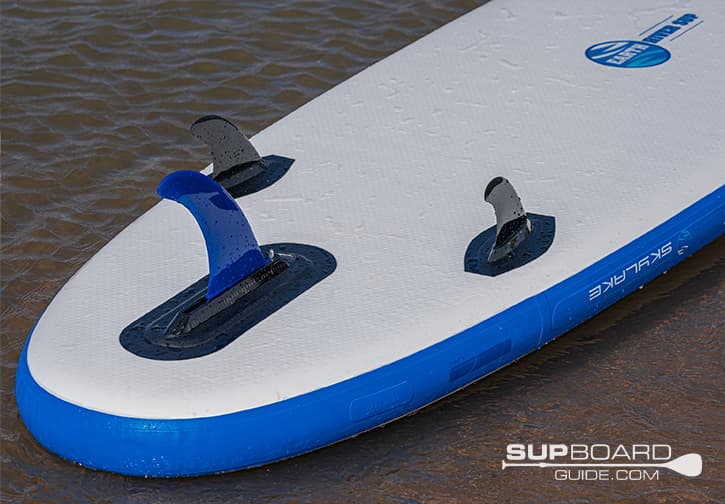 Four fins are included with the skylake Blue, featuring one style of side fins and two different types of center fin. The side fins are very easy to install, and just involve inserting them into the fin boxes and tightening them up with the included grub screws. As for the center fin box, it's a US standard fin box, making it compatible with a large variety of fins for the most precise SUP performance. The vast majority of paddlers who use the 10'7'' Skylake Blue will be just fine with the included center fins though, which are:
10'7'' Skylake Blue Center Fins:
8'' Center Fin. Best suited for traditional water settings. Increases tracking, and stability when used in conjunction with side fins.
4'5'' Center Fin. Best suited for shallow and river water settings. Increases maneuverability, for those wanting a tighter turn radius.
Deck Pad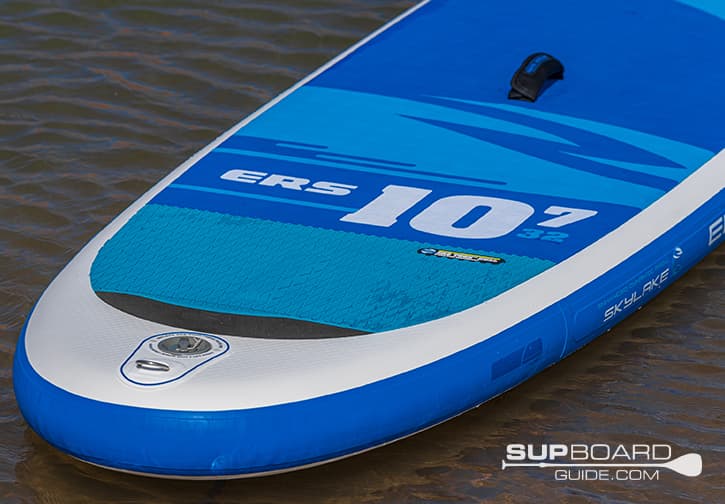 The hybrid deck-pad is made up of two distinct parts that offer their own unique, cool advantages. The majority of the deck pad is made up of smooth reptile skin textured foam, the texture helping you keep your feet on the SUP even when it gets wet without ever being uncomfortable. You'll be able to stand on this part of the deck pad all day long without wearing out your feet, making it an excellent option for stretching, yoga, or just sitting on as well.
The tail section of the deck pad has a raised heel, covered with a diamond groove texture. While not as comfy or sorf as the rest of the deck pad, the tail section further increases your foot grip, which you'll want as you move to perform a step back turn. The heel pad also has a reinforced arch, ensuring that you have something steady to push against as you push the tail into the water.
We really like how the hybrid deck pad functions, prioritizing stability in the rear while balancing grip and comfort for the rest of the deck pad.
Handles
There is just a single handle on the 10'7'' Skylake Blue, but because of how light the board is, you'll hardly need to rely on another handle to carry this paddleboard around. We also want to highlight that ERS covered the center handle with neoprene, ensuring that you don't hurt your hands if you try to use the handle when you're cold or soaking wet. It's very easy to carry the 10'7'' Skylake Blue around with the handle.
The center handle cover is also removable, which lets you open it up and then velcro around the paddle and act as a paddle holder if you would like.
D-Rings/Bungees/Cargo Areas
6 D-rings feature on the 10'7'' Skylake Blue, which should meet the needs of most paddleboarders. The included D-rings work great with anything you want to clip onto the SUP, with coolers, dry bags, other pouches just a few ideas of what you might want to bring along. The tail D-ring also works great for attaching your leash to, while the nose D-ring is cool if you have a camera mount that you can secure with a clip. If you have anything larger, it should fit nice and snug underneath the front bungees, which can also be removed quite easily.
Accessories
Paddle
The 3-piece adjustable paddle has a carbon blend shaft and a reinforced nylon blade and weighs a total of 25 ounces. This is a very lightweight paddle that you'll be able to use for hours without tiring your hands or arms out. The handle itself is very comfortable to grip as well, while feeling very sturdy to hold, as there is no slip or movement in the shaft when put together. It's a great paddle inclusion, and can be upgraded to a full carbon shaft and blade at checkout for an even lighter experience.
It's very easy to put the paddle together or to break it down, and with 3 individual pieces you minimize the space you need in your backpack for the paddle. Once assembled, you can quickly adjust the paddle length, with the shaft marked for recommended paddler heights. You'll find the paddle very durable as well, though take good care of it if you want to avoid damaging the stylish blue matte paint job.
Pump
The Skylake Blue 10'7'' comes with a single-chamber, dual-action pump. The single chamber pump is light, making it easy to pack, and has two action modes that will help you inflate the SUP in less than 15 minutes. However, we do prefer dual-chamber pumps for their increased efficiency in inflating paddleboards, cutting off several minutes that is better spent on the water. For paddlers who don't need a super light pump, we would like to see the inclusion of a dual-chamber pump in the future.
For those who are interested in upgrading though, we do love the ERS electric pump, especially when coupled with the GO battery. Electric pumps will inflate your paddleboard for you, and do it in about the same amount of time as a dual-chamber pump. Unlike the ERS manual pump, electric pumps will also help you deflate your SUP as well, making sure it's ready for packing when you want to wrap things up. The ERS electric pump will connect to a standard car socket outlet, but you can also acquire the GO battery for inflating even when away from a car. Electric pumps are our top recommended SUP add-on, with the ERS electric pump and GO battery package among our favorite electric pump packages out there.
Backpack
The Skylake Blue 10'7'' backpack is very nifty, and will make transporting your SUP a pleasant experience. The main compartment is very roomy, giving you more than enough space to pack your SUP, pump, paddle, fins, and a few other extras as well. ERS has thrown in a separate padded fin bag as well to keep your fins organized and out of harm's way. Once zipped up, you'll find it comfortable to carry by using either the top or side carry handle or the adjustable backpack straps. If you're on smooth ground though, be sure to make the most out of the forward facing roller wheels. Whether it's a short trip from the car or a long hike to get to the water, you'll definitely appreciate the backpack ERS built for the Skylake Blue.
Leash
The 10' coiled leash will help you stay near your SUP for the rare occasion you trip and fall into the water. Just make sure you wear the leash over your calf or ankle, and that you're attached to one of the SUP's D-rings. Leashes are great for fast or choppy waters, but they won't help you stay afloat even if they keep your SUP near you. Always paddle with a PFD in order to stay safe, no matter how experienced of a paddler you are.
Optional Accessories
There are some cool add-ons out there that you can attach to your SUP to make your paddling experience an even better one. Most of these accessories are made by third party manufacturers, and while they should work always check compatibility before buying. Of course, if you want something guaranteed to enhance your SUP, you can buy some accessories from ERS themselves. A few we think can improve your overall paddle boarding experience include:
12V Electric Pump + GO Battery
Dry Bag
Pressure Gauge
8 Lbs Anchor
Company Review – Thurso Surf
Started in Maryland back in 2012, Earth River SUP (commonly referred to as ERS) was founded by paddleboarders for paddleboarders. Working hard to develop paddleboards that balance stability, tracking, glide, and stability, ERS has developed some of the best performance focused SUPs over the years. Their boards are a ton of fun to paddle, while staying lightweight but durable to handle lakes, rivers, and the ocean alike.
The 10'7'' Skylake Blue is covered by a 2-year warranty and the ERS 30-day 'Ride at a different level' guarantee. If you return the Skylake Blue within the first 30 days, you can either request a refund or immediately apply what you paid as credit to a different paddleboard. That way, you can exchange your SUP and get back on the water faster, besides trying out several boards to figure out the best fit for you. We love how supportive and responsive their team is, from resolving issues to helping customers figure out the best SUP for their situations. We definitely recommend ERS, be it their boards and other SUP products to the company itself!
Conclusion/Bottom line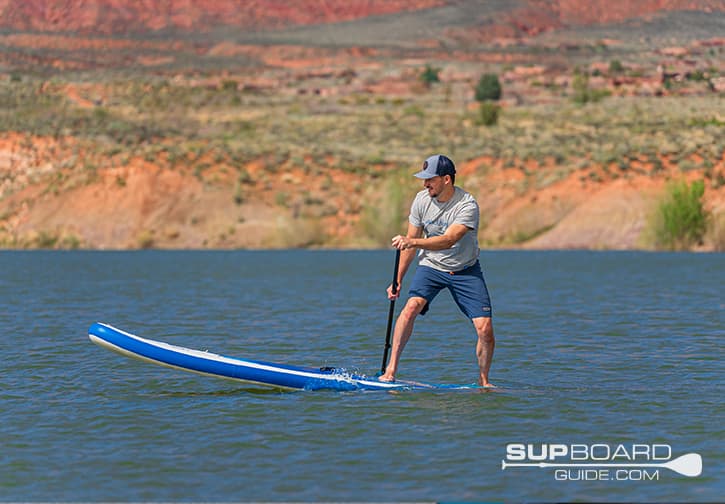 The ERS 10'7'' Skylake Blue is a very fun all-around SUP that will make paddleboarding a blast, no matter what you want to do with it. The 10'7'' length and 4-piece fin set up will help you paddle long distances, while staying nimble and maneuverable enough to investigate every corner of the water. The board is stable in calm waters, with a raised rocker and dynamic rail system to handle rougher waters as well. The hybrid deck pad offers great grip support while being comfortable to stand on, which we will also compliment the raised heel pad for. We also really like the included paddle and backpack, and think it's a good kit overall. If you want a lightweight but performanced focused SUP, you'll want to check out the ERS 10'7'' Skylake Blue.
Have any questions about the paddleboard or our review? Want to know more about paddleboarding, be it hardboards or inflatables? Then make sure to leave a question below, or reach out to us via email. We enjoy talking about paddleboards, and love to receive your feedback as well. We update our reviews as we receive feedback and gain more experience as well, so be sure to check it out again in the future.
Thank you for reading, and make sure to have fun the next time you go paddleboarding!
The following two tabs change content below.
SupBoardGuide
Heyo! At SupBoardGuide.com we are a team who love the water, the outdoors, and are more than grateful that our full-time job allows us to review stand up paddle boards. We paddle year round (it helps that we are just about 2 hours outside of Las Vegas), and we bring in a wide range of paddlers with the goal of providing our readers with the best, most in-depth, and accurate stand up paddle board reviews.
Latest posts by SupBoardGuide (see all)