Atoll 9' Youth Inflatable Paddleboard
Pros
Stable enough for children or small tens to learn without being too big to paddle
Constructed with the same technology as Atoll's adult SUP
Handles with an even higher level of maneuverability than we've seen on other youth SUPs
Utilizes a US fin box, allowing for customization as your child's skills develop
Lightweight build makes the Atoll 9' easy to carry and paddle for small and young paddlers
Cons
We'd like to see Atoll shift to a fully removable fin set-up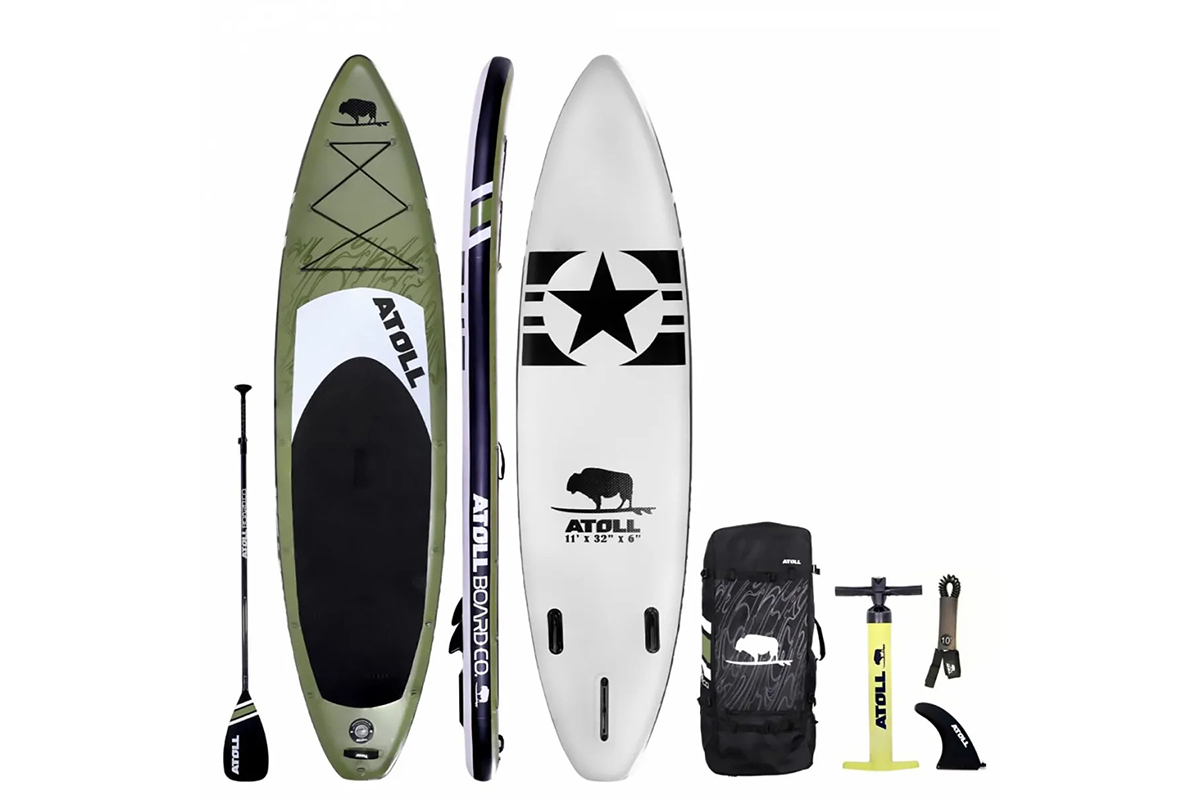 Youth SUPs like the Atoll 9' are always a ton of fun to review. As a smaller adult, they often feel fun and sporty, but for our kid testers, SUPs like the Atoll 9' provide enough stability for them to confidently learn without being as bulky or cumbersome as an adult SUP.
Often times we see well-intentioned parents attempting to teach their small, but capable, children and teens on standard 10'6 x 32" all-arounds, and while these dimensions work for adults with longer arms and legs, it's often simply too big for kids to handle on the water. Challenges like this can lead to a lot of frustration and discouragement for your kiddo.
This is why designated youth SUPs like the Atoll 9' are so important as you transition your child or young teen from riding on the front of your board to paddling on their own. The Atoll youth SUP is 9' x 30" and just 18 lbs. For your child or teen, a 30" width contributes to plenty of lateral stability, without being so wide that it would hinder their paddling technique. Additionally, the 9' length allows for more maneuverability than an adult SUP would for a youth paddler. Lastly, the Atoll 9's lightweight build makes this SUP much easier for children to paddle up to a decent pace, enabling them to keep up with the family as you guide them into longer paddles.
On top of the Atoll 9's ability to accommodate young paddlers, we love that it's constructed with the same technology as Atoll's adult SUP, the Atoll 11'. This translates into a youth SUP that is reasonably rigid and able to support a decently high amount of weight as your kiddo grows. We also like the Atoll 9's included accessory list, and while we would like to see them move towards a fully removable 2+1 fin set-up, we recognize the level of convenience that fixed fins afford when it comes to youth paddlers.
We think the Atoll 9′ would be great for young or smaller paddlers who
Need a balance between stability and bulkiness
Prefer a lighter weight board that's easier for growing muscle to get moving on the water
Value a higher level of construction than is usually provided in lesser quality kids SUPs
Would like to customize their fin as skills develop and preferences are formed
Need a kids SUP capable of handling a variety of conditions, including flatwater, moderate chop, wake, or small waves
Atoll 9′ : Spec Sheet
Main Category: Kids/youth, All-Around, Inflatable
Board Dimensions: 9' x 30" x 6"
Listed Board Weight: 18 lbs
Listed Max Capacity:
Recommended PSI: 12-15 PSI
Fins: 2+1; 2 fixed side fins + 1 removable dolphin style center fin
Paddle: 3-piece carbon/fiberglass blend
Materials: Dual layer w/ woven drop stitch
Price Range: mid-high (in the Kids SUP category)
Warranty: None
Performance Review of the Atoll 9′ Stand Up Paddle Board
Overall Score: 8.9/10
Stability: 8.9/10
Speed: 9.0/10
Tracking: 8.7/10
Maneuverability: 9.5/10
Construction Quality: 9.0/10
Features/Accessories: 8.9/10
Stability Rating: 8.9/10
When discussing the stability of the Atoll 9' Youth Sup, it's important to remember that I am an adult, and likely taller and/or heavier (5'2 x 135ish lbs) than the kids and teens that this SUP is built for. Even still, the Atoll 9' felt decently stable, and I'd expect the stability to only increase for a smaller teen or child paddler.
As far as primary stability goes (i.e the level of stability when you're simply standing on the SUP and not paddling), the Atoll 9' feels solid; I don't feel any 'tippy-ness' or wobble on flat water. In terms of secondary stability (the level of stability while paddling/moving around), the Atoll 9' again feels fairly solid.
That being said, I do want to note that the 9' Atoll is 30" wide, which is a hair narrower than some other 9' youth SUPs. And while this does improve speed and makes it easier for your child or teen to hone in their form, it may create a small learning curve for a more apprehensive kid.
Speed Test: 9.0/10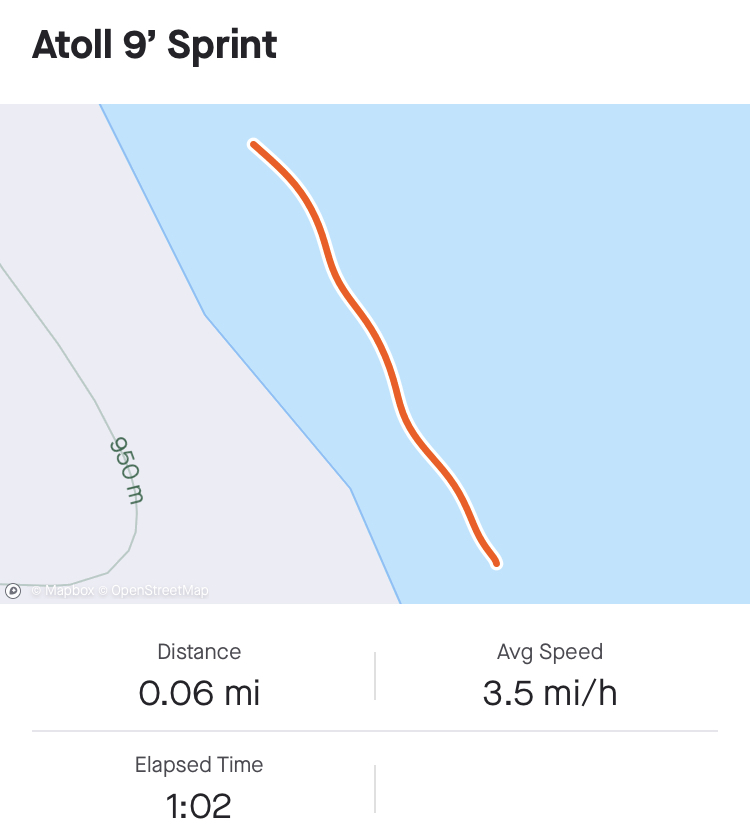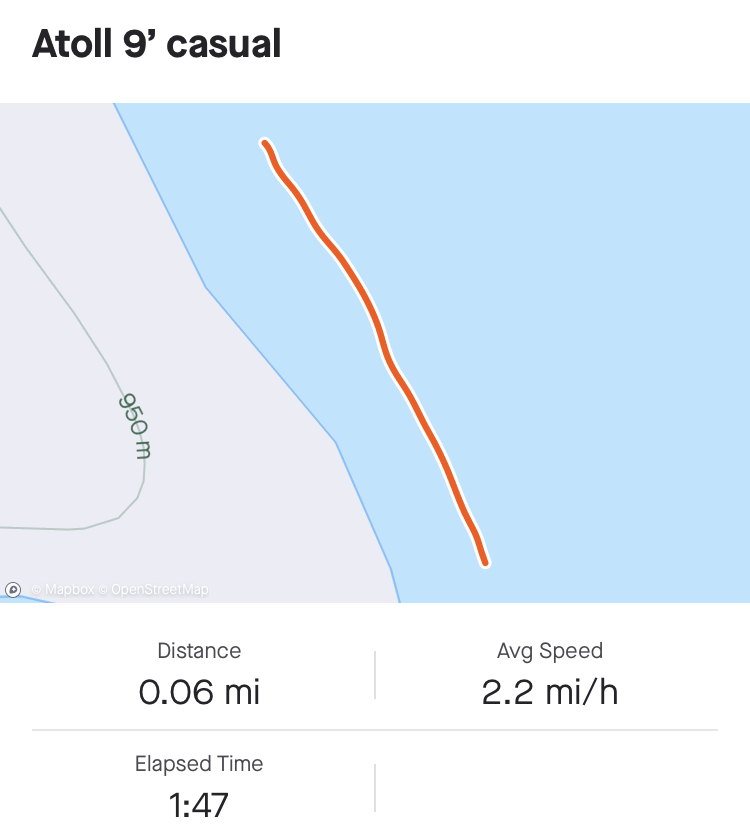 Being a kids/youth SUP, we were not expecting the Atoll 9' to be a water rocket, though it did still manage to beat out most of our other kids' SUPs in a head to head sprint.
Contributing to the Atoll 9's speed capabilities is mainly its shape and weight. The 9' Atoll is only 30" wide, allowing it to have less surface area in contact with the water, and thus, creating less drag. On top of that, this SUP has a more tapered shae than other youth SUPs on the market, thereby diminishing drag even further. Lastly, the Atoll 9' weighs in at a light 18 lbs, which makes it easy to get this kids board up to speed.
Tracking: 8.7/10
Tracking, unfortunately, tends to be an overlooked aspect of kids and youth SUPs. However, it is extremely important to ensure your teen or child is having fun; if they have to constantly switch sides and struggle to simply go straight, the experience is going to be frustrating.
As for the 9' Atoll, I wouldn't describe the tracking as anything more or less than 'okay'. What I mean is that it will hold a straight path in the water relatively well if you pay a bit more attention to your form, but will require you to switch sides every 2-3 strokes if your form is more casual (as it likely would be with children who are new to the sport). For reference, most all-around or 'shorter' SUPs usually need you to switch sides every 4-5 strokes to maintain a straight line.
In the future, the tracking on the Atoll 9' could be improved with the addition of removable side fins in place of the existing short, fixed gummy side fins. However, if it's super important to you on the current model, the tracking can also be improved by simply switching out the included dolphin style fin for a FCS hatchet style fin, as the 9' Atoll's center fin utilizes a US fin box.
Maneuverability: 9.5/10
Maneuverability is the main area where the Atoll 9' excels, as is expected from a 9' SUP.
In our testing, the Atoll 9' made a complete 360 degree turn using only 3 backstroke sweeps, whereas similarly sized kids SUPs made the same turn in 4 backstroke sweeps. While that seems to be a minor difference, the Atoll 9' just seems to feel a lot quicker and more responsive to turn than other youth boards. Additionally, the Atoll 9's lightweight build combined with it's tapered tail make it super easy to pop the nose and sink the tail for a stepback turn.
Construction Quality: 9.0/10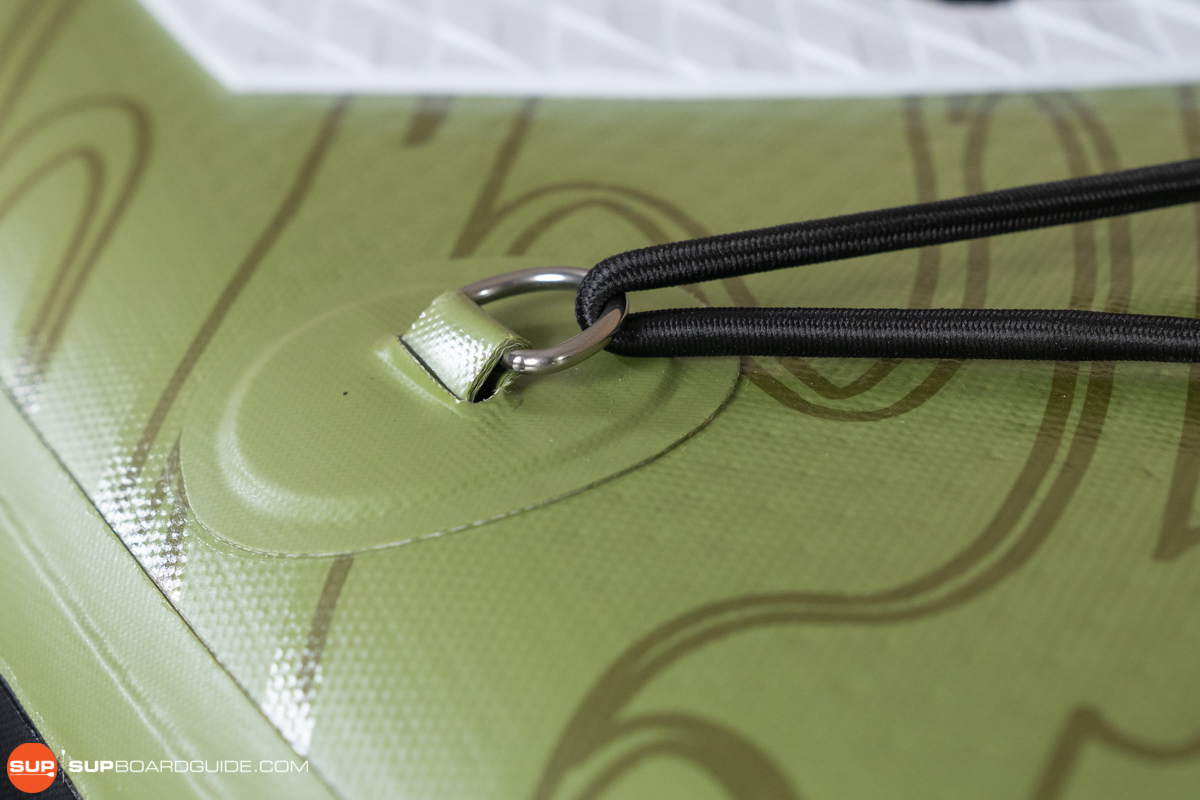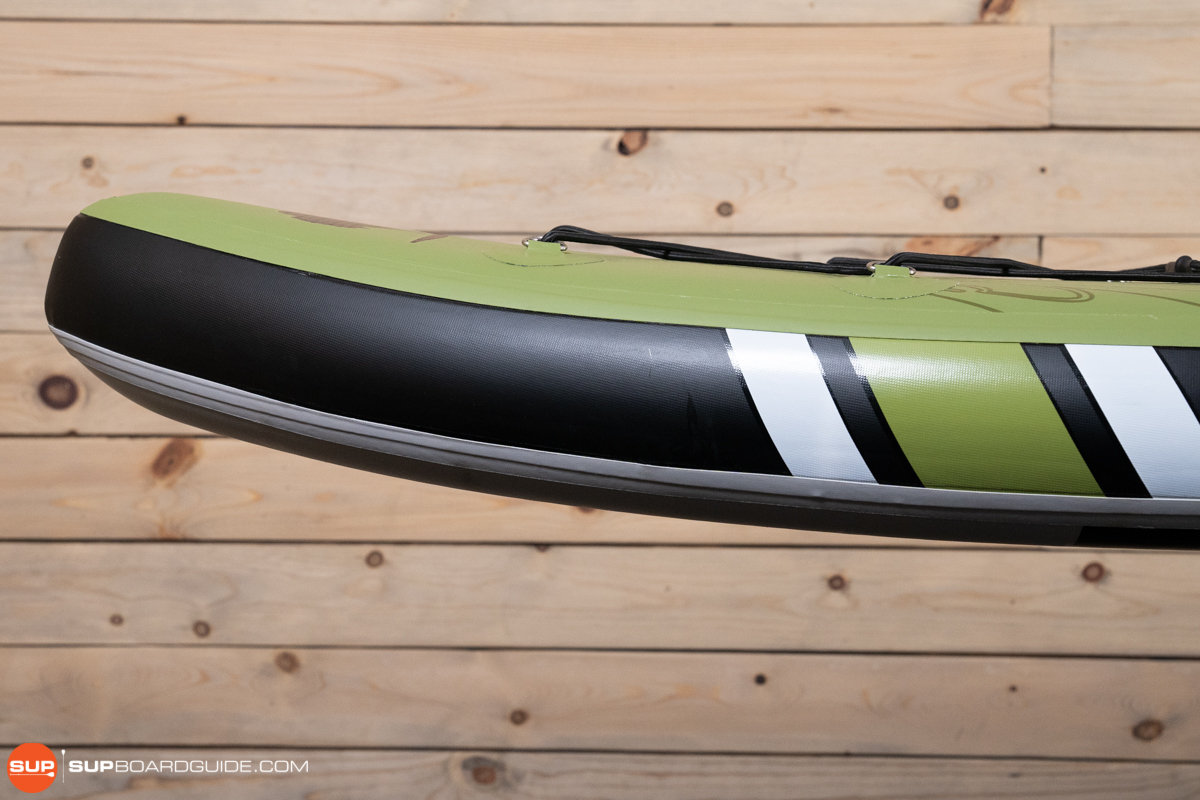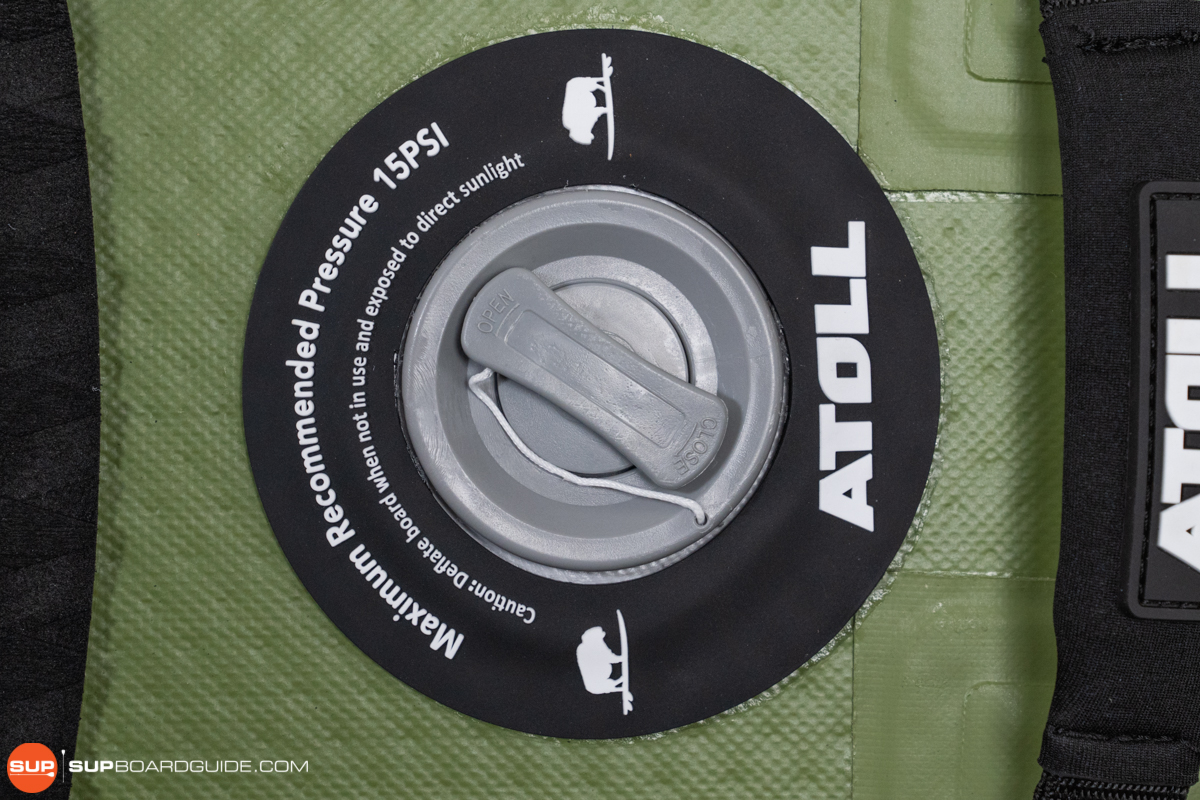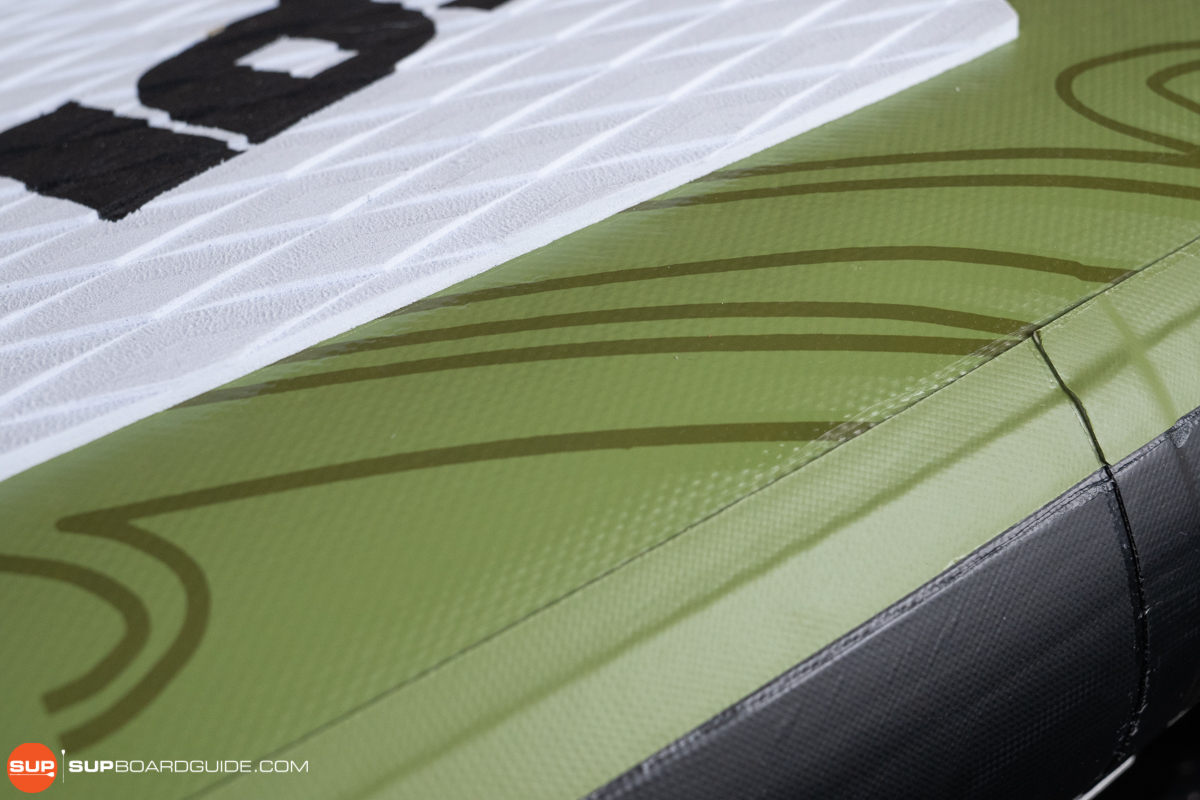 Atoll's 9' Youth SUP is constructed using the same methods and materials as their 11' adult SUP.
Working from the inside-out, the Atoll 9' is centered around a woven-linear dropstitch core and encased in 2 layers of fused PVC (meaning the PVC is applied and bonded via heat instead of heavy glue. While this construction method is not the most advanced we've seen from SUPs in Atoll's price range, it does still result in a reasonably rigid and lightweight SUP.
Board Stiffness: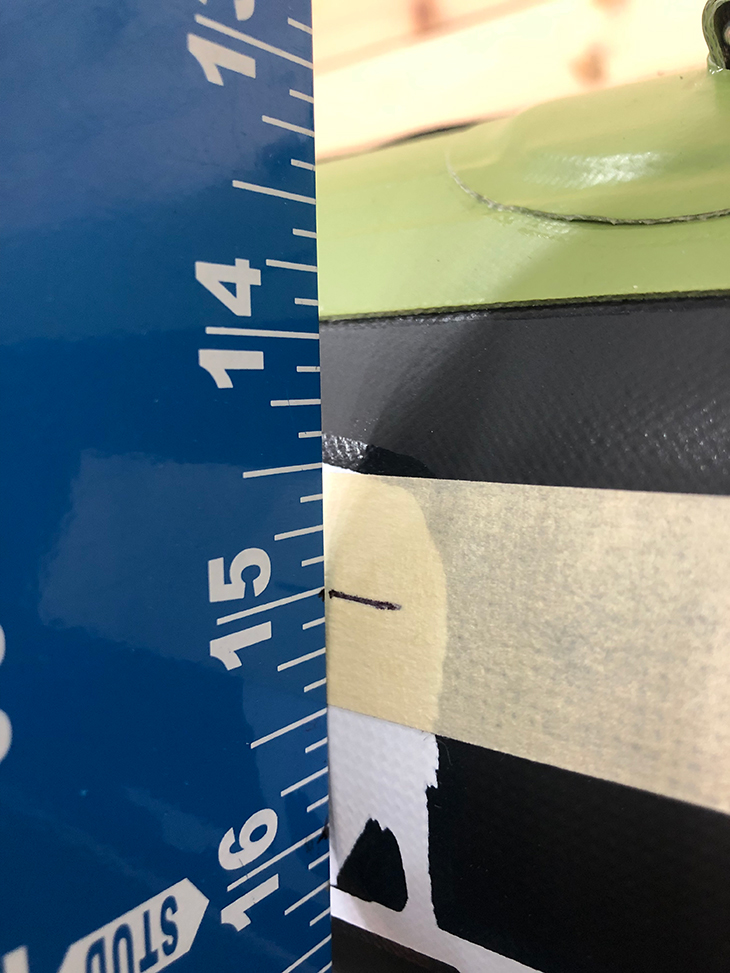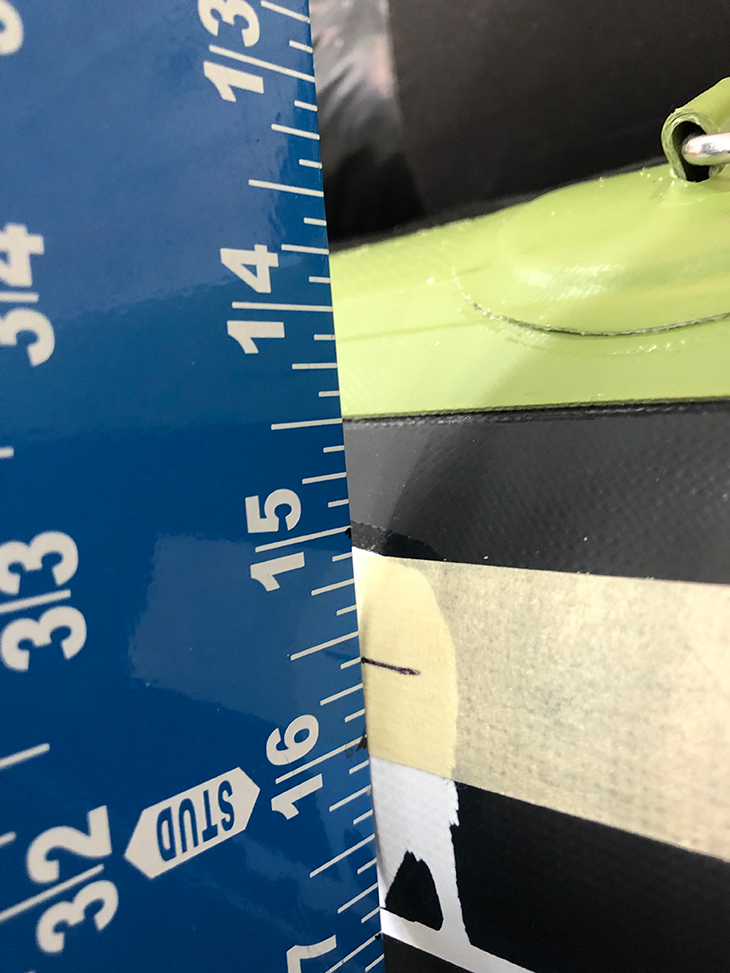 Stiffness Test: 5/8" Bend
Our stiffness test on kids SUPs is performed by setting the SUP on top of two sawhorses spaced 5' apart. We then place 150 lbs on the SUP's mid point and measure how much it bends under the weight. It's a way for us to differentiate between construction methods and materials and understand how these factors contribute to stiffness.
The Atoll 9' bent a hair over 5/8" in our bend test, which is about average for a kids board, and a pretty good result considering the lightweight of the Atoll 9'. In the future, I'd like to see Atoll experiment with producing a 4.7" thick kids or adult board while maintaining their level of rigidity.
Features/Accessory Review: 8.9/10
Although smaller, the Atoll 9' comes with all of the same features and accessories as the 11' model.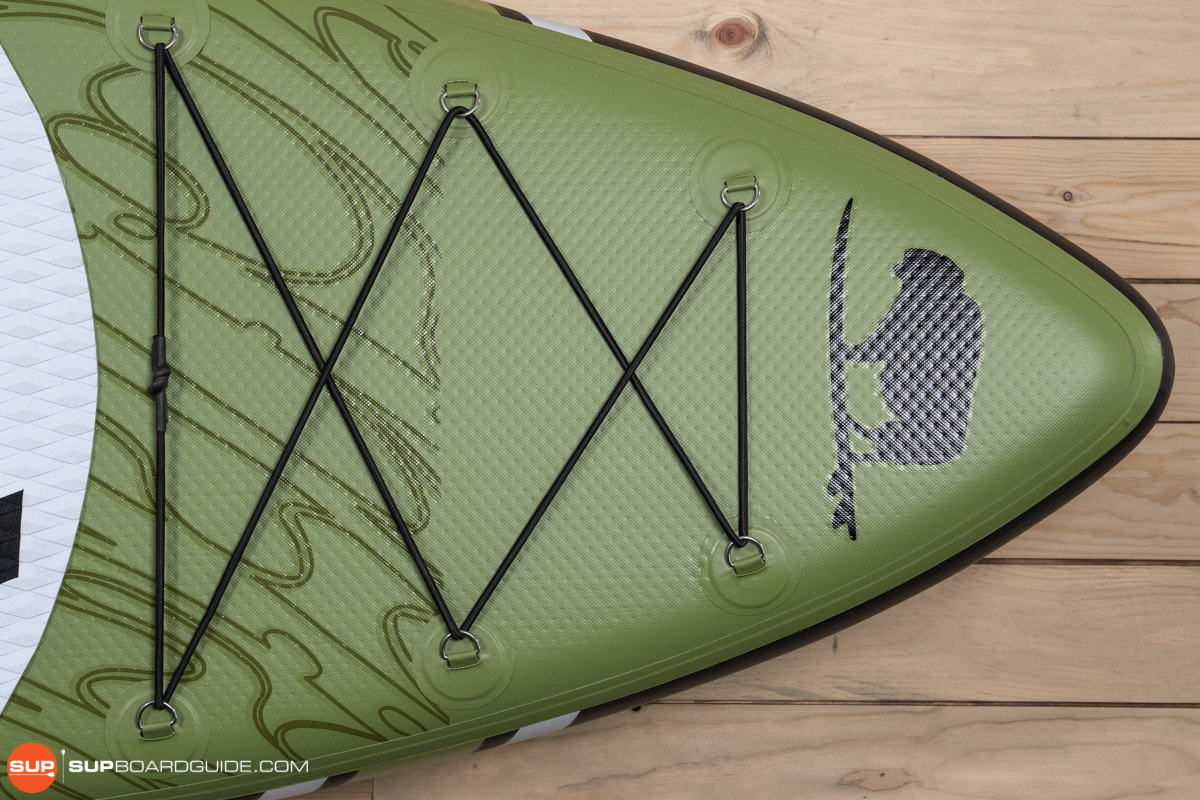 Equipped with a 6-point front cargo area, the Atoll 9' comes ready to handle a couple of drybags or an otherwise minimalist amount of gear. Atoll also gives you the option to add a rear cargo area or attach a kayak seat by adorning the 9' SUP with 8 extra D-rings along the rails.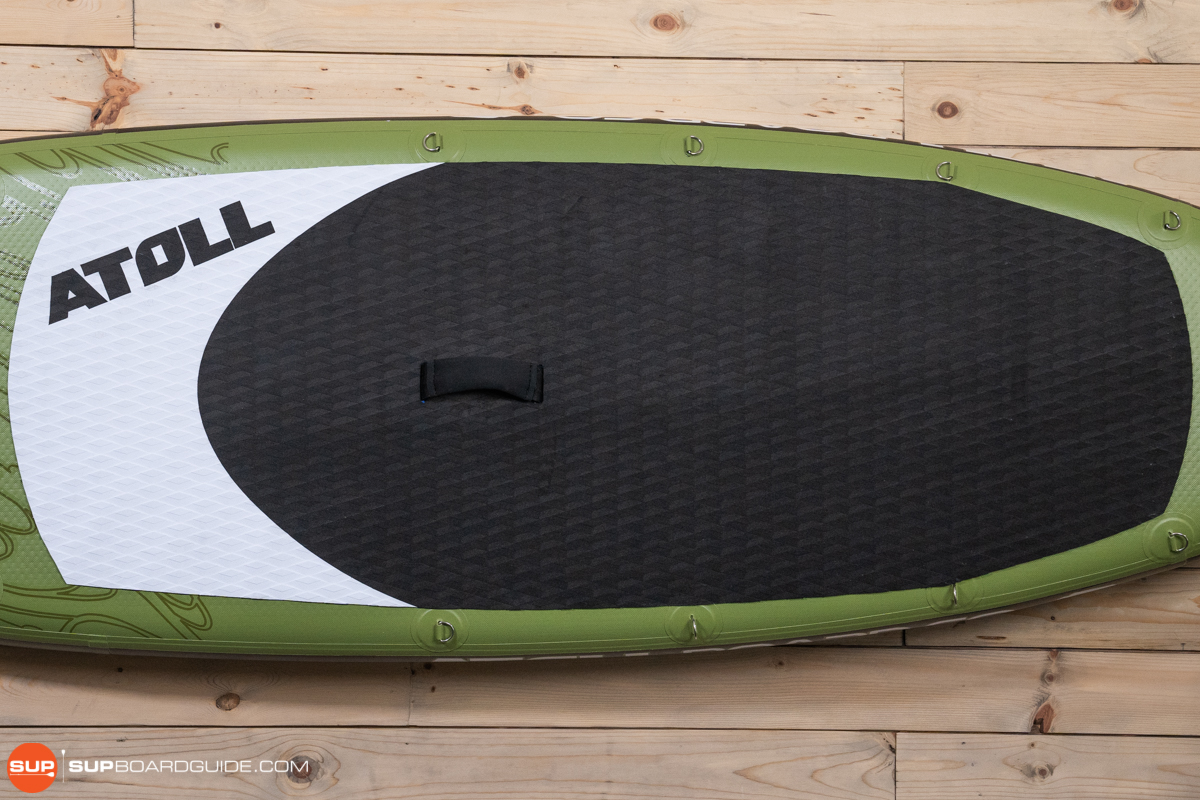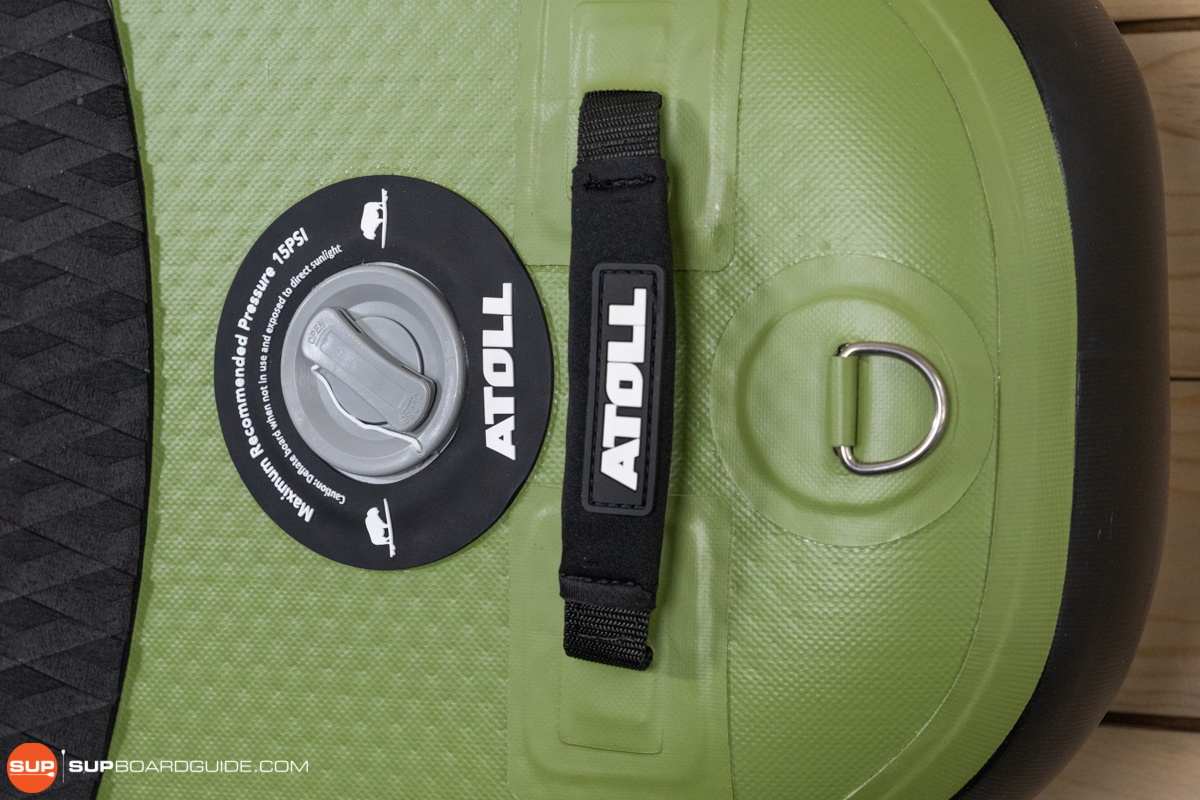 Atoll has also included a rear grab handle, along with their center carry handle to make launching the SUP a bit easier. I would have appreciated it if there was a grab handle at the nose as well to help when beaching your board on shore.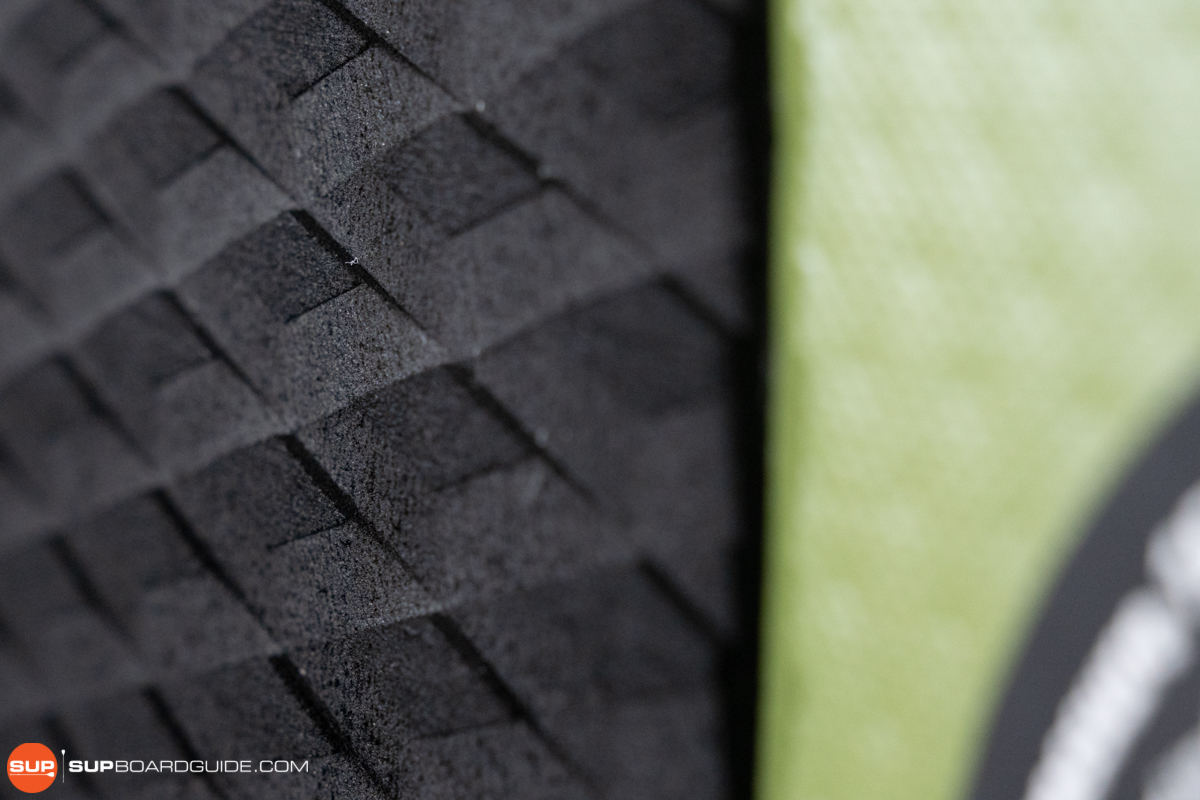 Lastly, we really like the classic diamond grooved deck pad on Atoll SUPs. It's simplistic, comfortable, and provides enough traction if you move around on the board. In the future, I'd like to see Atoll include a raised kick pad, specifically on the 9' model as it's a bit sportier than the 11' option.
Included Accessories: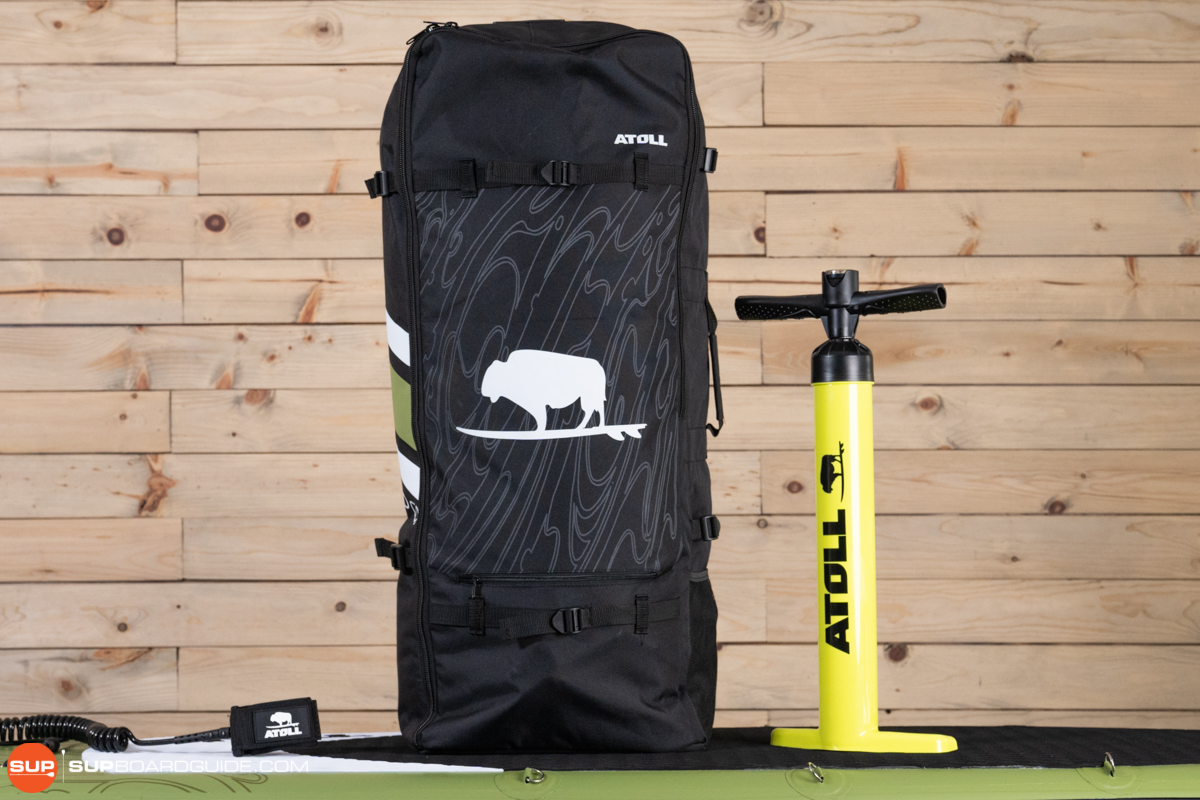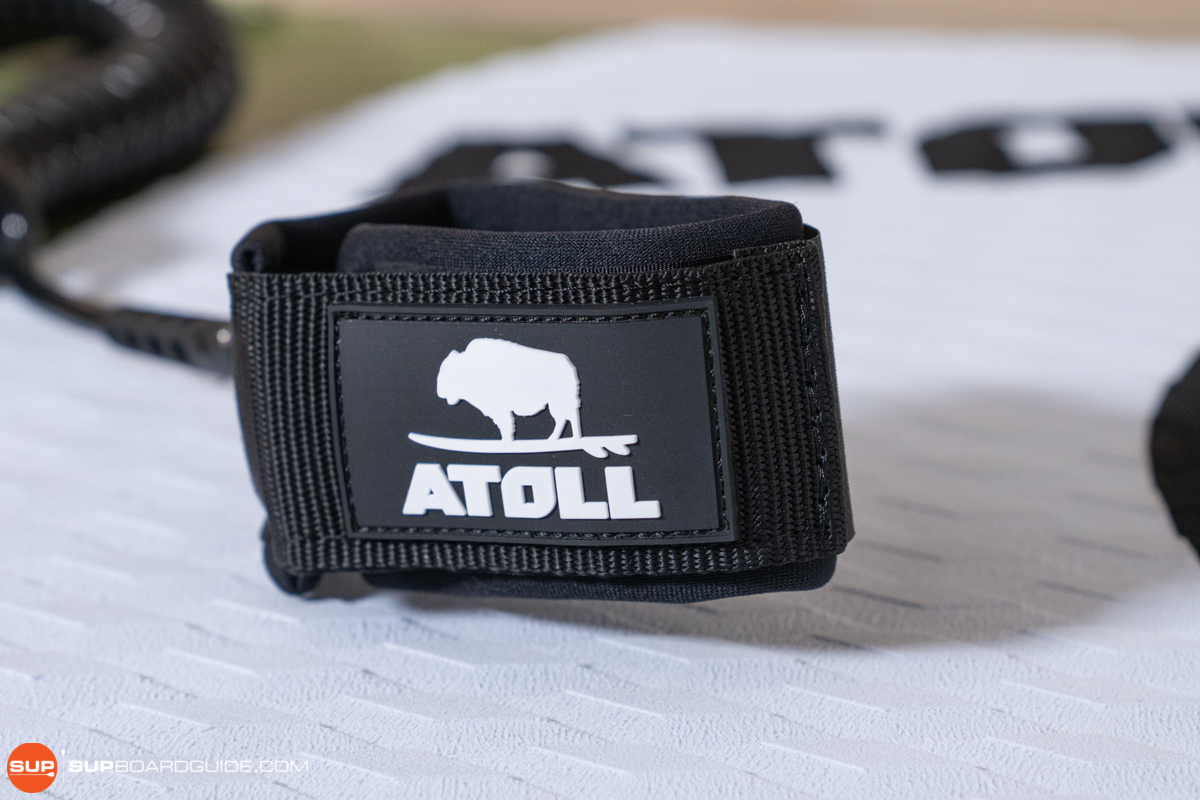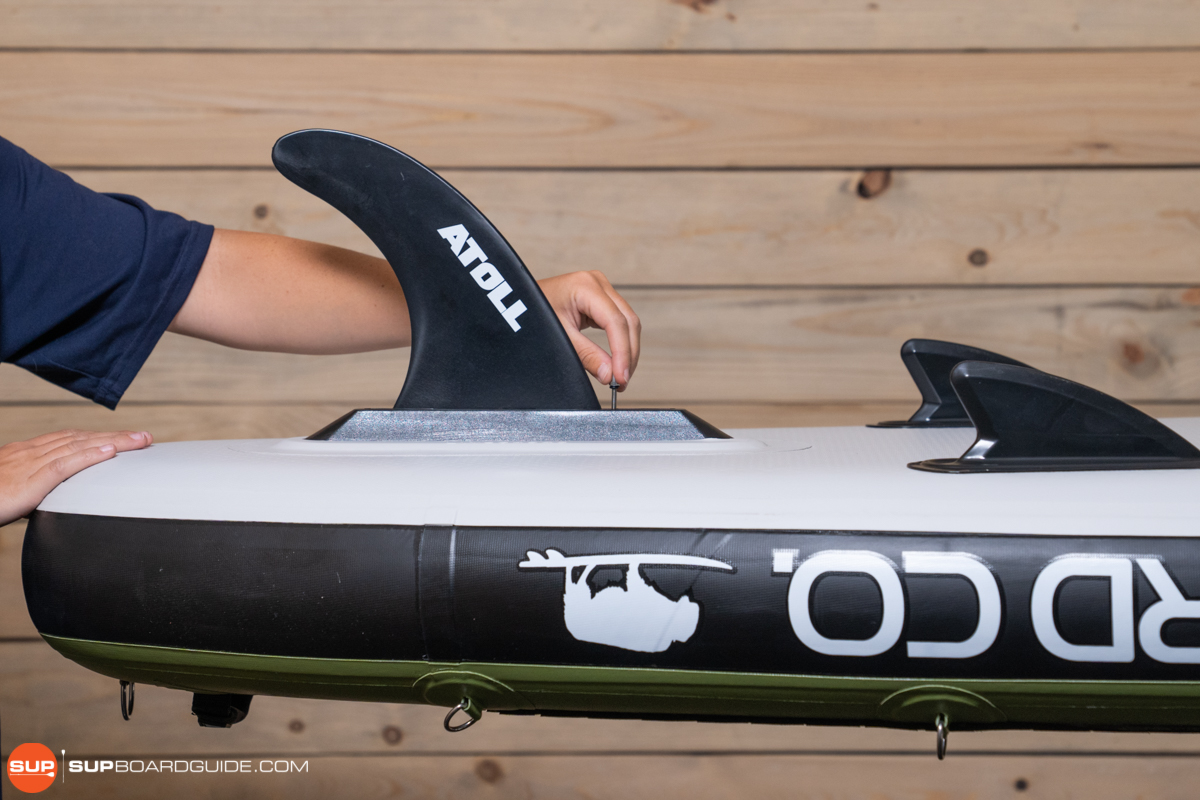 The Atoll 9' is shipped with the following accessories:
3-piece carbon fiber/fiberglass blend
9" Dolphin-style fin w/ screw plate
10' coiled leash
Single chamber hand pump
SUP Backpack
While this kit does include all of the essentials, I'd like to see Atoll bring the quality up a notch in the future, given what's available across the industry at competing prices.
Above all else though, when it comes to included accessories on the Atoll SUPs, I'd love to see them swap out their fixed side fins for a pair of removable side fins. These SUPs are well constructed and already handle fairly well, but the addition of longer, removable side fins could significantly improve this SUPs tracking and keep it consistent over time.
Summary Review of the Atoll 9' iSUP
As with the 11' Atoll SUP, the 9' Atoll is a simplistic SUP that is well constructed, lightweight, and easy to handle on the water. Performance wise, we don't have many complaints.
It works really well as a youth SUP and does a great job of providing stability and an appropriate level of speed and maneuverability without being too large for younger paddles to handle.
That being said, up until this past year Atoll was one of our top recommendations for backpacking paddlers. Their boards are undeniably lightweight and come with a decently comfortable backpack. Now though, the industry has progressed rapidly in the realm of compact and lightweight SUPs that don't sacrifice anything in performance. Atoll is going to have to innovate to stay competitive in the next coming seasons. I' love to see them come out with a compact option or revamp their kit to be even more travel-friendly. If not, it's going to get harder for us to recommend this otherwise great SUP over some of their competitors.
As always, we hope this review of the Atoll 9' was helpful, but if you do have any questions, don't hesitate to leave them in the comments below.
Until next time, be safe and don't forget your sunscreen as the summer starts heating up!
The following two tabs change content below.
SupBoardGuide
Heyo! At SupBoardGuide.com we are a team who love the water, the outdoors, and are more than grateful that our full-time job allows us to review stand up paddle boards. We paddle year round (it helps that we are just about 2 hours outside of Las Vegas), and we bring in a wide range of paddlers with the goal of providing our readers with the best, most in-depth, and accurate stand up paddle board reviews.
Latest posts by SupBoardGuide (see all)