Thurso Surf Max Multi-purpose Inflatable Paddleboard
Pros
VERY stable board
Full-length deck pad gives you ro to move around
Good variety of feature to accommodate a lot of activities
Upgraded Thurso kit w/ roomier backpack and accessory pouch
Built-in fishing ruler on the deck pad is a cool touch
Cons
This board is on the heavier side; it's a bit challenging to carry for a moderate walk to the water
The weight + the rocker line slow this board down quite a bit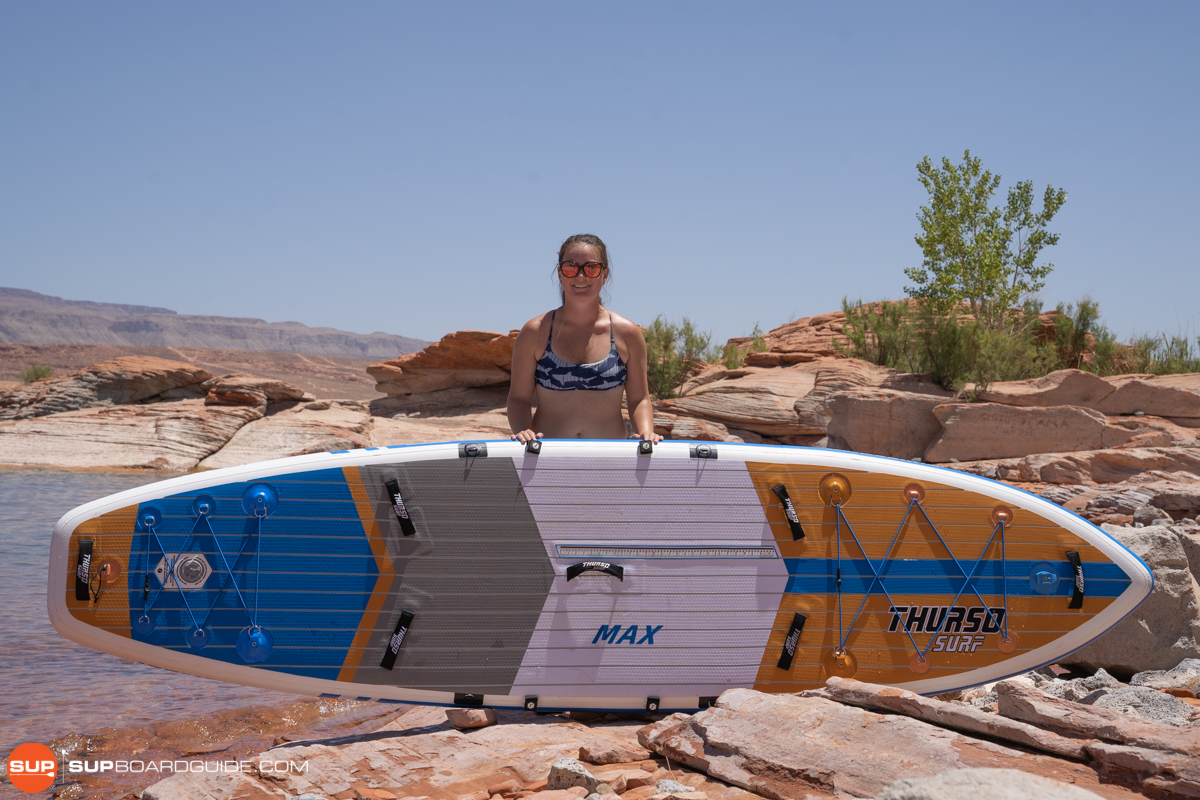 When I first stood up on the Thurso Surf Max Multi-purpose during testing for this review my main thought was 'wow, this SUP is aptly named.'
The central characteristic of this 11'6 x 34" board is 'max'imum stability. It's damn near unshakable; and believe me I tried. I started by shifting my weight side to side and trying to feel at what point the board was going to tip. When that didn't work, I pushed harder, eventually submerging the right side of the board, and then the left, over and over again and it still never felt like it was going to give. At this point I resorted to standing with my full weight on one side of the handle and then the other, and still no relenting, to which I responded by jumping up and down (if you're imagining how this looks; it's kind of similar to the PIXAR lamp trying to squish the letters).
While the jumping is what eventually made me fall off of the Max, it wasn't because of any loss in stability; it was because I landed weirdly and the board moved out from under me. I'd still put it on the list of SUPs that I couldn't tip.
Complimented by its stability, is the impressive amount of activities this SUP can take on. Whether it be yoga, fishing, or hauling gear, the Max Multi-purpose is ready with its full length deckpad, built in ruler, integrated action mounts, paddle holders, and more that we'll dive into below.
So although the Thurso Surf Max Multi-purpose is not the most nimble or quick SUP on the market, it's poised to accommodate a massive range of paddler sizes, skill sets, and interests. It's also undergone a bit of an accessory upgrade since we've reviewed it last, and we're excited to share our take on this ultra-stable, versatile SUP.
We think the Thurso Surf Max Multi-purpose would be great for paddlers who
Need an impressive level of stability
Want a SUP that is equipped for a variety of water based activities
Require extra volume to accommodate a heavier paddler, gear, or a passenger
Prefer the amount of usable space that comes with a full-length deck pad
Are interested and wanting to pursue SUP fishing with a stable, versatile SUP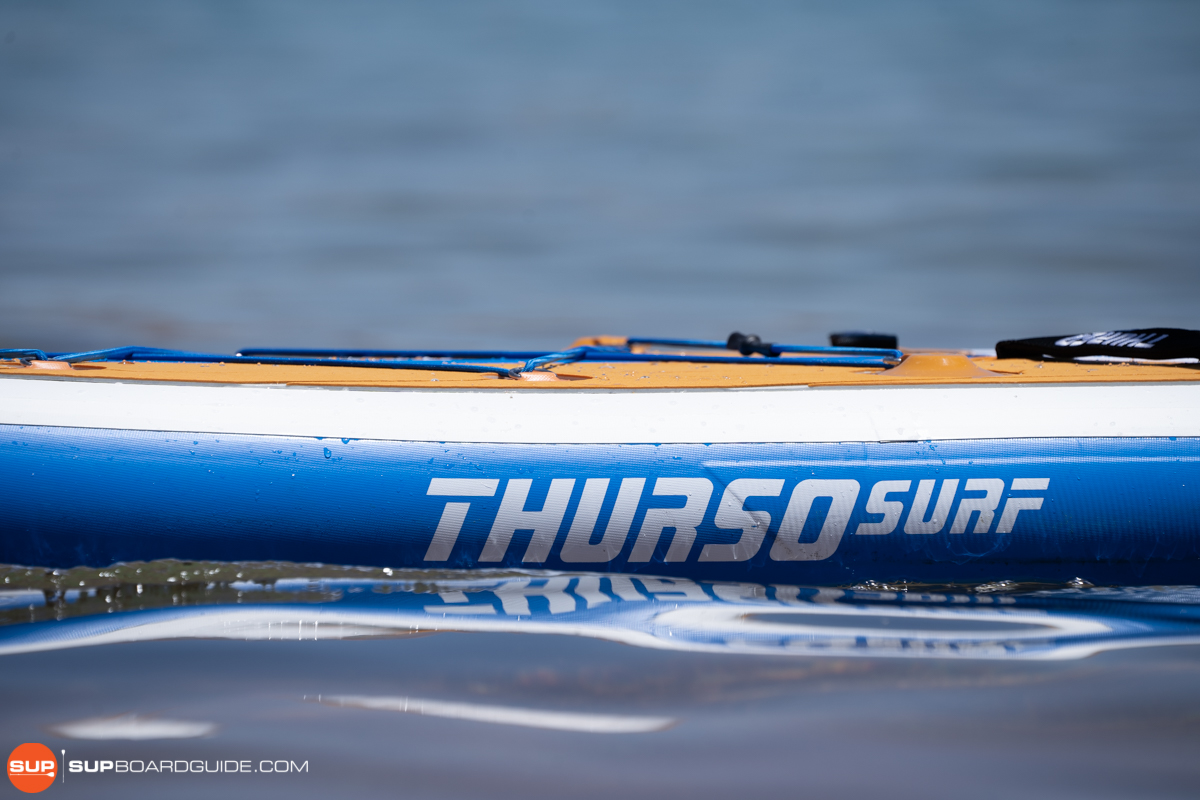 Thurso Surf Max Multi-purpose: Spec Sheet
Main Category: All-Around, Inflatable
Board Dimensions: 11'6 x 34" x 6"
Listed Board Weight: 31 lbs
Listed Max Capacity: 300 lbs
Recommended PSI: 14-18 PSI; Max of 20 PSI
Fins: 2+1; center fin is a kumano click fin, side fins are also a click fin system
Paddle: 3-piece Carbon fiber hybrid
Materials: Dual layer PVC w/ a woven-linear drop stitch
Price Range: mid-high
Warranty: 2 years
Performance Review of the Thurso Surf Max Multi-purpose Stand Up Paddle Board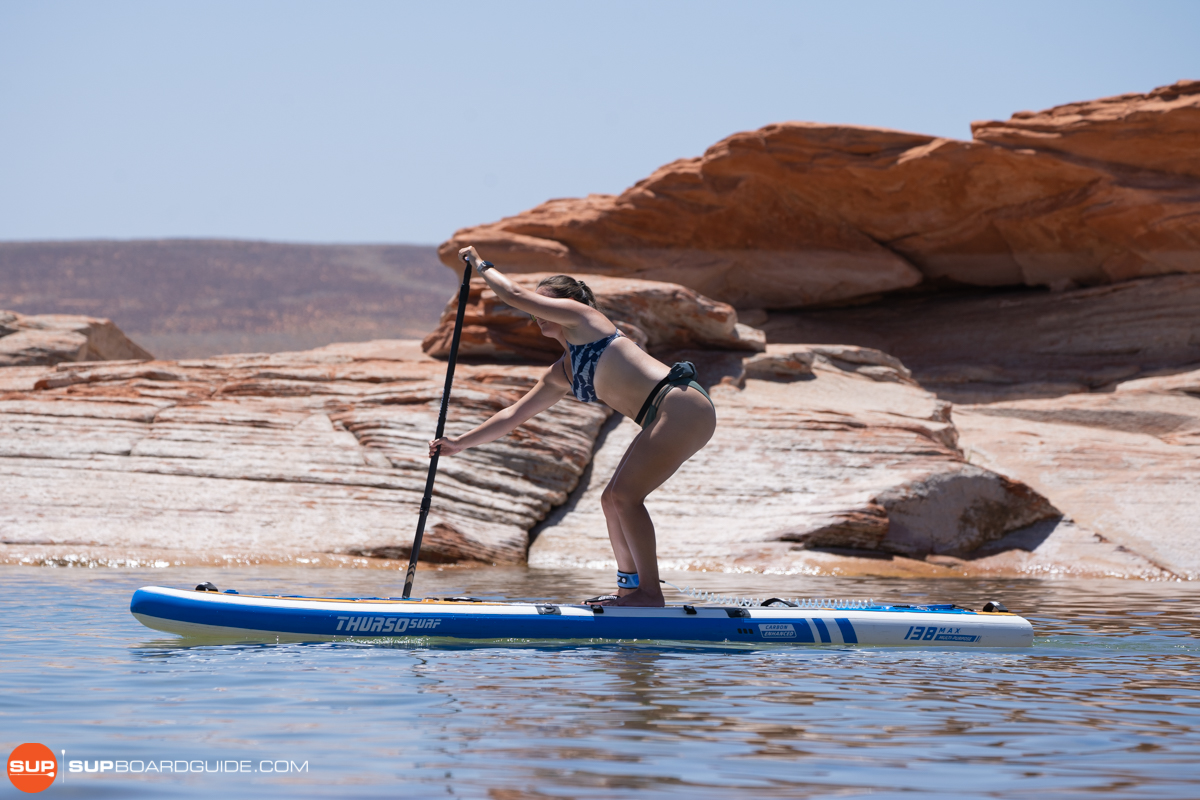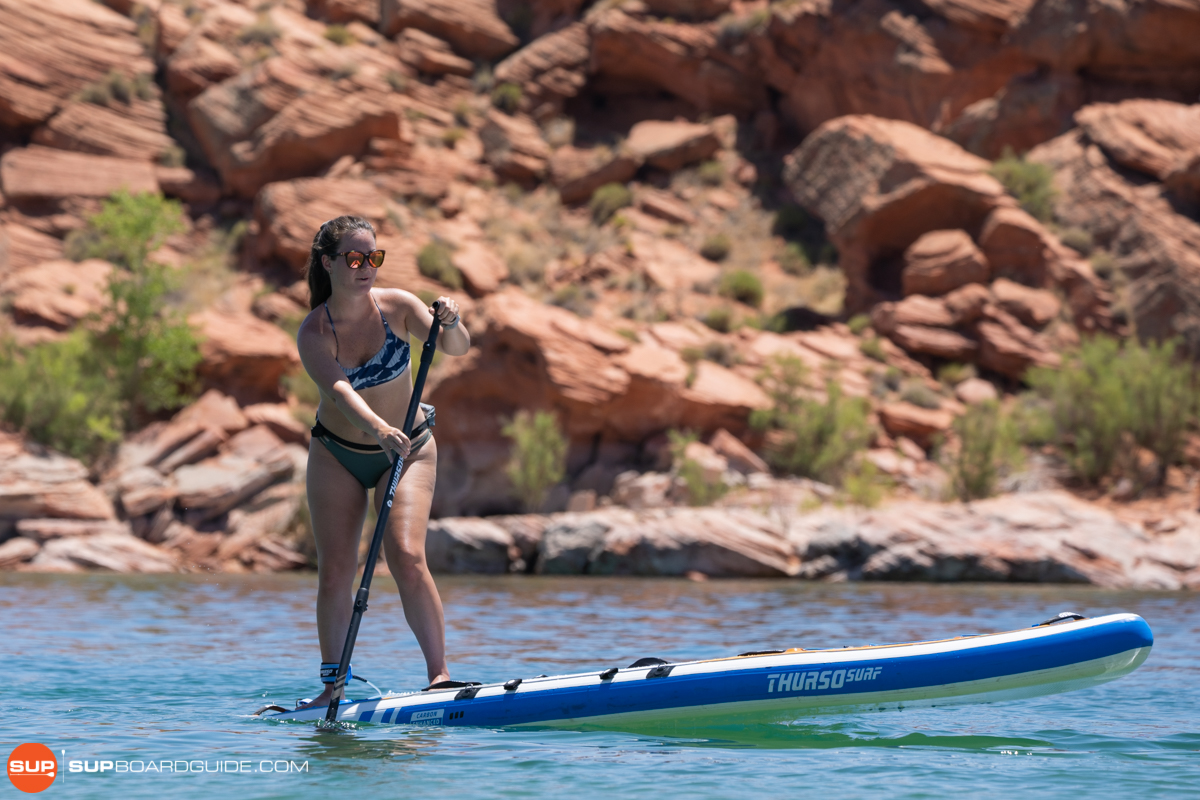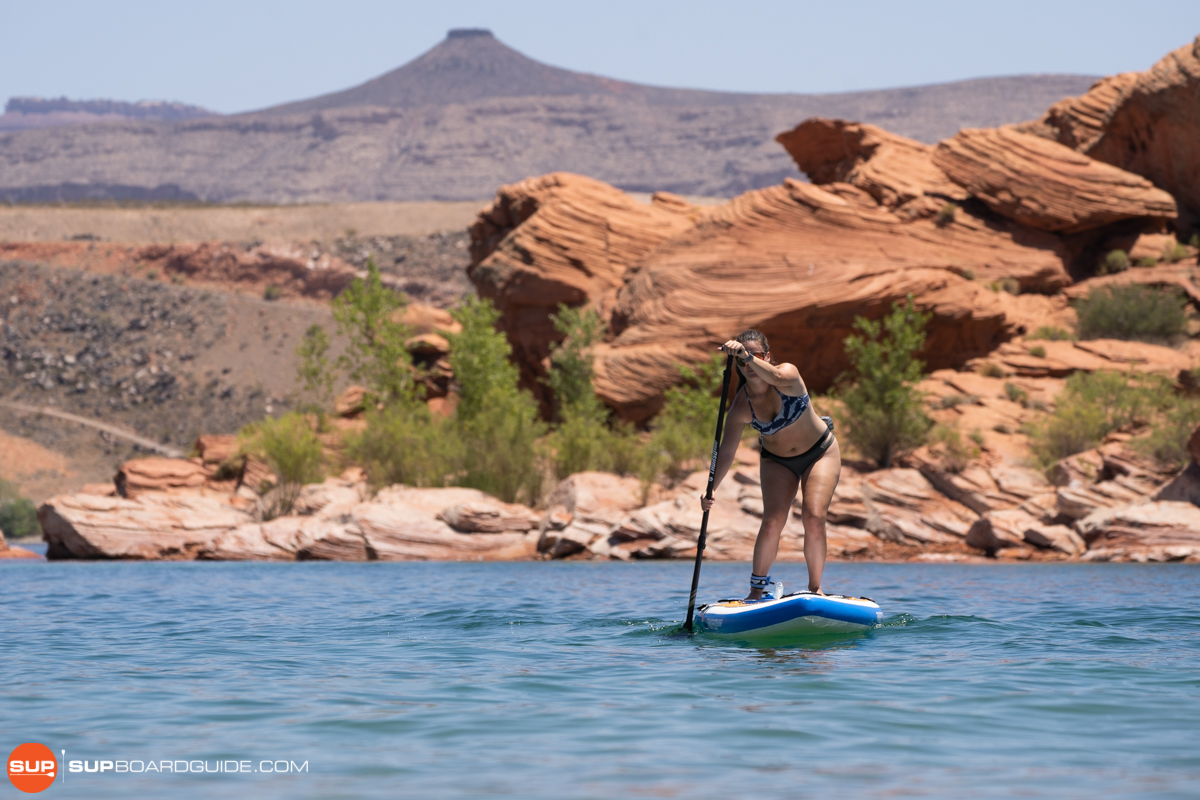 Overall Score: 8.9/10
Stability: 9.8/10
Speed: 7.9/10
Tracking: 8.8/10
Maneuverability: 8.5/10
Construction Quality: 8.8/10
Features/Accessories: 9.2/10
Stability Rating: 9.8/10
Stability is where the Thurso Surf Max Multi-purpose stands out, and it's no surprise given this board's dimensions.
Being 11'6 x 34" x 6", the Max Multi-purpose is a high volume board, meaning it'll take either a lot of weight, or a lot of effort to tip this SUP to the point of falling off. On top of its dimensions alone, the Thurso Max is also rounded and wide throughout, keeping the amount of surface area of board-to-water contact relatively consistent and high regardless of where you're standing.
Given that this seems to be Thurso's fishing SUP (as evident by the built-in ruler on the deckpad), the stability is more than welcome. We had no issue walking up and down this board, putting weight on one side, or jostling it around a bit. Through all of my stability testing shenanigans, the Thurso Max held firm.
It's this level of stability that also leads me to be fairly confident on Thurso's estimated 300 lb weight capacity for the Max Multi-purpose. I'd be more than confident to throw a cooler on this board, load it up with fishing gear, or bring a long passenger (maybe even all at once).
Speed Test: 7.9/10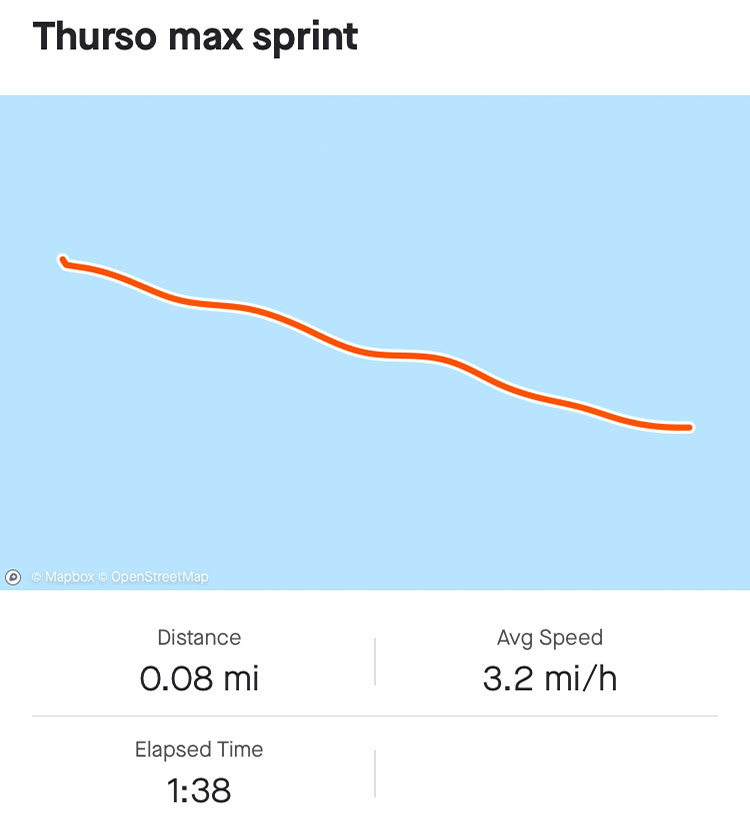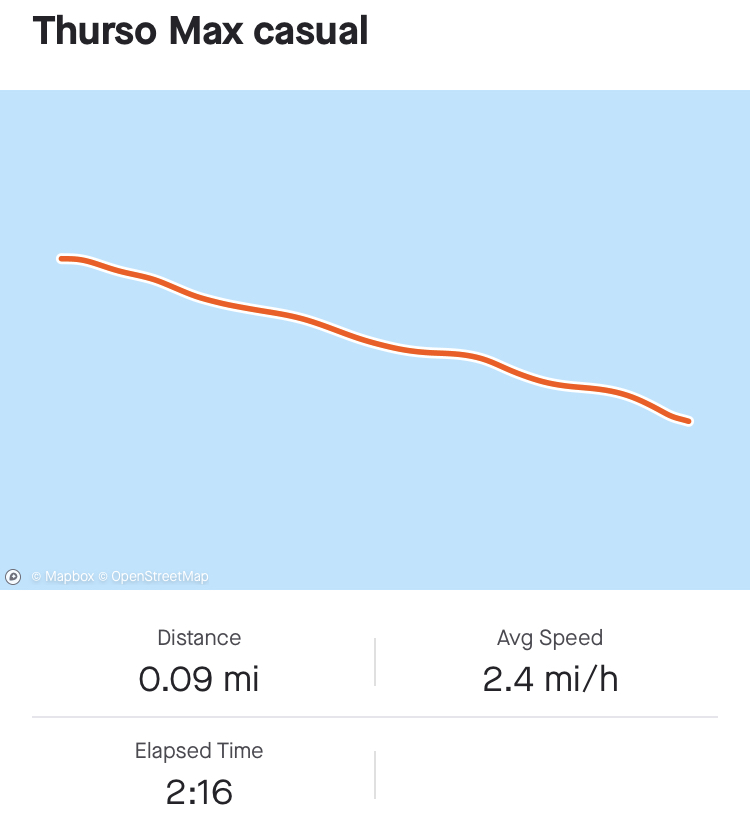 In terms of speed, the Max Mutli-purpose is undeniably a slower board. Now, that's to be expected given its crazy level of stability that we discussed above and its bulkier dimensions, but I think the weight of this board comes into play as well.
The Thurso Surf Max Multi-purpose is 31 lbs, and as a smaller paddler, I can definitely feel it while I'm trying to get this board up to speed. Despite my best efforts, I couldn't get this SUP to finish our sprint test within the average time frame for a board this size. For reference, bigger boards usually come across the line after 00:01:30, the Thurso Max finished in 00:01:38.
Another contributor to the Thurso Max's lower speed capabilities could be its nose rocker. While speed testing this SUP, I often felt like I was pushing water and the board seemed to balk at most head-on chop from boat wake. While it is normal for chop and boat wake to slow a board down, it seemed to be even more exaggerated on the Thurso Max, which is an indication that the rocker needs a bit more lift to more easily glide over chop.
That said, I think a taller/heavier paddler would be able to get the Thurso Max going a little bit faster than I could, as they're able to put more weight behind their stroke. I also want to clarify that it's not totally a bad thing that this board is on the slower side; if you're casually paddling by yourself or using it to fish, you likely wouldn't even notice it. The only area where I do think the speed would hinder you is if you're out for a long tour with friends, as it could take a little more effort to keep up with the pack.
Tracking: 8.8/10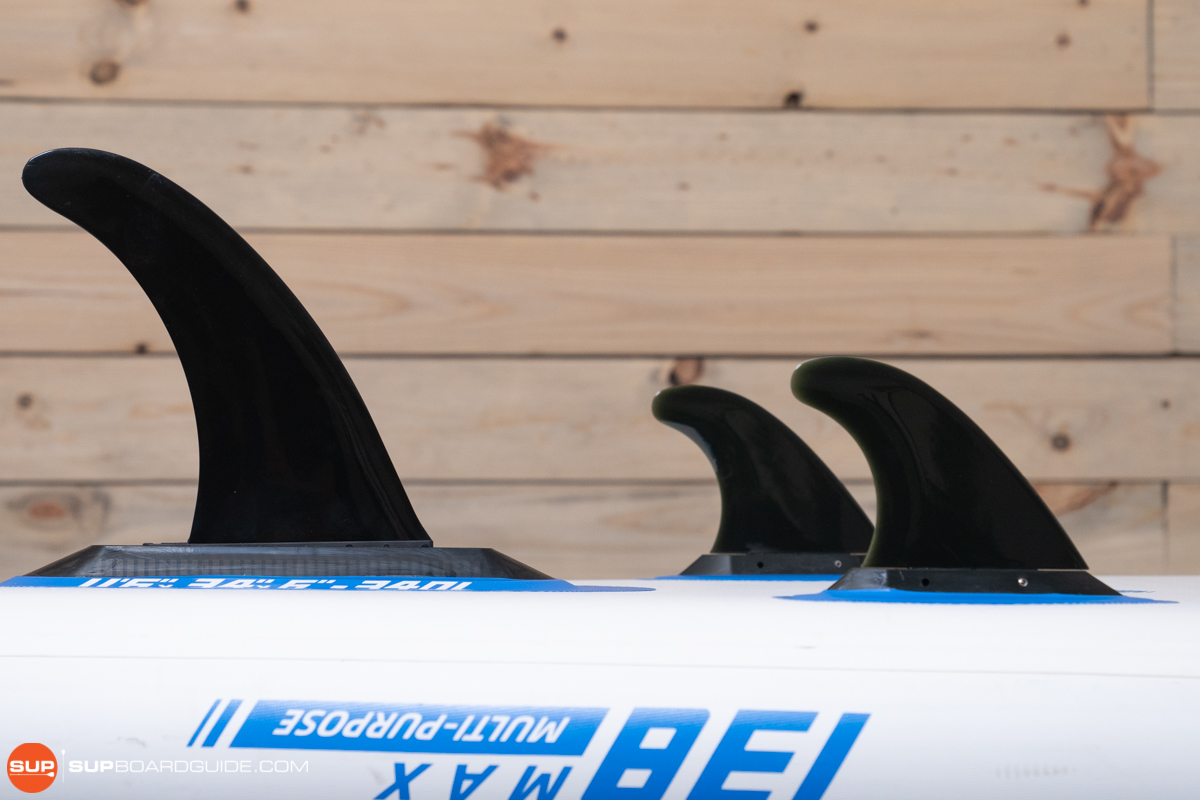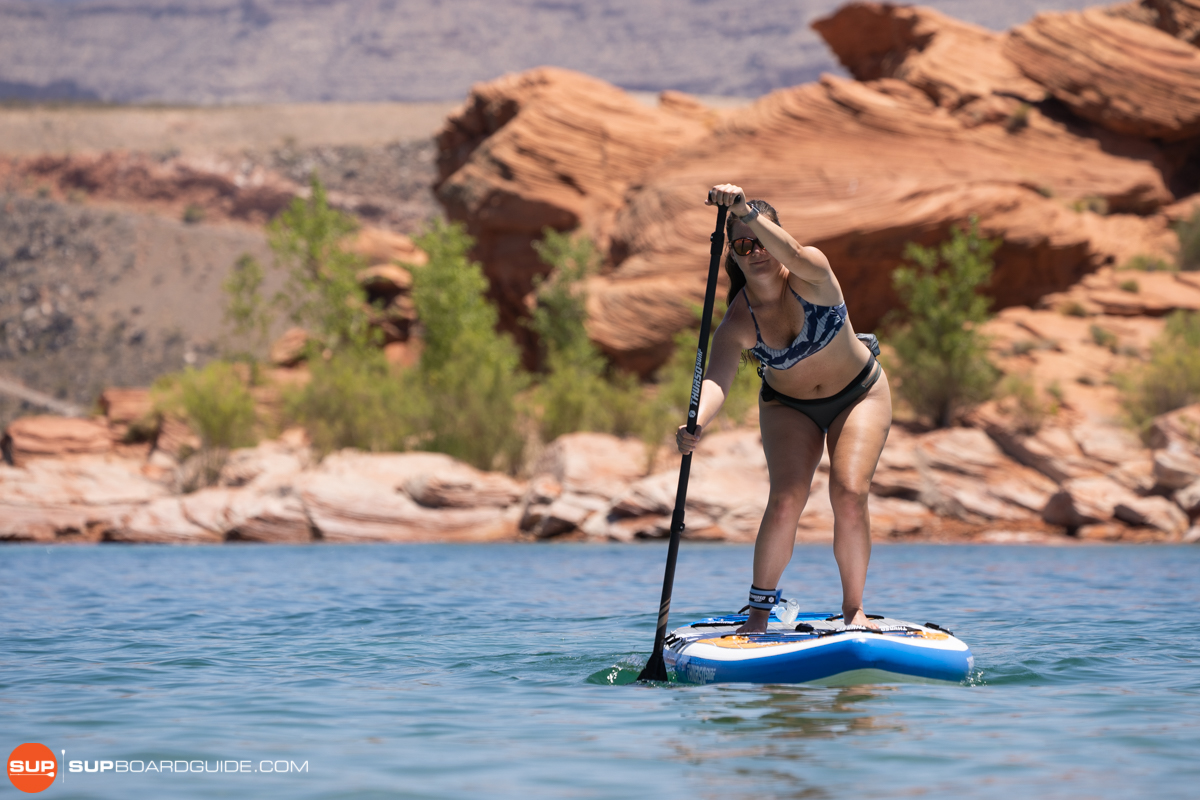 The Thurso Surf Max Multi-purpose is made to be a sturdy, high volume platform, and because of that, tracking declines a little bit.
With that in mind, the Thurso Max tracks about as expected. You will need to switch sides a bit more frequently than you would on a narrower SUP, but that's a typical compromise when it comes to ultra-stable boards.
For me, and paddlers my size (5'2 x 135ish lbs) especially, the 34" width on the Thurso Max makes it a little more challenging to keep good form, which helps enable good tracking in the first place. Paddlers that have a little more reach than I do will likely be able to achieve better tracking with the Thurso Max than I was able to in our testing.
I also want to note that the Thurso Max utilizes a US fin box, so if tracking is super important to you, you have tons of possibilities in customizing your fin to fit your preferences.
Maneuverability: 8.5/10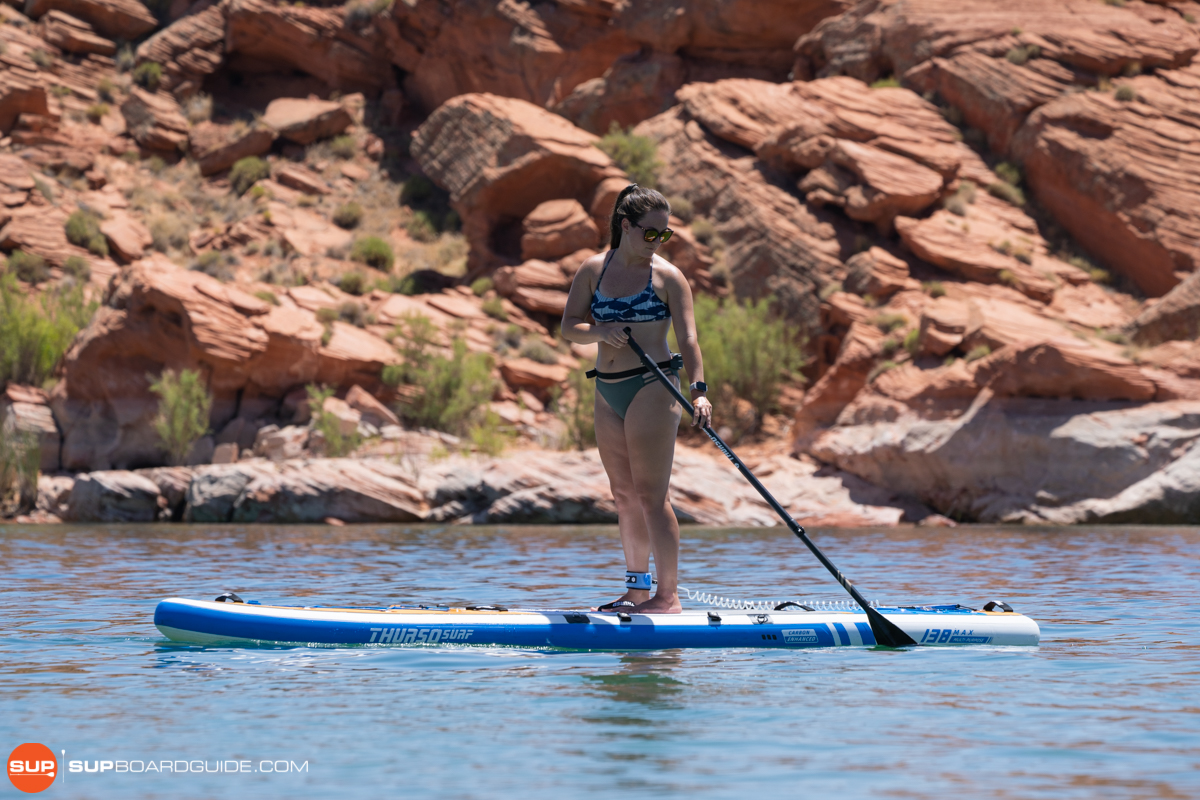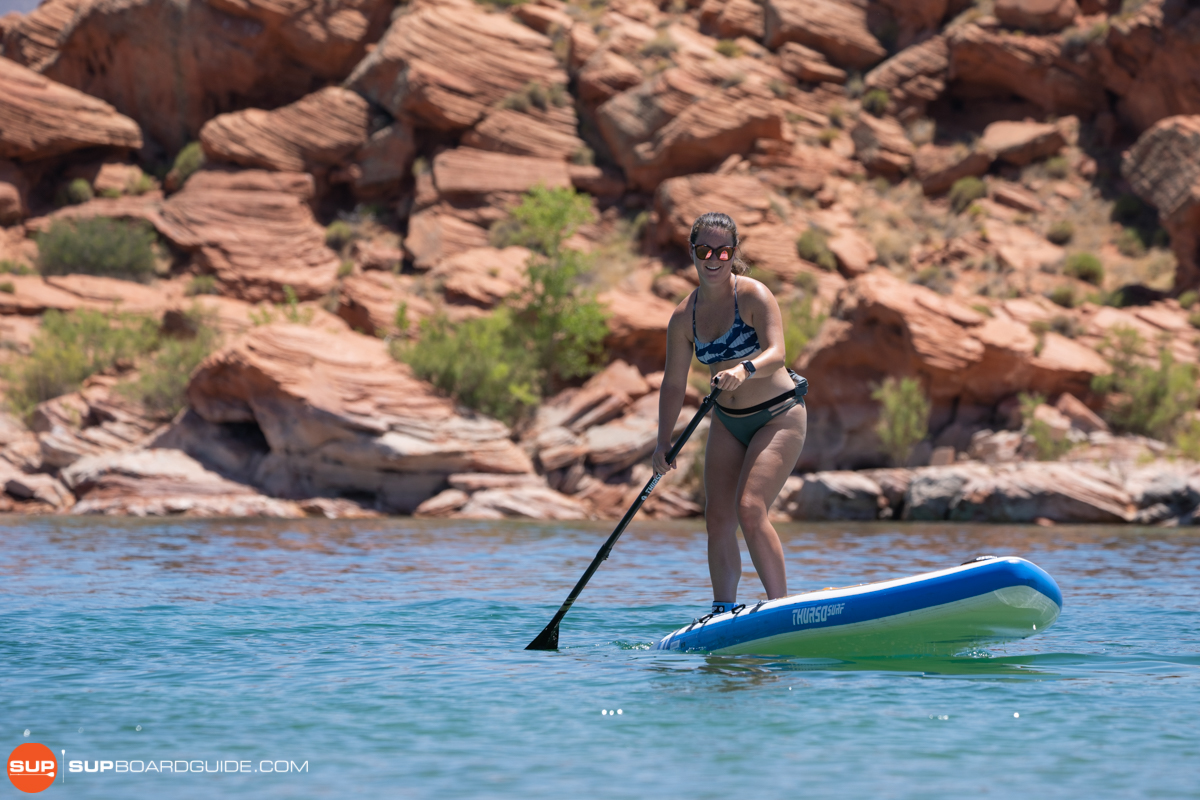 Maneuverability is another area where I think the Thurso Max's weight comes into play.
Being 31 lbs, the Max Multi-purpose does take a bit more effort to change direction if you have some momentum going. Of course, its larger dimensions are a contributor here as well, as most 11'6 x 34" SUPs will be a bit slower to turn. However, when tested at a stand still, the Thurso Max required 5 backstrokes to make a 360 degree turn, which is one more stroke than was needed to make the same turn on the Blackfin XL (tested on the same day, in the same conditions). Though because its slightly lower level of maneuverability seems to be related to the weight of the Thurso Max, it likely won't be as noticeable for taller/heavier paddlers.
We also tested stepback turns on the Thurso Max, but I do want to emphasize that this is not a board that you'd have in a situation where a stepback turn is absolutely needed. The Max was expectedly a little more resistant to this type of turn than smaller, sportier boards we've tested. It's fairly difficult for lighter paddlers to sink the tail, and even then it turns in more of a wider circle. I don't think this is at all a problem with the SUP; it's just simply not what it was built for, and that's okay.
Construction Quality: 8.8/10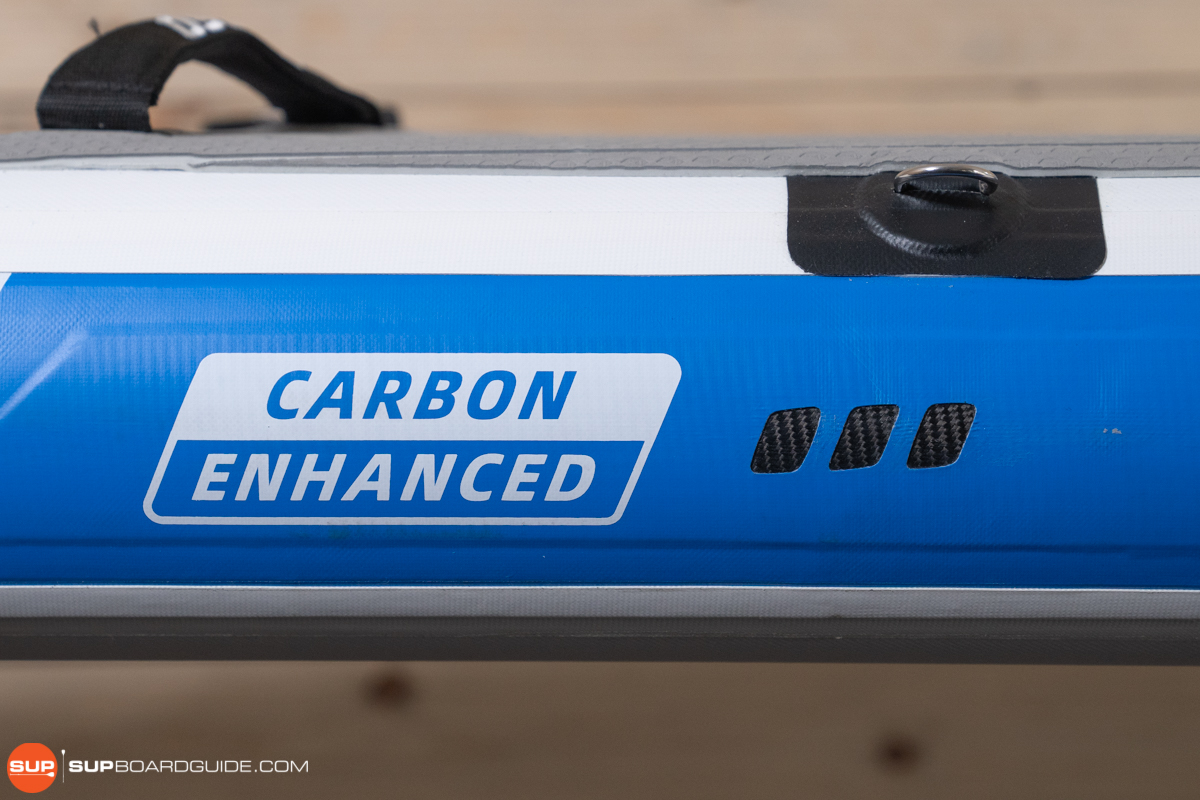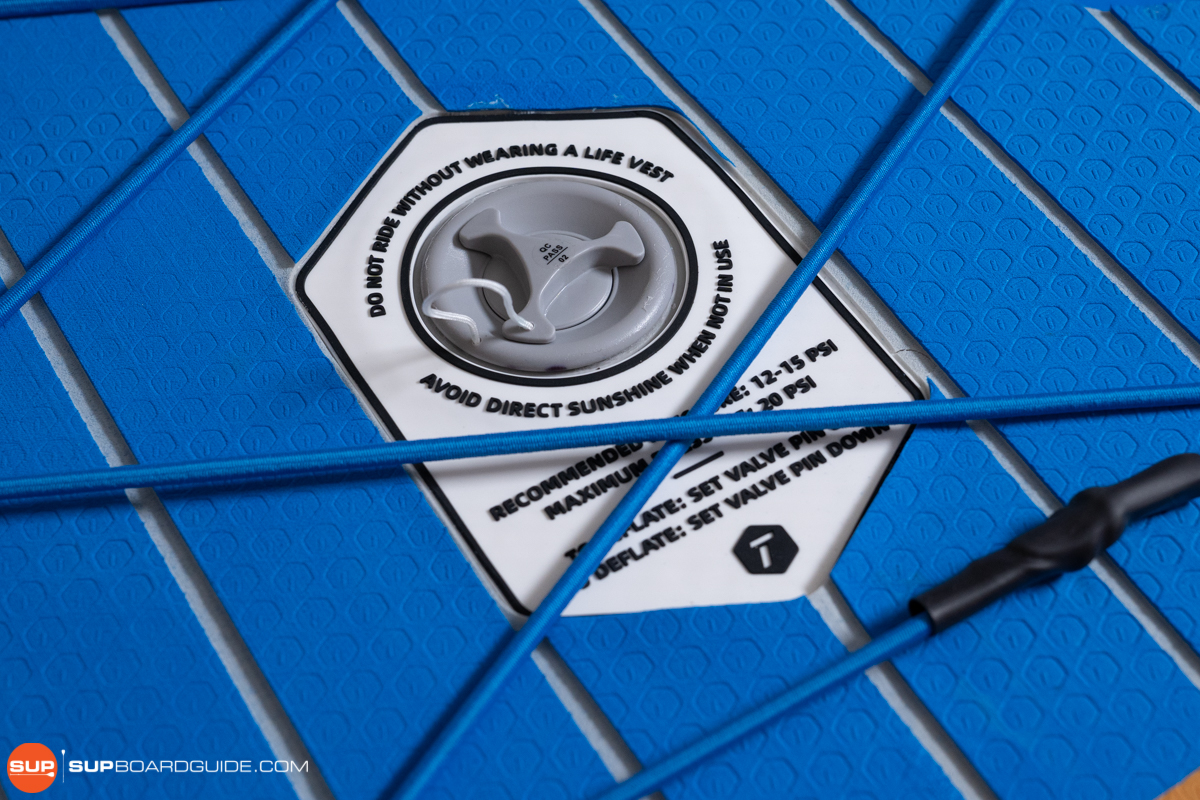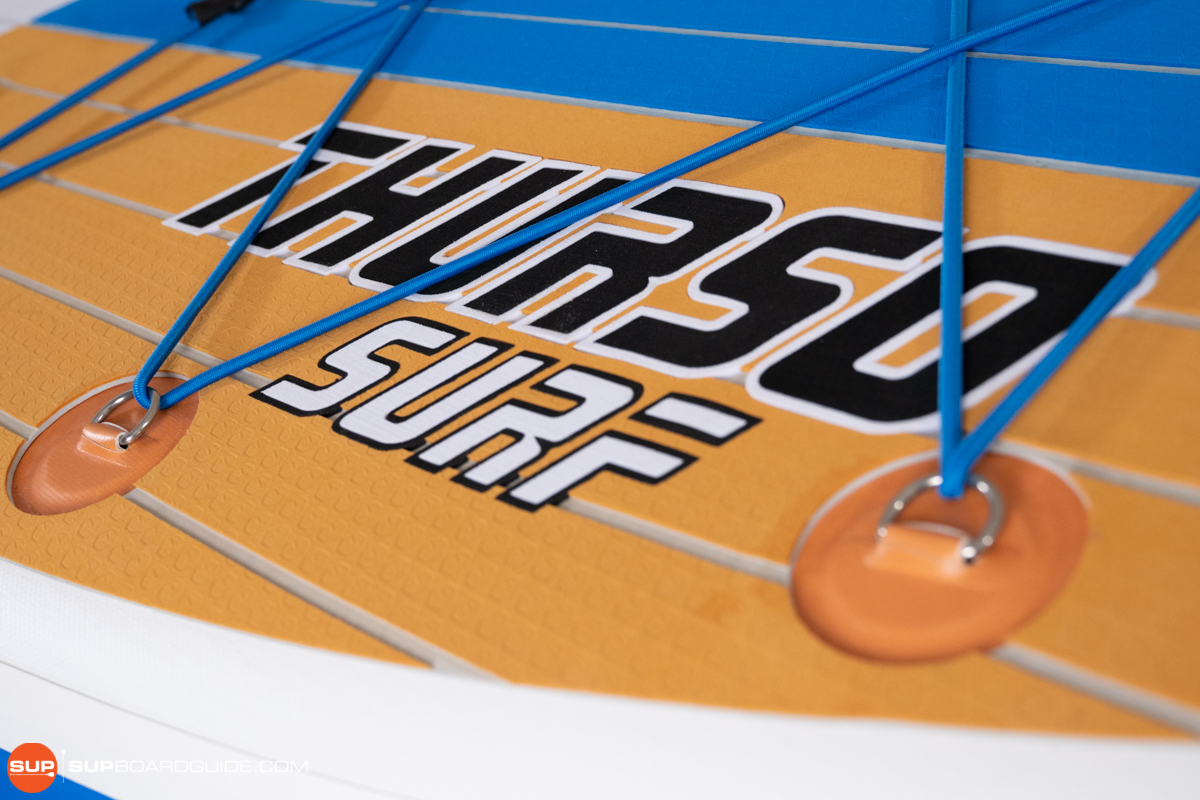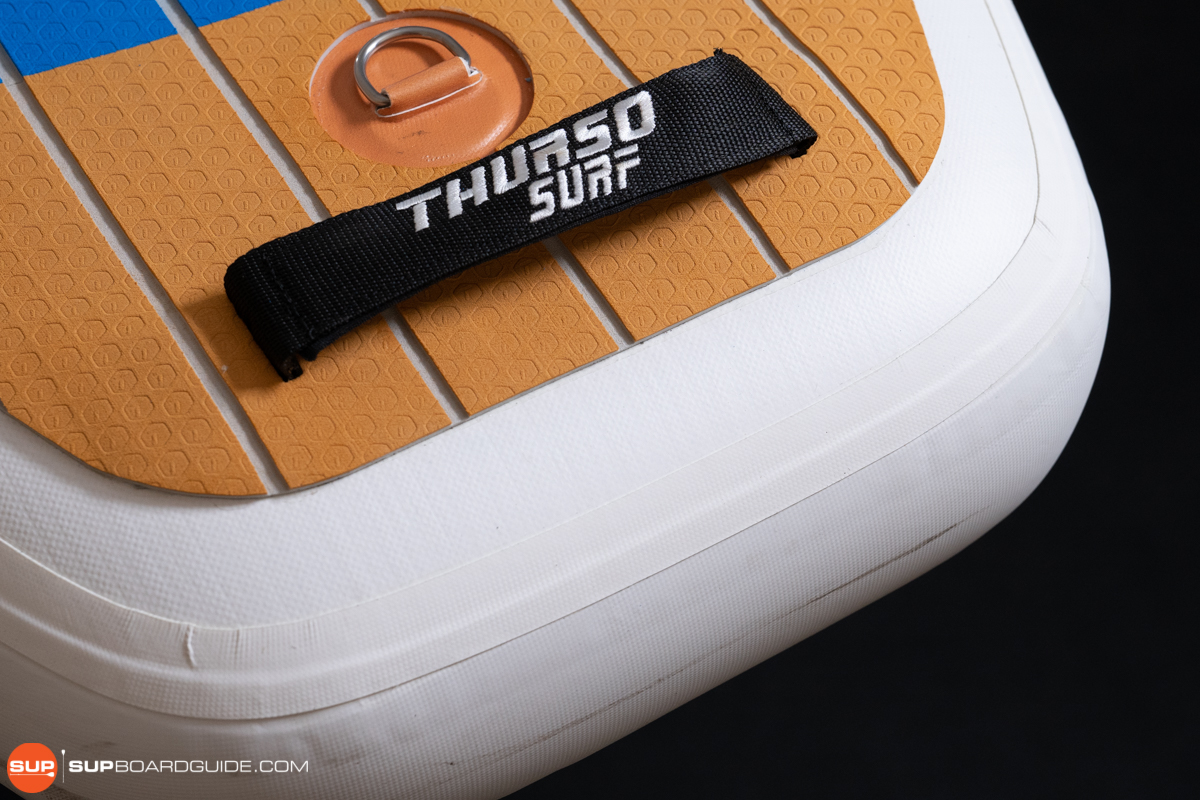 The Thurso Max multi-purpose is constructed using a woven-linear inner drop stitch and dual layers of fused PVC.
What this means is that the thousands of threads holding the shape of the Max intact are oriented linearly (parallel to each other), running from deck to bottom of the SUP's interior. These threads are then anchored into a woven fabric layer, which is eventually coated in two laminate layers of PVC, thereby 'fusing' together during the drying stage.
Once the deck and bottom layer of PVC are dry and solidified, Thurso applies the Max's rails. Like nearly all Thurso boards the Max multi-purpose has a strip of carbon fiber fabric incorporated into its rails, which slightly improves stiffness.
While I'd like to see Thurso tweak their materials and processes a little bit to take some weight off of this SUP, I also want to acknowledge that this SUP will be durable enough to hold up to a lot of abuse and it's 'heavier' build makes it fairly rigid on the water to sustain higher weight capacities.
Board Stiffness: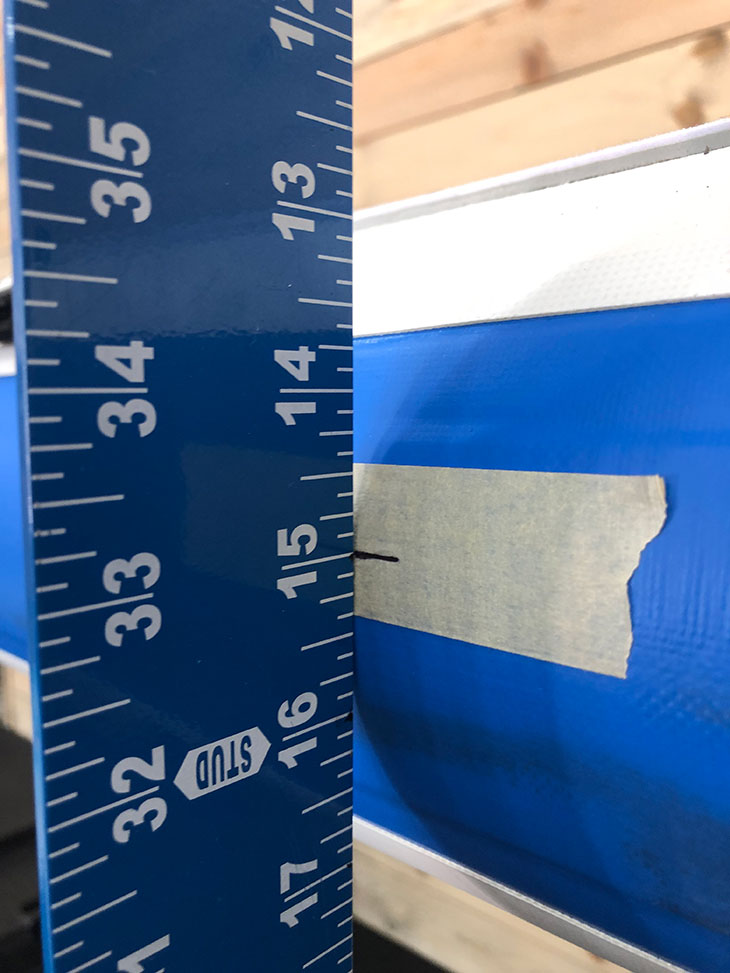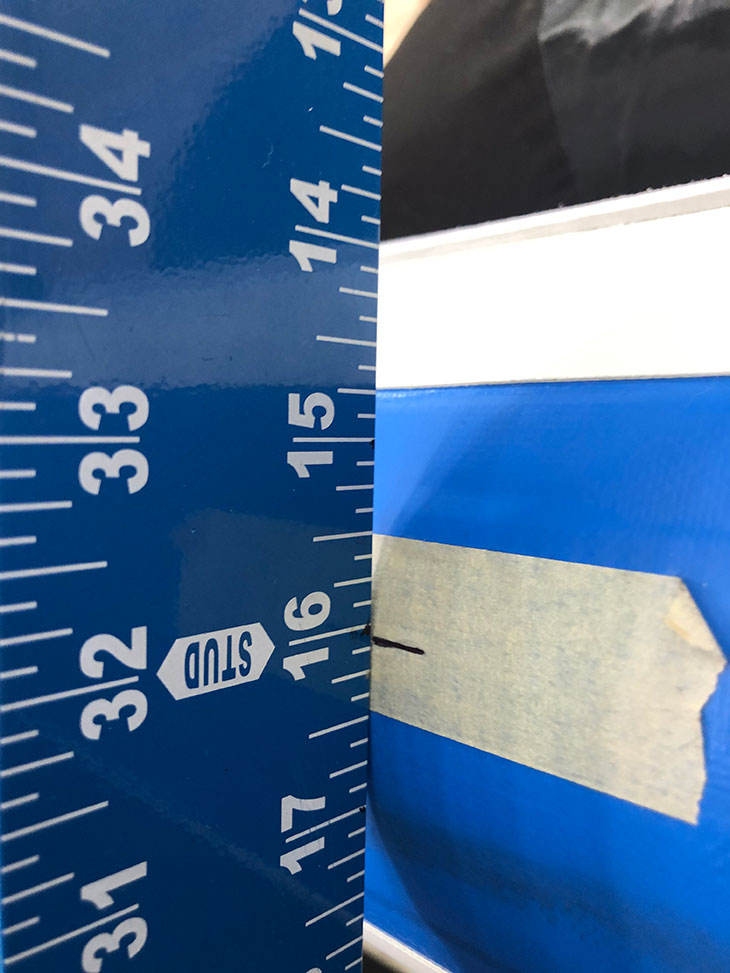 Stiffness Test: 1.0625" Bend
Our bend test is performed by placing the SUP on top of two sawhorses that are spaced 7 apart. We then set 150 lbs at the SUP's midpoint and measure how much it flexes under the weight. Of course, this is not replicative to conditions on the water, but it does help us understand how different construction techniques contribute to overall stiffness.
The Thurso Surf Max Multi-purpose bent just slightly over an inch in our bend test. While this is slightly more than we expected, it's still mostly on par with some of the stiffer SUPs in our data pool. Moreover, when it comes to on-the-water performance, the Max multi-purpose feels rigid under foot and I've had no issues with it supporting my weight + my dog + some gear.
Features/Accessory Review: 9.2/10
Looking at the sheer amount of features on this SUP, it's evident that Thurso Surf really took the term 'multi-purpose' to heart.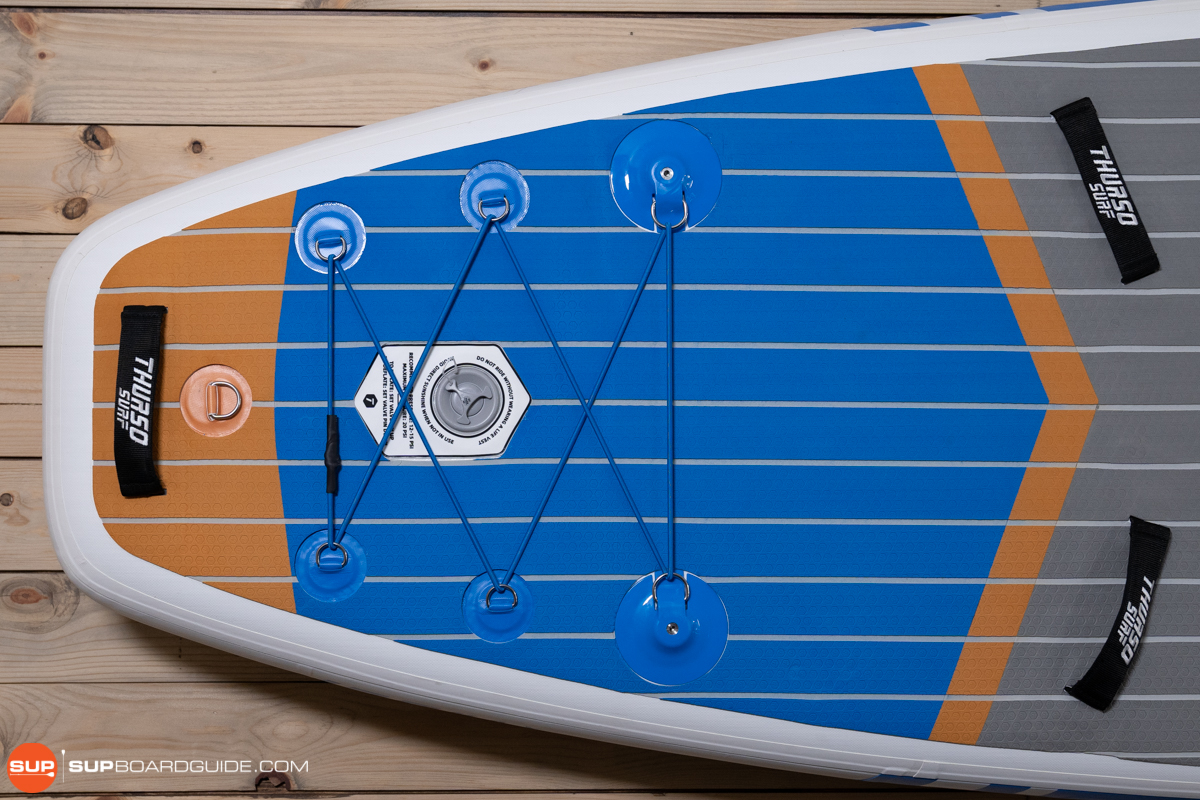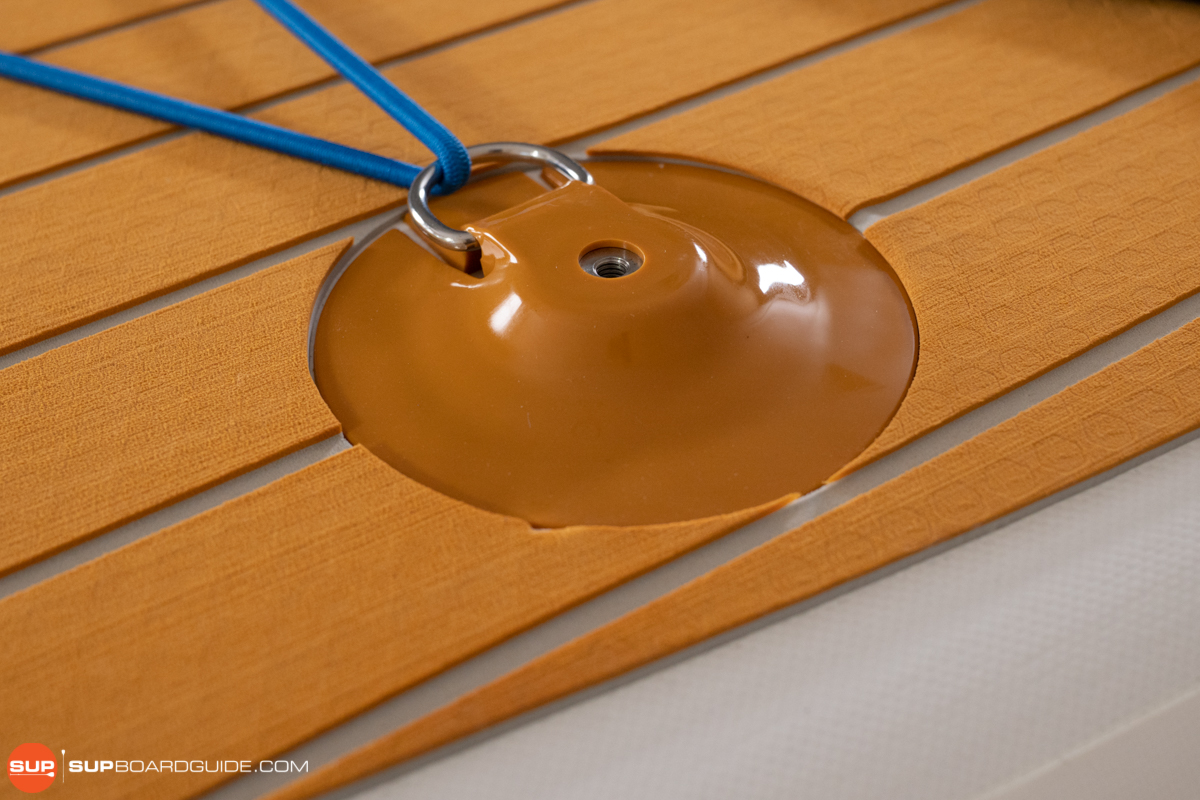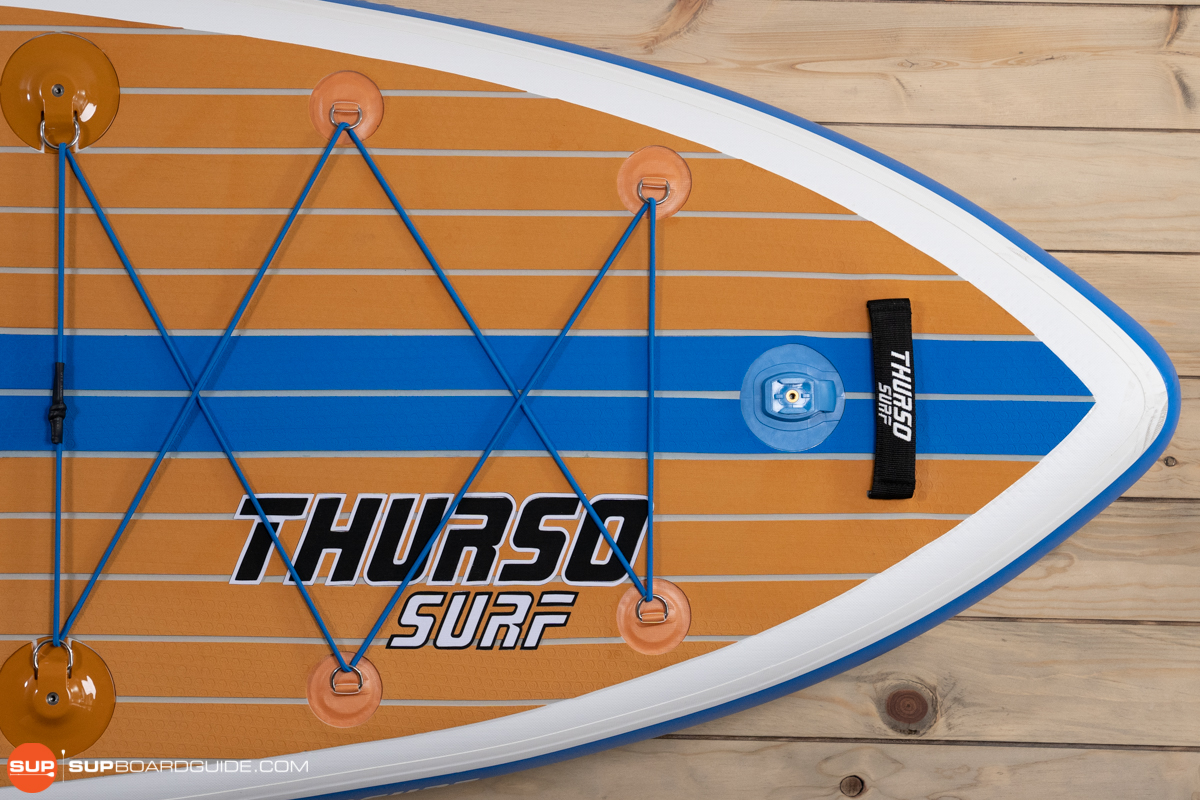 The Thurso Surf Max 'Multi-purpose is equipped with large front and rear cargo areas, with both sporting a pair of integrated action mounts (making 4 total, for those of us not talented at quick maths).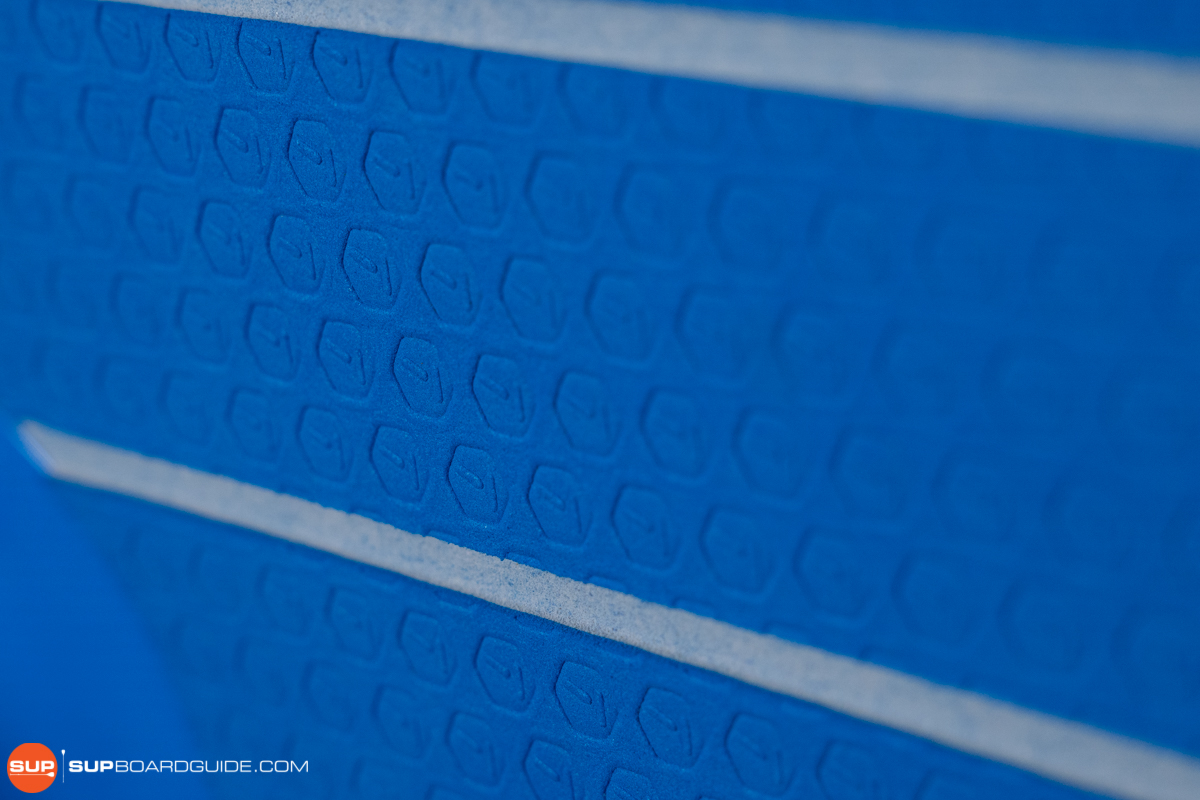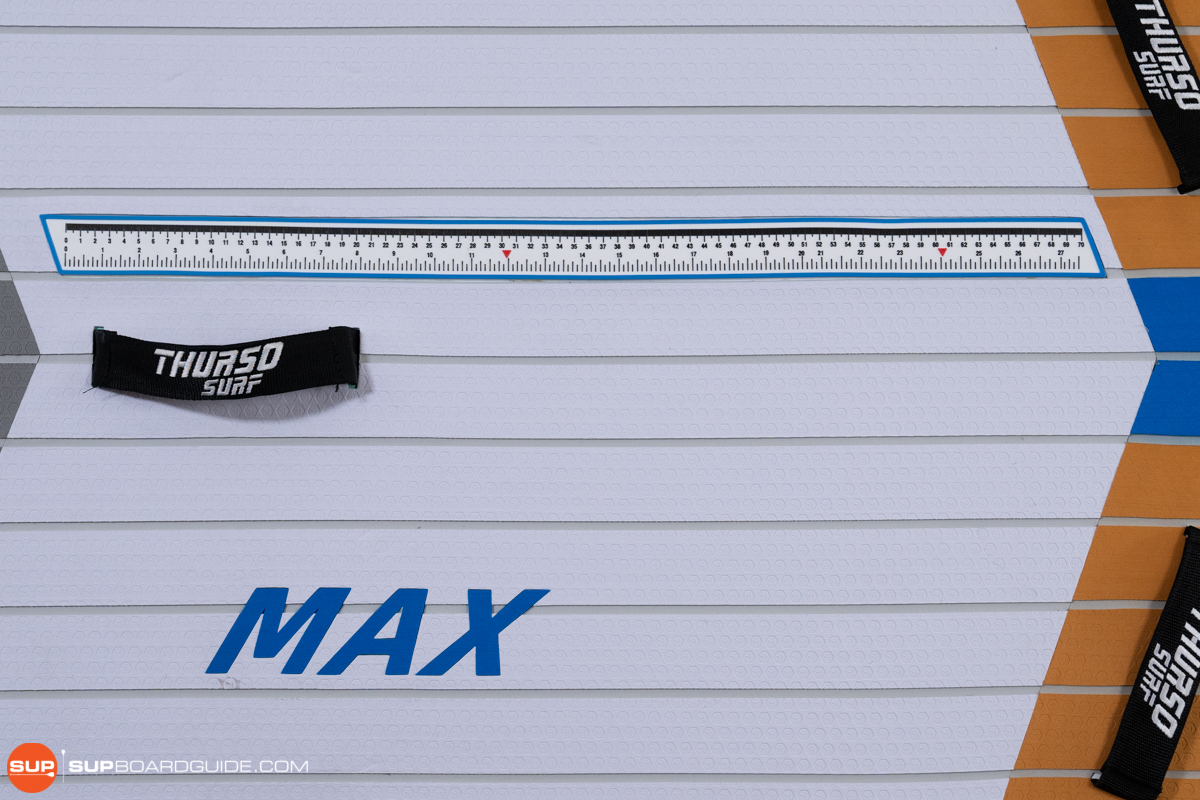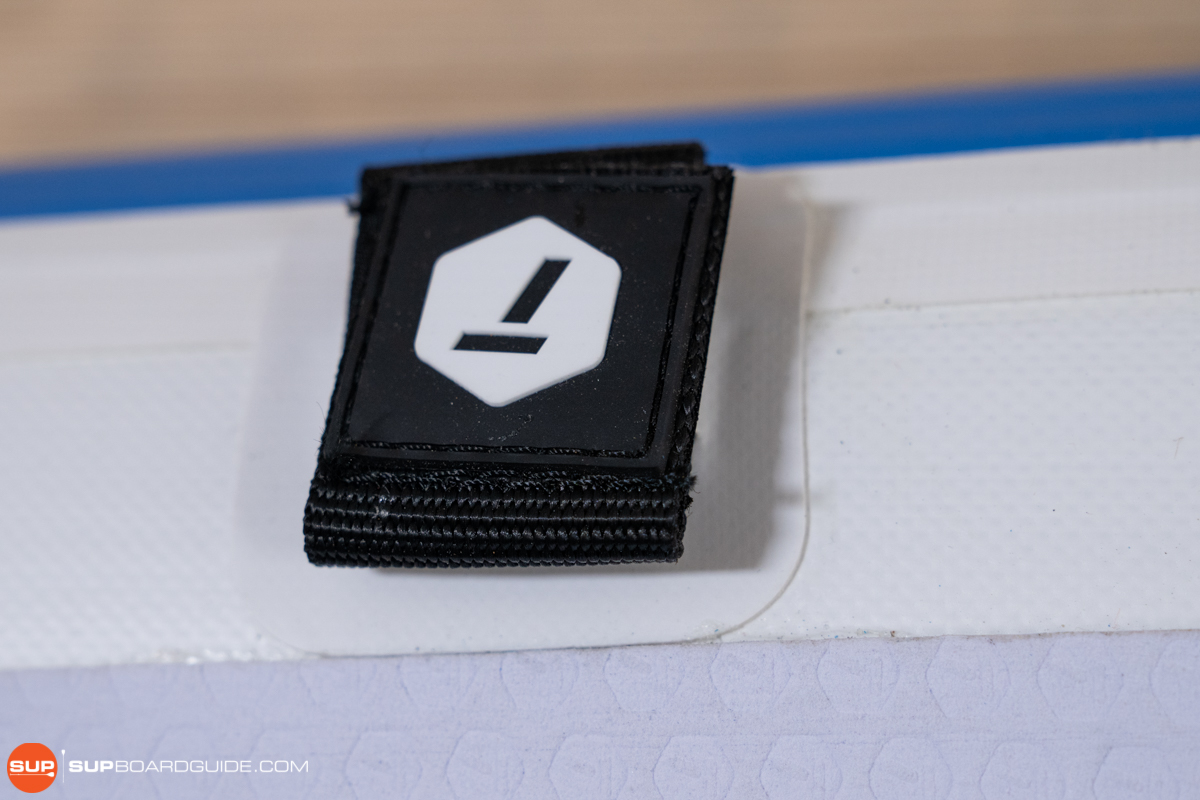 They've also added a built-in ruler into the full length deck pad for easy measuring when you reel in a fish. Fishing was likely in mind when Thurso equipped the Max multi-purpose with a set of velcro paddle holders on both rails, as well as extra D-rings to attach a kayak seat.
You'll also notice that the Max Multi-purpose has 2 pairs of grab handles in addition to the nose, tail, and center handles. While I'm not exactly sure what these are for, it does help when you're getting back onto your board after going for a swim and it gives passengers something to hold onto while riding either in front of, or behind, the paddler.
Included Accessories: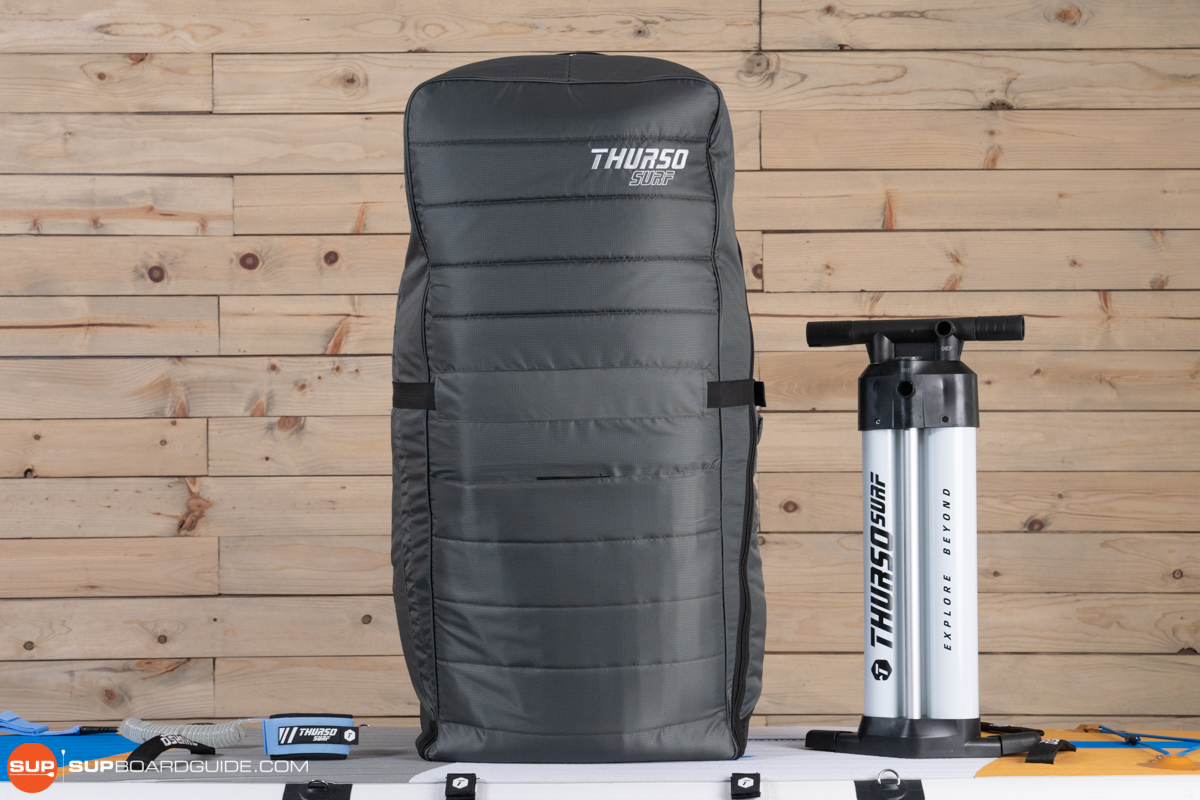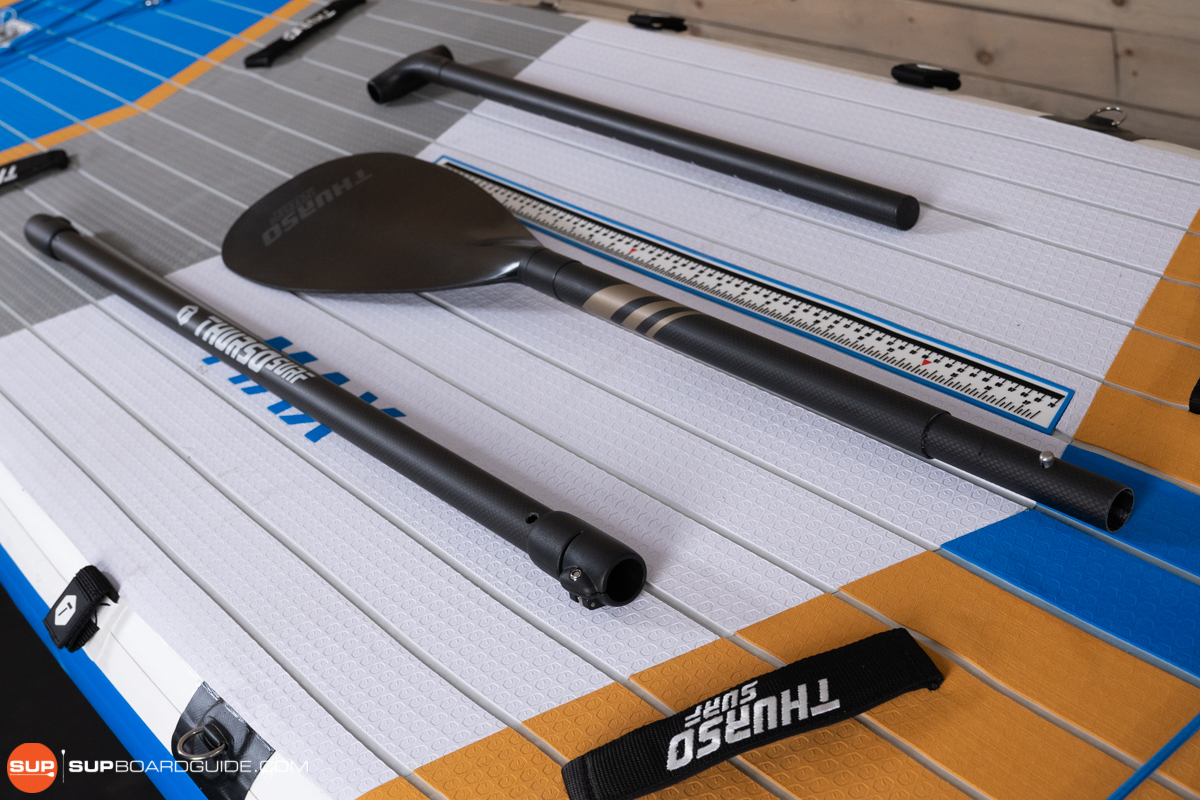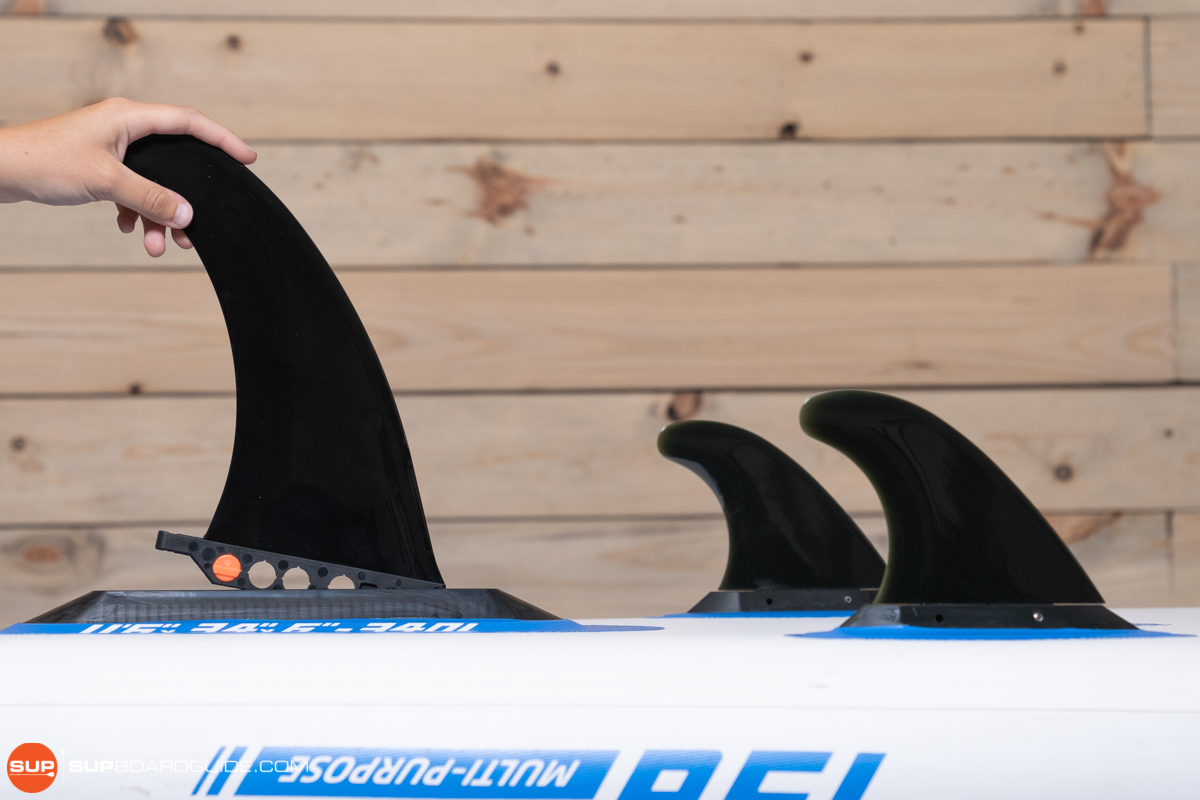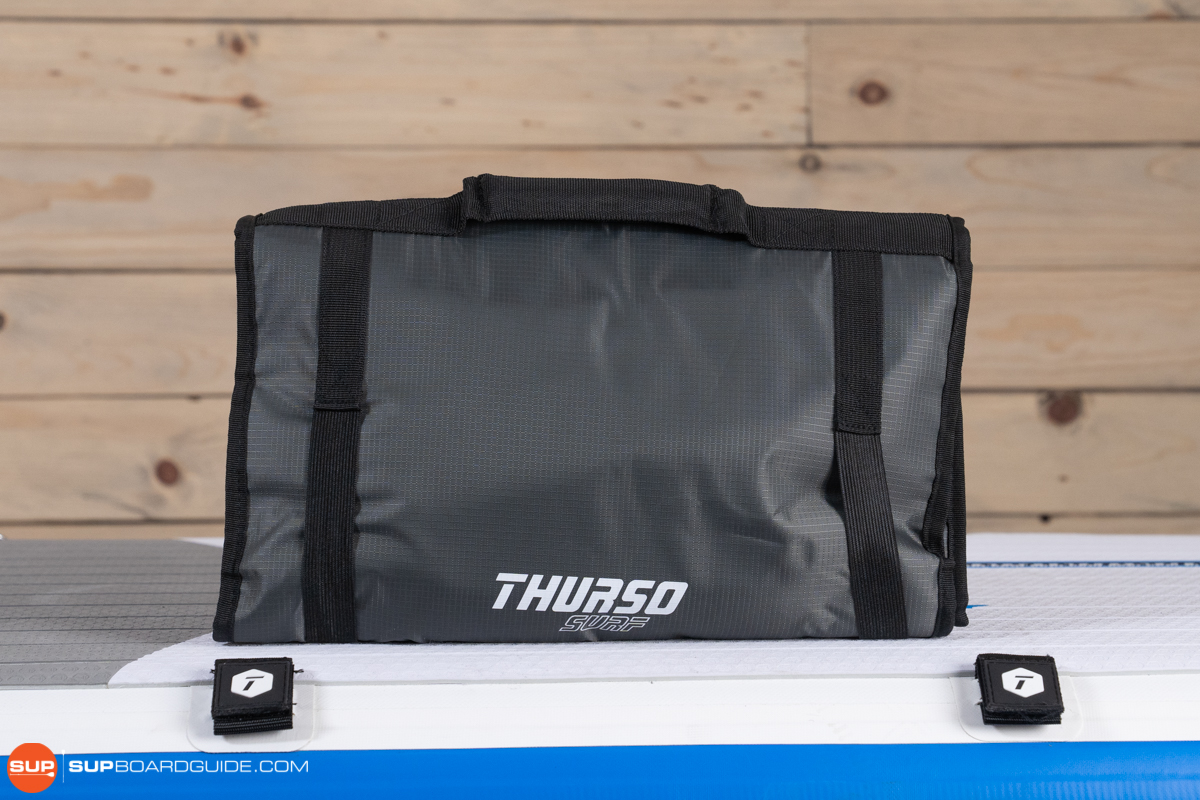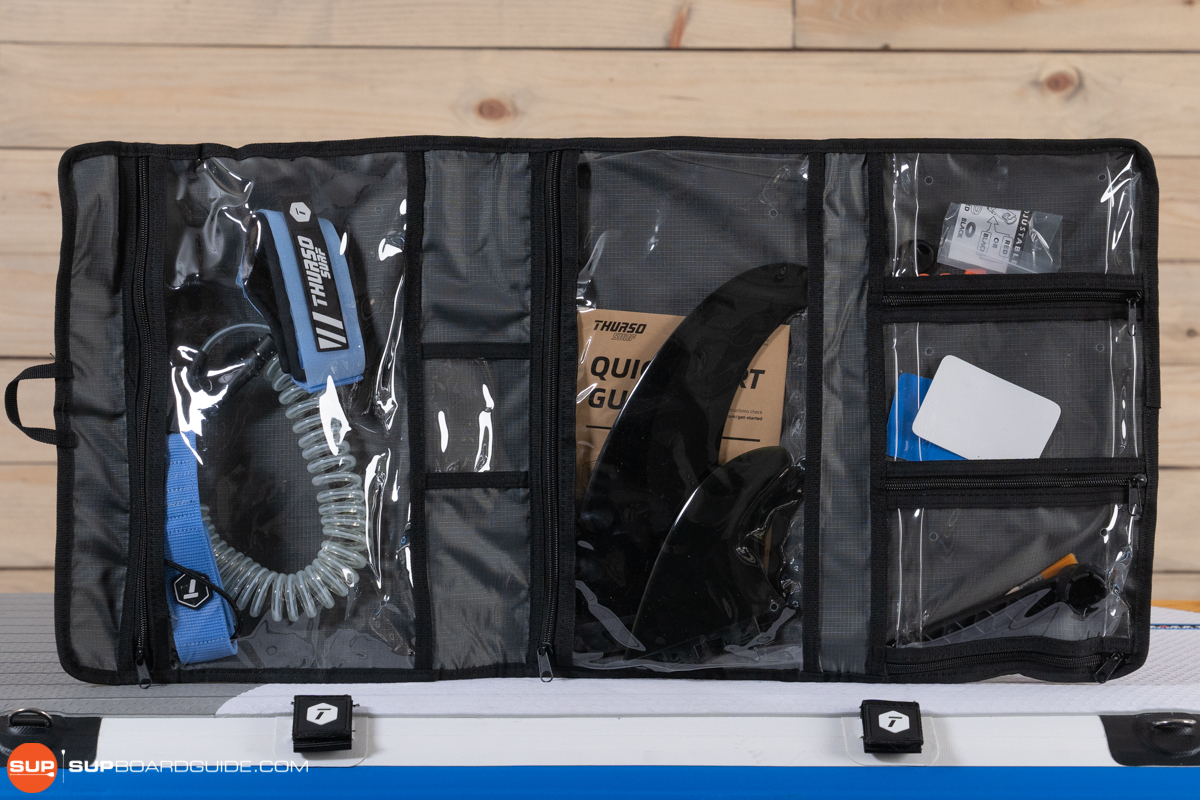 With each Thurso Surf SUP, you'll receive the following accessories:
3-piece carbon hybrid paddle
Accessory pouch/ organizer
Hatchet-style kumano fin
10' coiled leash
Dual-chamber triple action hand pump
Wheeled SUP backpack
While the list remained roughly the same from previous models, the latest line-up on Thurso SUPs got a bit of an accessory upgrade.
Thurso reworked their SUP backpack to be much roomier than the previously included bag. It makes it so much easier to pack up your SUP and gives you space to throw in some extra gear too. I also really like the new material, and that Thuros has added mesh patches to the bottom of either side to limit the chances of mold if your SUP is put away wet. They've also swapped out their snap-lock fin set-up for a kumano click fin set up, which opens the door for tons of customization.
Bag and fins aside though, my personal favorite upgrade to the Thurso Surf accessory list is the addition of an accessory organizer. This little pouch honestly reminds me a lot of my dad's travel toiletry bag. It folds up into itself and has individual zipper pockets for your fins, leash, repair kit items, and tools. As someone with zero ability to keep track of small pieces, the organizer pouch is a life saver. I also love that it fits perfectly into the front exterior pocket of the new SUP bag.
More important than the upgrades though, we were ecstatic to open up this SUP package and see that Thurso has swapped out single use plastic packaging for paper and cardboard.
Summary Review of the Thuros Surf Max Multi-purpose SUP
The Thurso Surf Max Multi-purpose is understandably not the most nimble or quick SUP of the bunch, but was instead built with stability and versatility at the forefront of its design.
Measuring in at 11'6 long and 34" wide, the Max Multi-purpose is a nearly unshakeable platform in the water, and it's poised to serve taller/heavier paddlers as well as paddlers looking to load up with passengers and gear.
It's also loaded with features to accommodate nearly any activity you could throw it's way. SUP fishing will come easily with the built in ruler and action mounts, you'll have enough room for yoga with the full length deck pad, or you can opt for a more lax experience by attaching a kayak seat to the extra D-rings.
In short, the Max Multi-purpose easily lives up to its name in offering 'max'imum stability and 'multi'ple options for your paddling experience. In the future though, we'd love to see thurso cut some weight from the overall build of this board.
We hope you've found this review helpful, but feel free to comment below if you have any questions.
As always, be safe and we'll see you on the water!
The following two tabs change content below.
SupBoardGuide
Heyo! At SupBoardGuide.com we are a team who love the water, the outdoors, and are more than grateful that our full-time job allows us to review stand up paddle boards. We paddle year round (it helps that we are just about 2 hours outside of Las Vegas), and we bring in a wide range of paddlers with the goal of providing our readers with the best, most in-depth, and accurate stand up paddle board reviews.
Latest posts by SupBoardGuide (see all)