ThursoSurf Max Multi Person SUP
Pros
Heavy-duty all-around SUP that maximizes stability and weight capacity. Able to support two adult paddlers.
Thick, durable construction with multiple PVC coatings. Very hard to damage.
Huge accessory compatibility. Action mount added to 2020 SUP for additional add-on support. Fishing ruler included in the deck as well.
Fantastic deck pad that covers the whole length of the SUP. No wasted space on the Max!
Built in carbon rails. Increased rigidity and firmness without having to deal with removable rods.
Fully loaded kit backpack, everything needed for the water right out of the box. Pump and kit bag both upgraded from the previous year's model.
Cons
Heavy SUP that weighs 33 lbs. The weight does enhance overall stability and resistance to chop and wind, but makes the board a little harder to maneuver.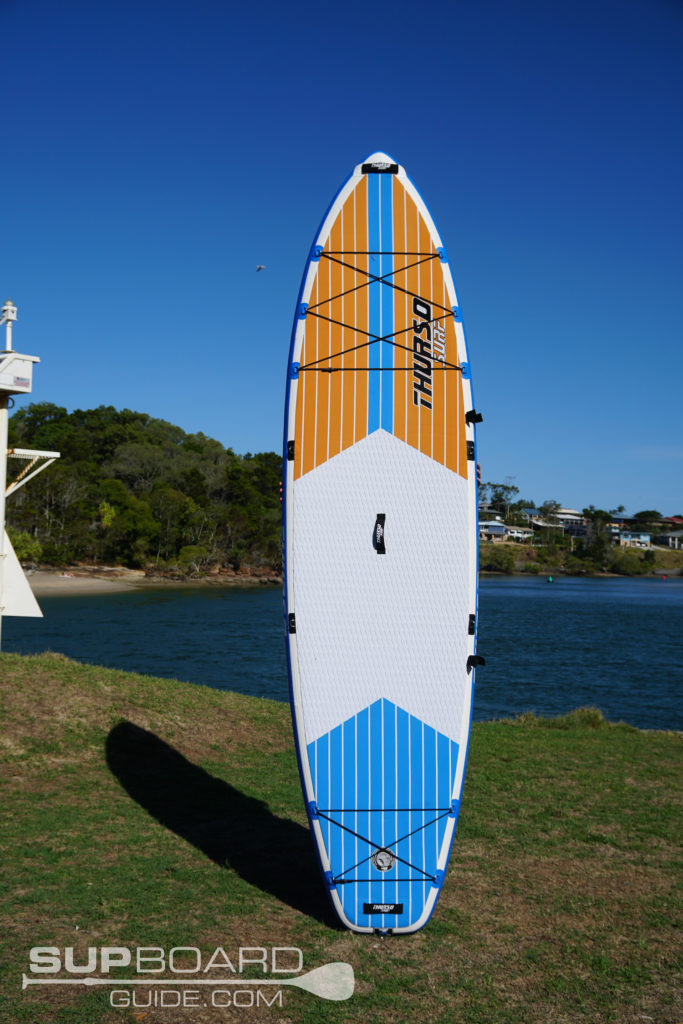 Do you feel like you need a little more stability in your life? You want a balance of stability but still the freedom to move?
I think we all do! While that's hard to cultivate in your life, you can easily get it in a SUP. The ThursoSurf Max Multi-Person SUP is an all-arounder that's been made specifically with a bit more stability in mind. It's loaded with board features and looks pretty cool too!
While Thurso has the all-around Waterwalker range, the Max is a little bit different. Look below to find out why!
Specs
| | |
| --- | --- |
| Length | 11'6 |
| Width | 34" |
| Thickness | 6" |
| Weight Capacity | 370 lbs |
| Weight | 33 lbs |
Performance
The Max is a super stable board. It's the go-to for anyone who needs extra stability and ideal for families. The stability comes from the width, materials, as well as the shape of the board. I'll explain those points in more detail in the appropriate sections below. For now, all you need to know is that this is one of the most stable all-arounds you can buy that doesn't sacrifice its performance for the stability.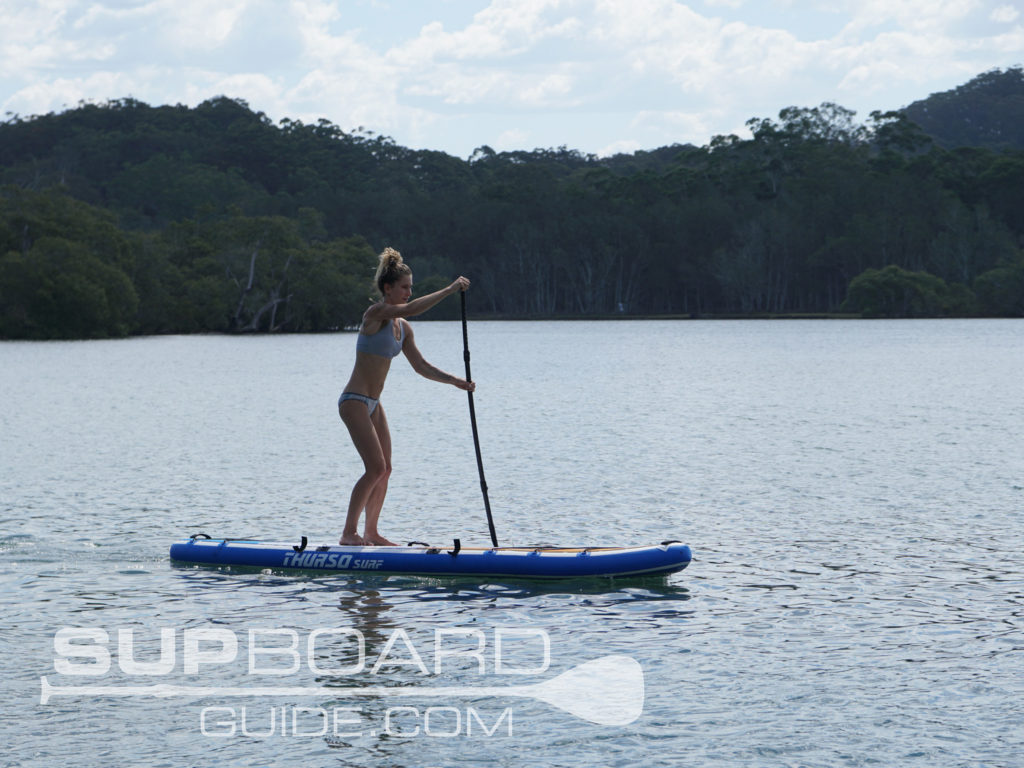 The all-around shape of the board is unique for a board that's 11'6″ long. You can still move around quite easily and the tracking is pretty good! While it's not the fastest or most responsive board, it wasn't built to be. If you are wanting an all-around that moves, the 10'6″ Waterwalker is one of my favorite all-arounds. One of the unique features of the Max board is the deck pad. Having it cover the full length of the board provides a comfortable and grippy surface for extra passengers, animal or human, wet or dry!
I would recommend this board to someone who's priority would be either to have loads of stability or the ability to take their kids/pets out regularly. Someone who isn't too phased to sacrifice just a small portion of performance for those things. If you are like nope, that's not me, I want to glide and fly like an eagle! But on the water…Then perhaps checking out Thurso's Expedition would be wise.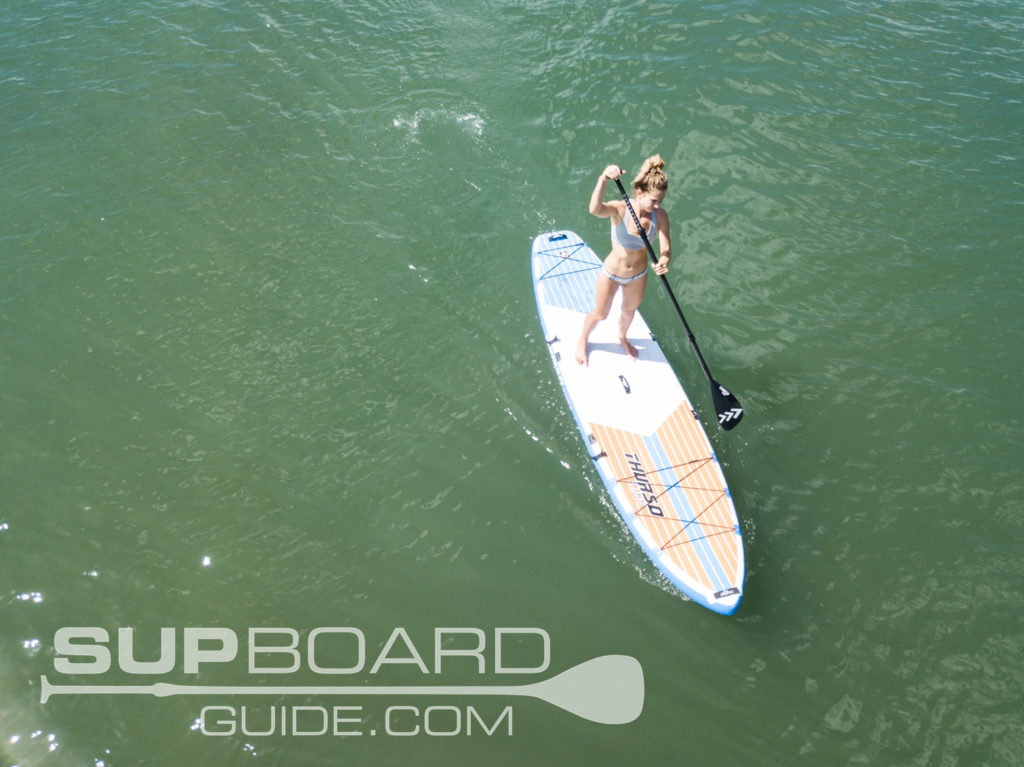 Being such a large, flat and low profile shape this board is best suited to cruisy paddles. It has a small amount of raise in the nose to help combat some chop but you'll find it performs best in calm conditions.
Materials
Thurso uses the same materials across their whole range, manufacturing durable and rigid boards. The Max is made with a tough PVC over a drop stitch core. While the initial layering is a double layer, the sides are reinforced with an extra layer. Additionally, the deck pad stretching the full length of the board also provides an extra layer of protection.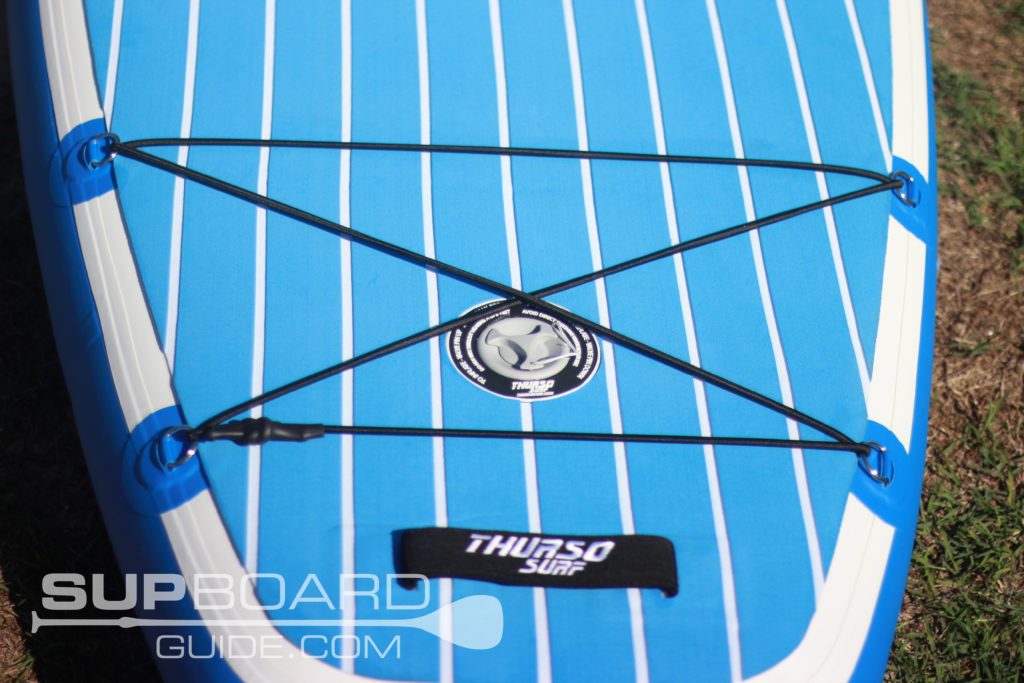 By only focusing on the rails, the most commonly damaged areas, Thurso was able to create a durable board but without the extra unnecessary layers (and weight!). The deck pad on top is made up of two different patterns. The diamond grooved part of the pad is for the best traction and where you stand the most. While then the striped part of the pad is more comfortable, which is ideal for kids to be sitting on.
Board Design
Overall the Max is built for stability but still a little bit of performance. The full shape throughout is an extremely balanced platform as well as the 34″ wide deck. One of the groups that something like the Max appeals to most is people who like to take their kids out regularly. It's an extremely common question, which is the best board to take kids on? So it makes sense to factor in what else is great for kids on board. A fully covered surface so they have somewhere comfortable but also grippy to sit! But also the bungee area double as somewhere for them to hold onto.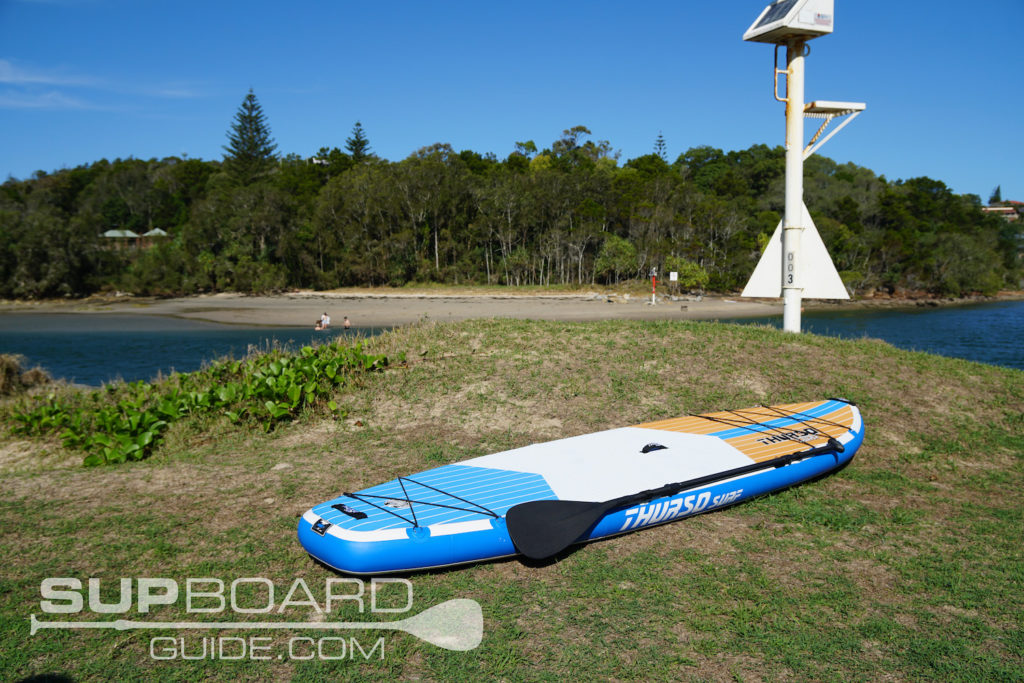 While these are great features for kids they also are useful for other SUP things too. If you are into SUP exercise this is also a perfect board for you, stable and grippy the whole length. While the real standout feature is the velcro paddle holder on the side of the board, so your paddle stays our the way but secured safely.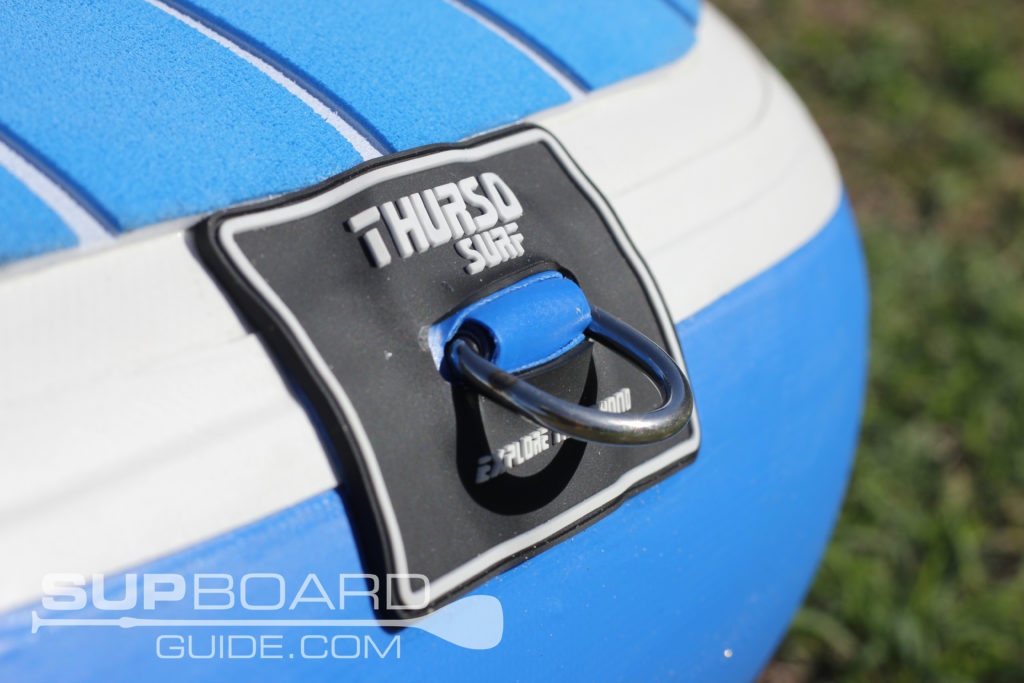 Though if it's adventures you want to go on, you also have plenty of room to store gear. Being able to spread your load between the front and back also helps with board performance. Those wanting to shake it right up can also purchase a kayak bundle, which includes the seat that attaches to the 4-Drings in the middle of the board. Moving along, the portability of the Max is great with the multiple handles found nose, tail, and center of the board.
Features
Inflate/Deflate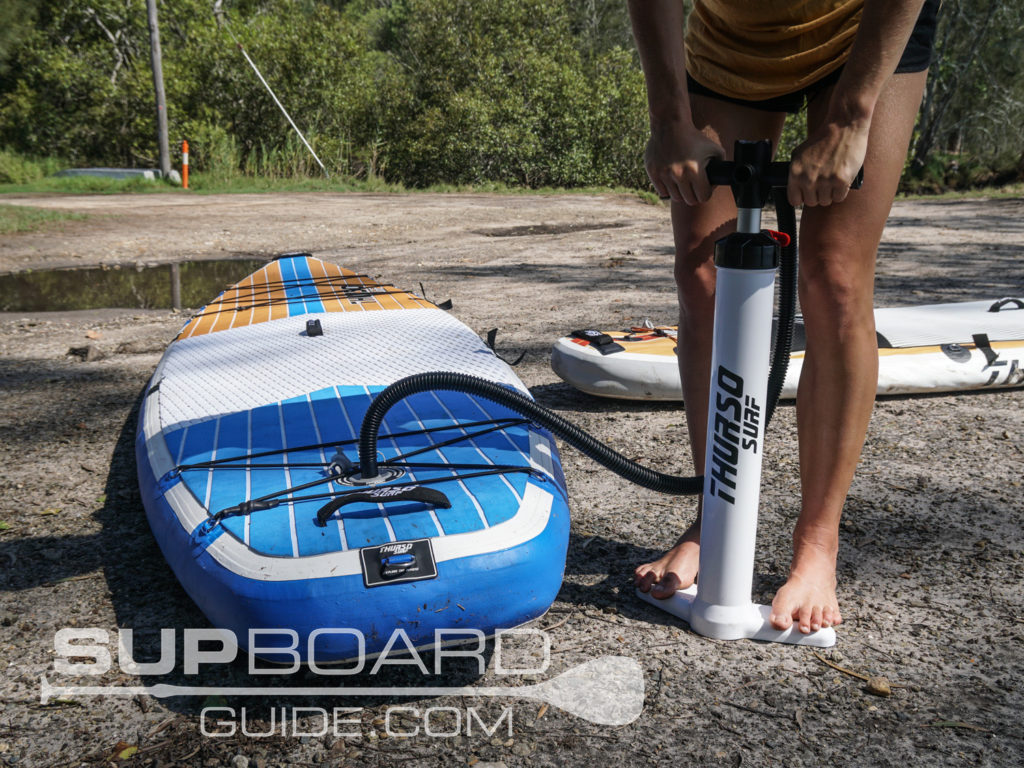 The Max being a little bigger than the rest of the Thurso range, it does take an extra minute or two to pump up but nothing too crazy! In about 10 mins you should be inflated up to the recommended 15 PSI and ready to go! Though if you are feeling a little lazy (don't blame you!) then I'd suggest investing in the Thurso compressor. (Listed below)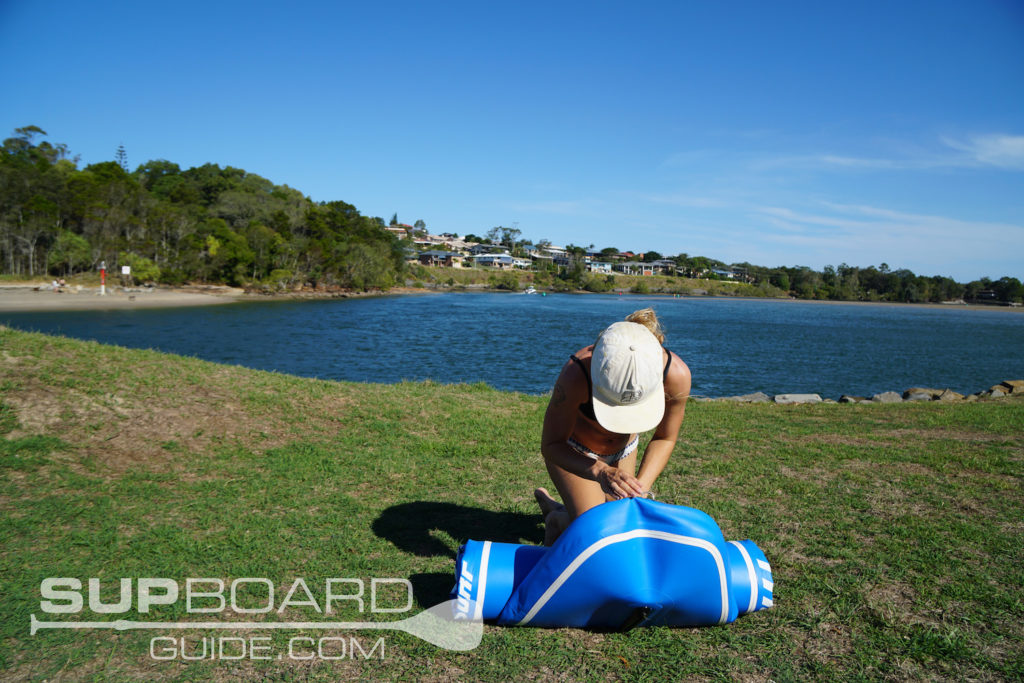 Deflating the board only takes a few minutes, after you pushed the pin in, twist it to lock it off and let air continue to escape. Then you can roll up! With all the fins being removable, you can roll the board up much tighter than previous years.
Fin Setup
There's a tri fin setup but with all fins removable, you are able to ride your Max as a single fin also. The fins click in easily and no tools are needed. It's an efficient system that offers up versatility, so you can get the most out of your paddle. One other point to note is that being able to remove all fins, it makes it way easier to roll the board up nice and tight!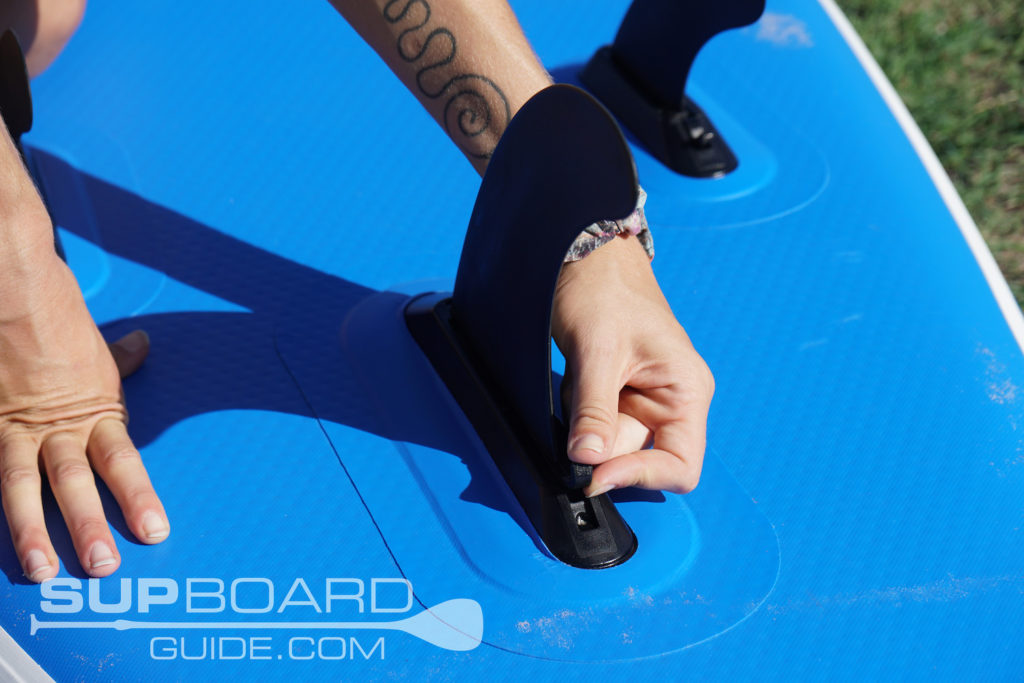 If you're loading the board up with extra passengers I'd suggest using all 3 fins as it'll help with stability. Though if you are just going for a gentle cruise, a single fin will help boost your tracking.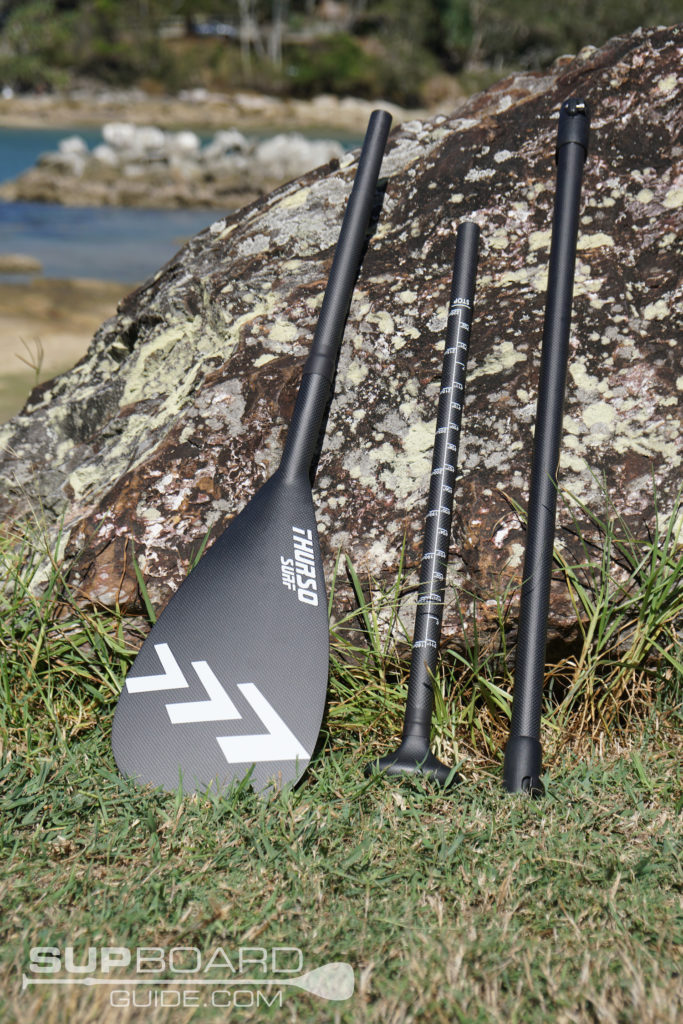 Accessories
Paddle
The carbon shaft paddle you get with the Thurso boards is spectacular. Thurso is the first company in this price range including a carbon shaft paddle, mainly you get fiberglass or aluminum. The blade is nylon, which is sometimes better than a full carbon paddle as I believe the nylon is slightly more durable.
It's got both pin locks and clasps to secure the joins. I found the paddle to be extremely sturdy while paddling but also quite nimble and light to move. It breaks down into 3 pieces and stores easily in the bag along with everything else. For the cost of this board and its accessories, this paddle is a big win!
Backpack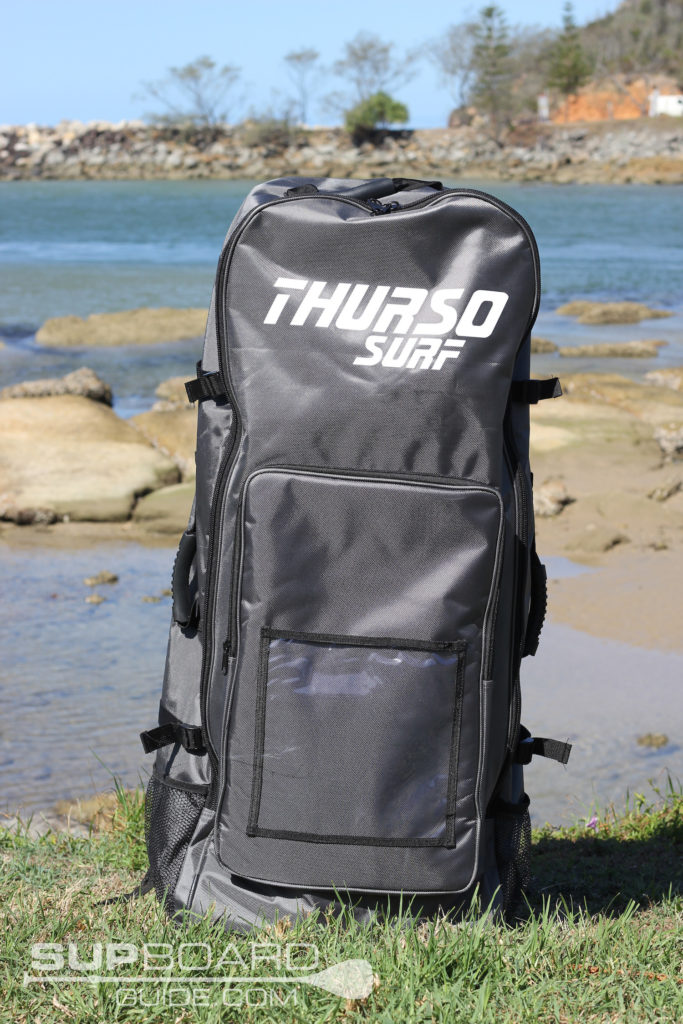 Thurso really upped their game with the backpacks this year. While the previous 2018 bags were sturdy and easily spacious enough, the 2019 bags have cool new features. Things such as now having the option to wheel your bag as well as carry! The bag also looks way more stylish with the grey materials and holds together better.
Inside there's heaps of room and straps to secure everything. I can fit in the board, pump, and paddle with room leftover! And there's still a pocket on the front for anything extra like a shirt, water bottles, etc. Overall, it's another amazing accessory for a board in this price range.
Leash
The ambilocal cord. What keeps you and your board connected. Thurso coiled leash is strong and won't snap! Well, mine never has. It attaches to the D-ring on the tail of your board and then to your calf/ankle.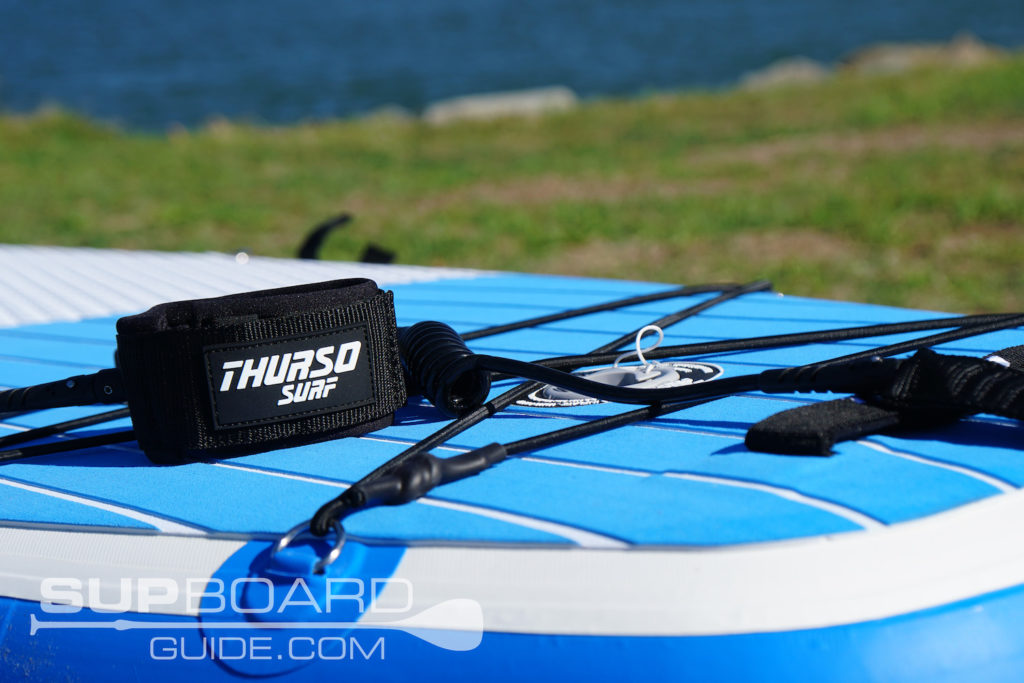 Pump
Inflating you up to the 15 PSI is the hand pump. While if you are feeling lazy you can splash out on a compressor. Though if doing it by hand the Thurso pump will get you there in a short amount of time. Being a dual action it also is reasonably effort efficient! While other brands in this price range like iRocker are doing dual chamber pumps, Thurso's other accessories do outweigh the rest of their accessories. To keep the price down, I guess sacrifices have to be made here and there, I personally would rather the great bag and paddle and then just invest in the compressor!
Repair Kit
In case of an accident, some patches, glue, and a wrench should be all you need. Luckily, I can honestly report I've never needed a repair kit on any board even the ones that are made way worse than Thurso's. There as a complementary part, a "just in case". That way if you do have trouble you can sort yourself out rather than waiting.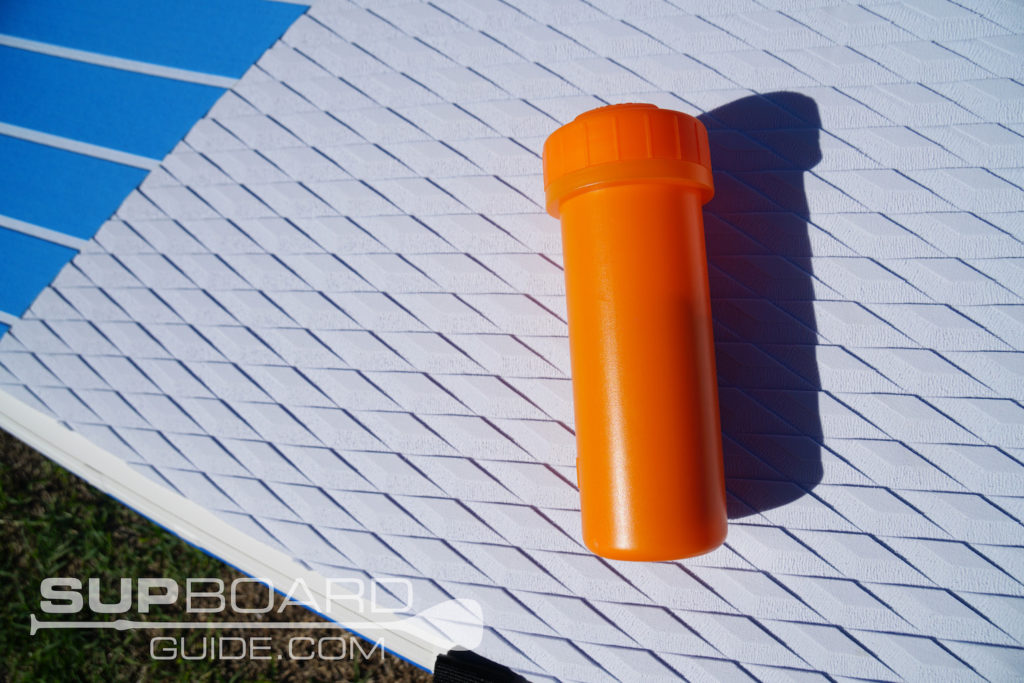 EXTRA GOODIES!
Electric Compressor 
Thurso electric compressor is great. It powers from any 12V port in your car and is super compact. Though it takes about the same amount of time as hand pumping it's obviously much much less the effort.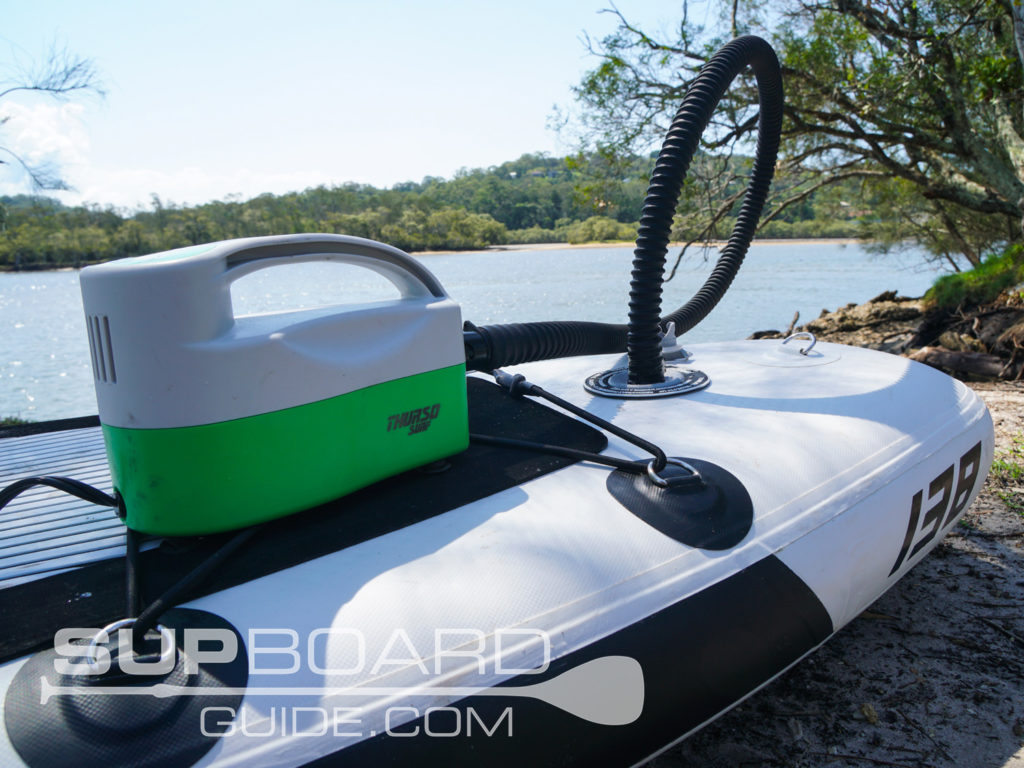 DeckBag
Strapping onto the deck by clips is the deck bag. It's insulated and keeps things reasonably dry. Keep your snacks and water in there to stay fresh or even chuck some ice in it and enjoy a cold beverage further down the stream 😉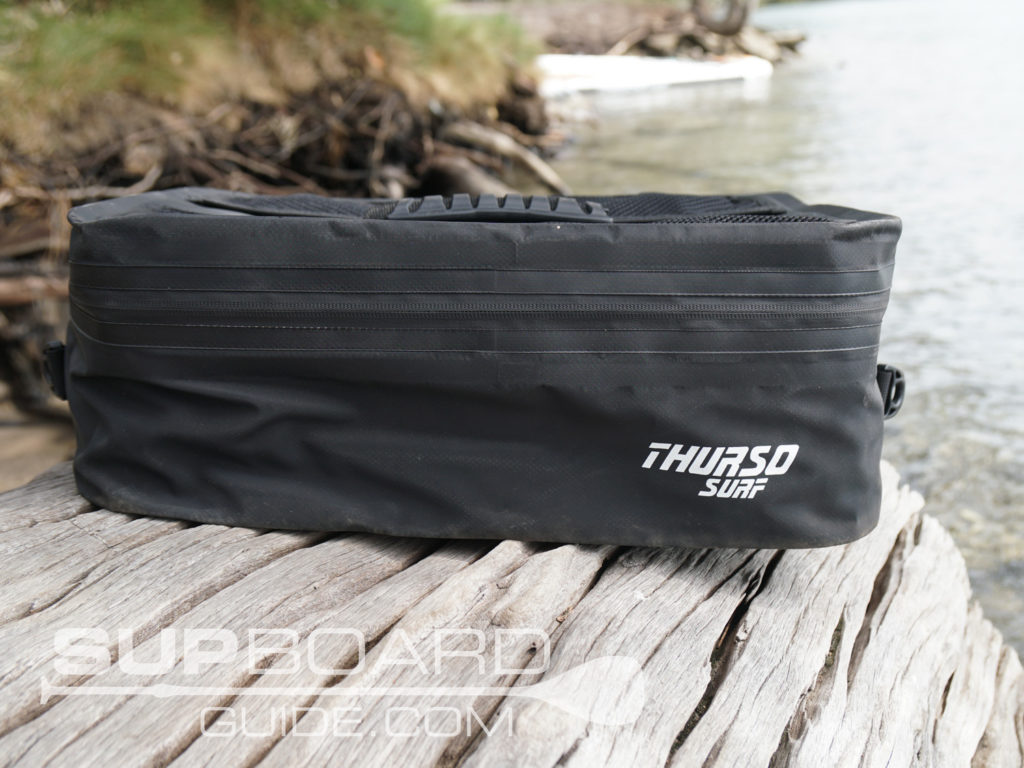 Sunnies + Hat + Bag Strap
Lots of swag up for grabs! If you like to be full kitted on the water then you'll like the polarized glasses and well as trucker caps you can get.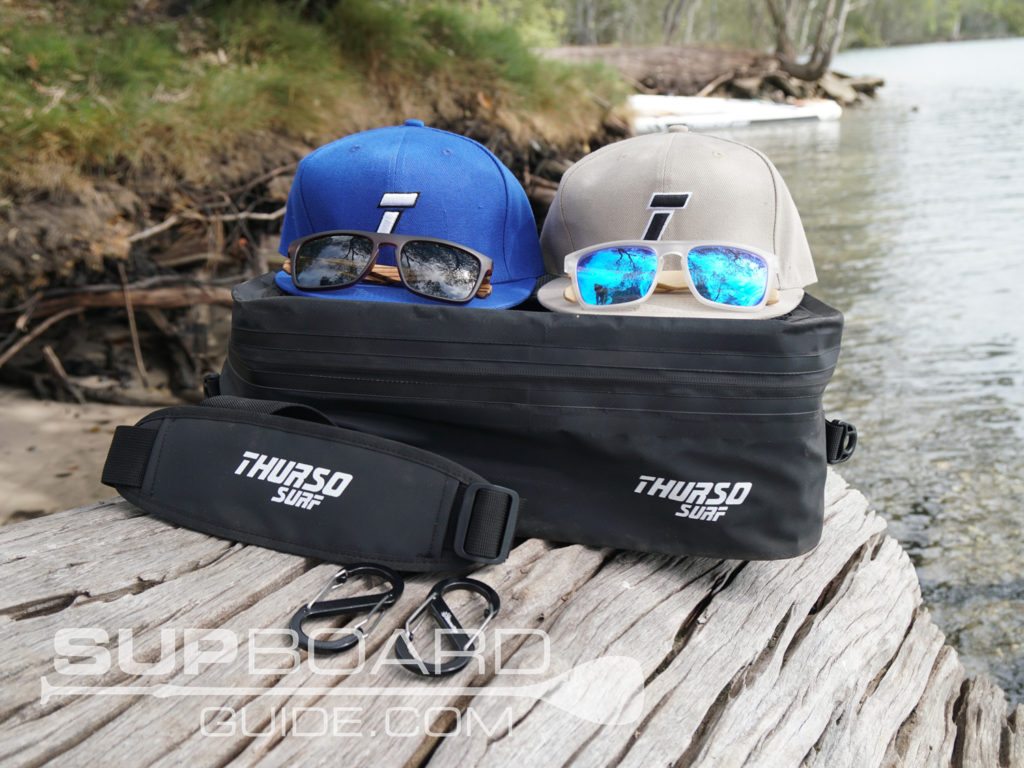 Kayak Seat And Extra Blade
Turn any of your Thurso SUPs into a kayak! Attach the seat and insert the extra blade into the handle end of your paddle and BOOM! Kayak. It makes for great versatile fun!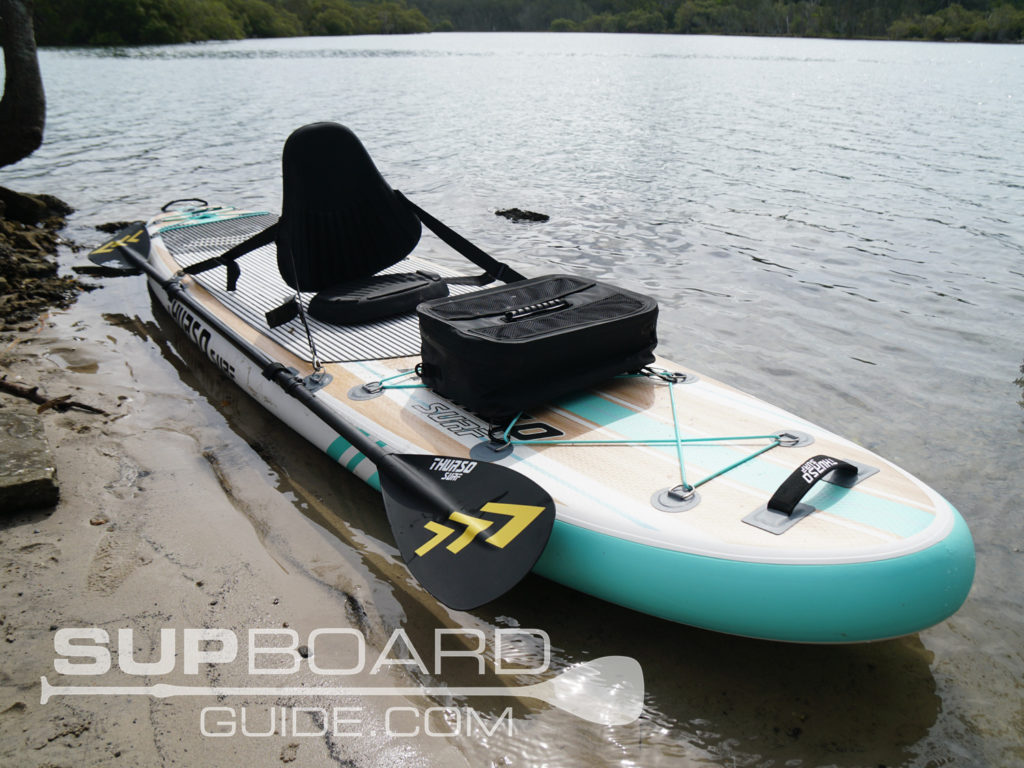 Conclusion
The MAX is a perfect board for those who are looking for extra stability and deck space. People who need that could be anyone looking to take their kids or pets regularly, someone who is a regular SUP fitness guru, but most importantly someone who still values being able to retain enough performance on board for a leisurely paddle as well.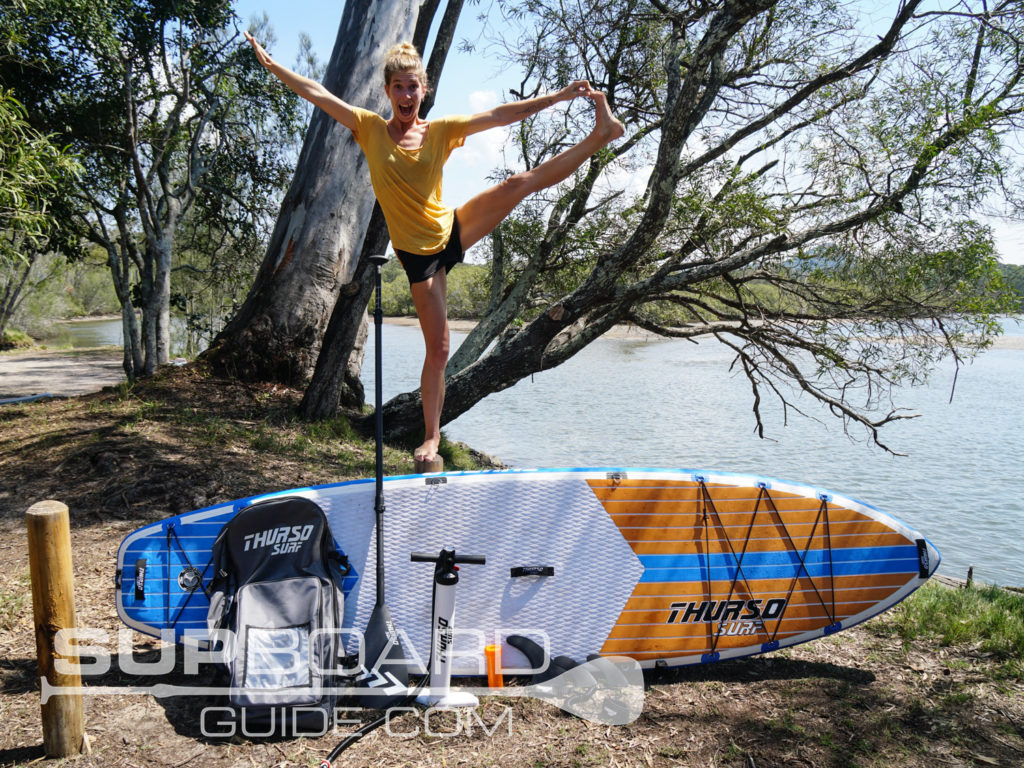 Thurso has a range of boards, so if this isn't what you are after I'm sure you can find what you are looking for within this brand anyway. You can check out the Expedition, the 10'6″ Waterwalker and 11′ Waterwalker reviews as well!
ThursoSurf has a 2-year warranty with all their boards and customer service is on point. Always quick to rectify any issues and easy to get a hold of/deal with.
The following two tabs change content below.
Justin - SupBoardGuide
Heyo! At SupBoardGuide.com we are a team who love the water, the outdoors, and are more than grateful that our full-time job allows us to review stand up paddle boards. We paddle year round (it helps that we are just about 2 hours outside of Las Vegas), and we bring in a wide range of paddlers with the goal of providing our readers with the best, most in-depth, and accurate stand up paddle board reviews.
Latest posts by Justin - SupBoardGuide (see all)