Nixy Sports Huntington G4 Compact iSUP
Pros
Lightweight kit is good for traveling.
Nixy Sports solid construction with plenty of great features make for a great overall experience.
We love the carbon fiber paddle that comes included with the kit - it's almost unbelievable that a paddle this nice is included.
Kit backpack is one of our favorite backpacks as well.
Cons
While we really like this board, we recommend paddlers to consider the Ultra Compact model, as it has all the great features of this board + is even more compact.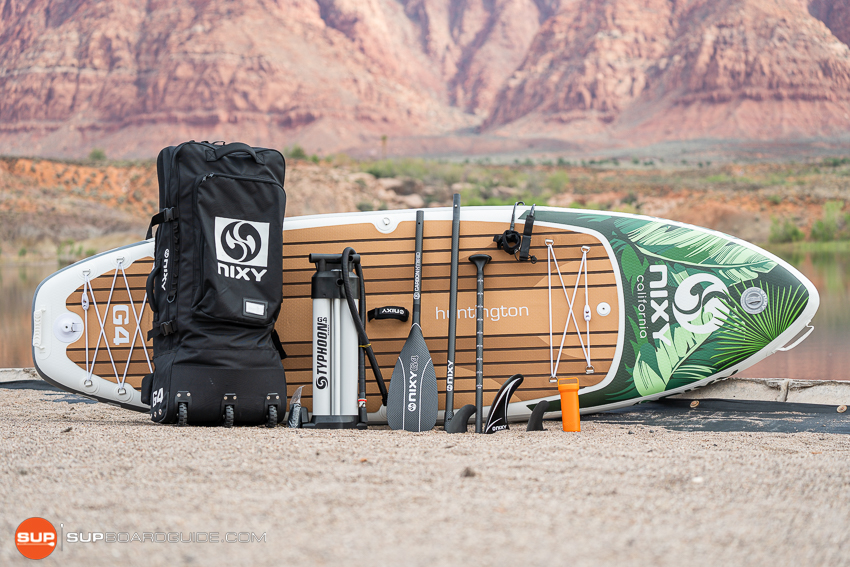 The Nixy Sports Huntington G4 Compact is a great choice for those looking for a smaller, lighter-weight iSUP with a decent weight capacity (250 lbs). With this year's Huntingtons, NIXY did something different than last year. They created 2 different versions – this one, and an Ultra Compact model. This version comes with a large, single fin setup but is still a very fun combination of cruiser sup meets shorter, more nimble SUP.
To be honest, we don't have many negative things to say or improvements to recommend on the Huntington G4 Compact. It's a great, super lightweight SUP. However, (and this is not a knock on this model at all), we do recommend the Ultra Compact version more, as it's even more compact and has a twin fin set up that improves tracking and stability over this model.
With that being said, we think the Nixy Sports Huntington G4 Compact would be great for paddlers who:
Are under 200 lbs
Want an extremely lightweight and easy to carry iSUP for travel or hiking
Are looking for a high quality iSUP with first rate accessories and features
Teens and smaller paddlers looking for a lightweight, nimble iSUP
We think the Nixy Sports Huntington G4 Compact is great for the following water conditions/situations:
Flat water paddling
Recreational paddling
Light ocean paddling
Surfing in small, beginner surf spots (1-3 ft)
Nixy Sports Huntington G4 Compact Review: Overview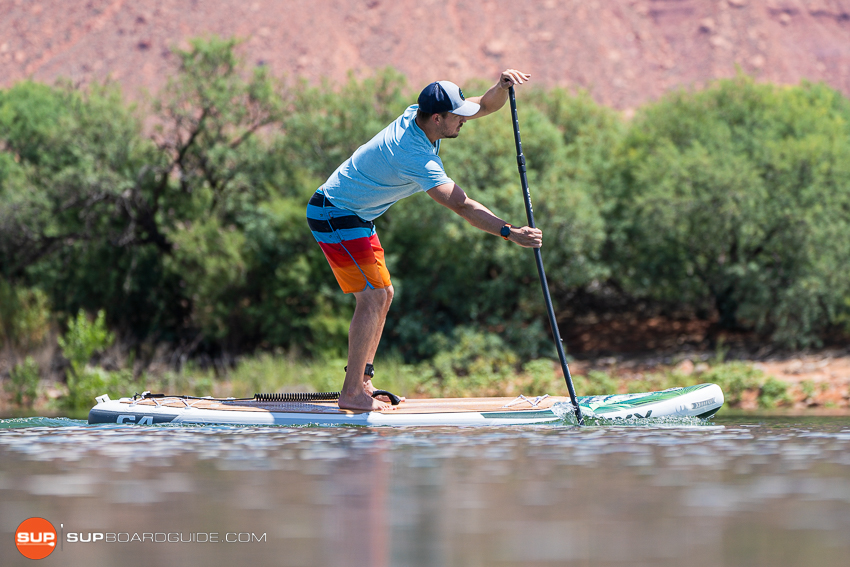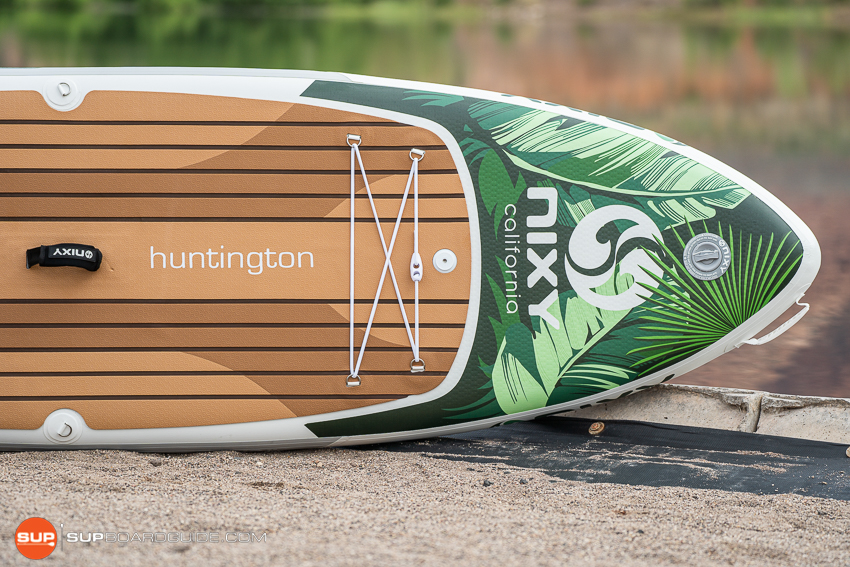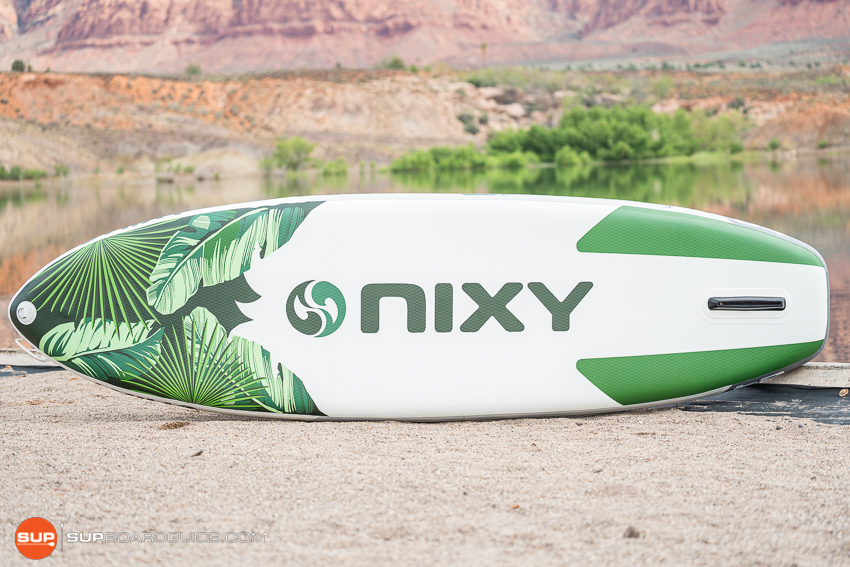 Note: We love to paddle and we take boards out all the time. Our goal is to use them in as many different real world situations as possible and tell you how things went. We do not write spec reviews here. We want you to make your decisions based on our real world feedback. If you have any questions at all let us know in the comments below and we will get them answered as best we can.
Nixy Sports Huntington G4 Compact: Spec Sheet
| | |
| --- | --- |
| Main Category | All-Around, Inflatable |
| Board Dimensions | 9'6" x 32" x 6" |
| Listed Board Weight | 18 ¾ lbs |
| Listed Max Capacity | 250 lbs |
| Recommended PSI | 15 psi |
| Fins | 1 tooless removable fin |
| Paddle | 3 piece adjustable carbon fiber hybrid |
| Materials | Dual layer PVC with reinforced carbon fiber side rails |
| Price Range | Medium |
| Warranty | 2 year warranty and 30 day money back guarantee |
Official SupBoardGuide.com Test Results: Nixy Sports Huntington G4 Compact (2021 model)
Overall Score: 8.9/10
Our rating system tries to take into account all the day to day paddling we do with these boards. We look for features and accessories that are applicable to everyday paddling by the vast majority of stand up paddle boarders. In this case the Nixy Sports Huntington G4 Compact did fairly well.
Stability: 8.4/10

Speed:8.5/10

Tracking: 8.2/10

Maneuverability: 9.5/10

Construction Quality: 9.2/10

Features/Accessories: 9.6/10
Our overall rating of 8.9/10 for the Nixy Sports Huntington G4 Compact is us saying that this is a great travel board for the money. It's a good board for both learning and traveling. In addition, Nixy Sports includes a really nice kit making this an attractive choice when it comes to compact iSUPs.
In-Depth Review of the Nixy Sports Huntington G4 Compact Stand Up Paddle Board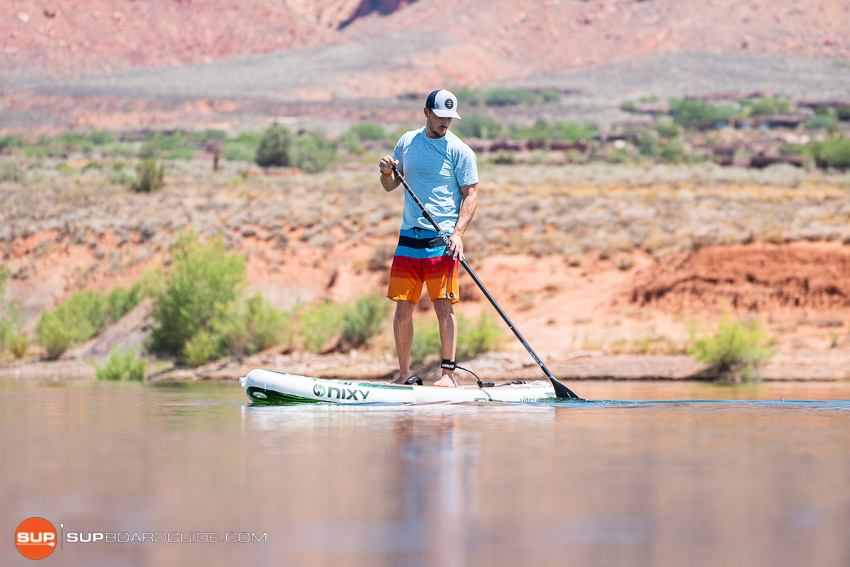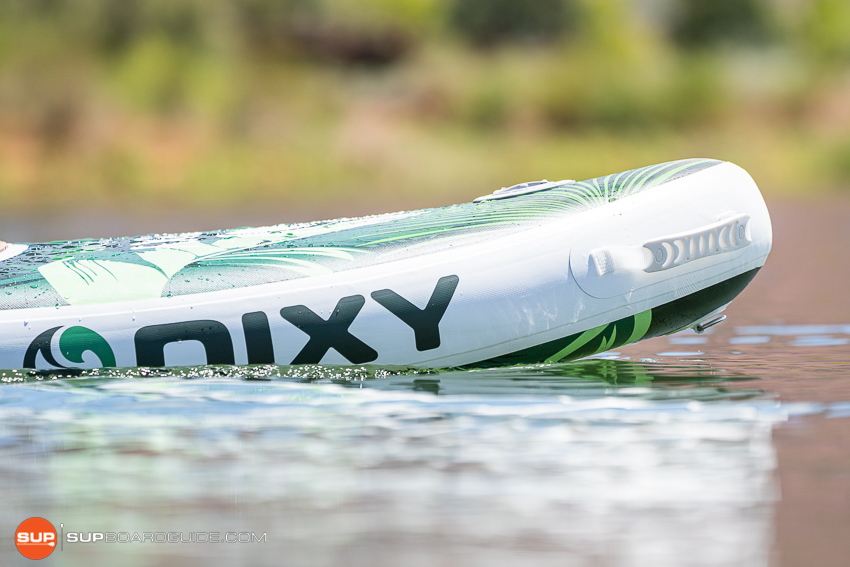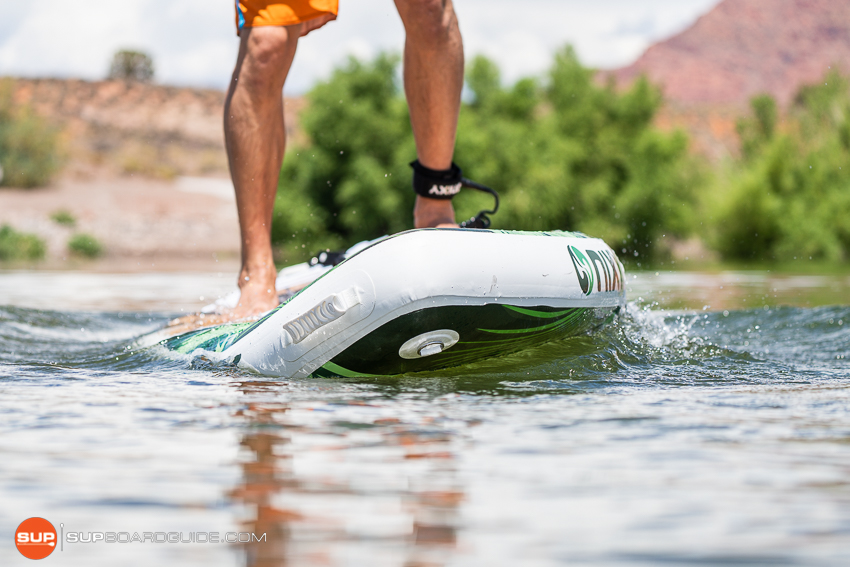 Nixy Sports really brought their A game this year with the Huntington G4 Compact. We have several reviewers remarking how better this board felt this year. In terms of overall stability this iSUP is just miles ahead of last year's model. We had testers paddling who were around 225lbs and they all did excellent. On top of that you need to think about the overall lightweight properties of this iSUP. They make an excellent choice for travel. Top that all off with what we have consistently said is the best paddle kit on the market and you have a real great package.
Stability Rating: 8.4/10
The Nixy Sports Huntington G4 9'6" Compact is much more stable as compared to last year. All of the reviewers were expecting a lot of "swimming" time but instead paddled out comfortably. For us, stability is the most important factor in reviewing a board. If a board doesn't feel stable, you're probably not having a good time. The Huntington G4 was very stable with reviewers up to around 225 lbs, but as mentioned above, isn't quite as stable as the twin-fin ultra compact version.
Weight Capacity:
Tested Capacity: 225 lbs
Weight capacity is an important characteristic of a paddle board. Our take on weight capacity is not always in line with manufacturers as we like to look at a weight capacity as the limit a board can take while still effectively performing as a paddle board. We are not interested in the sinking point or failure point of the board. What can we load the paddle board up with and still use it as a paddle board?
In the case of the Nixy Sports Huntington G4 Compact we saw usability with even our heaviest testers. 225 lb testers did fine but they could only take some basic items along with them. That's impressive considering this board's overall volume. As we got closer to that 250lb mark the board got increasingly less stable. We think this is a good example of a board made for paddle boarding and relaxing. No crazy attachments, just you, the water, and your thoughts.
Speed Test: 8.5/10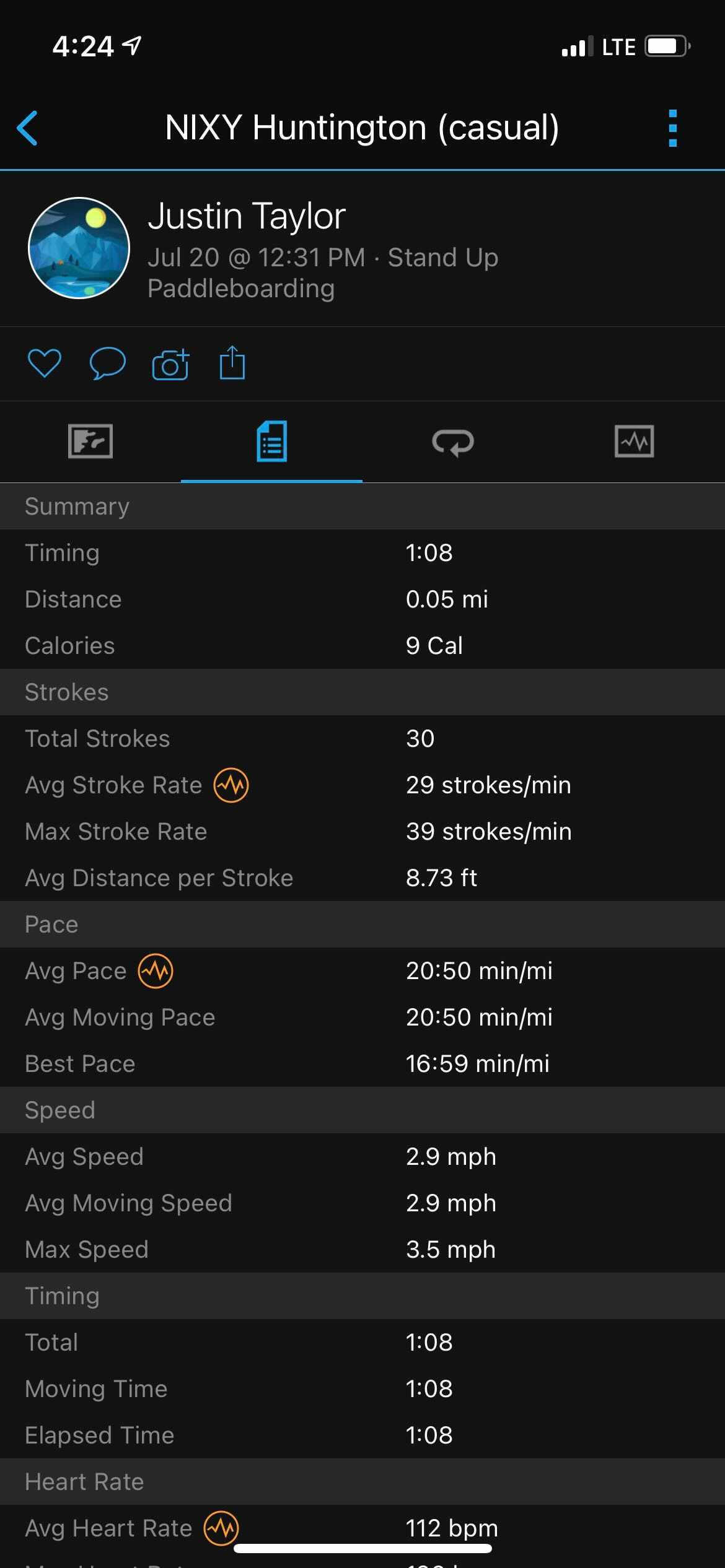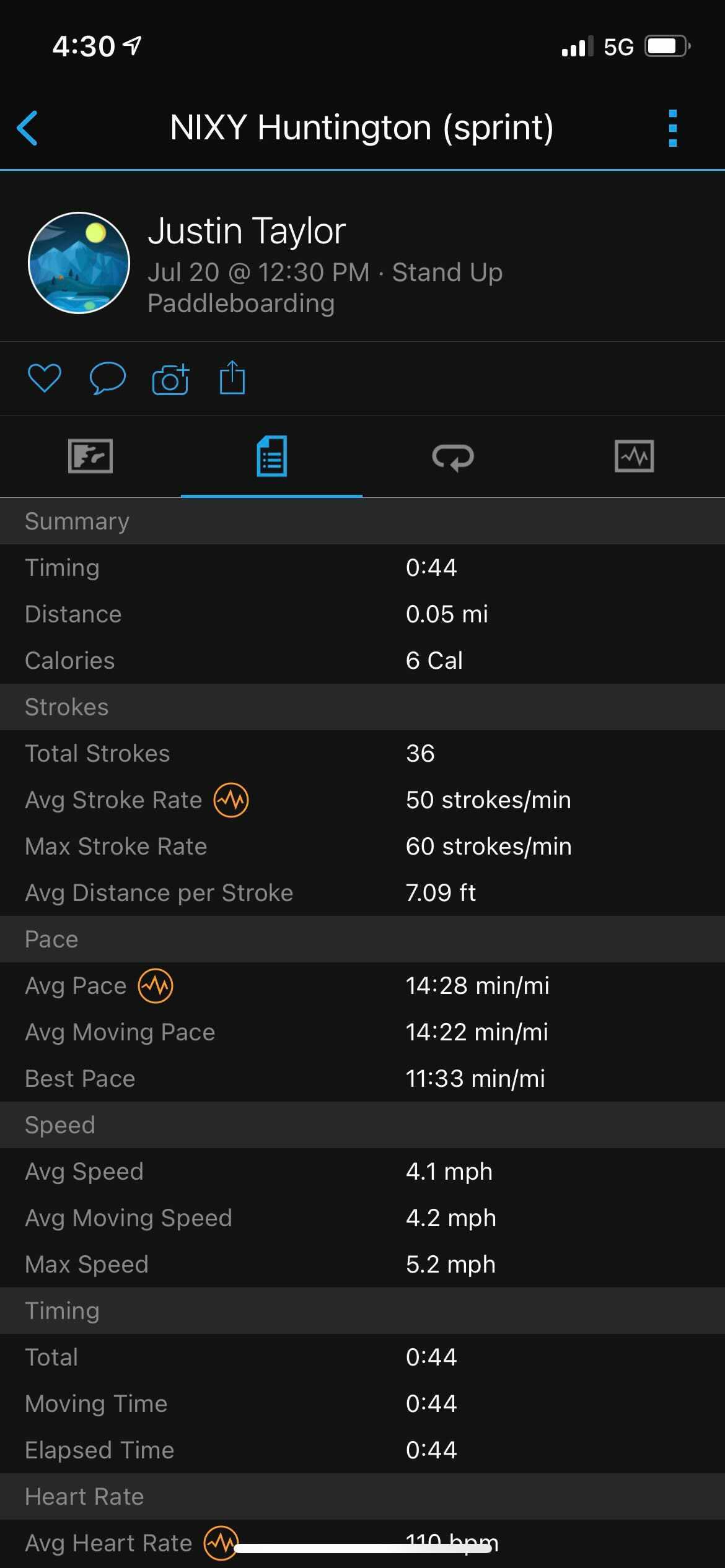 The Hunting G4 landed about mid pack in our overall speed tests. We feel that is more to do with its general shape than anything else. One of our reviewers described it as a short cruiser and we are inclined to agree. While that's great for stability, it does this paddleboard no favors in the overall speed segment. Though it's lightweight characteristics did aid in a speedy acceleration, once up to speed that advantage falls away as you try to maintain a maximum pace.
Don't get us wrong, being slow doesn't mean getting left behind. Most commercially made boards all travel at roughly the same speed depending on the motor (you the paddler). What we are trying to say is that this board requires more effort to move through the water than say a longer, more narrow shape. We hate for people to think they will get left behind.
Tracking: 8.2/10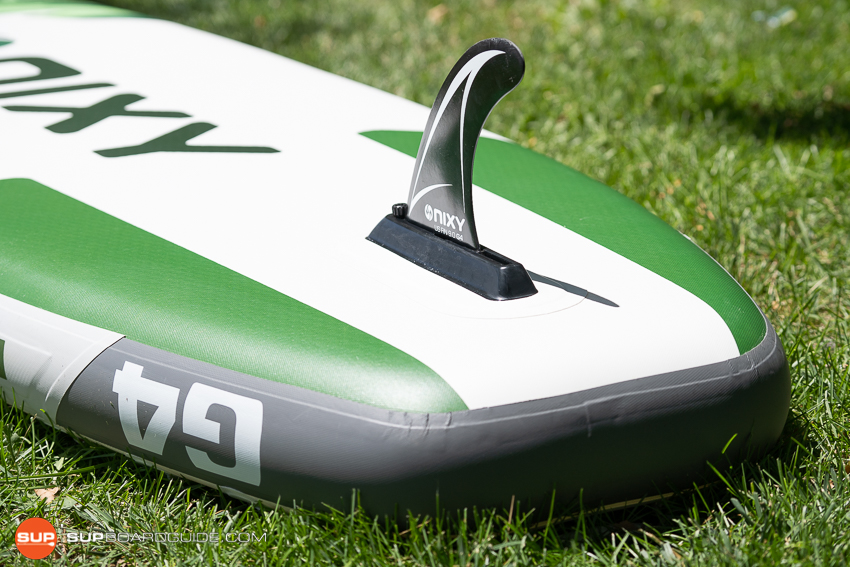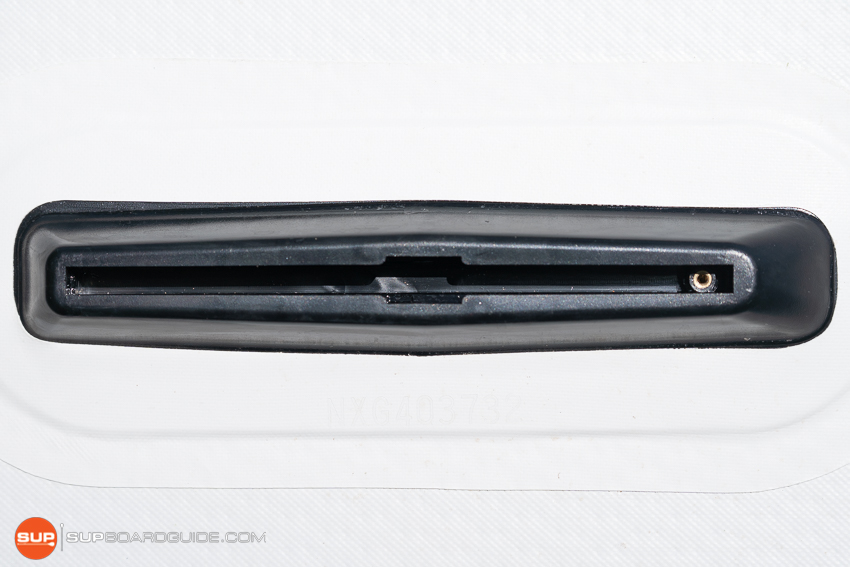 The Nixy Sports Huntington G4 was also about mid pack when considering it's tracking. We feel the wider, shorter water line added to the lack of tracking capabilities. The single center fin did it's job as well as it could, but as you will see in the ultra compact, 2 fins is better than one in this case. We also feel this contributed to the board's low overall speed score. This is such a short board that most any heavy strokes to either side will start to shift your direction.
Maneuverability: 9.5/10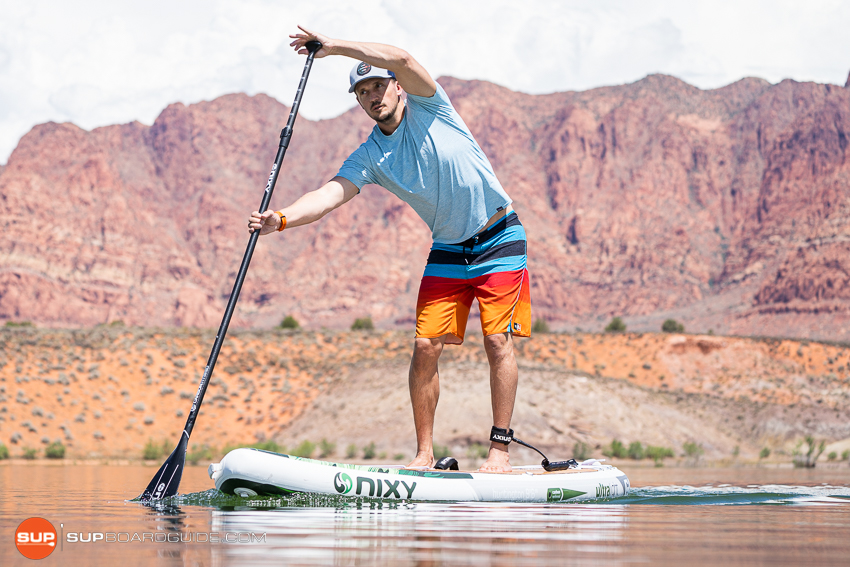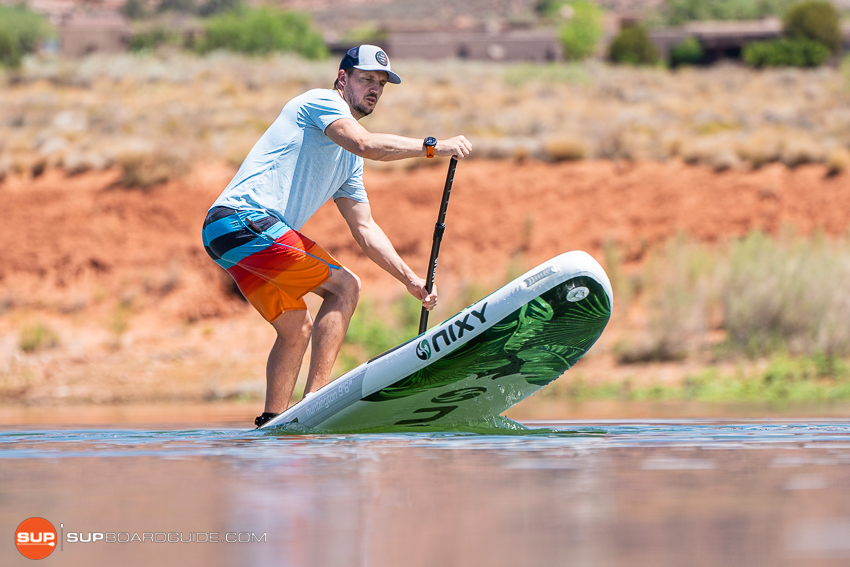 When it comes to maneuverability the shape of the Nixy Sports Hunting G4 really works for it. It's rather short water line and width makes it fairly easy to turn using the simplest of paddling maneuvers. This board is easy to paddle through a crowded group of SUPs or a busy marina.
When you start introducing more advanced techniques, these boards get really agile. The short water line is a breeze to lift out of the water. Most of our advanced paddlers were able to take this board through any obstacle course we dreamed up. Great if you think about "adventure boarding" in parts previously unpaddled.
Construction Quality: 9.2/10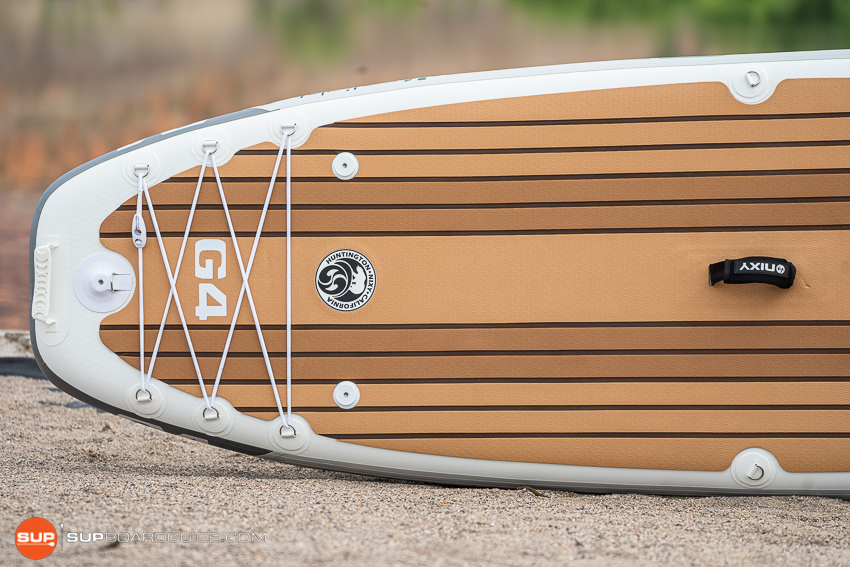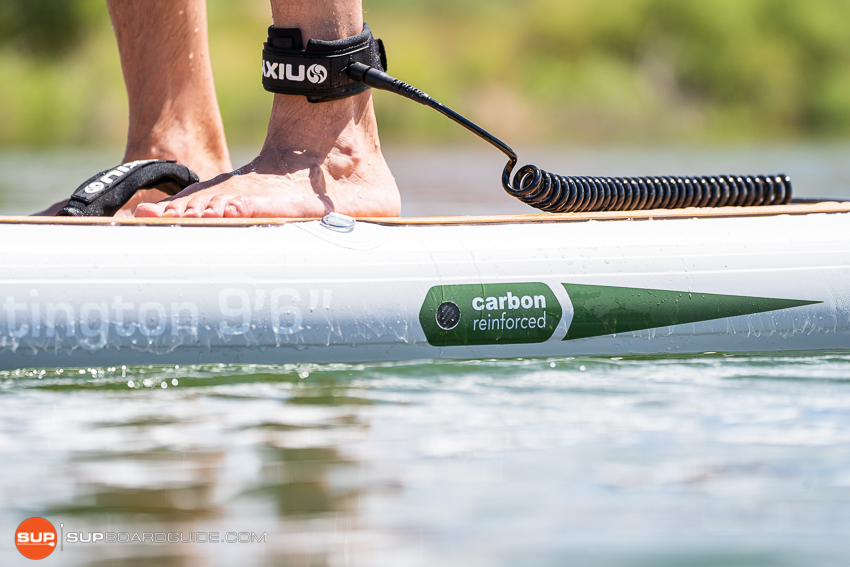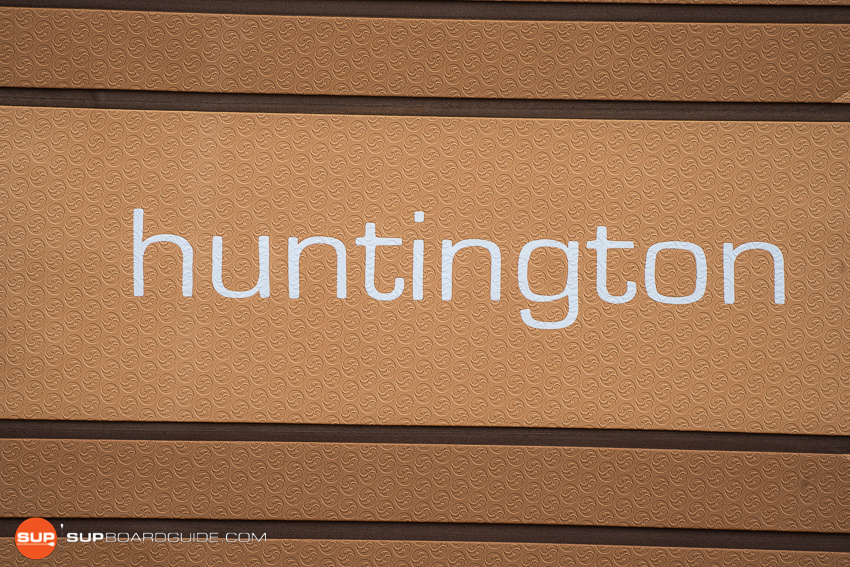 Nixy Sports has done very well with their boards this year and the Huntington G4 Compact is no different. They use a dual layer woven drop stitch technology (as they do with the rest of their boards) with carbon fiber reinforced rails. In our opinion these are some of the best built boards on the market. All of the mounting points and various attachments seem well made and sturdy. The board itself feels solid both in hand and when underfoot. These boards are just oozing quality and at this price point we are nothing but impressed.
Board Stiffness:

Stiffness Test: 1.0625 inch Bend (board on top of saw horses placed 7' apart, with 150 lbs of weight added right by handle in middle of the board)
The stiffness test is our way of efficiently measuring the amount of flex present in a board. It can be recreated and applied over many different board manufacturers and board models. It is probably one of the few tests that measure exactly the same from board to board.
In the case of the Huntington G4 Compact, they did very well. We feel that while the carbon fiber reinforced rails may have aided this, we are still not certain if it was helpful beyond that of just being an additional layer on the rails. Regardless, the Nixy Sports Huntington G4 was very resistant to bending.
Features/Accessory Review: 9.6/10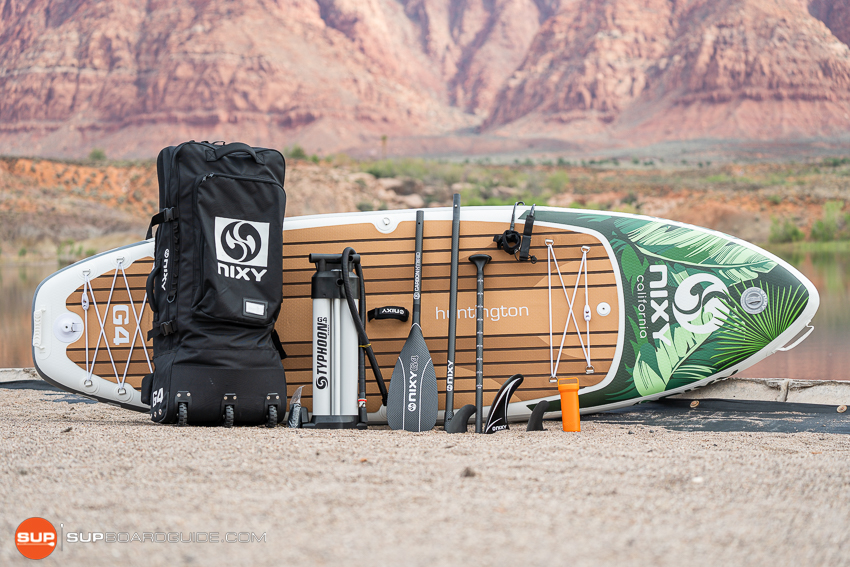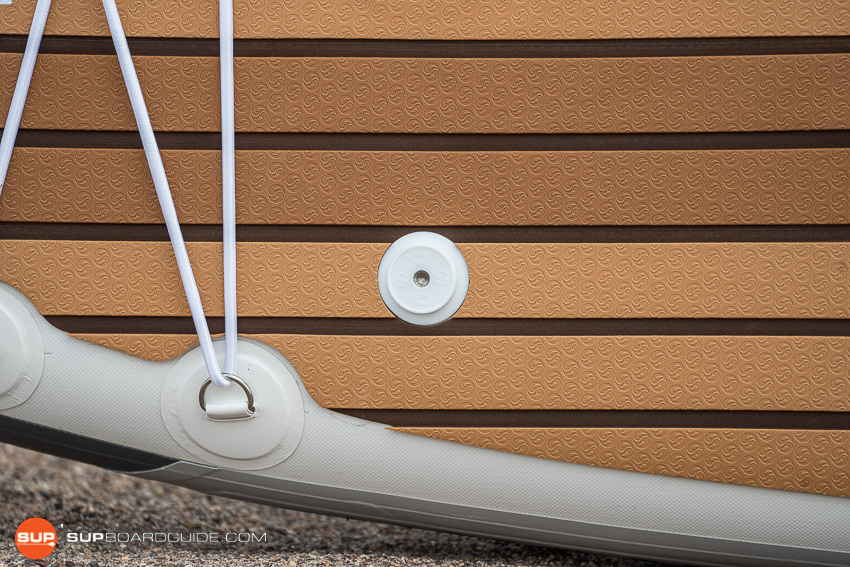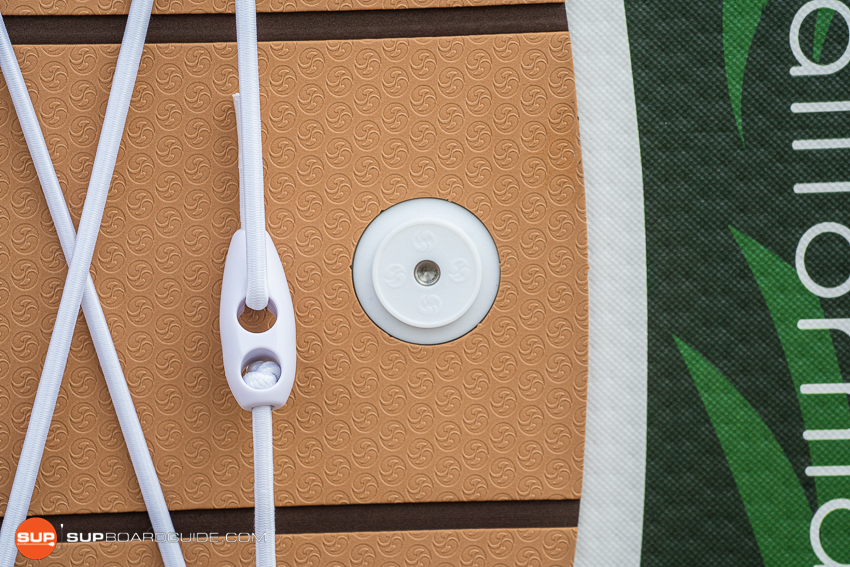 Features:

The Nixy Sports Huntington G4 Compact has front and rear fully removable bungee cords as well as several action mounts spread out on the deck pad. It also has the additional D-rings for their optional kayak seat kit and the standard front, rear, and center handles. The deckpad is a nice, nearly full length piece good for stretching out or some light SUP Yoga.
Included Accessories:

The Nixy Sports "kit" package is currently our favorite on the market. We will go into detail on most of these pieces below but the takeaway should be this. For this price we feel you're either getting the kit pieces or the board itself for free. The Nixy Huntington G4 Compact comes with:
Nixy G4 carbon fiber hybrid paddle
Nixy G4 typhoon hand pump
Nixy G4 backpack
Nixy hybrid leash
Again, we will dive into most of those pieces separately below. Just know that we think all of the included kit pieces are high quality and sure to please.
Paddle: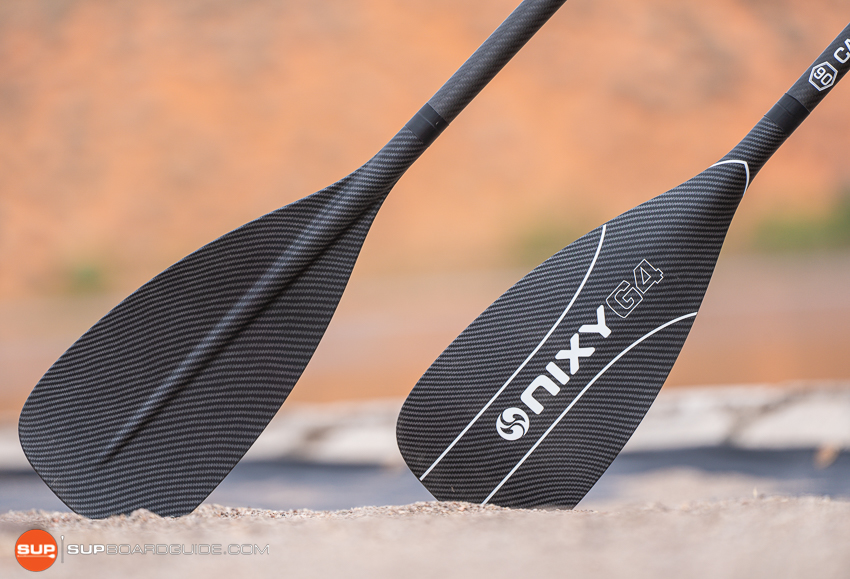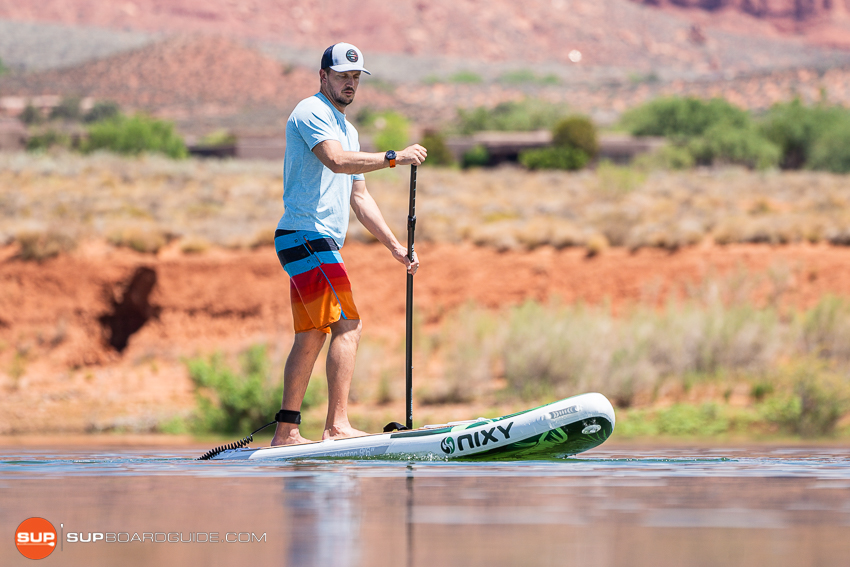 Nixy Sports looked at other kit paddles being offered and effectively dropped the mic on them. This paddle was so good, that we had to verify it was standard equipment and Nixy hadn't tried to slip it in on us unnoticed for the review. They say it's a carbon hybrid design, but if we didn't know any better we would have thought it to be full carbon (minus the handle). It's extremely lightweight and feels incredibly solid for the three piece adjustable paddle. The clamps at the top and bottom make for a twist free paddle shaft and the only criticism we have is that plastic handle. It just feels out of place with the rest of that superbly crafted paddle.
Pump: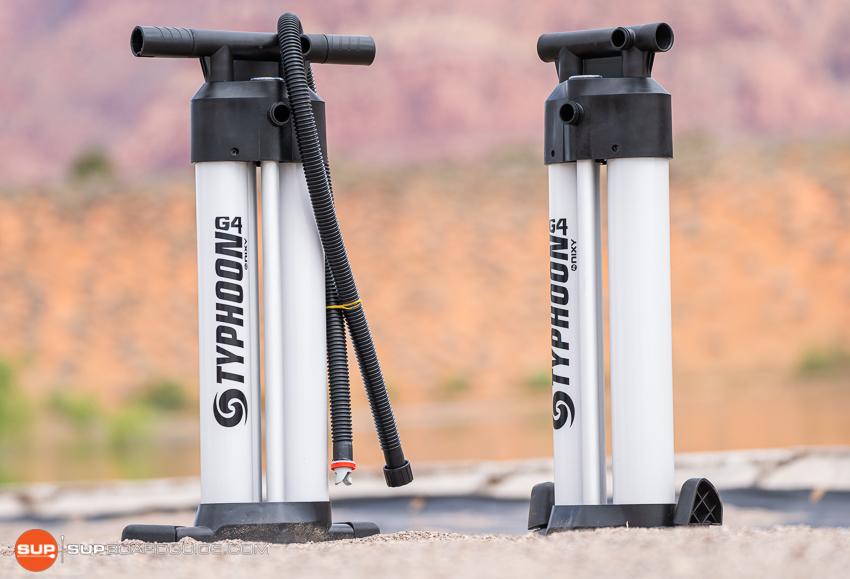 Nixy Sports included a two chamber, 3 stage, (slightly) collapsible hand pump. Again we think this is another win for Nixy as we have highly favored these new multi chamber designs. The additional 3rd stage also makes it easy for just about anyone, no matter how small they may be, to inflate these boards to their fullest. Another neat feature, and one we think was actually required in this Compact setup, was the ability to slightly collapse the pump. The handles are removable and the feet fold upward to give you a fairly svelte piece that is convenient to wrap a deflated paddle board around.
Bag: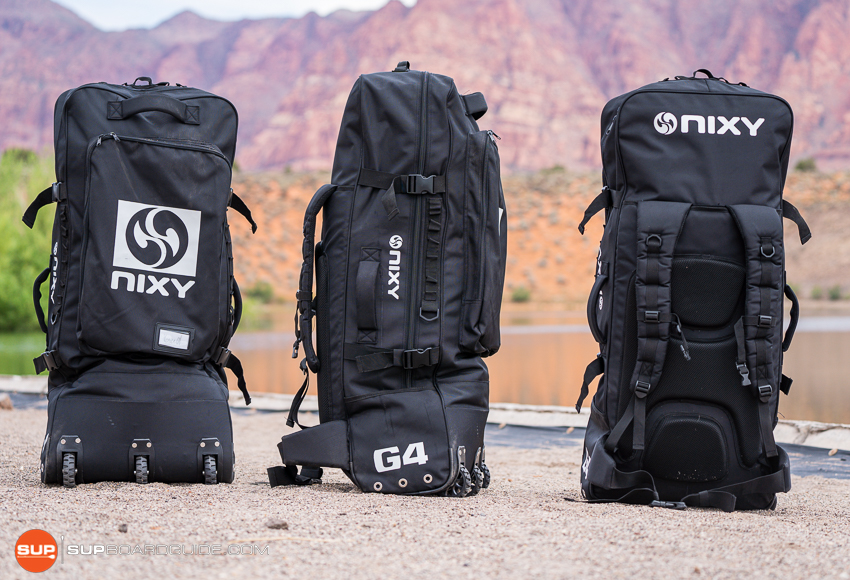 We are also very pleased with the bags that come with the Huntington G4 Compact. The compact comes with Nixy Sports standard 3 wheel backpack which we have reviewed in the past. It's a great backpack with some very useful features. Specifically it's a comfortably wearable unit great for short hikes.
Optional Accessories
Nixy Sports doesn't just have great paddle kits. They have some great accessories as well. Including, believe it or not, a set of upgraded full carbon fiber paddles. What, your thinking, an upgrade from the best kit paddles in the industry. Yes, and they are fantastic. The bamboo finish is simply amazing. Apart from that, here is a list of some of our favorite Nixy Sport accessories:
Nixy Ventus Paddle Board Electric Pump
Nixy Premium SUP Kayak Seat
Nixy SUP carry sling
Nixy Navigation Lights
Summary Review of the Nixy Sports Huntington G4 Compact (2021 model)
Nixy did a great job with their Huntington G4 Compact. We really like this board as a light weight travel iSUP. Again, the Nixy kit is one of the best in the iSUP industry right now. This board represents a great value in the lightweight sup category. Our only real problem is the fact that Nixy makes an ULTRA COMPACT that truly takes the compact idea to it's limit. This board is really good, don't get us wrong. The ultra compact is just that much better in terms of being a compact with nearly identical stats.
Happy paddling! We hope you enjoyed this review of the Nixy Sports Huntington G4 Compact. If you have any questions or comments please leave us a comment below
The following two tabs change content below.
SupBoardGuide
Heyo! At SupBoardGuide.com we are a team who love the water, the outdoors, and are more than grateful that our full-time job allows us to review stand up paddle boards. We paddle year round (it helps that we are just about 2 hours outside of Las Vegas), and we bring in a wide range of paddlers with the goal of providing our readers with the best, most in-depth, and accurate stand up paddle board reviews.
Latest posts by SupBoardGuide (see all)