Bluefin 10'8'' Cruise SUP
Pros
Fantastic, consumer friendly kit that offers great value given the performance and quality of the SUP and accessories. One of our favorite kits when it comes to combining performance with overall value.
Fun, stable, beginner friendly all-around that is well-suited for learning how to SUP. 10'8'' length is great for casual paddling, offering a good mixture of maneuverability and tracking.
Very durable ESL build. Solid 185 lbs solo paddler/330 lbs overall recommended weight capacity, great for bringing kids along due to nose safety handles. We would suggest heavier and taller paddlers, especially those taller than 6', to consider the 12' Cruise instead.
Crocodile skin texture, diamond grooved deck pad offers great traction support. Raised heel pad makes step-back turns even more comfortable.
Included kayak conversion kit and dual-bladed paddle. Have fun paddling or kayaking without any additional purchases.
Fins, leash, pump, paddle, and waterproof cell phone case included out of the box. Everything you need for the water at a great entry-level price, fits well in the roomy, well-organized Bluefin backpack.
Cons
The 10'8'' Cruise is on the heavy side and is a bit harder to carry to the water. Once you're on it though, it feels great to paddle on.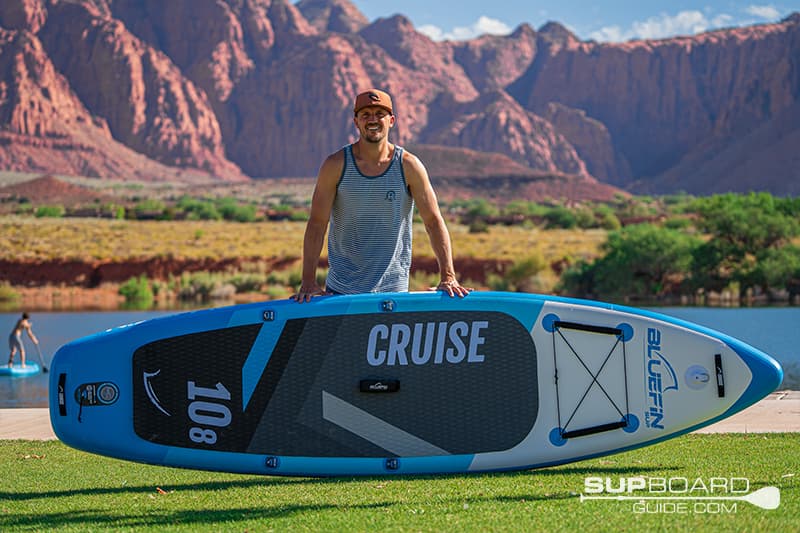 If you are trying to save money but are interested in a 'everything-you-need' kit for paddleboarding, look no further than the Bluefin Cruise 10'8'' SUP. This is a stellar paddleboard kit available for less than $550, featuring a great board and great entry-level accessories alike. While it can be tricky to carry it around due to its weight, the impressive ESL Tech (Exo Surface Laminate Technology) build provides for a durable, stable paddleboard that is a blast to paddle around on. At 10'8'' long, this board is both easy to maneuver while also offering solid tracking and a smooth glide that will ensure that even brand new paddlers can maintain a steady, straight course in the water. The crocodile skin, diamond grooved deck pad will ensure you can maintain a solid grip while staying comfy as you paddle for hours, bolstered by a ten D-ring setup with nose action mount that will let you bring your favorite add-ons as well. Furthermore, Bluefin has thrown in a kayak conversion kit and extra paddle blade with their 10'8'' Cruise, giving you the option of paddling or kayaking without the need to buy any additional gear. With an impressive lineup of above average accessories for an entry-level board, the Bluefin 10'8'' Cruise is not only one of our favorite beginner paddleboards, but among the best valued kits for those wanting to make the most out of their purchase.
SUP Board Specs
Length
10'8''
Width
32''
Thickness
6''
Weight
TBD
Rider Capacity (lbs)
200 lbs solo paddler recommended weight
330 lbs total weight
Recommended Inflation
15 to 18 psi
Fins
Tri-fin, snap-lock fin setup
Paddle Type
Fiberglass shaft + polyurethane blade, four pieces with two paddle blades
Construction
ESL Military Grade PVC construction
Who Should Buy This Stand Up Paddle Board:
The Bluefin 10'8'' Cruise is an all-around board, built so that beginners and expert paddles alike can find reasons to enjoy using it. We recommend this paddleboard for the following types of paddlers:
Beginner, inexperienced paddlers looking for something stable and easy to learn with.
More advanced paddlers looking for an affordable, high quality secondary board.
Paddlers who are interested in going out with their kids or pet.
Those looking for a heavier paddleboard that performs well even as the wind and waves pick up.
Shorter paddlers who want a more accommodating paddleboard designed to help them navigate the water.
When it comes to where you can paddle with the Bluefin 10'8'' Cruise, consider the following options:
Bays, marinas, lakes, and other calm water environments for the best overall performance.
Choppier, faster moving waters like along the coast. The 10'8'' handles light winds rather well for an inflatable paddleboard.
River exploration! The 10'8'' Cruise does take a bit of work to turn, but if you have experience consider paddling on a friendly river for a fun, new experience.
Ocean paddling. The 10'8'' length will allow you to catch some longboard style waves, though we recommend the 12' long Cruise if you want a paddleboard more optimized for surfing.
Performance
Stability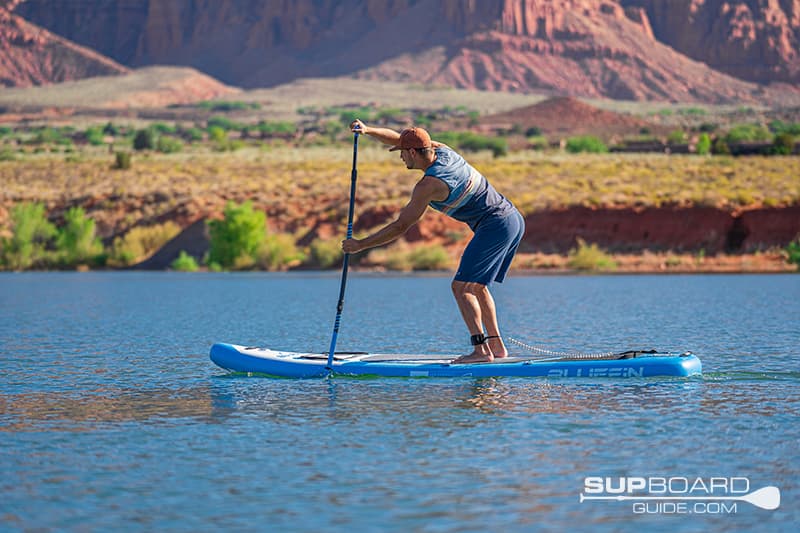 Bluefin suggests a 185 lbs beginner recommended weight capacity for the 10'8'', suggesting that heavier paddlers may struggle using their paddleboard. We were delighted to find then that as we tested the SUP with paddlers that weighed more than 200 lbs, it performed incredibly well! This is a very stable paddleboard to go out on, a good option not just for solo paddlers, but for bringing along a pet or your kids thanks to the kid grab handles in the nose cargo area. For our part, we think that the majority of paddlers out there who use this SUP will find it very stable, though those taller than 6' may find it a bit too small and may want to consider going with the 12' Cruise instead.
Maneuverability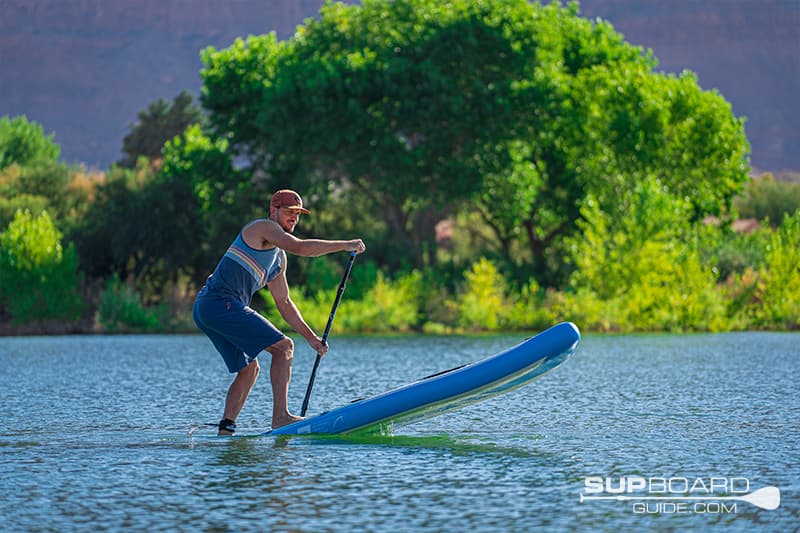 One of the performance factors that we were delighted by was the SUP's maneuverability. With just a few strokes to your side, it's quite simple to turn around in the water, making it quite easy to dodge rocks, trees, and other paddlers as you SUP. If you suddenly need to pivot, the 10'8'' Cruise is built to make performing a step-back turn both easy and comfortable. Move one foot to the raised heel pad on the back of the deck pad, and press down with it in order to raise the nose into the air. With a raised nose, you can pivot on the spot to turn your paddleboard any direction you want to go, and by simply moving your back foot forward you'll be ready to paddle once more. Overall, we think the 10'8'' Cruise is maneuverable enough that you'll be able to explore every nook and cranny of the lakes and bays that you go to, leaving no stone unturned as you enjoy nature with the Bluefin 10'8'' Cruise.
Tracking/Glide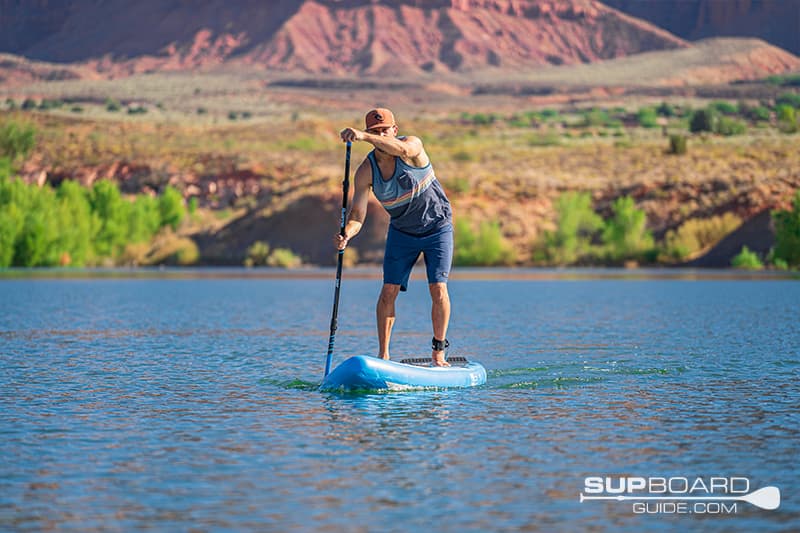 New paddlers tend to struggle with maintaining a steady line in the water, so we're happy to report that the Bluefin 10'8'' Cruise has solid tracking and glide as well. Paddling form greatly determines the overall course of the board, but with even a okay form beginner paddlers will be able to keep their SUP on a largely straight path in the water. What we really like though is the overall feel and glide as you paddle around, no matter if it's calm or even slightly choppy water. The overall weight of the paddleboard makes it tricky to carry around, but the weight does help this board feel rigid, firm, and comfortable once you're on it and SUPing. We're rather impressed with its feel, especially when you consider the 10'8'' Cruise's entry-level price tag.
Something else that further helps the Bluefin 10'8'' Cruise is the fin setup. You can read more about the fins themselves and how they're installed below, but when it comes to performance they do help quite a bit. The side fins allow for the 10'8'' Cruise to have a tighter turn radius, while the removable center fin will improve tracking when used. If all three fins are used together, you'll also find the stability of the paddleboard improving. For the best speed, glide, and tracking, make sure you put that center fin on, though leave it off if you're going in a shallow river.
Materials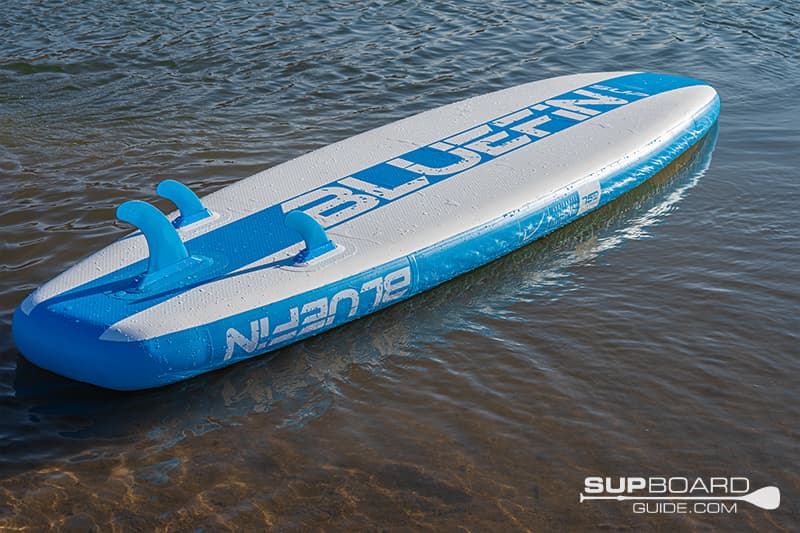 Bluefin boards are built to last, and are highly durable thanks to their Exo Surface Laminate technology, or ESL. To break it down further, the center of the SUP is formed of a tight drop-stitch core made up of sheets of fabric held together by denier space yarn, with a total of 11,200 stitches. When air is pumped into the drop-stitch core, the inflatable Cruise blows up like a balloon, but will attain a board shape rather than something more rounded due to the yarn and stitching pattern. This tight drop-stitch core is what allows the 10'8'' Cruise to be a high performance paddleboard, allowing you to float in the water while being much lighter than a hardboard equivalent.
However, drop-stitch cores have the same vulnerabilities as other inflatables, in that they can puncture and deflate without proper protection. So, to prevent board damage and to further improve performance, the drop-stitch core is protected by a military grade PVC composite shell. Thanks to the PVC, the 10'8'' Cruise will resist most common SUP accidents, from the occasional drop as you carry it to crashing into objects out on the water. To protect against sun damage and extend the life of the board, the 10'8'' Cruise has a UV resistant HQ coating that will help it maintain its luster for years. Oh, and can we mention that we love the coloring and look of the board as well? That is the high pressure laminated print finish, which not only helps the board look great, but will help protect it as well for years to come!
Board Design/Shape
This is a very beginner friendly, traditional all-around SUP when it comes to its design and shape. The 10'8'' long SUP is a great mixture between being short enough to maneuver with and long enough to offer solid tracking. The 32'' wide deck is enough space to comfortably stand and even spread out on, while the 6'' thickness helps the board maintain a good, rigid feel that provides sufficient weight support for most adult paddlers. As an all-around, there are all sorts of activities you can engage in with this paddleboard, getting a taste of what SUP water sports have to offer. Have a friendly, casual race with your friends, or go on an adventure as you tour on the 10'8'' Cruise. If you want to really test your stability, have some fun trying out SUP yoga, or just enjoy the sun by bringing out a cooler or speaker that you can attach to the board's D-rings or action mount. There's a whole lot of things you can do with the 2023 Bluefin 10'8'' Cruise, so make the most of it and try to think of something new to try the next time you go out!
Board Features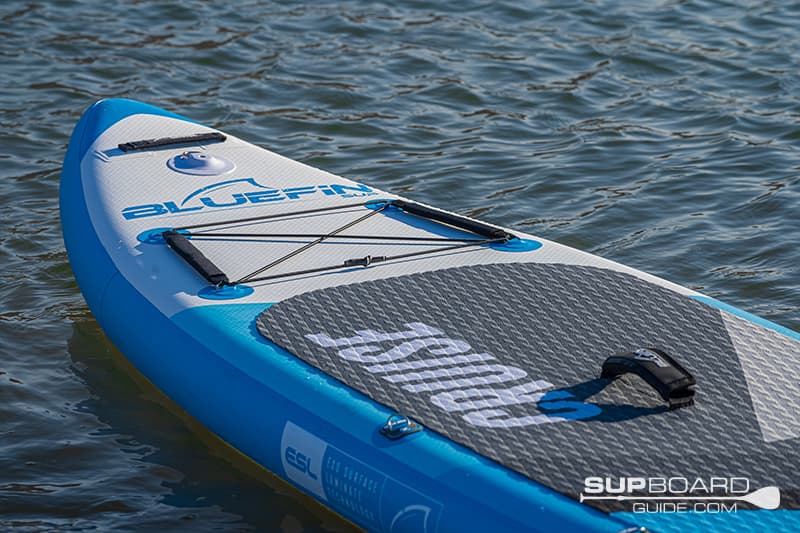 The Bluefin 10'8'' Cruise is a fantastic kit and well worth the entry-level price, not just because of the board's construction but because of the other great features as well. Some of the most important features you should know about include the following:
ESL Construction:The ESL construction gives the Bluefin 10'8'' a great, durable feel that is both very enjoyable to paddle on while also keeping it lighter than epoxy hard SUPS. With over 11,200 internal stitches, the drop-stitch core is very tight, protected by ultra strong military grade PVC composite.
10 D-Rings + Action Mount:The ten D-rings on the Bluefin 10'8'' Cruise are great for a multitude of popular SUP accessories, including dry-bags, leashes, phone cases, and more. On the nose of the paddleboard you'll find an action mount, which works great with GoPro cameras, speakers, and other common electronic devices. Bring along a couple of add-ons to make your next paddleboarding trip even more fun!
Removable Nose Bungee Cargo Area + Grab Handles:The removable nose bungee cargo area is perfect for storing coolers, lunch containers, and other small or medium sized boxes that don't clip on to one of the SUP's D-rings. The side bungees have extra padding and reinforcement as well so that if you're paddling with your kid, they can have something to reliably grab onto that is safe and soft. If you want to clear deck space, you can also remove these cords as well.
Triple carry handles:While the 10'8'' can be heavy for some paddlers, the triple carry handles does make it a whole lot easier to transport the SUP. You can lift the paddleboard by yourself if you use the center handle, or get a buddy to help you with the nose and tail handles.
Raised kick pad:Learning how to perform a step-back turn can be tricky, but Bluefin at least makes it more comfortable with the raised kick pad. With it, you'll be able to move a foot back and have the support you need to push the tail into the water, all without ever having to look down.
Thermosealed Croco-Diamond Deckpad:We absolutely love the deck pad. The crocodile skin texture, along with the diamond pattern, really improves your traction so that you can have an easier time maintaining your grip to the paddleboard. We like the design as well, as it helps guard and hide stains that may accumulate over time.
Fins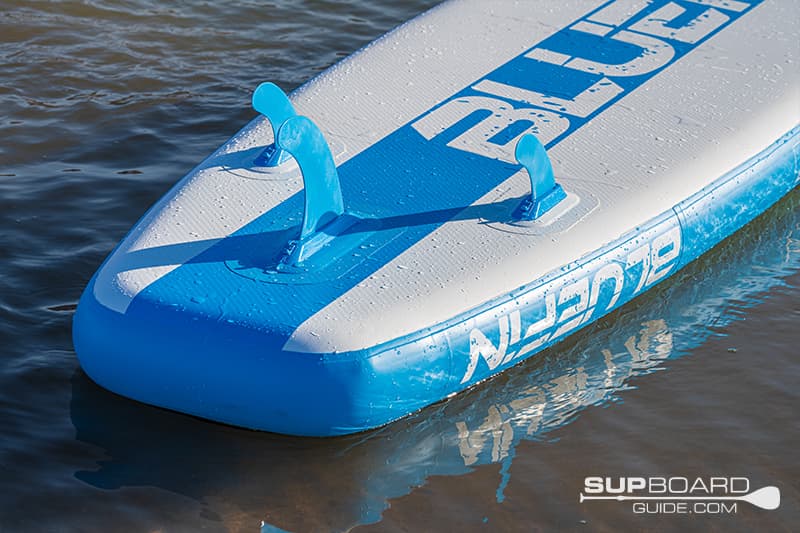 The tri-fin setup is built with long lasting short fins that are just as durable as the Cruise iSUP itself. The 8.5'' center fin, along with the 2.5'' side fins, each enhance the performance of the paddleboard in their own ways, the center fin improving tracking and the side fins improving stability. Relying on a snap-lock system, simply lift the fin box lever, insert the fin, and push down on the lever in order to lock the fin in place. If you are struggling to lock the fin in, make sure you have pushed the center fin in far enough. We also appreciate that Bluefin opted to throw in an extra fin box lever, though as long as you make sure to take out the center when going into shallow water and rivers your fin boxes should last as long as the board itself.
Traction Pad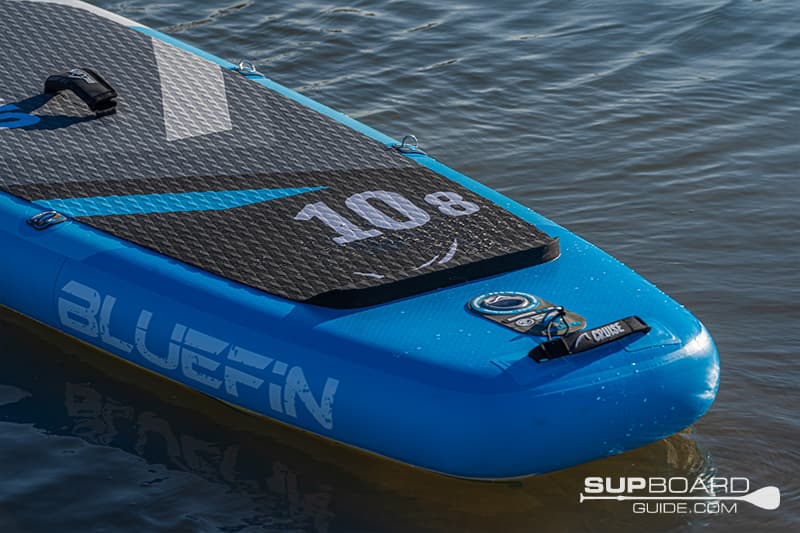 We love the deck pad featured on the Bluefin 10'8'' Cruise. The deck pad covers most of the length of the paddleboard, stopping just before the nose cargo area, giving you and those who go out with you plenty of space to stand or sit. Made with EVA foam, the same material used in many popular yoga mats, the Cruise deck pad drains and dries very quickly, making it real easy to wash and cool off if it gets hot or dirty. A crocodile skin texture and diamond grooved pattern are incorporated to improve paddler traction, enhancing the paddler's grip and making it even easier to maintain your balance on the SUP. Whether you use your board for racing, touring, or anything else, this is a deck pad built to make your paddling experience even better!
Handles
There are three handles on the Bluefin 10'8'' Cruise, making it really easy to transport it and carry it to the water once inflated. Use the center handle to lift the board by yourself, or get a friend or someone else to help you by using the tandem nose and tail handles. These handles are very cushy to hold, thanks to the neoprene covers used to protect the handles. Neoprene protects against fraying, but it also prevents your hands from developing blisters or otherwise getting irritated when held with soaking wet or freezing cold fingers. All in all, this is a great handle setup, and one we hope Bluefin will continue to use in their paddleboards.
D-Rings/Bungees/Cargo Areas
If you are an accessory junkie, you have plenty of places to attach your add-ons to thanks to the layout of the Bluefin 10'8'' Cruise. Ten D-rings litter the deck of the paddleboard, allowing you to attach dry-bags, phone cases, and other popular SUP accessories to the SUP, including the packed in Bluefin kayak conversion kit. Also included in the 2023 model is a nose action mount, compatible with GoPro cameras, certain water cell phone cases, speakers, and other popular electronic device mounts. Lastly, there is also a nose bungee cargo area that you can use to store your cooler, lunch box, or other small to mid-sized container on the board. This removable bungee system also has two grab handles for children, giving them a place to hold onto as the waves pick up or if they feel uncomfortable as you paddle.
There are plenty of options when it comes to accessories for the Bluefin 10'8'' Cruise, so bring a few add-ons with you the next time you go out!
Accessories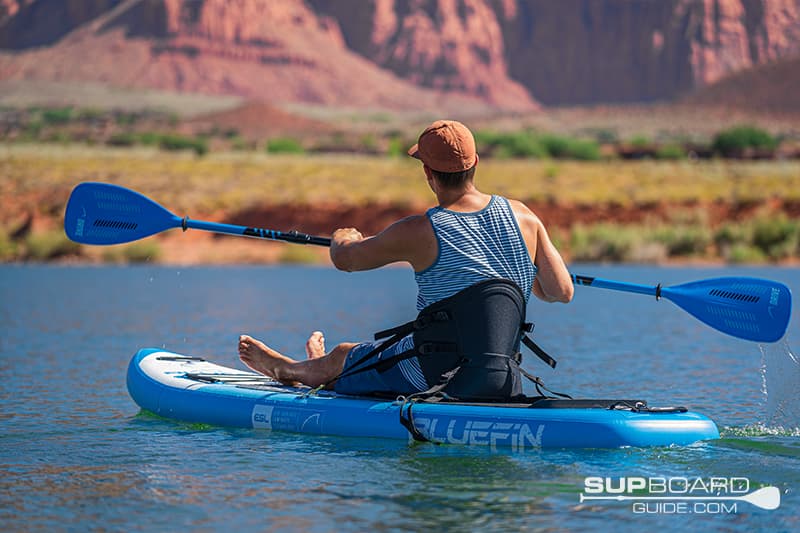 Paddle
Packed with the Bluefin 10'8'' Cruise is a four piece fiberglass shaft and polyurethane blade. Bluefin has included a second paddle blade as well, which pairs great with the included kayak conversion kit for a SUP/kayak hybrid experience. No matter whether you use it as a traditional paddle or a kayak blade, you'll definitely enjoy using it at a beginner and intermediate level. More advanced paddlers will want to consider upgrading to a carbon blend shaft, but for the vast majority of paddlers who use this board the included paddle is great.
The four piece paddle can be assembled in seconds, and has an adjustable height so that all sorts of adults can feel comfortable using it. The adjustable nature of the paddle also means that you can make micro changes, even out on the water, or can pass it along to friends who want to take turns on your SUP. Finally, this paddle does float, but be careful about dropping it in choppy or fast moving water as it does have a tendency to float away from your board rather quickly.
Pump
To inflate the 10'8'' Cruise, you can use the included single-chamber, dual-action pump. This is a very simple to use pump, with the instructions printed on the outside body of the chamber so that even first time SUPers will be able to inflate without issue. As we tested it, we've found that the average paddle will be able to inflate their board in about ten to fifteen minutes by correctly following the two action mode process. For the most part, we quite like the included pump and its compact size, though a quicker, more efficient dual-chamber pump to be included as an option in a future model would be appreciated as well.
If you want the best paddling experience Bluefin has to offer though, definitely consider adding an electric pump to your kit. Electric pumps are our favorite accessory as they will do the hard work of inflating your SUP for you, and do it in about the same amount of time as a dual-chamber pump. Unlike the included single-chamber pump, the Bluefin electric pump also helps you deflate your paddleboard, getting the last bits of air out so you can have an easier time packing away your SUP. Electric pumps do weigh a tiny bit more than single-chamber pumps, but they are more compact in overall size and make it even easier to pack your paddleboard kit. For these reasons, electric pumps are our top recommended accessory for all paddleboards, and are definitely worth considering for the Bluefin Cruise 10'8'' SUP!
Backpack
One of the things we love about the 10'8'' Cruise kit is the backpack. Featuring quite a bit of padding, this backpack is not only very comfortable to wear, but is built to withstand rain, wind, and sand in order to keep your gear as good as new. The adjustable backpack straps are helpful in getting a tight, snug fit on taller and shorter paddlers alike. Another cool feature is that the Bluefin has a front pocket for separating your fins and smaller accessories from your SUP, and additional side pockets to store your paddle without having to totally repack your bag. In total, we think this is a solid backpack, making it easy to transport your gear whether you're walking a short distance or are hiking out to the water with the Bluefin 10'8'' Cruise.
Leash
Also included with the Bluefin 10'8'' Cruise is a short leash, which you can attach to a D-ring and wear over your ankle or calf. This leash is helpful for preventing the board from drifting too far away from you if you fall off the SUP or want to take a swim, but don't make the mistake of believing it will help you float any better. Make sure you stay safe by paddleboarding by always wearing a PFD, even in slow or shallow water.
Repair Kit
If you are wondering what that bright orange tube in the picture is, that is the repair kit for the Bluefin 10'8'' Cruise. Within the repair kit are two items, consisting of a Halkey-Roberts inflation valve wrench which you can use to tighten up the valve if it should ever come loose. While incredibly difficult to damage due to the great build of the board, there are also adhesive patches you can apply to seal small holes and tears that do not occur on the seams.
For major SUP board damage and other major performance issues, be sure to contact Bluefin for additional help. More information about their warranty coverage is available below.
Company Review – Bluefin
Operating out of West Yorkshire, Bluefin is owned and operated by a family of water sports enthusiasts after years of experience exploring the Southern Uplands off the coast of Scotland. William Vaughan and his partner Charlotte originally founded their company as Bluefin Kayaks, but with time expanded into paddleboards as well, focusing on high-quality, lightweight, and well constructed SUPs designed for every type of paddler. The 2023 lineup of Bluefin paddleboards includes ten uniquely shaped and sized paddleboards that will accommodate beginners, intermediate, and advanced paddlers alike.
Bluefin deserves to be commended for some of the best coverage in the industry for their paddleboards. The Bluefin Cruise 10'8'' is protected by a 5-year warranty that covers all damage outside of normal wear and tear that comes with using their paddleboard. Furthermore, Bluefin also offers free shipping to the US and many parts of Europe, with paid shipping options for other countries throughout the world. From our personal experience, it has been great working with Bluefin due to their pleasant staff that were quick to answer our questions as we worked on this review. We happily recommend Bluefin as a company, from their excellent boards to their great company team as well!
Conclusion/Bottom line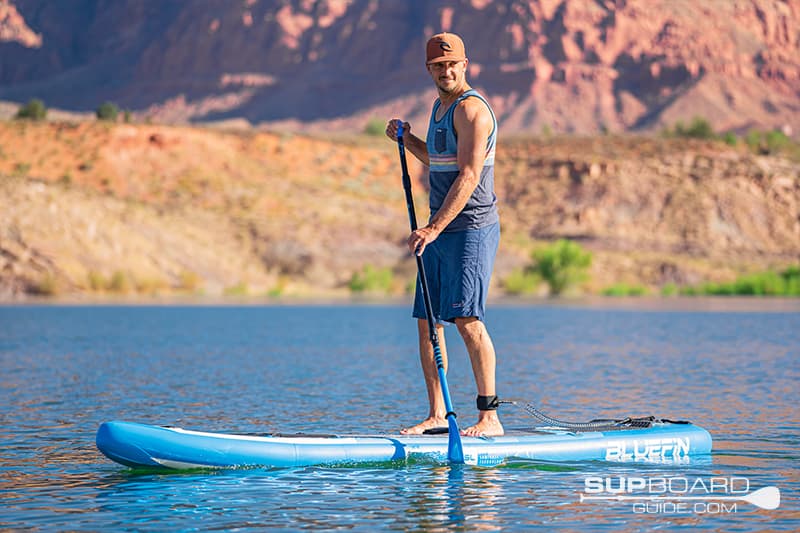 When it comes to value, there are few entry-level paddleboard options better than the 10'8'' Bluefin Cruise. The board is stable enough to support not just adults, but those interested in paddling with their kids or pet. However, we do suggest looking into the Cruise 12' if you believe this will be a regular thing as the Cruise 12' does offer more stability and surface area to work with. With just a little practice, paddlers can enjoy maneuverability of the Cruise, especially as they take advantage of the raised heel pad. Beginners struggling with their form will still manage to maintain a steady course with the board's tracking, while advanced paddlers will love the Cruise as a secondary SUP given its relaxing, solid glide. The deck pad is built with both comfort and traction in mind, with the accessories complimenting the board well by providing plenty of attachment points without cluttering the board. Finally, we love just how much awesome gear is thrown in with the board, from the pump and paddle to the bag and kayak conversion seat. This is easily one of our favorite ways to get into paddleboarding, so if you're ready to discover the joys of SUPing definitely consider the Bluefin 10'8'' Cruise.
We hope you've enjoyed our review of the 2023 Bluefin 10'8'' Cruise all-around inflatable SUP. If you have any other questions, from the contents of the kit to how you can improve your own paddling skills, be sure to leave a comment below or send us an email with your thoughts. Furthermore, we also update our reviews as we talk with other paddleboarders and spend more time out with them on the water, so check us out again in the future for our up to date thoughts on paddleboards like the 10'8'' Cruise. If you do wind up paddling with the Bluefin 10'8'', be sure to tell us what you think of it so we can make our review even better!
Thank you so much for reading, and remember to have fun SUPing!
The following two tabs change content below.
SupBoardGuide
Heyo! At SupBoardGuide.com we are a team who love the water, the outdoors, and are more than grateful that our full-time job allows us to review stand up paddle boards. We paddle year round (it helps that we are just about 2 hours outside of Las Vegas), and we bring in a wide range of paddlers with the goal of providing our readers with the best, most in-depth, and accurate stand up paddle board reviews.
Latest posts by SupBoardGuide (see all)