Aqua Marina Fusion 10'10"
Pros
The deck pad is super grippy and very comfortable
Package includes a pump, paddle, and bag so ready to go from the off
It's cheap (also a con)
Cons
The single layer PVC is not as stiff nor durable and there is visible bubbles in the material
The board produces a lot of flex
Has only one centre fin
The bag doesn't fit the gear well nor secure properly
Paddle is heavy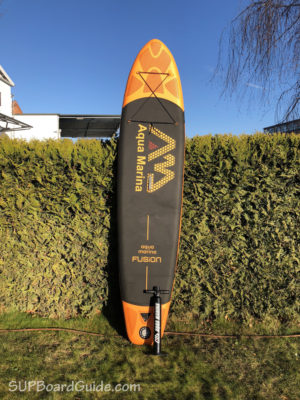 By Sarah Sackville
Feeling a bit tight on the pennies but still, want in on the action?
I just want to say now, this iSUP does not match up to many others we review on the site. It's on the budget list for a reason, this, however, doesn't mean you can't still consider it!
Aqua Marina has been in the inflatable business for the past 25 years building a multitude of inflatable products from hot tubs to dinghies and fishing platforms.
We've noticed it, and so have you! So read on to find out just what we think.
Specs
| | |
| --- | --- |
| Length | 10'10" |
| Width | 30" |
| Thickness | 6" |
| Weight | 19 lbs |
| Weight Capacity | 209 lbs |
Performance
On the water we managed to test the board with a range of users, we wanted to really put the board through its paces.
Straight from the box, we managed to get the board set up and ready to go quickly. There is only a single center handle, so launching was more difficult than other models.
As we stepped aboard, we instantly felt like we were wearing moon boots, sticking to the deck like glue.
Paddling with a lightweight rider, the Fusion quickly set off with a nice comfortable glide pattern. The board felt stable and solid underfoot, and the single fin allowed the board to track and run through the water comfortably. However, it did not have the same stability or rigidity than any other boards we've reviewed recently had.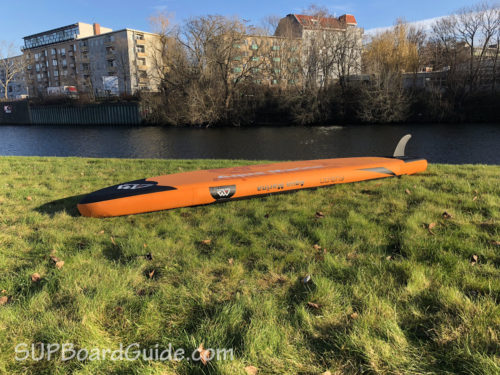 We changed riders to a heavier rider, and instantly the board showed a visible amount of flex through its midsection. The glide speed slowed considerably, and it did become increasingly sluggish to paddle.
As a board advertised as an all-around board, we did feel a little disappointed by the single fin. It allows the board to track great if you want to cruise but if you're going to explore more than you should be finding a board with the tri-fin. Also, given the slack and flex in that materials, it's already a little wobbly, the center fin is also less stable than a tri-fin setup.
For a lighter rider, the board was okay to paddle, but there are many other options that will be a little better. As a larger rider, it was not really suitable. The board works reasonably as a cruising board, if you want to set off and explore a little, then the Fusion may be useful for flat water use and lake paddling.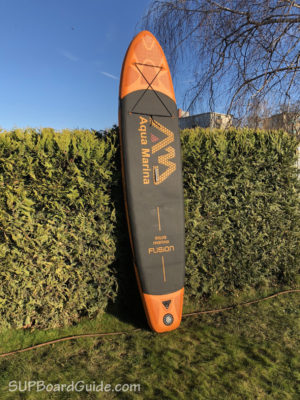 We wouldn't recommend taking the Fusion into the surf at all or heavy conditions as the board is just a little flexible and lacks maneuverability without the additional fins.
For an intermediate or heavier rider, we would certainly recommend something from the mid-price range to higher price range. The improved shape and accessories will offer much more performance.
For a beginner looking for their first inflatable stand up paddle board, the Fusion from Aqua Marina could be an option, but we still endorse saving your pennies for something that will be a little more durable. Something like the iRocker All-Around or Thursosurf Waterwalker. Both are smart buys for a beginner.
Board Design
The simple design features just 5-D rings. Many less than most other boards on the market, Aqua Marina went for a stripped-down simpler option.
At the tail of the board, you will find the first of five, perched on the tail of the board, out of the way of your feet and cargo areas.
This is designed to secure your leash so in the event of a quick dip, you can rest assured your board won't be far away.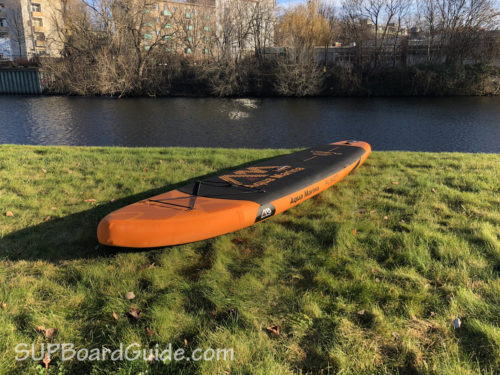 Up front, the other four D-rings sit nicely spaced on the front deck. These are preloaded with a strong bungee cord. This cargo area nicely overlaps the front of the deck pad to give you the perfect spot to store all of your accessories whilst on the water.
While online the colors look vibrant and striking, in real life, the design has been poorly printed. It's dull and also patchy as the materials have visible bubbles all throughout.
Materials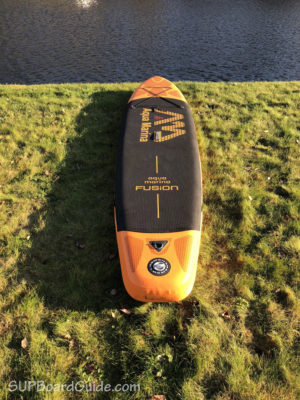 We have come to expect that at this price point all of the boards will use a single outer PVC layer. As opposed to higher end boards, which use double/triple or even quadruple layers for increased strength and durability. The 2017 iRocker Cruiser has triple layer while the 2018 has quadruple layers of PVC. Both series are excellent boards, the choice will more fall into how much you plan to rough your board up and how heavy you are.
Each board is built with their own drop stitch core technology. A common process throughout the industry whereby thousands of individual threads support the top and bottom layers. It is this base technology that changes the board from a big floppy lilo to something that can hold its form. Though if you are a bigger rider, you will experience flex on the Aqua Marina, unfortunately.
Aqua marina uses a PVC deck, which has been treated with plenty of UV protection. The layers are then wrapped with both internal and external PVC Rail tape.
The single layer boards are lighter weight but do suffer from being more flexible than double layered boards. As well as not being as durable. Unfortunately, the moment we took it out of the box and started inflating we noticed that it was poorly put together. There were bubbles all over the board, under the top layer of PVC, which is a result of cheap and bad manufacturing.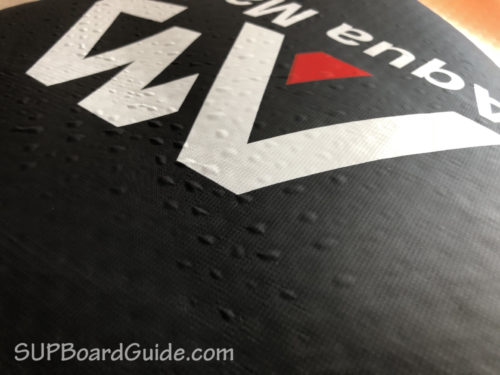 On top, the super sticky EVA deck pad will give you a good grip, even when wet, and the super soft texture will surely have your spidey senses tingling. The bummer is that it's not glued very well, so don't be too surprised if it starts to peel off after a few uses.
There's decent traction pad coverage, with more than two-thirds of the board engulfed under the soft foam and the honeycomb pattern really sets it off nicely.
A soft surface is a good option for casual touring even for yoga, providing enough support to strike a pose.  With the center handle flat enough to be nonobstructive. Again we just ask you to keep in mind this board does flex under weight.
Features
Fins
The Fusion from Aqua Marina is fitted with just a single center fin. This is removable which is ideal for storage. We did find that the single large fin was a good size and aided tracking but unfortunately not ideal for an all-around board.
We felt by not including the 2 side fins we were left a little undersold, losing both stability and maneuverability over many tri fin set-ups. The single large fin is taken from longer boards designed for cruising and touring whereas this board wants to be an all round board for use everywhere it does lack that edge. That being said we found the board to track well and run smoothly for what it is.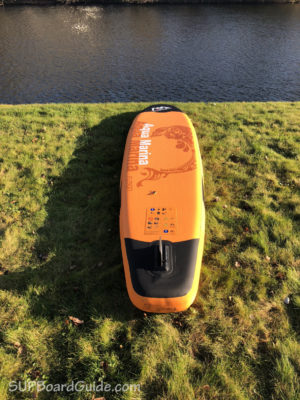 Inflate/Deflate
Aqua Marina recommends an optimal pressure of 15 psi for use but this is mainly because of the single-layered outer just isn't up to holding increased pressure.
At 15psi the board felt solid though once aboard it became apparent this board won't suit even a slightly heavy rider. Kids perhaps. But with a heavier paddler, it was just not possible to paddle effectively.
The deflation process was very quick and easy, allowing for the board to be stowed within minutes of getting off the water. If you want to leave your board inflated for extended periods, we would recommend removing some of the pressure.  Air does expand in hot weather so to avoid damage its worth just letting it down a little, especially if you live in a hot climate.
Accessories
Paddle
They have included a basic paddle right from the get-go. Meaning that once unpacked, you can inflate and you are ready to go. The paddle is a basic adjustable breakdown paddle. The aluminum shaft is heavier than a glass or carbon shaft, and the plastic blade is bulky. It is a little heavy for extended use but will at least get you going. Even after you decide to upgrade the basic paddle is ideal as a spare to lend to friends when they want to try out your new toy.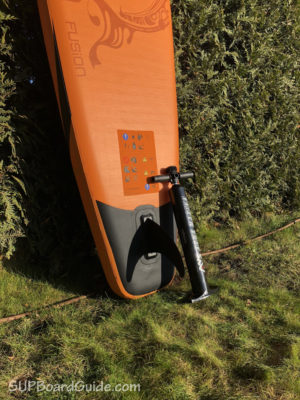 Pump
Included with the Fusion is a fairly basic single-action hand pump. The pump is equipped with a simple pressure gauge to make sure you can get the board to the right pressure every time.
If we are honest, the pump was a bit of a letdown, but for the price of the package, it's kind of what we have learned to expect. It took us about 10 minutes to get the board up to the 15 PSI optimal pressure with the final 3 or 4 PSI almost breaking our hearts with the effort needed.
We would certainly recommend an upgrade. There are other boards in this same price range like the Ancheer that come with a reasonable pump. With an upgraded pump we believe we could easily halve the inflation time and get more time on the water. Another option to decrease the inflation time would be to pick up an electric pump or compressor. This makes getting volume into the board much easier before finishing off with the hand pump for the final extra oomph.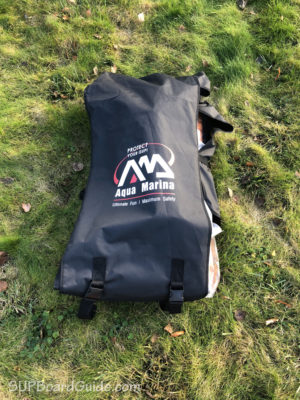 Bag
The team at Aqua Marina know the importance of being portable, and that is exactly why they include a basic board bag. When we say basic, we mean that we're not sure it's even a bag. More of a board nappy.
It sure isn't the biggest of bags. Even with a good squeeze it hardly will fit your board and accessories. The material is thin and unpadded and rather than it being a bag you zip up, you have to orgiami fold your way to success.
Since we aren't not Mr Miyagi, our attempts at getting everything in neatly, failed. As you can see in the photo, bag fail. Maybe someone is better than us but storing your board shouldn't have to be a practiced art form.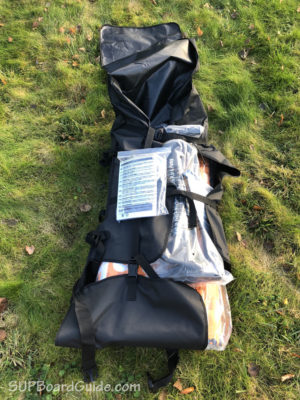 Repair Kit
We do wonder on a daily basis how many people have actually ever used their repair kits, we regularly bounce and drop boards all over the show and as of yet had very few problems. The inflatable boards we usually test are so unbelievably durable, we've seen a truck and car driven over them with no damage whatsoever. Though, not to sound too much like sad sacks but chances are you will need it with this single layer board!
The repair kit contains a couple of patches, a valve wrench and depending on your region a little adhesive cement to bond it all together.
Make sure you leave it in your bag so in the event disaster does happen or you try surfing with a swordfish, then you always know where it is. Getting you back afloat as quickly as possible.
Conclusion
So you've read all we have to say and still wondering whether it's for you?
The Fusion is only suited as a beginner board package for someone who wants to cruise without performance or desire for anything more. The Fusion is built for the pleasure of just getting out on the water.
For the lighter rider, this lightweight board from Aqua Marina may be an option. It's cheap in materials and accessories, but it will at least get you on the water.
However, that is about the only praise we can give it considering the value and quality of the other boards we review here. For a heavier rider, unfortunately, we feel that the board just allows too much flex which really has a negative impact on the board's performance.
The only reason you should be purchasing this SUP is that of financial reasons. If that's so, then take a look at the Ancheer. It's in the same price bracket but a fair bit better.
We do suggest you spend a little more and buy something mid ranged. With boards like the Cruiser only a few more weeks of saving the difference, you should wait. The mid-range selection of boards will be triple or more layered and super stiff. Offering increased performance and durability even with the heaviest of riders.
The following two tabs change content below.
SupBoardGuide Editorial Team
At SupBoardGuide.com we are a team who love the water, the outdoors, and are more than grateful that our full-time job allows us to review stand up paddle boards. We paddle year round (it helps that we are just about 2 hours outside of Las Vegas), and we bring in a wide range of paddlers with the goal of providing our readers with the best, most in-depth, and accurate stand up paddle board reviews.
Latest posts by SupBoardGuide Editorial Team (see all)