Ancheer 10'
Pros
Included paddle,pump and bag
Pump is good quality
Nice design
Tri-fin setup (other cheap SUP's are single)
Cons
Heavy paddle
Single layer PVC, dual layer sides - not so durable
Bag is made of thin materials
Bigger riders will experience flex
Badly glued on deckpad. Read the material update.

Update: The deckpad wasn't glued on properly and there was a huge bubble of air below it on a hot day. Read our materials update halfway through this article.
We can't all fork out for the shiniest new toy, but that doesn't mean we can't still be in the game right?
There are some viable budget options, and then there's iSUP's that will break on first use.
The Ancheer is one of those viable options!
This entry level board really holds its own in a category with so many emerging brands and options.
In this review we take a look at why this might just be your next toy!
 Specs
| | |
| --- | --- |
| Length | 10' |
| Width | 29" |
| Thickness | 6" |
| Weight | 32 lbs |
| Weight Capacity | 350 lbs |
Performance
The Ancheer board brings with it so many glimpses of performance it is tough to think what the company could do if they invested in higher quality accessories.
Even though it's a single layer board, this stylish blue board still holds its form well. You'll find it delivers enough rigidity for smaller riders whether cruising or trying some yoga. You'll also notice the heavy duty PVC outer combined with the double rail protection is still lightweight and makes it easy to carry and launch.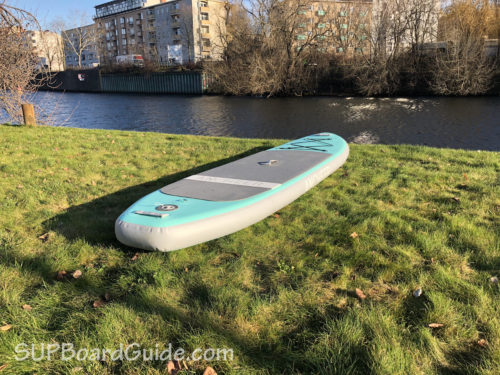 As with so many boards in this price range, they aren't amazing on the water. But, with the Ancheer we took it for a spin and were excited to feel it track and turn with ease. The tri-fin set up holding strong and offering performance and stability that we didn't expect.
It certainly isn't the fastest board we have ever tested but nevertheless very enjoyable to paddle for a lighter user. For a heavy user, we did feel like the board was weighed down, sitting a little lower in the water. It tracked well but didn't have the rail to rail transition we have found on other more expensive stiffer boards.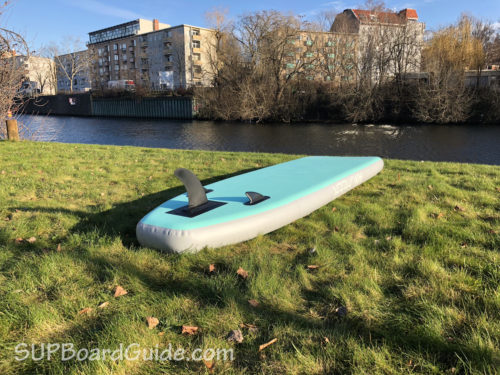 Board Design
Taking a look on the deck, this board keeps things super simple in terms of D-rings. With a great sized cargo area, comprising of 6-D rings with threaded bungee. This is a little larger than many other boards that only usually use 4-D rings.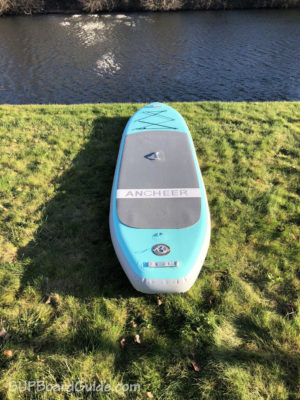 The extra space is ideal for tucking under a drybag or daysack, as well as a bottle of water and any other accessories. On the tail, you will spot the only other D-ring. This one is there for attaching your board leash.
As far as aesthetics goes, the baby blue is beautiful! One of the reasons it came in #2 on our top cheap inflatables.
Materials
Update: Unfortunately, the quality proved to be lower than we originally thought. We used the board on a warm day and noticed a huge bubble building up below the deckpad. Apparently, it wasn't glued on properly and there was air which started to expand due to the warm weather. Not a great sign of quality. Check the picture below.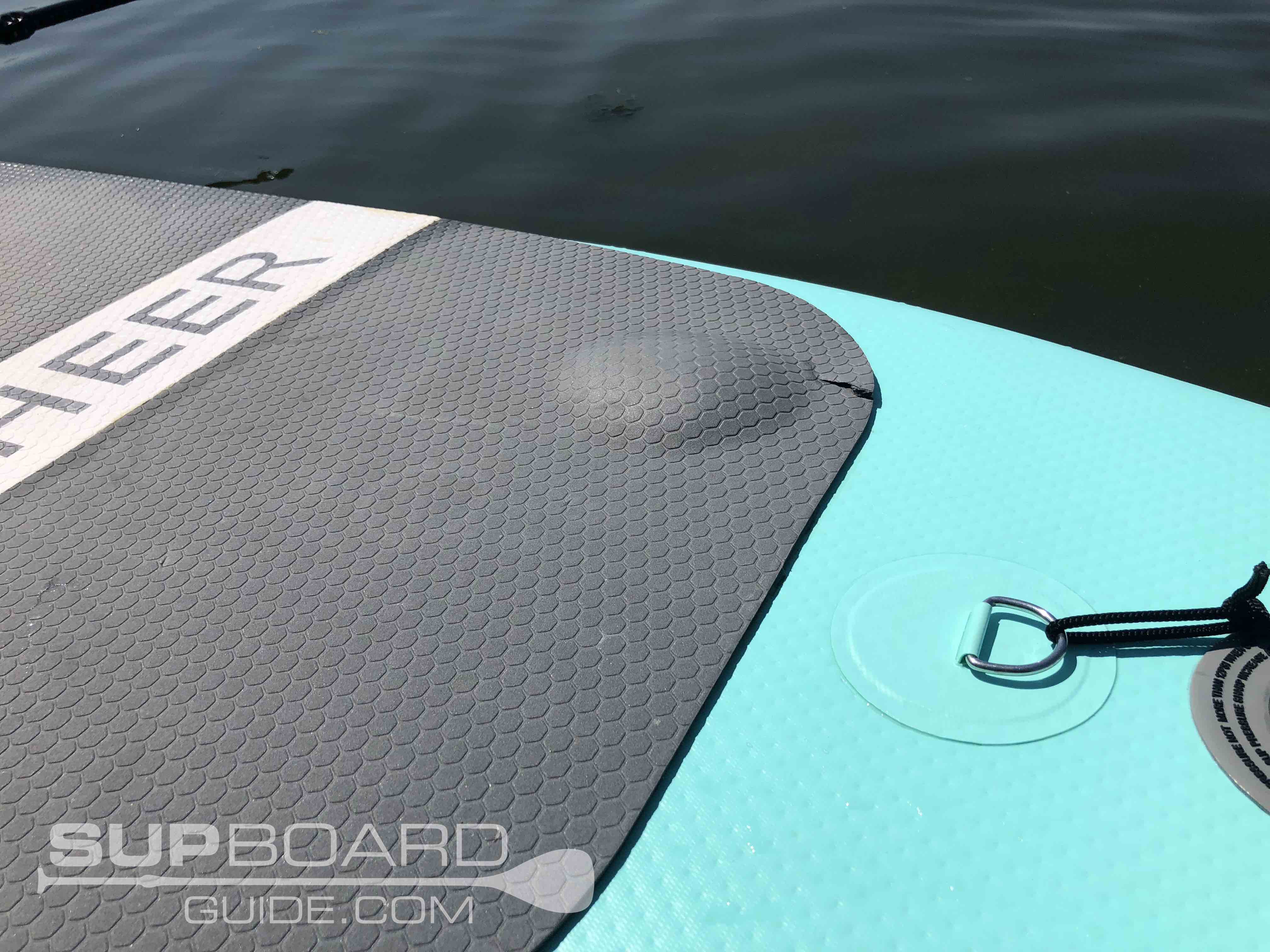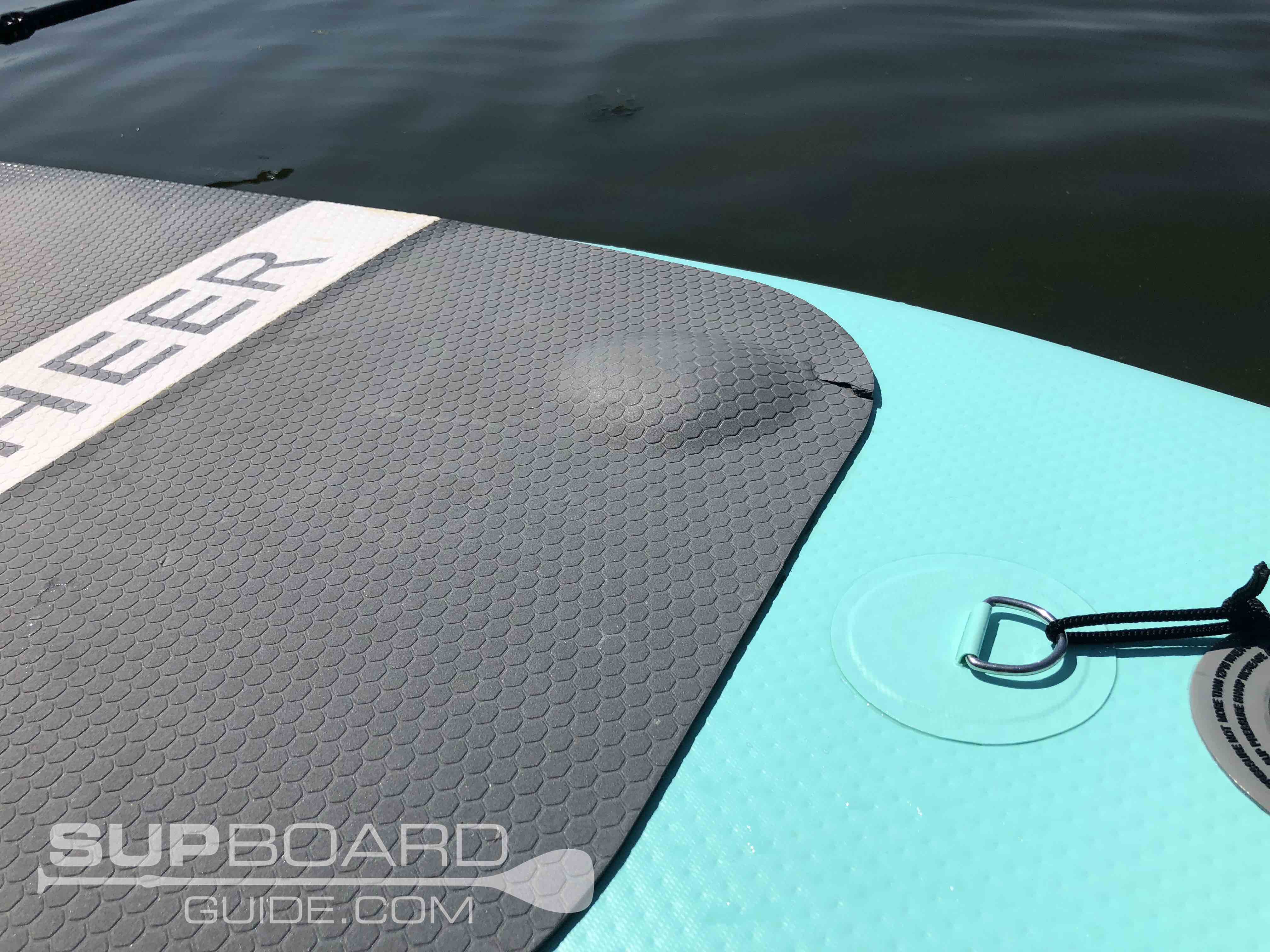 Materials could be improved, as with most Cheap SUP's in this price range. The Ancheer is built with an inner core and then a single layer exterior  PVC construction, with dual-layered sides. Luckily this is vastly different to the single layer Lilo you were floating around the pool with earlier this afternoon.
The center of the board holds the key to the entire operation. A high-density drop-stitch core basically threads the layers together to give it the best shape possible. Then wrapped with a durable 0.9mm layer of 1000D PVC. The double-layered rail bands are the eggs that hold the cake together and keep things consistent. The rails give the board added rigidity and extra protection.
For a single/dual (depending on how you judge it) layered board it is still durable and will handle much more abuse than other boards at the same price point. However, still doesn't really compare to our reviewed mid-range selection of boards.
Your footing can be the difference between walking on water or snorkeling, that is why they have included a super comfortable 5mm anti-slip EVA traction pad.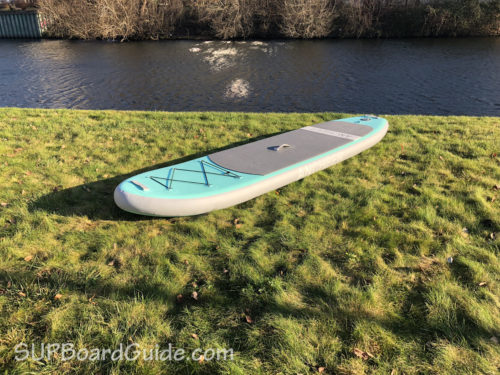 The deck pad is your main point of contact whether kneeling or standing you want to feel comfort and support. The deck pad is super grippy even when wet to allow you utmost control over the board in all situations.
Ancheer use a large pad with good board covering, the design is subtle, simple yet still showing a touch of class with the blue color. We have also seen a camo style green which is also a really nice touch.
Features
Fins
Fins are the difference between floating around aimlessly and paddling with grace. Here as you can see in the photo, this particular inflatable is equipped with a popular tri fin set up to keep you right on track.
The large center fin is easily removable for storage, this is designed to help you track straight and true. Two small flexible side fins are durable to a point of necessity and provide you with the necessary grip and stability you need to maneuver efficiently.
Some of the other boards at this price point only provide you with the large center fin whereas the Ancheer gives you the extra versatility of a tri fin set up.
Inflate/Deflate
Ancheer recommend a maximal pressure of 15psi. Inflating the board is super simple and easy using the included dual action pump. The board takes about 5-6 minutes to pump to optimal pressure and will hold its form well.
Deflating the board will be quick and easy, by simply opening the valve and twisting the pin. Rolling the board will expel the air allowing the board to be wrapped tightly ready for storage.
**PRO TIP! Remember that if you are leaving the board in the sun to use a little less pressure as the air inside the board will quickly expand in the heat**
Accessories
Paddle
Ready to paddle straight from the carton a sturdy aluminum 3-piece paddle is included with your board. It sure isn't the lightest, or the most appealing but it will do exactly as you need to get going. She also packs down to fit into the bag so its all ready to go at a moments notice.
The paddle is adjustable to use for a range of users the aluminum shaft is not as light as other glass and carbon models but is indestructible. The plastic blade is flexible, and you will feel this on powerful strokes.
If you intend to continue paddling, we would certainly recommend upgrading, but this is an ideal spare and will get you out and paddling.
Pump
The Ancheer actually includes one of our favorite pumps the Bravo 4 pump as standard.
A quality pump in a modest package is a really nice touch, the large capacity and dual action mean it will inflate on both the upwards and downwards strokes.
Being able to switch easily between high volume and high pressure to inflate your board quicker. The included pressure gauge can accurately let you know your current progress.
We found that the pump could easily get the board to pressure in about 5-6 minutes which is nice and quick. Allowing you more time on the water and less time pumping. For a cheap inflatable, this is an impressive accessorie. If you want to be inflating quicker, there are better pumps than the Bravo 4, such as Reds Titan or Blackfin's included pump. Then there are also electric pumps. But, if you are going to spend money on a new pump, you may as well just buy the board that comes with the better pump. It is hardly any difference in cost to buy a mid-range board than to buying a cheap SUP and good pump. For example something like the Blackfin X.
Bag
So one of the reasons you want an inflatable is for the practicality, being able to roll it up and stow it away. It makes complete sense. The included bag is perfect for just this instance. Large enough to hold all of your accessories the bag can always be ready to go.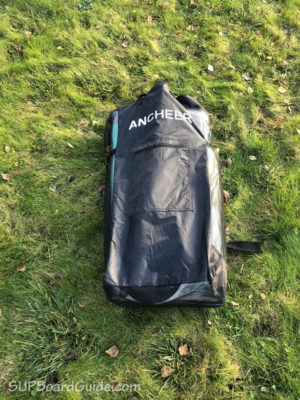 With regards to build quality, it is certainly lower than other premium brands, but the mesh side paneling offers a nice change. Allowing the board to air and dry even when stowed.
Attached shoulder straps allow the bag to be carried upon your back for easy carrying to the water. The straps are large and not as padded as other designs but certainly do the job. Large handles do aid in manhandling the bag upstairs and into car trunks to another useful addition to a simple design.
Repair Kit
The repair kit is simple yet effective, equipped with patches and a valve wrench all you need to do is pick up some glue, so you have it to hand in case of disaster strikes.
Conclusion
The potential is there. Though at the end of the day this still is just a SUP to get you on the water having some fun. Not for you if you are getting into paddle boarding to feel some performance. Or if you plan to go regularly. You should be looking at spending a bit extra if that's the case.
If you are intending on going out most weeks, you'll probably be replacing your cheap SUP in the same year you bought it. You might as well just buy a board for double the price (or in many cases not even double!) that will also offer you an opportunity to improve your skills.
Have a look at the list of mid-range SUP's we've reviewed. In particular beginners who are only interested in cruisy days, we suggest iRockers Cruiser.
An awesome pump for this price range. Additionally, both a bag and paddle included it really is a ready to ride package. The board looks great and offers glimpses of performance we love.
Having ridden the board, we definitely rate it as one of the best at its price. Only to be matched closely by DDM board. You can check it out and others in our Cheap SUP review.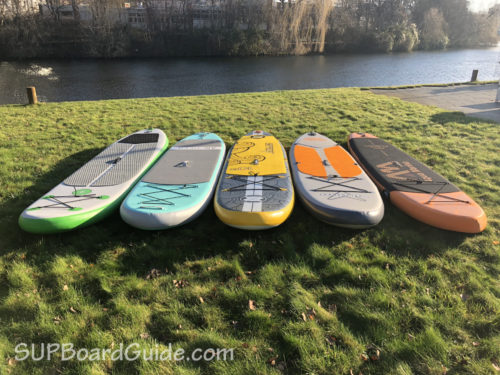 For the larger rider we would recommend spending a little extra and looking at a mid-price board as the dual layer will stiffen things up nicely, something like the Thursosurf  Water Walker would make a nice addition.
For the smaller rider you do certainly have a much wider choice. You can find many budget boards suitable for you, just keep in mind the issues with durability.
Now if you are REALLY straped we have one suggestion. But only if you are smaller rider. Paddling the Ancheer is one of the more viable options. The tri fin set up allows it to be used as an all-around board. While the larger fin setting it up to cruise nicely. She won't be the fastest, but she looks great and will allow you to follow your next waterborne adventure.
The following two tabs change content below.
SupBoardGuide Editorial Team
At SupBoardGuide.com we are a team who love the water, the outdoors, and are more than grateful that our full-time job allows us to review stand up paddle boards. We paddle year round (it helps that we are just about 2 hours outside of Las Vegas), and we bring in a wide range of paddlers with the goal of providing our readers with the best, most in-depth, and accurate stand up paddle board reviews.
Latest posts by SupBoardGuide Editorial Team (see all)