It's that time of the year again. Christmas is just around the corner.
We've put together a list of some Stand Up Paddle Board Christmas gift ideas.
The good news? It's the off-season and all of our suggestions are cheaper than in summer.
Our list includes:
Paddle Boards
Boards for Kids
Paddles
Accessories
Boards
The Cruiser is your perfect family-friendly SUP. It is stable enough to be used for anything from fishing to fitness. It's wide base also makes it super beginner friendly and anyone, regardless their weight or skill level will enjoy it.
All iRocker boards are currently discounted $100 for Christmas.
You can find the Cruiser and other boards here.
The Peak by ISLE Surf and SUP is one of the most popular beginner boards. It comes in three different colors and is light-weight making it a popular choice for female paddlers.
At 10'6″x31″x6″ it's your typical all-rounder board and can be used by almost anyone.
The PEAK is also heavily discounted right now making it a budget-friendly Christmas gift.
You can buy it here.
If you want a board that stands out from the crowd, the Thurso Surf Waterwalker is a board you want to consider. Its beautiful wood stripe top layer is something you won't see every day.
It also comes with high-quality extras like a carbon paddle and a backpack. It's also one of the few boards in this price-range that have 3 removable fins.
You can choose between the 10'6″ and the 11′ version here.
Last but not least is the ISLE Airtech. The Airtech is made for explorers. If you want to go touring or exploring with your SUP, this is for you. It's super rigid and extremely light-weight.
With bungees in the front and the back of the board, you can also bring more than enough storage.
And since it's Christmas, the board is, of course, discounted as well. You can find it here.
Boards For Kids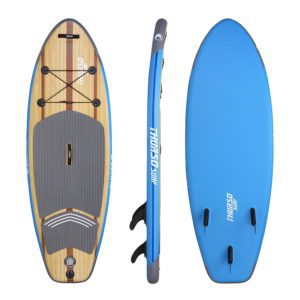 Finding a board specifically designed with kids in mind isn't easy. While there are a few boards that can be used by kids as well, the number of boards that's made just for kids is pretty underwhelming.
That's why we only put one board on this list. That one, however, is a SUP we can recommend 100%.
It's the new Thurso Surf Prodigy Junior. At 7'6″x30″x4″ it's ideal for younger kids that can't quite handle your 10′ allrounder yet.
It's also very reasonably priced, making it a perfect Christmas gift. You can find it here.
Paddles
If your loved ones already have a board, a paddle is always a great gift idea. Most beginner or advanced boards include an aluminum or fiberglass paddle. While those are great to get you started, they are far from perfect. Upgrading your paddle can make a massive difference and once you've tried a carbon paddle, you don't want to go back.
We've put together a list of paddles that we tried ourselves and can highly recommend.
This 3-piece carbon paddle by iRocker is the ideal upgrade to paddle included with your board. At 22 ounces (623gram) it weighs 1/2 or even 1/3 of what most normal paddles weigh.
It's currently on sale for $185.
If you're looking for a really special paddle, check out the Hornet Watersport Artist Series. They are some of the most beautiful paddles you can buy and definitely something you don't see a lot.
They don't just look good though. They are extremely well made, light-weight and you can choose fixed length, 2-piece or 3-piece.
Other Paddle Options
Super Paddles sells a lot of different paddles and you're guaranteed to find one that's within your budget and what you're looking for.
Click here for a few different carbon options starting at $99.
Or click here for a very solid fiberglass paddle at a really reasonable price.
Accessories
BTP 12 Electric Pump
An electric SUP pump is probably the No.1 gadget I'd recommend to absolutely everyone using an inflatable. It just makes the entire SUP experience so much more enjoyable and it's also a huge timesaver. Unfortunately, most electric pumps are terrible. The only pump that I've found to be reliable long-term is the BTP 12.
Amazon sells the BTP 12 and so does iRocker. Check both to compare prices since they vary day by day.
Kayak Bundle
Turning your SUP into a kayak is actually a lot easier than you might think. Most SUPs that have enough D-rings can easily be turned into a kayak. If you want to mix it up a bit check out this kayak bundle to buy the seat plus a blade extension, or buy just the seat if you have your own paddle.
A good Leash
A good leash is essential. It can be a lifesaver and it's also one of the cheapest accessories you can buy, so there are no excuses not to have one! When you buy a leash make sure it's padded well around the ankle and that it's a coiled one.
A good and cheap leash is the BPS Storm.
The following two tabs change content below.
SupBoardGuide Editorial Team
At SupBoardGuide.com we are a team who love the water, the outdoors, and are more than grateful that our full-time job allows us to review stand up paddle boards. We paddle year round (it helps that we are just about 2 hours outside of Las Vegas), and we bring in a wide range of paddlers with the goal of providing our readers with the best, most in-depth, and accurate stand up paddle board reviews.
Latest posts by SupBoardGuide Editorial Team (see all)