Are you short? Are you tall? Do you like to share? Are you traveling?
All great questions to ponder when buying a SUP paddle.
Sometimes life hands you the answers to your problems on a silver platter. Like when Hornet Watersports decided to make a paddle that was available as a fixed height, 2-piece adjustable or 3-piece adjustable. The fixed is excellent for those who don't like to share, two-piece adjustable for short and tall alike and a three-piece that can be packed down for travel use.
All three choices are beautifully made with a unique design crafted on the blade.
Whether you choose the fixed or adjustable, both are high-quality paddles with similar features. Let's take a closer look.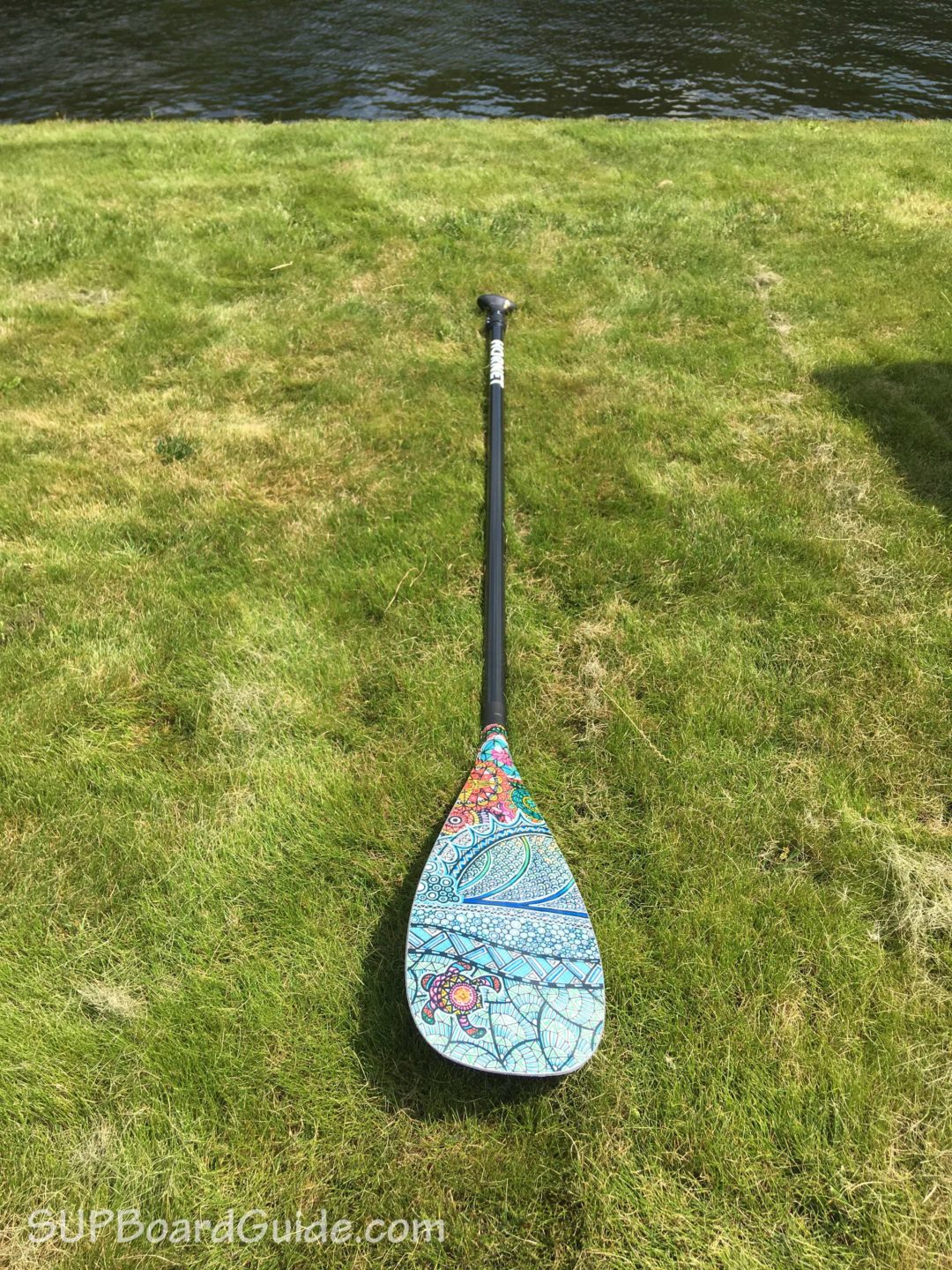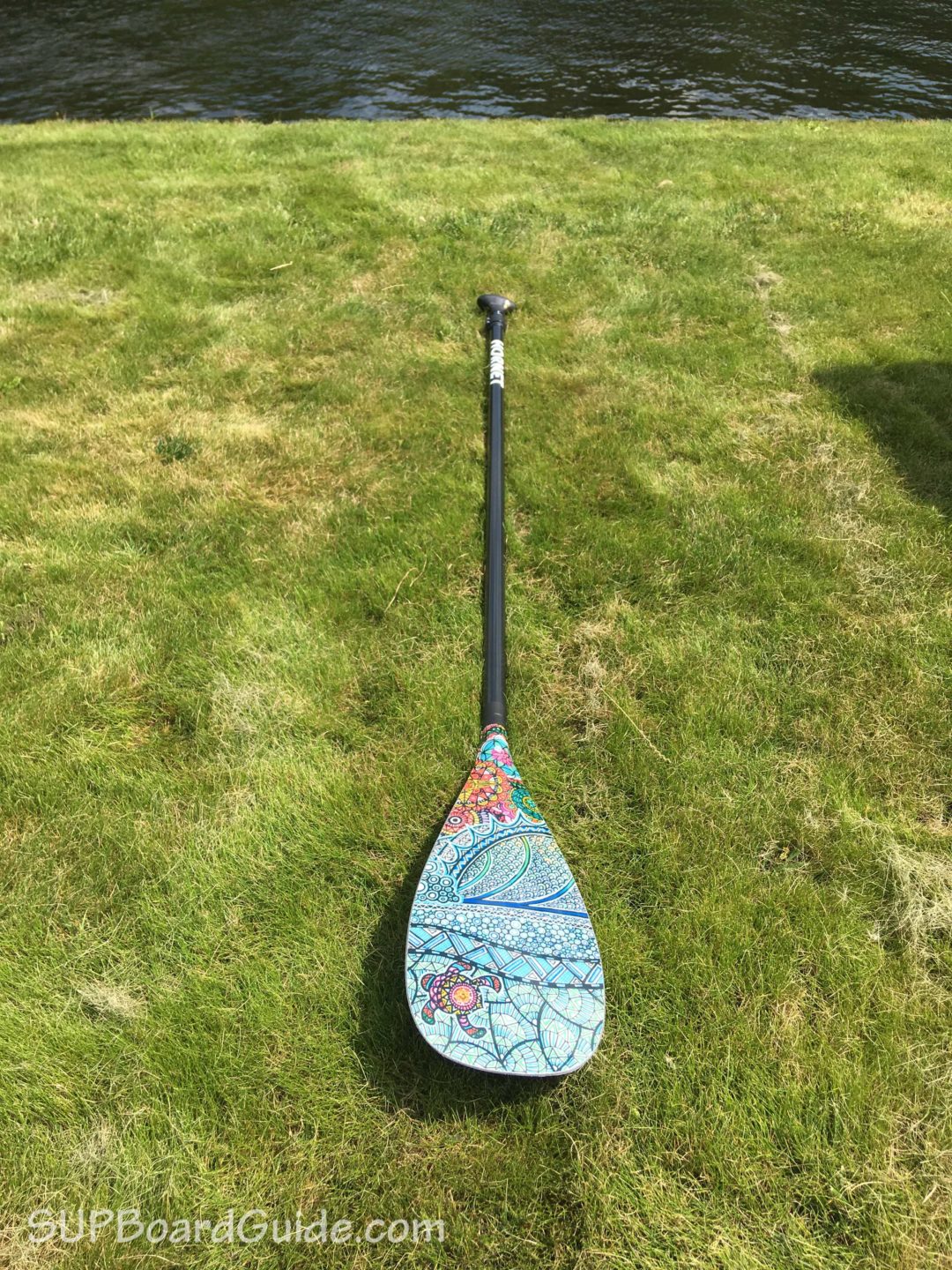 Paddle Specs
1 PIECE FIXED LENGTH
2 PIECE ADJUSTABLE
3 PIECE ADJUSTABLE

Materials

Paddle
100% Carbon Fibre

Shaft
100% Carbon Fibre

Handle
Carbon Fiber Ergo Palm Grip

Materials

Paddle
100% Carbon Fibre

Shaft
70% Carbon Fibre, 30% Fibreglass

Handle
Carbon Fiber Ergo Palm Grip

Materials

Paddle
100% Carbon Fibre

Shaft
70% Carbon Fibre, 30% Fibreglass

Handle
Carbon Fiber Ergo Palm Grip

Paddle Size

Paddle Size

Paddle Size

175cm (70") to 215 cm (85″) or you can buy one uncut.
55 cm (61″) to 230 cm (91″)
55 cm (61″) to 230 cm (91″)

Blade Dimensions

Length: 47 cm (18.5″)

Width: 18 cm (7.09″)

Weight: 200 g (7.05oz)

Surface: 542 cm² (84²")

Blade Dimensions

Length: 47 cm (18.5″)

Width: 18 cm (7.09″)

Weight: 200 g (7.05oz)

Surface: 542 cm² (84²")

Blade Dimensions

Length: 47 cm (18.5″)

Width: 18 cm (7.09″)

Weight: 200 g (7.05oz)

Surface: 542 cm² (84²")
Now, what do all these numbers and words mean?
Material
Carbon fiber paddles are the lightest paddles on the market. Next in line is fiberglass. The fixed paddle is 100% Carbon Fibre and the adjustable 70% Carbon fiber and 30% fiberglass. So there's no argument against the Crush FX2 paddle being one of the lightest on the market.
Not only are carbon fiber paddles lightweight they are also proven to be strong and durable.Finally, If ever your paddle disembarks from your hand, you'll be thankful as the structure means it floats!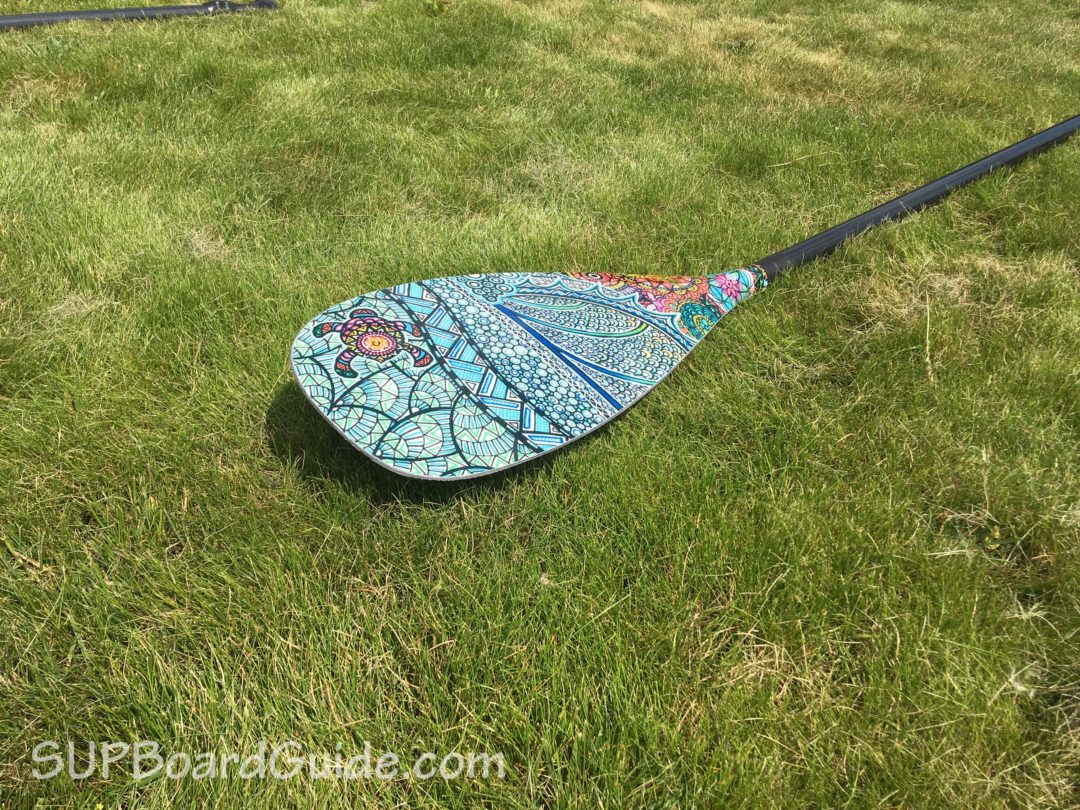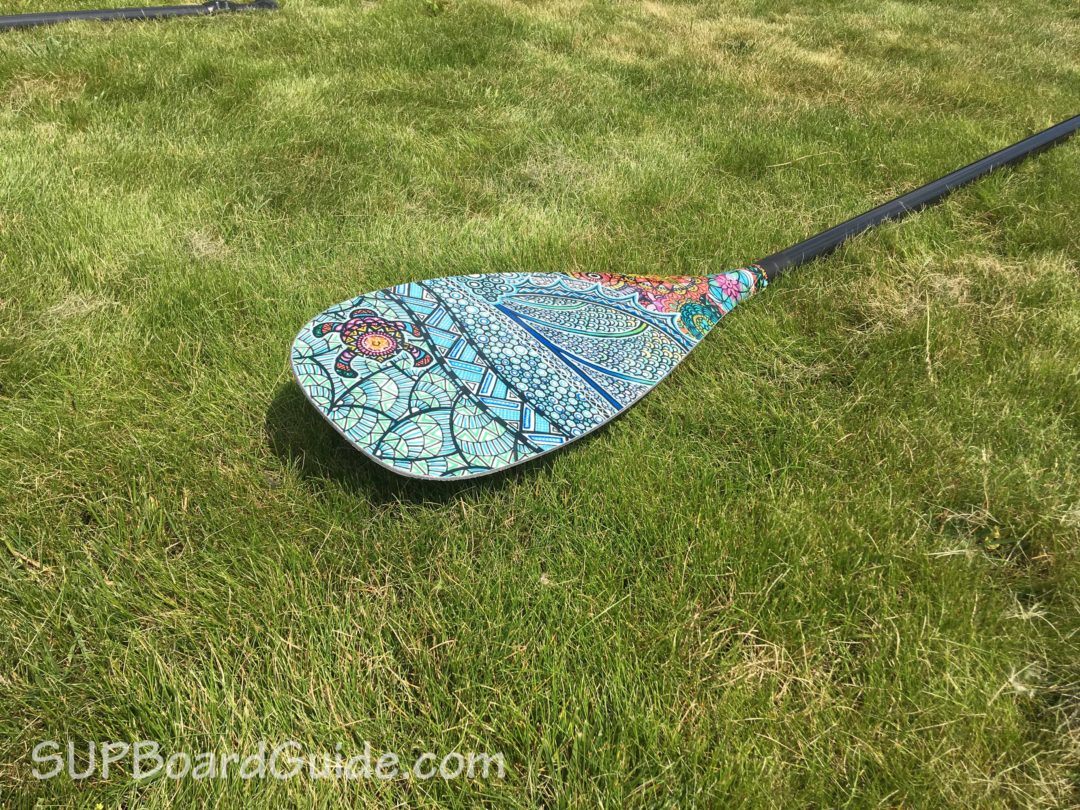 Weight
All of Hornet Watersports SUP paddles are lightweight. The biggest win for lightweight paddles is because of distance. It's safe to assume a lightweight paddle gives you longer lasting sustenance while paddling.  Well, it's true! The Crush FX2 is especially an ideal choice for people paddling long distances. You'll get much more out your time on the water.
It's also a perk if you are carrying all your gear far! A few grams difference can be felt over a long distance.
I weighed the paddle, and it's just 660g (1.45lbs) which makes it 10g lighter than its big brother, the Jaws MX and one of the lightest paddles on the market.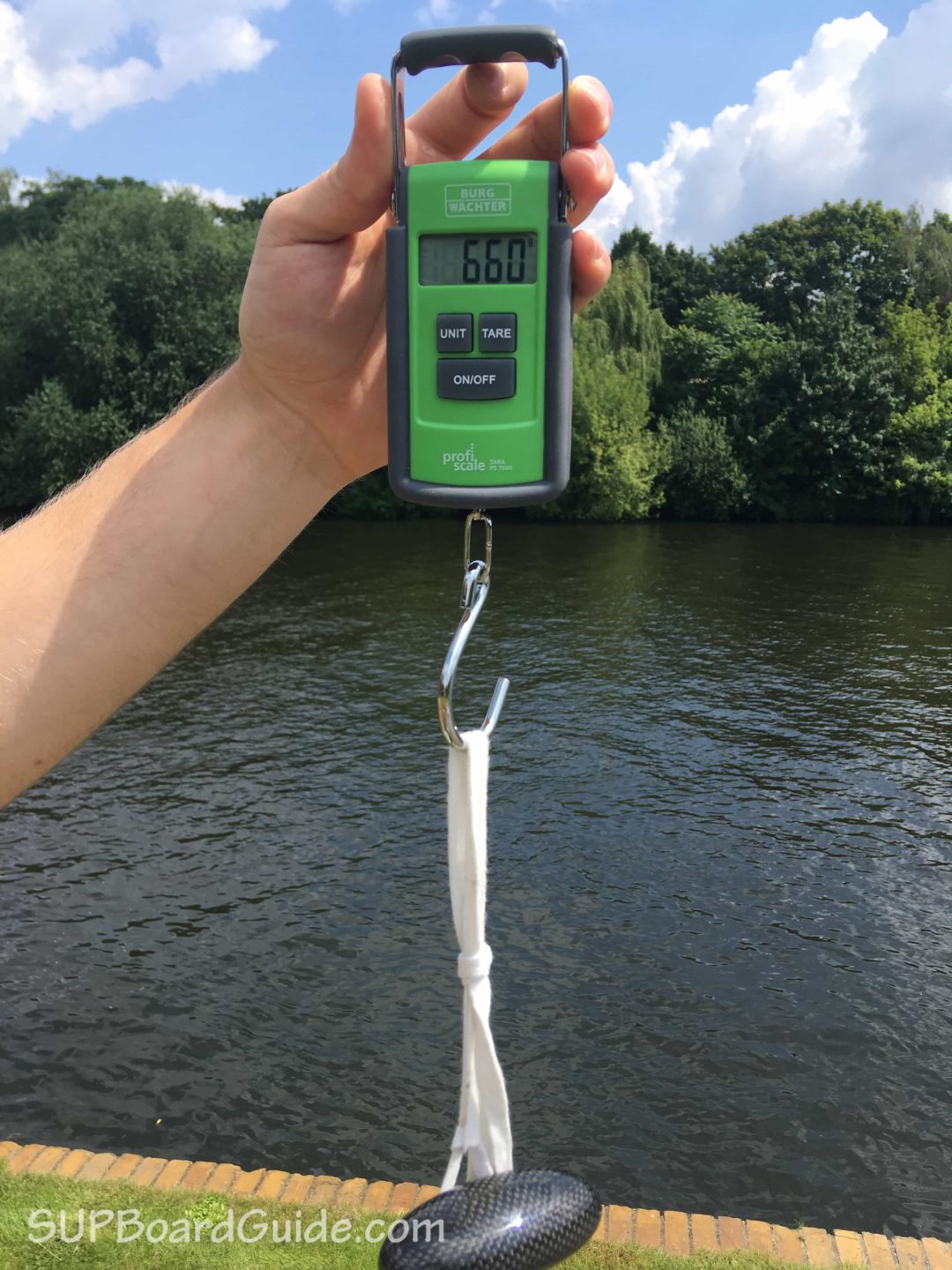 Blade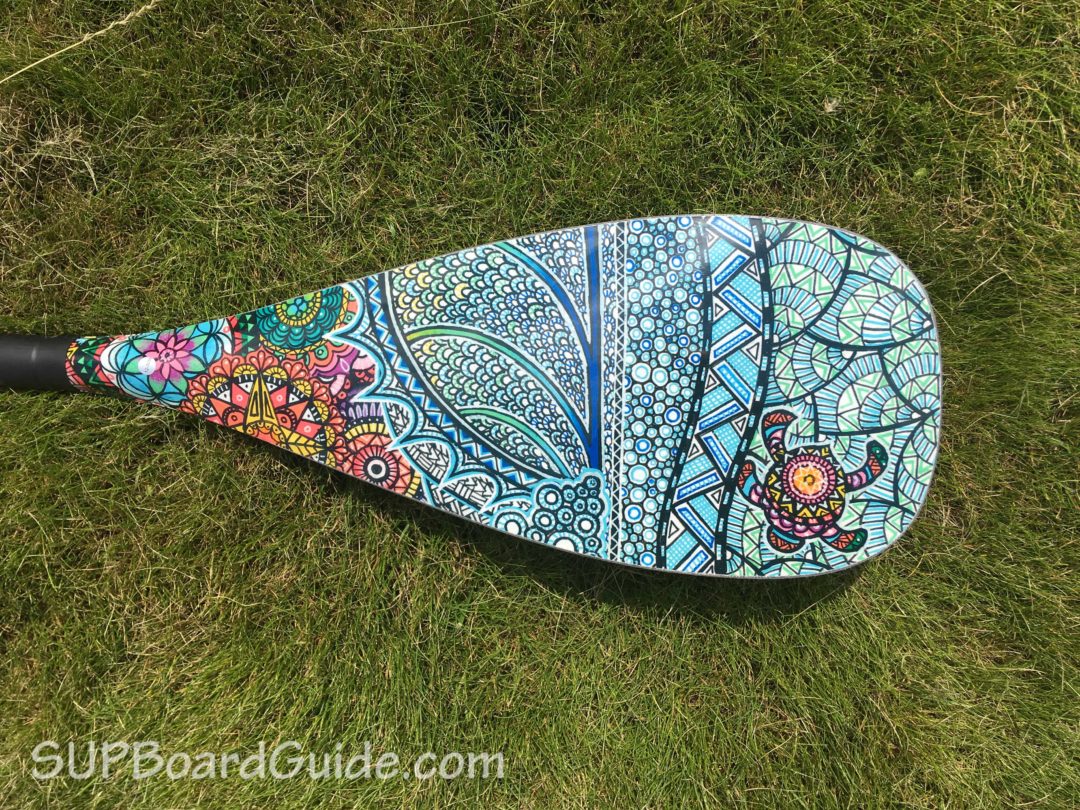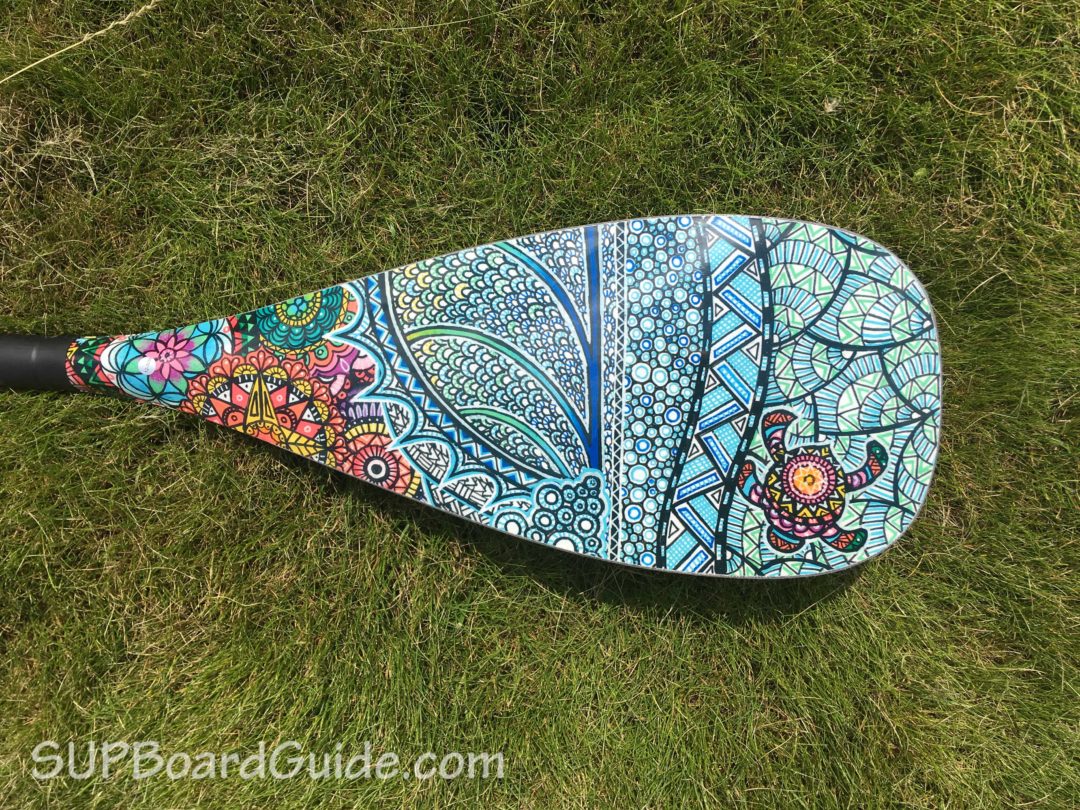 Measuring paddles blades, I generally split them into three sizes.
Small: 450cm² – 550cm² (70²"-85²")
Medium: 550cm² – 650cm² (85²"-100²")
Large: >650cm² (>100²")
This chart by Quickblade is also pretty useful: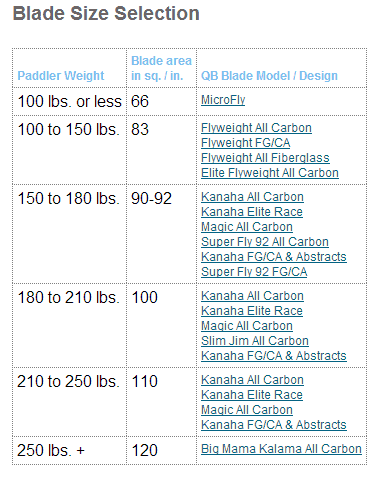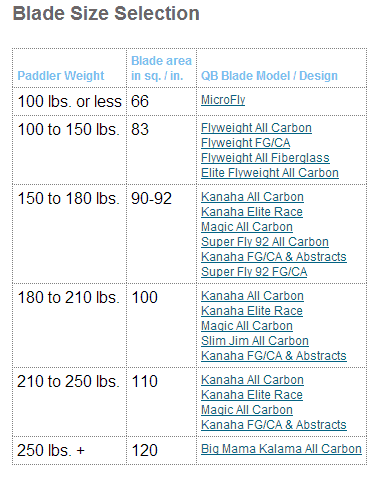 The Crush FX2 blade is, therefore, one of the smaller sizes on the market. Depending on what you're doing and who you are, the blade size you need will differ. Small blades are better suited to smaller/shorter people, ladies, and children but this doesn't mean they don't perform as well as larger blades. It's not the size that matters, it's how you use it!
If you are mainly in the surf, a smaller blade will be more powerful. However, a blade that's the same size with more edging would be better. The shape of the blade is angled to provide the least amount of resistance in the water, you'll be flying along in the water if you're cruising through lakes or rivers.
If you think you'd better suit a bigger blade, have a look at another Hornets Watersports design, the Jaws MX2 that is 10cm² bigger than the Crush.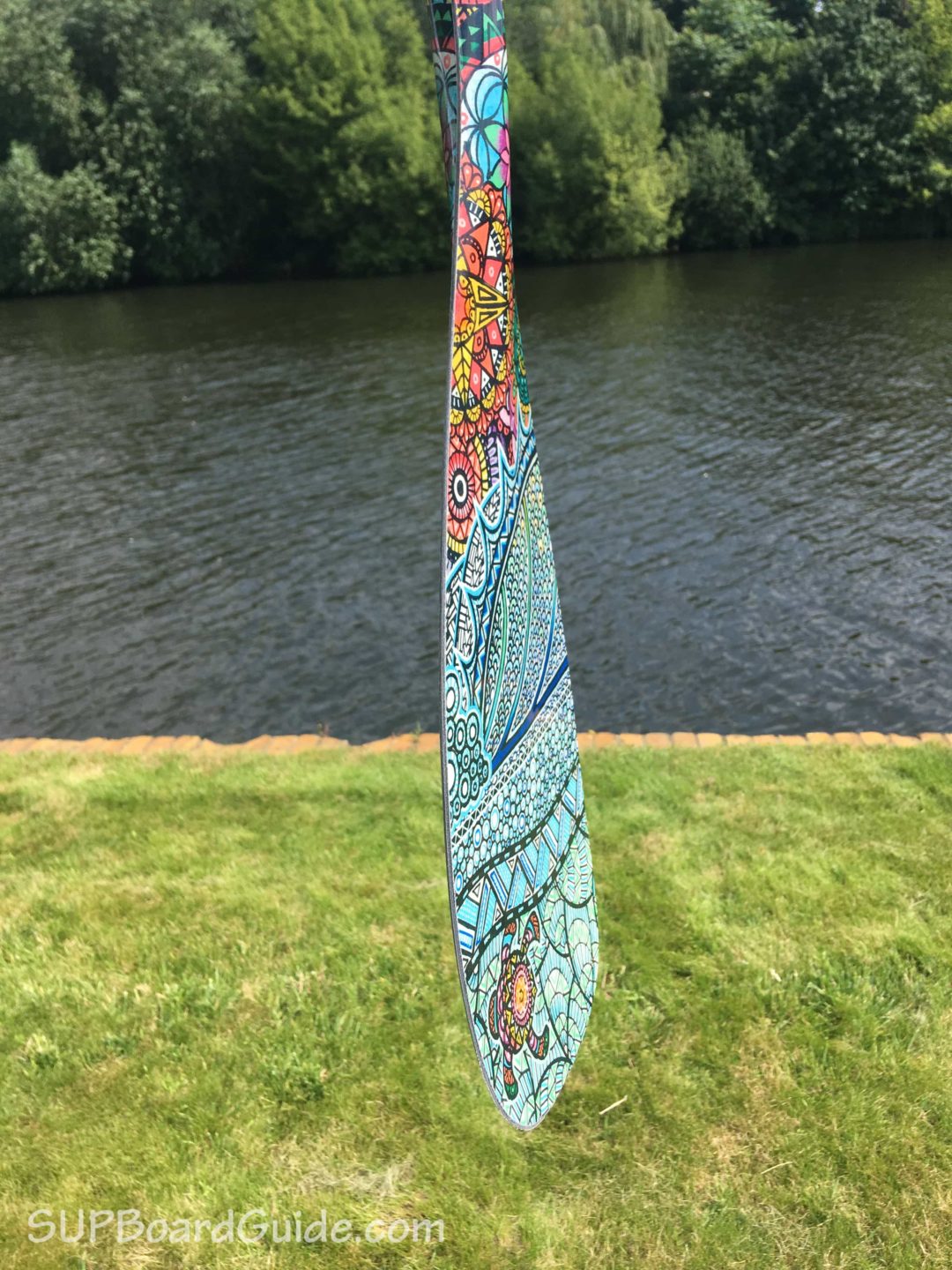 Shaft
Have you got the memory of a goldfish? Sometimes I do. Thankfully things like the ruler on the adjustable Crush FX2 paddle helps me to keep track of where my optimum height is.
Adjusting the paddle height is really simple. It's efficient and easy to use. The handle also doesn't twist or move, even on long trips. That means you won't have to re-adjust it like you sometimes do with cheaper paddles.
High-quality carbon fiber and fiberglass materials produce a smooth surface on the shaft. No resistance makes your job effortless when dismantling the paddle into its separate pieces.
Last but not least, the shaft is extremely sturdy and doesn't bend one bit. That means your stroke is as efficient as possible and no energy is lost.
Style
Artist, surfer, and surfboard builder Gareth W. Smith is the mastermind behind the Crush FX2 artwork. You can see more of his masterpieces in the rest of the Hornet Watersports artist series. You can find more information about that here.
The print on the paddles alone makes you want to take them out. The  Crush FX2 features an intricate tribal design using blues and greens. It gives the effect of waves, being in the ocean and there's a cute little turtle in the corner! These designs stand out more than your average plain branding.
Best of all, there's little worry about the designs fading as they are printed directly onto the carbon fiber, not spray painted on.
The Who, Where and Why
If you've got this far, you probably know all about the paddle but maybe are still not sure if it's right for you.
This paddle is best suited for the smaller, lighter rider. Kids and wives will love the pattern, so it'd make a great gift! It will perform well in any conditions but better suited to flat water paddling.
A dihedral blade is the best option for surfing. While there is a slight curve in the blade on the Crush FX2, you'll get more out of an even more edged blade in the surf.
For anyone looking for a small light-weight paddle to do pretty much anything except surfing 2'+ waves, the Crush FX is definitely a paddle you should consider.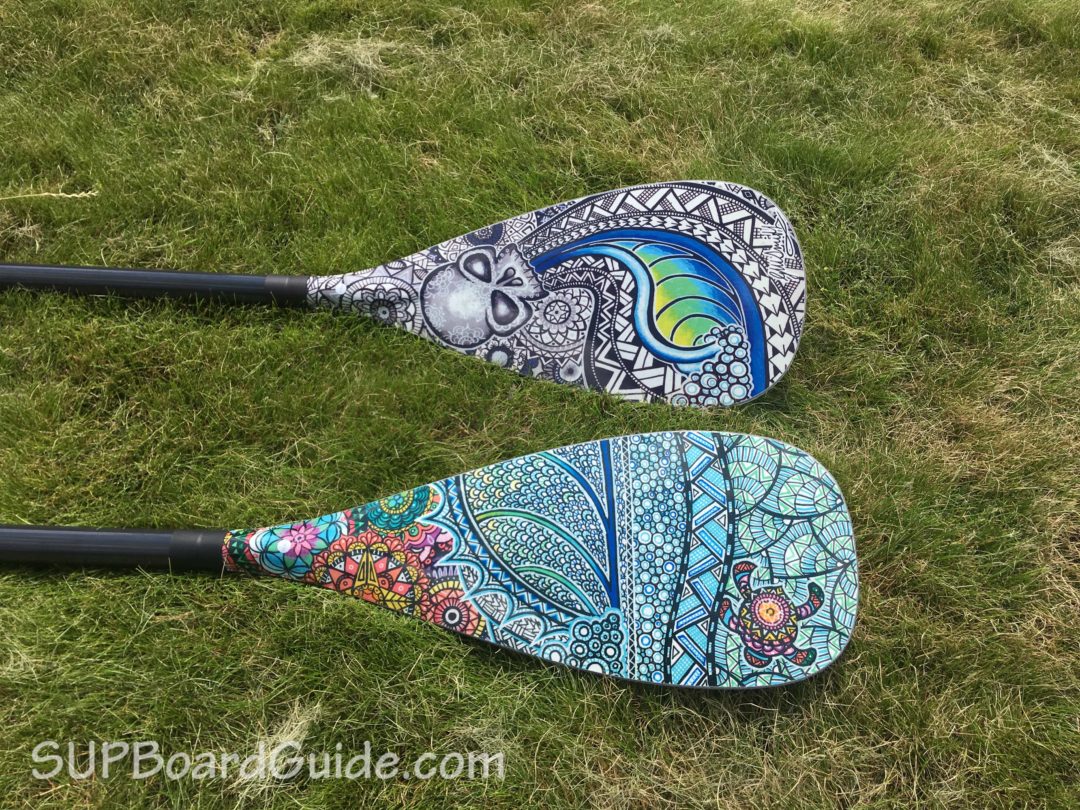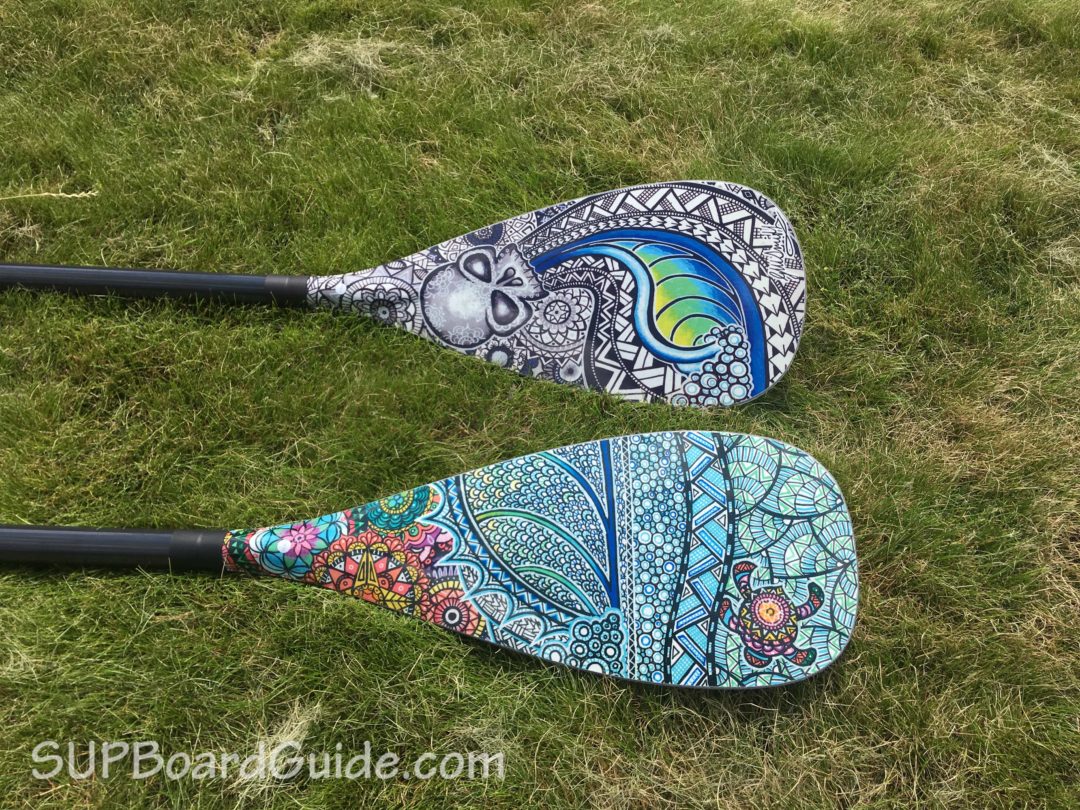 The Final Word
The Crush FX2 is a  well-crafted paddle with high-quality materials.
The cost price on this paddle does match up to its quality, and it's great for beginners or advanced paddlers alike.
At the same time the design on the blade is truly unique and a sign of real craftsmen who care about their product, so paying a little extra could be forgiven.
The stylish Crush FX2 paddle is better suited to flat water conditions and the smaller paddler. Beginners will also find the paddle really to use and advanced paddlers will appreciate the stiffness and overall high quality.
I'll say it again because I'm sure someone's wife or child will love me for it, the Crush FX2Paddle would make a great present!
If you're interested in buying the Crush FX, you can get it on the Hornet Watersports Homepage.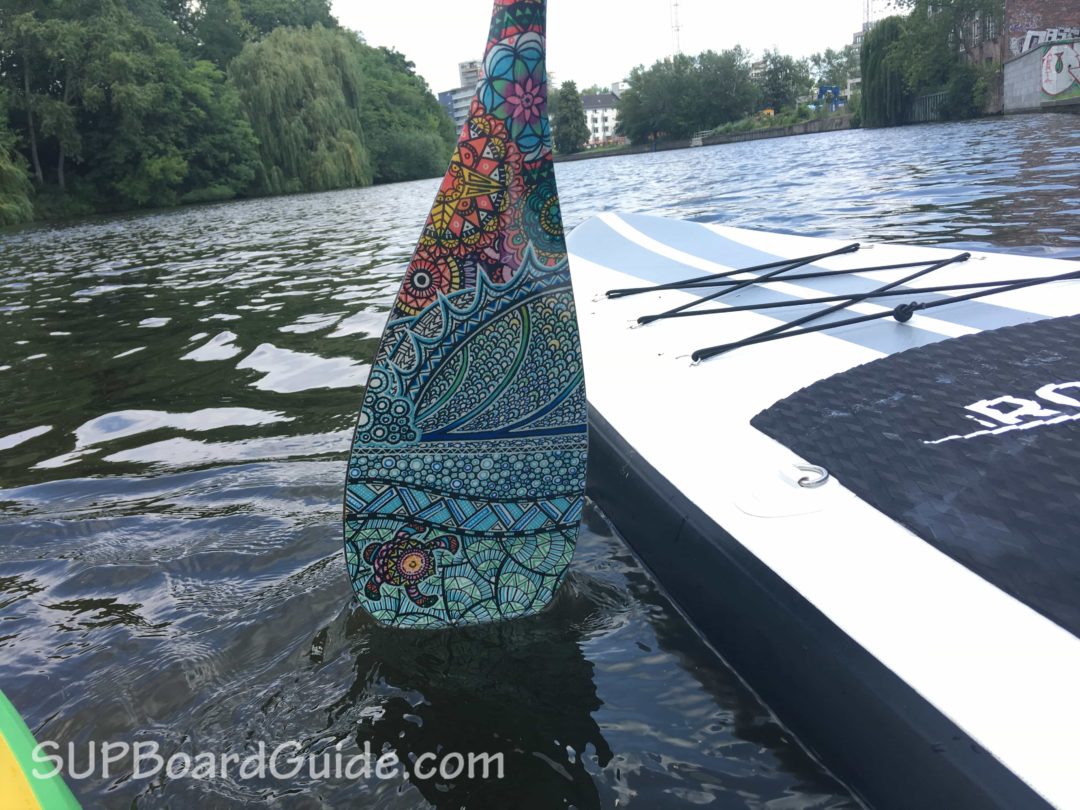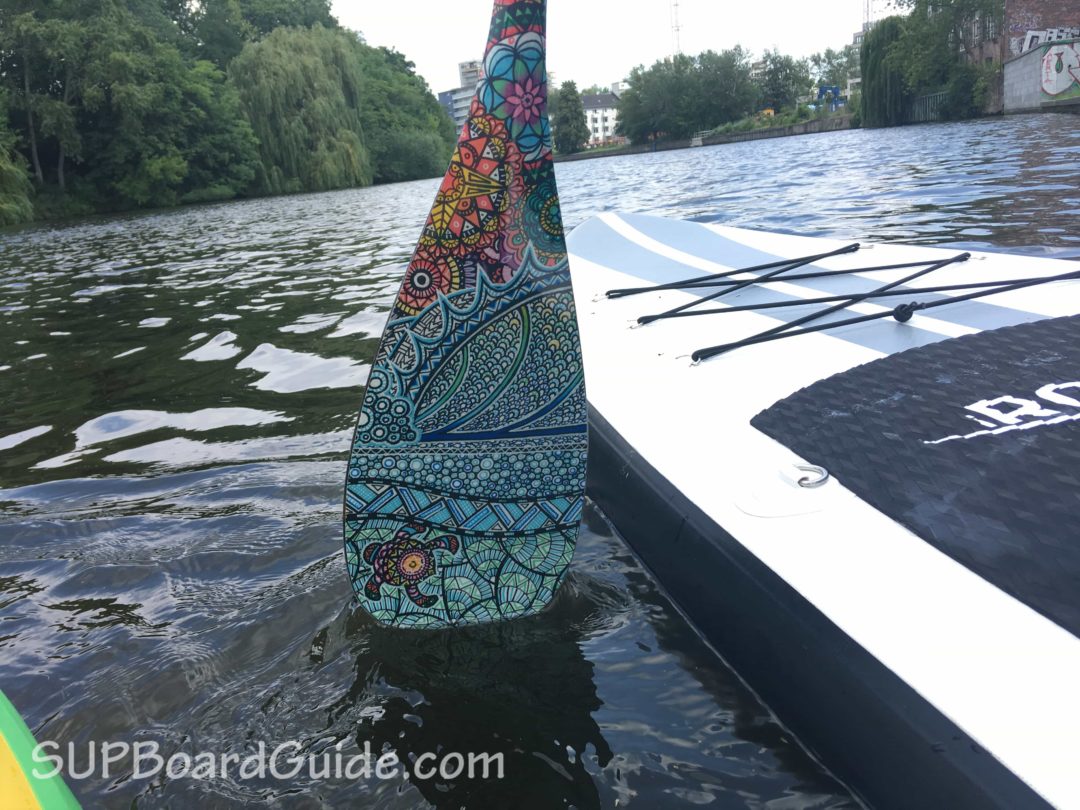 The following two tabs change content below.
SupBoardGuide Editorial Team
At SupBoardGuide.com we are a team who love the water, the outdoors, and are more than grateful that our full-time job allows us to review stand up paddle boards. We paddle year round (it helps that we are just about 2 hours outside of Las Vegas), and we bring in a wide range of paddlers with the goal of providing our readers with the best, most in-depth, and accurate stand up paddle board reviews.
Latest posts by SupBoardGuide Editorial Team (see all)