The SUP Paddle Guide – How to Find the Right SUP Paddle
Updated (02/01/2018)
Put simply, the best SUP paddle is the one that makes your job the easiest. To take that a step further, we need to define what your "job" is with respect to owning and using your SUP.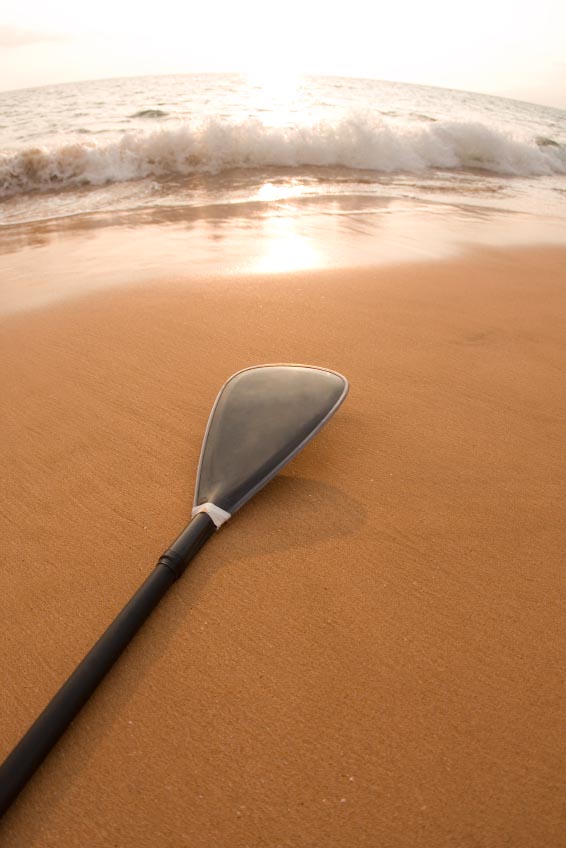 If it's your paddleboard and you spend a lot of time touring your local flat waters, your goal is usually to find something lightweight with the right blade angle and surface area resulting in an efficient and powerful stroke.
If you share the board among family members large and small, you'll probably want something that is adjustable and durable.
If you surf, there are special blades designed to give you the stability, balance and directional control you need in the waves.
In our SUP paddle guide, we feature 5 paddles with different materials, options, and designs.
Depending on your paddleboarding ability, style and goals, the right paddle can really enhance the SUP experience.
Factors in choosing the right SUP paddle
In light of the different paddling scenarios outlined above, and many more variables, these are some of the factors to consider when selecting a SUP paddle:
Materials:  As you'll notice below, paddle shafts and blades are made from different materials. The most common  materials are:
Carbon-fiber: Higher performance and lightweight. Carbon paddles come in fixed length and adjustable options, but if you really want to save on the weight and you're investing in the carbon to begin with, the custom length could be a better choice.
Aluminum: Typically used in the shaft as a more economical alternative. Aluminum is very versatile, and it pairs well with plastic, polycarbonate, fiberglass, and other polymers.
Wood: Usually the whole paddle is constructed out of wood for a classic look and lighter design. This is in keeping with the long tradition and history of stand up paddleboarding. These can cost a little more but can also be very performance oriented and attractive on the water (or as a decoration).
Plastic: Typically found on more affordable paddles in the head and grip. A plastic blade is usually paired up with an aluminum shaft for an economical paddle option.
Fiberglass: Versatile, lightweight material used in the shaft and head. Fiberglass is your "go-to" paddle material when you need a balance in performance and cost.
Length: Choosing between a custom fixed length or adjustable? If the paddle is for your exclusive enjoyment and use, finding a custom length is the right choice.
These paddles should be 8 – 10 inches taller than your height. Also, consider the width of the board in case you need to go a couple of inches longer to clear the rail.
An adjustable paddle is a better choice for families, groups, rental shops, etc. The adjustable paddles are usually slightly heavier (because of the interlocking shafts).
The most common materials with the adjustable paddles are aluminum or fiberglass shaft, but you'll find carbon fiber and polycarbonate options as well.
Blade: Some manufacturers design blades for surfing. These will often have more surface area to help with stability and control.
There are also surf blades that are designed with smaller heads for shredding. These can also be suitable for smaller riders in all conditions.
Other blades are designed to suit the needs of racing, touring, and just getting around. These are normally designed to maximize stroke power and efficiency.
If you take long, powerful strokes, you'll usually use a larger blade. However, for racers and "high-cadence" paddlers, a smaller blade may be more effective.
Read the options on the manufacturer's or vendor's product page to make sure blade size and angle are appropriate for your type of paddleboarding.
Grip: Many paddles have a T shape at the end so you can firmly grip the paddle shaft with your palm. Others use a ball shape, or even an ergonomic hybrid, allowing for a similar grip but different feel. This is usually a matter of personal preference.
If you previously tried a paddle and the grip felt right (or you didn't really notice it), stick with what works and what's comfortable.
Those are some of the main considerations when choosing the paddle. Depending on the manufacturer, many paddles will come with options in blade size, angle, grip design, adjustable v.s. fixed length, shaft material, paddle curvature, and more.
As with most gear, it usually depends on your preference for a certain type of riding.

5 Paddles to Enhance Your SUP Experience
The following 5 paddles are high-quality options for riders of different styles and abilities. You will notice that we selected paddles which are constructed from different materials (listed above).
The type of material will always affect pricing and performance, but the paddles included in our SUP paddle guide below are all suitable for recreational paddlers, with a couple of higher performance options included as well.
"Super Paddles" Adjustable Fiberglass SUP Paddle 72-86″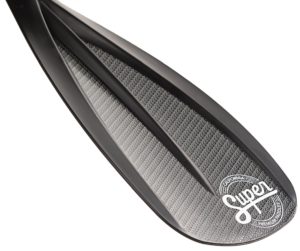 As the name suggests, this paddle is made from fiberglass. More specifically, the shaft is constructed from foam-filled fiberglass, which keeps it nice and lightweight (2.2 lbs).
A nice feature is the 3 piece construction. The paddle separates into three pieces so you can store and transport very easily.
The pieces click together, and the paddle length can be adjusted in 1″ increments. This means you'll have no trouble finding the right length for most eligible paddlers.
This paddle also floats . . .  a nice touch.
Connelly Carbon SUP Paddle

This carbon made paddle is incredibly lightweight, durable and easy to handle.
It is a little more expensive – and performance oriented – than your average fiberglass, plastic, and adjustable paddles.
The quality of construction and feather-light feeling of carbon-made equipment is a big advantage for those who spend a lot of time on their SUPs. These paddles are built for speed and maneuverability.
Specs:
Length: 82 inches
Shaft and Paddle Material: Carbon Fiber
Weight: 2  lbs
Bic Fiberglass Polycarbonate SUP Paddle 170-210cm
The BIC fiber-polycarbonate stand up paddle is slightly less in price than carbon-fiber paddles, but the performance characteristics hold true.
This is an adjustable paddle with a flexible fiberglass shaft and polycarbonate blade designed for versatility and reduced stress on joints.
The blade is available in small (S), and "medium-large" (ML) sizes. The S paddle is great for smaller riders, as well as surfers and high-cadence paddlers.
The ML is designed as an all-purpose paddle for most cruising, racing, and touring styles. The paddle is adjustable for lengths of 67 – 83″.
Chinook Aluminum Adjustable SUP Paddle 68-84In (Large)
We mentioned that aluminum paddles are usually a little more affordable and sometimes slightly heavier than higher performance materials.
The Chinook aluminum adjustable breaks the mold a bit though. This paddle weighs only 2.5 lbs.
The large version (featured here) Blade features a 17″ x 8.5″ blade with an 11-degree angle.  This is designed to build sustained speed and is definitely a better choice for larger riders.
The Chinook paddles also feature an ergonomic handle to maximize comfort and directional control. The handle also has a nice rubber inlay to increase grip.
The Chinook adjustable aluminum is available on Amazon.
Epic Gear Plastic Blade/Aluminum Shaft SUP Paddle Adjustable 170-210cm
This is the most affordable paddle on the list (albeit by a very narrow margin). You'll note the plastic blade and aluminum shaft combination.
We felt it was important to include at least one of these all-purpose options. These are the workhorse paddles for most beginners, demos, and rentals.
Also, it retails for less than $100. They (Epic Gear) state that this is the best paddle you'll find for under $100.
While we can't verify that claim, there is no doubt that Epic makes a quality product on the SUP market.
These are great all-purpose paddles for families. It's adjustable from 170 – 201 cm (or 67 – 80 inches) and includes a soft EVA foam grip to minimize slipping. The specs show that the paddle weighs around 2.55 lbs with a blade width of 8.75 inches.
Currently on sale on Amazon.com.
The following two tabs change content below.
SupBoardGuide Editorial Team
At SupBoardGuide.com we are a team who love the water, the outdoors, and are more than grateful that our full-time job allows us to review stand up paddle boards. We paddle year round (it helps that we are just about 2 hours outside of Las Vegas), and we bring in a wide range of paddlers with the goal of providing our readers with the best, most in-depth, and accurate stand up paddle board reviews.
Latest posts by SupBoardGuide Editorial Team (see all)