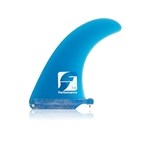 Updated (4/8/2017)
When reviewing your fin options for a new SUP, you'll find several variations in fin style, shape and size. Here we look at a few of the options in fin type and why they might be relevant in your board selection process.
Choosing the right fin for your paddleboard will depend on a few factors unique to your style of paddleboarding and the conditions you ride in.
Single Fin Set Up
For example, if you are trying to maintain a straight line and limit side-to-side instability while paddling, try using a larger, longer fin positioned towards the tail of the board. You can change the position of the fin by sliding it back in the fin box, then securing with the nut and screw.
Some larger fins include sharper or serrated leading edges to cut through weeds and kelp. This is obviously a nice feature depending on where you paddle.
If you are looking to turn quickly in surf or whitewater conditions, look for a low-profile, lightweight fin and position towards the nose of the board.
The 2 or 3 Fin Set Up
A set up with 3 fins (also called a "thruster") can be used for surfing or tracking in flat water. The center fin can be removable allowing you to use just two side fins for certain conditions. You'll also find two or three removable fin set ups in inflatable SUPs.  These fins are usually made from flexible materials, such as rubber.
Racing Fins
A racing fin may come in a variety of styles. Tracking during straight, long stretches may require a longer center fin. If you are navigating among buoys in a course, a wide and stable fin can help during turns.
There are also differences in rigidity. Some racers prefer straight rigid fins to gain speed and efficiency in downwind tracks with longer SUPs. These stiffer fins can be a problem if you are in shallower waters, though, as a rigid fin doesn't provide much forgiveness if you hit a rock or other obstacle. If you're not too concerned with downwind performance, stick with a more flexible fin.
Give Yourself Options
The general advice is to have a small cadre of SUP fins to choose from. Try them out in different conditions and decide which works best for you.
The following two tabs change content below.
SupBoardGuide Editorial Team
At SupBoardGuide.com we are a team who love the water, the outdoors, and are more than grateful that our full-time job allows us to review stand up paddle boards. We paddle year round (it helps that we are just about 2 hours outside of Las Vegas), and we bring in a wide range of paddlers with the goal of providing our readers with the best, most in-depth, and accurate stand up paddle board reviews.
Latest posts by SupBoardGuide Editorial Team (see all)