Zray X2 10'10"
Pros
Lightweight design
Deck pad offers good coverage
Inclusive package with basic pump and paddle to get you straight on the water
Many D-ring options
Cons
Lots of flex
Included pump lacks oomph
No repair kit
Paddle and bag low quality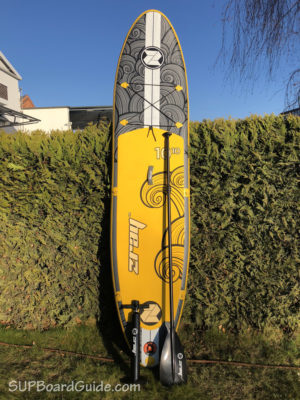 Perhaps you've seen the ZRay X2 10"10 inflatable pop up?
Maybe you've headed over to their site to check out a little more information and all looks kosher, but now you really want to know what's the story with this competitively priced board.
Will it give you everything you are looking for or will it leave you floating in a vast abyss?
Have a read through our review to find out more.
Specs
| | |
| --- | --- |
| Length | 10'10" |
| Width | 30" |
| Thickness | 6" |
| Weight | 25lbs |
| Weight Capacity | 320lbs |
Performance
As budget boards go, this board felt just like we expected, soft flexible and a little like paddling an inflatable kayak.
Even at 15PSI, the difference in rigidity was noticeable between this and our mid-range boards and especially the high-range.
On the water, the traction pad was comfortable and offered us plenty of grip. We were able to experiment with different places to stand and move about the board. Though this didn't do much for the performance.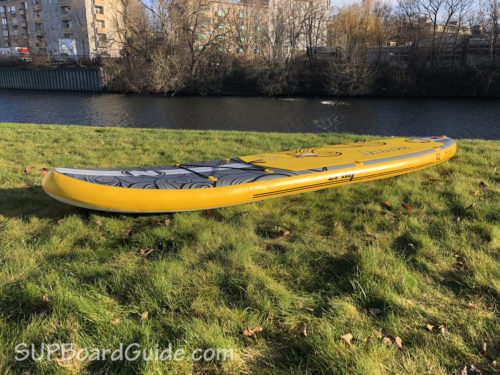 The board initially felt a little less stable than others, largely due to its single fin, but this was quickly overcome. We found that the board tracked much better than we expected but this was a trade-off for maneuverability. Also, this is because we have experience. This may not be the case for beginners. We wouldn't be surprised if they felt the wobbles.
We did enjoy cruising with the ZRay X2 at 10"10 for a short time. If it's value for dollar you are looking for, you can get a better deal. Like we have mentioned for the slightly lighter rider the board was reassuring and allowed for plenty of glide. For the heavier rider the board felt like it was being paddled in soup, the glide speed decreased drastically.
We did enjoy riding this board on the calm sheltered waterways but can only recommend it for the beginner not looking for performance but just for a mode to get on the water.  (but still would appeal to you look at our mid-ranges that are only a couple of hundred $$ more). The lightweight option is easy to carry and tracks well enough to explore.
Board Design
The ZRay X2 is well equipped with 10 D-rings already fitted and ready for action. D-rings certainly provide extra functionality with more companies including extra now for this very reason.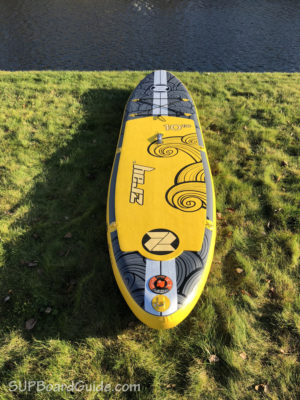 Up front, there are 4 D-rings already threaded with a tough bungee cord to create your very own storage and cargo area. This is the spot you want to stow your flip flops and sun cream to stop them floating off into the sunset.
In the center of the board, another 4 D rings are positioned out on the side, out of the way and unobstructed. Though super handy for attaching a kayak universal backrest or carrying strap.
If anything these are positioned a little further back than on other similar models this will set the weight back a little and allow the nose to ride high over any oncoming waves. On the tail, ZRay has included 2 D-rings, one on the top deck and one on the underside.
First of all the top deck, this is the ideal spot for securing a board leash when you are out on the water. Underneath the final D-ring can be found. This chap can be used for tieing down the board in windy conditions or mooring anywhere.
Compared to the other cheap SUP's we reviewed the Zray comes out on top with it's storage and D-ring options.
The shape of this SUP is definitely on the generic side. It's nose area is wideand carrys through into the body which means you won't be getting much of streamline effect. Aka speed. Sadly, that is the case with many cheaper boards, they are generic pop outs, copied from similar design. They are good for a fun float on the water but they don't offer anything much in performance.
Materials
The ZRay X2 has been built and designed with cost and weight in mind, by using a drop stitch core the board has a solid foundation for greatness. Unfortunately, this is then only covered by a single layer of PVC. Be it as it may, this PVC layer once combined with the double taped rail of 500D PVC is super lightweight.
However, lightweight doesn't always mean quality. In this case, it means a lack of materials. Lightweight in the higher range boards is a result of fusion technology. Here it is because the Zray X2 hasn't been reinforced with several layers of PVC. You'll find all mid-range boards have a minimum of triple-layered PVC. This is to protect the board but also to provide the rigidness that results in stability.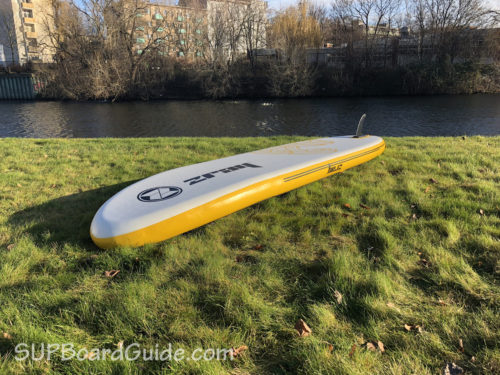 From afar, as in, the internet, the design looks okay. The print is dodgy so the colours don't mesh like they should. Also, just a personal opinion but the swirly tribal design just looks out of place. Done correctly and printed well, perhaps it would work. This design is more like Edvard Munch and Sesame Street tried to create a picture together.
A 4mm soft textured deck pad covers over 50% of the top deck surface, this is a really nice touch to provide such a big covering allows you to really adapt your stance and experiment on the board. Many boards offer limited deck pad coverage this really leaves you with one option to stand and paddle.
But the ZRay offers much more with the option of sitting (like a kayak) you can add an optional backrest and still be super comfortable. Or if you decide to bring a dog, then they also have somewhere to sit that is both grippy and comfortable. 
Features
Fins
Pretty much every all round board on the market is equipped with 3 fins. Big, small, medium, soft or hard they are always there. Unfortunately, the X2 is only equipped with a single fin. This is great to aid tracking but unfortunately does not aid stability and maneuverability as much as a tri-fin set up would.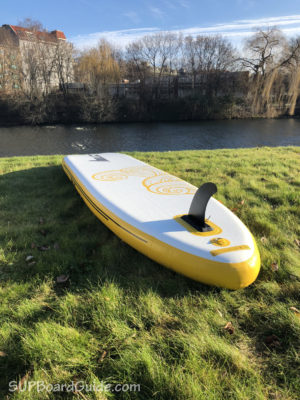 The removable fin we also found to be quite fiddly to position and lock into place. But on the bright side once it was in it felt firm and stable. This single larger fin is more commonly found on longer boards set up for touring or cruising as opposed to an all-around style board.
Inflate/Deflate
Zray recommends an optimal pressure of 15PSI. This is to bring the board to its maximum rigidity. However even when at max pressure heavier riders (even those below the max capacity) will feel some flex due to the single layer exterior PVC.
Apparently, 6 minutes of pumping will get you there. That is, according to Zray. They say this is achievable with the included hand pump. Again, unfortunately, this was not achievable. It takes a fair bit longer.
Deflating was painless and super easy, using the high-quality valve found as standard on many inflatables. All that is required is to remove the outer cap before pressing down the center of the valve, as the air is expelled it is possible to twist the valve to leave it open whilst you roll up the board for storage.
Accessories
Paddle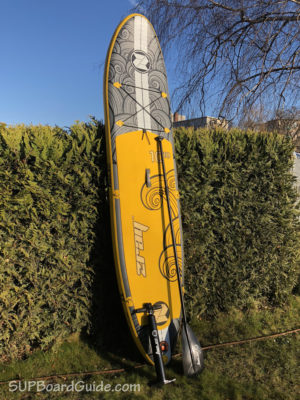 Included in the package is a very basic adjustable aluminum paddle.
Let's be fair it's not a high-performance board, and at the end of the day, the paddle is better than not getting one at all. Something simple to move you on the water.
Realistically most people will upgrade their paddle at some point. So think of it as a gift, something to get you on the water straight away.  With a good level of adjustment allows you to tailor it to your own height and get you out on the water straight from the carton.
Pump
Unfortunately, this pump was a blast from the past, something so basic you may struggle to blow out your birthday candles.
On the plus side, the pump did inflate the board, but it was a long and strenuous process. Taking nearly 10 minutes and drastically eating into our paddling time. The final 3 PSI was almost beyond us, but we powered through like a cross fit training session. We mustered the courage to carry on to its optimal pressure.
Of course, this isn't a huge problem and using an air compressor, or air pump would resolve it. We definitely recommend picking up a different pump if you intend to use the board a lot.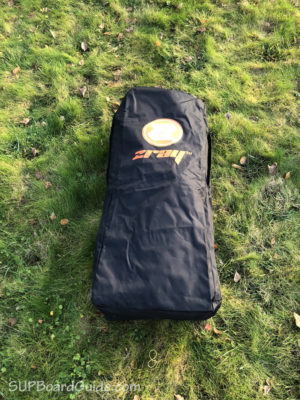 Bag
To make the board extra portable the included bag is equipped with comfortable shoulder straps. Ready to take your board with you anywhere.
The bag is large enough to carry all of your accessories and strong enough to take them short distances. The large opening makes loading easy and the added handles make it comfortable to haul into a trunk or apartment. Though we can't say how long the materials would last without ripping or stretching as they don't feel very thick or strong.
Conclusion
As a cheap budget board, it has something going for it, the single fin makes it the ideal companion to cruise and enjoy the waterways, ideal for flat water lakes and canals. We certainly wouldn't recommend it for surf or whitewater as the extra flex will make it impossible to control.
As a beginner, you will feel its instability. We would love to see the package upgraded with better accessories and certainly recommend buying a better pump or compressor as this was our biggest problem.
If you want something a little nicer definitely check out the Cruiser 10"6  from iRocker for a little more money the difference in performance and rigidity is huge.
So, in conclusion, we did feel a little disappointed by the board. But, have learned that it still holds a place in the market an ideal board for those who don't want to spend the money and happy to have something to only use once in a blue moon. Not for those that are looking for performance or power just something fun to do when the weather warms up.
If you are really strapped check out our Under $500 SUP article, and there you can weigh up a few different options.
The following two tabs change content below.
SupBoardGuide Editorial Team
At SupBoardGuide.com we are a team who love the water, the outdoors, and are more than grateful that our full-time job allows us to review stand up paddle boards. We paddle year round (it helps that we are just about 2 hours outside of Las Vegas), and we bring in a wide range of paddlers with the goal of providing our readers with the best, most in-depth, and accurate stand up paddle board reviews.
Latest posts by SupBoardGuide Editorial Team (see all)