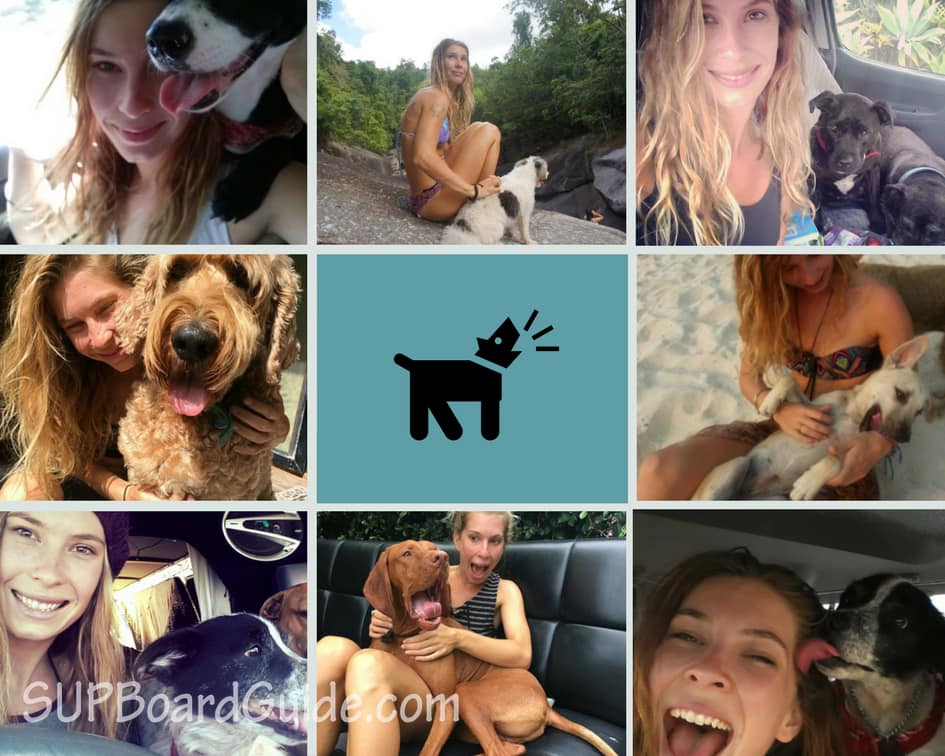 Post by Sarah Sackville
I know the title says pup. I am not a dog. I am a human. Although I wish I was a dog sometimes. Why I'm introducing myself is because I'm absolutely dog crazy. As can be seen in one of the hundreds of photo's of me with dogs.
Okay, why am I telling you about my dog obsession? Well to explain, first, I'll fill you in on a little detail of my life. I have serious FOMO (fear of missing out), and so I tend to be anywhere and everywhere all at the same time. This doesn't really mix well with owning a dog, so I just soak up the pup attention when and wherever I can and try to combine my two passions, paddle boarding and dogs, as often as I can. Today I want to introduce one of my favorite SUP dogs.
So,
Drum roll, please…Introducing….
..PAWS FOR EFFECT…
MAC!
At the time of this article, Mac was 5, he's a Labrador with a big personality.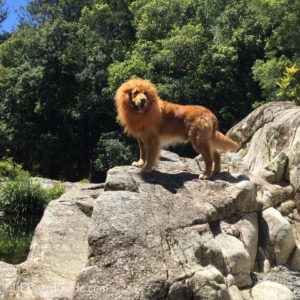 He works as a dental laboratory watchdog/meter and greeter five days a week but always finds time for a relaxing dip in the creek or ocean to wash away the stress of the day.
As Jeff says "He's handsome, gentle and sweet-natured,  my dream is one day he'll become Mack Daddy."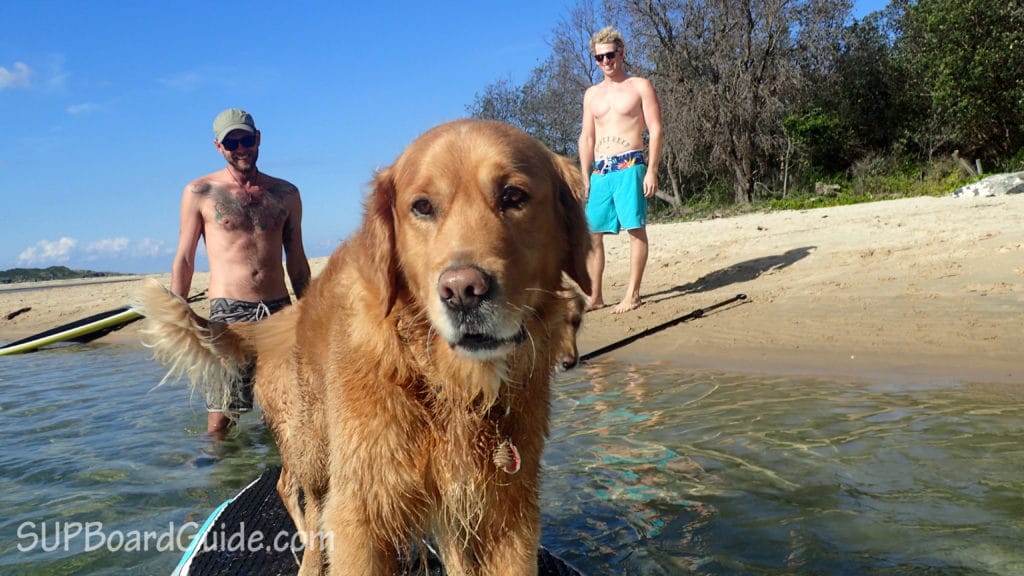 Mac is the Dumbo of the dog world. He is full of so much love and so intent on showing it that he can forget how big he is. All slobber and no bite.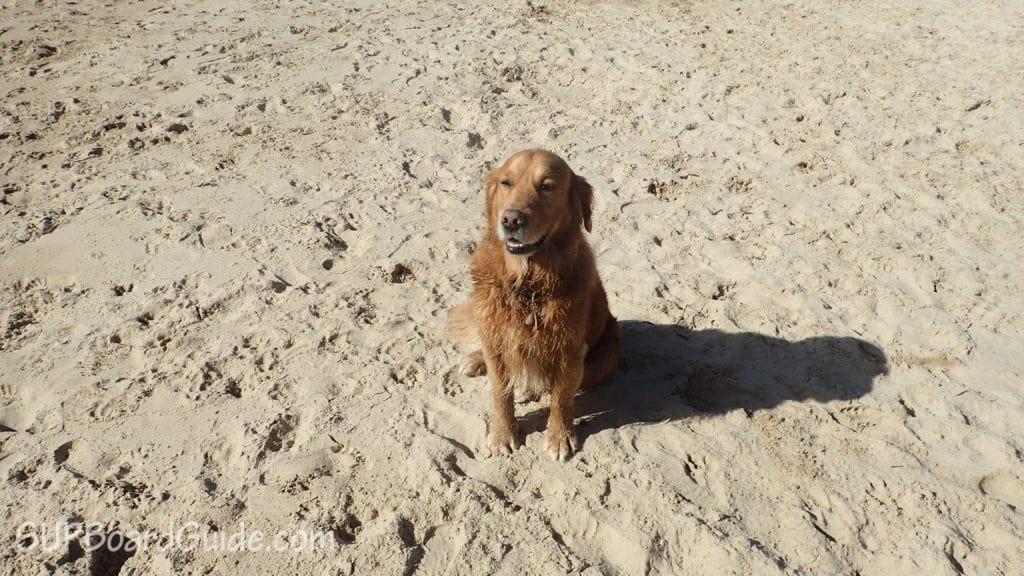 He's always been a water dog, his owner/best friend/questionable lover takes him to the beach every day! Jeff got Mac out on his first paddle board when he was just a tiny pup, you can't assuringly translate to a dog easily that when before they sunk in water, now they will float. But love will always prevail. Encouraging words with patience and Mac has become quite the styling SUP pup.  As I paddled out with the duo, I noticed a glimpse of triumph in Mac's eye, his stance sturdy and set, like a captain with his eye on the horizon, heart full of hope and mind full of adventure.
Not only does Mac stand out for his striking looks and contagious personality, but he's also an emergent leader. Molly, a miniature female version of Mac came to play too, she's not as bold as pride leader Mac and had a hard time trusting our idea to get on the SUP was a good one. Not more than five mins of coaxing had gone by before Mac strolled over, ever so casually, straight past Molly and onto the board. I swear he even winked at her. Smooth Mac, smooth.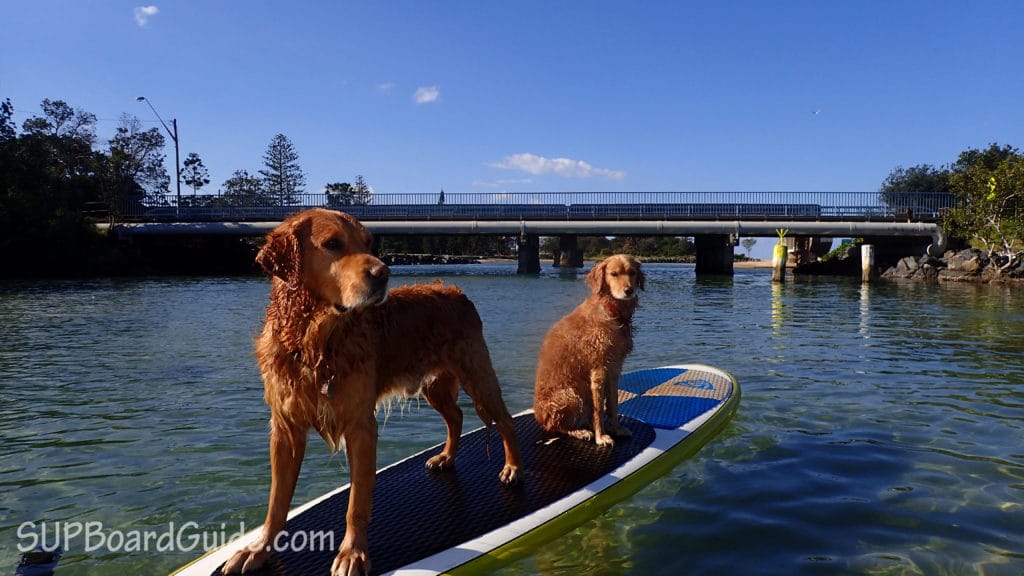 Some kind of dog whispering had happened, Molly obediently followed with a wagging tail and smiling face.
So we all set off on our little play date. I'm not even joking when I say it was one of the happiest moments of my life. There's something about dogs that just cheers me up, the same to be said about being on a board in the water, combine the two…I think I have found heaven.
Does Mac's story inspire you to get out with your dog? Or even perhaps now you feel the need to go buy a dog? Don't worry that's totally normal, I have that feeling every few hours. Getting a SUP that suits you and your best mates antics is a sure way of getting the most out of your bonding time. Most all-rounders are fantastic, they have enough width for your extra companion and decent grip pads to assist with your dog's balance.
Happy pup-supping!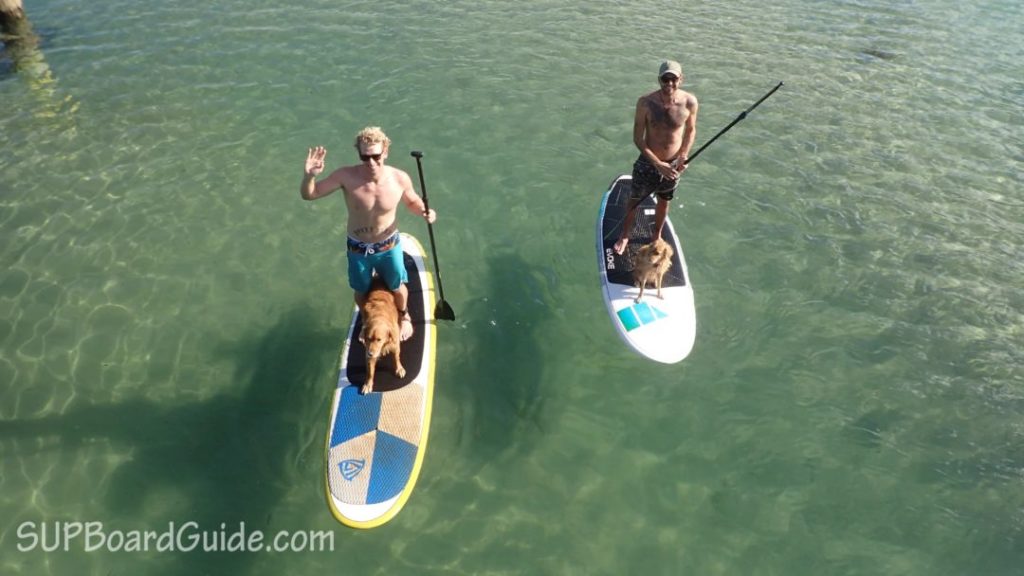 The following two tabs change content below.
SupBoardGuide Editorial Team
At SupBoardGuide.com we are a team who love the water, the outdoors, and are more than grateful that our full-time job allows us to review stand up paddle boards. We paddle year round (it helps that we are just about 2 hours outside of Las Vegas), and we bring in a wide range of paddlers with the goal of providing our readers with the best, most in-depth, and accurate stand up paddle board reviews.
Latest posts by SupBoardGuide Editorial Team (see all)