Updated (2/1/2018)
The Riviera Paddleboard 11-6 is a great choice for first time and recreational stand up paddlers. This board has a very nice look, shape and overall recreational feel.
It is stable, well constructed and pretty maneuverable. Last season we tried this board out on the slightly choppy waters of a nearby lake and found it to be among the best in its class.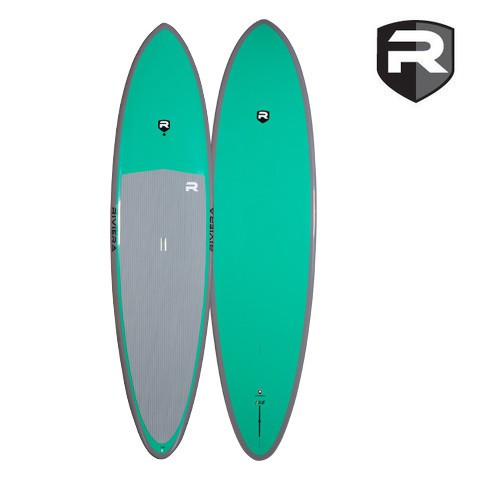 There were a few others out there enjoying the Riviera as well; even some SUP yoga enthusiasts were among them, which speaks to its stability.
We have found that the 11'6″ length of this board (and many other all around boards) is a nice length for a wide range of rider sizes and skill sets.
This paddleboard also features a slightly elevated nose that makes it ride chop well and can be handled in light surf. I found this to be a distinct advantage in choppier waters when compared to some of the other beginner boards we were testing.
At 33″ wide, it's also pretty stable. Additional features include pinched rails to help with carving and surfing maneuverability.
Another reason Riviera Paddleboards are a popular choice among new paddlers is their focus on details in appearance. It has an attractive and high-quality look due to its glossy finish and comes in several color choices and deck/rail color combinations (Blue, Green, Yellow, Pink/Red combos).
The construction of Riviera Paddleboards sets them apart from a lot of sups in the beginner to all-arounder categories.
The Riviera is designed with a multi-layered, durable construction that includes glass, bamboo and kevlar exterior protection along with a light weight EPS foam core. As mentioned, the painted exterior adds a very nice finish.
In summary, this board is highly recommended for first-time paddlers or those looking for a well-built board for touring and light-surf conditions.
Board Specs:
| | |
| --- | --- |
| Length | 11'6″ |
| Width | 33″ |
| Thickness | 4 7/8″ |
| Fin | Round Pin Tail, Single Fin |
| Volume | 210.8 Liters |
| Use | Beginners |
| Hull Type | Planing |
The 2014 Riviera models are still available from online and local sup retailers. You can find out more about this board from Riviera SUP.
Check out this video featuring the Riviera 11'6″ stand up paddleboard:
The following two tabs change content below.
SupBoardGuide Editorial Team
At SupBoardGuide.com we are a team who love the water, the outdoors, and are more than grateful that our full-time job allows us to review stand up paddle boards. We paddle year round (it helps that we are just about 2 hours outside of Las Vegas), and we bring in a wide range of paddlers with the goal of providing our readers with the best, most in-depth, and accurate stand up paddle board reviews.
Latest posts by SupBoardGuide Editorial Team (see all)