Nixy Huntington G3
Pros
Lightweight, highly compactable board that folds to roughly half the size of other inflatable SUP boards.
Even though lightweight, it is made out of the same high-quality and durable materials of the rest of the Nixy line.
Very maneuverable, especially with the included toolless dual-side fins. Turning is a breeze on this board.
Carbon rails on such a lightweight board. A great feature to add to make the board stiff without adding extra layers of heavy PVC.
Full kit ready for the water out of the box. Includes a fiberglass paddle, dual-chamber pump, and a compact hiking backpack.
Available in 3 attractive color options: blue, red, and aqua.
Cons
No center fin box makes it easier to pack, but does limit overall tracking ability.
Small nose cargo area. Makes it difficult to bring and store even small drink coolers.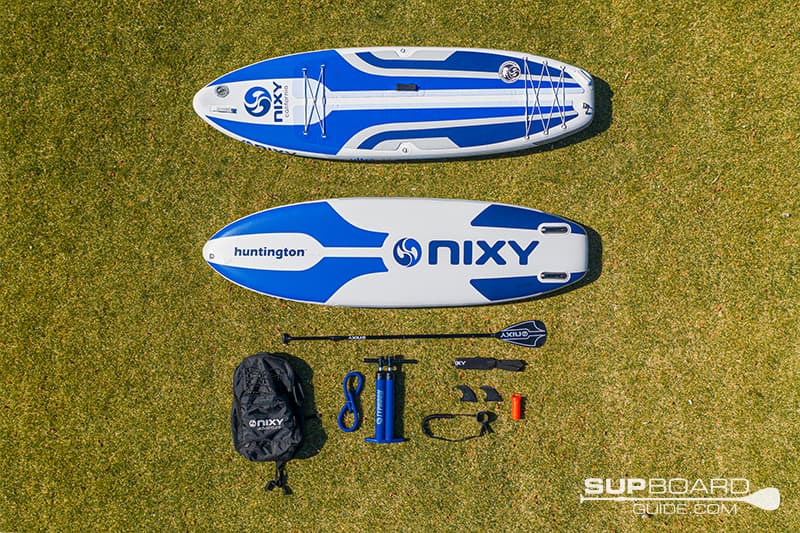 NIXY Sports Huntington G3 9'6'' Compact is a sporty adventure board that offers high quality performance while being very lightweight and easy to travel with. Weighing just 17 lbs but supporting up to a 250 lb weight capacity, this FusionTech board is great for younger, shorter paddlers, and should not be ruled out by some of the larger adult paddlers as well. We love how maneuverable the Huntington G3 is with its toolless dual-side fins, we also find it manages to track well enough to cover some distance and maintain a steady glide despite the short length and lack of a center finbox. The carbon fiber reinforced rails provide the board with a great firm feeling, as does the elongated logo stamped traction pad. Outside of the board itself, we also like the dual-chamber pump and travel friendly short backpack, and appreciate NIXY including a 4-piece adjustable paddle with the purchase as well. You'll have everything you need to get on the water right out of the box, and will be able to enjoy the waves or perform some SUP tricks on the Huntington G3 9'6'' Compact.
SUP Board Specs
Length
9'6''
Width
32''
Thickness
6''
Weight
17 lbs
Rider Capacity (lbs)
250 lbs
Recommended Inflation
15 to 20 psi
Fins
Two 5'' screw in side fins
Paddle Type
Fiberglass shaft and Nylon blade, 33 Ounces
Construction
Dual-layer fusion drop-stitch construction
Carbon fiber reinforced rails
Who Should Buy This Stand Up Paddle Board:
This sporty/adventure paddleboard will be a ton of fun for a multitude of paddlers. Those we think will enjoy it the most include:
Younger, lighter, newer paddlers looking for a very lightweight, easy to handle paddleboard.
Experienced adult paddlers who want a highly maneuverable board to perform tricks with.
Hikers who want one of the most compact, easy to hike with boards on the market.
Those who want both a durable board that is also backed by a well-known, trustworthy manufacturer.
Paddlers who want a board that performs well in the water and is great to look at to!
In terms of how the Huntington G3 9'6'' Compact will perform, it will handle the following water settings:
Calm, smooth water for the best overall performance. Great for performing tricks in!
Bays, marianas, and the coast. The Compact will still perform well in light chop and wind.
Slower moving rivers. You can navigate rivers well with the Compact, though its stability can make white water rapids very challenging.
Ocean waves for some fun SUP surfing. Recommended for advanced paddlers who have gotten familiar with how the Huntington G3 9'6'' performs.
Performance
Stability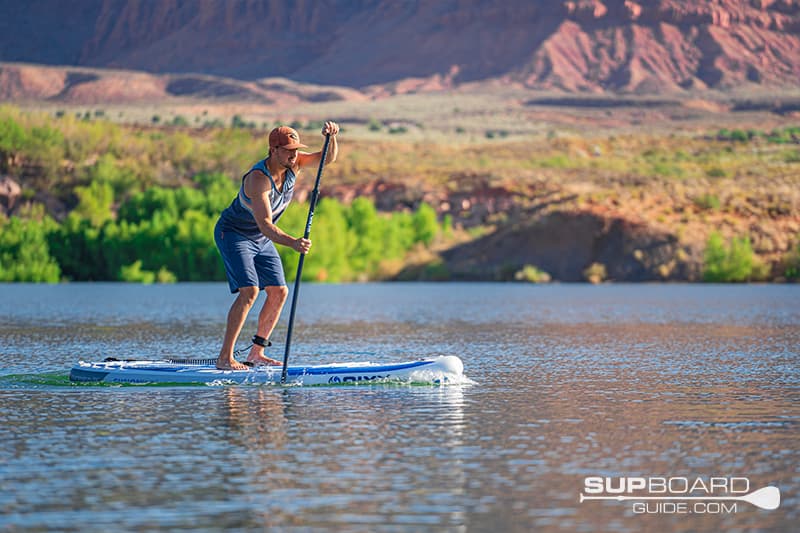 The Huntington G3 9'6'' Compact lives up to its name as a smaller board, but it still offers a surprising amount of stability despite its size. Teenagers and shorter adult paddlers will find it very easy to stand on the Compact, while even taller, larger adults should be able to use it well with some practice. Part of the board's stability derives from its FusionTEch dual-layer build, with carbon fiber reinforced rails also making the board more rigid to improve its overall stability. This is a very solid option for those looking for a solo board, be it to learn how to SUP or to master advanced tricks on the water.
Maneuverability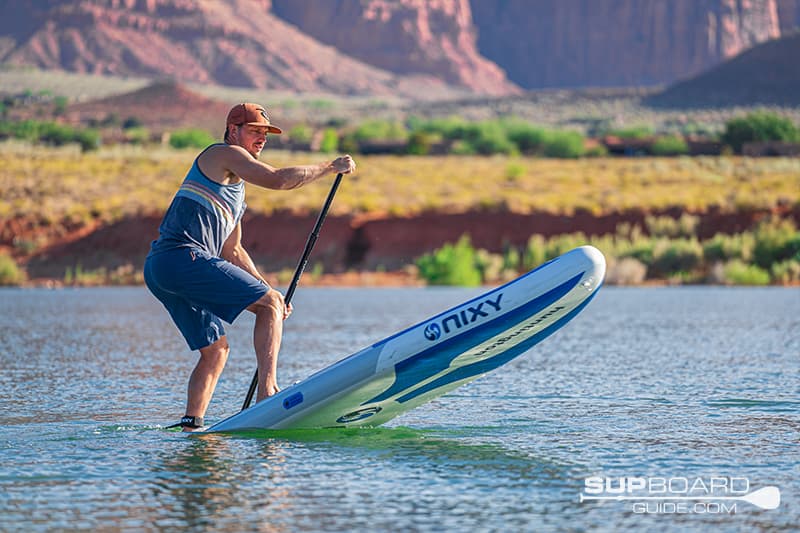 The maneuverability of the Huntington G3 9'6'' is its best performance feature. The short length of the board makes it very easy to turn with, and is more than capable of dodging rocks, trees, and other paddlers in the water. The high maneuverability makes it a great adventuring board, allowing you to investigate every nook and cranny at your favorite watering hole. The 9'6'' Compact also has a dual-side fin setup that will tighten your turn radius, further enhancing the maneuverability as you navigate the water. If you want something that will help you explore the water, the Huntington G3 9'6'' Compact is definitely the board for you.
Tracking/Glide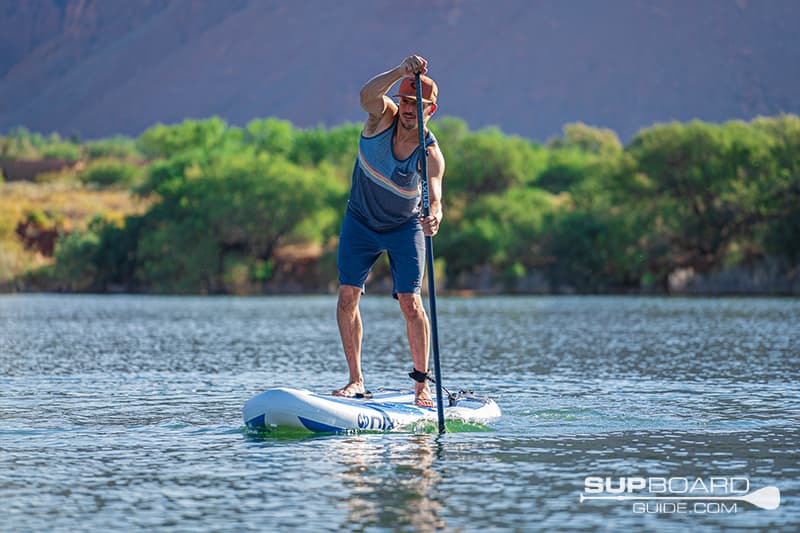 Due to the shorter length of the Huntington G3 9'6'' Compact and the lack of a center fin box, this sporty adventure board doesn't have the best tracking in the world. However, paddling technique is also a huge influence on how well you can track in the water, and by paddling correctly we still managed to keep a straight, steady course with the Compact 9'6''. Even our beginner paddlers had an enjoyable time and found the tracking sufficient to get where they wanted on the water.
The Compact also has a fun glide, well suited for still water and able to handle some small chop and wind as well. The carbon fiber rails really help the Compact feel firm, making your trip in still water a smooth and comfortable experience. The Huntington G3 9'6'' can even be used for some surfing or river running, though it does run into some trouble in more tumultuous and severe weather conditions. The more experience you have, the more capable you'll be at handling rougher and faster moving water, so get some practice in friendly water environments like a lake or bay before tackling fast moving rivers or the ocean.
Materials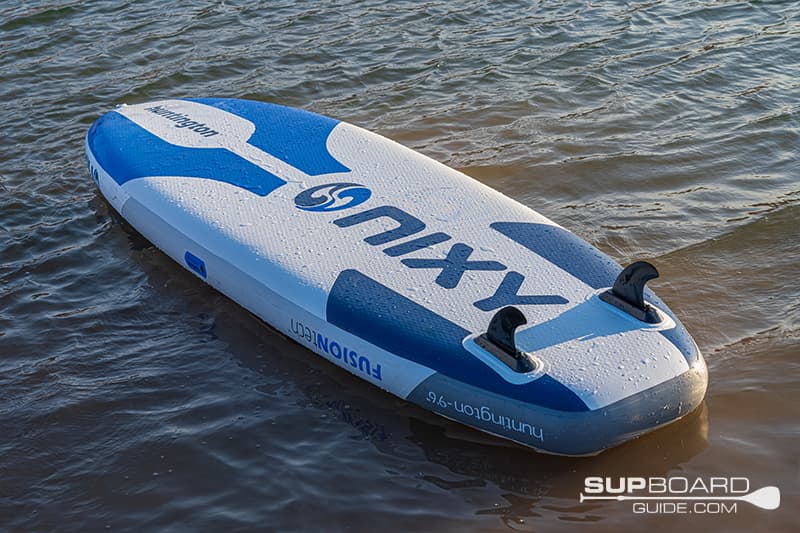 Like the other NIXY Sports paddleboards, the Huntington G3 9'6'' Compact is built with FusionTech. FusionTech is a tight drop-stitch core made up of a dual-layered PVC composite construction. This makes the board very durable, able to withstand most common drops and crashes, while also keeping the board lightweight, the Compact weighing just 17 lbs. Read on if you'd like to learn more about the individual components of the Huntington G3 9'6''.
The Huntington's drop-stitch core is made up of reinforced sheets of fabric that are joined together with thousands of strings. As air pumps into this core, the drop-stitch core inflates like a balloon but maintains the rounded board shae you see above due to the internal strings. This is the base of the paddleboard, providing much of its performance but admittedly being prone to punctures and damage as well.
To protect against board damage, the drop-stitch core is protected by two layers. The first layer consists of a coating of military grade PVC that is applied, protecting the core and acting as a base for the next layer. The second layer has additional fused polyester fabric sheets and a second coating of PVC that forms the outer shell. Finally, for enhanced rigidity and performance, the seams of the board are reinforced with carbon fiber rails, giving the board a feel that is more closely aligned with a hardboard.
Overall, the FusionTech dual-layer system provides the strength, stability, and structural support capable of supporting adult paddlers, while keeping the board light and easy to carry. The Huntington G3 9'6'' Compact is built to last for years, while also providing a level of performance that will satisfy beginners and advanced paddlers alike.
Board Design/Shape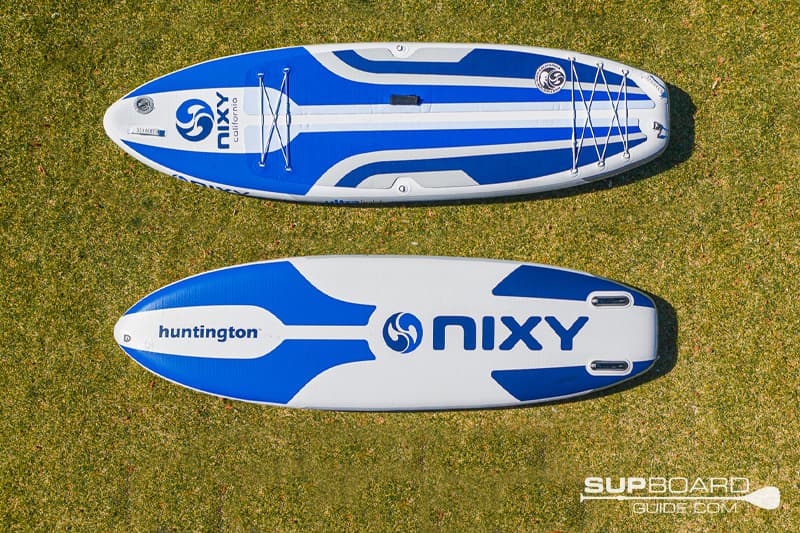 The Huntington G3 Compact is built to be a very easy to pack adventure board that offers solid performance to tackle many traditional SUP sports. The 9'6'' length makes it very easy to navigate with, the Compact having two side fin boxes that further increase maneuverability. The 32'' wide deck and 6'' thickness provide the volume to support most adult paddlers, while keeping the board quick and nimble in the water. If you want to explore parts of your favorite water spot that are tricky to explore, you'll be able to do it with ease with the Huntington G3 9'6''. The Huntington G3 9'6'' is also a comfortable enough board to cruise around on, and is fast enough that you can have some casual, friendly races with your friends. This is definitely a board to consider if you're looking for an inflatable that you can go river running with or engage in some light surfing, though we recommend those activities to more experienced paddlers only.
Board Features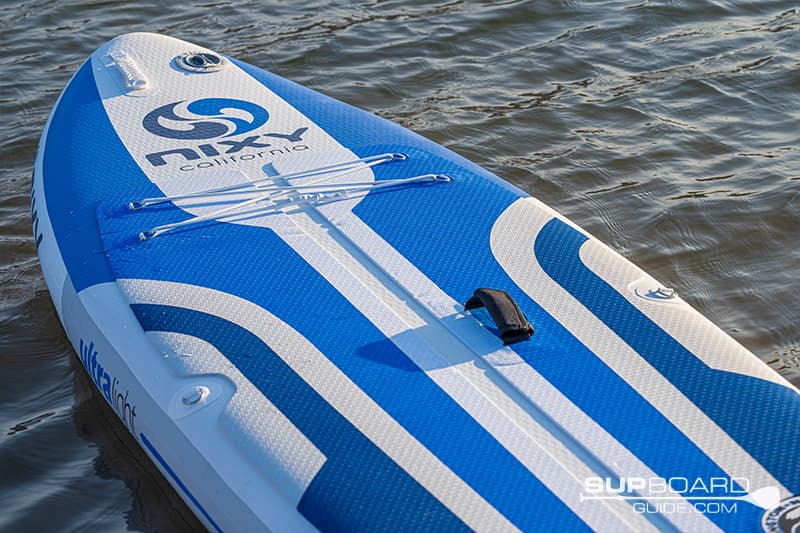 For a small board, NIXY Sports made sure to put in a ton of great features into the Huntington G3 9'6'' Compact. Some of our favorite features include
Carbon Fiber Rails: The more rigid a board, the better overall performance you get out of it. Some paddleboard companies rely on removable rods to increase rigidity, and though they get the job done they are a bit of a hassle to remove and install. Carbon fiber reinforced rails improve the rigidity of the board, and are built right in so you don't have to deal with extra setup time. Carbon fiber rails are among our favorite features in inflatable paddleboards, so we love that they are included with the Huntington G3 9'6''.
Dual-layer FusionTech: While only weighing 17 lbs, the FusionTech dual-layer construction is hardy, built to last and withstand the common accidents that befall SUPs. If you accidentally drop the board as you unload it, crash into something in the water, or trip with it on the beach, the Huntington Compact should emerge from it undamaged! Just be sure not to drag the Compact along the ground, or you'll ruin the cool print work put into it.
14 D-Rings + Dual-Bungee Cargo System:14 D-rings offer a wide variety of options for dry-bags, cases, coolers, and other popular SUP accessories. If it doesn't go on one of the D-rings, it will probably fit well underneath one of the two removable bungee cargo systems. Bring a cooler or other small container with you, or take the cords off to have even more deck space!
Nose Halkey-Roberts inflation valve: By positioning the inflation valve on the nose, it's very easy to deflate the Huntington Compact. As you roll from the tail to the nose, you'll be able to push out the air as you roll, ensuring it's empty by the time you reach the end. It's a small thing, but it makes packing the SUP faster than boards that have the inflation valve on the tail.
Triple grab handles:It's very easy to lift the board with the center carry handle, which has a neoprene cover for maximum comfort and protection against chafing. The nose and tail handles have solid casings as well, protecting against fraying.
Stamped traction pad:The deck pad covers nearly the whole length of the paddleboard, and is both comfortable to stand on while offering great traction support. The stamped logo pattern improves your overall grip, while the thick deck pad drains and dries quickly, preventing the deck pad from getting slick.
Fiberglass paddle + Nylon Blade: The four piece adjustable paddle fits well into the included backpack, and is both comfortable to hold and easy to put together. Weighing 33 ounces, this is a beginner friendly paddle that will help even those brand new to the sport learn how to paddle properly.
Three distinct colors: Available in a stylish red, blue, or aqua. The (INSERT COLOR HERE) option has been featured in our review.
Fins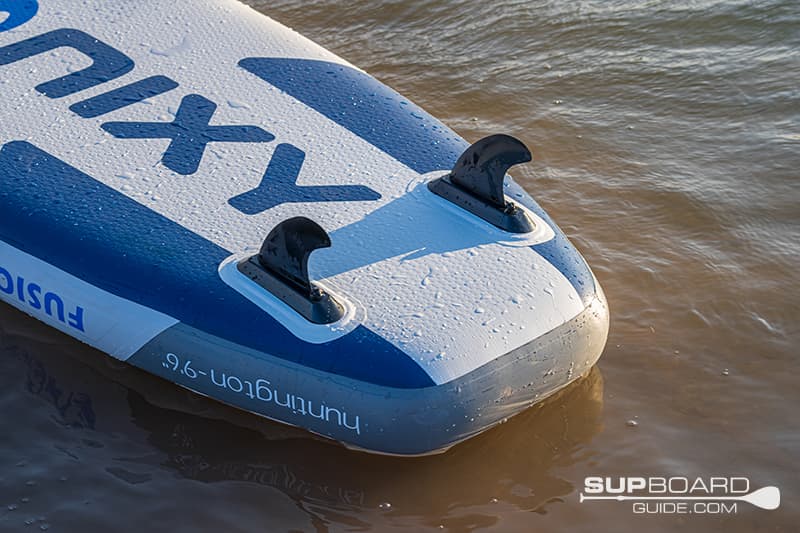 The Huntington G3 9'6'' has two tool-less removable side screw-in fins that measure 5'' long. These side fins, when installed properly, will improve the overall stability of the 9'6'' compact and also tighten your turn radius for those navigating tricker, faster moving waters. The 5'' length is short enough that you should be able to use these fins in most shallow rivers. If you do find out that they are a bit too long, your fins should be fine as long as you quickly dismount and remove them. These fins are nearly as tough as the board itself, and should last just as long with a little proper care.
The dual-side fins are secured with a screw-in system. The screw-in setup is a bit more secure than a traditional snap-lock system, but they are a bit slower to install. The screw-in side fins are also limited in that they are incompatible with the wider range of standard US fins. We'd guess that 95% of those who use this board will be more than satisfied with the current fin system. For advanced users who want to paddle with the Compact, we'd like to see the fin boxes upgraded to a standard US fin system so that they have additional fin options.
Stamped Traction Pad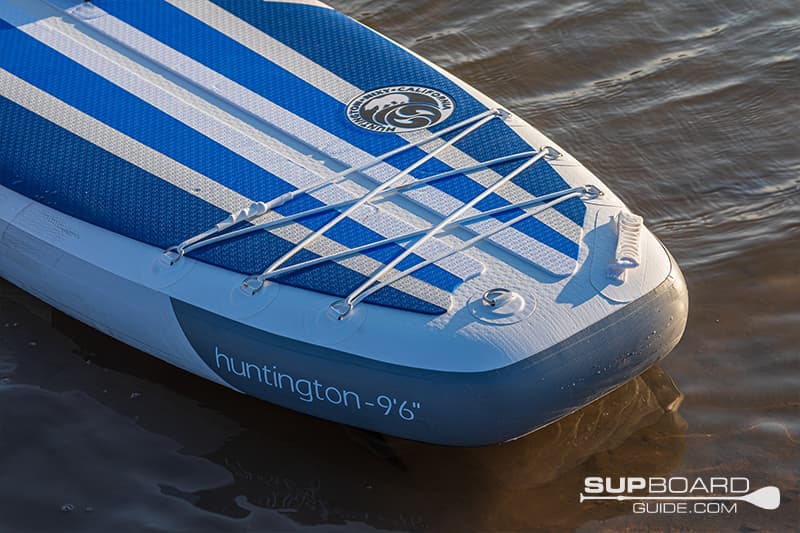 The Huntington G3 9'6'' deck is both comfortable to stand on and easy to maintain your grip with. There's great traction support with the deck pad due to the NIXY stamped logo pattern, and a ton of space to stand on as the traction pad covers all but the nose of the board deck. The traction pad is built to not only withstand the water, but will drain quickly in order to prevent it from getting slick while you're paddling, protecting you against slippage. The traction pad will dry completely once taken out of the water in about 10 to 15 minutes, ensuring that you don't have to wait long before you can pack it up safely and head home.
Handles
The 9'6'' Compact has three grab handles, which can be found in the center, nose, and tail of the board. As the board weighs just 17 lbs, it is very easy to carry it around with the center handle, which also features a neoprene cover. The neoprene cover makes the center handle more comfy to grab, and also prevents chafing and skin irritation when held with cold or soaking wet hands. The other two handles do not have neoprene, but they do have solid casings that make it easier to tie ropes onto and prevents the handles from fraying.
D-Rings/Bungees/Cargo Areas
In total, the Huntington G3 9'6'' Compact has 14 D-rings, which are great for clipping on dry-bags, cell phone cases, and other popular paddleboard accessories. One of the D-rings has been specially placed below the nose and on the tail, which are recommended for towing. You can also use the tail D-ring for attaching the leash included in the kit. These D-rings are solid and large, but they are bunched up close together. Spacing out the D-rings more would prevent accessories from getting tangled, while also making them compatible with a wider range of add-ons.
There is also a dual removable bungee cargo system on the Compact, the smaller cargo area in the front and the larger cargo space in the back. These bungees will help you secure coolers, lunch boxes, and other small containers to your board. The two cargo areas are spaced far away enough that you won't have to worry about tripping over the board, while still close enough to have quick access to your gear. However, the front cargo bungee area is very small, so we did have trouble trying to attach our usual drink cooler that fits well on most of the boards we test. Having the front bungee cargo area made a little bit larger would ba a nice addition in order to make storing important gear even easier.
Accessories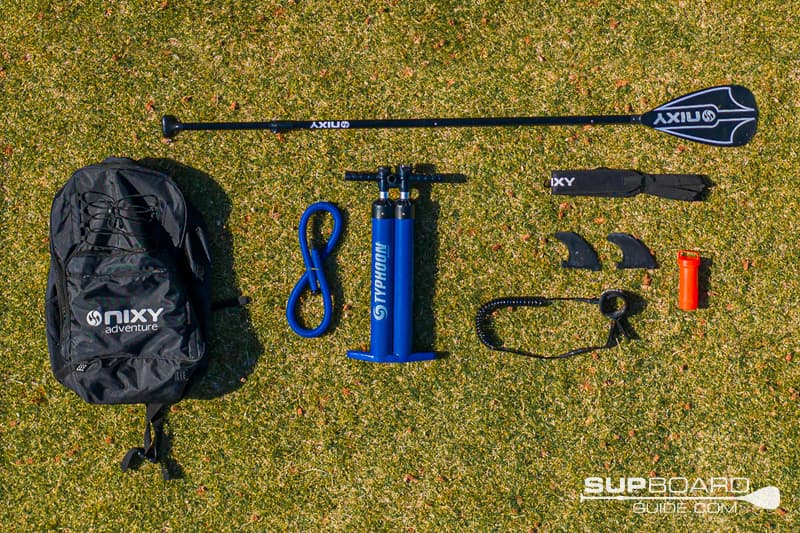 Fiberglass Shaft + Nylon Paddle Blade
Packed into the Huntington G3 9'6'' Compact kit is a four piece adjustable paddle that weighs 33 ounces when fully assembled. The fiberglass shaft is easy to hold, while the wide nylon paddle blade will make it a blast to paddle as you plant the blade and push yourself through the water. However, we do find the included paddle to be a bit on the heavy side, and while beginners will find it accommodating advanced paddlers and surfers will be less satisfied with the weight. We would recommend upgrading to a lighter carbon fiber alternative for those who want to have the best paddling experience.
By going with 4 pieces instead of 3, this paddle is very easy to store in the included Huntington Compact backpack. It's just as easy to put the paddle together, and can be adjusted to fit most adult paddler heights, though it doesn't adjust as much as the traditional 3-piece paddle. Still, the majority of paddlers will be able to find the perfect height setting for them, and due to how quickly you can adjust it will be able to pass their paddle to their friends even out on the water. The paddle floats in the water too, but while it won't sink it can float away from you if dropped in a fast moving river or while paddling in the ocean.
Pump
To inflate the Huntington G3 9'6'' Compact, you'll be using the dual-chamber, triple-action NIXY Typhoon pump. This pump is very easy to use, and has instructions printed on the outside of its chambers so that even first time paddlers will be able to inflate their boards in less than 15 minutes. While the included backpack is shorter than the traditional backpack used for other NIXY Sports boards, the pump still fits well into the included Huntington Compact backpack.
If you are looking to save some space though, and don't want to deal with manually inflating a board, consider investing in an electric pump. Electric pumps are our number one recommended add-on for paddleboards, as they will inflate your paddleboard for you and do it in about the same time as a manual pump. Many electric pumps also feature a second nozzle for deflating paddleboards, helping you get the air out and a feature not present in the Typhoon pump. Finally, electric pumps are smaller than manual pumps, making it easier to store and an especially good pump choice for the shorter Compact SUP backpack. For all of these reasons, we'd recommend considering an electric pump to make your paddleboarding experience even better!
Backpack
While a different design than the traditional backpack used for NIXY Sports boards, NIXY has made sure that the smaller Huntington Compact backpack is just as great. The backpack is short and light, providing enough space to store your gear while staying small so hikers can easily travel with it. There is a single carry handle on top for short distance trips, while those going longer distances will enjoy the extra padded back and adjustable shoulder straps. There is webbing on the side, cargo hooks, and mesh side pockets for storing small items, besides two front pockets great for putting your leash, fins, wallet, and other important personal objects. Built with heavy duty nylon, you won't have to worry about your gear getting damaged as you deal with wind, water, and sand alike with the Huntington G3 Compact backpack.
Leash
If you're surfing or river running, your board can get away from you fast if you fall off or decide to take a swim. To alleviate this problem, NIXY includes a 10' coiled leash with the Huntington G3 9'6'' Compact. Wrap one end of the leash around your thigh or ankle, connect the other end to one of the D-rings on the Compact, and you'll be good to go! Just know that the leash won't help you float, so be sure to bring a PFD with you in order to stay safe while paddleboarding.
Optional Accessories
Most third-party add-ons and accessories work great with the Huntington G3 9'6'' Compact, though you'll always want to check compatibility before purchasing. We also understand that this is a lighter and smaller board, so you might not want to bring too much extra gear out with you. However, there are a couple of accessories from NIXY Sports that we think are worth adding on to the Huntington G3 9'6''. They include:
NIXY Elite Electric Pump
NIXY Landing Mat
Company Review – NIXY Sports
Founded by Nicolas and Alexandra Szczedrin, NIXY Sports is a water sports manufacturing company based out of Irvine, California. Focusing primarily on paddleboarding products, their line of NIXY SUPs are well regarded for being lightweight, durable, and affordable to their customers. In 2020, NIXY Sports sells five unique paddleboards that are built to accommodate all sorts of paddlers, from the short and sporty Huntington 9'6'' Compact to the mid range Newport 10'6'' all-around and the Manhattan 12'6'' Touring board.
As for the Huntington G3 9'6'' Compact, the FusionTech and carbon rail construction ensures you can paddle with it for years without suffering any sort of performance loss with just a little proper care. To safeguard against unforeseen and unavoidable accidents, the G3 9'6'' Compact has a 30-day guarantee and 2-year warranty, promising protection for everything outside of typical wear and tear. Outside of this great protection, we also love how friendly and responsive the NIXY Sports support team is. They're always pleasant to work with, so we endorse not just the Huntington G3 9'6'' Compact, but NIXY Sports as well!
Conclusion/Bottom line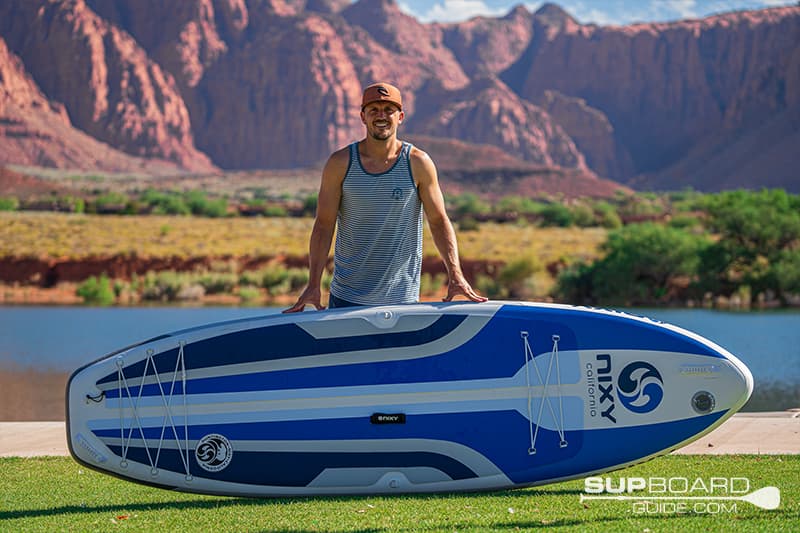 The Huntington G3 9'6'' is a lightweight inflatable paddleboard that provides great maneuverability, and is a fantastic adventure board that's also great to travel with. The FusionTech build and carbon fiber reinforced rails serve to support solo adult paddlers of almost any size, with the board tracking well in calm water settings with the right paddling technique. At just 17 lbs, this board is a great option for younger and shorter paddlers, or for those who want something they can easily carry long distances. The dual-side fins are quick and easy to install, and we also want to highlight the very grippy traction pad. The overall kit also includes everything you need for the water out of the box, with a superb dual-chamber pump and a beginner friendly 4-piece paddle. Considering these factors, we heartily recommend the Huntington G3 9'6'' Compact to anyone who is looking for a fun, easy to handle, and sporty paddleboard!
Have a question about the Huntington G3 9'6'' compact, or want to know about paddleboards? Trying to figure out whether inflatable or hardboard is better suited for you, or have a question about how to set up your fins? Then be sure to send us an email or leave a comment below with your thoughts! We love to talk paddleboards, and also update our reviews based upon the feedback we receive from readers who also try out these boards. If you've paddled with the Huntington G3 9'6'', be sure to let us know!
Otherwise, thank you so much for reading, and we hope you have a blast paddleboarding!
The following two tabs change content below.
SupBoardGuide
Heyo! At SupBoardGuide.com we are a team who love the water, the outdoors, and are more than grateful that our full-time job allows us to review stand up paddle boards. We paddle year round (it helps that we are just about 2 hours outside of Las Vegas), and we bring in a wide range of paddlers with the goal of providing our readers with the best, most in-depth, and accurate stand up paddle board reviews.
Latest posts by SupBoardGuide (see all)