Nixy Venice G3
Pros
Stable cruiser SUP that is easy to handle, very beginner friendly.
FusionTech + Carbon fiber rails. Durable and rigid, but also lightweight and easy to carry.
Glides well in the water. Balances tracking and maneuverability.
Long, grippy deck pad. Traction pad is comfortable to stand on and doesn't get slick.
Full kit with SUP. Fantastic three-wheeled backpack, rapid dual-chamber pump. Fiberglass paddle is a good starter paddle.
Attractive variety of color options. Available in aqua, red, blue, and purple.
Cons
Tri-fin setup is easy to install, but only the center fin is a standard US fin box. Screw-in fins can be finicky to install.
Traction pad offers great grip. However, it is not as comfortable as some other deckpads due to its thickness.
Cargo bungee options are on the smaller side and we would not recommend carrying a lot of extra gear with. However, we do like the closer placement of the front cargo section for easier access.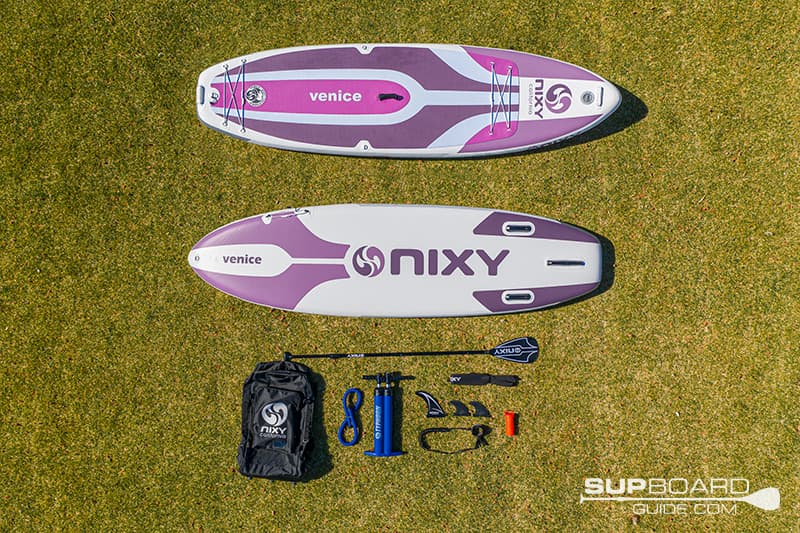 The NIXY Venice G3 10'6'' Cruiser is a great paddleboard for those who want a wide, light, rigid, and stable paddleboard for paddling in the water with. The 10'6'' Cruiser has a recommended weight capacity of 350 lbs, making it ideal for a large range of solo paddlers and a good option for those wanting to bring family with them on the SUP. The Venice also has a solid balance of maneuverability, tracking, and speed, making it easy to handle and a great board for those brand new or inexperienced to stand up paddleboarding. Paddlers of all skill levels will appreciate the extra grippy stamped logo traction pad, along with the reinforced carbon fiber rails for a rigid board that just feels great in the water. NIXY has also chosen to throw in a rapid dual-chamber pump and fiberglass paddle, all of which fits in their premium, ultra-rugged three wheeled backpack. If you are interested in a paddleboard built for relaxing and casually exploring the water, definitely check out that Venice G3 10'6'' Cruiser!
SUP Board Specs
Length
10'6''
Width
34''
Thickness
6''
Weight
23 lbs
Rider Capacity (lbs)
350 lbs
Recommended Inflation
15 to 20 psi
Fins
Center standard US fin box, 9'' screw-in fin
Two 5'' screw-in side fins
Paddle Type
Fiberglass shaft and Nylon blade, 33 Ounces
Construction
Dual-layer fusion drop-stitch construction
Carbon fiber reinforced rails
Who Should Buy This Stand Up Paddle Board:
Cruiser paddleboards are built for enjoying the water, offering balanced performance so you can engage in all sorts of SUP water sports. We think that almost anyone can enjoy the Venice G3 Cruiser, including:
Those who want to learn how to stand up paddleboard, but have never gone out before or have very little experience.
Expert paddlers who are looking for something they can paddle on with their kids or pet.
Teenagers and other younger, shorter paddlers who want a lightweight, easy to carry board.
Paddlers who want to stick with a trusted, well-known company and a product built to last.
Those who care about looks just as much as performance. Four colors to choose from!
You'll be able to take out the Venice G3 10'6'' Cruiser into almost any water setting, including:
Calm, flat water environments like a lake. This will be the most relaxing and easiest environment with the cruiser!
Large open waters with some chop and wind, like bays, marinas, and the coastline. We were impressed with how the Venice Cruiser handled small waves.
Rivers. You can have some fun river adventures, though make sure you have the correct fin setup.
The ocean. Small surf waves are fun with the Venice 10'6'' once you've gotten some practice with the board!
Performance
Stability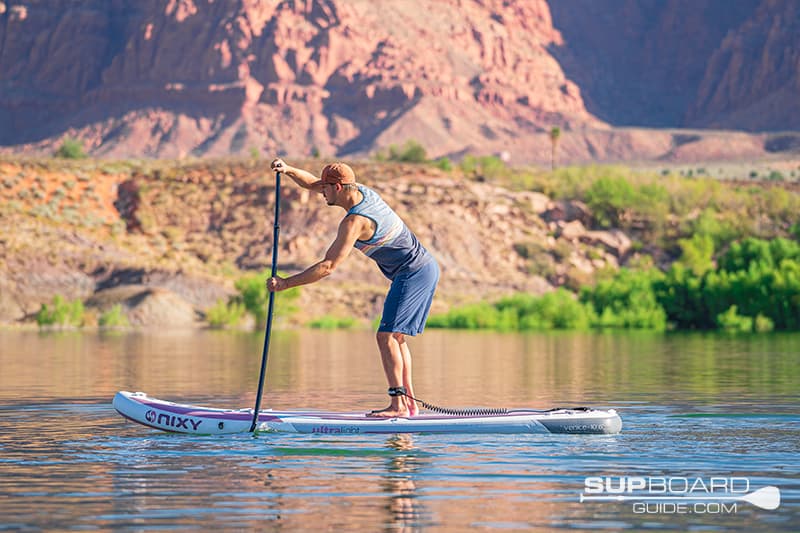 The Venice G3 10'6'' Cruiser is a very stable board. This is the widest board made by NIXY Sports, with a 34'' wide deck. Beginners of any height and size should have a very easy time standing on the Venice Cruiser, while experienced paddlers will be able to handle the board past its 350 lbs recommended weight capacity. The board is a great alternative choice for a yoga board due to how stable it is, and also a good option for those wanting to paddle with their kids or pet. As it is only 10'6'' long, two adults might feel a little cramped on the board, but if you don't mind being close the Cruiser is stable enough to support tandem paddling as well.
Maneuverability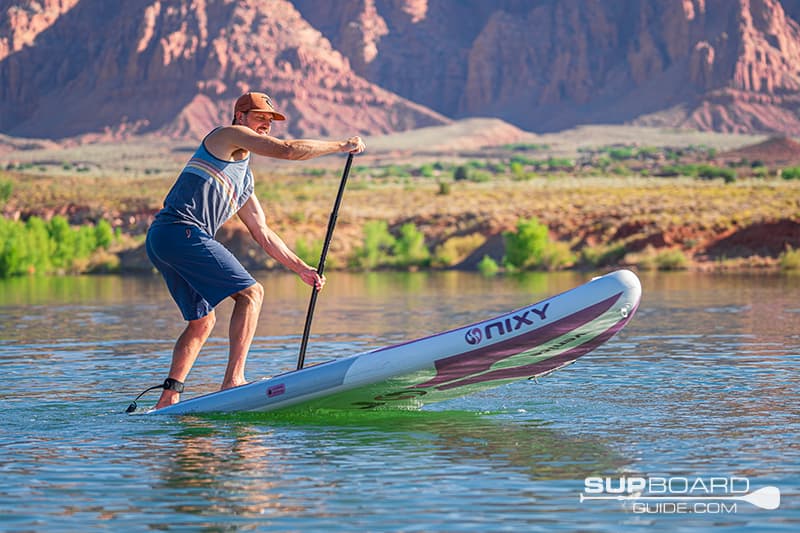 We quite liked how maneuverable the Venice 10'6'' Cruiser was. We found it very easy to navigate the water with it, and were more than able to dodge trees, rocks, and other objects in the water. All it takes is a few strokes to the side of the board to turn the Venice Cruiser, though we found the board capable of performing a step-back turn efficiently as well. Move a foot to the tail of the board, press it down into the water, and you'll raise the nose up so you can pivot on the spot. We think the 10'6'' Cruiser is a fun board to explore large open lakes and even some rivers, though we'd recommend getting some experience maneuvering with the Venice first before tackling anything challenging.
Tracking/Glide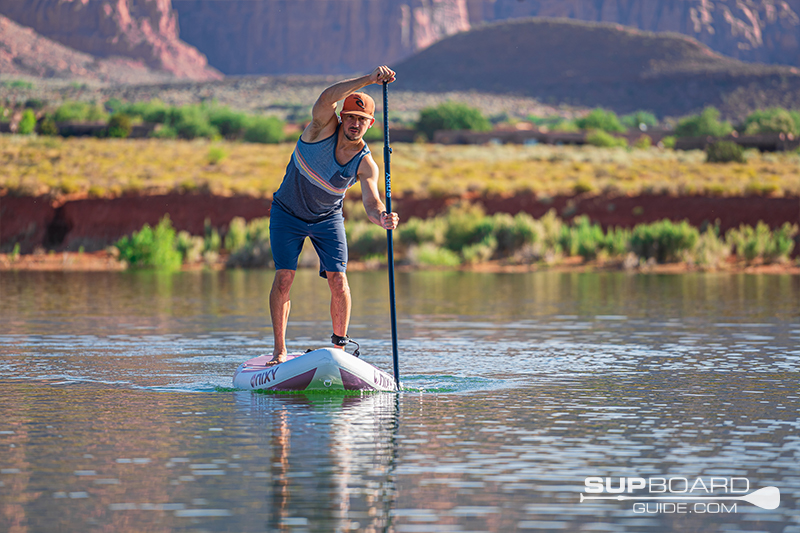 The Venice G3 10'6'' Cruiser isn't the fastest board in the world due to its wide deck and thick build, but it does offer a smooth, enjoyable glide that makes paddling trips a pleasant experience. The Cruiser's size, along with its carbon fiber reinforced rails and FusionTech construction, allows it to tackle some chop and wind with little to no performance loss. We found the Venice Cruiser was almost always steady in the water, and didn't require too much effort to keep it on a straight course as well. While it does take some work to build up speed, we're sure you'll enjoy the tracking and glide of the Venice G3 10'6'' Cruiser as much as we did.
Something you can do to make the 10'6'' Cruiser have greater tracking, stability, and overall performance is by installing the three included fins. These screw-in fins are very easy to install and durable, which you can read more about in our fin section below. By using the center fin, you'll find the board will be a bit faster and easier to maintain a straight course with. Adding on the side fins in conjunction with the center fin will improve the overall stability, or you can just go out with the side fins for a tighter turn radius. All in all, we definitely recommend using these fins when you go out, though make sure that you're not dragging across the ground when paddling in shallow water!
Materials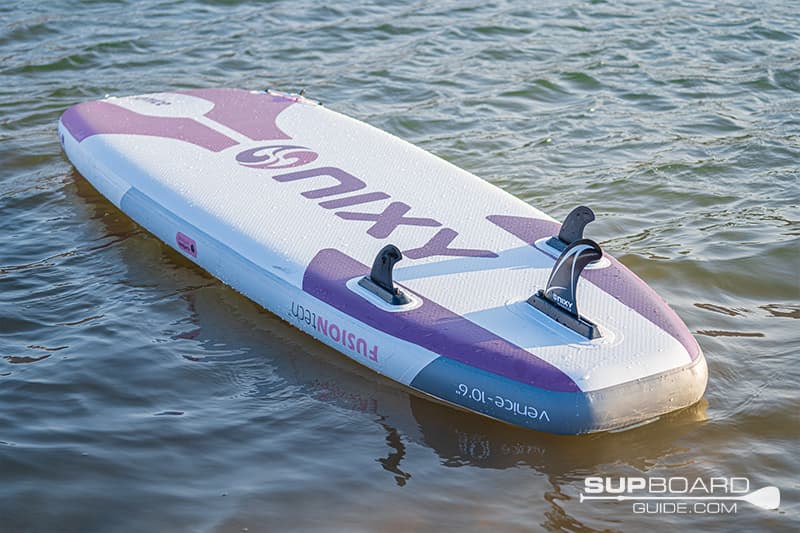 The Venice G3 10'6'' Cruiser is built with FusionTech, the construction system used in NIXY Sports paddleboards to create high-performance, durable, and lightweight SUPs. FusionTech begins with a tight drop-stitch core, made up of sheets of fabric that are bound together by thousands of strings. As air is pumped into this core, it will expand and assume the board shape you see above as the strings go taught, an inflatable you can stand on even in the water.
The drop-stitch core provides much of the Venice's performance, but the core itself is vulnerable to punctures. To protect against common forms of SUP damage and to provide additional weight support and performance, additional layers are applied to the drop-stitch core. The first layer is a coating of military grade PVC composite, a solid defense that also acts as a base for the second, even stronger layer. The second starts with additional fused polyester fabric sheets similar to what the drop-stitch core is built out of, but also has a second coating of PVC protection. A final level of protection is also incorporated in the form of carbon fiber reinforced rails, which safeguards the seams of the Venice while also making the board more rigid, improving the overall performance.
The dual-layered fusion will withstand common drops, crashes, and other accidents typical of the average day's paddleboarding experience and sustain little to no structural damage. With just a little care, you can use the Venice G3 10'6'' Cruiser for years to come and find that it will perform nearly as well as the day you first take it out on the water!
Board Design/Shape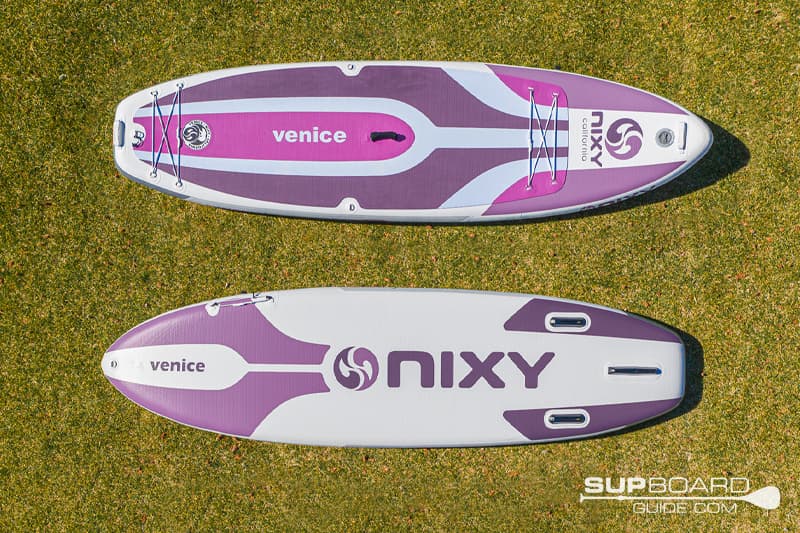 The Venice G3 Cruiser is built to be a board that is fun, relaxing, and easy to use once it's in the water. The 10'6'' length balances being long enough to have solid tracking, while also being short enough to be easy to maneuver with once you're in the water. The 34'' wide deck and 6'' thickness provide the board with the volume it needs to support the recommended 350 lbs, a weight capacity we think can be exceeded with just a little bit of experience. This very stable board is great for stretching and yoga, allowing you to perform all sorts of poses without having to worry about tipping over and falling into the water. While it won't outdo a dedicated touring or racing board, the Venice Cruiser performs well enough for casual exploration trips or races between friends. The Venice G3 Cruiser is built for having fun on the water, so make sure to try all sorts of activities in order to make the most of this paddleboard!
Board Features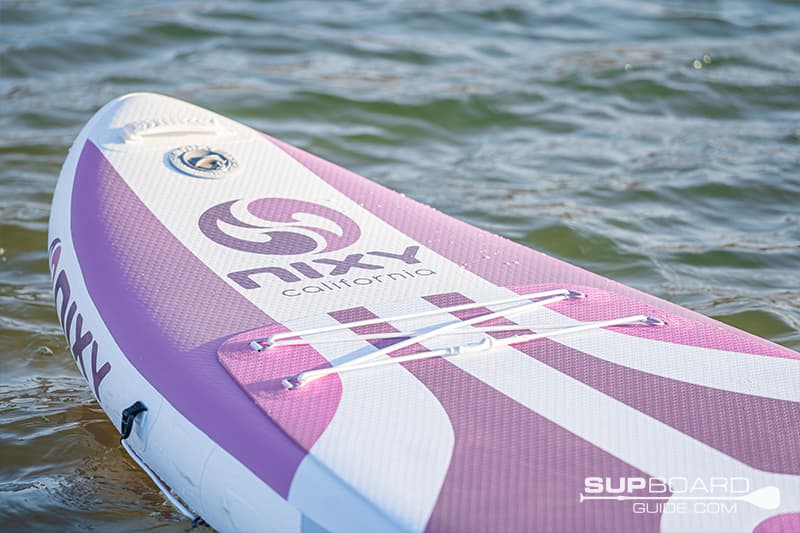 There are a long list of features that make the Venice G3 10'6'' Cruiser a fun and pleasant paddleboard, some of which you might never even notice by looking at it. Some of our favorite features which we think are worth highlighting include:
Carbon Fiber Rails: Typically, the more rigid a board is, the better performance it will have and the more firm it will feel. Inflatable paddleboards typically increase their rigidity by adding extra layers, which do weigh down the board and make them slower and harder to carry. Carbon fiber reinforced rails increase the rigidity of the Venice, while still keeping the board lightweight so that paddlers can carry it with ease. We also love how the carbon fiber rails are integrated into the board, so you don't have to deal with the removable rods like some other inflatable paddleboards out there!
Dual-layer FusionTech: FusionTech is the basis of NIXY Sports constructed boards, creating durable and well protected boards that offer good performance while staying light. The Venice G3 10'6'' weighs 23 lbs, and will withstand almost anything you throw at it in or out of the water. Be sure not to drag it along the ground though, as while you might not seriously damage the board, you can scratch the printing or fin boxes!
12 D-Rings + Dual-Bungee Cargo System:With 12 D-rings, you'll have plenty of places to attach dry-bags, cell phone cases, key pouches, and even NIXY's kayak conversion kit. If it doesn't go on a ring, you can fit it beneath one of the two removable bungee cord systems. We like to bring along drink coolers and lunch boxes, but any small container should fit beneath these cords.
Nose Halkey-Roberts inflation valve: If you've read other paddleboard reviews, you might be wondering why we list the inflation valve as a feature. That's because we love that it's been positioned on the nose! A nose inflation valve makes it really easy to get the air out as you roll up your paddleboard, ensuring that you get all of it out before packing it away. It's a small difference from many other inflatable SUPs, but it will save you a lot of packing time in the long run!
Triple grab handles:There is a neoprene center handle which you can use to lift the board, the neoprene soft on your hands and safeguarding your palm against chafing. There are two additional carry handles as well on the nose and tail, and while they don't have neoprene covers they have solid casings that protect against fraying.
Stamped traction pad:The traction pad offers great grip support, the stamped logo pattern helping you keep track of your feet and maintain your balance on the board. The traction pad covers almost the whole length of the board, and is built to withstand the water. The traction pad dries and drains water quickly, so it shouldn't ever get so slick that you'll worry about slipping while on the Venice.
Side Paddle Holder: While the paddle does float in the water, it can get away from you if you're not paying attention. That's why NIXY Sports has included a small band that will attach your paddle to the board. You can set the paddle down comfortably and not worry about it getting away while you get some yoga in or just spread out on the Venice.
Fiberglass paddle + Nylon Blade: The paddle is built with three pieces that you can put together in seconds, weighing about 33 ounces when fully assembled. The ergonomic handle, smooth shaft, and overall build of the paddle will let you paddle for hours without hurting your hands or tiring yourself out. Fully adjustable as well, so use the length chart printed on the paddle to find the perfect size for you!
Four vibrant colors: Available in aqua, red, blue, and purple. The purple variant of the Venice G3 10'6'' Cruiser has been featured in our review.
Fins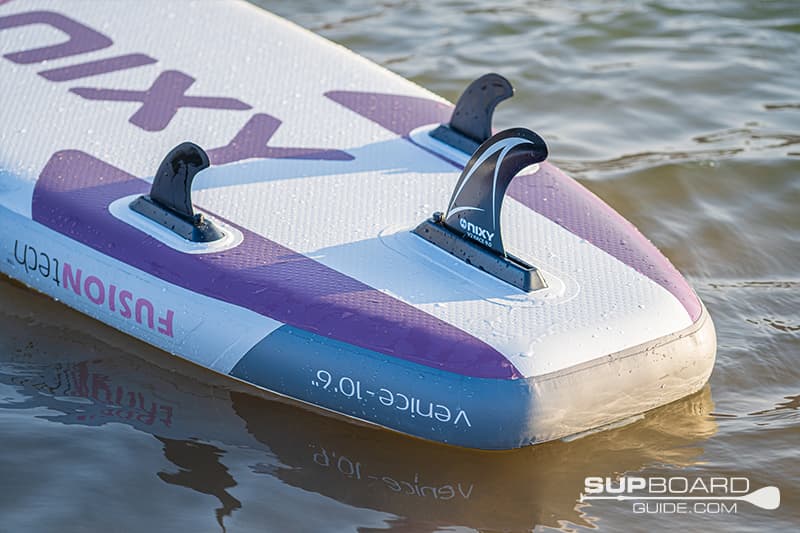 The Venice G3 10'6'' Cruiser has a tri-fin setup, with all three fins using a quick and easy to install screw-in system. The 10'6'' Cruiser is compatible with a larger variety of fins as it has a standard US center fin box, giving you the option for additional fin customization if desired. As for the included fins, you can install the center 9'' fin for enhanced tracking and speed, and bring the 5'' side fins out if you want to improve the board's stability as well. These are durable fins that store nicely in the backpack, and are definitely worth putting on everytime you go out unless paddling in shallow water.
The screw-in system for installing all three fins is a bit of a mixed bag. These fins are more secure than a traditional snap-lock fin setup, but are a bit slower to install and can be finicky at times. The center fin box being a US standard is nice, but the screw-in center fin itself can't be secured as tightly as a traditional screw and plate US fin setup. While the vast majority of paddlers will find the screw-in system fine, we would like it if the side fin boxes were built to be US standard as well, or the screw-in system replaced with something like a snap-lock system.
Stamped Traction Pad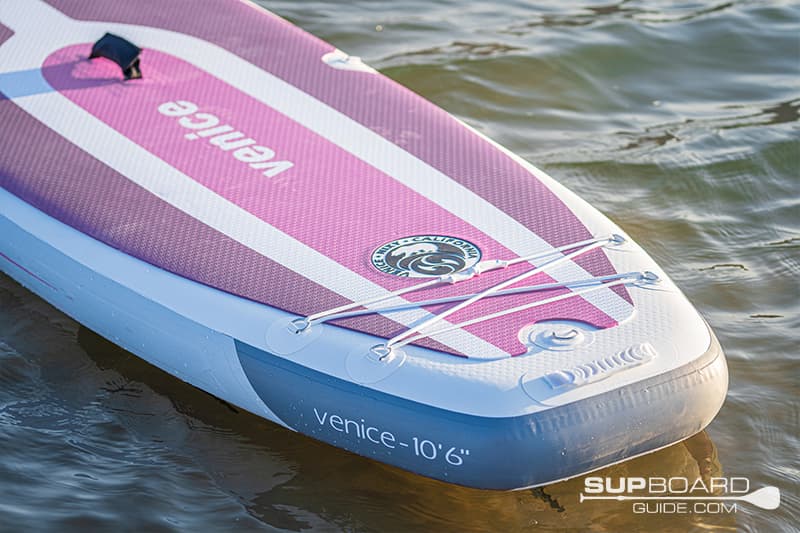 The Venice 10'6'' has an elongated deck pad that nearly covers the whole length of the SUP, offering a good balance of comfort and grip support. The stamped logo pattern isn't just for show, but improves the traction support so you can maintain a steady foothold on the board. Additionally, the foam deck pad is not only water resistant, but drains and dries very quickly, ensuring that your board will never become slippery as you're paddling in the water. The traction pad is also built to be comfortable enough that you can paddle on it for a whole day without irritating your feet or developing blisters. Those interested in long paddling adventures, taking a break now and again for some stretching or light yoga, will enjoy the Venice stamped deck pad.
Handles
There are three grab handles built into the Venice G3 10'6'', located on the nose, tail, and center of the board. For carrying the board, most paddlers will want to use the neoprene center handle, built to be cozy to hold and to protect against chafing when held with cold or wet hands. At 23 lbs, we don't expect you'll need help to lift the SUP, but if you do you can support your partner with one of the two other grab handles. These don't have neoprene covers, but they do have solid casings that protect against fraying and make it easy to tie tug ropes around.
D-Rings/Bungees/Cargo Areas
The Venice G3 Cruiser has 12 D-rings and a dual-bungee cargo system, both of which are compatible with a wide assortment of accessories. The D-rings are especially useful, as they work with dry-bags, cases, leashes and even stuff like a kayak conversion system. The D-rings are solid and well-integrated into the Cruiser, though they are placed a bit close together. We would like to see the D-rings spaced out more in a future model for greater accessory compatibility, and to ensure that multiple add-ons don't get tangled up so easily.
On the nose and tail of the Cruiser are removable bungee cord systems, which are great for storing coolers, lunch boxes, and other small containers. These bungee cord systems are spaced far enough away that you shouldn't even trip over them when you're not using them, and have quick access to your gear if you do. Unlike other NIXY Sports paddleboards, these two bungee cord systems are the same size, but both of the Cruiser's cargo areas are bigger than the small nose cargo area on other NIXY SUPs. I had no trouble fitting my drink cooler on the Venice 10'6' Cruiser, though medium to large sized containers won't fit as well as they would on other NIXY boards.
Accessories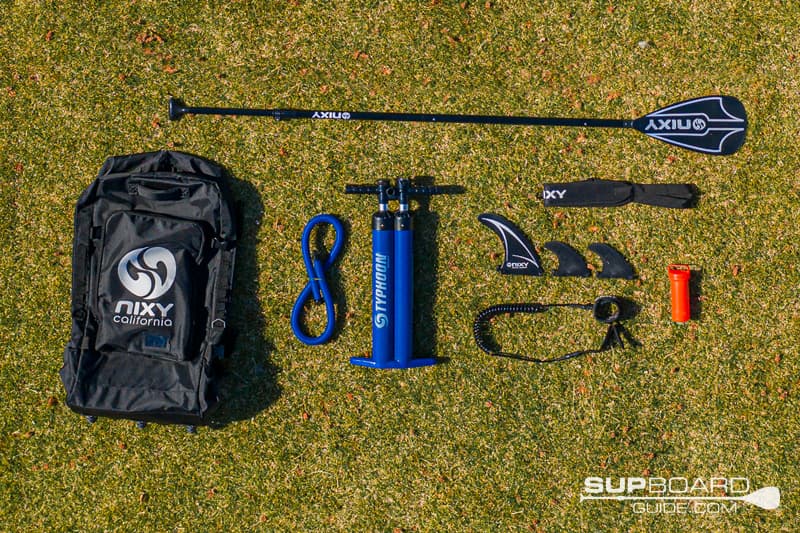 Fiberglass Shaft + Nylon Paddle Blade
The Venice G3 10'6'' Cruiser comes with a fiberglass shaft paddle and nylon blade, which weighs approximately 33 ounces when put together. This is a good beginner paddle option, and it's always nice to have a paddle included in the kit of a new paddleboard. Its comfortable to hold and easy to assemble, and light enough that you won't tire yourself out using it for long paddling trips. We do like lighter paddles more though, and would recommend considering something like a carbon fiber paddle if you're more experienced or interested in investing in a better paddle for the long run.
The paddle has three pieces, and is adjustable even after assembly so you can pass it along to your friends once you're in the water. There are markings on the shaft of the paddle to help you determine the perfect height, the paddle well suited for teenagers and tall adults alike. If you drop the paddle in the water, it will float, though it can also float away if you're paddling in fast moving waters. If you need to set your paddle down, be sure to tuck it away beneath the bungees or in the Cruiser's paddle holder on the side of the board!
Pump
When you're ready to inflate the Venice G3 10'6'' Cruiser, you can do it with the dual-chamber, triple-action NIXY Typhoon pump. This is an extremely fast pump, and by following the instructions printed on the body of the pump even first time paddlers will be able to inflate the 10'6'' Cruiser in less than fifteen minutes. The hose is both flexible to make connecting it easy, while sturdy enough that you won't have to worry about breaking it as you hook up to the Venice. The pump fits well into the included roller backpack, so it's a great option overall for inflating the Venice G3 10'6''.
There is another option for inflating the Venice, and that would be to use an electric pump. Electric pumps are our favorite SUP accessory because they do the hard work of inflating your paddleboard for you, and are almost as fast as a dual-chamber manual pump as well. When you're ready to pack up, you can get the last bit of air out with the deflation nozzle on an electric pump, ensuring that you only have to roll it up once to store the SUP. Electric pumps typically weigh the same as dual-chamber pumps, but they are more compact in size, making it easier to pack them and giving you more space for other items. For the best paddleboarding experience, we definitely recommend checking out an electric pump to compliment the VEnice G3 10'6'' Cruiser!
Backpack
The Venice G3 10'6'' backpack is just like the paddleboard it contains, built to be durable and thick but also easy to carry as well. The heavy duty roller backpack has three wheels for traveling over smooth surfaces, a large carry handle for short trips, and adjustable padded straps for longer ones. When you're not using the shoulder straps, you can put them into the side pockets, or use the pockets and cargo hooks for storing small items like water bottles. There is a large front facing pouch you can put your accessories in, while the roomy main compartment itself stores the paddle, SUP, and pump. As for the fins, throw them in the front pouch for quick access, or keep things tidy with the separate fin pouches on the interior of the bag. The NIXY backpack is built to last and withstand wind, water, and sand alike, while keeping things safe, secure, and organized as you travel with your paddleboard kit!
Leash
NIXY has also included a 10' coiled leash with the Venice 10'6'' Cruiser. This coiled leash is easy to put on, as you just attach one side to a D-ring and warp the other end around your calf or ankle. The leash will keep your paddleboard close to you if you fall or take a swim in the water, but won't impact your stability or performance either when you're on the paddleboard. Just make sure you wear a PFD too, as the leash will not help you float if you even take a sudden fall!
Optional Accessories
With the D-ring setup, there is a long list of great add-ons and accessories that work well with the Venice G3 10'6'' Cruiser. NIXY Sports also has some cool accessories that we would recommend adding to the Venice G3 10'6'' Cruiser to improve your overall experience. We recommend checking out the:
NIXY Elite Electric Pump
NIXY Landing Mat
NIXY Kayak conversion kit
Company Review – NIXY Sports
Started by Nicolas and Alexandra Szczedrin, NIXY Sports produces great paddleboards and other water sports products. Situated out of Irvine, California, NIXY Sports SUPS are well known for being lightweight, durable, beginner friendly, and affordable. This year, NIXY Sports has five great 2020 SUP models, built to accommodate all sorts of paddlers. These paddleboards include the Huntington 9'6'' compact, the Newport 10'6'' all-around, and the Manhattan 12'6'' touring board along the board we just reviewed, the Venice G3 10'6'' Cruiser.
With FusionTech and carbon fiber reinforced side rails, it is extremely difficult to seriously damage the Venice G3 10'6''. Occasionally, breaks do happen though, buxy NIXY Sports provides a 30-day guarantee and 2-year warranty with the Venice, covering everything outside of normal wear and tear. NIXY Sports is a fast and highly responsive company, and every experience we've had working with them has been an enjoyable one. We definitely recommend not just the Venice G3 Cruiser, but NIXY Sports products as a whole due to the great company that makes them!
Conclusion/Bottom line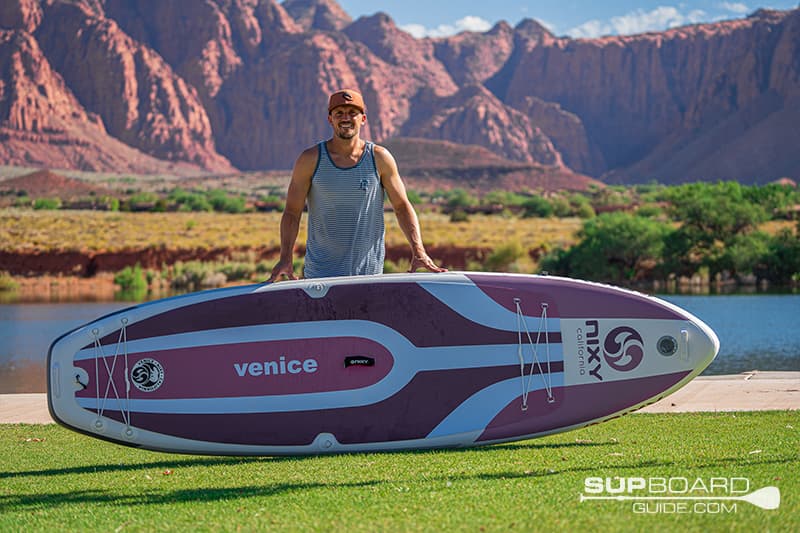 The Venice G3 10'6'' Cruiser is a great option for those who want to enjoy the water and get a taste for all sorts of SUP activities. The wide and stable board is accommodating to beginners, with an elongated traction pad that is fantastic for bringing along kids or a pet out with you. The Venice Cruiser offers a good balance of tracking and maneuverability, and with the reinforced carbon fiber rails feels very firm to paddle on, having a solid and stable glide in the water. Everything you need to get on the water, from fins and a fiberglass paddle to a quick dual-chamber pump and excellent roller backpack, come as part of the Venice kit as well. If you're interested in cruising, yoga, or even some casual touring through rivers or light surfing, the Venice G3 10'6'' Cruiser is a fun SUP that can do it all!
Have a question about our review, or want to know more about the Venice G3 or NIXY Sports paddleboards? Want to learn how to improve your paddling technique, or interested in the different types of fins you can use with this Cruiser? Then be sure to leave a comment below or send us an email with your thoughts! We are more than happy to talk paddleboards, and also update our reviews based upon our own experiences and the feedback others leave on the boards we test. Be sure to check out our review again in the future for our up to date thoughts!
Thank you so much for reading, and we hope you have an awesome time on your next paddleboard adventure!
The following two tabs change content below.
SupBoardGuide
Heyo! At SupBoardGuide.com we are a team who love the water, the outdoors, and are more than grateful that our full-time job allows us to review stand up paddle boards. We paddle year round (it helps that we are just about 2 hours outside of Las Vegas), and we bring in a wide range of paddlers with the goal of providing our readers with the best, most in-depth, and accurate stand up paddle board reviews.
Latest posts by SupBoardGuide (see all)