Nixy Newport G4
Pros
Single best kit paddle we have seen to date - full carbon, and has a great feel
Great all around SUP for smaller paddlers or paddlers who want a very sporty, nimble SUP
Lightweight and easy to carry and maneuver.
Plethora of included accessories and features
Well built quality construction - dual layer fusion + carbon fiber rails
Great backpack, with a ton of space for your board + gear
Cons
We'd like to see the paddler holder reworked. The idea is great, but the current design tends to get in the way.
Limited nose cargo space. We've like to see them move the d-rings up more towards the nose of the board and expand the front bungee area.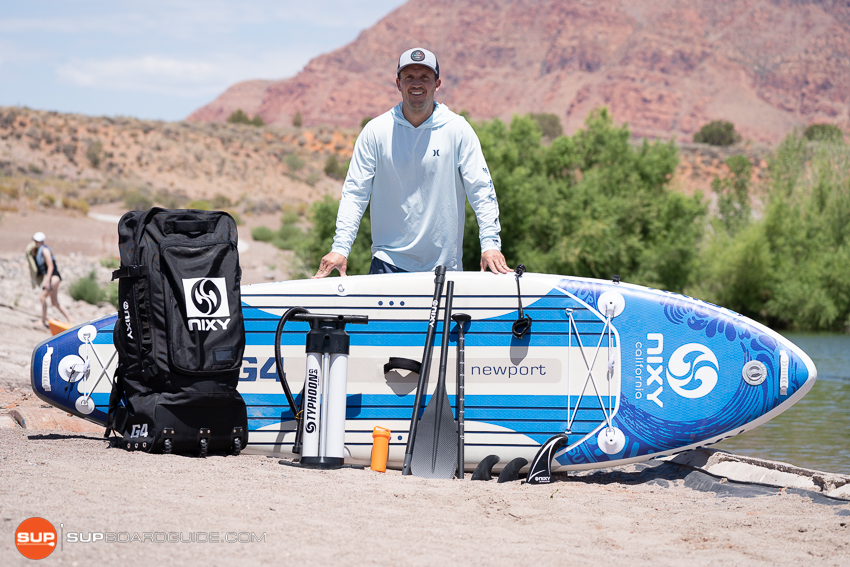 The Nixy 10'6 Newport G4 review went well. The board itself was of very good quality and we must applaud Nixy Sports for including the single best kit paddle we have yet to see. The rest of the kit was very appealing as well and the board performed well throughout our battery of tests.
In general, we think the Nixy Newport is a great all-around iSUP that seems targeted a little more toward the smaller paddler crowd. Larger paddlers will still like this board, but we've found it most commonly picked by our smaller (sub 5'6", under 140 lbs) testers.
We think the Nixy 10'6 Newport G4 as a good fit for any paddler that:
Wants a light, feature rich, all around sup for smaller individuals
Wants to delight at the feeling of a near pro level SUP paddle
Wants a fairly stable all around still efficient enough for longer paddles
Would bring limited gear and/or light pets and children
We think the Nixy 10'6 Newport G4 works well in the following situations or water conditions:
Beginners in flat water
Recreational paddles with friends and groups
Small ocean surf for smaller riders and/or more experienced SUP surfers
Light touring adventures
Nixy 10'6 Newport G4 Review: Overview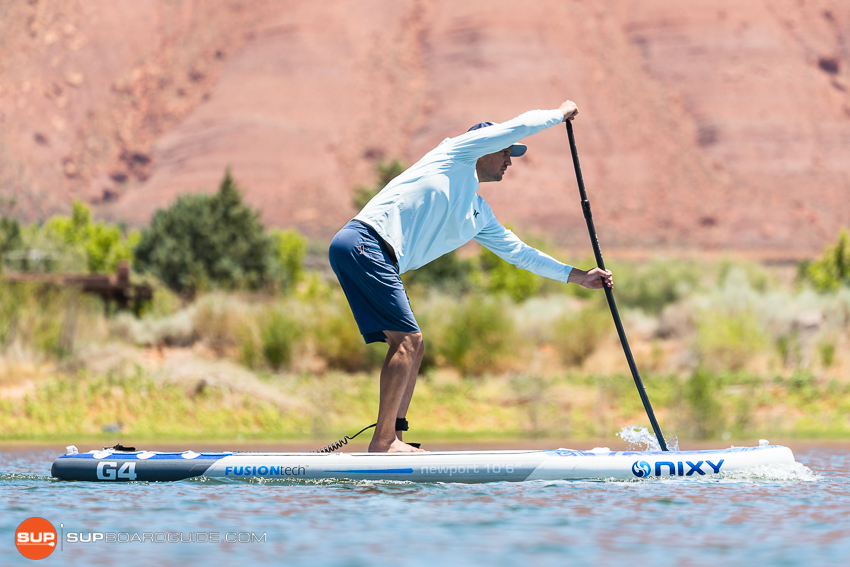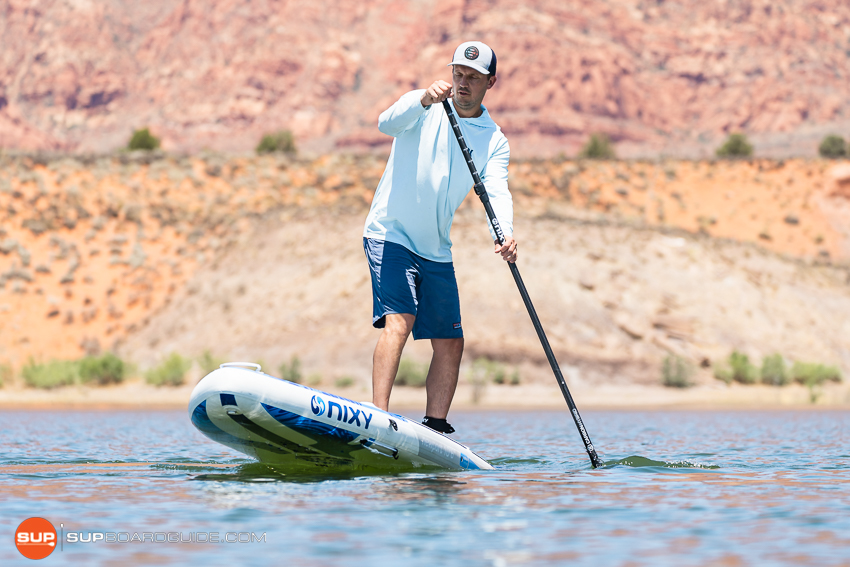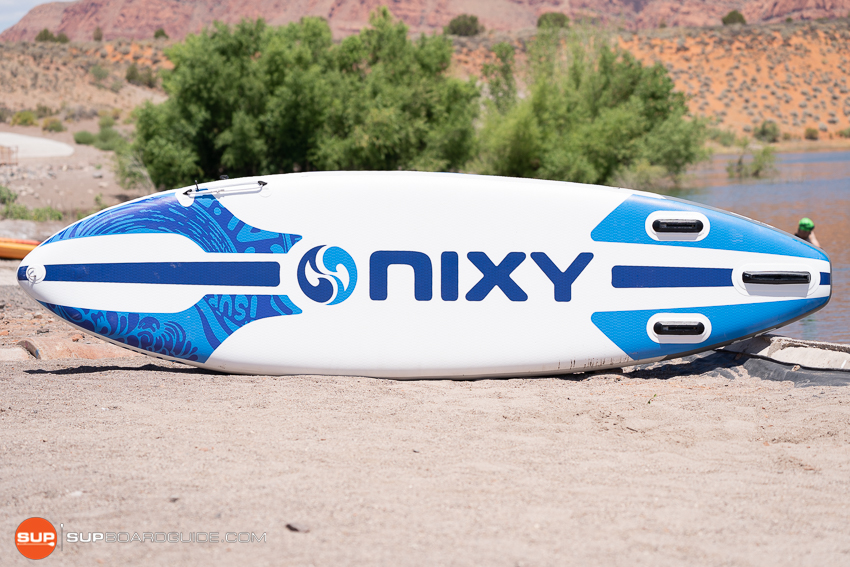 This was really a well thought out kit and board. Several little features just make this iSUP an absolute joy. For 2021 Nixy sports gives you 5 different color options, so we feel most tastes will find something to enjoy. Like so many other brands they are also trying to incorporate carbon fiber into their rails to promote stiffness (more on this later in the bend test). This board is incredibly light and includes the nicest (lightest and most well made) paddle for any kit we have seen in the industry so far. So kudos for that as well, Nixy.
Note: We try to paddle all the time, with each board being paddled on different days by various staff reviewers. We do not want to provide some fluff spec review you see elsewhere. We are excited to share our experience and knowledge with you as well so don't hesitate to ask questions and leave comments below. We will do our best to answer them right away.
Nixy 10'6 Newport G4: Spec Sheet
| | |
| --- | --- |
| Main Category: | All-Around, Inflatable |
| Board Dimensions: | 10'6 x 33" x 6" |
| Listed Board Weight | 21 lbs |
| Listed Max Capacity | 300 lbs |
| Recommended PSI | 15 psi |
| Fins | 3 (two side one center) |
| Paddle Type | 3 piece hybrid carbon fiber |
| Materials | Dual layer advanced fusion laminated woven drop stitch technology |
| Price Range | Medium |
| Warranty | 2 years with a 30 day risk free returns |
Official SupBoardGuide.com Test Results: Nixy 10'6 Newport G4 (2021 model)
The Nixy Neports test results are below. Our basic purpose is to highlight and verify the manufacturers information about the boards so you can make an educated buying decision. These tests are aimed at giving the consumer of how the board will act in real world conditions.
Overall Score: 9.2/10
With a 9.2/10 the Nixy Newport did fairly well in the all around category and is rated one of our best inflatable SUPs for 2023. Our scores are currently based in three main areas: performance testing, stability testing, and a review of the accessories and features present with the board and kit. We like quite a lot of things about this board and also see some slight areas for improvement going forward. See the full review below!
Stability: 9.0/10

Speed: 8.8/10

Tracking: 8.9/10

Maneuverability: 9.2/10

Construction Quality: 9.2/10

Accessory Review: 9.6/10
Our overall rating of 9.2/10 for the Nixy 10'6 Newport goes to show how much we enjoyed the collection of little features on this board and all of it's included accessories. The board itself performed well in our performance tests and we would certainly recommend this one for lighter riders looking for an easily transportable package.
In-Depth Review of the Nixy 10'6 Newport Stand Up Paddle Board
Performance Review: Stability, Speed, Glide, Tracking, and Maneuverability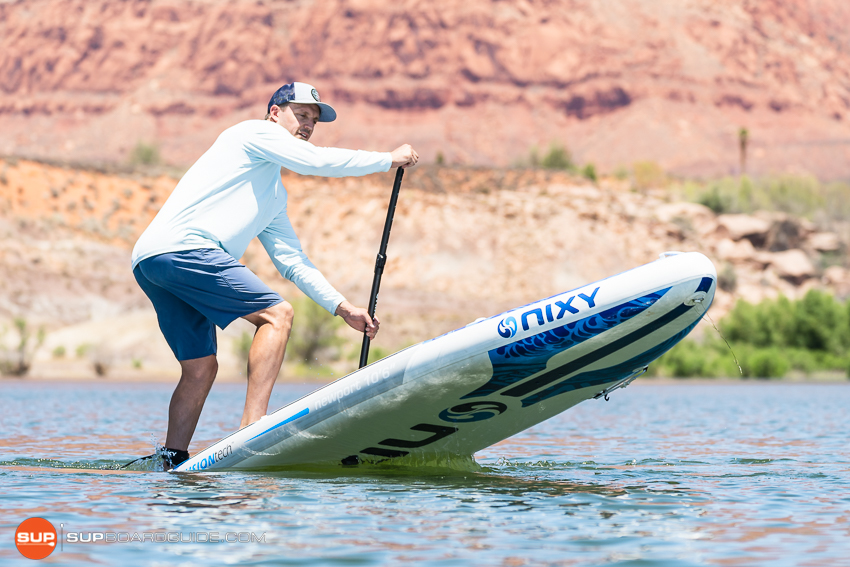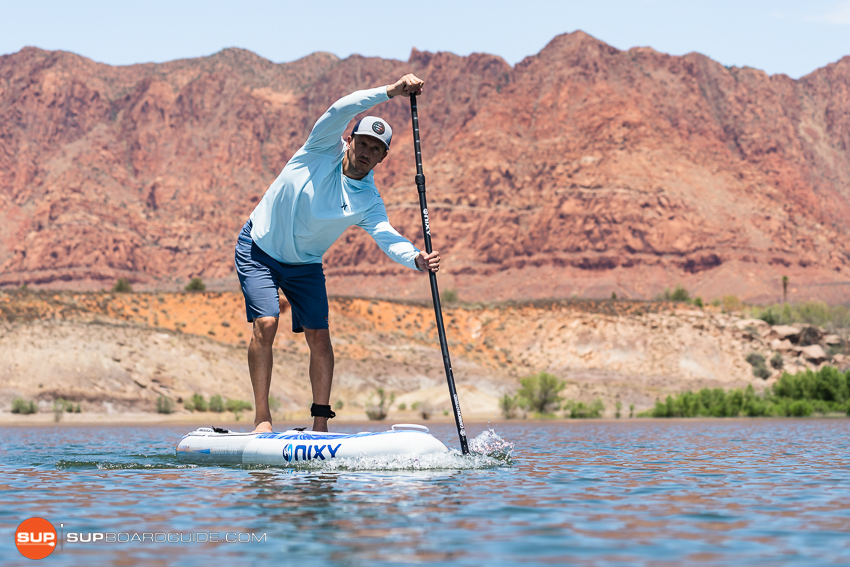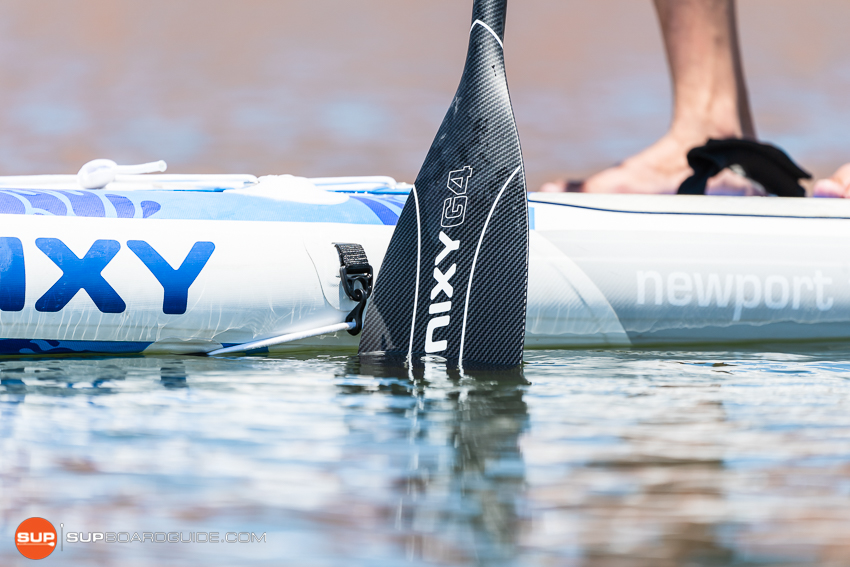 This board did well in most areas, and is always one of the top picks for shorter, lighter paddlers and for those who want a more sporty, shorter all-around iSUP. If you are someone who is over 200 lbs and more on the beginner side of things, just know that this board is going to be less stable until you get your SUP legs under you – especially paddling around boat wakes and wind chop.
We also really want to give Nixy a high five, two thumbs up for the quality of their kit. Their backpack has always been great (see below for more details), but their full-carbon paddle is simply the best kit paddle we have ever seen.
Stability Review: 9.0/10
We believe rating a board on it's stability is important so people can get a sense for how much the board will handle despite their skill level. Would we feel comfortable giving this board to a beginner? Yes, if they were around 150lbs. They could then bring limited gear and still have a fairly good ride despite changing or worsening water conditions. Does this mean only light people should buy this board? No, but we think the larger you are the more experience you would require.
Board Stiffness:

Stiffness Test: 1.0" Bend (board on top of saw horses placed 7' apart, with 150 lbs of weight added right by handle in middle of the board)
While not the end all test for board stiffness the bend test does provide us with a realistic idea about how the board will respond to a set amount of pressure. This can be replicated evenly from board to board and give us some factual information regarding a board's willingness to flex under pressure.
The bend test shows us how Nixy does focus on quality materials, as the Newport G4 performed reall well. The NIXY SUPs always have a really nice feel to them, and we have always thought that NIXY doesn't skimp when it comes to the quality of PVC or the drop stitch inner core. The bend test backs this up, and we also think the carbon fiber rails do add a little bit of stiffness to the board – at least more than an extra layer of PVC on the railings would.
Weight Capacity:
Listed Weight Capacity: 300 lbs
When we think of weight capacity we often think of what a board will handle until it literally sinks beneath the weight. It's important to look at this a little differently however. At what point does the weight on the board make it unusable? That's the question we try to answer here. How much can you put on a board and still have a positive paddling experience?
We found that lighter testers liked this board considerably more than those heavier ones. What we can infer here is that while this board can handle 200+ lb individuals, you will have a better time if you're not maxing out the board's capabilities.
In general, we find that NIXY's SUPs tend to perform best in the stability category for shorter, more lightweight paddlers. This isn't a bad thing, it's a great thing if you fit that category. For larger paddlers, just know that you are going to have a more sporty, less stable experience (which I personally do like, but I'm also only 180 lbs).
Speed Test: 8.8/10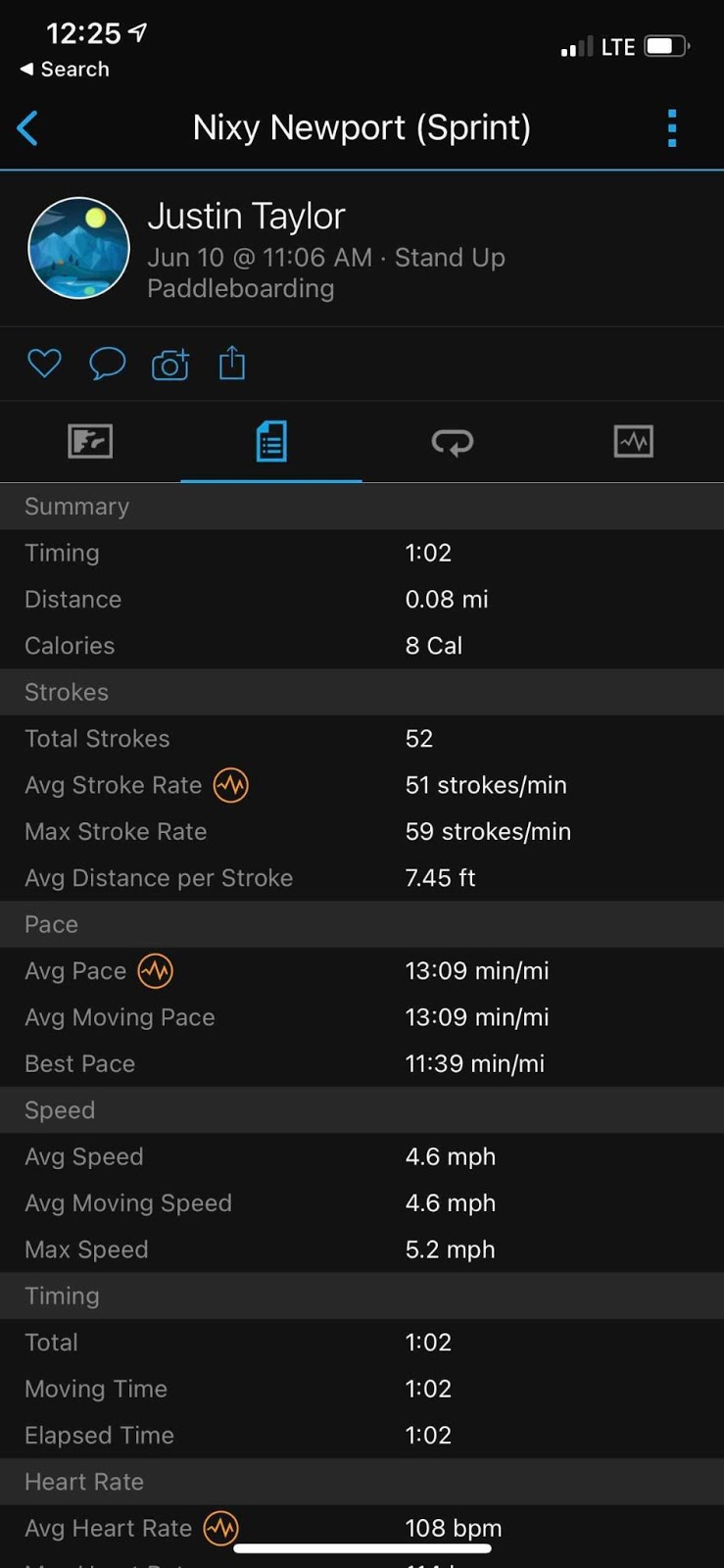 The Nixy 10'6 Newport G4 isn't a speed demon but it did fairly well in our speed tests. Its casual speed matched that of the larger (and longer) BOTE HD Aero and it's top speed was just a little bit slower than our top-ranked iRocker 11' All Around.
Overall, in our review we found the NIXY Newport to be a quick board that is easy to get going and also glides well through the water.
*We would like to point out that we were faced with varying conditions when comparing the general populace of all around boards. We do our best to average out the conditions and get the most accurate results and all of our top ranked all around SUPs for 2023 were tested the same day, under the same conditions.
Tracking: 8.9/10
Even under speed this board tracked fairly well. Again we attribute that to the 3 fin setup. They are good fins and are positioned well on the board.
The board shape is more on the sporty/maneuverable side of things with a more pointed nose and tail. This didn't hurt tracking much, but just know that the board does lean more towards maneuverability vs touring performance.
One small thing that did hurt our tracking experience just a little bit was the location and design of the paddle holder. During our review and testing, we all made contact with plastic pieces that are on the side/front of the board unless we really focused.
Maneuverability: 9.2/10
The Nixy is quite maneuverable as it is slightly shorter and lighter than other all arounds. It also tapers a bit more at the tail and nose. Even though it's pretty wide in the center of the board you still get a very sporty SUP that's easy to change directions on using both basic and advanced paddling techniques.
Given the skinnier tail, we were surprised at how well the board was able to turn on a dime with a back step turn. However, this is harder for those over 200 lbs and would require a bit more skill than most beginners would have.
For a paddler in the 150+/- lb area this should be the sweet spot of stability and maneuverability.
Construction Quality: 9.2/10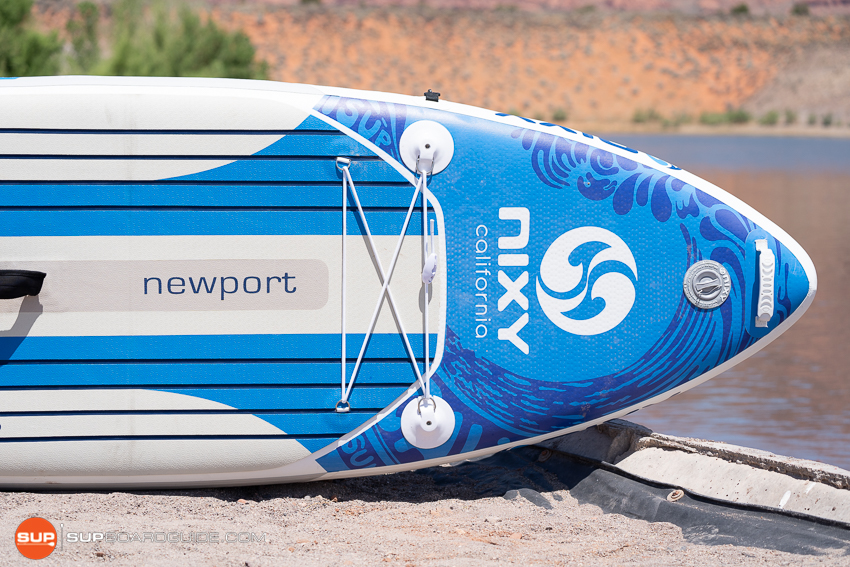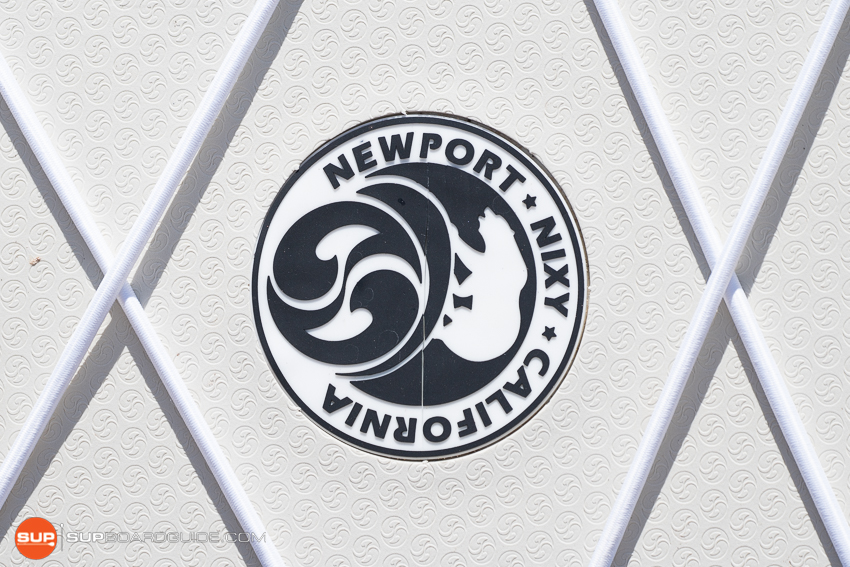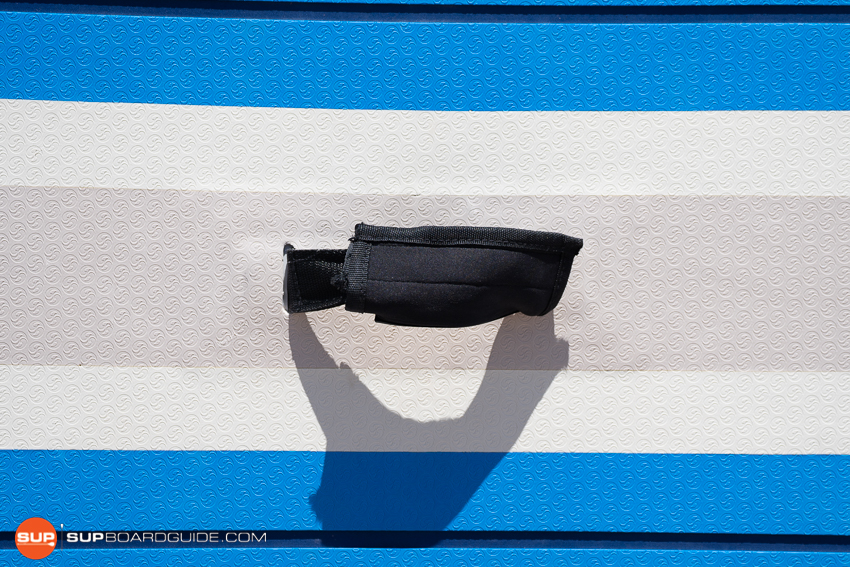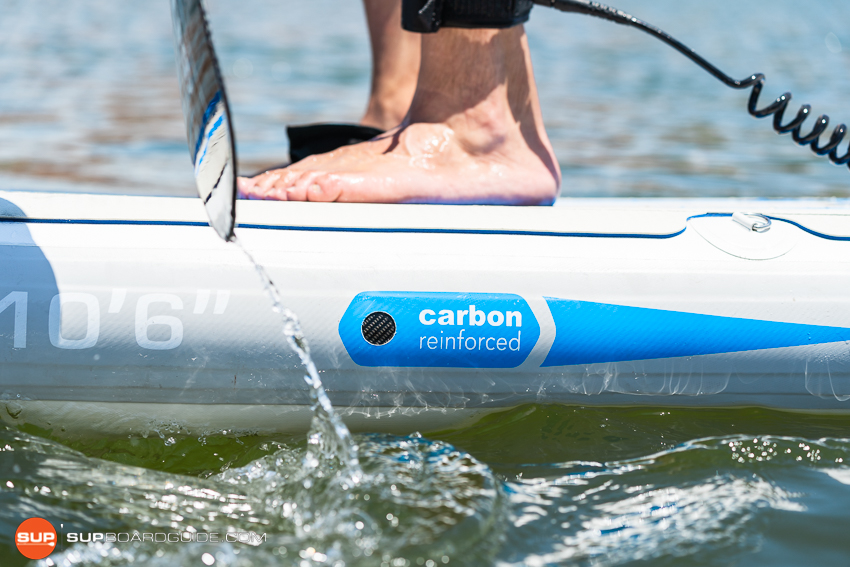 All of our testers were pleasantly impressed with the construction quality of the Nixy 10'6 Newport G4. Once again we see a dual layer fusion PVC outer + the integration of carbon fiber reinforced side rails. As mentioned above, everything NIXY does passes our 'feel' test and feels high quality (which you see in the bend test results).
For the Nixy Newport we really were impressed with its overall finish. All the accessories were neatly attached with none feeling susceptible to accidental tearing or removal while paddling or horsing around. We like the attention to detail present at all points on this iSUP.
Starting with the basics, it has front and rear carry handles with good, solid, plastic covered handles. We can never state how important this basic feature is when it comes to moving boards around, tying them off, or just simply lifting. We like that the deck pad covers roughly 75% of the entire board. This was long enough (and grippy enough) for the 6 foot testers to go through the entire downward dog sequence.
Speaking of that, we would like to point out that both the front and rear bungees were easily removable using a sort of rope tensioner. Splendid job – we think that is a very well done bungee system that we'd love to see incorporated into more/most/all other SUPs..
Features/Accessories: 9.6/10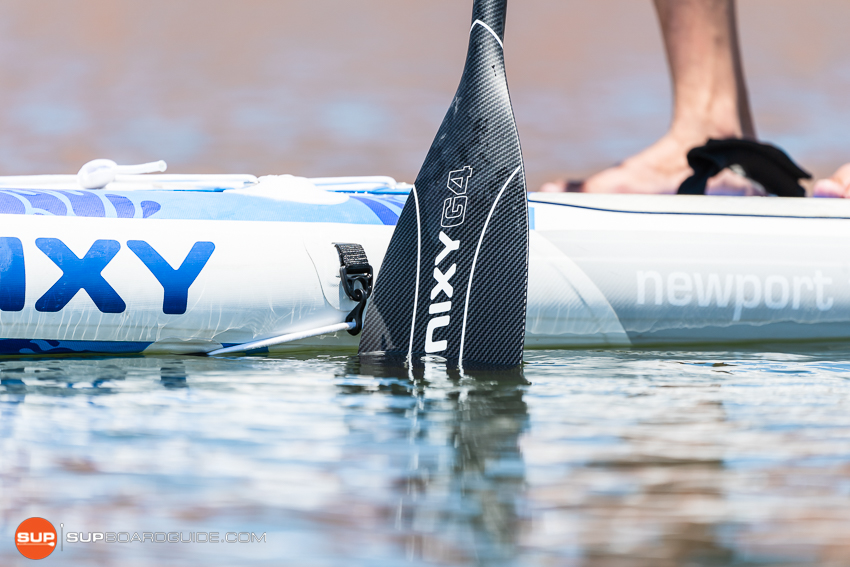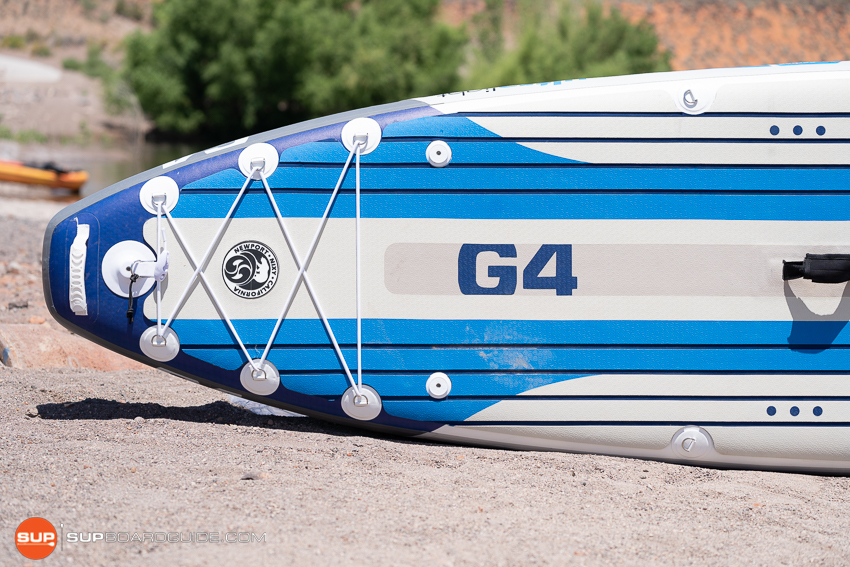 Included Accessories:

Nixy really did well when it comes to their kit. We REALLY like their included paddle for sure, but their other pieces really do a good job of setting the bar really high for their competitors.
Nixy G4 Carbon Fiber Hybrid Paddle
Nixy G4 Typhoon Hand Pump
Nixy G4 Backpack
Nixy Hybrid Leash
Overall, the reviewers really liked the entire Nixy package. Is there room for improvement, some (see details below). But this does more than well at covering all the bases. Taken all together, we think that the NIXY SUPs come with one of the best kit packages on the market.
Paddle:
Whomever's job it was at Nixy Sports to design and construct the included SUP paddle we feel like they stepped up to the challenge and then some. This is the single best kit paddle we have ever seen, period. The carbon fiber weave looks great throughout the shaft. There is little to no twist throughout the paddle at either attachment point.
The blade is equally as elegantly crafted and labeled with a 90 to represent the 90 square inches it takes up. Why is that important you ask? Well as you get upwards into the world of custom paddles you will see that blade size actually plays a big part in tailoring the paddle to the specific use you have in mind. This gives Nixy users not only a great starting point but some actual insight on where they want to go as they progress.
All in all I see only a single improvement possible for this paddle (and keep in mind that we are being completely unfair here, as this kit paddle is above and beyond expectations for such a paddle):
The top handle is a plain plastic piece, and while it's securely attached it just kind of feels "placed". Nixy I beg of you: go the distance and just complete the whole package with a similarly amazing feeling carbon fiber handle.
Pump: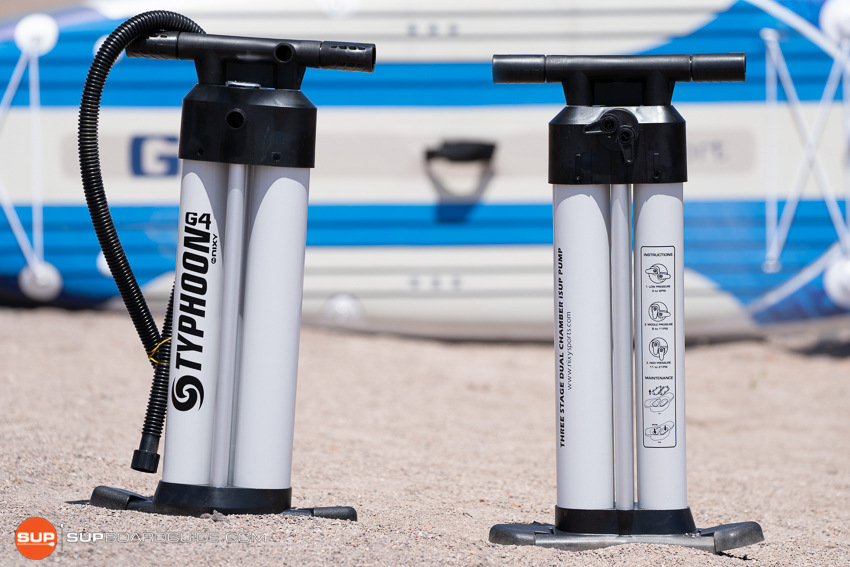 People will often stop us while we are using the included pumps for a review and ask what we are doing. For instance during this review people were insistent on understanding our purpose in inflating such a device. The mark of a good pump (for us) is the ability to casually talk while pumping up the iSUP. This one worked well in that regard, allowing casual banter while still (scientifically) keeping count of our overall strokes. The three stage action really does well in keeping you from overworking, though we will say the second stage is poorly "geared" as it was only effective for a paltry 40 (ish) strokes while the first and third stages were functional well over 100. Yes that's a lot of strokes, but the multistages really do make this a job anybody can do. Our biggest complaint with most kit pumps is that smaller individuals just don't have the mass or the strength to depress the plunger above 10-12 psi. That is not the case here – smaller individuals will have no problem using this pump even at the higher PSI levels.
Good job again, Nixy!
Now, with that being said: We can't recommend enough buying the NIXY electric pump. Their manual pump is a really nice one, but it's always so much nicer if you can just hook up the pump and let it do the workout for you. And NIXY has built a really nice electric pump this year. In fact, it might be the most feature-rich pump available that we have tested so far.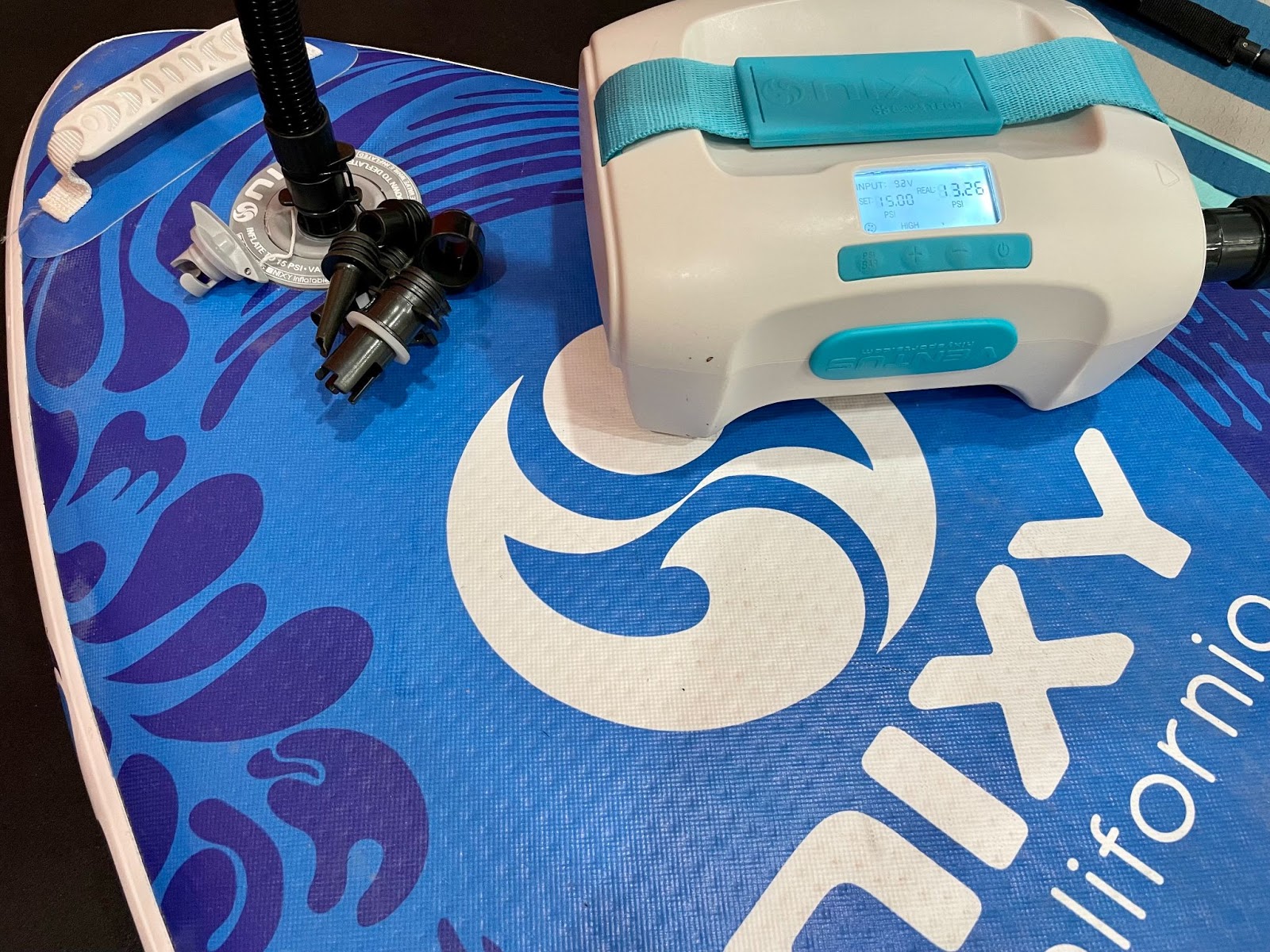 Our review of the NIXY electric pump should be up in the next few days, but the short version is this:
It's a great pump that has solid internals. We've so far used it around 30 times and haven't had a single issue. SO MANY of these electric pumps just burn out, but so far this has held up like a champ.
It comes with an internal cooling fan. This is probably more important than I'm explaining. With so many of these pumps getting too hot and burning up, this cooling system should keep this pump going for years.
It has nice features like a carrying bag and a place for the cord to wind up. These features might sound small, but it's really nice to be able to easily store and transport the pump.
Again, get their electric pump. It's not currently #1 on our best electric pump rankings simply because the other 2 pumps ahead have been tested for more than 1+ years and we haven't had any issues. Over the next month we are going to test the heck out of the NIXY pump and you might see a shift in those rankings.
Bag: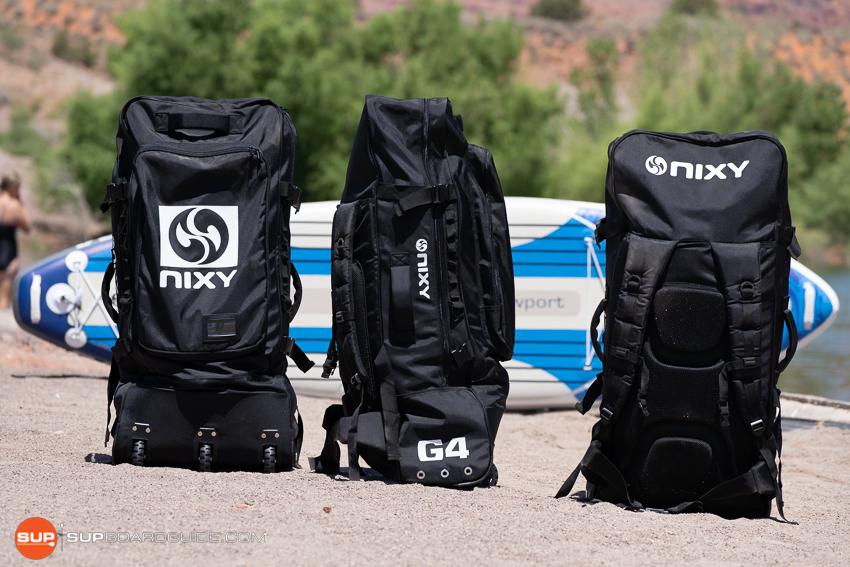 The Nixy Newport came effectively wrapped and contained in it's bag / backpack upon arrival. We did a complete walkthrough of the bag itself including a half mile hike, sitting, standing, and squats (it was our new reviewers first couple of days, so why not?). In their own words "The full bag felt good on the back, well weighted and comfortable through all these movements". They continued on saying "The straps were padded well with belt and sternum support". We will take that as a win.
In terms of general pack features, this one comes really well equipped and is one of our favorite bags for 2021. It's constructed with nice, high quality material and is loaded with features, including:
Extra padded shoulder and hip straps
Side pockets with grommets for drainage
15 cargo hooks (found on the top and both sides)
Large main compartment + good sized front pouch (not big enough for the pump, which would be nice)
Nice thick, comfortable carry handles on top side, and bottom of the bag
Fin holders on the inside of the main compartment
3 wheels for easy transport
Slot to tuck in the hip straps to keep them out of the way while wheeling the bag around
It really is a nice backpack, one of our favorites and I know it's something that NIXY put a lot of time and effort into designing.
The only areas we think they could improve would be to include some drainage for the main compartment. We are also not sure the 3 wheels are needed, as sometimes with shifting weights the center wheel feels like it knocks the bag out of balance more than a 2 wheel pack would.
Optional Accessories:
With such a solid set of gear included we are happy to tell you that even more is available from Nixy at checkout with your iSUP. Believe it or not but they offer an upgraded paddle set that is as beautiful as it is functional. And as always, no matter how good a manual pump is, the electric pump is always better. Always. Here are some of our favorites offered by Nixy Sports:
Nixy Ventus Paddle Board Electric Pump (one of our new top rated inflatable pumps, and has some really unique features to it)
Nixy Premium SUP Kayak Seat
Nixy Sup Carry Sling
Summary Review of the Nixy 10'6 Newport (2021 model)
There is a lot to like about the Nixy 10'6 Newport kit. For starters there is the best overall kit paddle, a piece of the paddling experience we really feel is paramount to your enjoyment out there on the water. Packed in with that you get some other above average kit accessories as well and we haven't even gotten to the board yet.
Really scrutinizing the board itself there is little to take issue with (that paddle holder needs help though), and we feel it performs at the level with some of the best in the all around class. The only thing we would like to see is more volume (across most of their line really). Another option would be to create an 11' or 11'6 version of the Newport, so it fits larger/taller paddlers better.
Value wise, this kit is nearly impossible to beat at this price point. That's a legitimate $200 paddle alone! The board is well made, durable, and packed with accessories. If you are in that lower weight range by all means get this board before they realize they are giving it away far too inexpensively.
As always, if you have any questions or comments on this review we would love to hear from you! Give us a shout in the comments below and we will do our best to respond.
Happy paddling, and we can't wait to see you out there on the water!
The following two tabs change content below.
SupBoardGuide
Heyo! At SupBoardGuide.com we are a team who love the water, the outdoors, and are more than grateful that our full-time job allows us to review stand up paddle boards. We paddle year round (it helps that we are just about 2 hours outside of Las Vegas), and we bring in a wide range of paddlers with the goal of providing our readers with the best, most in-depth, and accurate stand up paddle board reviews.
Latest posts by SupBoardGuide (see all)