NIXY Manhattan G3
Pros
Great accessories
Fun, speedy board
Responsive turning
Lightweight design
Great value for quality of accessories/board
Cons
More storage room on the nose would be better
Beginners may find it wobbly at first
Fin is a little tricky to insert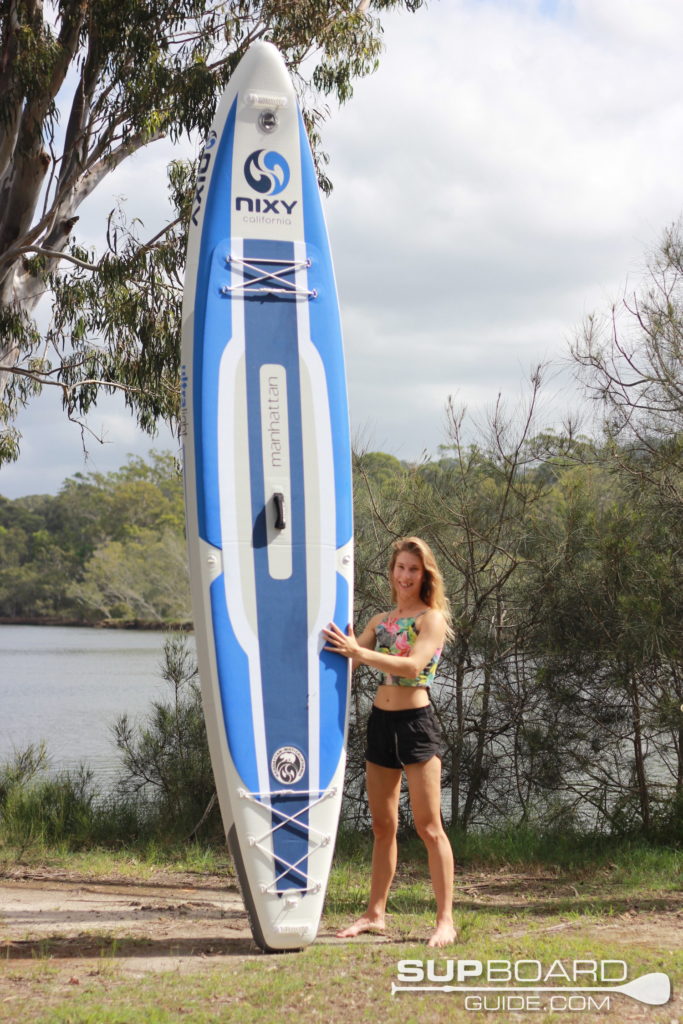 Do you like paddling long distances? Does the idea of an overnight SUP adventure inspire you?
Then you want a touring board like the NIXY Manhattan! Its narrow body produces lots of speed but still stable enough for most riders. It's an ideal board for covering distances, with loads of storage space and prementioned zippy nature. So if long paddles down rivers with a picnic basket and camping gear is your kind of thing, read on below.
Specs
| | |
| --- | --- |
| Length | 12'6″ |
| Width | 30" |
| Thickness | 6" |
| Weight Capacity | 300 lbs+ (experienced riders can go past 300lbs) |
| Weight | 20 lbs |
Performance
The Manhattan is made to move. Its narrow body and tapered nose glides through water easily and with speed. These characteristics make it a great board for covering long distances. Whether you just like to get some km's under your belt in a morning paddle or an avid adventurer looking to do overnight trips.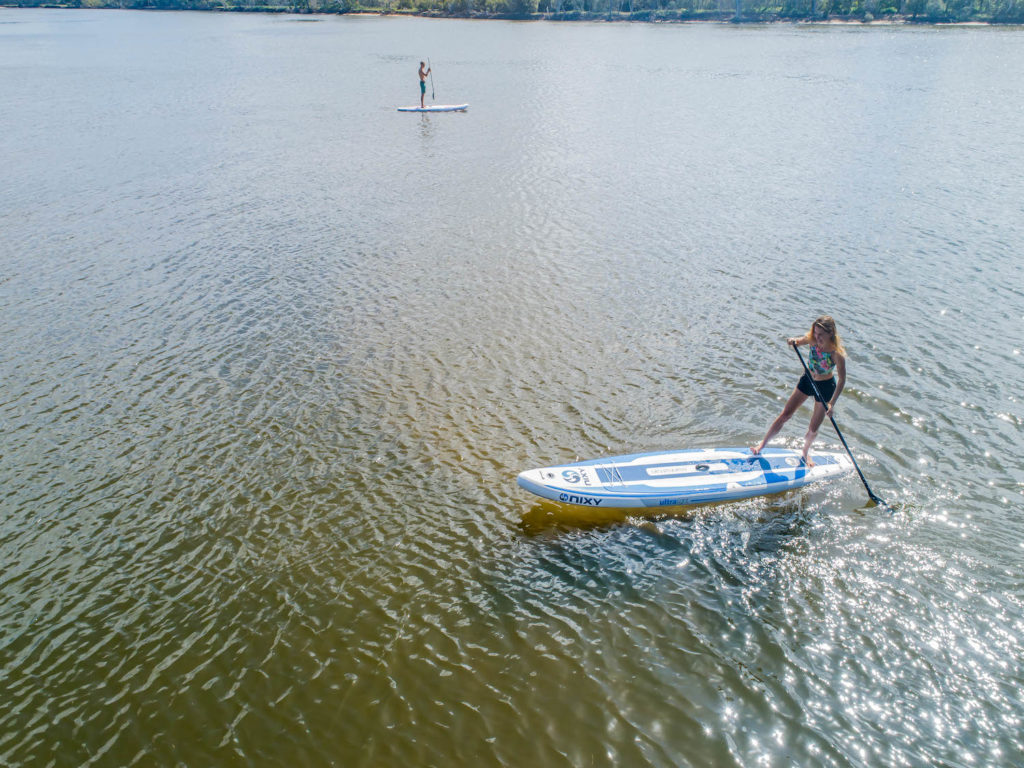 For those who are just starting out, you may find the 30″ width a bit narrow at first. Though if you are determined or already do another sport that requires balance, eg surfing then you will get the hang of it pretty quickly. The same applies to the turning of this board. It's a great board to paddle so slow turns are fine but the backfoot pivot turn takes a bit of getting used to. The board comes in quite thin to the tail and so you'll need to practice keeping that balance! For those who have some experience will love the responsiveness though. It turns on point, like a dream, taking to the water like a fish.
The fin setup for the Manhattan helps these boards glide by providing optimal tracking. Though a single fin setup isn't as stable as a tri-fin, the point of a touring board is to cover distances smoothly not be able to twist and turn like an all-around. So the only option it has as being a single fin, in this case, is a plus.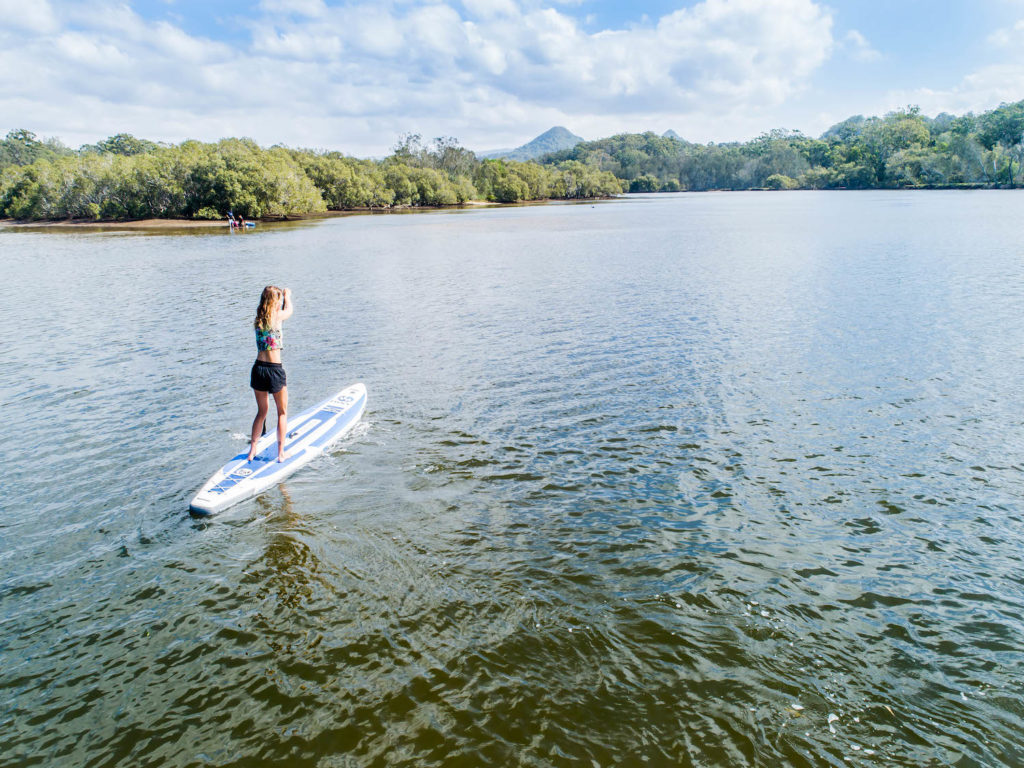 As far as location goes, this board will be great for big sections of open water. It's not going to be the most stable board in choppy open ocean waters though. Otherwise, long winding rivers and big lakes/bays, you'll have a great time! Especially because having on board storage allows you to take everything you need for a great day out! If you do experience small chop/winds, there is some rocker in the nose to help combat it. It's not overly defined but if it was you'd lose some glide! It's enough so that you won't be completely battling in slightly challenging conditions.
Materials
The Manhattan is put together with durable layers of PVC that are machine fused together over a drop stitch core. The fusion allows a board to be light but keep its rigidness and durability. Fusion has a tighter bond than hand gluing layers so you can shed a layer but still have the same results as a board with more that are done by hand. If you were to shed a layer in the hand gluing process you'd likely end up with a board that flexes and isn't as durable.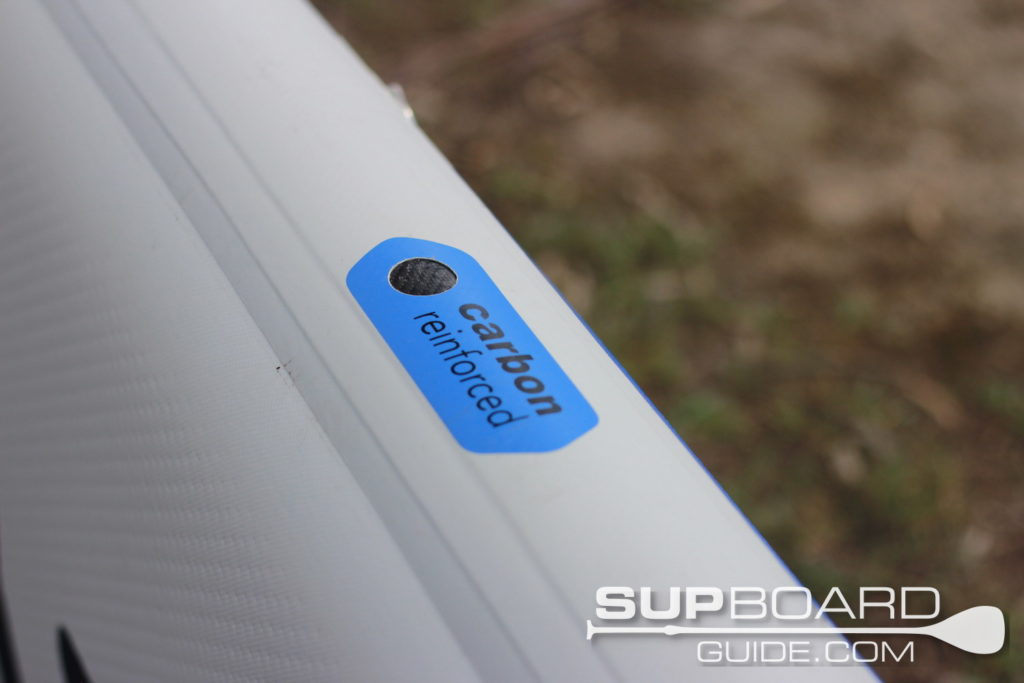 For extra stability throughout the board, NIXY decided to include carbon rails with their 2019 range. It helps with the overall rigidness, therefore, the stability of the board. It also increases the durability of this board as the rails are the most commonly knocked area of the board.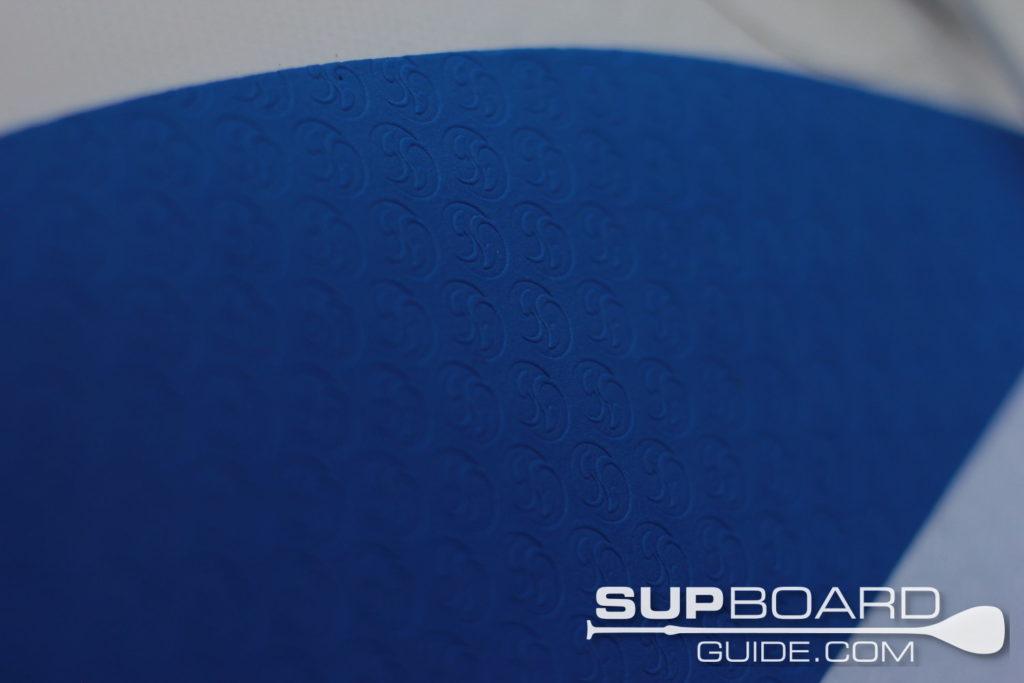 The deck pad on top is stamped with little NIXY logos which helps with traction as well as just being a cool feature. The pad is a foam that's designed to assist in support, comfort, and stability.
Board Design
As I explained in the performance section this board is made for touring. It's got a long, slender body to pick up speed, slight rocker to help combat small amounts of chop/water movement and squared tail to help with stability for pivot turns.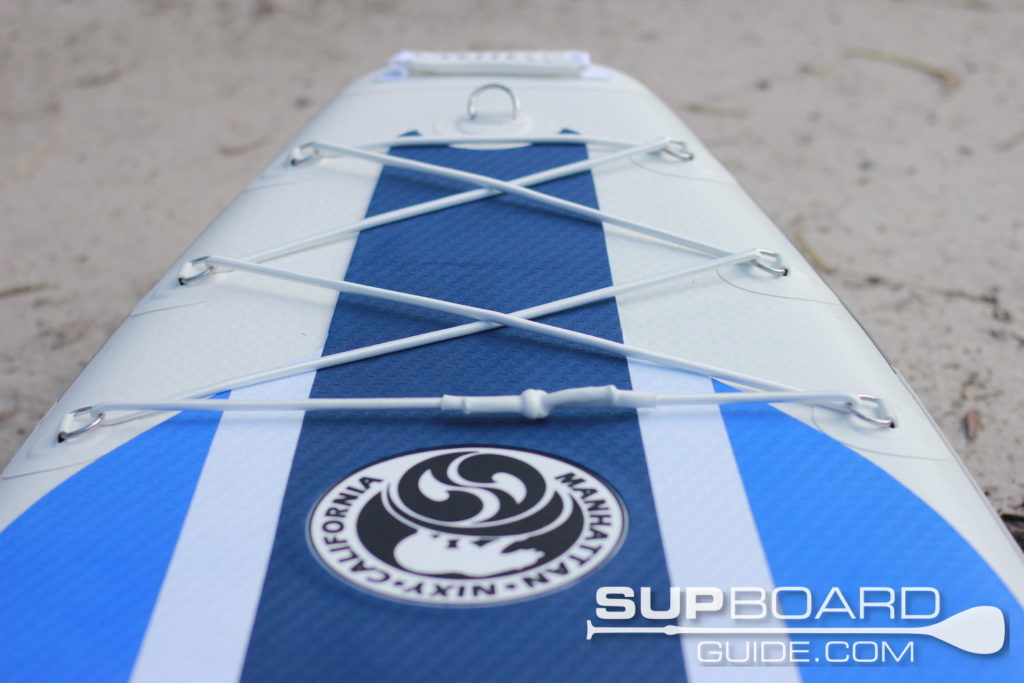 One feature that's a little different is the valve on the nose of the board. Having the valve up front allows you to roll from the tail. Why that makes a difference is because of the fin box. The box can be a really tricky last bit of the roll sometimes but if you start with it, you've got no problem!
While there are 6 D-rings on the tail and 4 more on the nose, I would like to see the ones on the nose spaced out more. It would provide more space for bags/equipment for those long hauls. There are also 4 rings in the middle for a kayak seat if sit down paddling is appealing for you. While there's one more at the tail for your leash and one under the nose for towing/mooring.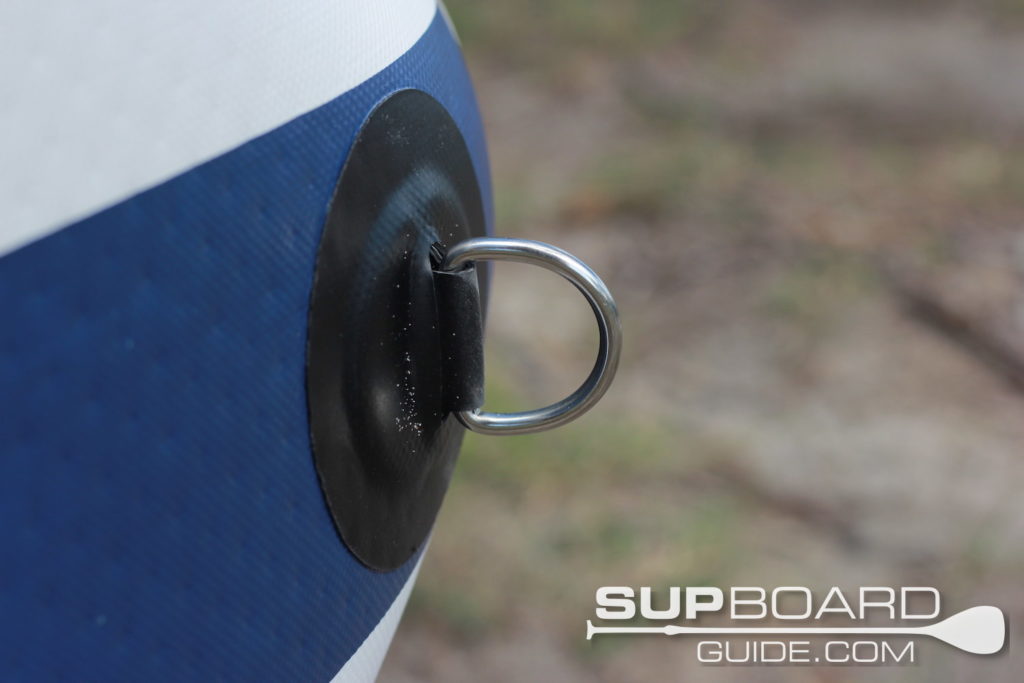 To help move things around you can find 3 handles, one at the nose, tail, and center. Especially useful for such a long board. As far as colors go, you have a choice between red or blue. I like the design, quite a sporty look, and their logo stamp looks very smart too.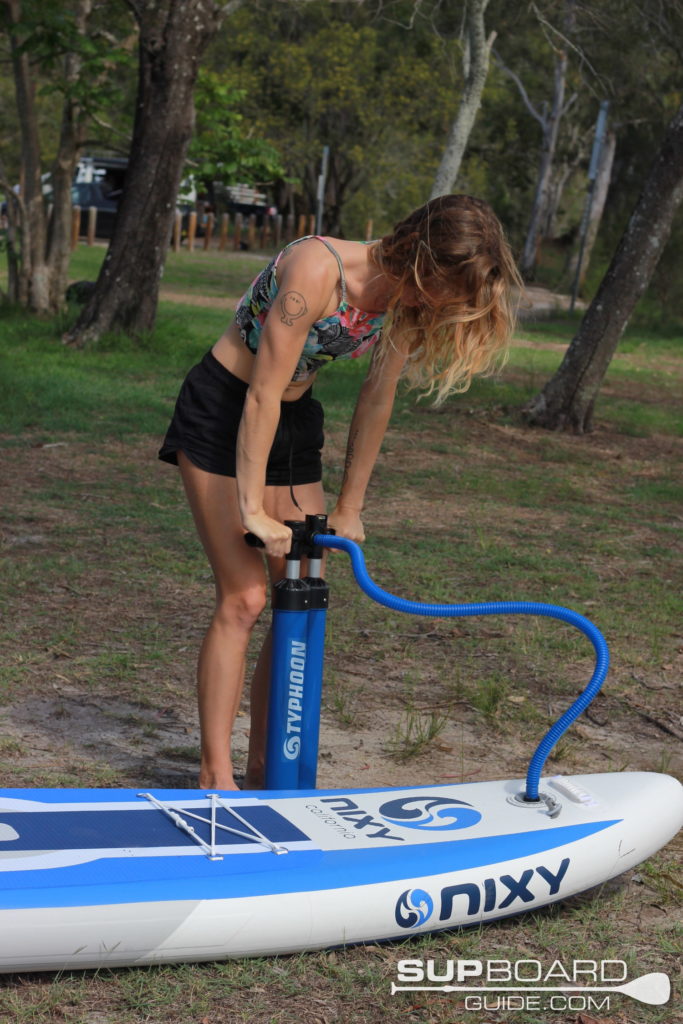 Features
Inflate/Deflate
Now that NIXY includes their double chamber, typhoon pump it makes inflating much easier. Expect to shed a few mins off whatever it takes you with the original single chamber pumps. If you are new to pumping, around the 8 min mark is a good average for most people.
Deflating, you need to open the valve, push the pin in and twist it clockwise. This allows it to remain open and so letting out air as you push and roll the board from the other end.
Fin Setup
A single fin is what you will find on the Manhattan. This fin is a bit tricky to insert but once in, it's not coming out! The US fin box is compatible with many other types of fins including the popular FCS fins. This allows you to tailor your board to exactly what you want. You can get a lower profile fin if you have lots of shallow areas or even something larger and more a Hatchett style if you just want to go straight.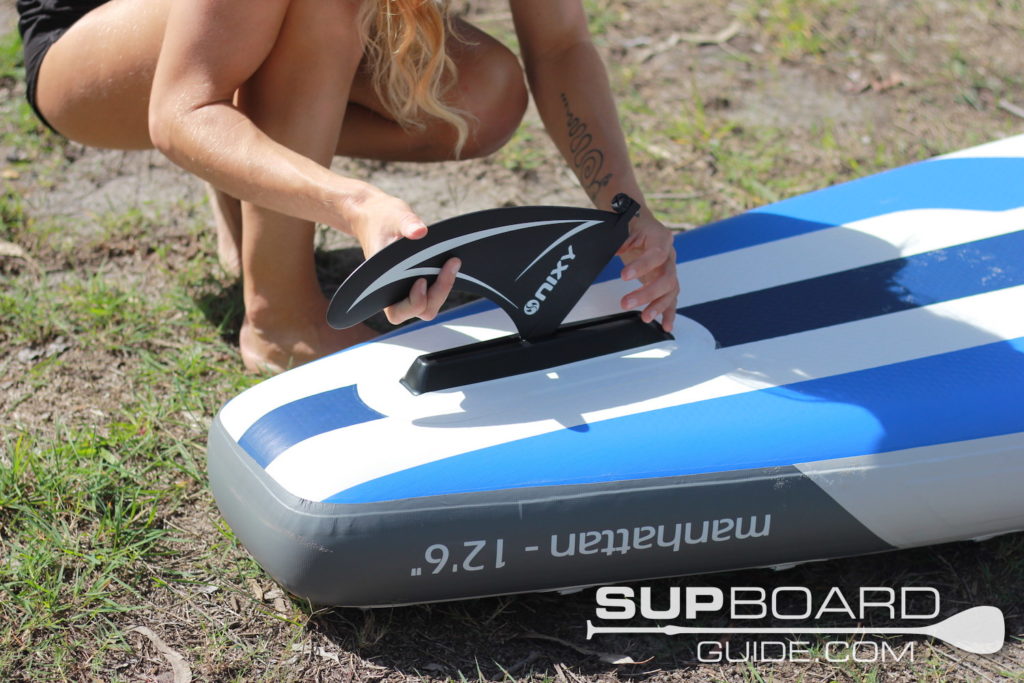 The fin supplied, however, is great! It's made from tough plastic and the dorsal shape helps with tracking as well as turning, a nice balance between the two. It has the NIXY logo imprinted on it to match the rest of your gear too!
Accessories
Paddle
The NIXY paddles are some of my favorite amongst the "included with board" variety. The shaft is fiberglass while the blade is nylon, both quality, and strong materials. What stands out on this paddle is the ridges through the blade. They provide support whilst allowing the rest of the blade to be quite thin which helps with propulsion. Your paddle breaks down into 3 pieces and fits easily in the backpack.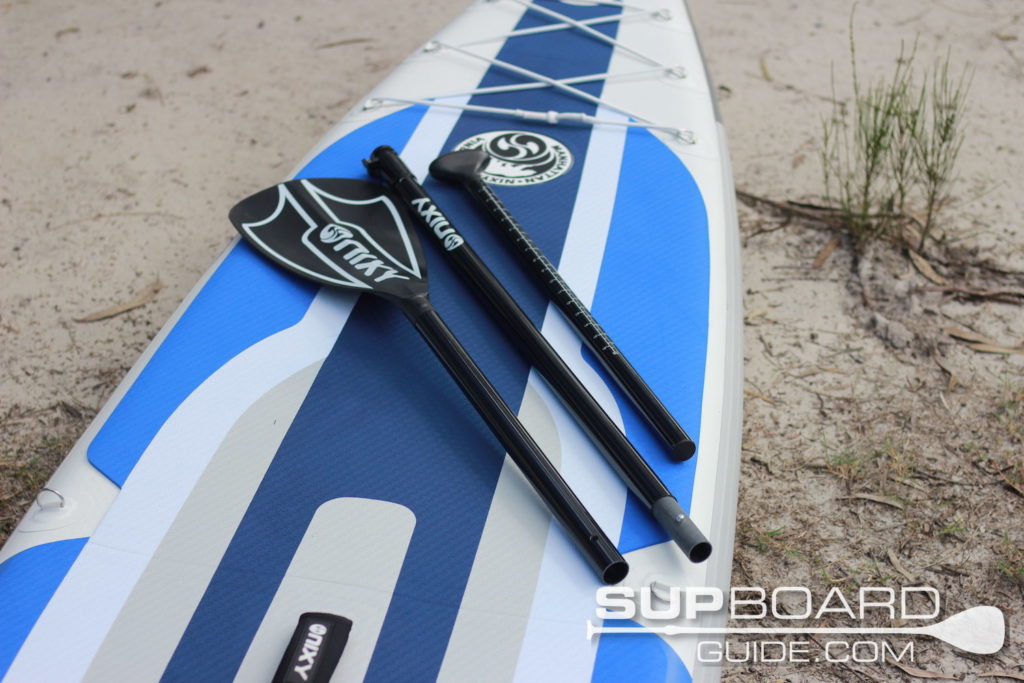 You can extend your paddle from 170cm to 210 cm. To measure your paddle size, stand and raise your arm above your head, curl your fingers over as if they were on holding a handle, then measure from the floor to your knuckles. 210 cm should be tall enough for most riders, but if not, you may need to purchase one separately. Most included paddles don't accommodate for the taller than average.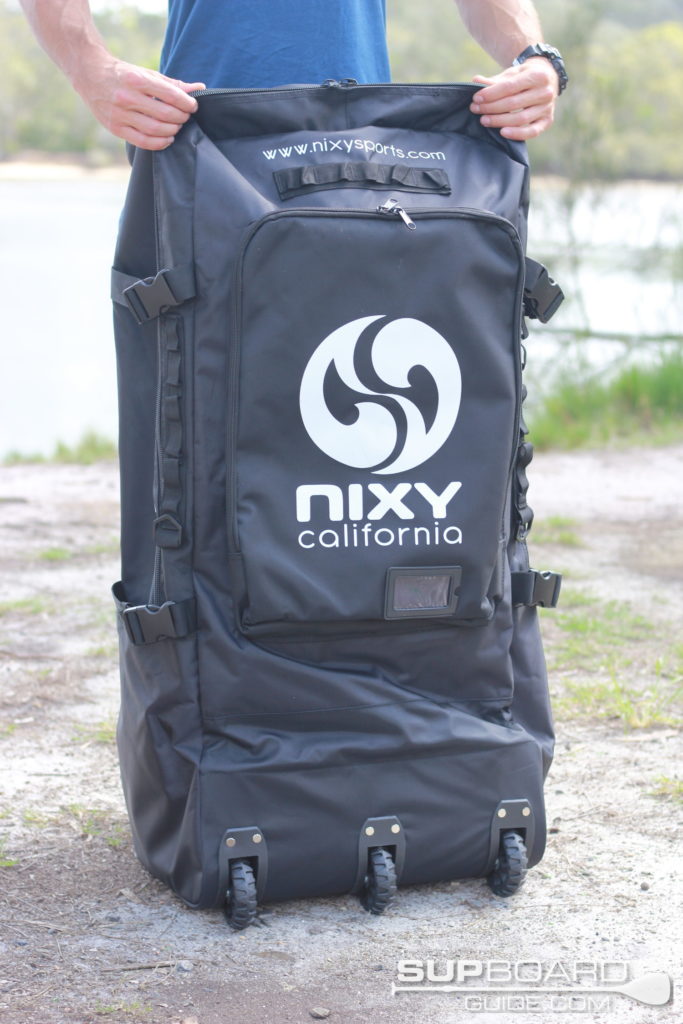 Backpack
Transporting your SUP has never been easier! The NIXY backpack not only has heaps of room to fit everything neatly, but you can also wheel it. Sometimes the terrain may not suit wheeling and in that case, you can carry it as a backpack. I've found the straps to be well cushioned and supportive along with the chest and back straps. There's a breathable mesh on the back too so you won't feel anything poking you and keep the sweaty back at bay!
If you are taking extras like hats etc, there are also additional pockets on the front and sides. While everything else including pump, paddle, fins, should all fit easily inside. There's also a strap inside the bag to keep your board in place. Really good value bag for this kind of price!!
Pump
New to the 2019 board is the Typhoon pump. It's a double chamber, triple action epic piece of equipment. It gets the job done in half the time as previous single chamber pumps and with much less effort. Using the different actions as the resistance increases, allows you to not exert as much effort while the dual chamber saves on time.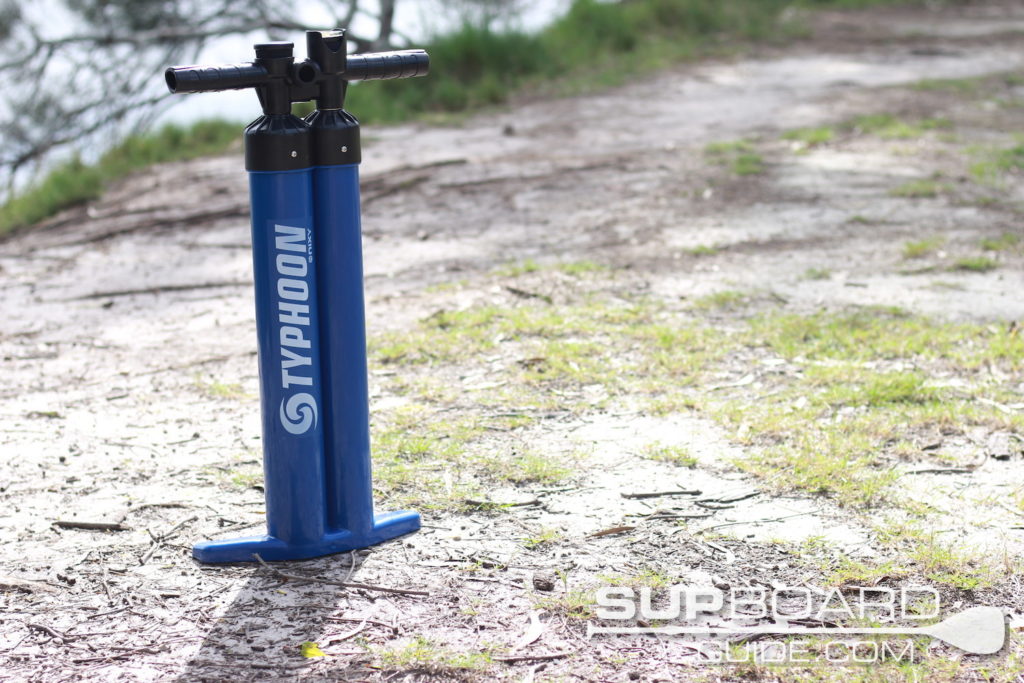 It stores easily in the bag next to your board and doesn't add much to the overall weight of the bag. A little trick, keep a rubber band to secure around the hose for easy storage.
Leash
Using the D-ring at the tail end of the board, you can attach the coiled leash you are supplied. It wraps comfortably around your ankle or calf and will keep you safe in the event of going overboard!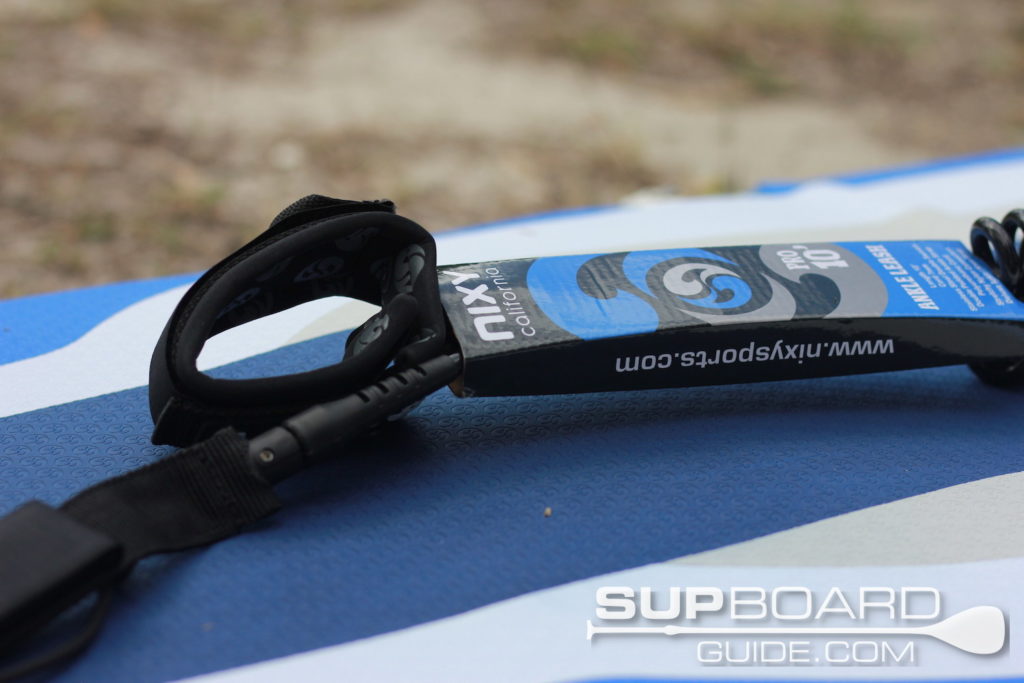 Carry Strap
Each NIXY board conveniently comes with a carry strap. A nice little extra! It goes on one shoulder and across the other and is quite comfortable! It's particularly helpful for shorter riders or if you need to carry things.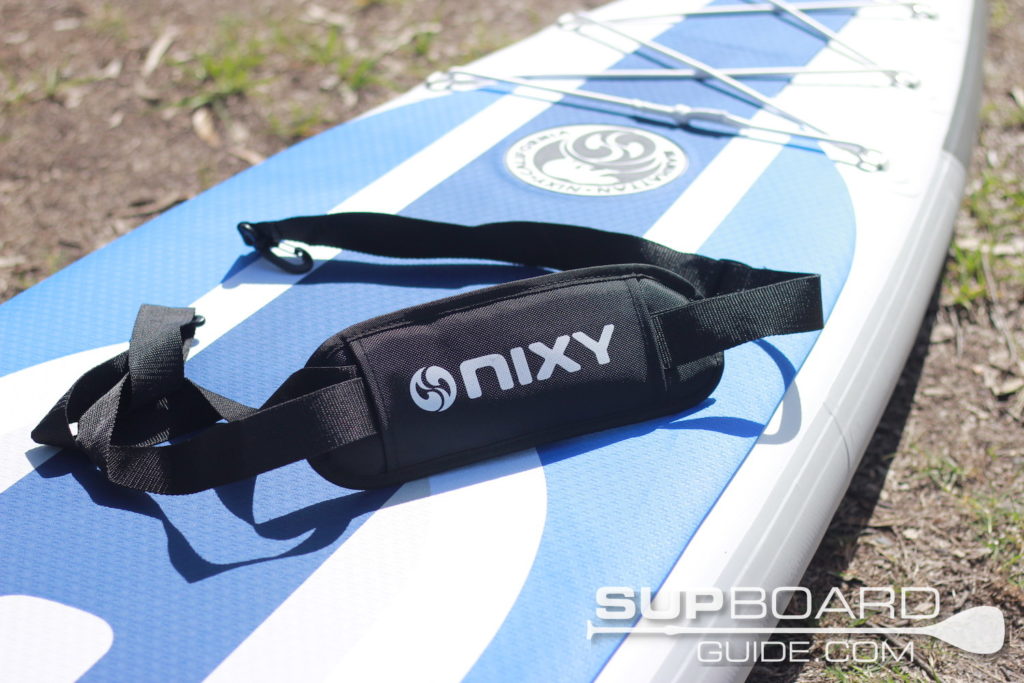 Repair Kit
Inside the kit, you can find patches and a grey tool. The valve tool is there to tighten or inspect your inflation valve for debris. While the patches are for abrasion or punctures, you just need to get yourself some glue.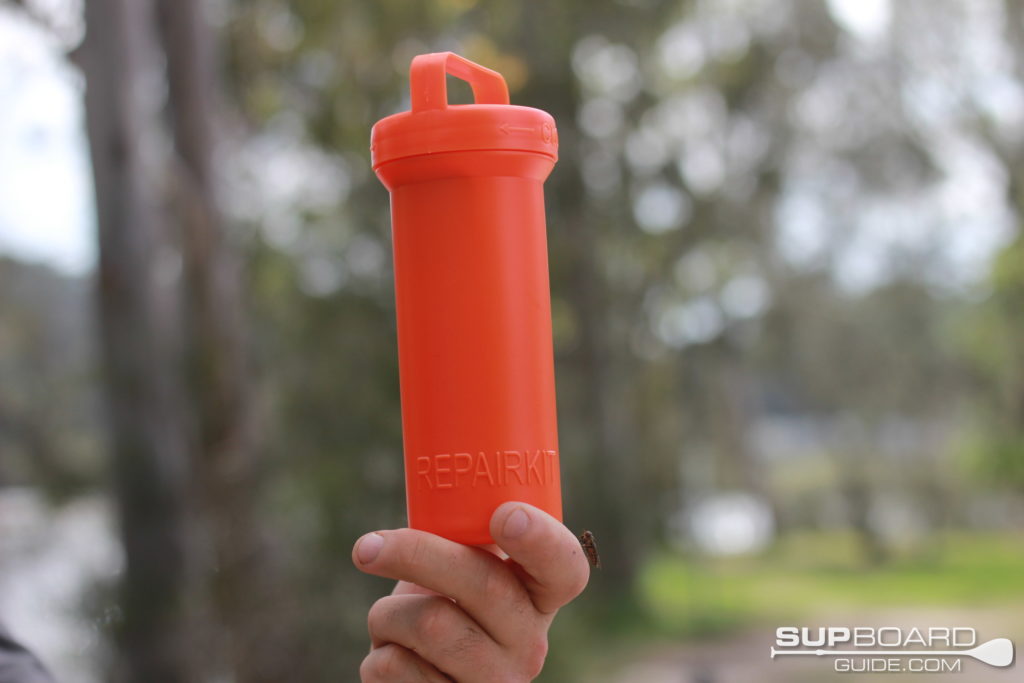 EXTRAS
NIXY Electric Pump
The NIXY compressor is able to hook up both to your car battery as well as plugging into your cigarette 12V port. It inflates most boards in about 10 mins. Simply set the PSI you want to go to and then spend the time doing more important things like enjoying your morning coffee! A compressor is the first SUP investment you should make and the NIXY one, in particular, is a pretty good one, so why not splash out!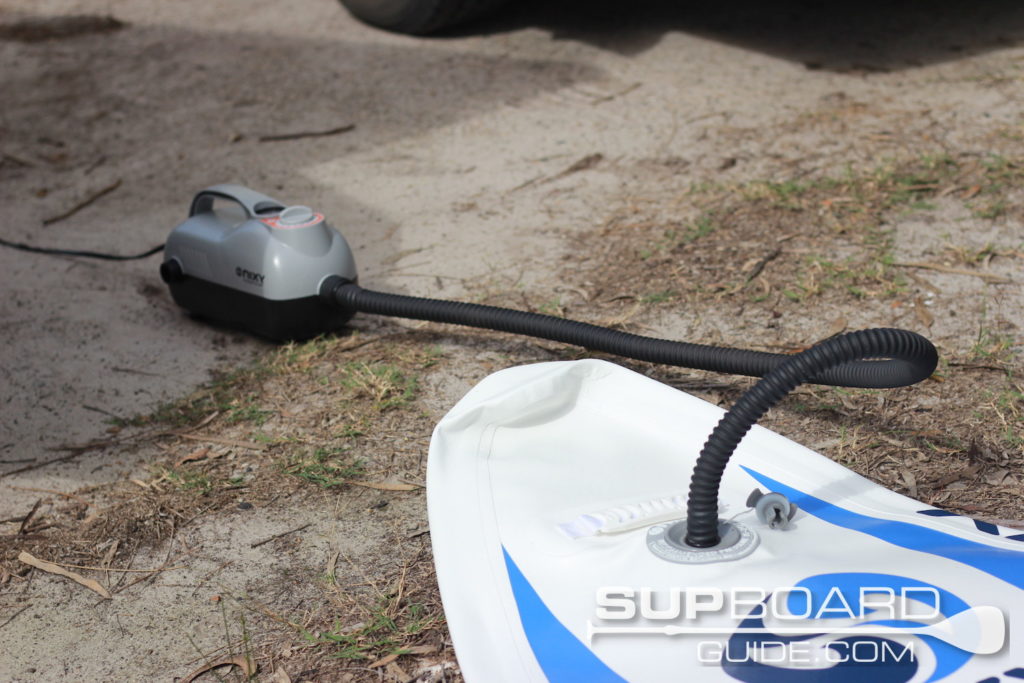 NIXY Kayak Seat and Blade
If you want to get versatile with your Manhattan you can order the kayak bundle. You'll receive a seat that attaches to the D-rings in the middle of the board and an extra paddle blade. All you need to do for the paddle is take out the handle from your existing paddle and replace it with the extra blade. It's a great way to change things up if you are regular paddler looking for a new perspective!
Conclusion
The Manhattan is a fun touring board for many types of paddler. I believe it's still stable enough for beginners, it won't be super stable straight away but it's not so narrow you won't get a hang of it quickly. For the intermediate and above you'll absolutely love how responsive it is in the tail and how well it holds some glide.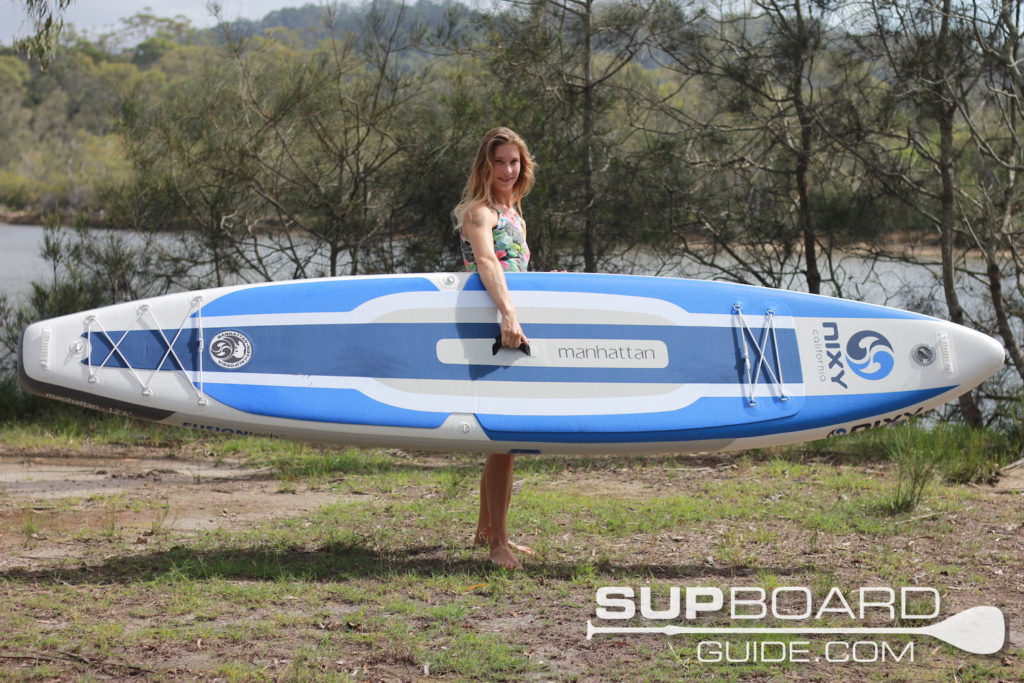 Those looking for something that's a bit more stable and has more versatile use the NIXY Newport or iRocker All-Around are both great options. Those who are sold on wanting a touring board but the Manhattan hasn't taken your fancy and you want one in this price range then take a look at the Thurso Surf Expedition, as another option. Just note it's not as beginner friendly.
NIXY boards have a 2-year warranty as well as a 30-day money back guarantee. Started as a family business off the back of having a SUP lifestyle, the boards reflect their passion. Made to last, be a bundle of fun and come in all sizes and shapes for all types of paddler.
The following two tabs change content below.
Evelyn is a paddle boarder from Long Island. She's competing in SUP races ranging from 6 to 24 miles. She's a certified SUP instructor and offers SUP clinics in Long Island. She also owns Standupjournal.com and serves as the Regional Director in the SUP division of the International Surfing Association. She's also a Yoga instructor and sponsored by brands like Starboard and Kialoa.
Latest posts by Evelyn O'Doherty (see all)