Red Paddle Co 12'6'' Sport
Pros
Excellent inflatable touring board with impressive tracking and glide. The drawn out nose really helps you paddle through the water instead of over it.
MSL fusion + Tec Air provides for a solid board with a balanced weight that is easy to carry and paddle in all conditions.
5.9" thickness increases weight capacity and rigidity, while still feeling like you glide through the water vs gliding on top of the water like some 6" inflatables.
Removable RSS Batten system really improves rigidity and firmness. This also allows for a much easier time folding the board up compared to boards with pre-installed carbon rails. Also easy to install!
Super grippy 'Red' deck pad. Smooth texture in the center, with diamond groove tail pattern for extra grip when turning.
Titan pump, all-terrain backpack, and FCS II fin are all fantastic accessories included with the board.
Cons
Really the only 'con' we have is that you have to pay extra to add a paddle to your SUP kit. However, this also allows you to choose the paddle that suits you best instead of having to pay for a kit, one-size-fits-all paddle.
We'd like to see just a few d-rings towards the back of the board so those who want to load up with extra cargo can do so.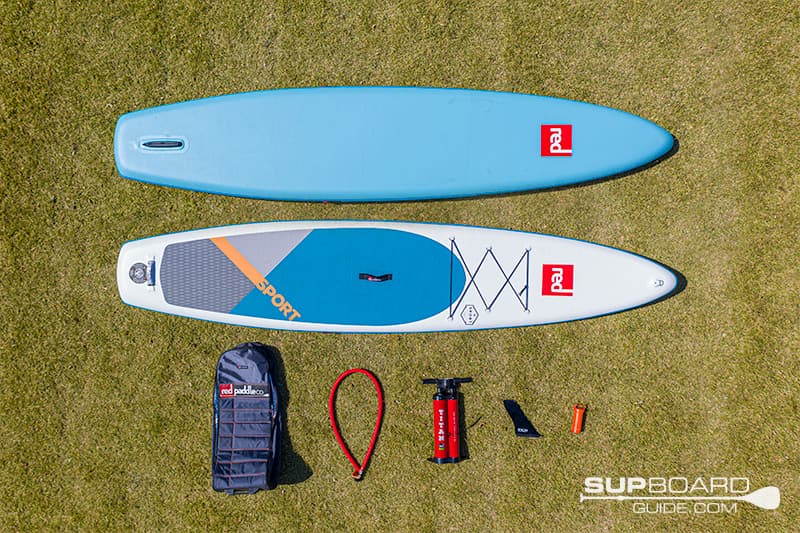 The Red Paddle Co Sport 12'6'' is a true high-performance inflatable touring board, built for those who want a SUP with superb tracking as it cuts through the water. In fact, the 12'6" Sport is the personal favorite of Justin, one of our testers, here at SUP Board Guide. He finds this board strikes the perfect balance of tracking, glide, and overall performance for touring across flatwater situations and sees himself gravitating towards this board any chance he gets. This board is both quick and nimble, building and maintaining its speed well, and being easy to maneuver despite its long length. The MSL fusion and Tec Air construction make this a solid and stable board as well, and is further enhanced with the easy to install glass-fiber RSS removable rods. The 'Red' hybrid deck pad offers great traction support and a cozy deck for long distance paddling, with good accessory compatibility to satisfy most paddlers. We also love the included Titan manual pump, the rock solid FCS II fin, and the very well put together roller backpack. This is a truly premium paddleboarding kit, the 2020 Red Paddle Co 12'6'' Sport providing one of the best touring experiences out there for an inflatable SUP.
SUP Board Specs
| | |
| --- | --- |
| Length | 12'6'' |
| Width | 30'' |
| Thickness | 5.99'' |
| Weight | 23.54 lbs |
| Rider Capacity (lbs) | 330 lbs |
| Recommended Inflation | 18-25 psi |
| Fins | Single standard US fin box, FCS II Fin 9'' |
| Paddle Type | No included paddle |
| Construction | Tec Air + MSL Fusion |
Who Should Buy This Stand Up Paddle Board:
Touring boards are built for those who want to engage in long distance paddling. However, we believe there are other types of paddles who will quite enjoy the 12'6'' Sport as well. This includes the following:
Inexperienced paddlers who want a fantastic touring board they can work their way up in learning how to use.
Intermediate to advanced paddlers who prioritize tracking and glide, but also want a good mixture of stability and maneuverability as well.
Heavier paddles who want a narrow board that is also capable of supporting larger weights.
Touring enthusiasts who need a grippy but soft deck pad for their multi-day adventures.
Hikers and adventurers who want a premium SUP experience in a board that is light enough to travel long distances with.
Those looking for an innovative board that has gone through extensive research and development
Fans of Red Paddle Co, and those who want a SUP from a well respected company with extensive warranty protection.
Due to the weight and build of the 12'6'' Sport, you can take his board almost anywhere and have a blast. The 12'6'' Sport can be taken to the following water environments as follows:
Flat water conditions such as lakes, bays, and marianas for the best performance.
Wide open and long water settings with some wind and chop, such as the coast line, with only a bit of performance loss.
Ocean paddling. You can even ride some longboard style waves with the 12'6'' Sport, or just explore the vast blue sea.
Performance
Stability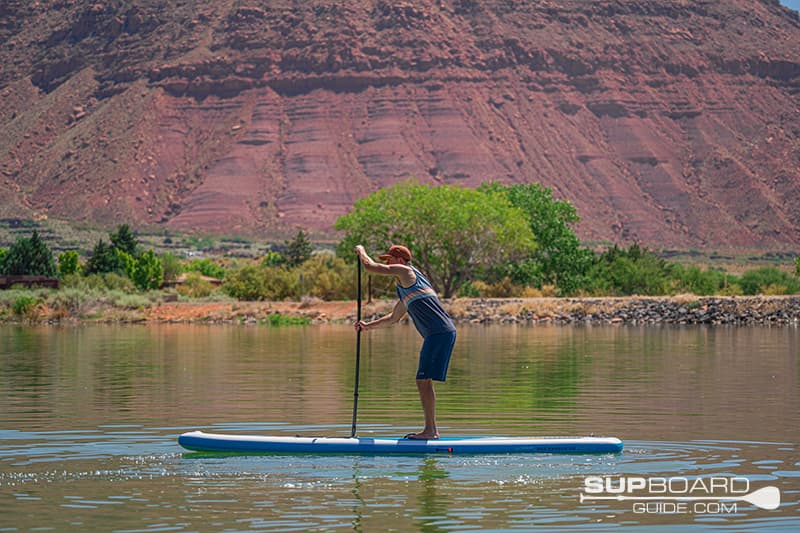 While not a particularly wide SUP, the 12'6'' long Sport is stable enough to support any solo adult paddler due to its length, 6'' thickness, and excellent MSL build. Beginners will be able to quickly find their footing and adjust to being on the water, while more experienced paddlers should feel steady on the board in calm and rougher waters alike. Something that further helps with the stability of the board are the RSS rods, or rocker stiffening system. The more firm and rigid a board is, the more stable it will feel while you're paddling, and these glass-fiber rods do just that by increasing the stiffness of this board by 40%. Overall, this is a stable enough SUP for all solo paddlers, with some more experienced paddlers able to bring out a kid or pet with them as well.
Maneuverability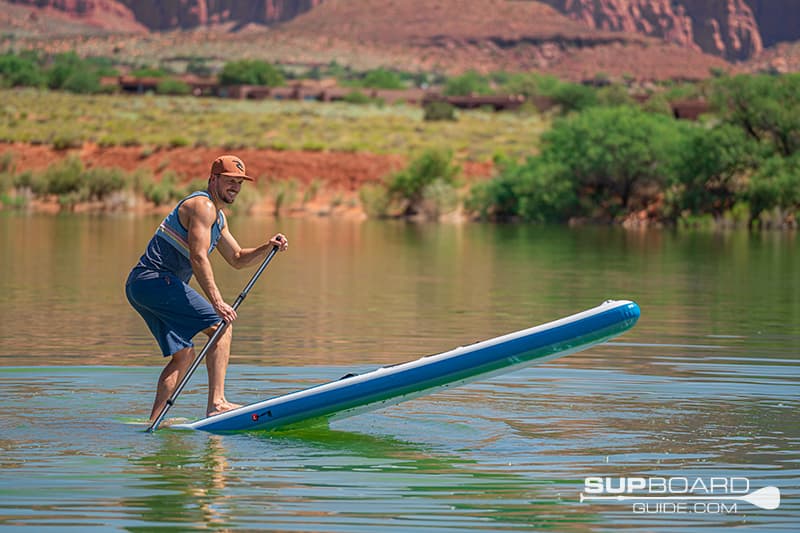 Touring boards are typically not the easiest to turn, and at 12'6'' long this version of the Sport is no exception, though with a simple trick you can still pivot and quickly change directions when needed. By moving a foot to the tail section of the Sport, or the diamond grooved portion of the deck pad, you can press the tail of the board into the water to raise the nose like you see above. Once the nose is in the air, you can use your paddle to pivot on the spot, turning whichever direction you want to go with the touring board. Mastering the step-back turn will make you very maneuverable with the 12'6'' Sport. With just a few extra strokes you will notice you are much more capable of turning towards your desired direction than if you were to use a sweeping stroke to complete the same task.
Tracking/Glide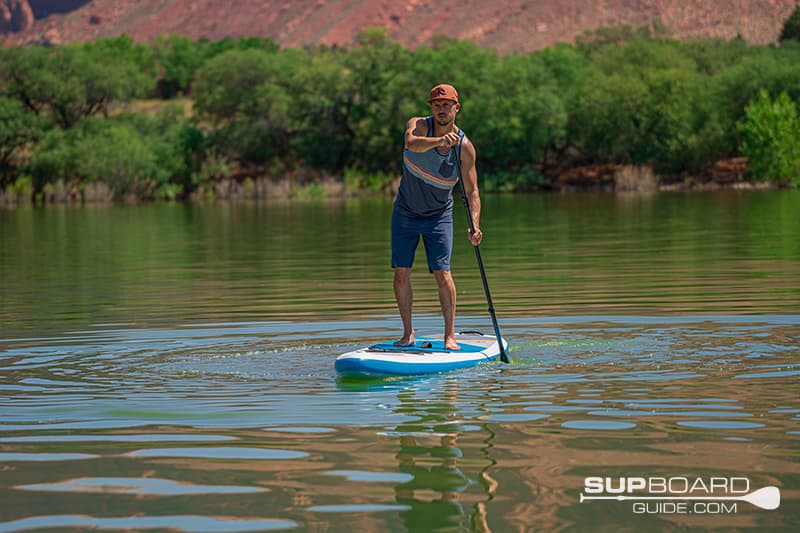 The tracking and glide is not only the best feature on the 2020 Sport 12'6'', but was one of the most fun and steady boards that we've had the privilege to paddle. In terms of tracking, we were able to paddle entirely from one side of the lake we test at to the other without having to switch the side we paddled on. The 5.9'' thickness and drawn out pointed nose also work together to help you cut and glide through the water than just float over it like most traditional inflatable SUPs. The MSL construction and RSS rods also just help the board have that nice firm feel that makes the inflatable more akin to a hardboard, further improving the paddling experience. Overall, it's a blast to paddle on the 12'6'' Sport, and a board we can't wait to take out and try again.
The tracking is already impressive on its own, but it can be enhanced even further with the included 9'' FCS II center fin. This fin is very easy to install and makes the great tracking even better. We do recommend being careful paddling in shallow water as this could cause you to scrape or damage the fin against the ground.
Materials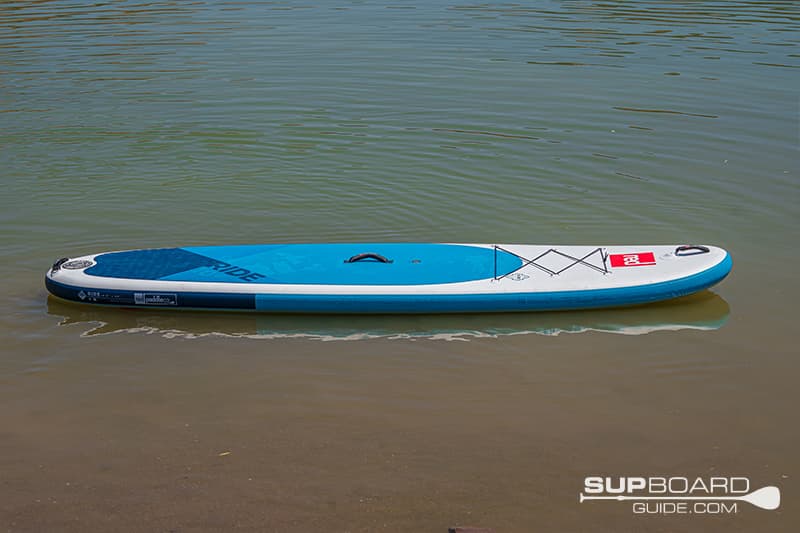 Red Paddle Co constructs the 12'6'' Sport with a combination of Tec Air and MSL construction. Tec Air construction refers to their high quality drop-stitch core building method, which is made up of sheets of fabric that are bound together with thousands of threads. As air is pumped into the drop-stitch core, it expands like a traditional inflatable but develops an inflatable shape like you see above due to the short internal threads going taught.
To protect the drop-stitch core, Red Paddle Co uses MSL, or Monocoque Structural Laminate, to safeguard the core and provide an additional layer of structural support. A layer of adhesive is directly applied to the drop-stitch core, acting as both a seal and a bonding layer for the high density PVC coating that is machine laminated to it. The PVC coating is strong, resilient, and firm enough that Red Paddle Co has driven 24 ton road rollers over their paddleboards without damaging them. As such, you will have an incredibly difficult time damaging the Sport 12'6'', which should resist common drops, crashes, and other normal SUP accidents with no structural or performance damage. This is a paddleboard that will last you a lifetime and is well worth the investment for those who want to avoid upgrading every few years.
Board Design/Shape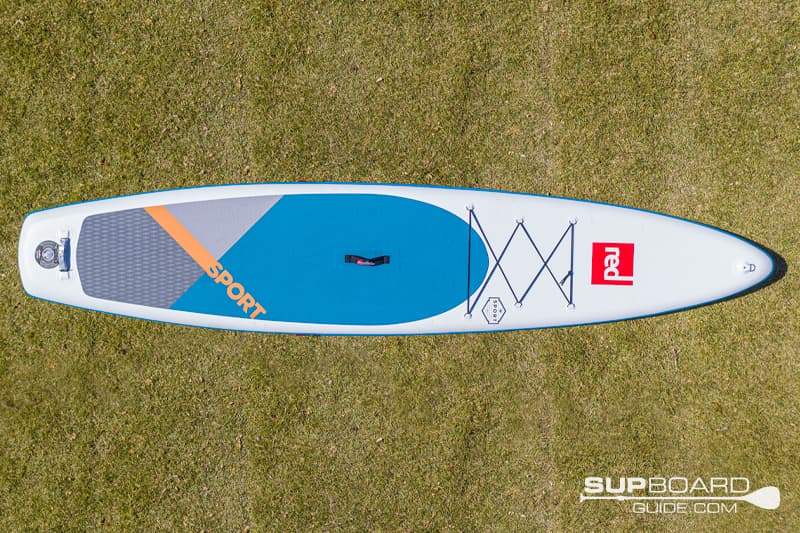 The Red Paddle Co Sport is primarily a touring board, though it's design also makes it well suited for some SUP racing as well. The 12'6'' length and drawn out, more pointed nose makes it very easy to maintain a straight and steady course on the long touring board, even with a beginner paddling form. The 30'' wide deck and 5.9'' thickness is narrow, making this a fast paddleboard but also one that does have the structural stability to support any adult sized paddler. Installing the removable RSS glass-fiber rods before going out will further improve the stability and firmness of the board, and make it better able to handle chop and wind while you're paddling. Outside of touring and racing, the speed and ease of paddling with this board make it a fun option for some light cruising, especially given the well designed 'Red' deckpad.
Board Features
There are some other great features that further make the 12'6'' Sport a fantastic SUP, some of which you might not notice at first glance. Some features we wish to highlight include:
RSS rails: The rod stiffening system, or RSS, is an easy to install rail enhancement system that makes the board more firm. Generally, the more firm and rigid a board is, the better overall stability and performance it will have. With the RSS installed, your board will be 40% more firm than it is without it, and improves the rigidity without massively increasing the board weight. We think the RSS is fantastic, and found it took just seconds to install before heading out on the water.
Tec Air/MSL construction: The 12'6'' Sport definitely feels like a premium board, and will withstand the common injuries and accidents that befall paddleboards when you're on or off the water. Outside of the great build, we also love the look of the board, from the bright color scheme to the clean look that the SUP has. It's a great build, and will definitely last you long past the warranty with even just a little bit of care.
7 D-Rings + Action Mount + Removable Bungee Cargo System: The D-rings are compatible with many clip-on accessories for SUPs, while the action mount will secure GoPro cameras and other electronic device mounts to your board. The medium sized removable cargo bungee area works well with coolers and other similarly sized containers, fastening them and ensuring they won't roll off while paddling.
Triple carry handles: The three carry handles are located on the nose, center, and tail of the paddleboard. All three carry handles are made with neoprene, which will prevent chafing and skin irritation when grabbed with soaking wet or cold hands. Solo paddlers will be able to lift the Sport with ease, besides being able to use the nose and tail handles as tug points or a way for a partner to help them carry the board.
'Red' hybrid traction pad: Red Paddle Co's 'Red' deck pad is a fantastic combination. The main portion has a softer texture that balances grip with a comfy base to stand on, while the tail section has a diamond grooved pattern that is rougher but also provides greater traction support. The EVA foam deck pad is well built to withstand the water, and will dry and drain quickly when wet.
Fins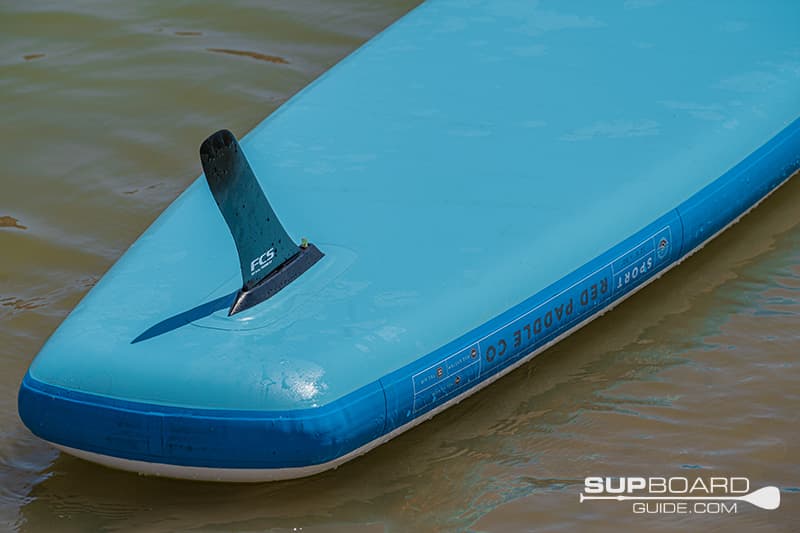 Included with the Red Paddle Co Sport 12'6'' is a single, 9'' FCS II fin that fits into the standard US fin box. The standard fin box is built to be compatible with a wide range of fins, allowing you to fine tune your performance depending on what you want to do with the 12'6'' Sport. As for the included fin, using it will improve the overall tracking of the Sport, and is built with a very durable glass flex. This fin will have little trouble cutting through weeds and other debris in the water, though be careful not to use it when paddling in shallow rivers that don't have at least a 9'' depth.
Traction Pad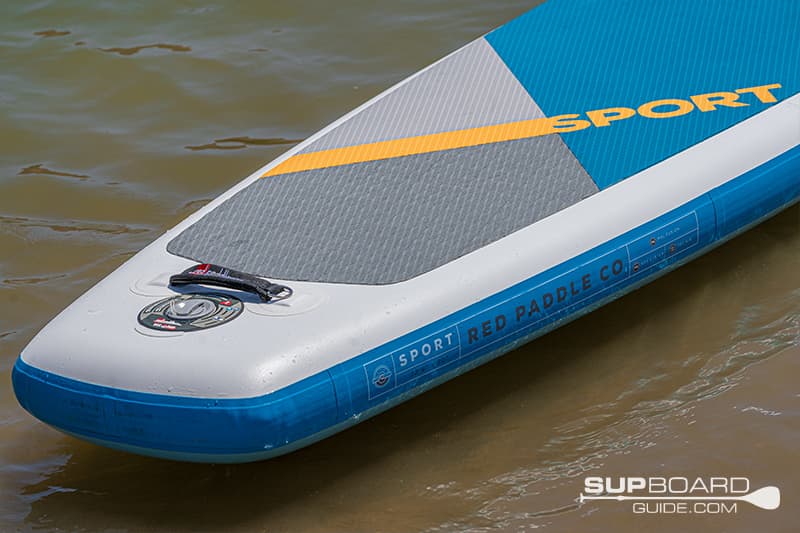 The super grippy, well designed hybrid deck pad is another great aspect of the 12'6'' Sport. The 'Red' deck pad, as it is called by Red Paddle Co, is made with high quality EVA foam, the same material used in most common yoga mats. The EVA foam is soft enough that you can stand on it all day long without irritating your feet, while also having a deck pad that drains and dries quickly when wet. The center portion of the Sport has a basic texture for improved grip, but the best traction support comes in the tail section due to a diamond grooved pattern. With this hybrid setup, you have the balanced grip and softness you want while paddling, with the added traction support located where you need it most when making a turn.
Handles
The Sport 12'6'' has a tri-handle setup that will allow you to easily carry the board or tug it on the water if you're going out with friends. All three handles are soft and cushy, featuring neoprene covers that make it comfortable to hold and prevents skin irritation when held with cold or soaking wet hands. As for the handle locations, there is a center handle if you need to carry the board solo, and handles located on the nose and tail for tandem carrying. There is also an action mount attached to the nose and a D-ring on the tail handle for additional accessory compatibility, which you can read about next.
D-Rings/Bungees/Cargo Areas
The 12'6'' Sport has seven D-rings, six of which form the forward bungee cargo area and the final ring on the tail handle, which is great for attaching your leash to. As for the front six D-rings, they are compatible with many common SUP accessories, including the packed in cell phone case, dry bags, and more. Outside of the D-rings, there is also an action mount attached to the nose handle that will let you attach GoPro cameras and many popular electronic device mounts to your board. Between the D-rings and the action mount, most paddleboard accessories are fully compatible with the 12'6'' Sport, though we would like to see a few D-rings in the center or back for even greater accessory compatibility.
There is also a single, medium sized removable bungee cargo area on the nose of the paddleboard. This bungee system will help you secure most common coolers, lunch containers, and other small to medium sized containers to the deck of your paddleboard. The bungee system is also easy to remove as well, though is located far enough on the paddleboard that you shouldn't ever trip on it while paddling. With a few more D-rings, we would like to see another, smaller bungee system added to the tail for those who love to bring cooler seats or extra gear out with them for extended touring expeditions.
Accessories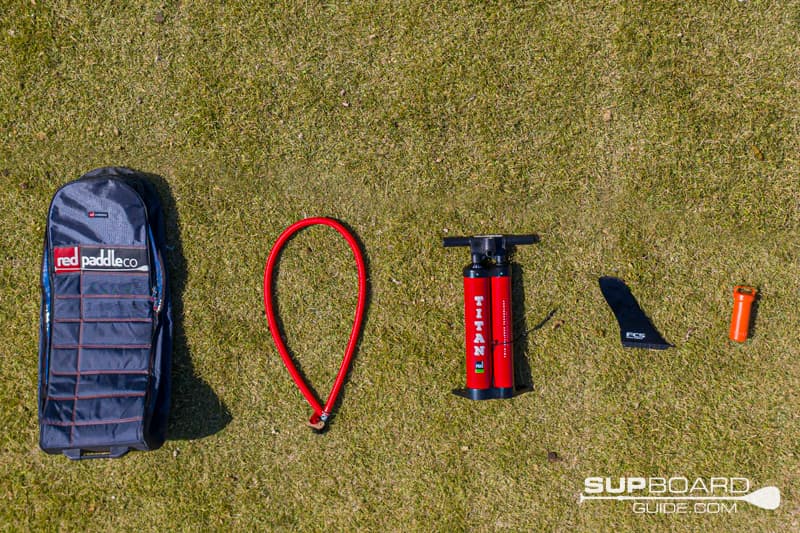 Paddle Options
Our only major negative when it comes to the Red Paddle Co 12'6'' Sport package is that it doesn't come with a paddle. Red Paddle Co does produce some awesome paddles though, each of which work well with the 12'6'' Sport if you would like to buy a matching paddle. From the Alloy Nylon paddle to the ultra lightweight Carbon 100, any of the paddles from Red Paddle Co will be good choices for those who want a great paddling experience.
Alternatively, if you are interested in buying the Sport 12'6'', we would recommend purchasing it through Pumped UP SUP due to the discounts that they provide. With the Spot 12'6'', you can add a hybrid carbon three piece 28 ounce paddle for just $99 dollars, or a two piece 25 ounce version for $129. These ERS paddles have carbon fiber shafts with reinforced nylon paddle blades, and are both easy to assemble and highly adjustable to fit nearly any paddler height.
If you would like help in finding a paddle that goes well with the 12'6'', be sure to leave a comment below or send us an email to hear more of our paddle recommendations!
Pump
Red Paddle Co has included their fantastic dual-chamber, triple-action Titan pump with the 12'6'' Sport, the Titan pump being one of our favorite manual pumps on the market. The instructions for using the pump are printed on the body of it, and are easy enough to follow that even first time paddlers should be able to inflate their board in ten to fifteen minutes. This pump is very well put together, and is also compact enough that you won't have any trouble storing it in the included Red Paddle Co backpack. We really mean it when we say that this is one of the best manual pumps out there!
Backpack
The all terrain Red Paddle Co backpack is a great inclusion, offering solid protection for your equipment while keeping it organized and easy to carry. The outside of the bag is made up of strong bonded nylon held together with double stitched seams, offering great protection against sand, water, and wind alike. The interior of the bag has foil lining, which will keep the inside cool and protect your gear against overheating damage when you take your gear out to hot, sunny environments. Apart from the large and roomy interior, there is also a paddle storage system, allowing you to secure your two or three piece paddles and keeping them from scratching the 12'6'' Sport.
When it's time to carry the backpack, you will find that the straps are fully adjustable to fit most common adult heights, the backpack also having a velcro system for storing the straps when not in use. Short distance carrying is a breeze as well, between the sturdy top carry handle and the integrated wheels. These wheels are built into the bag in such a way that even if you leave the backpack straps out, you won't have to worry about them getting tangled up. Inside and out, this is a well-built backpack, and another wonderful inclusion with the 12'6'' Sport.
Leash
The included 8'' coiled leash ensures that your paddleboard will stay near you, even if you fall off of it in fast moving water. The leash is easy to put on as well, as you attach one end to a D-ring and the other to your ankle or thigh. Just be aware that while the leash will keep your board close, it will not help you float any better. Always go out with a PFD, even in shallow water, to stay safe while paddleboarding!
Repair Kit
There are two types of items in the orange repair kit, the first of which are some patches that will help you seal small tears and holes that do not occur on the seams of the 12'6'' Sport. Also included is an inflation valve wrench, which you can use to adjust the Halkey-Roberts inflation valve if it ever comes loose.
For more significant board damage or performance issues, be sure to contact Red Paddle Co for help.
Optional Accessories
Red Paddle Co has an extensive lineup of hats, t-shirts, and apparel options that will make you look as cool as your paddleboard when you're on the water. Additionally, there are also a number of other SUP accessories that you can add on to your order that will improve your paddling experience. Some of our favorite Red Paddle Co add-ons include:
'Red' original waterproof SUP deck bag.
'Red' insulated stainless steel water bottle.
'Red' quick dry microfiber towel.
'Red' waterproof soft dry bags, coolers, and dry pouches.
'Red' cargo net.
Company Review – Red Paddle Co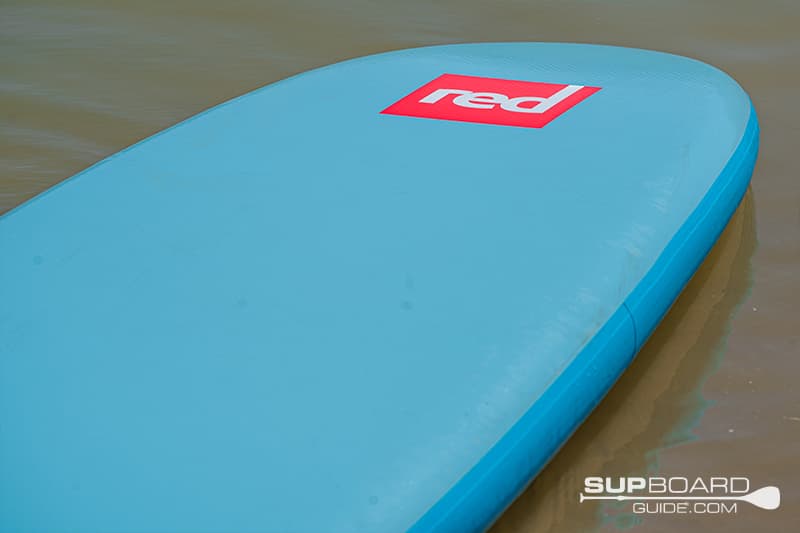 Founded in 2008 by John Hibbard, Red Paddle Co was created with the goal of developing inflatable alternatives to the bulky, heavy, and hard to transport hard paddleboards on the market. The result of years of hard work is Red Paddle Co's fantastic lineup of premium inflatable paddleboards, with over twenty-five different models available for 2020. With a lineup of SUPs that include all-around, racing, yoga, wind-surfing, and other specialized paddleboards, Red Paddle Co has something to offer everyone. Red Paddle Co SUPS are also built with environmental friendliness in mind, with their factories producing zero waste through their focus on long lasting, reusable and recyclable materials.
The Red Paddle Co 12'6'' Sport is built to survive most common SUP accidents, the Tec Air and MSL construction combined together for an extremely sturdy paddleboard. If something does go wrong, the 12'6'' Ride has a great 5-year warranty that covers most defects and injuries outside of normal wear and tear. To receive the 5-year warranty, you must remember to register your board online within the first three months of purchase, or you will only receive a year warranty from the initial date of purchase. This warranty is also extended to all authorized Red Paddle Co retailers, which includes PumpedUpSup and the links posted on their website.
With an awesome lineup of paddleboards and great product coverage along with a wonderful support team, Red Paddle Co is one of the best paddleboard manufacturers on the market!
Conclusion/Bottom line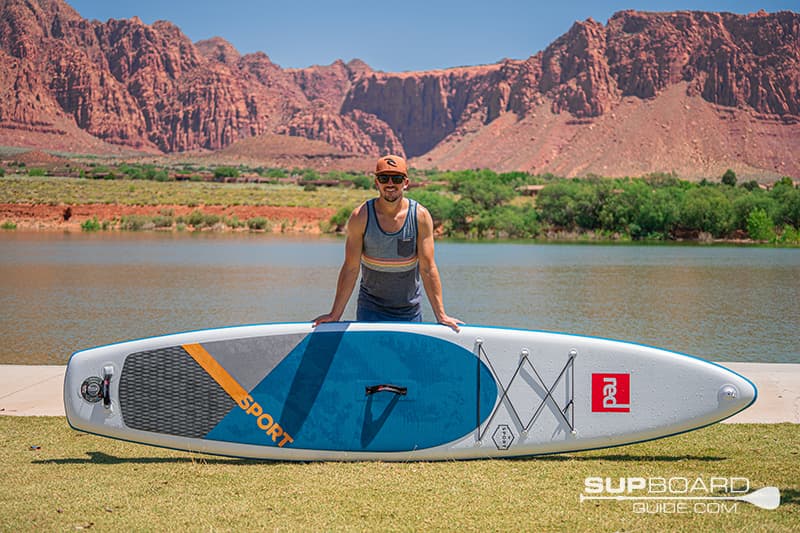 The price tag may be a turn off for some, but in our opinion the Red Paddle Co 12'6'' Sport is worth every dollar and then some. This is a fantastic touring board, with impressive tracking and a fun glide that made every second out on the water an enjoyable experience. The board offers good stability support so that beginners and advanced paddlers can feel comfortable on it, with a customized deck pad and tail design that makes step-back turns a breeze. There are several accessory attachment options that avoid cluttering up the SUP, with superb handles that make carrying the board easy. The other included accessories are top notch as well, from the dual-chamber Titan pump to the great FCS II center fin and all-terrain roller backpack. There is a lot to love about the 2020 Red Paddle Co 12'6'' Sport, and a truly worthwhile choice for those looking for a premium, lightweight inflatable touring board.
Have a question about our review, or want to know more about the Red Paddle Co 12'6'' Sport? Interested in learning how to improve your speed on a touring board, or need ideas of what to bring with you for an extended paddling adventure? Then be sure to leave a comment below or send us an email with your thoughts, as we love talking about everything related to paddleboard water sports. Additionally, we update our reviews based upon the feedback others give us about their paddleboarding experiences, and would love to know what you think of the 12'6'' Sport.
Thank you for reading, and we hope you have a fun time SUPing!
The following two tabs change content below.
SupBoardGuide
Heyo! At SupBoardGuide.com we are a team who love the water, the outdoors, and are more than grateful that our full-time job allows us to review stand up paddle boards. We paddle year round (it helps that we are just about 2 hours outside of Las Vegas), and we bring in a wide range of paddlers with the goal of providing our readers with the best, most in-depth, and accurate stand up paddle board reviews.
Latest posts by SupBoardGuide (see all)