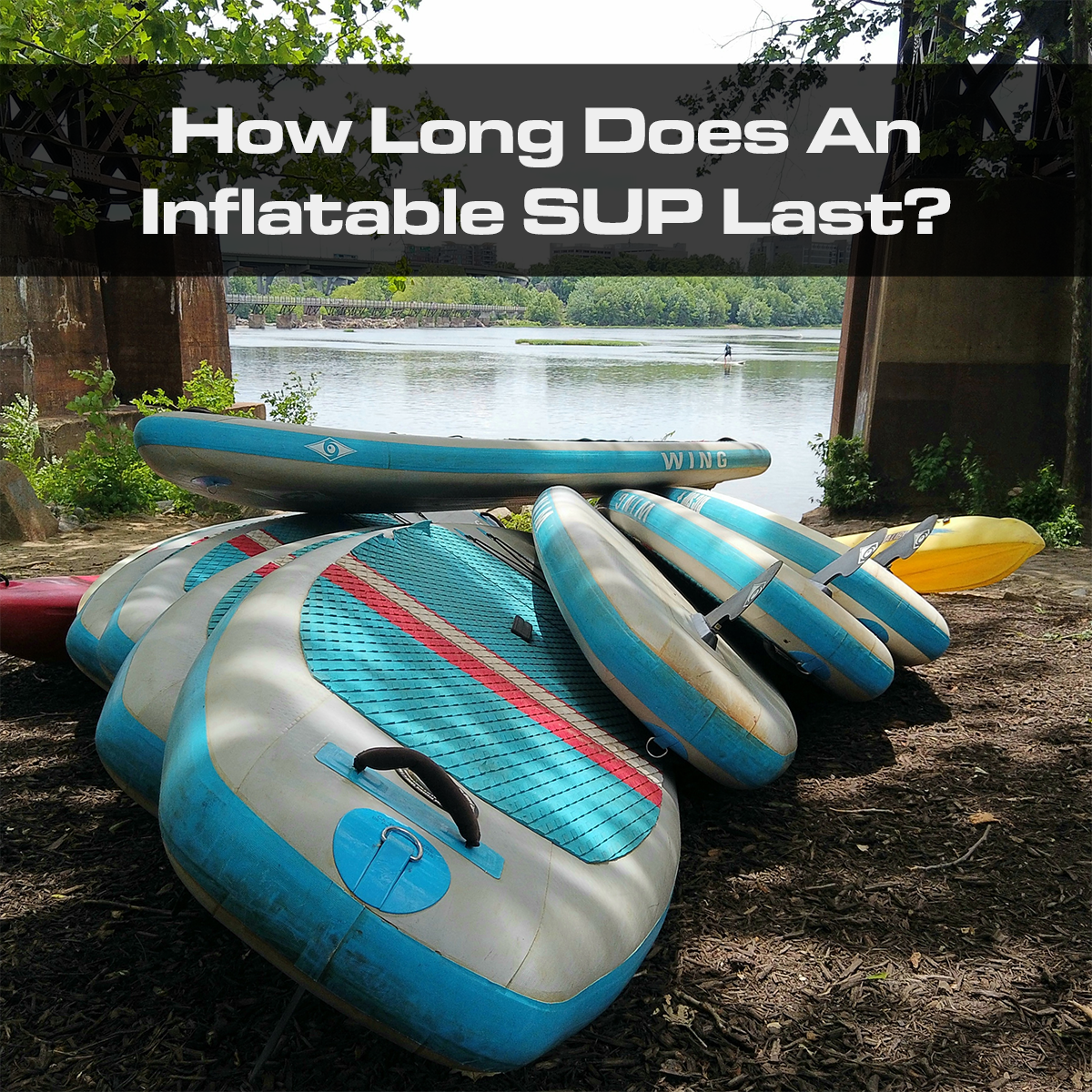 In the past two to five years, the inflatable paddle board market has changed dramatically. Where iSUPs used to be considered a poor choice or a budget choice, today they can rival traditional hard SUP's in terms of performance, features and cost – and in some cases, they can even be more durable.
In the beginning, iSUPs were often known for their frailty and failure rate. Single-layer boards with minimal stitching were common, and general wear and tear as well as other factors such as sunlight and heat did not bode well for these inflatable pioneers. Board failures were more commonplace and didn't help improve the image of iSUPs at the time.
So what is the expected lifespan of a typical iSUP today? Well, the short answer is: A lot better than it used to be. Life expectancy can vary depending heavily on use, but for the most part, the boards reviewed here on SUPBOARDGUIDE.COM stick to the following pattern:
For the average consumer who paddles 1-2 times a week for recreation and/or fitness: 5+ years
For daily usage from an average rental shop where the boards are taken good care of: 3-5 yrs
For boards that are not taken good care of (this includes pet owners whose pets are very rough on boards): 3 years, maybe less depending on how badly they treat the board
Note: Current inflatable SUP construction quality and techniques are much more advanced today than they were 5 years ago. As such, it's hard to know exactly how long newer inflatable SUPs will last. We have boards that are 5-6 years old, and hope that the current SUPs we have last in the 5-10 yr+ range). If your looking for a high-quality inflatable SUP that will last a long time, we'd recommend reading through our reviews of the following models:
Here are some of the main things to consider when determining how long an inflatable paddle board will last:
Build Quality
Build quality and materials are probably the most important factors when considering an inflatable SUP's longevity. But what exactly do we mean when we say "build quality?" This can be difficult to answer as most manufacturers typically try to keep the process very quiet as it is their trade secret. Manufacturers use lots of different terminology touting special processes or construction methods that give their equipment an advantage.
What we can say for sure, after reviewing nearly a hundred different boards, is that the build quality is not easy to ascertain from behind a keyboard. The best thing we can suggest is to get your hands on the board both in the inflated and deflated states. Look at all the connection points and glue lines, scrutinize any pieces that may be "peeling" or otherwise pulling away from where they're supposed to be. If you're not buying locally, look for manufacturers that provide a guarantee period, and use the board in that time frame as much as you can. At very minimum inflate the board to it's recommended PSI and inspect it thoroughly by hand before the guarantee period ends.
Materials
The second major factor of a board's longevity are the materials used in it's construction. Unlike construction methods, information about the materials used are typically easier to get from iSUP manufacturers. In fact, it is often one of the things touted in the marketing materials.
We have seen terms like "military grade" or "ultra durable" tossed around, but what does that really mean to the end consumer? We believe that the thickness of the materials is important, as is the number of layers that are used in high-wear areas of the board. Additionally we also consider good materials to include the additional pieces found on most of today's iSUPs, such as handles, bungee's, and attachment points. All of these materials should feel solid to the touch. They should be fairly abrasion and scuff resistant, not completely devoid of usage marks but not falling apart with the slightest brush either.
Again, having a board to touch and feel goes a long way here and if you can't, don't fear, the staff at SUPBoardGuide.com is here to help you along by thoroughly vetting any board that comes through our doors.
Board Maintenance
When talking about overall board life, we need to include proper care and maintenance in the conversation. After all, how you care for your equipment will have a direct impact on it's usable lifespan. Is it kept inflated? Is it kept indoors or out? What is it covered with (if anything) when stored? How often do you clean the board?All of these can have a direct impact on the life span of your iSUP.
While there are many schools of thought, the most common care suggestions include:
Storing out of sunlight
Cleaning after each use to remove debris and salt water
If deflating, properly fold the board
Avoiding extreme temperatures that may affect the glue at attachment points
Not dragging the board over any surface
Following these basic guidelines will help ensure that your iSUP will live the longest life possible.
Extraneous Usage
People love to use their equipment to the fullest potential. While it's ok to want to do these things, it's important to recognize the effect they have on the board's longevity. In terms of inflatable stand up paddle boards this includes some very specific things:
Pet's on board
White water rafting
Carrying abrasive gear and equipment
Constant rocky shallows
Constant high traffic areas
All of these activities, while fun and rewarding, detract from the overall life of your iSUP. Pets are one of the most common causes of excessive wear and tear on boards. White water rafting is just plain tough on a board. Carrying anything that could otherwise damage the board itself would be considered excessive wear. It's also important to note the dangers of both the shallows and their hidden dangers as well as busy areas and the constant impact of board and boat, or dock, or other boards.
Keep in mind that if you consistently partake in these activities your boards life expectancy will suffer as a result.
Manufacturer Warranty / Customer Service
Another measure of a board's longevity is the warranty supplied by the manufacturer. After all, if a company is willing to guarantee their product for 5 years, (yes, some companies actually do that) then your usable life should effectively be 5-plus years. So make sure you read the fine print when purchasing your paddle board(s).
It's worth mentioning that, in addition to the manufacturer's warranty, it's also important to look at, or at least research, their customer service. A company may have the best warranty in the industry but if their customer service department is difficult to reach or otherwise non-existent, what good is it? That's why customer service and a company's reputation are factors we consider during our review process at SUPBoardGuide.com. Afterall, when you purchase a board you're not just paying for the physical product, you're also buying into a company's support program.
Forums and social media can also be useful resources to see what, if any, companies are having trouble in their customer service departments. But take those complaints with a grain of salt. After all, happy people are less likely to write reviews compared to those who are upset.
Used Inflatable Board Market
If this is your first paddle board purchase, we certainly can't blame you for wanting to save a few dollars by considering used iSUPs. But there are some important things to note before purchasing a used iSUP.
It's often difficult to get warranty work completed on a used board or, at very least, it's much more difficult. It might even require you to go back through the initial purchaser and have them help you file the warranty claim. Secondly, when purchasing used, it's often hard to determine how the board was treated by the previous owner. As mentioned above, board care is critical to its longevity. For these reasons, we would strongly urge you to consider the cost savings as compared with the life expectancy of the board. Upfront savings can turn into long-term costs if you have to replace your used board quickly due to failure.
Conclusions
The truth is, with the explosion of popularity in the stand up paddle board market, there are more manufacturers and options than any before. Some companies truly strive to put out the best products possible while some are just looking to capitalize on the rising popularity of this industry.
The best answer we have is this: Lightly used, well cared for boards, should last 5+ years. Most frequently used boards, with the proper care, could last between 3-5 years. And for all those boards that are used either extrainously or that are not well cared for can expect them to last 3 years or less. Additionally it's important to point out that we don't have long term data on the most recent crops of iSUPs. The boards from 5+ years ago, for the most part, were not as well made. We hope that as time goes on we will see the industry average trend upward.
That doesn't mean some manufacturers' defects don't make their way through. Again, this is another reason to purchase directly from the manufacturer. In the past, very few boards tended to last past the 5 year mark. However, the newer crops of iSUPs are incredibly sturdy so we are hoping to see that number go up over time.
As mentioned above, having first-hand insight of the board itself can go a long way in helping you gauge its overall longevity. This is where the reviewers at SupBoardGuide.com come in handy. We physically inspect and thoroughly testevery board we review. If you have any questions about a specific board or about iSUPs in general don't hesitate to reach out to us. We write our reviews in an effort to give you the most reliable, relevant information when making your iSUP purchase and deciding which is the best inflatable paddle board for you..
Thank you for checking in at SupBoardGuide.com! We would love to hear your feedback on this article, so just leave us a message below. Happy paddling! We look forward to meeting you on the water soon.
The following two tabs change content below.
SupBoardGuide Editorial Team
At SupBoardGuide.com we are a team who love the water, the outdoors, and are more than grateful that our full-time job allows us to review stand up paddle boards. We paddle year round (it helps that we are just about 2 hours outside of Las Vegas), and we bring in a wide range of paddlers with the goal of providing our readers with the best, most in-depth, and accurate stand up paddle board reviews.
Latest posts by SupBoardGuide Editorial Team (see all)