iRocker Inflatable Dock
Pros
1,100 lb capacity means there's plenty of room to invite all of your friends and still have space for your gear.
This dock shares the same high quality construction methods and materials used throughout the iRocker lineup.
There are numerous action mounts, handles, and D-rings for attaching just about anything to this dock and customizing your day on the water.
Cons
We would like to see some D-rings on the bottom so towing would be easier.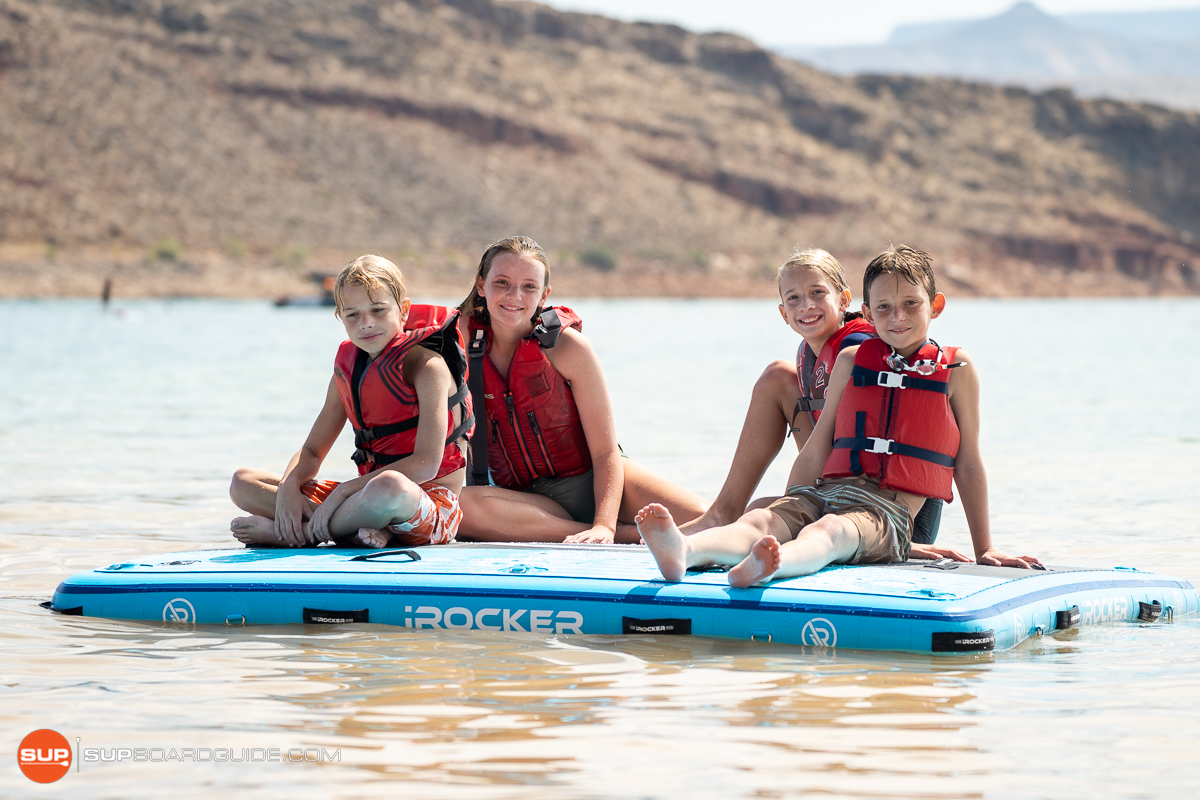 New for 2021, the iRocker Inflatable Dock is part of their attempt to enter the "leisure float" market. It makes perfect sense after all, an inflatable dock like this is constructed using the same methods and materials as their tried and true stand up paddle boards. We are excited to get this one on the water!
When you think of on-water experiences, nothing beats the idyllic "lounging in paradise" mindset. At approximately 7 ft square, the iRocker Inflatable Dock provides plenty of space for lounging as well as a place to store your full size coolers, speakers and other water toys. Think of this as your new home base when on the water.
We think the iRocker Inflatable Dock would be great for:
Families wanting a great day on the water without having to leave anything at home
Water based events such as in-water movie screenings or parties.
Divers looking for a convenient, highly visible way to hold their equipment
Anyone who is looking to take advantage of iRocker's long list of action mount accessories
iRocker Inflatable Dock Review: Overview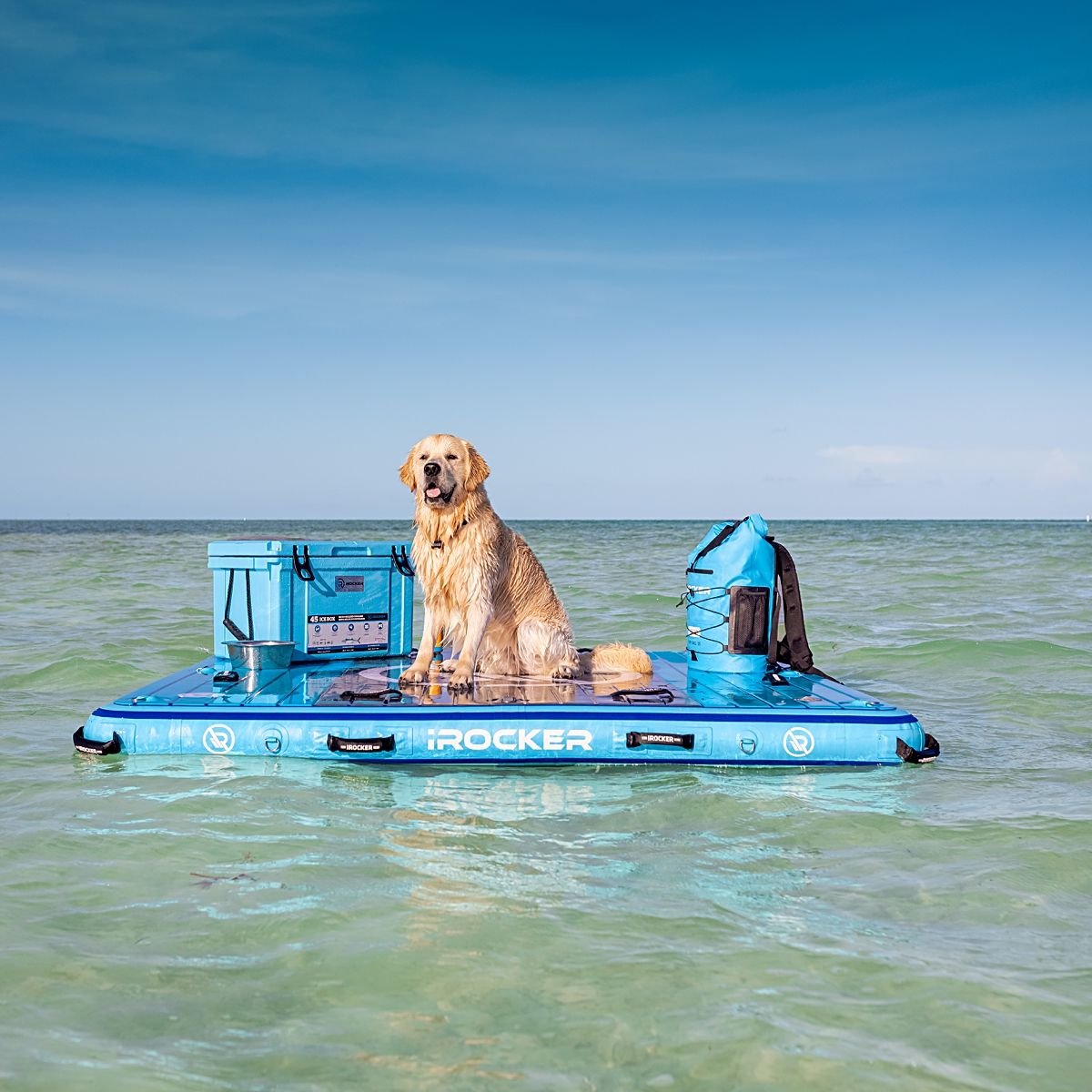 Note: Like the iSUP's we are always reviewing, we are truly going to put this inflatable to the test day after day. We pride ourselves on writing experience-driven reviews and this is no exception. Got questions? Good, we would love to answer them!
iRocker Inflatable Dock: Spec Sheet
| | |
| --- | --- |
| Main Category | Leisure, Inflatable |
| Board Dimensions | 7 ft x 7.5 ft |
| Listed Board Weight | 43 lbs |
| Listed Max Capacity | 1,100 lbs |
| Recommended PSI | 10 psi |
| Materials | (coming soon) |
| Price Range | medium |
| Warranty | 2 years with 60 day guarantee |
In-Depth Review of the iRocker Inflatable Dock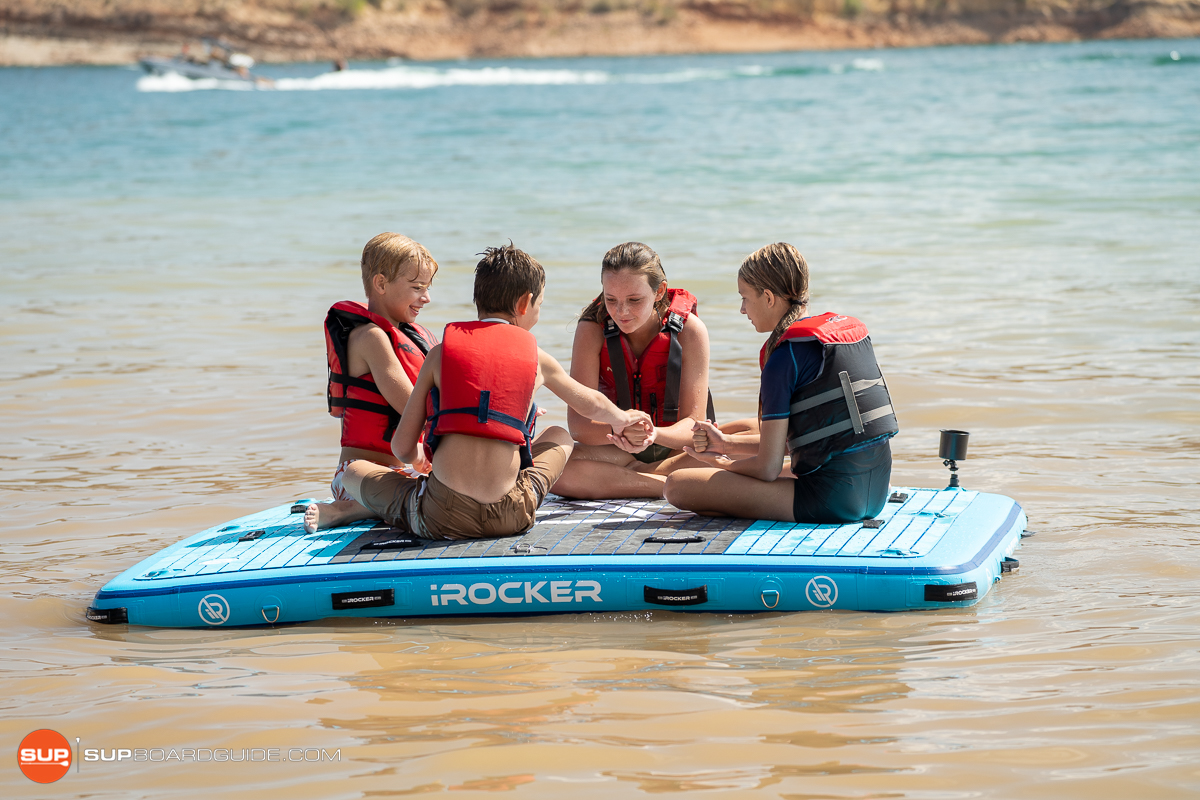 The iRocker Inflatable Dock is the first of it's kind we have received here at SUPBoardGuide.com. With more manufacturers creating their own versions of the inflatable dock concept, it is just a matter of time before we begin to review these alongside their iSUP counterparts. Don't get us wrong, iRocker didn't debut this concept, but they are, however, the first to send a version to us and we will be glad to be reviewing it now. Keep in mind — this is more of a spec review right now, and we'll update our review of the iRocker Dock as soon as we can get it out on the water for full testing.
The iRocker Inflatable Dock is a platform for all things fun. You can take a nice nap on it; you can have a picnic on it; and fishing is no problem as is cooler storage. It'll even handle the real sized coolers, not just a miniature hand-held lunch sack. It can be used as a launching point next to rocks or marshy put-ins, and can work well as a near-shore platform for lounging parents and rambunctious kids. But where the inflatable dock really stands out, in my opinion, is in remote on-water locations devoid of any floating space. Think sandbars, middle of lakes, or floatilla type gatherings.
Weight Capacity
How do you rate the stability of a 7 foot wide floating dock? Just like anything else, when we get this on the water for extensive testing we will report exactly how stable it truly is with full size adults and various equipment.
In terms of weight capacity, iRocker says this dock can support 1,100 lbs. That's just mind blowing, easily five adults and a full cooler worth. From the volume of the dock, and our past experience with iRocker, we have a feeling that this will actually hold 1,100 lbs, but we will be sure to update this section once we get it on the water and test the weight capacity out. I don't doubt that somebody will someday take one of these on an overnight camping adventure in the theme of Huckleberry Finn down some calm river.
Construction Quality: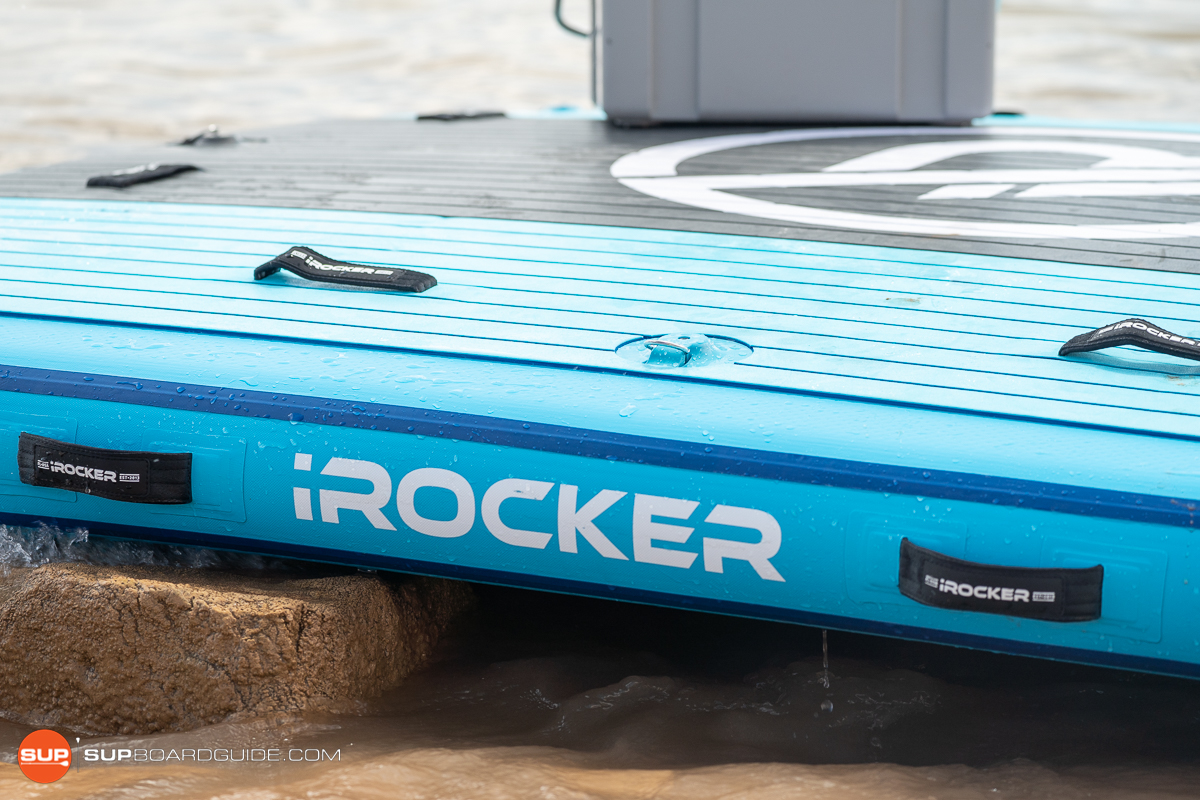 iRocker doesn't specifically state how the dock is made, but it appears to be made of the same triple layer military grade PVC with a drop stitch core we see in the rest of the iRocker lineup. For all intents and purposes, the construction looks the same as the iSUP's in the iRocker fleet. The handles have the same quality feel as does the deck pad. The eight D-ring action mounts are all secure as well. All in all, it is the quality I would expect from a product wearing the iRocker name.
Features/Accessory Review: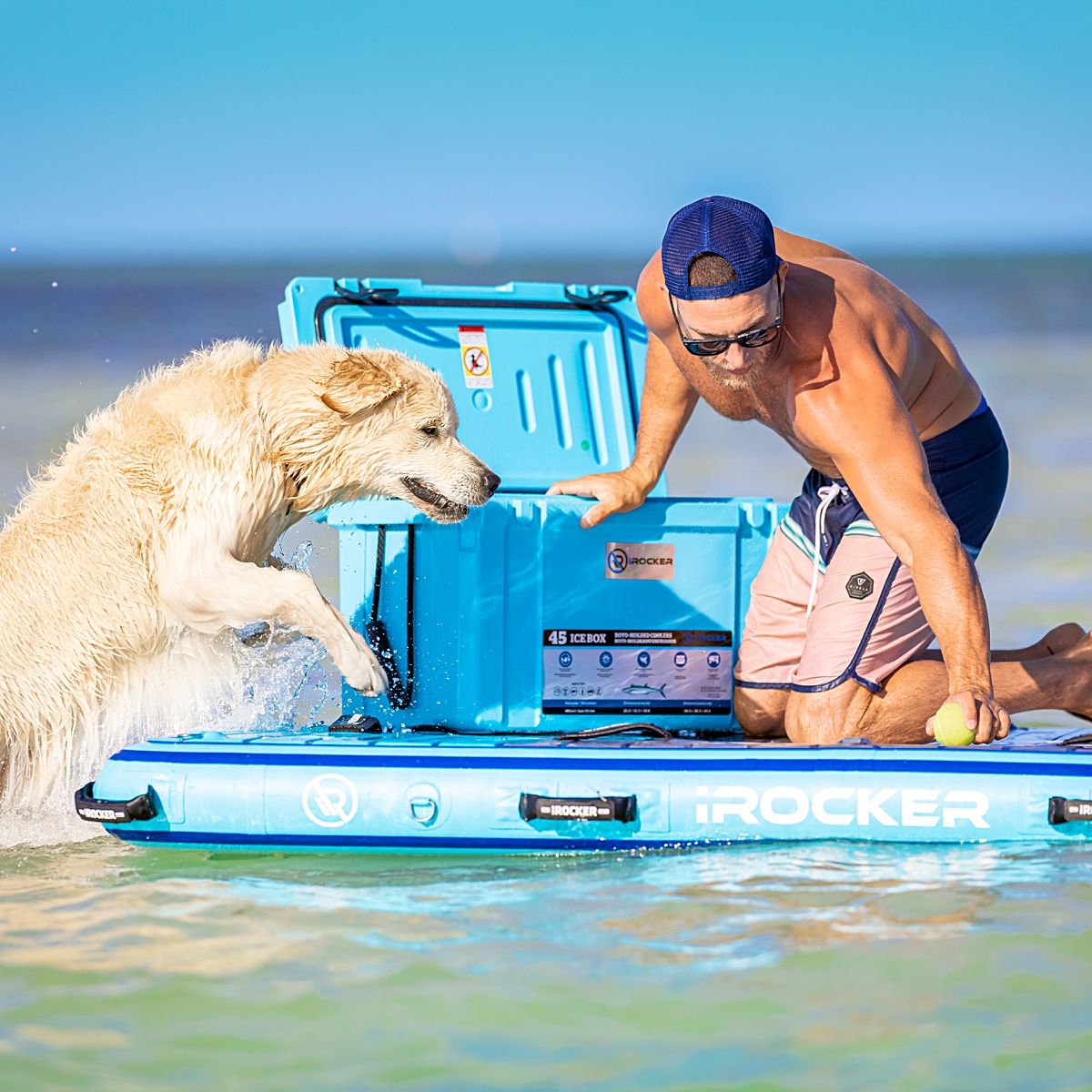 Features:
So what makes the iRocker inflatable dock stand out? It's the features of course. Currently there are several inflatable docks on the market of various size, so let's start with a list:
20 handles
16 D-rings
8 action mounts
That's quite impressive, but again, when you consider the sheer size of this inflatable it's to be expected. Would we change anything? If we're being picky, we would suggest at least one or more D-rings on the bottom of the dock. This both helps with anchoring and, more importantly, towing. We are not suggesting you rip around the lake pulling this thing behind a boat, but pulling it into an acceptable position is part of the game. We would also recommend a different layout of D-rings on some parts of the dock. In our past experience we have seen companies make a specific spot for their proprietary cooler(s). And this is good because if you do this, you lessen the chance of creating an imbalance somewhere on the board with something heavy. It would be nice to have a spot (perhaps in the center) specifically designed for the iRocker rotomolded coolers. This is something we will also be testing and will update the review. Other than those thoughts, it seems to be ready for just about anything you can throw it's way.
Pump: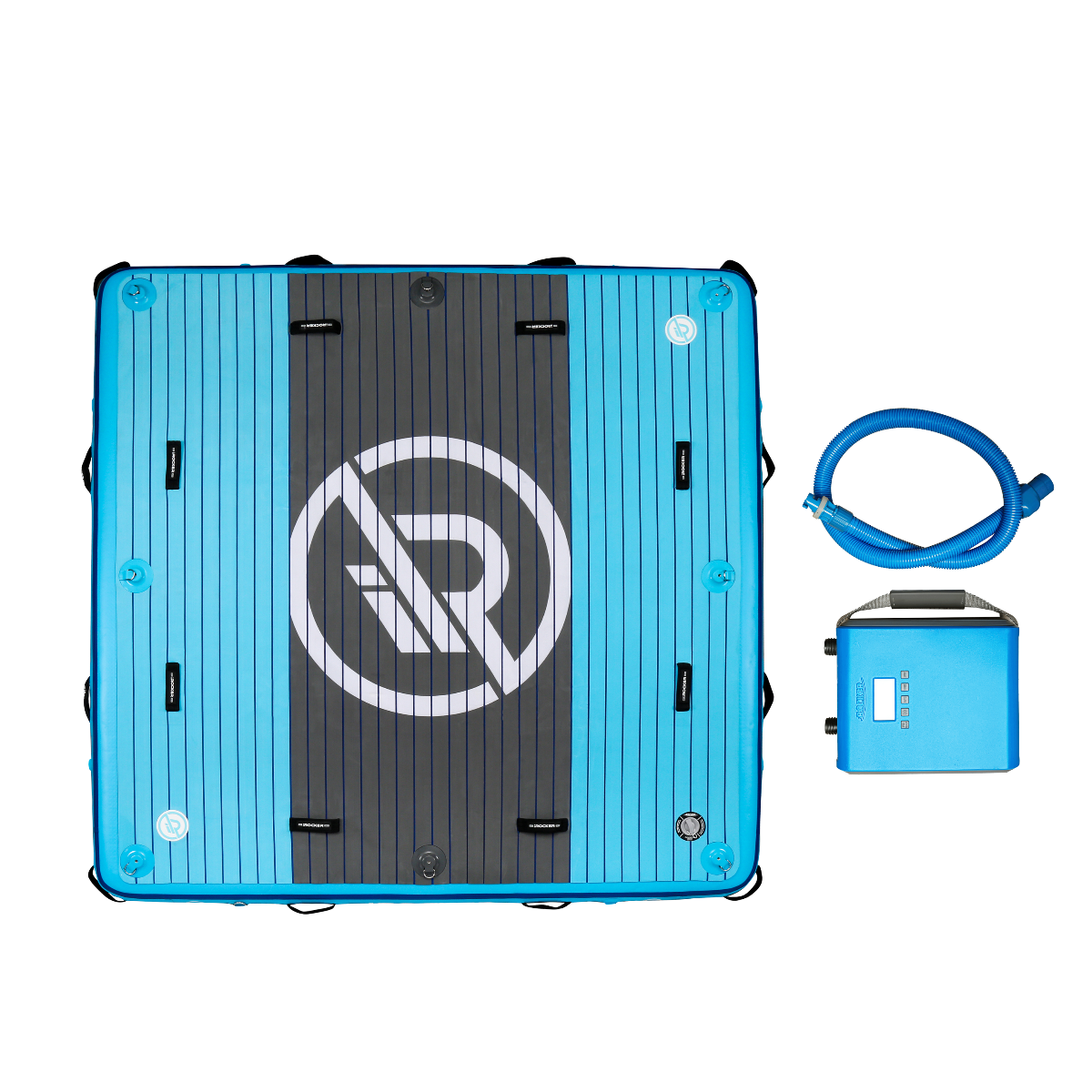 iRocker did the right thing and included their electric pump with this floating dock. I can't think of anyone who would have a good time trying to inflate this with a manual pump. Keep in mind that without iRockers pump battery, you will be inflating this somewhere closer to an electric current than the actual waters edge. So make sure you have a friend, or two, to help you carry this. We will test whether or not the portable battery carries enough juice to pump this up. Stay tuned for that.
Bag: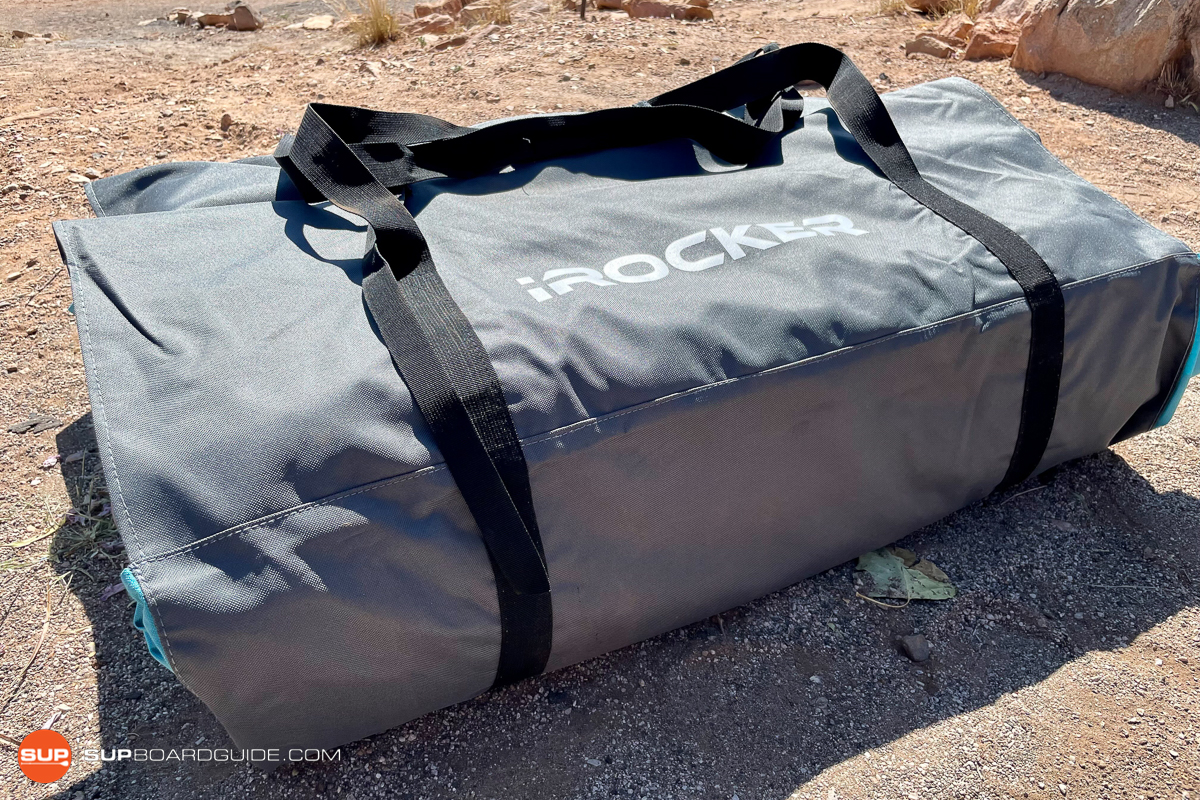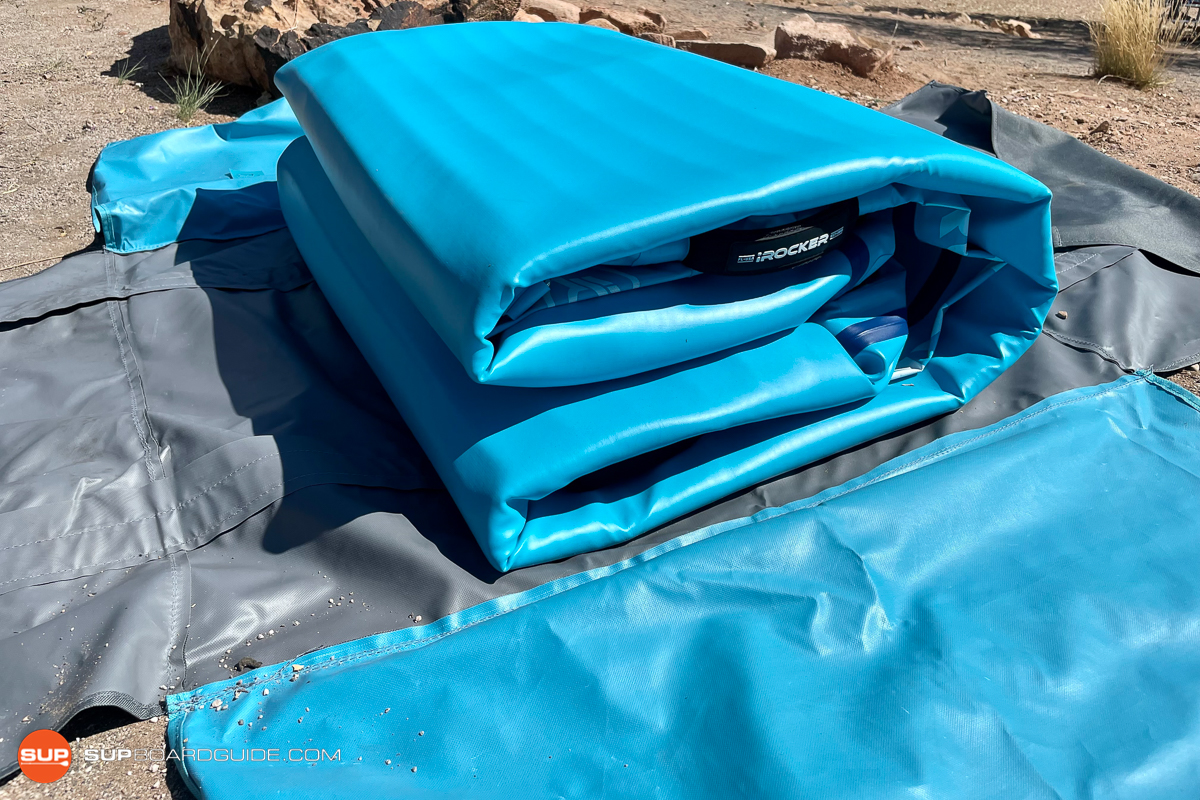 The iRocker inflatable dock comes with a protective cover that essentially serves to hold the folded piece in a compact space. It's made out of the same material the iRocker iSUP bags use and feels quite durable and well made. It's important to note that this is NOT a backpack. Nobody is going to want to carry this 40-plus-lbs on their back or anywhere else for any distance, much less hiking miles to get to those hidden water spots.
In terms of protection the cover does it's job keeping the rest of the dock out of the elements for storage and transport. It also serves as a good folding template when you're packing the dock up. The fully packed product and cover measures approximately 30" x 24" x 9". Which is quite compact considering it's massive size when fully inflated.
Summary Review of the iRocker Inflatable Dock (2021 model)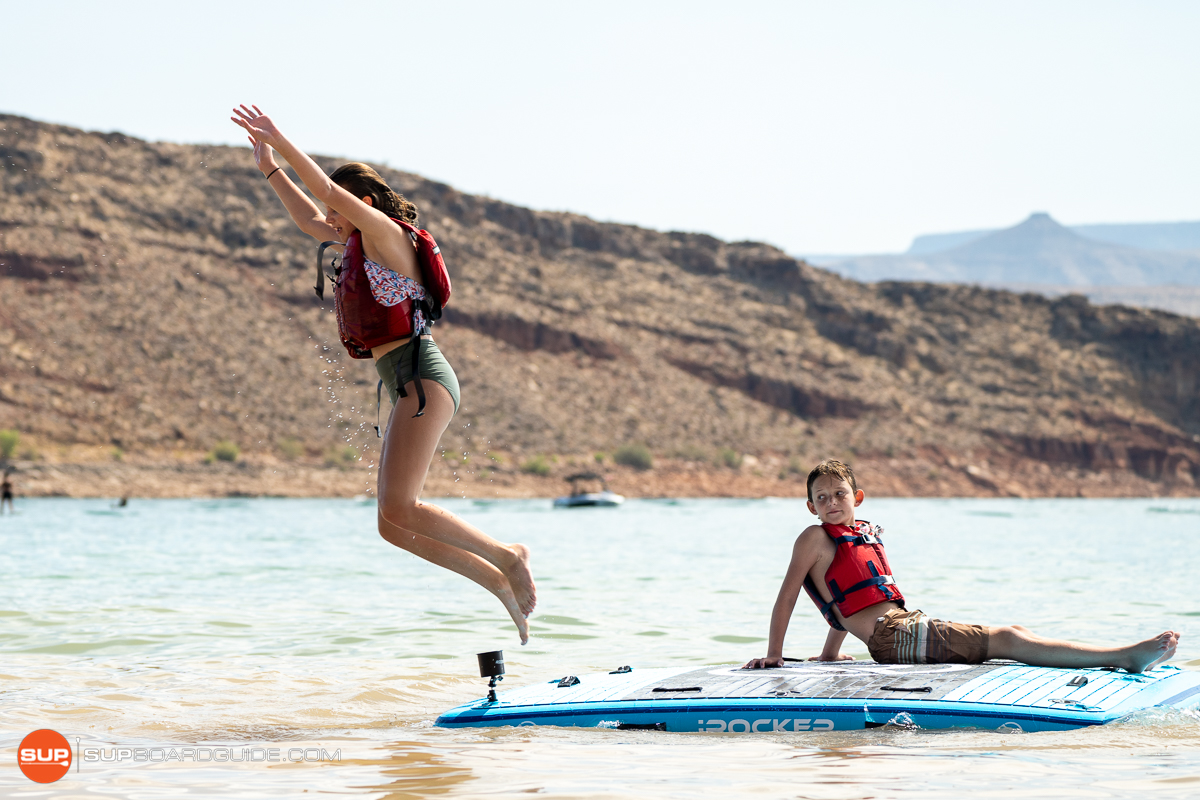 As manufacturers look for more ways to bring unique products to the market we can only assume our pages will be filled with more reviews of similar products. These inflatable docks represent a logical next step for families or groups with multiple watercraft. This is designed to get people together to have a great time playing on (or in) the water.
We credit iRocker for making a quality product with all the normal bells and whistles of their iSUPs. If you are already comfortable with their brand, this dock should meet all of your expectations and then some.
We hope you enjoyed this review of the iRocker inflatable dock. If you have any questions or comments please leave us a comment below! Until then we can't wait to see you out on the water. Happy paddling!
The following two tabs change content below.
SupBoardGuide
Heyo! At SupBoardGuide.com we are a team who love the water, the outdoors, and are more than grateful that our full-time job allows us to review stand up paddle boards. We paddle year round (it helps that we are just about 2 hours outside of Las Vegas), and we bring in a wide range of paddlers with the goal of providing our readers with the best, most in-depth, and accurate stand up paddle board reviews.
Latest posts by SupBoardGuide (see all)