iRocker Floating Swim Mat
Pros
For a 6' x 12' floating device, it rolls up fairly compactly and doesn't weigh a whole lot.
The mat material is high quality and thick enough to handle pets and dragging over rougher surfaces with ease.
Both color options are extremely bright which is very good for on-water visibility.
Cons
We would like to see some handles attached somewhere to aid while boarding and exiting the float.
We'd also like to see some kind of strap system that makes it easier to carry when rolled up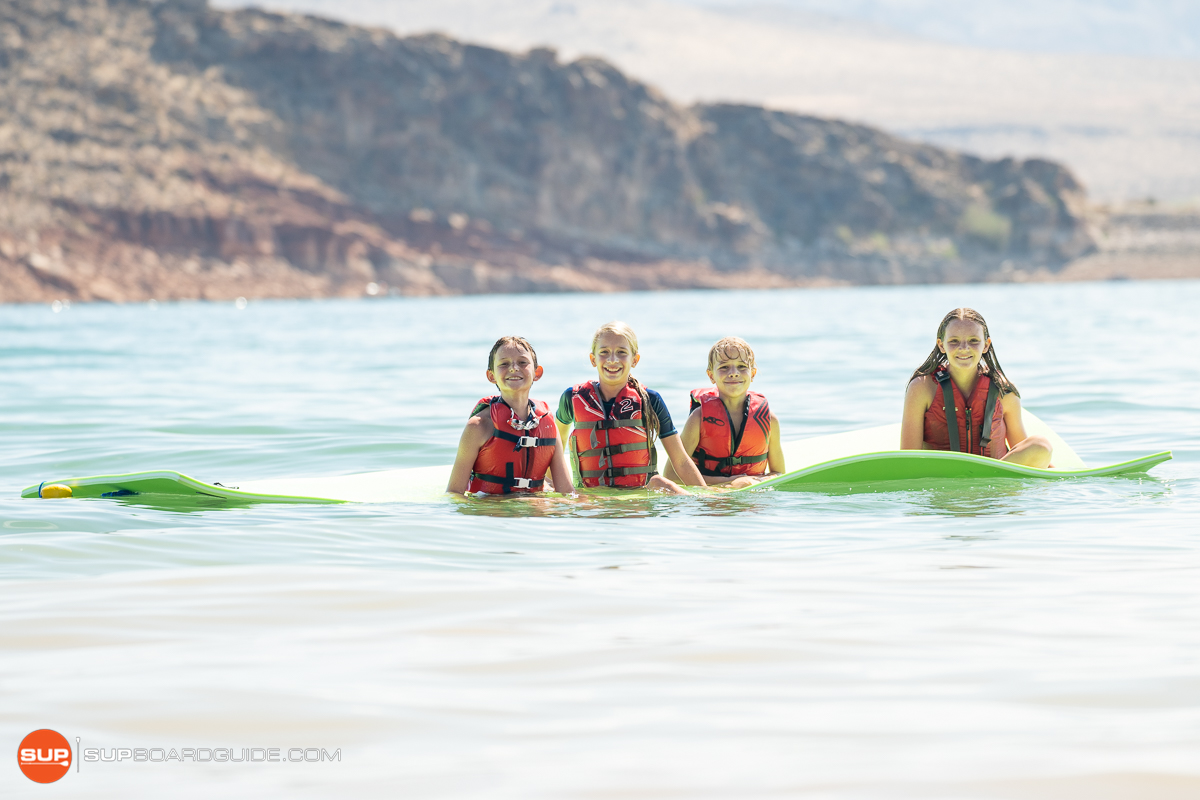 Well, this just seems to be the year iRocker is breaking into the on-water leisure market. New for this year, the Florida-based company released the iRocker Floating Swim Mat, a 6 ft x 12 ft mat that offers buoyancy and makes for a nice near-shore home base for families or people looking for an easy way to keep their buds all together in the water.
While we haven't spent as much time on the mat as we'd like yet, we did get a chance to try it out with a handful of kids during a recent outing, so this is our first-take review of the iRocker floating swim mat with a few spec details sprinkled in. As we continue to take out the mat more, we'll update this review with any other details we think necessary. And yes, we will for sure be taking this out to the lake with us more as it has become one of my kids favorite lake toys.
First of all, this thing doesn't need a pump so we were happy about that, and it's a fairly light 25 lbs. Storage wise, it's a bit big when rolled up at six feet wide, and a little bit larger than your average inflatable paddle boards.
Unlike iRocker's Inflatable Dock, this mat floats just at the water level and any pressure applied will typically begin to push the mat under, so don't expect to keep yourself dry (at all). Some kids may be able to scurry across it, but for the most part any size adult will sink into a comfortable lounging position a few inches below the waterline. That's ok with us, it's just something to take into consideration. We think the iRocker Floating Swim Mat would be great for:
Families wanting a fun water feature
Kids wanting to play king of the mat, get wet, and just have a blast
Water based events such as in-water movie screenings or parties
iRocker Floating Swim Mat Review: Overview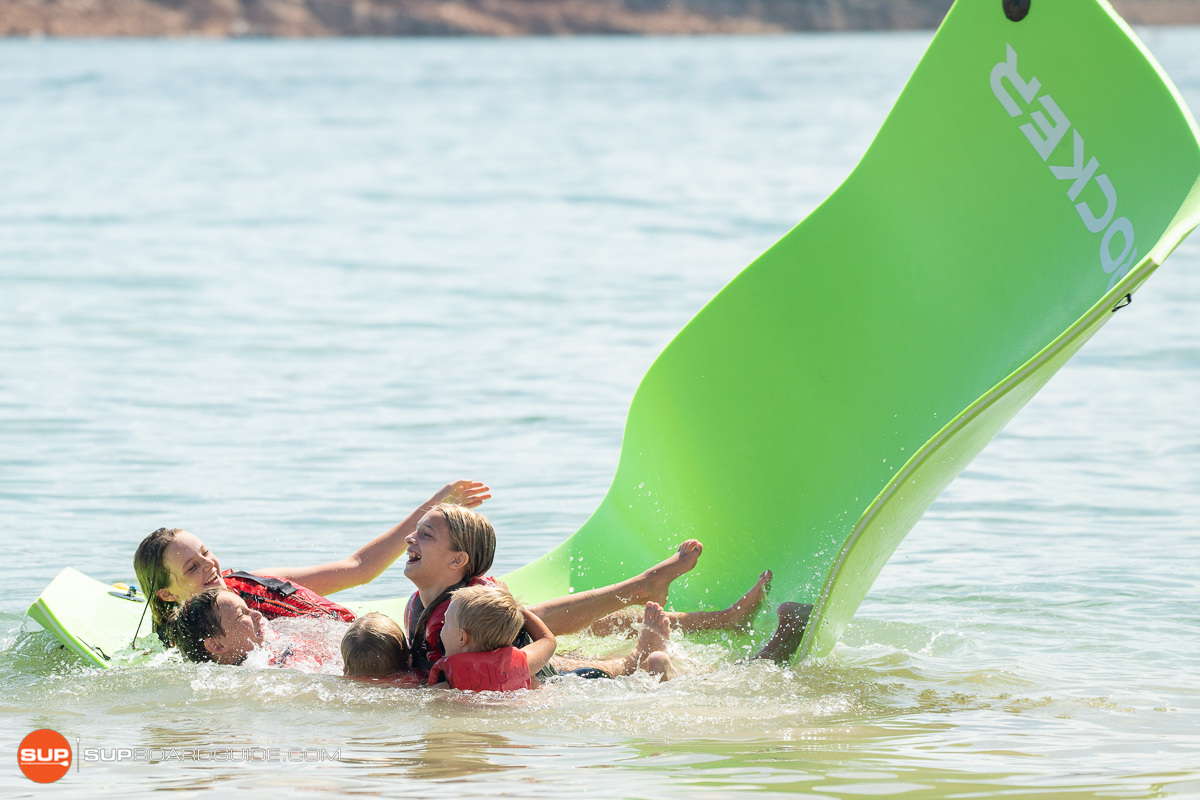 Note: We do our best to review every product we receive with both honesty and a serious time commitment. We will update our review as we get the chance to use this mat for extended periods of time. If you have questions, let us know by leaving a comment below!
iRocker Floating Swim Mat: Spec Sheet
| | |
| --- | --- |
| Main Category | Leisure |
| Board Dimensions | 6 ft x 12 ft x 1.25 inches |
| Listed Weight | 24.3 lbs |
| Listed Max Capacity | 1100 lbs |
| Materials | (coming soon) |
| Price Range | Budget |
| Warranty | 2 years |
In-Depth Review of the iRocker Floating Swim Mat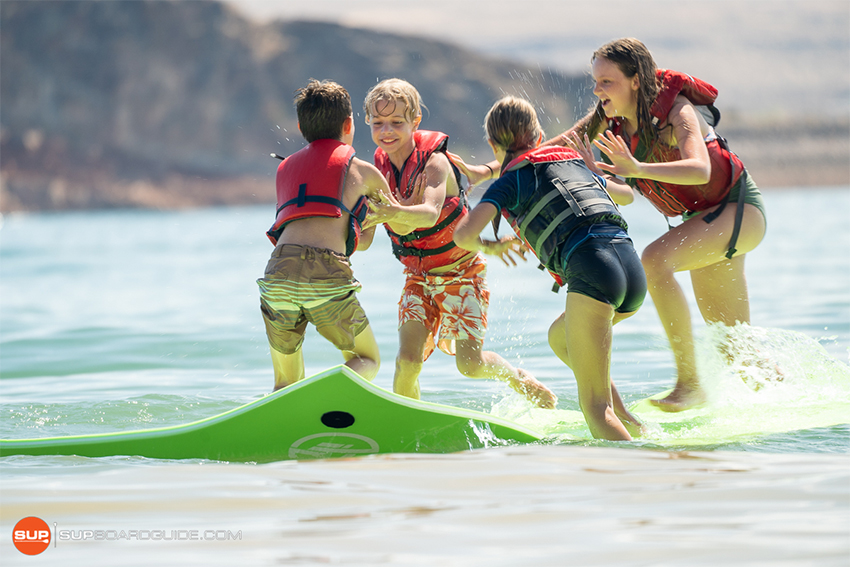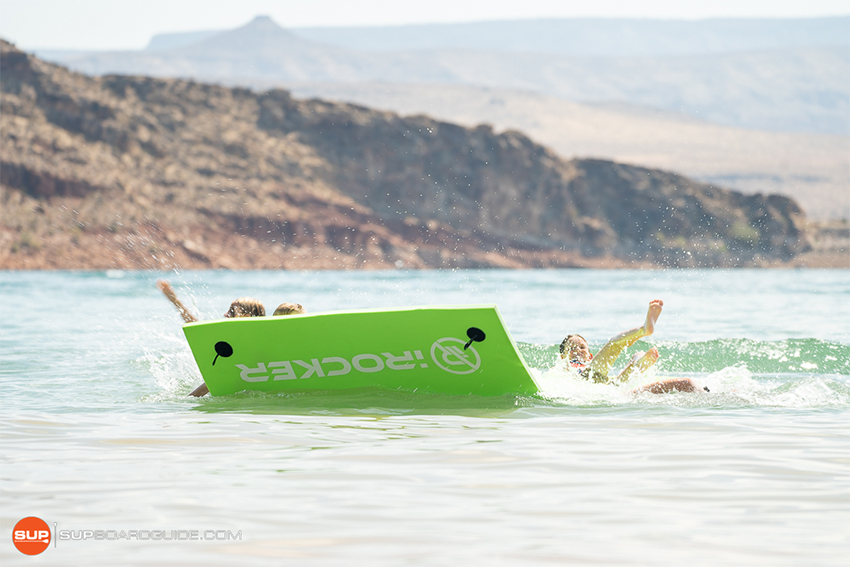 No pumps needed, fairly lightweight, portable and a claimed 1,100 lb carrying capacity. Where do we begin?
While this mat is designed to support you and keep you afloat, there is little or no chance of staying completely dry. Is this a bad thing? No, not at all. But make sure you're wearing your bathing suit and intend to get wet when using the mat, because you're definitely going to. Moving past that, it's simply a matter of how you want to use the iRocker floating swim mat.
Kids love this, and we were pleasantly surprised at how much fun the kids had on it (as you can see in the pictures). They played kind of the mat, tried to sink themselves, lounged around, and mostly just kept themselves occupied and gave me and my wife some time to actually relax at the lake! For our 'test', we had kids aged 4 to 13, and they all had a ton of fun together.
For adults, we recommend relaxing in the supine position, preferably with a beverage or friends, or both. Other options include using the mat like a ramp both into and out of the water. Using this tactic in the past we were able to set up a rudimentary slide from our stacked paddle boards.
Bottom line: Use your imagination, there is plenty of fun to be wrung from the floating mat, and I have a feeling that I'm going to have to figure out how to add this to the arsenal of lake toys that we take out everytime we go to the lake now. It has quickly become my kids favorite lake toy.
Weight Capacity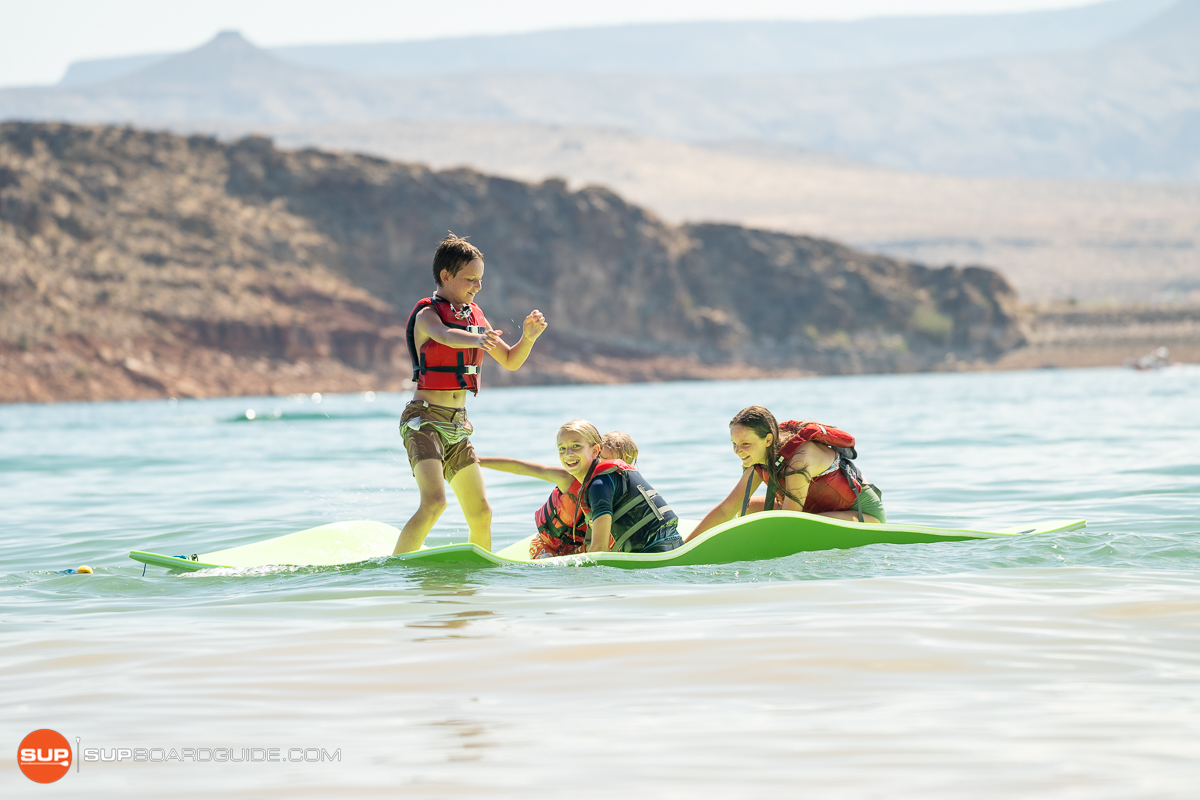 The iRocker Floating Swim Mat is not designed to be stood up on, at least if you're not a small child. While it's still supportive, the mat sinks slightly underneath the weight of a full-size adult. You don't have to keep yourself afloat, but you are definitely going to get wet.
iRocker says this mat is rated for 1,100 lbs, which would easily hold five or more adults in the seated or reclining position. Again, you're going to get wet but you're not sinking the bottom of the sea or anything, it's just designed to support an adult's weight while being partially submerged.
Construction Quality: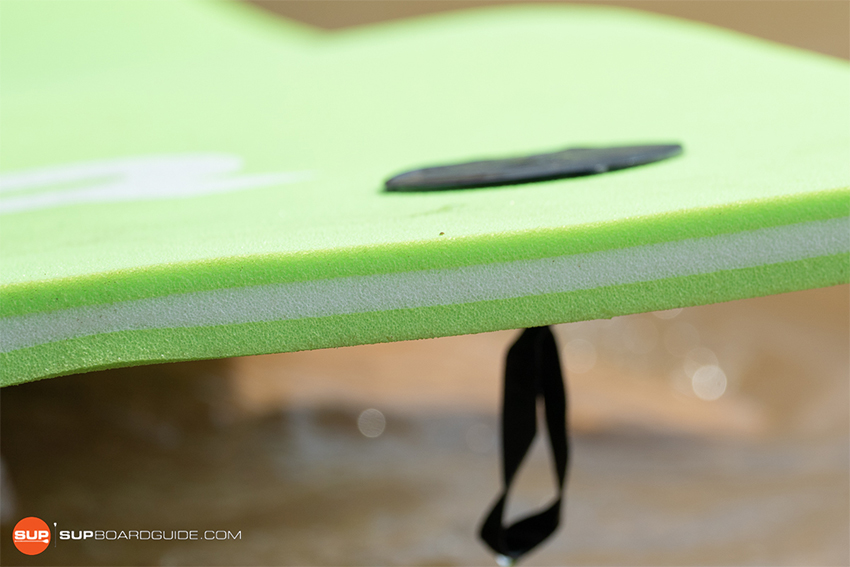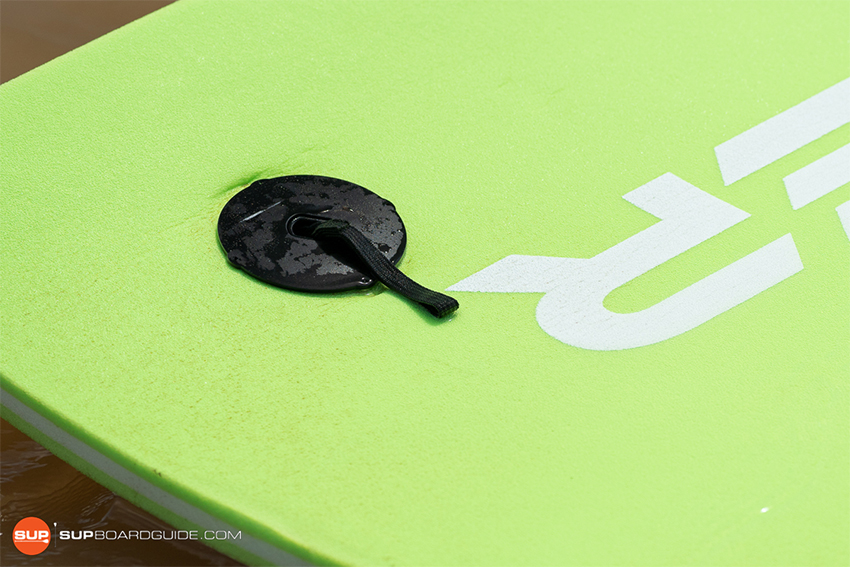 The iRocker Floating Swim Mat is a bonded three layer foam mat with a loop in each corner for handling and anchoring. It measures approximately 1.25 inches thick, which some SupBoardGuide reviewers felt to be thicker than other foam mats they have tried. The anchors were firmly attached and allowed for basic dragging of the mat once unrolled and served as tie points for actual anchors or ropes to hold it in place in the water.
When we took this out, we purposely dragged it across the rocks when launching and taking the mat out of the water. In fact, we dragged it across some really sharp rocks in a way that we don't think any average consumer would ever do to really put this to the test. We did get a few scraps here and there, but were very impressed with how the foam holds up. It's a harder/more dense foam than some other mats and we think this one will last a very long time.
Features/Accessory Review: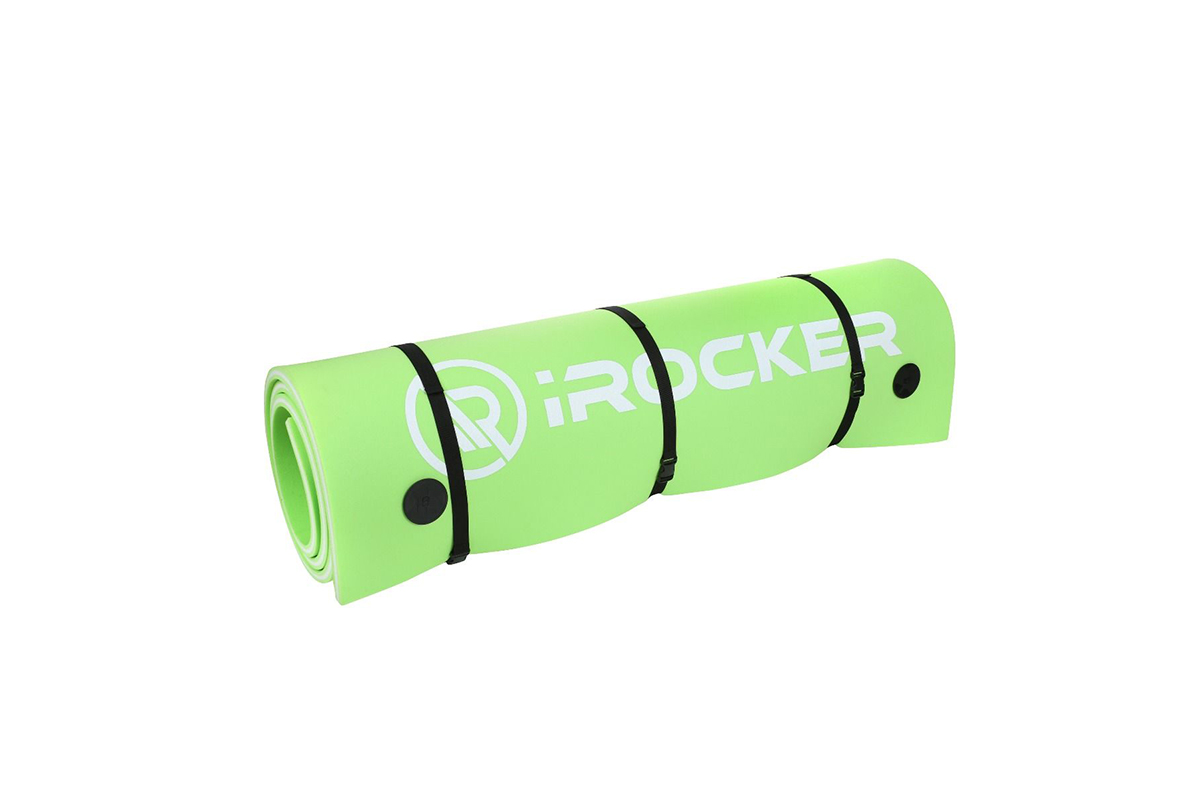 Features:
Swim mats are fairly basic pieces, but it is always good to note any special features found within the different manufacturers.
The short list of features:
Three straps to hold it in the rolled position
4 tether points with straps
6' x 12' size
On the features side of things, the only real improvement we would like to see would be to improve the strap system to include some type of carry handles. At 6' wide, it's a bit difficult to carry by yourself. Fortunately, it's light enough that 2 kids can carry it, even after you pull it out of the water as the mat doesn't soak up the water and get any heavier.
Summary Review of the iRocker Floating Swim Mat (2021 model)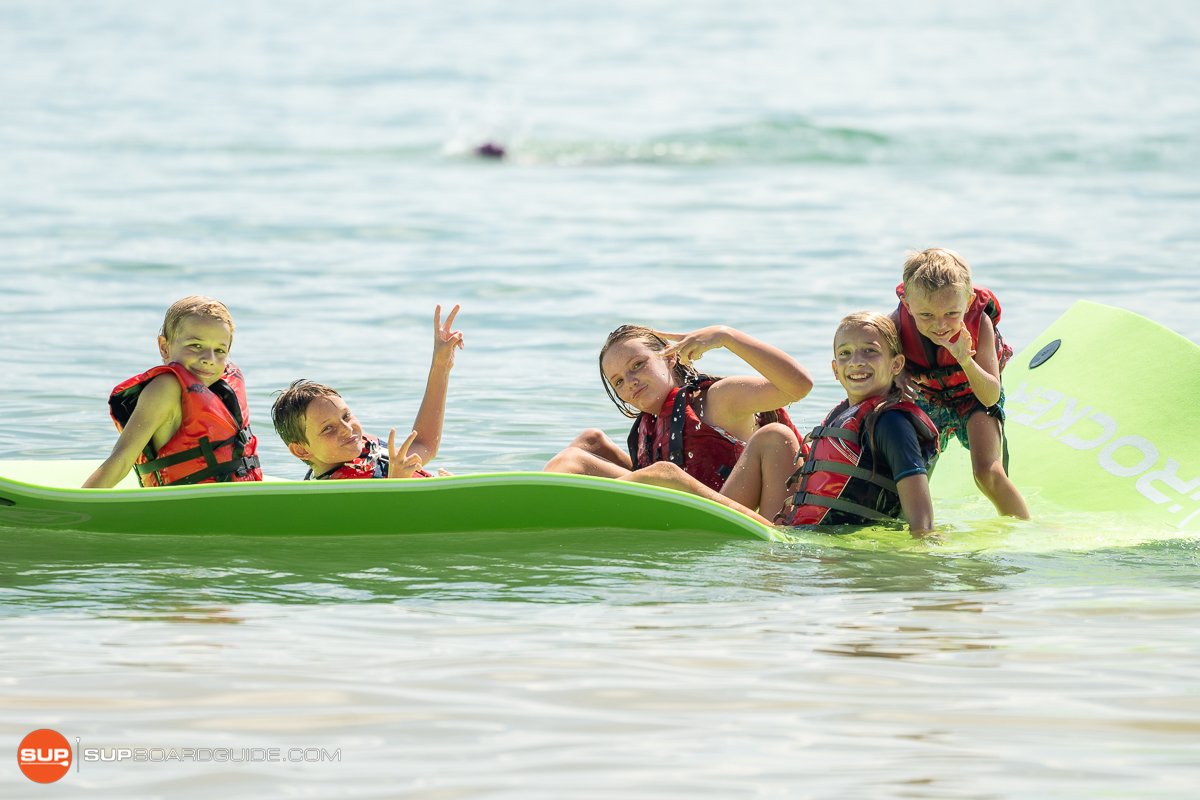 Relax, and let the kids take over; we think you'll find the iRocker Floating Swim Mat to be a thoroughly enjoyable product. It's a great addition to an existing arsenal of on-water toys or it'd work great as a standalone float for a family who wants to hang out near shore. We would suggest parental supervision to ensure no small kids swim underneath the mat and get stuck, though it is fairly easy to find the edge.
The mat makes for a great addition to any water fleet, boat, dock or beach front. It's light and fairly portable so this should transport well in it's rolled position. I applaud iRocker for stepping out of their wheelhouse with this product and really rounding out their offerings. Add The inflatable dock and some iSUPs, and you can have a whole crew in the water at the same time.
We hope you enjoyed this review of the iRocker Floating Swim Mat. It is certainly new ground for us, so we expect and encourage lots of questions below. Help us learn with you. Happy paddling everyone and we look forward to seeing you on the water!
The following two tabs change content below.
SupBoardGuide
Heyo! At SupBoardGuide.com we are a team who love the water, the outdoors, and are more than grateful that our full-time job allows us to review stand up paddle boards. We paddle year round (it helps that we are just about 2 hours outside of Las Vegas), and we bring in a wide range of paddlers with the goal of providing our readers with the best, most in-depth, and accurate stand up paddle board reviews.
Latest posts by SupBoardGuide (see all)