Who is GILI Sports?
Founder(s): Jay Regan
Where: North America
When: 2018
Welcome to our GILI Sports Review page! On this page you will find snippets and links to all of our reviews for 2020 GILI Sports inflatable stand up paddleboards, often shortened as iSUPs. GILI Sports paddle boards offer great stability and performance at very competitive and affordable prices, with their new 2020 models among our favorite paddle boards this year.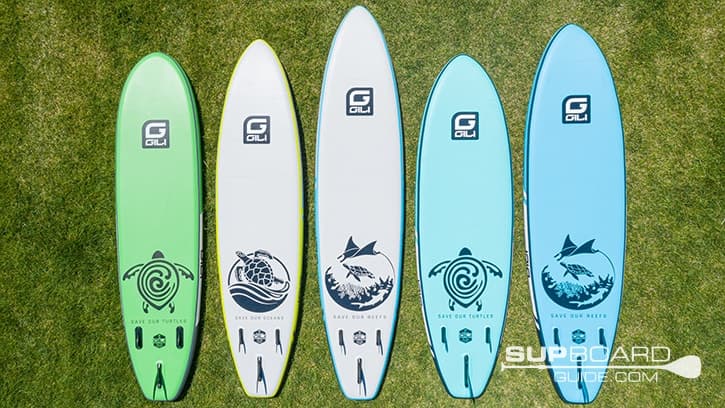 The rest of this page is divided up into several different sections. The first section discusses GILI Sports as a company, from the solid build of their boards to their awesome charity efforts. Next, we offer short summaries of what we think of each of their 2020 paddleboards, along with links that will take you directly to our longer, more detailed reviews. Third, we detail some of the excellent accessories that we think would go great with GILI Sports paddleboards. The final portion of this page offers a short explanation on the shipping, warranty, and return policies of GILI Sports SUPs, with links to more detailed breakdowns if you want to learn more.
We hope this page is very helpful to you in learning about GILI Sports and their great inflatable paddleboards. Be sure to leave a comment below or send us an email with your thoughts, or any other questions you may have. Otherwise, thank you so much for reading, and we hope you try out GILI Sports paddleboards!
Why do we love GILI Sports SUPs and recommend them?
GILI Sports was started by Jay Regan, and is named after the stunning GILI Islands in Indonesia with the goal of emulating their beauty. Outside of crafting great looking paddleboards, GILI Sports was founded with two additional goals in mind. The mission statement of GILI Sports is as follows:
1: To Design & Build the Best Stand Up Paddle Boards possible.
2: To Help Save the World's Oceans and Sea Creatures in a Sustainable way.
Since 2018, GILI Sports has been hard at work year after year to build paddleboards that are light, quick, durable, and easy to maneuver with. Not only do GILI Sports paddleboards offer good performance, but they are very affordable as well. GILI Sports paddleboards come with everything you need to get on the water right out of the box, often at a price several hundred dollars cheaper than similar performing boards. Built for beginners and experienced paddlers alike, if you are new to the sport or looking to invest in a secondary board, GILI Sports SUPs are definitely worth considering.
Another reason to go with GILI Sports is their fantastic charity efforts. On the bottom of every GILI Sports SUP is a turtle stamp logo that, besides being cool, is a pledge to help ocean conservation efforts. With the purchase of a new GILI Sports board, GILI Sports will donate $12 to $15 dollars to the Coral Reef Alliance, Project Aware, Oceana, and Save our Turtles. With GILI Sports, you can have a blast paddling and paddle knowing that you made a difference in improving our planet's blue waters.
Outside of their solid paddleboards and respectable charity efforts, GILI Sports also should be praised for their customer service and efforts to improve year over year. Each 2020 board has been improved over past versions, featuring upgrades based upon criticisms and customer feedback left on past models. While it's very difficult to damage a GILI SUP, each GILI board comes with a 60-day guarantee and 2-year warranty. GILI Sports also offers free shipping to many parts of the world, which you can read about below!
If you are interested in a very affordable, stable, and beginner friendly board, consider going with one of the GILI Sports paddleboards listed below!
GILI Sports SUP Reviews – The Boards
GILI 10'6'' AIR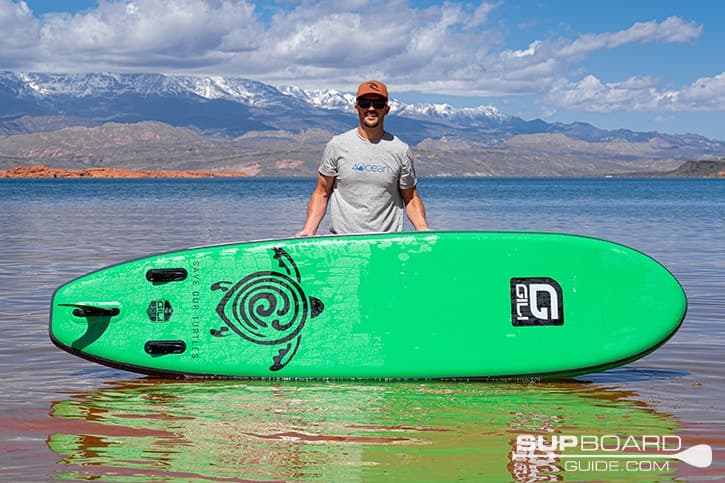 The 10'6'' GILI Air is the lightest, shortest, and most affordable paddleboard produced by GILI Sports. Available for less than $500 dollars, this paddleboard still offers the stability you need to tackle the water while also featuring fantastic maneuverability. As you learn how to paddle, you won't have any trouble navigating the water, making this an excellent secondary or travel board as well.
When you inflate the GILI Air, it will measure out as 10'6'' long, 31'' wide, 6'' thick, and will weigh about 19 lbs. The starting weight capacity is 280 lbs for this paddleboard, though experienced paddlers will find the board supporting around 300 lbs. There are a total of 15 D-rings on the GILI Air for versatile accessory compatibility, with the board itself available in teal, blue, light blue, and green.
If you are a young or shorter paddler brand new to the sport and looking for something easy to learn with, this is the board for you. The GILI Air is also an excellent option for hikers and long distance travellers who need something easy to carry to get to the water. Lakes, bays, marinas, rivers, and even some ocean waves will all be fun with the 2020 GILI Air 10'6''!
Read our full review of the 2020 GILI Air 10'6'' by clicking on this link.
GILI Adventure 11'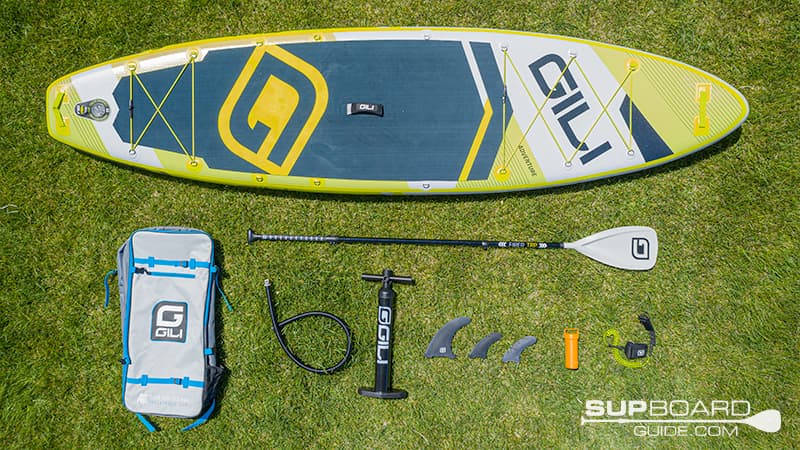 An all-around, touring board hybrid, the GILI Adventure 11' is for those who want a SUP with greater stability and tracking without sacrificing too much maneuverability. With a resilient dual-layer build while still being fast in the water and easy to carry, there's a lot to love about the GILI Adventure 11'.
This shorter version of the GILI Adventure is 11' long, with a 32'' wide deck at the center and a 6'' overall board thickness. This is a very light touring board at just 21 lbs, with a base recommended weight capacity of 290 lbs for beginners. If you like to bring out accessories and add-ons, you will have 17 D-rings to choose from. You can also customize the color for the Adventure 11' as well, choosing from blue, teal, or yellow.
Those who want a light touring board or beginners who want something stable but still easy to handle will alive love the 11' Adventure. You can explore vast, open water environments like lakes and bays, or even tour along the coast line. If you like to catch some longboard style waves, or want to explore easy to navigate rivers, the 11' Adventure is a solid option too. With balanced performance able to do a little bit of everything, we quite like the 2020 GILI Adventure 11'.
Read our full review of the 2020 GILI Adventure 11' by clicking on this link.
GILI Adventure 12'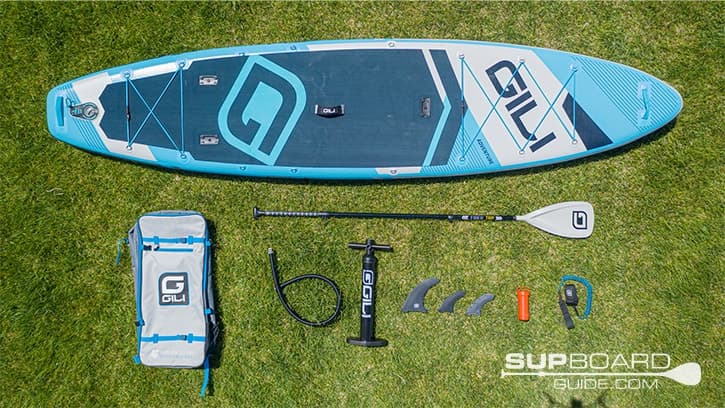 The GILI Adventure 12' is the longest paddleboard made by GILI Sports, offering the best tracking experience for those who want to paddle long distances. Besides the steady course it keeps in the water, the Adventure 12' also provides a smooth glide in calm water and good support for rougher environments, with excellent stability as well. While large, the Adventure 12'' stays light just like other GILI Sports paddleboards, making it almost as easy to handle for beginners and younger paddlers.
This version of the Adventure is 12' long, with a 32'' wide deck and 6'' SUP thickness. With a recommended inflation range of 12 to 18 PSI, the Adventure 12' weighs 22 lbs and has a beginner rider capacity of 330 lbs. Not only do you have 17 D-rings for common SUP accessories, but the 12' Adventure also has three Scotty mounts, making this a good pick for fishers as well. The Adventure 12' is available in blue, depicted above, teal, and yellow for additional SUP customization.
Larger and bigger adults will make the most out of this lengthy touring board, especially those new to the sport and are trying to find their balance on the water. If you have kids or a pet you like to go out with, the Adventure 12' will provide a fun family experience, though hikers and fishers will also appreciate the board as well. Tour bays, marinas, and the coast line with this long touring board, or even tackle some longboard style waves with it. If you want the best touring experience that GILI Sports has to offer, go with the 2020 GILI Adventure 12'!
Read our full review of the 2020 GILI Adventure 12' by clicking on this link.
GILI Komodo 10'6''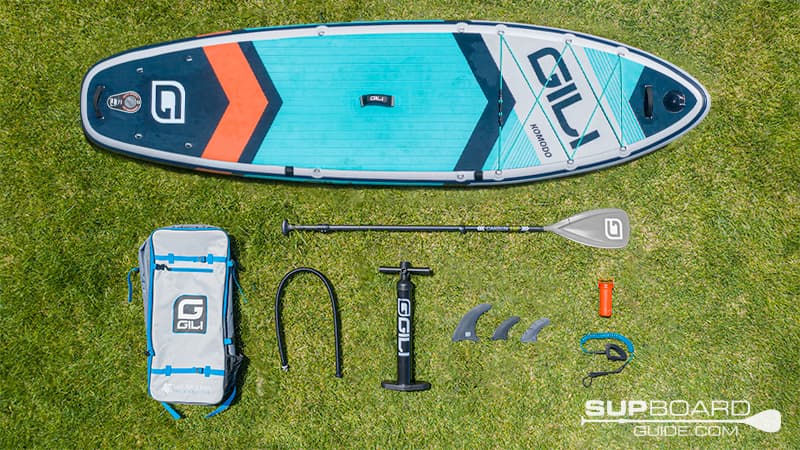 The GILI Komodo 10'6'' is a true all-around board, built so you can sample a bit of everything that SUP water sports has to offer. This very stable and wide board is perfect for those interested in trying some yoga, while also sleek and fast enough for some light touring or casual racing with friends. This is among the most stable paddleboards built by GILI while still staying lightweight and affordable to make it beginner friendly.
As indicated by its name, the Komodo is 10'6'' long. At its widest, the center deck of the Komodo is 33'' wide, with the overall board having a 6'' board thickness. The Komodo weighs about 21 lbs and has a beginner baseline recommended weight capacity of 340 lbs. There are 15 D-rings for most common SUP accessories, and a nose action mount if you have a speaker you wish to use to listen to a yoga instructor. The Komodo 10'6'' has two color options, and is available in both blue and teal.
Due to its great stability but all-around size, this is a great option for all types of beginners, whether it be young teenagers or tall and heavy adults. The wide deck helps it stay steady in moderate chop and wind, though you will have the best time in calmer lakes, bays, and marinas. Be sure to try a little bit of everything with this great all-around SUP, the 2020 GILI Komodo 10'6''!
Read our full review of the 2020 GILI Komodo 10'6'' by clicking on this link.
GILI Meno 10'6''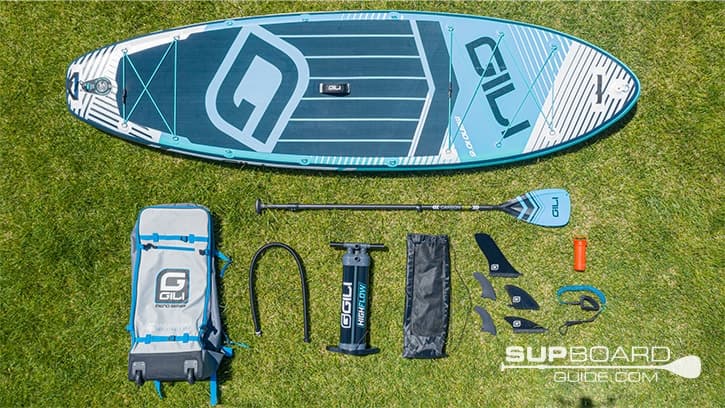 For those interested in a premium all-around board, there is the GILI Meno 10'6''. This board focuses on providing a great balance of stability, tracking, and maneuverability, a jack of all trades that will let you excel in everything you try. The Meno 10'6'' is a fun choice for beginners that they can grow into to unlock its full potential as they become intermediate and experienced paddlers.
The full measurements for this version of the GILI Meno is a 10'6'' length, a 35'' width, and a 6'' total board thickness. The 10'6'' Meno weighs 23 lbs, and has a recommended weight capacity of an outstanding 450 lbs, with a recommended inflation of 14-18 PSI. There is a combination of 15 D-rings and a nose action mount that you can use to secure your accessories to this board. As for color options, the 10'6'' Meno is available in both blue and teal.
We think that this is a suitable paddleboard for all skill levels and sizes, though shorter or younger paddlers will prefer this over the 11'6'' Meno. You can enjoy calm lakes and bays with this SUP, or you can go on a river adventure or enjoy some casual ocean paddling with it as well. The 2020 GILI 10'6'' Meno is one of our favorite paddleboards made by GILI Sports, and is a very affordable premium board at just $800 dollars.
Read our full review of the 2020 Gili Sports Meno 10'6'' by clicking on this link.
GILI Meno 11'6''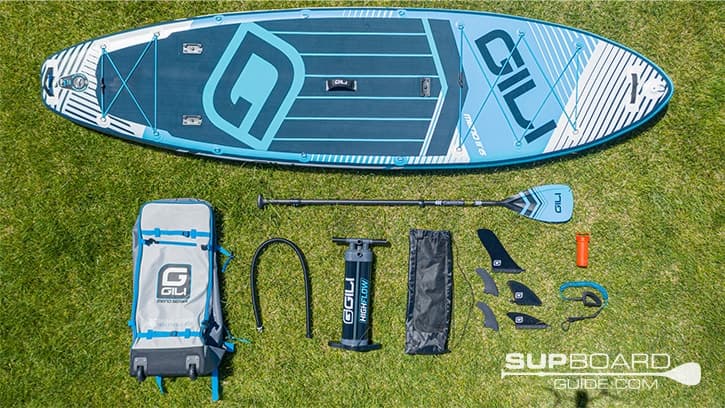 The GILI Meno 11'6'' is one of our favorite GILI Sports paddleboards of 2020. With the best stability among the GILI Sports paddleboards coupled with great tracking and accessory compatibility, this is an all-around built for SUP enthusiasts. Due to its larger size and bigger weight capacity, it is geared a little bit more to taller, larger paddlers than the 10'6 version.
Of the GILI Sports boards, this is the paddleboard capable of supporting the most weight. The 11'6'' board has a 35'' wide deck and is 6'' thick, weighing 24 lbs and having a recommended weight capacity of 485 lbs, which we would recommended inflating to 15 PSI. This all-around is also the most accessory compatible, with 17 D-rings, 3 Scotty Mounts, and a nose action mount for use with all sorts of SUP add-ons.
As a stable, large weight capacity SUP, the Gili 11'6 Meno is a great option for many different SUP activities. Fishers will find the Scotty mounts helpful, while those interested in yoga while still having the performance for racing, touring, and cruising will like it as well. Of all the GILI Sports boards, this is also the SUP best suited for bringing out kids or a pet, and is also able to support two adult paddlers who want a tandem board. While it is the most pricey board made by GILI Sports, the 2020 GILI 11'6'' Meno is among the best SUPs available on the market.
Read our full review of the 2020 Gili 11'6'' Meno by clicking on this link.
GILI Sports SUP review – Accessories
Besides the paddleboard, every GILI Sports kit comes with everything you need to get on the water right out of the box. Though the exact contents vary by board, they typically include:
A comfortable to carry and highly adjustable backpack that will fit your board, pump, paddle, and other important SUP accessories. The GILI Meno backpack also comes with roller wheels for even easier carrying.
A rapid, easy to use manual pump. The standard kits include a single-chamber, dual-action pump, while the Meno has an even quicker but larger dual-chamber, triple-action pump.
A coiled leash, which will keep your board from floating away if you fall off of it in fast moving water.
An adjustable 3-piece paddle, quick to assemble and fits very well in your included SUP backpack. Weights range from 29 ounces to 34 ounces depending on your kit.
The AIR comes with a center removable snap-in fin and two permanent side fins.
The Komodo and Adventure models come with a removable center snap-in fin and two removable snap-in side fins.
The Meno kit has a total of five fins, with 2 removable snap-in side fins and 3 different sized center fins. The US standard center fin box allows for ultimate fin customization for truly fine-tuned performance.
Standard iSUP repair kit. Includes sticky patches for sealing small tears that do not occur on the seams, along with a Halkey-Roberts inflation valve wrench.
2 Year Warranty and a 60-day guarantee. You can read more about their warranty and return policies in the next section below.
GILI Sports has a few key accessories that we would recommend adding to your paddleboard for the best overall experience. They include:
The GILI Sports Kayak conversion seat. Clip them onto your D-rings, and you will have a cushy, comfortable seat for your paddleboard.
The GILI Sports paddleboard carry strap. All GILI Sports boards are light and easy to carry, but make it even easier on yourself with this shoulder carry strap.
The GILI Sports waterproof dry bag and phone case. Protect your equipment and look good while you're doing it with specially designed bags. The waterproof dry bag and phone case match the look of GILI paddleboards, and are built to protect your equipment against wind and water alike.
D-Rings, action mounts, and Scotty mounts are built to be compatible with a large range of popular SUP accessories and add-ons. Be sure to check if they are compatible with your GILI Sports SUP before purchasing!
Where To Buy a GILI Sports Stand Up Paddle Board, Warranties, and Return Policy: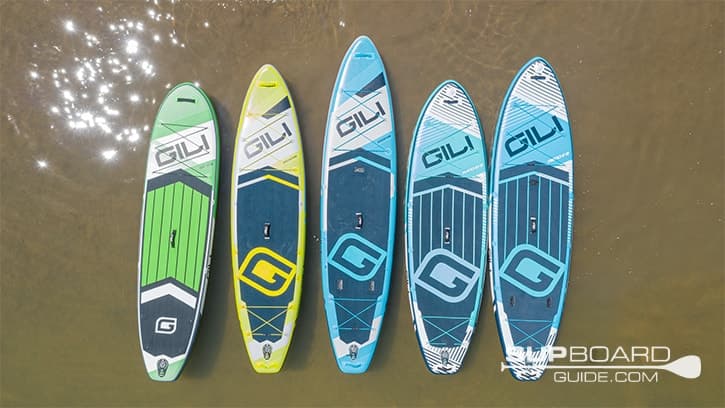 GILI Sports paddle boards are available for purchase right from their website, and offer free shipping in the continental US, with paid shipping for international buyers. By purchasing from GILI Sports, you will receive a 60-day guarantee and 2-year warranty that covers most common and conventional forms of damage your SUP might suffer on a normal trip. GILI Sports also offers 3, 6, and 12 month finance options to assist you in paying off your paddleboard. Finally, by purchasing from GILI Sports, the company will donate $12 to $15 dollars from the proceeds to ocean wildlife and preservation charities.
The following two tabs change content below.
SupBoardGuide
Heyo! At SupBoardGuide.com we are a team who love the water, the outdoors, and are more than grateful that our full-time job allows us to review stand up paddle boards. We paddle year round (it helps that we are just about 2 hours outside of Las Vegas), and we bring in a wide range of paddlers with the goal of providing our readers with the best, most in-depth, and accurate stand up paddle board reviews.
Latest posts by SupBoardGuide (see all)