Gili 11' Adventure Inflatable Paddle Board
Pros
Stable iSUP with great tracking and glide. Fast in the water.
Very lightweight, 21 lbs at 15 PSI. Able to support an adult with pets or kids on deck.
Resilient dual-layer fusion construction. Covered by 2-year warranty.
17 D-rings for lots of add-on customization.
Three distinct color options. Blue, teal, and yellow!
$12 to $15 of every purchase supports ocean preservation charities!
Cons
The deck pad is comfortable, but it could use some grooves for improved traction.
Would like to see the dual-chamber pump added to the Adventure 11' kit.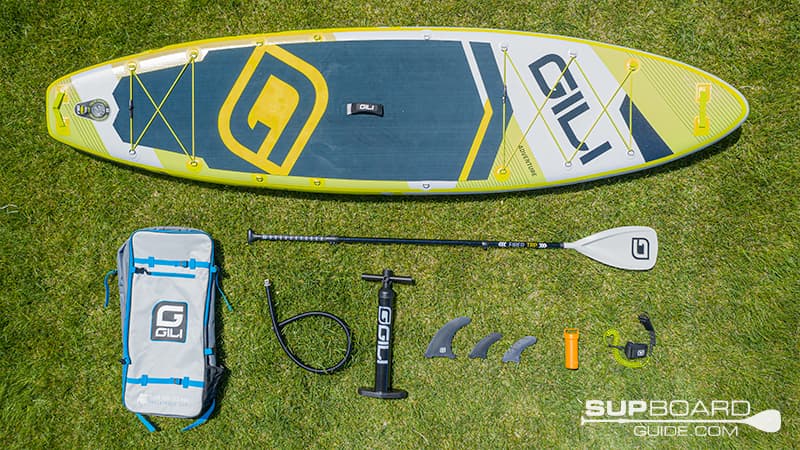 SUP Board Specs
Length
11'
Width
32''
Thickness
6″
Weight
21 lbs
Rider Capacity (lbs)
290 lbs
Recommended Inflation
12-18 PSI
Fins

Tri-fin setup, snap lock fins
Center Fin: 9''
Side Fins: 4.5''

Paddle Type
Fiberglass shaft, Nylon blade
Weight: 34 ounces
Materials
Dual-layer, fusion laminated military grade PVC with a drop stitch core
Who Should Buy This Stand Up Paddle Board:
The majority of those who paddle with the Adventure 11' will have a great time with it. Those we think will like it the most include:
Those who are trying paddleboards out for the first time and want something equally stable and fast in the water.
Those who are getting into paddleboarding and want something that is very easy to handle.
Adults who want a SUP that can easily support themselves and their kids or a pet at the same time.
Those who want a very light SUP that they can hike to the water with.
Experienced paddlers who want a SUP they can go on long paddling expeditions with.
Anyone who wants a stylish touring style SUP, and likes supporting ocean charities as well!
The Adventure 11' will handle most water environments and offer the same great performance. As such, we think you will have a ton of fun paddling at:
Vast, spacious water settings like bays, lakes, or along the coast line.
The ocean, especially for long distance paddling trips.
Some chop and wind, though calmer water will provide the better paddling experience.
Easy, mostly straight rivers that don't require a ton of sudden maneuvering.
Performance
Stability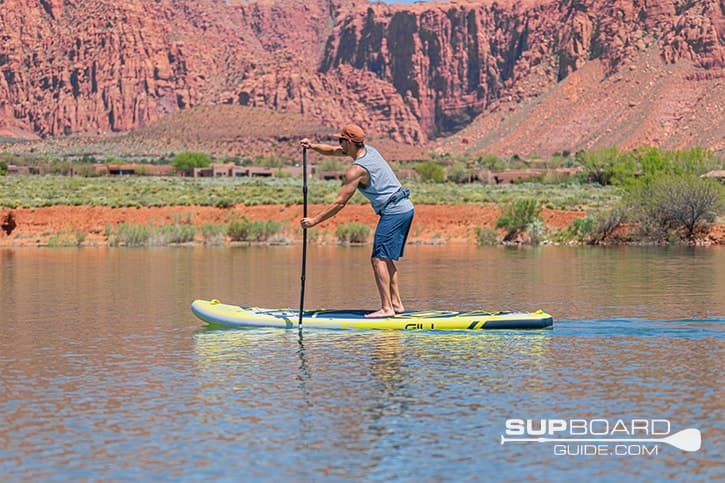 The Gili Adventure 11' feels very stable in the water, making it a great option for those trying to learn how to stand up or have some experience alike. The Adventure 11' relies on a dual-layer fusion build that provides the structural support it needs to support up to 290 lbs, while only weighing 21 lbs when fully inflated. This is definitely a SUP to consider if you want to bring your kids or pet with you, or are a larger sized paddler looking for a very stable paddleboard.
Maneuverability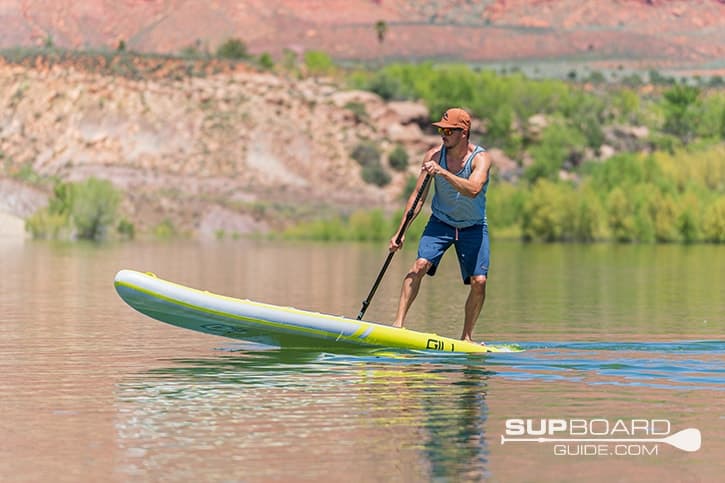 While maneuverability is not the priority of a 11' SUP, you still have the maneuverability you need to dodge rocks, paddleboards, and other objects when you're on the water. If you plan out your course in advance, you'll be able to make the side paddle strokes you need to alter your course. If you do need to turn on the spot, you'll want to perform a step back turn like you see above by pushing the tail of your SUP into the water. The 11' length and solid build of the board makes it pretty easy to raise your nose into the air so you can turn where you need to go. With a little practice, you'll have no problem zooming around and changing where you want to go with the Adventure 11'.
Tracking/Glide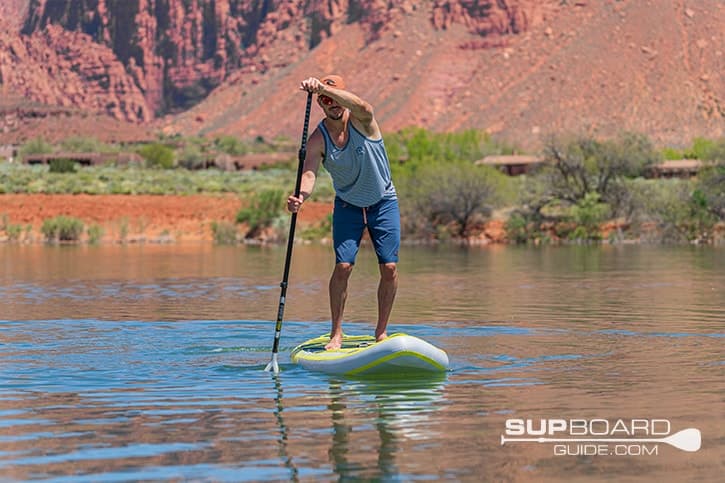 We really enjoy how the Adventure 11' tracks and glides in the water. The rocker has been raised even higher from past Adventure models, making it even better suited for handling chop and small waves. The SUP maintains a tight path in the water, making it easy to go where you want even if your paddle form is less than perfect. With a 32'' wide deck, the lean Adventure accelerates well and is great at maintaining its momentum in calm water. All in all, this is a great SUP for those who are interested in touring the water and trying to discover everything there is to see.
You can also make your paddling experience even better with the included tri-fin setup. Insert the center 9'' fin for even better tracking, and add the side fins for additional stability. The fins are quick to install, and work in every water setting except for shallow water areas like your typical river. They are durable though, and secure nicely with the snap lock system, so make sure you bring your fins with you if you want the best tracking performance!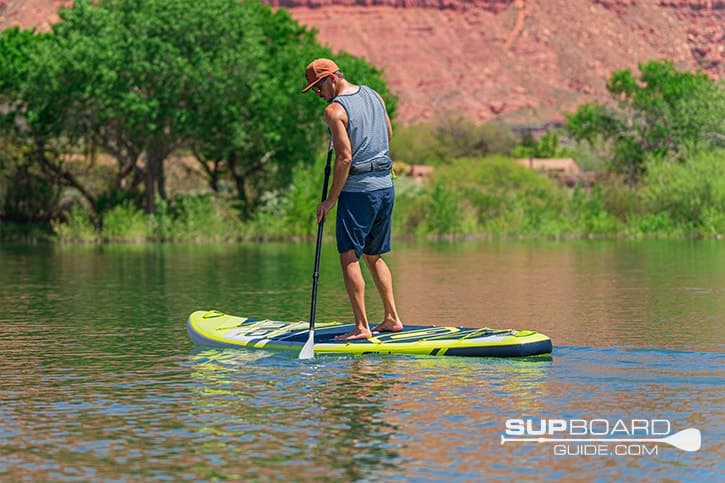 Materials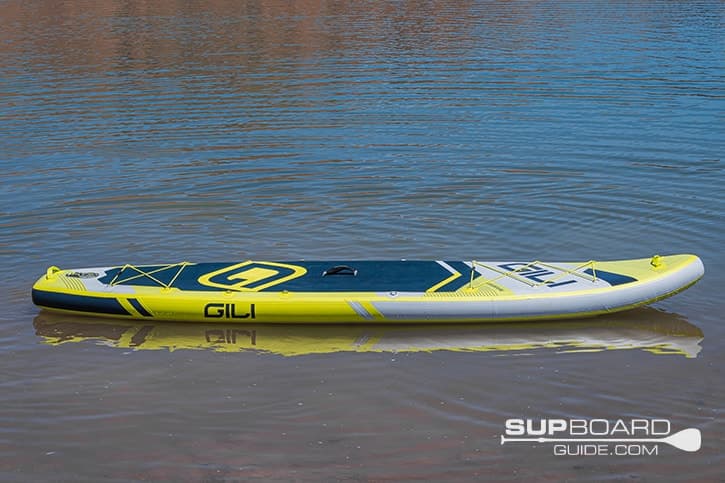 The Gili Adventure 11' is built with a tight drop-sitch core protected by fusion dual PVC layers of protection, which balances a very sturdy build while keeping things light and easy to carry.
So what does that mean? The drop-stitch core is made up of sheets of fabric that are bound together with thousands of tiny threads spread throughout the interior of the core. As air is pumped into the core, the fabric sheets expand like an inflatable, but form a board shape instead of a rounded balloon one due to the threads placed within. This drop-stitch core is durable and solid on its own, but because it's inflatable it can be popped or punctured as well. To protect against structural damage, layers of protection that include coatings of military grade PVC composites are applied for additional protection, rigidity, and weight support. The result is the Adventure 11' you see above, which will withstand most common drops and accidents. You'll be able to withstand crashing into rocks, trees, and other hard objects as you paddle, though try to avoid it as you will damage the coloring of the outer shell.
Board Design/Shape
This version of the Adventure is 11' long, 32'' wide, and 6'' thick. The length + the tri fin setup helps the Adventure maintain a straight course while paddling, besides making your trip an enjoyable experience with its smooth glide. The width and thickness balance the weight support you need for a stable time in the water, but also keeping things fast in the water and easy to carry out of it. The Adventure 11' provides a great experience for beginners, while offering enough performance that you'll want to continue using it as you become more experienced as well.
We would classify the Adventure as a mixture between a typical All-around and touring paddleboard. The Adventure 11' is great for long day paddling trips, but can also be fun for some light racing as well. The size and cushy deck pad make it great for stretching out on or doing some yoga with, or for just hanging out with friends or family on. We also love how light the board is, making it a fantastic choice not just for those who have to hike to get to the water, but for teenagers and other younger paddlers. There's definitely a little bit of something for all types of paddlers to enjoy, from the performance of the Adventure 11' to the features you'll be able to read about next.
Board Features
Dual-layer fusion military grade PVC construction: The Adventure 11' has a good rigid, solid feel that is also very durable, offering great protection for your paddleboard. The Adventure 11' will easily withstand drops, crashes, and other common accidents. Show some care though, because it's a shame to damage the look of such a beautiful board!
Dual Bungee caro area: Both bungee cargo areas are great for storing containers, with larger ones fitting up front and smaller boxes meant for storing in the back. The bungee cords are also removable, in case you want a deck pad that's totally clear.
17 D-rings: The D-rings are compatible with the majority of SUP accessories, ranging from typical coolers and dry-bags to fun attachments like a kayak conversion seat. If you have something you want to bring with you, you'll have a place to attach it.
Fiberglass Shaft + Nylon Blade 3-Piece Adjustable Paddle: Weighing 34 ounces, the included fiberglass 3-piece paddle is a good paddle for beginner and intermediate paddlers to learn with. Easy to adjust, and also floats on the water if you drop it!
Three Carry Handles: All three handles blend into the backdrop colors of the SUP, a nice little touch to make this stellar looking board stand out more. The center handle also has a neoprene cover, making it cozy to hold no matter how cold or wet your hands are.
Long Eva traction pad: Outside of the forward bungee area, the EVA traction deck pad covers much of the SUP. The EVA foam won't get hurt by the water, while staying smooth and soft for standing, sitting, or stretching activities alike. We would like some grooves or a diamond texture for increased traction, but it provides good grip to help you stay on your feet as it is!
3 Color Options: Available in blue, teal, and yellow.
Charitable Donation with Every Purchase: See the turtle logo on the bottom of the Adventure 11'? It's definitely cool on its own, but it is also a promise that GILI Sports will donate $12 to $15 dollars to ocean preservation charities with every new Adventure 11' purchase. Have fun paddleboarding with a great board and support the ocean at the same time!
Fins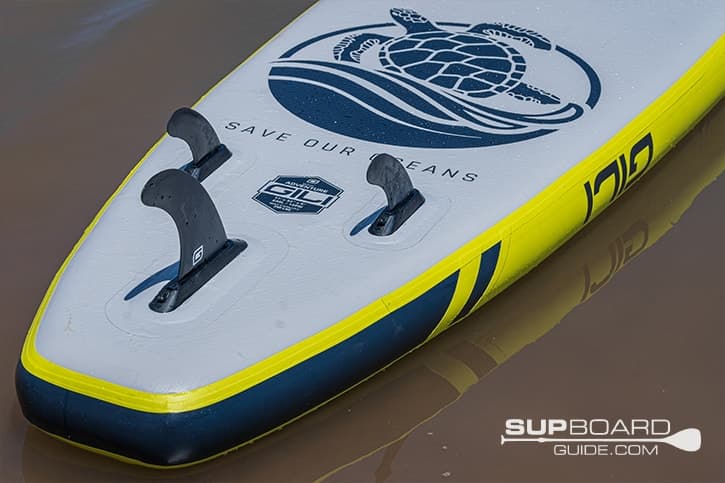 The Adventure 11' has a tri-fin setup that is very easy to install, tightly securing the fins in seconds as you push the lever down. The fins are well built as well, and as long as they are locked in place properly they should last as long, if not longer, than the Adventure 11'. You can go with just the center fin for increased tracking, or use all three if you want to improve tracking and stability alike. We really like the performance of this fin setup, though make sure you have the depth you need to safely use the 9'' center fin if you're going out in shallow water.
Deck Pad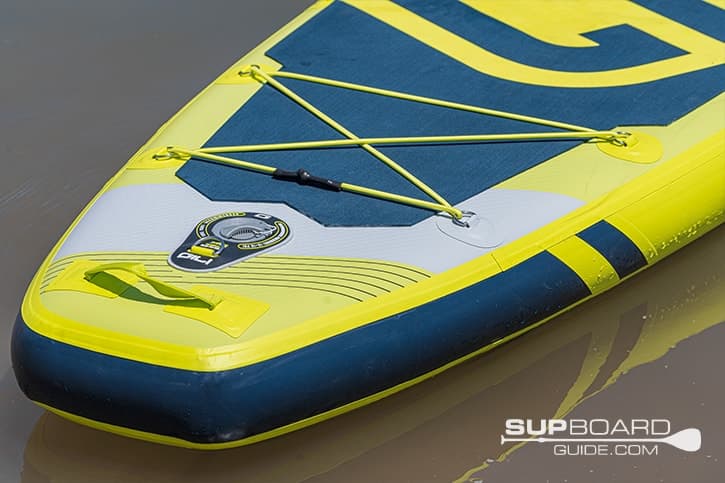 This is a solid deck pad, and will be well suited for almost any type of SUP activity. The nice, smooth EVA traction pad covers more than half the SUP, giving you room to stretch out or practice some yoga. The EVA foam isn't just comfy, but is made to safeguard against allergies, blisters and other forms of skin irritation no matter how long you stand on it. However, while the textured foam does help you maintain your grip to the board, a few changes could significantly improve traction. Some deep grooves, a diamond pattern, or a stamp logo pattern would all turn the Adventure 11 deck pad from being just good to truly great.
Handles
We do like the fact that three handles are included with the Adventure 11', located on the nose, center, and tail of the SUP. The SUP is very easy to carry by itself if grabbed in the center, but younger paddlers going out together can use the front and rear handles in tandem. The one minor complaint we have though is that the front and ear handles don't have the superb neoprene cover that protects the center handle. Neoprene makes it so you avoid hurting or irritating your hands if you grip the board handles when your hands are cold or soaking wet. Seeing all three handles get the neoprene protection or cover would make the handles perfect.
D-Rings/Bungees/Cargo Areas
If you're going on a long paddling trip, you're probably going to want to bring some stuff with you. Fortunately, with 17 D-rings, you'll have plenty of places to hook stuff onto without getting in your way. Dry-bags, coolers, cell phone cases, and other small bags and pouches will all easily clip onto the D-rings that litter the SUP board. We're sure you'll have something that you'll want to bring with you to improve your paddleboarding experience.
If it doesn't clip into one of the D-rings though, don't worry too much as there's also two bungee systems that you can rely on. The forward bungee cargo area is great for medium sized containers, while smaller boxes or stuff you want quick access to fit in the back. The front bungee area is also a great place to insert your paddle if you need to set it down quickly. It doesn't take much to undo them either, so you can have full access to the surface of the Adventure 11' when you need it.
Accessories

Fiberglass 3-Piece Adjustable Paddle
The included 3-piece paddle sports a fiberglass shaft and a nylon blade, and weighs 34 ounces fully assembled. Fiberglass is a step up above the heavier aluminum paddles included with many entry-level kits, while not being as light as carbon fiber paddles. Still, the fiberglass paddles does help justify the affordable sub $650 dollar price tag, and will be an acceptable paddle to start with for beginner to intermediate paddlers. There is also a carbon fiber option you can upgrade to at checkout that weighs just 29 ounces.
The paddle is very easy to break down or put together, with the 3-pieces fitting well into the backpack. Almost every adult paddler will be able to find the proper height setting to fit their stature, and with an ergonomic handle you'll find it cozy to hold but firm enough to make your strokes feel great. It will also float in the water if you drop it, but make sure to grab it before it floats away if you're paddling in rougher waters.
Pump
The single-chamber, dual-action pump is light and compact, making it easy to take with you even if you plan on hiking a fair bit to get to the water. It's also very easy to use, and by following the instructions printed on the pump you'll become a master at inflating after just a couple of trips. However, we would also like to see the Adventure 11' come with the dual-chamber pump included with the GILI Meno. Dual-chamber pumps come with three action modes that, when used properly, inflate boards much faster than single-chamber pumps. Given the size of the Adventure 11', it would be great if it was at least an option to upgrade to at checkout.
Backpack
GILI Sports has made some cool improvements to their 2020 backpack. The overall build of the bag is thicker than before, providing additional protection against the elements and weight support for the items you carry within. There are two compartments, consisting of a small front pouch for your leash, fins, and other small items besides the central compartment for your board, pump, and paddle. The top handle was there before, but a new side handle has also been added if you don't want to wear the bag like a backpack. When you do need to do some hiking, the straps are adjustable, with the back of the bag cushioned for maximum comfort. This is a fantastic bag to store your kit in if you ever need to hike somewhere, keeping things light but sturdy enough to resist tears.
Leash
The included leash is 10' long, ensuring that your paddleboard doesn't float too far away if you fall in fast moving waters. Some leashes also can be dangerous due to the whiplash of tugging on them, but the included leash is coiled to help prevent that from happening. However, if you truly want to stay safe, make sure you go out with a PFD. The leash won't help you float, so always head out with a PFD even if it's a shallow water setting.
Repair Kit
The Gili Adventure 11'' is very well built, so you should be able to paddle for years without suffering any performance problems. If you do get a minor leak or puncture, you can use the included repair patches as long as the damage didn't occur on the seams. There is also an inflation wrench for tightening Halkey-Roberts inflation valve if it ever comes loose. We don't expect you to ever have to use either of these items, but they are hand to have if something does go wrong.
For any major SUP damage, be sure to contact Gili Sports. We include more information about their coverage below.
Optional Accessories
As you have 17 D-rings, you have options if you want to bring stuff with you while you paddleboard. Many third party vendors make gear that will clip onto the D-rings with ease, as do GILI Sports themselves. A few of the accessories available through GILI Sports that we think are with checking out include:
Kayak conversion seat
Paddleboard carry straps
Waterproof dry bag
Waterproof phone case
Company Review – GILI Sports
GILI Sports was started by Jay Regan in order to create superb, lightweight paddleboards in an environmentally friendly, sustainable way. We like their paddleboards, and we love how they've committed themselves to support multiple organizations dedicated to saving our oceans. Every GILI Sports SUP contributes $12 to $15 to groups like the Coral Reef Alliance, Project Aware, Oceana, and Save our Turtles. The turtle stamp located on the bottom of every paddleboard is a commitment to making our oceans better with every new GILI Sports paddleboard.
The charitable efforts by GILI Sports is commendable on its own, though we also really appreciate the expansive product coverage they offer as well. The Gili Adventure 11 is protected by a 60-day guarantee and a 2-year warranty. Most common paddleboard problems and accidents are protected by their company coverage, with a great and responsive support team that is quick to help and respond to questions. The paddleboards are so well made though, we doubt you'll ever even need to reach out to GILI Sports.
Conclusion/Bottom line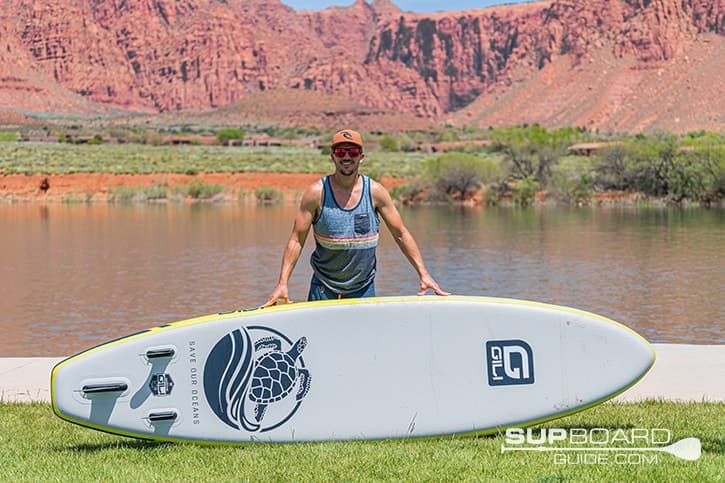 The Gili Adventure 11' is a lean but firm paddle board that has great stability, tracking, glide, and speed. Those who are just getting into paddleboarding or have been doing it for years will both enjoy the Adventure's performance alike. This is especially a great board for those who have to hike long distances to get to the water as it weighs just 21 lbs, while still providing a solid feel. While the deck pad could use some improvements, its soft surface does make it enjoyable to be on, and will be very comforting for going out with kids or pets. The total kit is also everything you need to enjoy the water right out of the box, priced affordably at less than $650 dollars. For these reasons, we think the ADventure 11' is a great all-around/touring SUP, one you can spend hours on and have a blast with.
Is there something else you want to know about the Adventure 11', or about paddleboards in general? Do you want to provide your own feedback, and let other interested paddleboarders know about your experiences with the Gili Adventure 11'? Then be sure to leave a comment below or send us an email! We love to hear from our readers, and make sure to update our reviews based upon the feedback we receive.
Thank you for reading, and we hope you have fun SUPing!
The following two tabs change content below.
Justin - Chief Paddler
Heyo! At SupBoardGuide.com we are a team who love the water, the outdoors, and are more than grateful that our full-time job allows us to review stand up paddle boards. We paddle year round (it helps that we are just about 2 hours outside of Las Vegas), and we bring in a wide range of paddlers with the goal of providing our readers with the best, most in-depth, and accurate stand up paddle board reviews.
Latest posts by Justin - Chief Paddler (see all)