GILI 12' Adventure Inflatable Paddle Board
Pros
Very stable all-around SUP with superb speed, tracking, and glide.
Weighs just 22 lbs fully inflated, with 330 lbs weight capacity.
Fusion dual-layer construction is rigid and firm. Comes with a 2-year warranty.
Fully packed kit. Everything you need for the water out of the box.
3 different colors! Available in blue, teal, and yellow.
$12 to $15 of every purchase goes to ocean charities!
Cons
The deckpad could use some grooves or a deeper texture for better paddler grip.
Dual-chamber pump would make inflating the 12' quicker. However, a single-chamber pump is nice for backpacking adventures due to how light it is.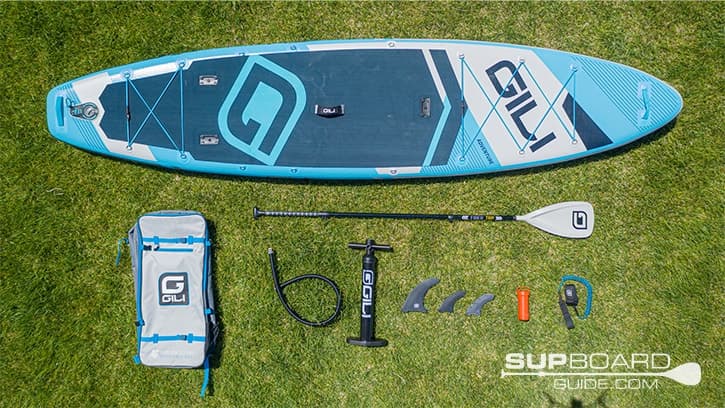 The Adventure 12' is a fun, easy to carry, touring board that is great for most SUP water sports. It is the longest paddleboard manufactured by GILI Sports, featuring excellent tracking along with a gentle glide bolstered by its quick to install snap lock fins. This is a stable SUP as well, able to support adult paddlers of any size along with their kids or a pet at the same time. The kit comes with everything you need to get on the water, and is so easy to put together that after unloading your gear, you can inflate and assemble everything in less than 15 minutes. If you are looking for a touring board that will let you explore every nook and cranny but won't break the bank or your back, check out the Gili Adventure 12'.
SUP Board Specs
Length
12'
Width
32''
Thickness
6″
Weight
22 lbs
Rider Capacity (lbs)
330 lbs
Recommended Inflation
12-18 PSI
Fins

Tri-fin setup, snap lock fins
Center Fin: 9''
Side Fins: 4.5''

Paddle Type
Fiberglass shaft, Nylon blade
Weight: 34 ounces
Materials
Dual-layer, fusion laminated military grade PVC with a drop stitch core
Who Should Buy This Stand Up Paddle Board:
We think almost everyone will thoroughly enjoy what the Gili Adventure 12' has to offer. Those who will like it the most include:
Beginner to intermediate paddlers who want a touring board that is stable and easy to handle.
Paddlers who would like something that is comfortable to paddle on with their kids or pet.
Anyone who has to travel a long distance to get to the water and need something light.
Fishers who want a few add-ons for their gear while maintaining great SUP performance.
Those who have the stamina and desire to paddle from sunrise to sunset.
Paddlers who care about looks just as much as they care about performance.
Buyers who want to stick with companies actively trying to improve the ocean with their business.
You'll have a great time exploring various water settings with the Adventure 12'. If you want a smooth and comfortable time though, stick to paddling in places like:
Spacious, wide open areas like large lakes, marinas, or along coast lines.
Calm water settings, especially if you want to see the best performance from your SUP.
The ocean, and other slightly choppy waters and windy settings, if you don't mind some performance loss.
Slow moving rivers that don't require high maneuverability and frequent sudden turns.
Performance
Stability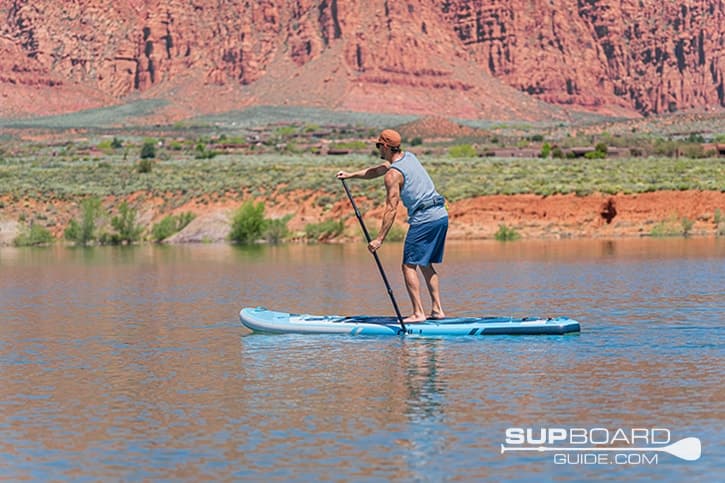 Even if you are brand new to paddleboarding, you will have no problem standing up in the water with the Gili Adventure 12'. This is a stable paddleboard that is well-suited for supporting adult paddlers, no matter how tall or short they are, with a 330 lbs weight capacity. With its long length, the Adventure 12' also has the stability and space you need to go out with your kids or a pet at the same time. The fusion dual-layer construction feels rigid and firm, meaning you can enjoy both calm water and a little bit of wind and chop without feeling too shaky on the Adventure 12'.
Maneuverability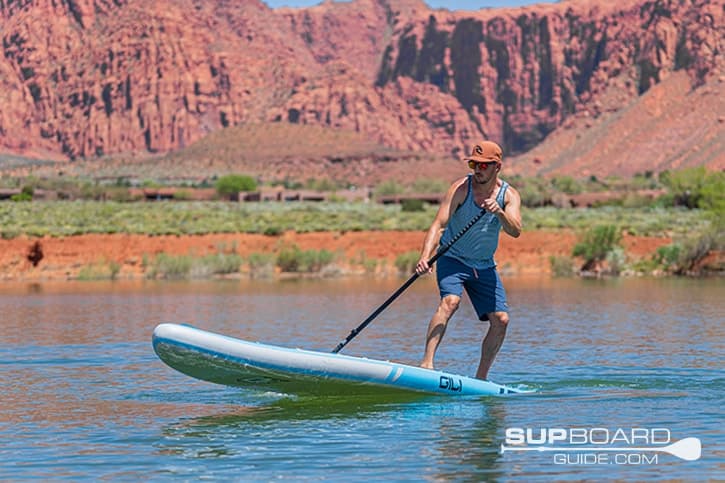 The longer a paddleboard is, the harder it can be to maneuver, but with a little practice and awareness you can still dodge objects and turn when you need to on the Adventure 12'. Most of the time, by just altering your strokes and looking ahead, you'll correct your paddling path so you don't have to make any sudden turns. For the rare occasion where you do need to immediately change your direction, or just want to do it for fun, you can do a step back turn. By placing a foot behind you and pushing the tail into the water, you can raise the nose and quickly pivot where you need to, like you see in the picture above. Keep these tips in mind, and you'll have no trouble turning and maneuvering with the Gili Adventure 12'.
Tracking/Glide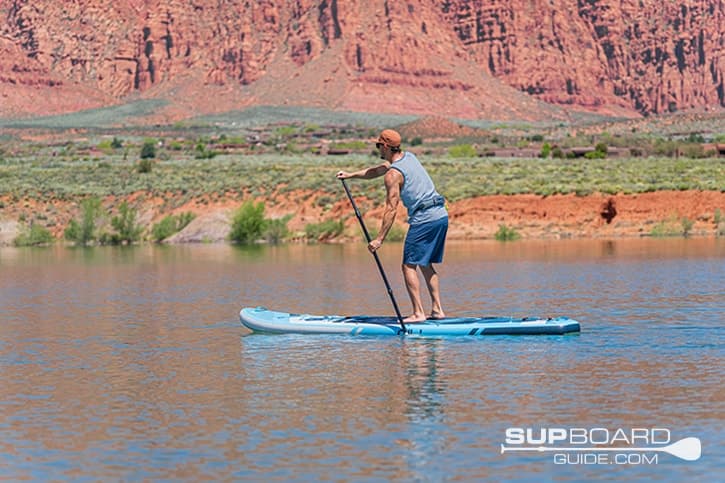 The best performance factor to consider with the Adventure 12' is its tracking and glide. Beginners who are still trying to learn proper paddling techniques can still enjoy keeping to a straight path due to the long length of this SUP. As for the glide, the Adventure 12' offers a satisfying experience, quickly picking up speed and maintaining it well as you paddle. The rocker, which helps the paddleboard handle chop and waves, has been raised even higher in 2020 for additional rough water support. The Adventure 12' is a very fun SUP to paddle with, which will encourage you to spend hours touring the water.
It doesn't take much work either to improve the tracking and stability either with the included snap lock fins. You can read more about the fins themselves below, but regarding performance make sure you put the center fin in for better tracking and the side fins in for additional stability. We typically go out with all three fins, and they definitely make your paddling experience even better, though you won't want to use these fins in shallow water. Otherwise, as long as you have at least 9'' of depth, you'll have excellent tracking and a smooth, quick SUP with the Adventure 12'' and tri-fin setup.
Materials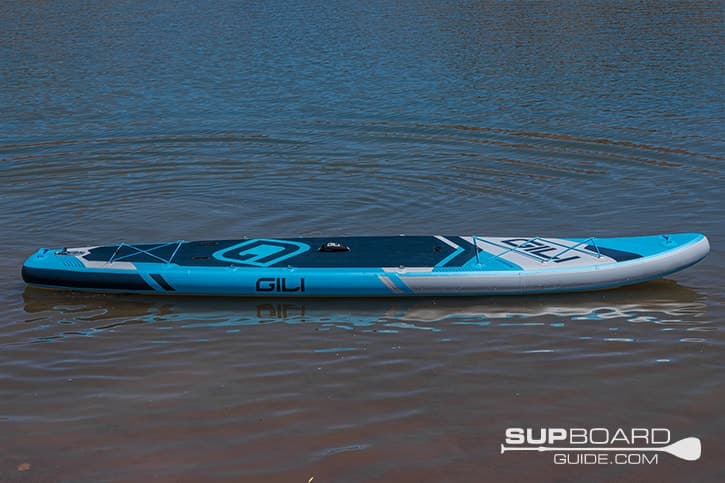 The Gili Adventure 12' has a tight drop-stitch core and fusion dual-layer PVC protection. The drop-stitch core is made out of sheets of fabric connected to each other with thousands of threads. When air inflates this core, it will expand like any other inflatable, but because of the threads the board shape you see above is created instead of a rounded shape like most inflatables. This drop-stitch core is resilient on its own, but is vulnerable to punctures like many typical inflatables.
To alleviate this, and to improve performance along with structural weight support, the drop-stitch core is covered with additional layers that include military grade PVC coatings. The result is a very durable paddleboard that will handle most common forms of accidents and damage that befall paddleboarders. Drops and crashes will do little to no damage to the Adventure 12', ensuring you can use it for years with no performance loss. The Adventure 12' has good durability that is even more impressive given the SUP itself weighs just 22 lbs.
Board Design/Shape


The Adventure 12' is a touring board that can be used for more than just exploration, making it similar to all-around paddleboards as well. The 12' length of this version of the Adventure makes it easy to keep a straight and steady course, while the 32'' wide deck is slim as to keep you quick in the water as well. The 6'' thickness, along with the fusion dual-layer PVC construction, provides the weight support needed to support an adult and an additional, smaller passenger.
This paddleboard is best suited for long distance paddling trips, but you'll have fun engaging in some other activities as well. If you want to engage in some light racing, you'll be able to keep up with your friends once you build some speed. Those interested in spreading out, bringing extra equipment, or yoga will all appreciate the long deck space as well. Fishers will appreciate the 3 Scotty mounts built right into the board. The SUP's lighter weight also makes this a viable option for younger paddlers getting into the sport, or those who need to hike in with a board. Due to its overall performance and shape, we think that the Adventure 12' has something it offers to everyone beyond just using it for touring.
Board Features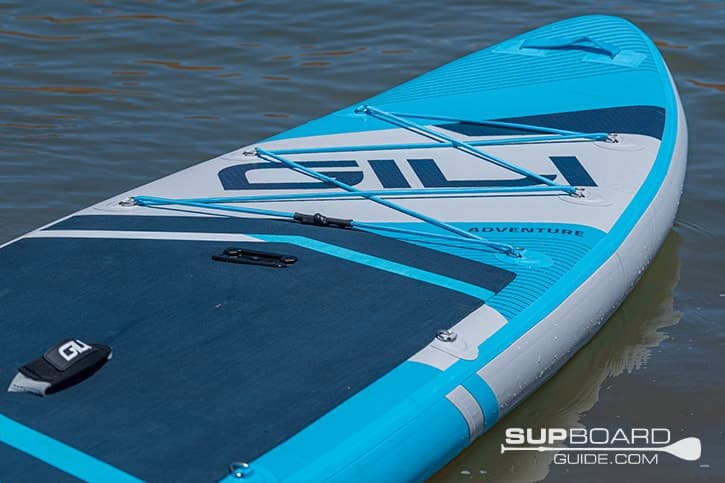 Dual-layer fusion military grade PVC construction: The fusion dual-layer used for the Adventure 12' protects it against most common SUP accidents while keeping things light and easy to carry. By just being a little bit careful, you'll be able to use this SUP for years without any performance loss.
Bungees + Cargo Space: The front bungee area is great for locking down coolers and medium sized containers. Use the rear bungee cargo area if you want to bring along something smaller that you'll have quick access to
17 D-rings + 3 Scotty Mounts: The D-rings by themselves will help you clip in dry-bags, cases, pouches, and many other common SUP accessories. Something the Adventure 12' has that the 11' version doesn't are the 3 Scotty mounts. Scotty mounts are the most popular type of fishing gear mount, so bring your rod holders and other add-ons along if you want to try your luck with a line!
Fiberglass Shaft + Nylon Blade 3-Piece Adjustable Paddle: Very easy to put together, and will float on the water if you drop it. You can quickly adjust the height to, allowing you to trade with friends as you take turns on the Adventure 12'. Weighs 34 ounces, and is a suitable paddle for beginners to learn with.
3 color coded carry handles: A nice touch to the carry handles is that they blend into the backdrop of the board, further improving the overall look. Two paddlers can carry the Adventure 12' with the nose and tail handles, or a single paddler can carry the SUP with the center handle. The center handle also has a neoprene cover!
Extended EVA traction pad: This is a very comfortable EVA deck pad to stand on, and won't be damaged when you get water on it. The smooth surface is great for practicing yoga on, with the EVA foam safeguarding against blisters and other skin irritants. You'll find it comfy to stand or sit on for hours straight, though we would like to see some improvements made to enhance board grip.
3 Color Options: Available in blue, teal, and yellow.
Charitable Donation with Every Purchase: GILI Sports is committed to donating a portion of every new SUP sale to ocean preservation and wildlife charities. The stamp on the bottom of the Adventure 12' is a promise to donate $12 to $15 dollars if you buy it.
Fins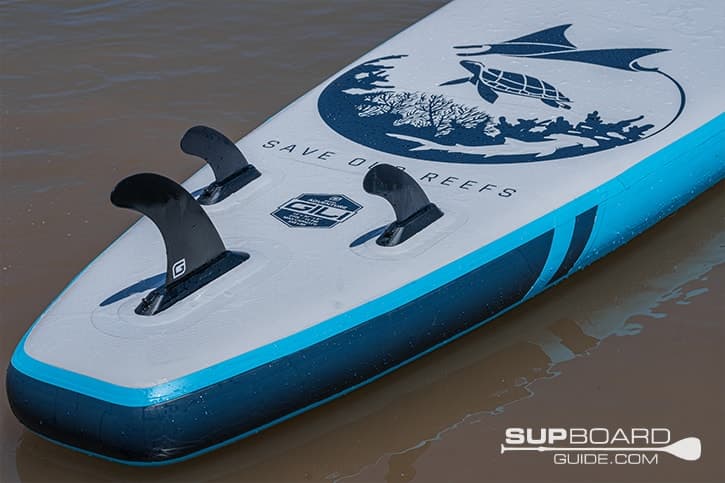 The tri-fin snap lock system is a solid inclusion, featuring fins that can be securely locked into the bottom of the board in seconds. The fins are just as well built as the Adventure 12' itself, ensuring that they will last for years even if you occasionally drop or mishandle them. Make sure you install the 9'' center fin if you want to improve your tracking, or use the 4.5'' side fins if you also want to improve your stability. These fins will work in all water settings except for shallow environments, so take a few seconds before you go out to make sure that you put them on!
Deck Pad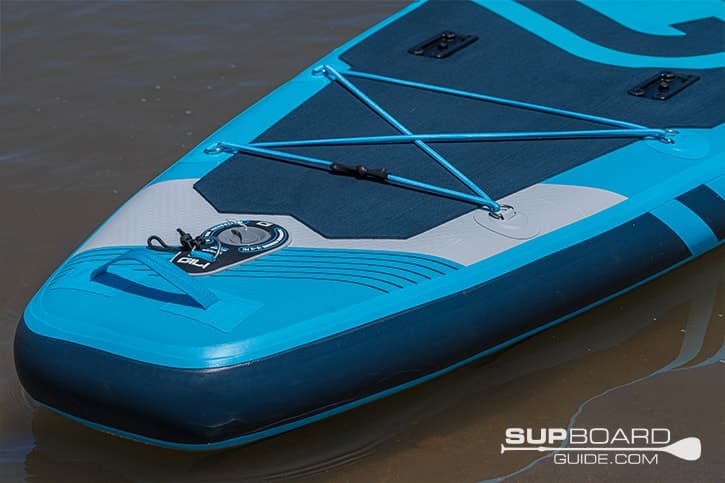 The Adventure 12' deck pad is comfortable to stand on, and shouldn't cause any skin or feet irritation even if you paddle for a whole day with it. We also enjoy how long the deck pad is, covering the length of the SUP outside of the nose cargo area. The Adventure 12' is definitely stable enough that you'll hardly fall in even with some light chop, and there is some texture support with the Adventure 12'. However, there are a few changes we'd like to see for additional traction support. Some deep grooves added or some sort of thicker texture pattern would both be very beneficial, and would help this deck pad stand out even more.
Handles
The three handles match the color of their respective backgrounds, helping them blend in well the beautiful Adventure 12'. The handles themselves are located on the nose, center, and tail, allowing for single person carrying in the center or tandem carrying in the front and back. Overall, these are good handles, though we would like to see the front and rear handles get the same comfy neoprene covering that the center handle has.
D-Rings/Bungees/Cargo Areas
Featuring 17 D-rings, you have plenty of options for connecting any accessories you want to bring with you on the water. Dry-bags, cell phone cases, and other containers are just a few options that fit on these D-rings. If it can clip in, you'll be able to easily secure your personal items to the top of your paddleboard.
There are two bungee cargo areas, the front cargo area for medium sized containers like coolers, while the rear cargo area will keep smaller containers in place. Something else the 12' Adventure offers as well are 3 Scotty mounts, perfect for securing fishing gear. If you have a rod holder or some other common fishing attachment, you can rely on the forward mount, or on either of the two rear mounts. They're close enough to make grabbing your fishing gear easy, while far enough away that the typical paddler won't accidentally step on them as they paddle.
Accessories
Fiberglass 3-Piece Adjustable Paddle
The fiberglass paddle shaft and nylon blade, when assembled together, weighs 34 ounces. The paddle feels solid and is comfortable to hold, and it's light enough that you won't feel tired using it even if you paddle for several hours straight. Those who want to invest into SUP sports for the long run should consider upgrading to the carbon fiber paddle at checkout, which weighs 29 ounces. If you just want something easy to learn with and don't mind having to upgrade down the line, you'll like the included fiberglass paddle.
The paddle is very easy to put together, and once assembled can be altered to fit the height of almost all adult paddlers. The nylon blade has a great mix of flex and firmness, giving you a great push in the water while resisting the occasional accident if you drop or step on it. The paddle will also float on the water, so don't worry too much as you adjust it or pass it to a friend while paddleboarding.
Pump
GILI Sports includes a single-chamber, dual-action pump with the purchase of the Adventure 12'. This is a light, straightforward pump that will help you inflate your SUP in less than 15 minutes by following the instructions printed on the exterior of the pump. With a little practice and the right amount of stamina, you can probably even inflate the Adventure in less than 10 minutes.
The single-chamber pump is handy, and does keep the overall weight of the kit down. However, we would also like to see GILI Sports at least include the option to go with their dual-chamber pumps at checkout. While larger and heavier, dual-chamber pumps will inflate paddleboards faster than single-chamber pumps. Given the size of the Adventure 12', it would be a great option that would make inflating the long SUP much easier.
Backpack
Besides the SUP itself, the 2020 backpack has also seen some cool improvements over past versions of the bag. The overall bag itself has been made thicker, granting additional protection against the elements, such as sand and water. The top handle was there before, but an additional side handle has been added as well so you can carry the bag a short distance without having to put it on. For those who do need to hike, they'll enjoy the padded back and adjustable straps for an optimized, pleasant hiking experience. As for storing your gear, there is a small forward facing compartment for fins, the leash, the repair kit, and other small items. You can store the SUP, pump, and paddle in the center compartment, which has plenty of space for quick and easy packing once you want to pack it all up.
Leash
If you are heading out on fast moving or tumultuous waters, or just don't think you'll be able to resist taking a swim, you'll want to wear the included 10' coiled leash. The leash is easy to use, clipping onto one of the D-rings and wrapping around your ankle or calf on the other end. The leash will keep your SUP close if you go into the water, though we want to point out it won't help you float. Always be sure to wear a PFD if you're going paddleboarding if you truly want to stay safe!
Repair Kit
The included repair kit will probably never be used, given how sturdy the Adventure 12' is. However, it's nice to know you do have a couple of tools to help you with minor SUP problems. For small holes and tears that don't occur on the seams, you can apply the included patches. If the Halkey-Roberts inflation valve comes loose after several years of use, you can easily tighten it up with the valve wrench.
If you suffer severe board damage, or have a problem that can't be fixed with one of the tools mentioned above, be sure to contact GILI Sports for additional help.
Optional Accessories
Scotty mounts are the most popular mount option for fishing gear, while the D-rings will let you clip in some of the most popular SUP add-ons out there. GILI Sports also has a few add-ons as well that go well with the Adventure 12'. A few we think you should consider include:
Kayak conversion seat
Paddleboard carry straps
Waterproof dry bag
Waterproof phone case
Company Review – GILI Sports
Started by Jay Regan, GILI Sports (named after the Gili Islands) is a paddleboard manufacturing company dedicated to not just making a great product, but improving the world as they operate. The turtle stamp printed on the belly of their SUPs is a commitment to donate a portion of their proceeds, $12 to $15 dollars, to charities working to protect our oceans. Some of the charities that have benefited from GILI Sports includes the Coral Reef Alliance, Project Aware, Oceana, and Save our Turtles. Buying a GILI Sports board means you're not just buying a great product, but helping our world at the same time.
We love how GILI Sports operates, and we also love the protection coverage they offer with their paddleboards as well. The Gili Adventure 12' is backed by a 60-day guarantee and a 2-year warranty. While we doubt you'll ever have to rely on the warranty coverage due to how well built the Adventure 12' is, it's great to know that you have options if something goes wrong. We love talking with GILI Sports' support team, and we've also enjoyed seeing how their boards improve year over year. It's great to go out on a GILI Sports board, be it the Adventure 12' or one of their other SUPs, and are excited to see what they come up with next!
Conclusion/Bottom line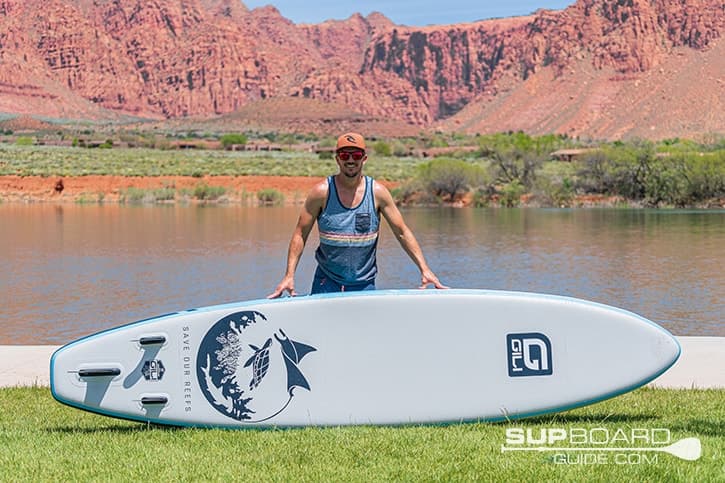 The Gili Adventure 12' is a touring board built for exploring the water, but is good at doing other things beyond touring as well. The 12' length and raised rocker will help you keep a straight course even in some light chop, with the total volume providing the stability to stand tall in the water. Adult paddlers light or heavy will have no problem staying afloat, and can even take out their kids or pet with them without things becoming unsteady. If you're interested in yoga, you'll have the space to practice it. Fishers will like the room they have for their gear, and will also be able to install rod holders right into the board with the Scotty mounts. We also have to emphasize how light it is at just 22' lbs while still offering good performance. For those who want a steady, stable board that is easy to carry, definitely consider the Gili Adventure 12'.
Have any questions about the SUP, our review, or paddleboards in general? Then feel free to comment below and let us know, or send us an email if you prefer. We love talking paddleboards, and we also make sure to update our reviews as we test them out more and receive feedback. Be sure to check out our review again from time to time to see our up to date thoughts!
The following two tabs change content below.
SupBoardGuide
Heyo! At SupBoardGuide.com we are a team who love the water, the outdoors, and are more than grateful that our full-time job allows us to review stand up paddle boards. We paddle year round (it helps that we are just about 2 hours outside of Las Vegas), and we bring in a wide range of paddlers with the goal of providing our readers with the best, most in-depth, and accurate stand up paddle board reviews.
Latest posts by SupBoardGuide (see all)