The "best" is different depending on who you are and where you like to SUP. Seeing as the general SUP population are not performance riders, I decided a list of the best All-rounders/Cruisers I've tested this year makes the most sense.
I prefer All-rounders or cruiser style boards – I like the convenience of having one board for both waves and flat water. I don't need a performance board as I'm not a racer or have the desire to drop into 6ft waves (yet) on a SUP. In the last few years, SUP designers have been consistently innovating to improve All-rounder features. You can see small differences between designs that accentuate your ride hinging on particular wants, and hence, it's worth comparing boards.
Below I'll give a handful of recommendations of SUP's which are turning heads in the industry. You'll have your satisfying SUP quiver in no time…
Quick Answer: What's the Best Inflatable SUP?
Note: The boards are not ranked in a particular order. I chose 3 somewhat different boards that all bring some unique features to the table. As I've said before, there is no one best board. Just read through the list and see which one suits your needs the most.

1. The iRocker Cruiser 10'6″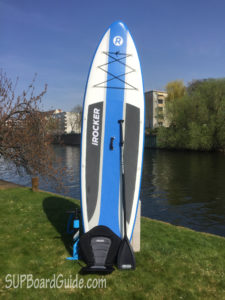 The 10'6 x 33" x 6" iRocker Cruiser. The Cruiser has a similar design to that of an All-rounder; however, features like its extra-wide tail and width make it perfect for relaxed paddling with loads of extra gear (dogs/kids) or yoga as well.
iRocker is a relatively new company specializing in inflatable boards. And they do a superb job.
They supply you with all necessary extras to get going – pump, repair kit, fiberglass paddle, and bag. Along the way they've made mentionable improvements to all of these extras, delivering an overall high-quality product. All of the Cruiser boards come with an option of buying a Kayak Bundle – Seat and Paddle Blade – A fun feature to expand the possibilities of your SUP-ing.
The Cruiser provides a super stable platform combining perfect width and thickness for activities like SUP Yoga and includes storage area with tie-downs at the front of the board to hold your paddle/yoga blocks, water, etc.
From the moment I got on the 10'6 Cruiser, I felt incredibly centered, I could move my feet around, and the board didn't rock too much, this is a bonus for beginners that are still trying to find the right place to stand.
The tri fin setup is extremely beginner friendly, helping you stay tracking in a straight line, but honestly, I think that's a plus for everyone! It glides and gains momentum excellently in the water, making for a longer-lasting serotonin filled paddle.
Super-tough materials – Military Grade PVC Layers & Drop stitch internal fabrics
Proven durability – 2 Year Warranty
Competitive Prices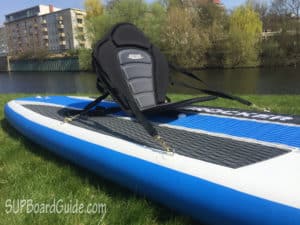 If you're someone who likes to use your SUP for leisure or fitness mainly, the Cruiser is an optimum choice. While a board like the Fanatic Fly is another ideal choice for cruising, small features on the Cruiser make it the best option. The Cruiser's additional 1.5″ in thickness – even though a small difference, make for a more stable base and don't produce as much drag as adding length would.
2. The Thurso Surf Waterwalker 11′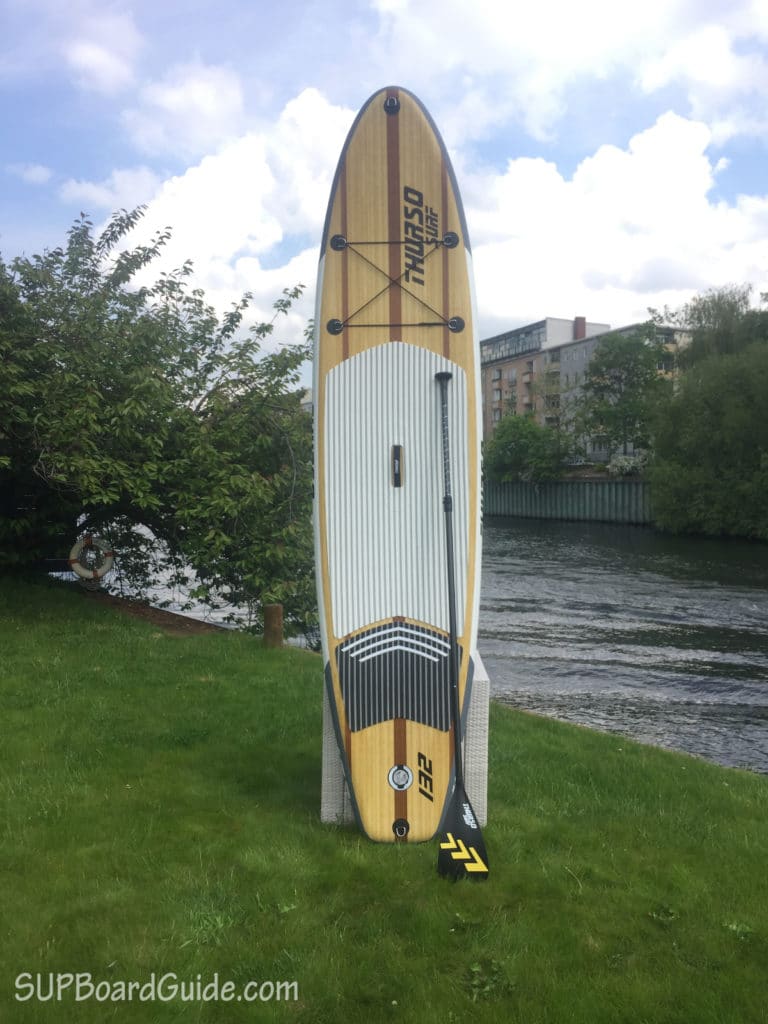 Growing up everyone either loved or hated the new kid on the block, in this case, I think it's been love at first sight. My love started with the standout appearance of the Thurso Surfs wooden striped deck, which in fact, isn't real, much to many people's surprise after first glance.
But it's not just the looks, like true love, appearance isn't enough. It's also the way the Thurso Surf surprised me with its extras.
Cooler bag – So I'm able to bring a picnic for our days spent together.
Lightweight Carbon Paddle – Arms have more strength to hold my board at the end of a day exploring the world together
My desires aren't limited – It's how comfortable I feel when I plant my feet on 32" of stability,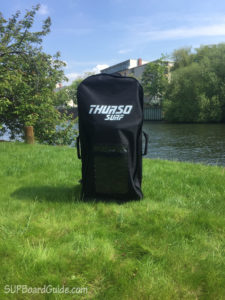 Sometimes super wide boards like the 10'8 x 34" Fanatic Fly, seem like great options for balance. However they do slow you down if you want to paddle long distances, the Thurso Surf has a perfect 32" width for stability as well as speed.
The board's length produces a little drag in the water. However, it's a super comfortable ride. If you lose any time on drag, you gain it in continuous momentum. Also, your arms won't be complaining as much about these longer paddle sessions thanks to the lightweight paddle. It's custom single fin possesses superb tracking performance, another bonus for touring.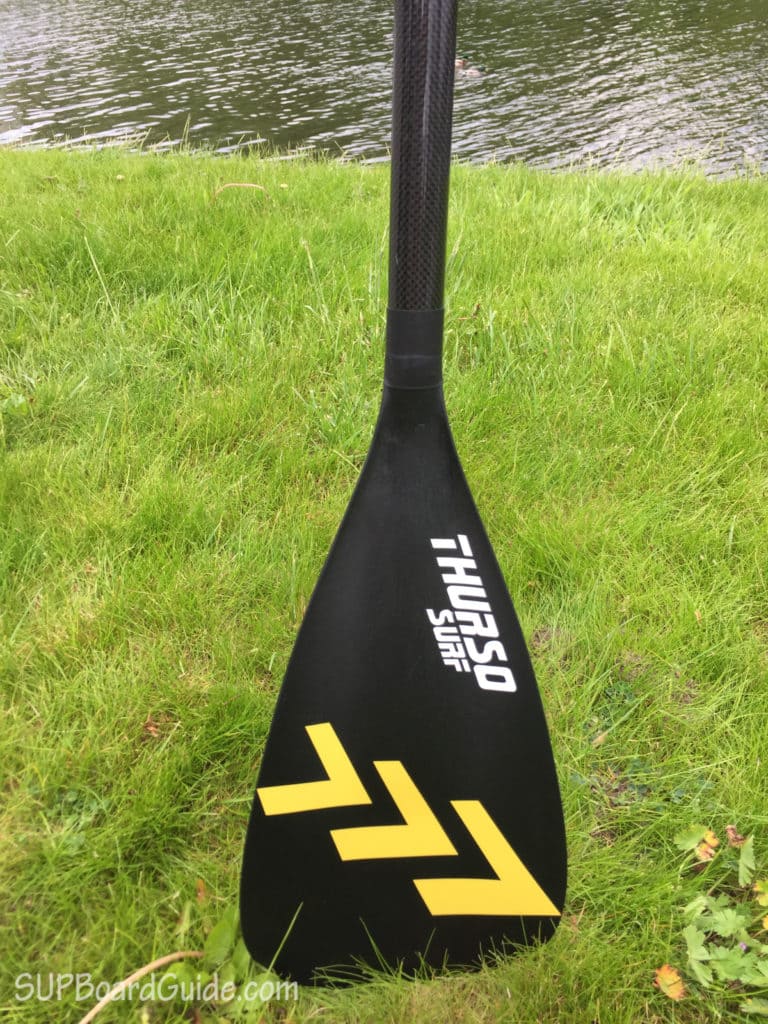 All of these previously made points steer towards why it's ideal for touring/cruising, but the Thurso Surf was additionally able to maneuver waves well enough for a surf in small waves. You'll see in lower quality inflatables that sometimes you'll get a slight dip in the board where you stand; this is due to air being pushed out, it'll mainly happen in the surf where the board is being knocked around a little. Thurso Surf stood strong and didn't fault throughout a surf. This is a necessity for any SUP you want to take into the surf as that dip will make it next to impossible to catch waves.
The company's outlook on customer service has been the cherry on top. Don't let the price deter you on the choice of this board – it is far from being cheap. Its features are more towards the high-range quality but with a mid-range price tag.
For a new company, Thurso Surf has left a long lasting impression on me.
3. The BIC Ace Tec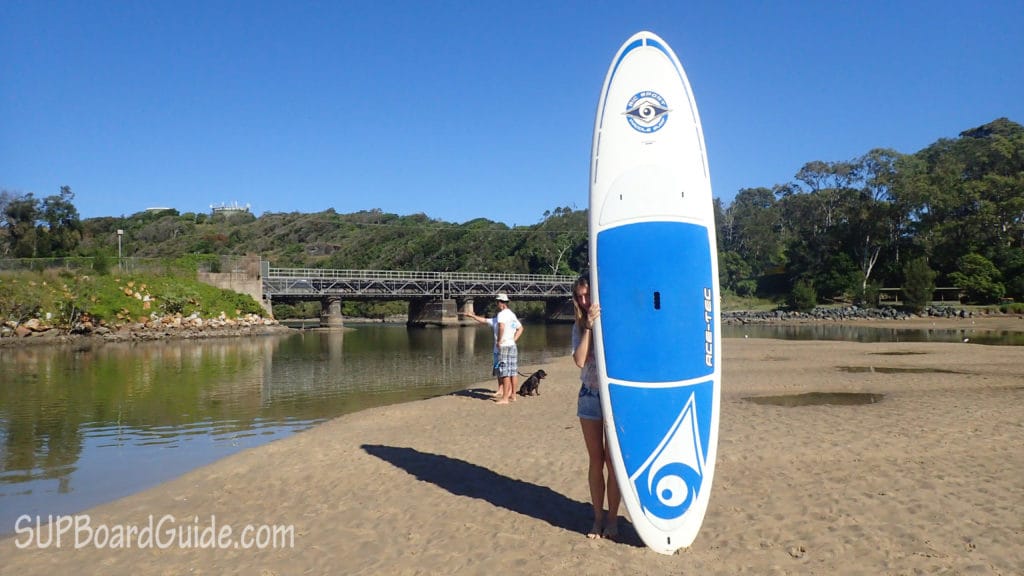 In my review of the Bic Ace-Tec, I refer to my surprise of how this board performed. I admitted I made assumptions and jumped to conclusions. The Bic Ace-Tec is one of the toughest boards on the market, which leads to no surprise that it's become a trendy choice for hire companies.
Produced in a 9'2, 10'6 or an 11'6, the sizes accommodate for a smaller and larger rider.
It's a smart choice for those who want a board for equal use in flat water and waves.
Going out in waves –
A slight rocker for optimum take off on waves
Option for 3 fins for maneuverability on waves
Super grippy for added stability in choppy conditions
Cruising in rivers, lakes, etc. –
An ample girth for balanced stance
Single fin option to reduce drag
Extra companions are not problem with ability to hold up to 220 Lbs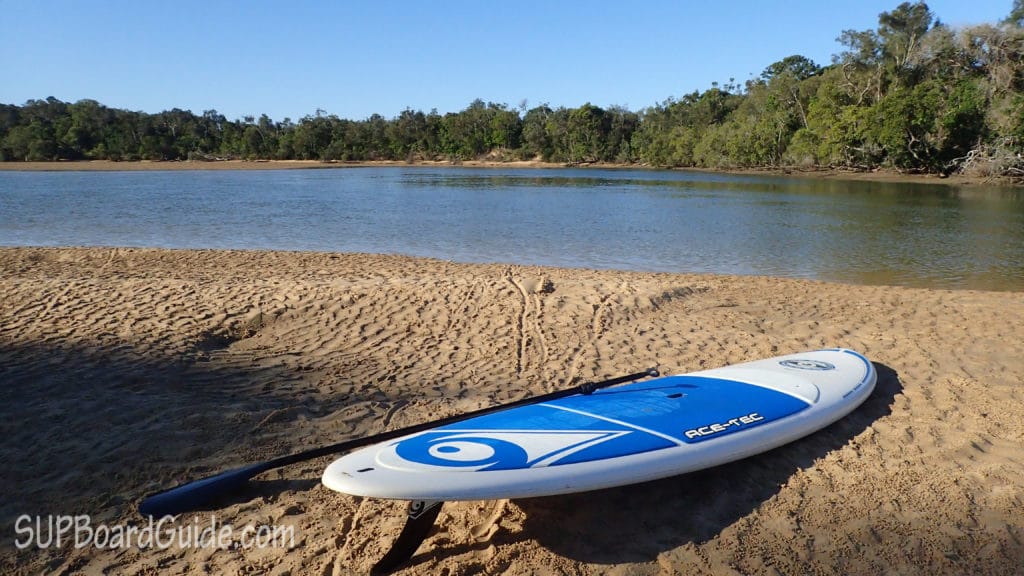 The first time I paddled out on a Bic Ace-Tec I also had a friend with me, so she sat at my feet while I paddled us down the river, the board did a spectacular job at holding us both – even when she started squirming in an attempt to make me fall off.
Carrying the board, It felt like I could take on a bull – and win. This made me a little skeptical to its performance in the water, from previous experience, these chunkier boards can be slow and groggy in the water.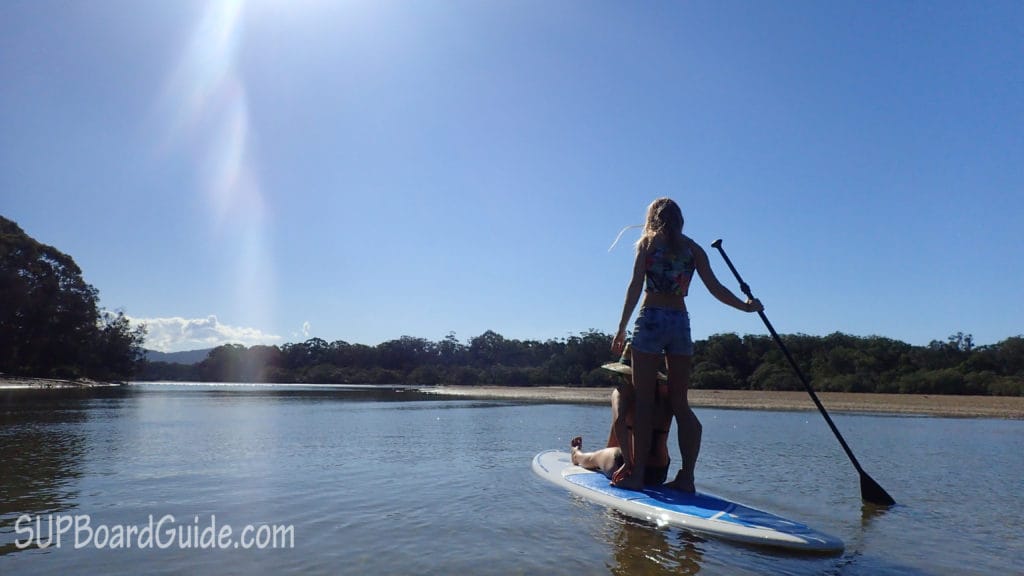 However, the BIC Ace-Tec was out to prove me wrong yet again. I think it's thanks to it's 4.5" thickness keeping up speed, though, the Thermoform Technology makes it super rigid. It's hard to find a board that you can trust will endure anything you throw at it and also still feels like you're merely a feather on the water.
So not only have I stopped making my assumptions I'm now recommending the Bic Ace-Tec in my Top 3!
Rounding up the All-Rounders
So there you have it, a list of what I suggest would be smart buys.
Whether you are learning or already riding, one or all of those boards will satisfy. You get quality, reliability, durability, and performance with all options.
A little breakdown of the four boards. Giving a rating out of 5, I've compared all boards in accordance with where you would want to take your board most and how suited the individual boards are to these scenarios.