BIC Ace Tec 10'6
Pros
Very solid construction making it super durable
Easy to use and maneuver for beginners
Can be used for anything from Yoga to surfing small waves
Cons
Paddle, leash and all other extras are not included
A bit pricey
Post and Pictures by Sarah Sackville
When I think of BIC, I must admit I think of a lighter or perhaps a biro. SUP boards aren't the first thing that I picture. Though after testing out the 10"6 BIC Ace-Tec for a few hours, I'm joyed to say that this company has got it going on! I had my skepticism thrown out the window, thoroughly enjoying my ride on the Ace-Tec.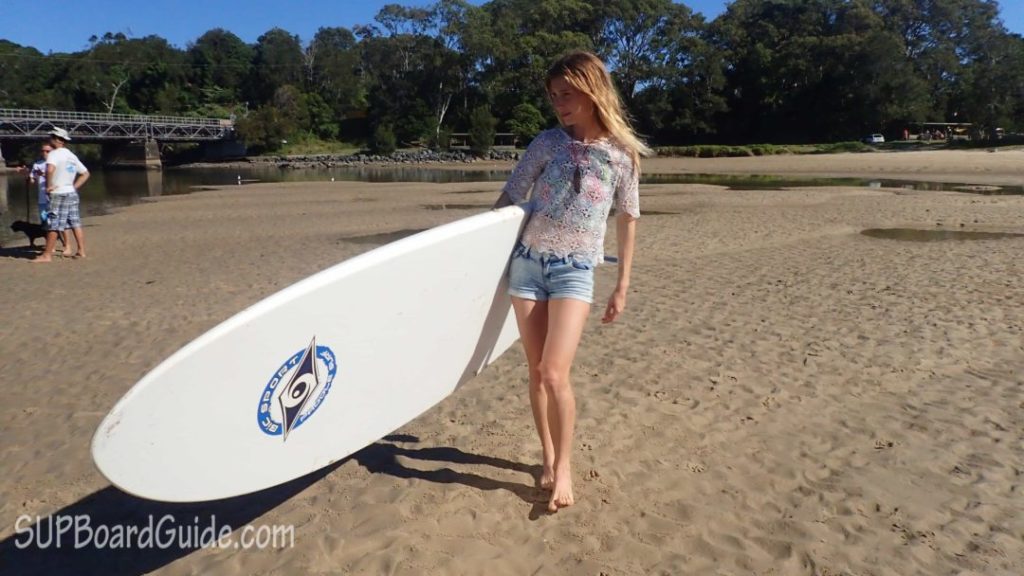 The Ace-Tec Review
Stylish name – Stylish board. Before I had even ridden it, I liked the shape of this board. I'm a longboarder (surfboard) so the similar aesthetics of the 10'6" Ace-Tec and my 9'1" mal, made me feel comfortable before I had even hopped on. It's a bulletproof (Thermoform technology; more in-depth explanation to come) all-rounder board – whether you want waves or flat water.
One of the first things I noticed was the rocker, big enough to tackle some fun waves. However, I went for a cruise on the river, my imagination taking me to Venice when my friend sat on the board and I paddled us down the river, the expansive center girth balancing us effortlessly.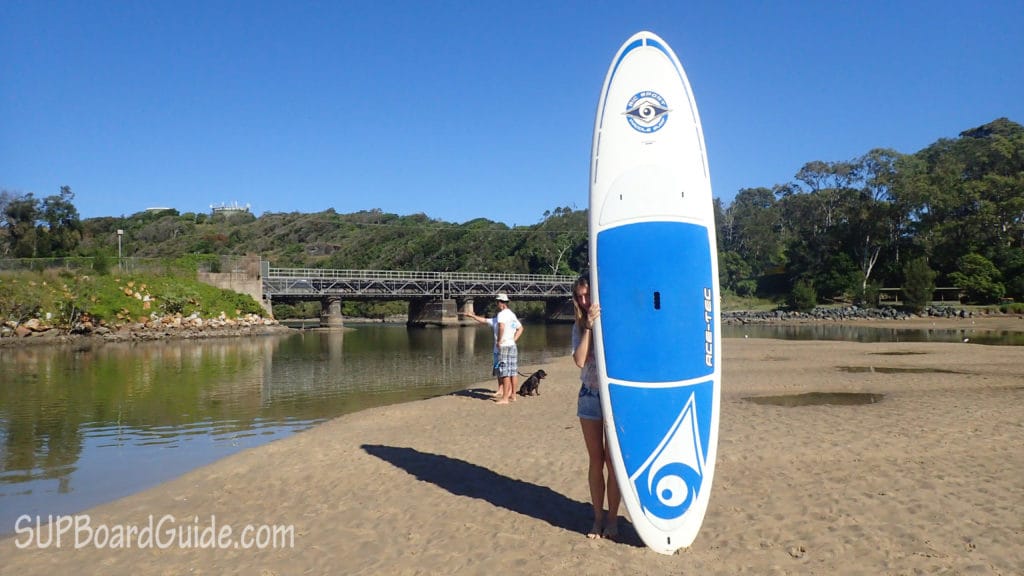 Specs
| | |
| --- | --- |
|  Weight | 26 lbs |
| Length | 10'6" |
| Center Width | 31.5" |
| Volume | 185 liters |
| Max Capacity | 220 lbs |
| Board Thickness | 4.5″ |
| Primary Material | Thermoform Plastic |
Boards Quality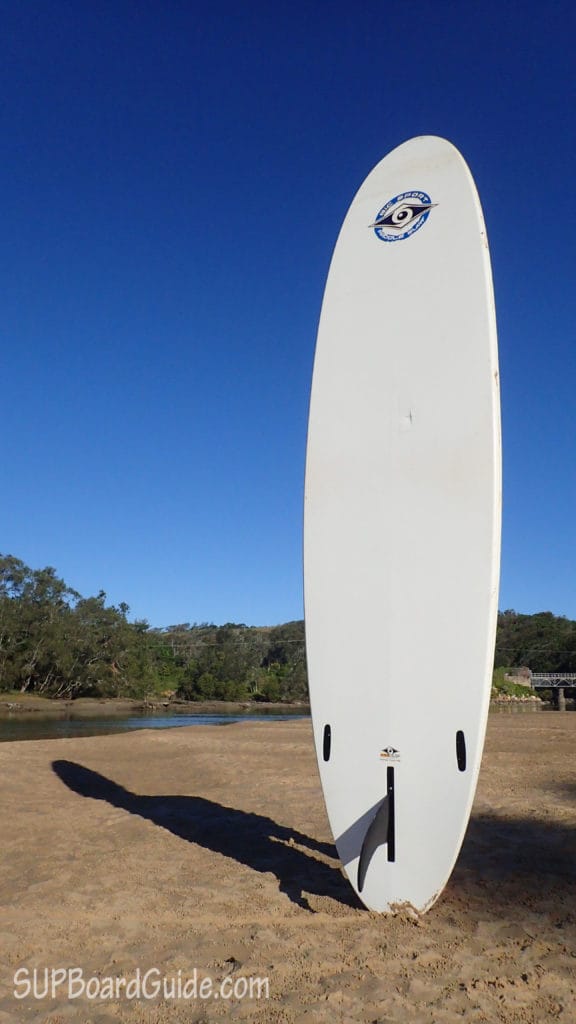 Overall the board is up there in the range of high-quality SUPs. It's versatile, resilient and user-friendly for all levels of SUP riders. The only thing I disapprove was the cost price in accordance with what you get. I'll expand on this further down.
Availability
The Ace-Tec comes in three sizes. 9'2, 10'6 and 11'6. These options, while not as extensive as other SUPs such as the Naish Nalu, provide ample opportunity for a rider of any size to find a board that best suits them. There's also a choice of four different color schemes!
Board design and performance
The Ace-Tec has an embossed EVA deck pad that's comfortable and ideal for trying out some SUP Yoga. The grip on the deck pad provides assistance in balance, perfect for beginners and being in choppy waters.
The slight rocker is an excellent compromise of being suited for waves but not so defined you become stagnate in still water. Another part of the board I enjoyed was its stability and maneuverability. The wide center girth (31.5") is easily enough space for not just me, but even my friend to jump on and be able to enjoy a ride together. Where there are boards that I would say are even more stable like the Naish Odysseus 9'8 that is 34" wide, I find you lose a little on maneuverability. However, on the Ace-Tec, even a beginner will find turning and steering easy.
I liked the option of the board being a single fin or tri-fin and with a common FCS fin system that's also easy to use. You want to be able to mix this up depending on if you are in flat water or open ocean conditions. If you are using your SUP in flat water the three fin setup will produce drag because you are only going straight; however, if you are out in the waves and turning your board up and down a wave it produces speed.
The big bummer was that the side fins were not included with the purchase.  A single FCS fin is fine for both conditions, but it's preferable to be able to mix it up. Considering the cost of this board, I expected the fins to be included.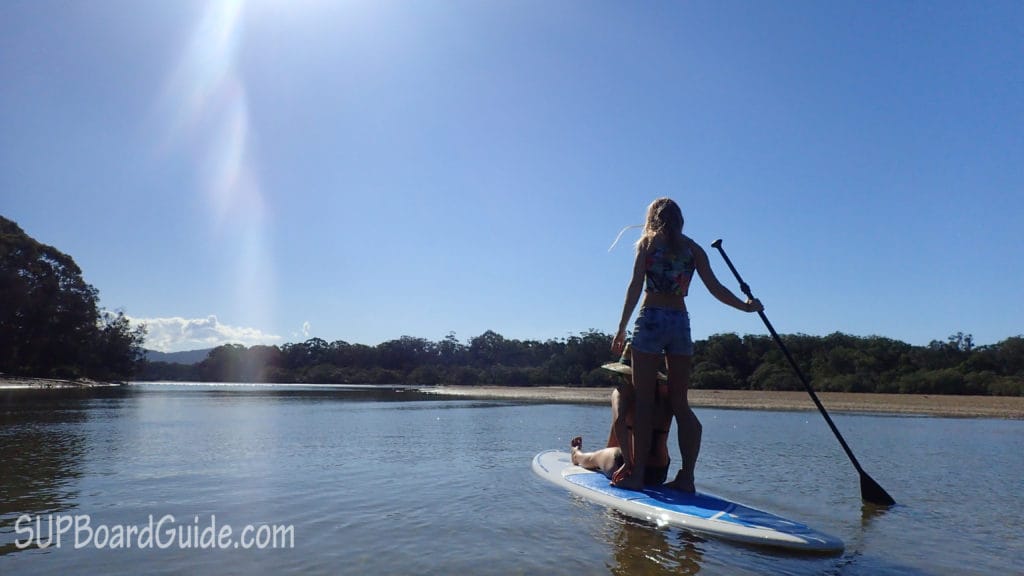 Materials and durability
It's a solid board but not weighed down by its durability. Taking your board from the car to the water is an easy process. There is a process to create a durable plastic called Thermoforming; it's the same process used when making particular aircraft windscreens. That's some reassurance right there that an Ace-Tec can take a good beating.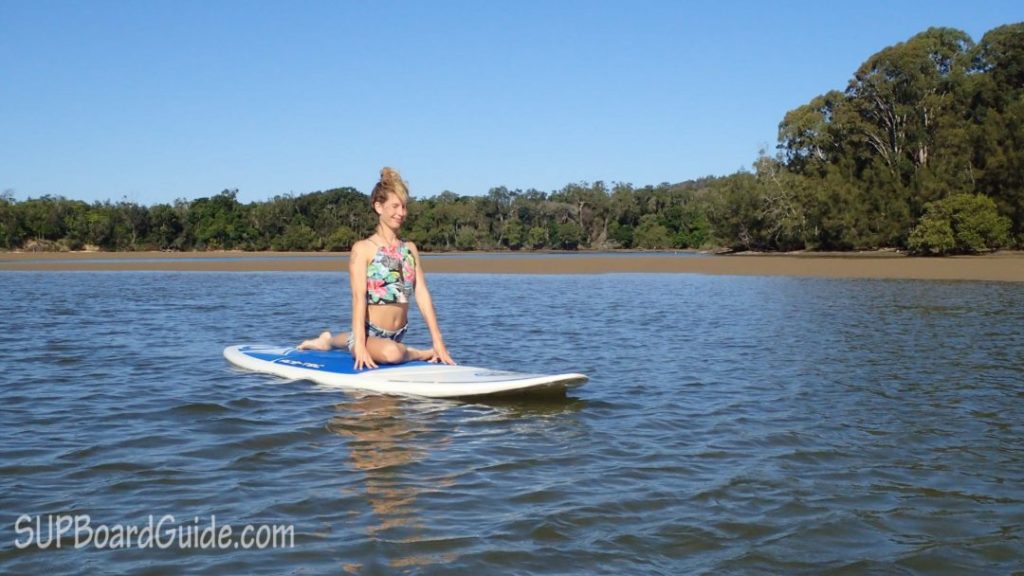 Extra Features
The BIC Ace-Tec is pretty low on the extras. The one extra I observed was the dual leash plugs. A dual leash plug is an advantage or disadvantage, depending on who you talk to. Having 2 points of anchor is safer, it's a stronger system and more reliable. It means even if one plug were to go, you'd have a backup; it also means there are 2 points to absorb any shock from the board being flung into waves while you go the other way. However, some people in the surfing SUP community will argue that having an offset anchor in accordance to how you surf (right plug if you're natural or left plug if you're goofy) means if the board springs back it won't come hurtling back at your face.
My opinion is that it's not particularly necessary, these days it's so rare for a plug to fail, the technology has improved considerably. You'll also only use a dual plug system in the surf, there isn't the same strain on the leg rope in calm water, so it's a minor feature for only half the boards use.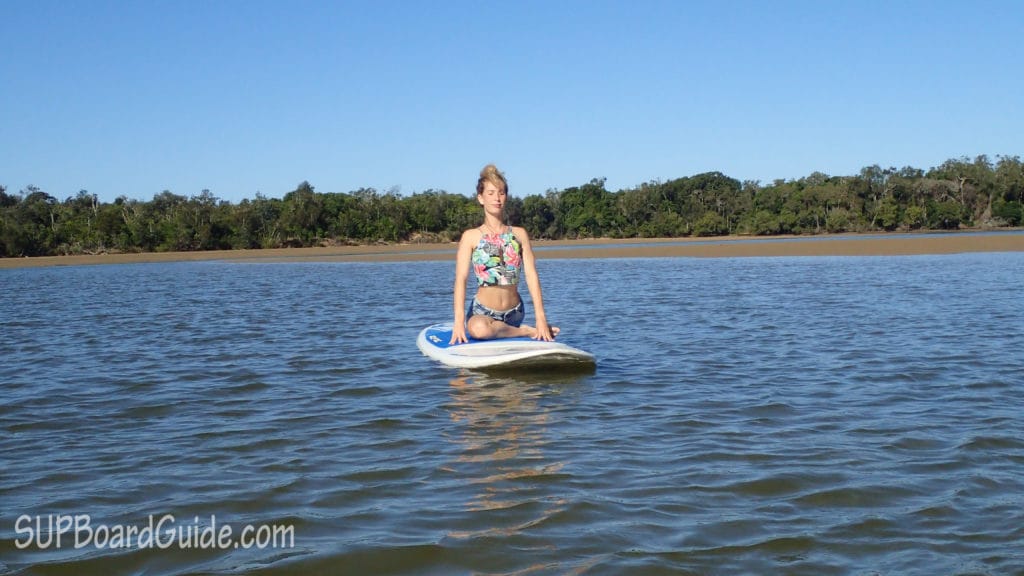 Quality vs. Value
Like I previously said, unfortunately, the cost price of this SUP doesn't match up. Though this is a great board, you can get other equally good boards like the Naish Nalu or the inflatable iRocker Cruiser instead. You also have to buy your paddle, side fins, and leash separate with BIC boards, so it's a what you see is what you get kind of a deal.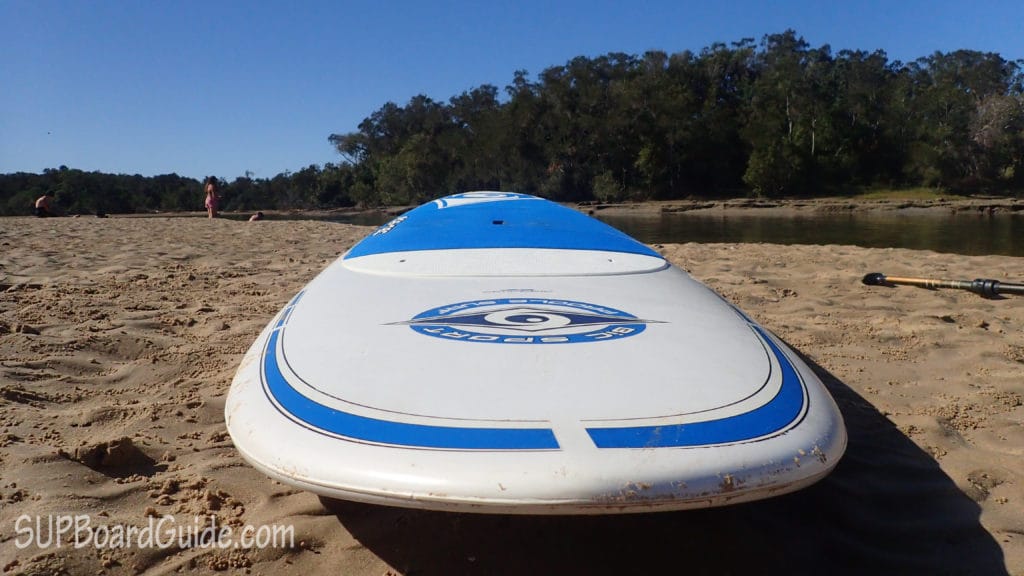 Conclusion
The Ace-Tec surprised me, and I did genuinely enjoy paddling it. It's a great beginners board being stable and easy to steer. The toughness also guarantees any collisions you may get in while getting used to SUPs won't be visible or affect the board's performance. It's ideal for river cruising with a friend or testing yourself in some smaller size waves.
If, however, you are looking for a high-performance board for waves you'll probably find this board a bit clunky after a short time. You'd be better off looking at a wave performance like the Fanatic Allwave.
I also found the price to be a bit high considering you don't even get a paddle, leash or even side fins with the board. At least the paddle and fins should be included in this price range. Not really beginner friendly. It does, however, suit those of you, that either want to stay in flat water and don't need the side fins or the ones that want to upgrade to a premium paddle anyway.
I must say though I won't doubt BIC for watersports as I did previously! They are producing boards that are up there on the high-end market scale for SUPs.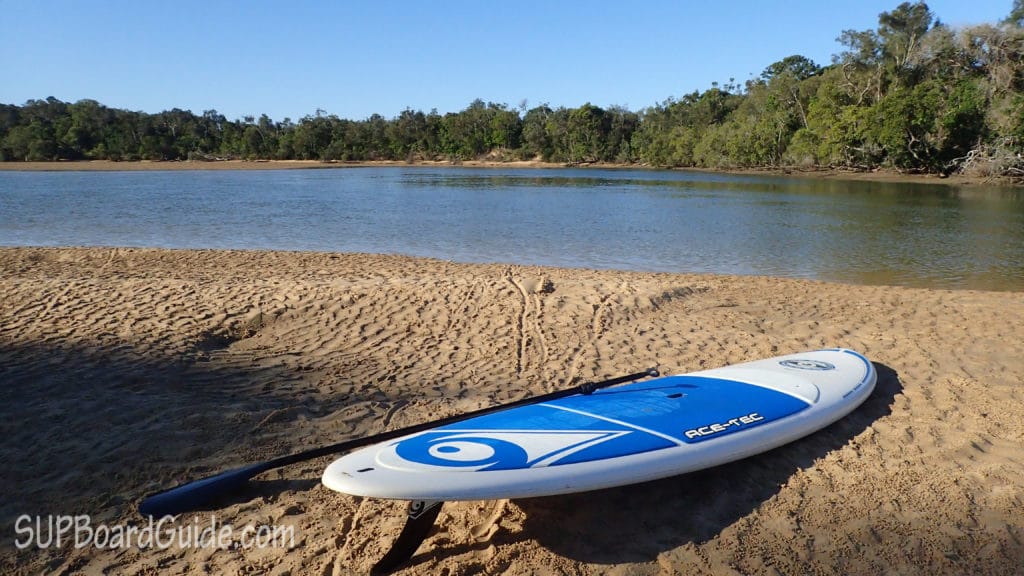 The following two tabs change content below.
SupBoardGuide Editorial Team
At SupBoardGuide.com we are a team who love the water, the outdoors, and are more than grateful that our full-time job allows us to review stand up paddle boards. We paddle year round (it helps that we are just about 2 hours outside of Las Vegas), and we bring in a wide range of paddlers with the goal of providing our readers with the best, most in-depth, and accurate stand up paddle board reviews.
Latest posts by SupBoardGuide Editorial Team (see all)