Nixy Monterey G4 Expedition Inflatable Paddle Board - 11'6
Pros
High volume board = plenty of stability, even close to its weight capacity
Lightweight 25 lbs; one of the easiest large iSUPs to carry to and from the water
Insane amount of features (more D-rings, action mounts, and cargo space than you could think to use)
Kit-included lightweight carbon hybrid paddle
Double chamber pump for easier manual inflation
Roomy wheeled SUP backpack with tons of pockets/organizational features
Cons
Dual chambered SUPs have more potential failure points than single chamber's SUPs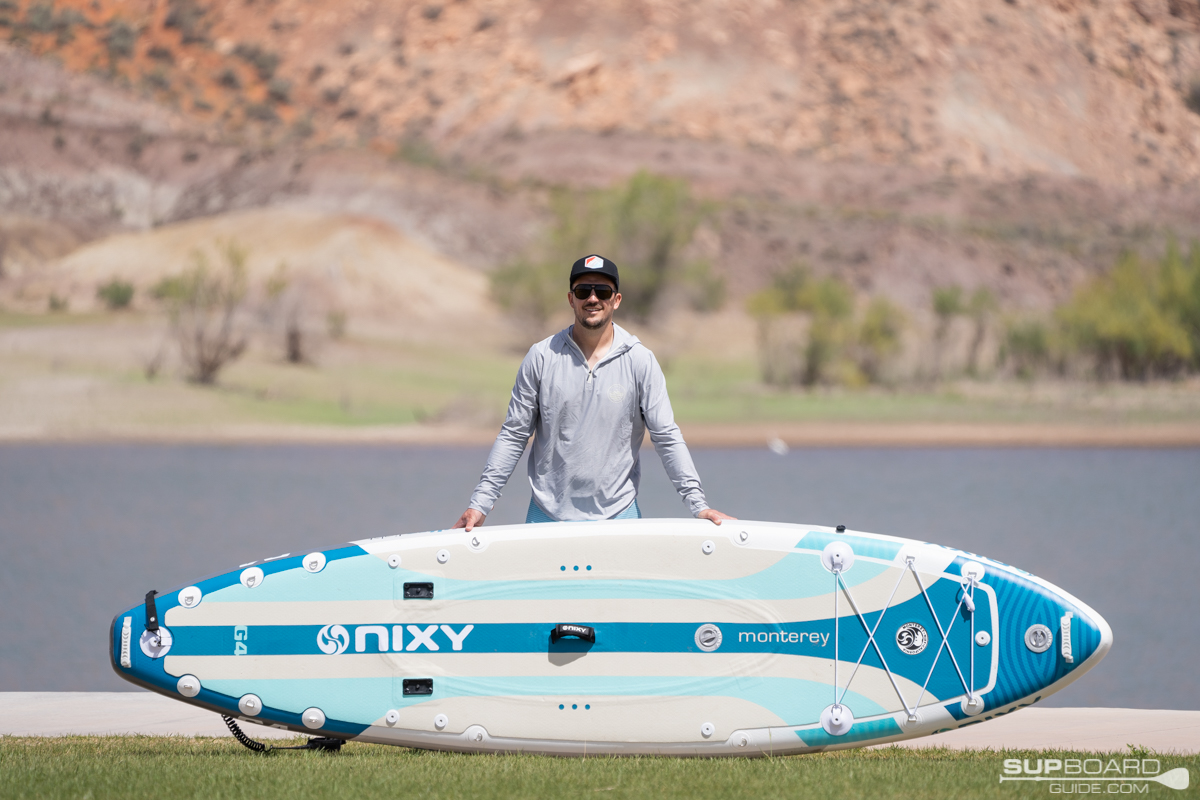 One of the most underrated aspects about stand-up paddleboarding is that it can be extremely versatile, and the Nixy Monterey, as we'll review below, is a shining example of this lesser known fact. Gone are the days when stand-up paddling limited you to exactly that; standing and paddling (with the exception of being able to chase down a few choice waves).
In the more modern realm of the sport, you can do just about anything on boards like the Monterey. Equipped with D-rings, cargo areas, a full length deck pad, and more mounts than a West Virginia hunting lodge, the Nixy Monterey can serve as a fishing platform, yoga board, gear hauler, camera platform, kayak base, or just a regular old paddleboard if you so choose.
More than that though, being 11'6 long and 34" wide, the Nixy Monterey is a high volume board, and thus, the best suited in the Nixy line-up to accommodate heavier and/or taller paddlers (or paddlers who truly want to load up with gear). This SUP is super stable and characteristically rigid while remaining a competitively light 25 lbs. Lastly, we were super impressed with Nixy's quality focused accessories that round out this SUP to be a great choice for paddling adventures.
We think the Nixy Monterey would be great for paddlers who:
Are in the taller and/or heavier paddler range and appreciate Nixy's rigid construction and quality kit
Want a larger 11'6 SUP, but don't want to make big compromises in maneuverability or weight
Need an all-around SUP with versatile features (action mounts, scotty mounts, kayak seat compatibility, etc.)
Want the stability and weight support to paddle with kids or extra gear
Are primarily paddling in flat water with chop or mild ocean waves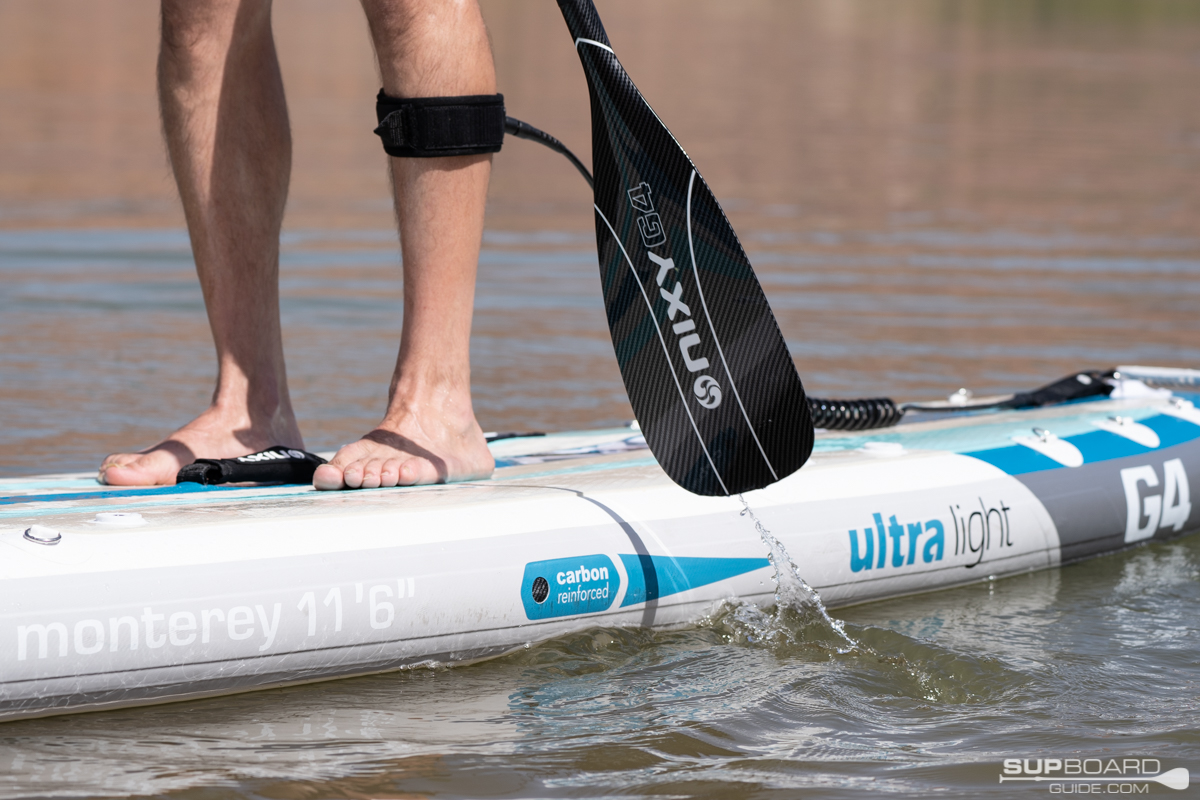 Nixy Monterey 11'6 : Spec Sheet
Main Category: All-Around, Inflatable
Board Dimensions: 11'6 x 34" x 6"
Listed Board Weight: 25 lbs
Listed Max Capacity: 400 lbs
Recommended PSI: 15 PSI
Fins: 2+1; Screw-in system
Paddle: 3-piece carbon fiber hybrid
Materials: Dual Layer PVC w/ carbon fiber rails; double chamber
Price Range: mid-high
Warranty: 2 years
Performance Review of the Nixy Monterey G4 Expedition Stand Up Paddle Board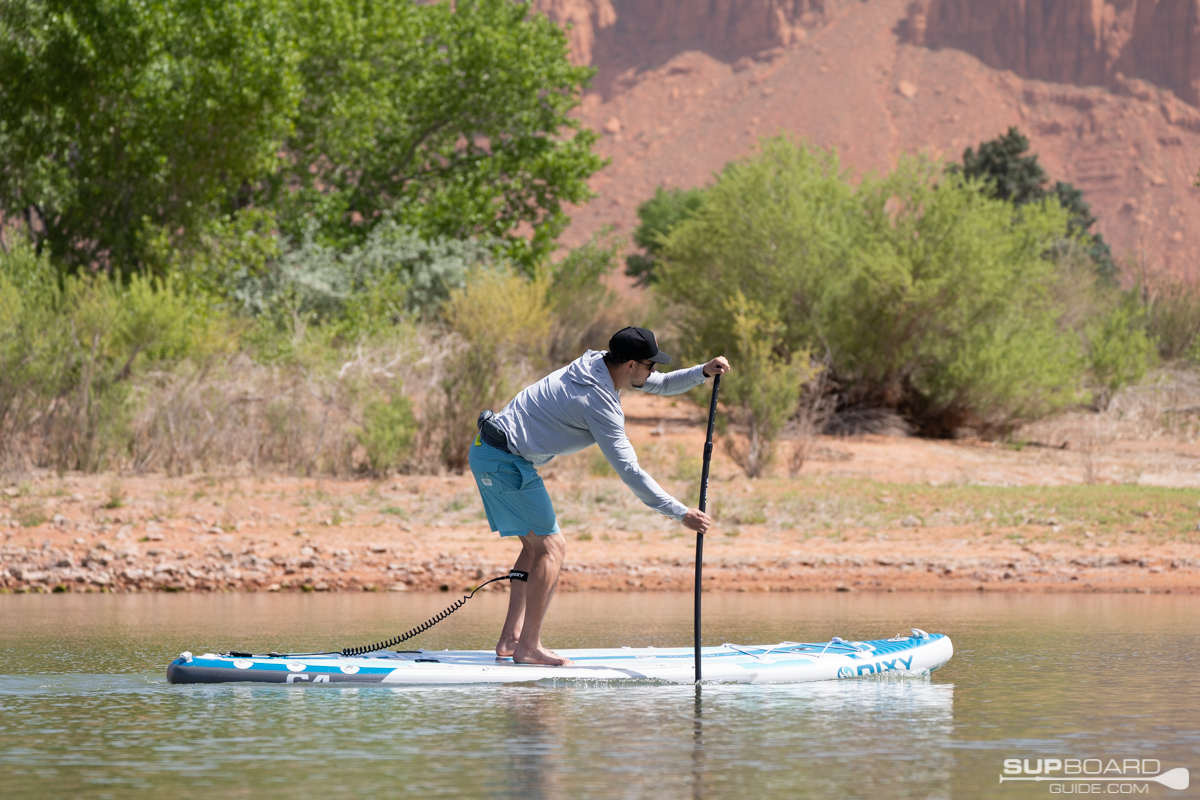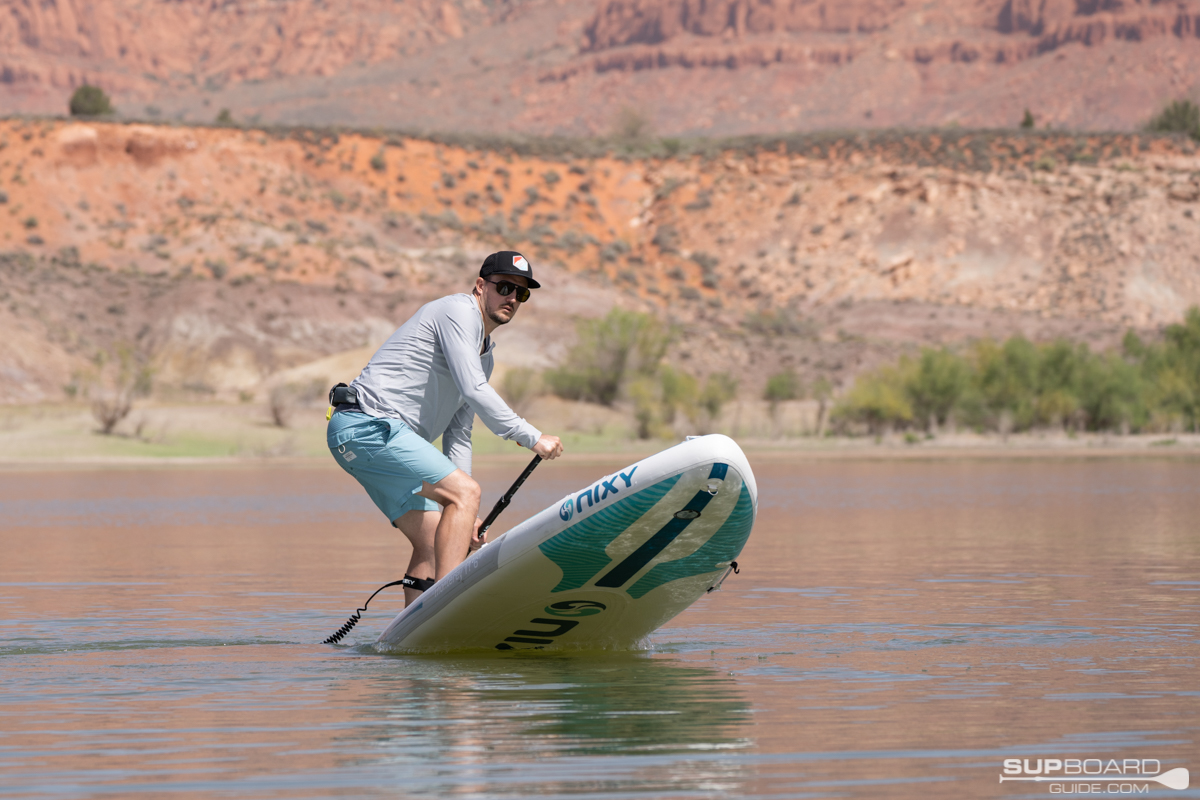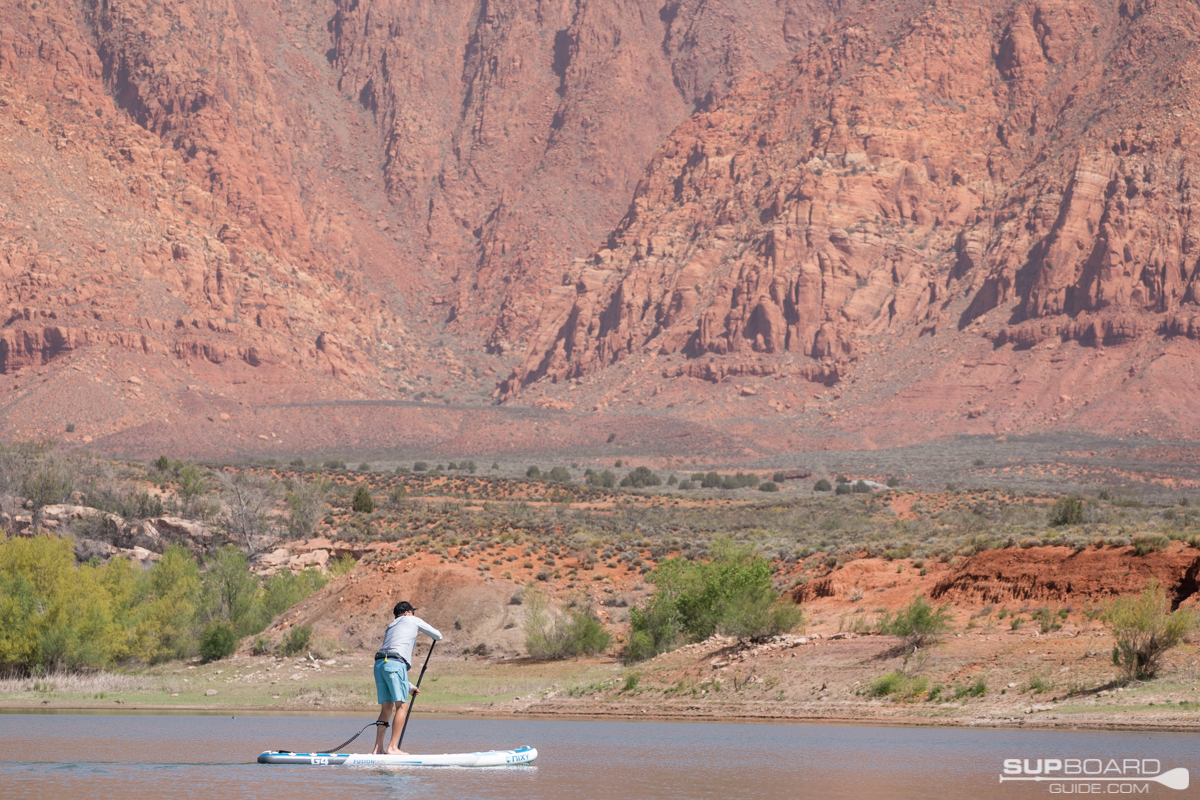 Overall Score: 9.7/10
Stability: 9.6/10
Speed: 9.1/10
Tracking: 8.8/10
Maneuverability: 8.9/10
Construction Quality: 9.5/10
Features/Accessories: 9.8/10
Stability Rating: 9.6/10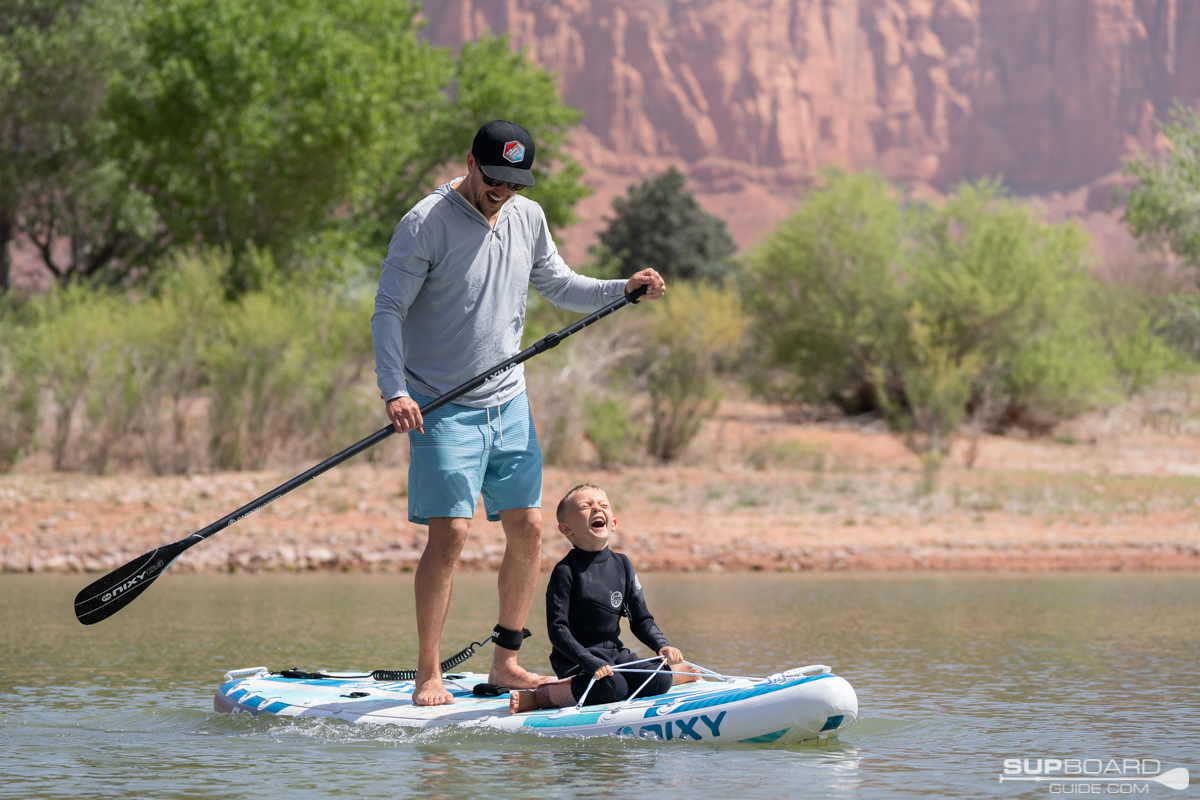 Listed Capacity: 400 lbs
Tested Capacity: 140 lbs
Being an 11'6 by 34" iSUP, the Monterey is a high volume board with stability at the core of its design. Combine that with Nixy's characteristically stiff construction, and the Monterey easily accommodates most paddler skill sets and sizes, as well as any gear you could think to load it up with.
That being said, the Monterey is not quite as stable as its similarly sized counterpart, the Blackfin XL. I would chalk this up to the Monterey's more tapered tail and nose, where the Blackfin tends to stay wider throughout.
This is not at all a knock on the Monterey though, as I did find that the very minor decrease in stability (compared to the Blackfin XL) manifested into added maneuverability and slightly increased speed capabilities. These are traits that ultimately come down to personal preference but it is something to keep in mind as you weigh your options in the ultra-stable market of 11'6 x 34" iSUPs.
Speed Test: 9.1/10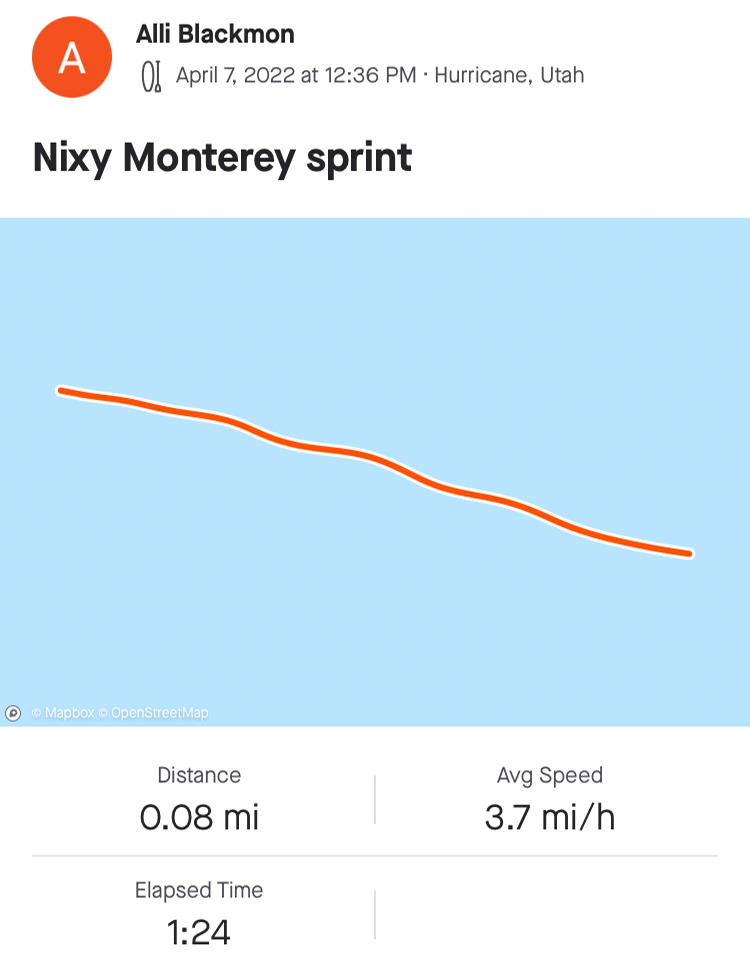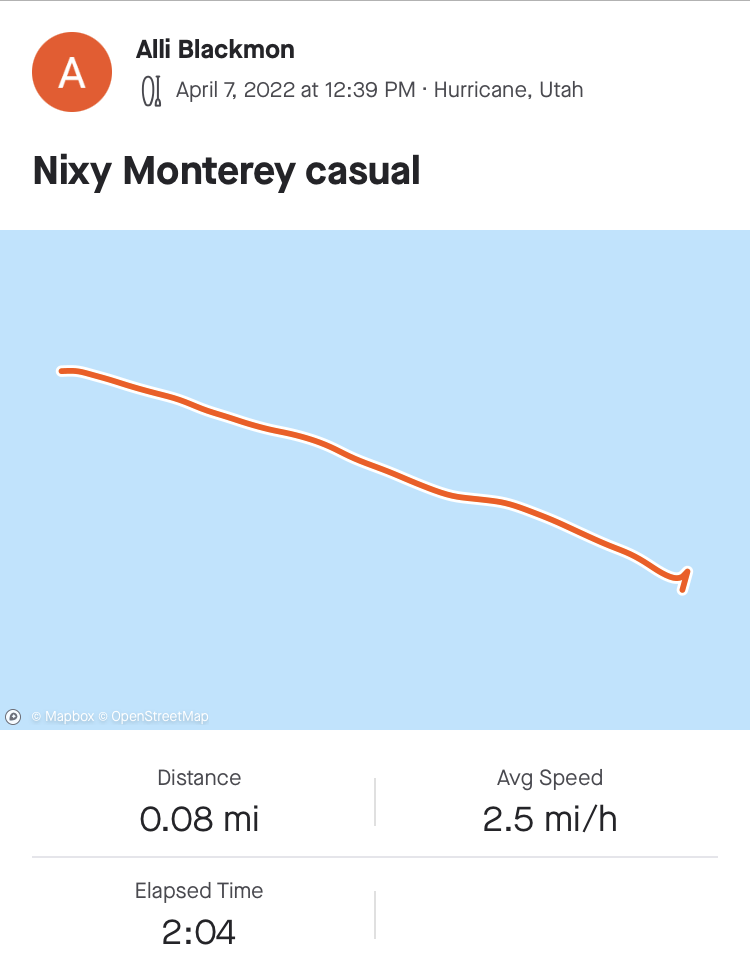 Considering the Monterey was designed for stability, the obvious trade off is that it's not going to be the fastest SUP on the line.
In my opinion, this is totally okay. The simple fact of the matter is that there are only a few areas in the world of SUP'ing that speed will be your top priority. For the most part, you just want to be able to keep up with your group, and the Monterey will serve you just fine in that respect.
Leaning back into comparisons and hard data, the Monterey was a couple of seconds faster than the Blackfin XL in my sprint test between the two. Again, I would attribute the Monterey's very slight speed increase to its tapered tail, which aids in decreasing surface area and friction against the water, as well as its comparatively lighter weight (25lbs against the Blackfin XL's 29lbs).
Tracking: 8.8/10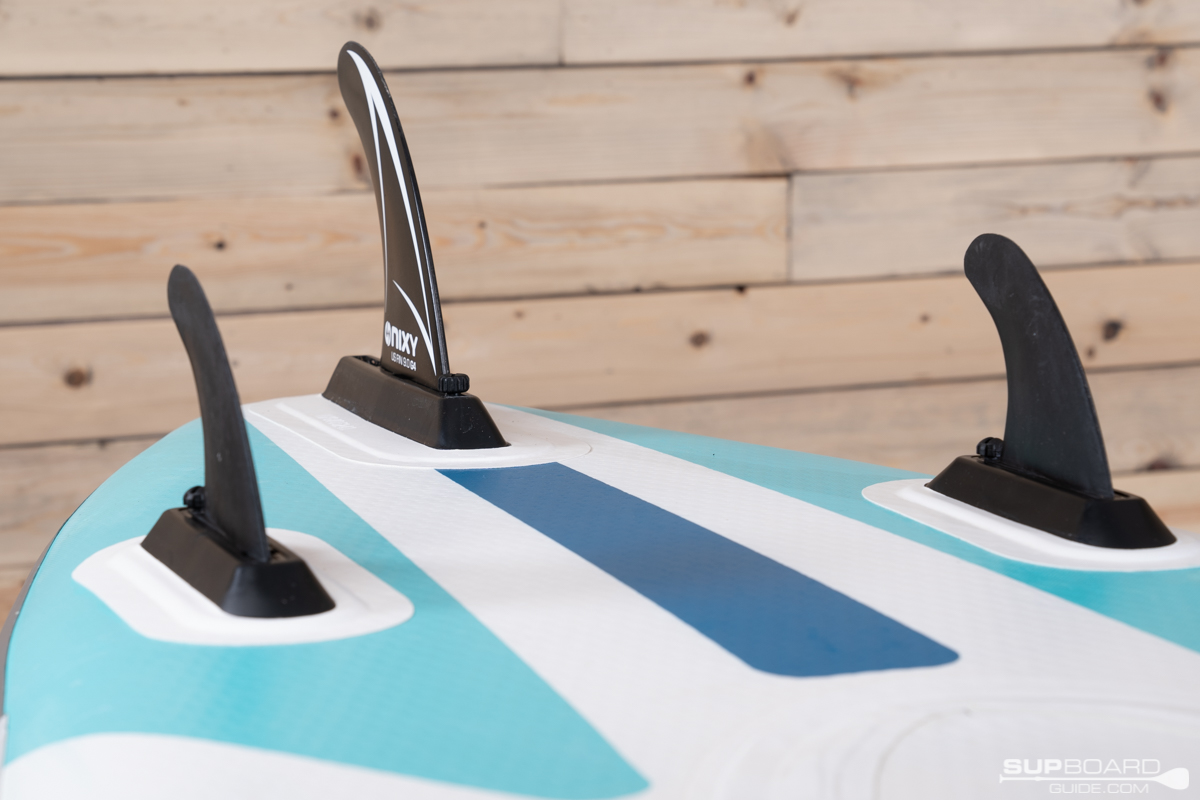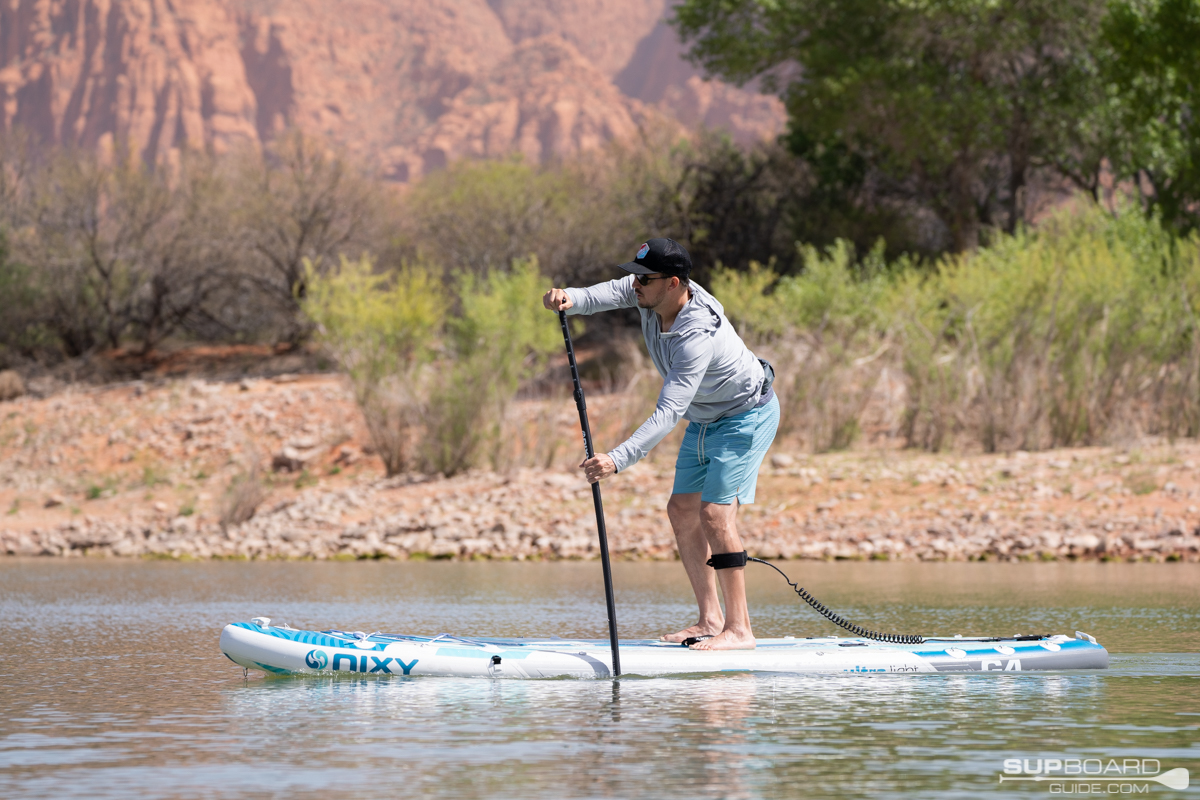 As we say in every review, tracking is largely more dependent on the paddler's form and technique than on the board itself. However, the 2+1 fin set-up combined with the Monterey's longer 11'6 waterline and stiff construction makes it fairly easy to keep moving in a straight line.
When I kept good form paddling the Monterey tracked slightly better than expected in the all-around category. I did have to make some side to side adjustments every 3-4 strokes, but that's no more than usual for a SUP that is not a dedicated touring or race board. Keeping more casual form, I had to switch sides just a bit more frequently, but again, not notably more than on other all-around SUPs.
For a taller paddler with a little more reach than I have, the Monterey would likely track even better as it'd be easier to keep your paddle vertical as it enters the water.
Maneuverability: 8.9/10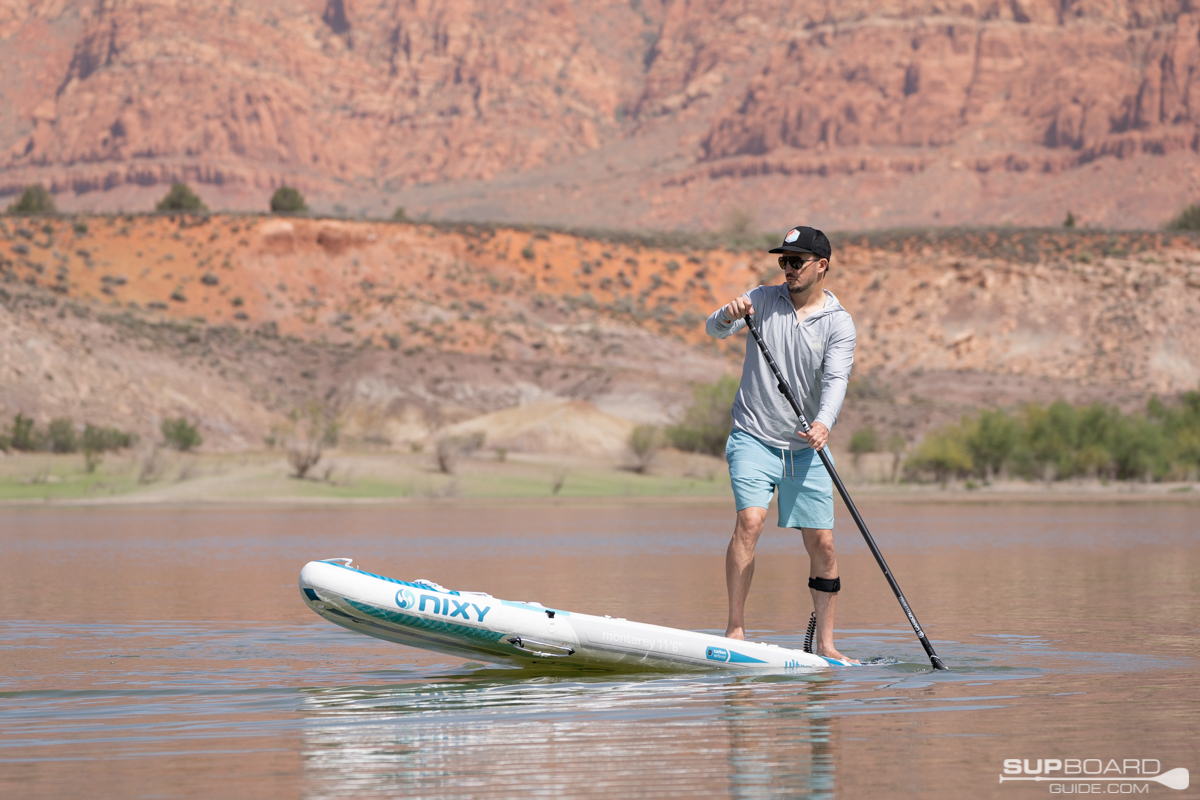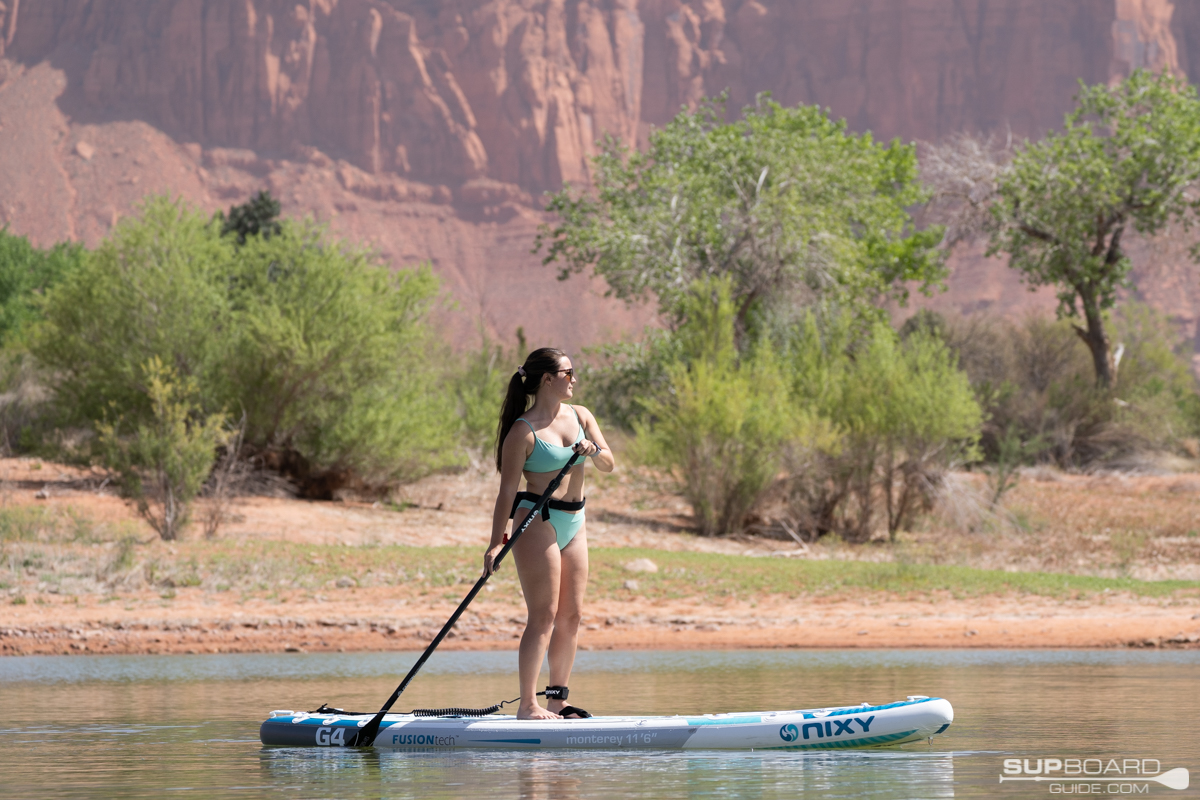 In terms of maneuverability, the Nixy Monterey does really well for a larger, high volume SUP.
It's definitely not going to be quite as nimble as a smaller 10'6 all-around, but given the fact that the Monterey is a relatively light 25 lbs, it doesn't take too much effort to change direction with a backstroke. It will be a little slower on the turns if you choose to go with a forward sweeping stroke, but that's to be expected of a SUP this size.
When it comes to step-back turns, the Monterey again does fairly well for a large SUP. It's plenty stable to make walking back towards the tail a manageable feat for most paddlers, and the tapered tail shape makes it pretty easy to sink and pivot the board in any direction.
If I was really being nit-picky here, I'd say that the scotty mounts were in the way of my feet when I walked them back to perform a step-back turn, but I also realize that step-back turns really only have a place in the SUP racing world. The bottom line is that the Monterey does just fine as an adequately maneuverable, high volume SUP.
Construction Quality: 9.5/10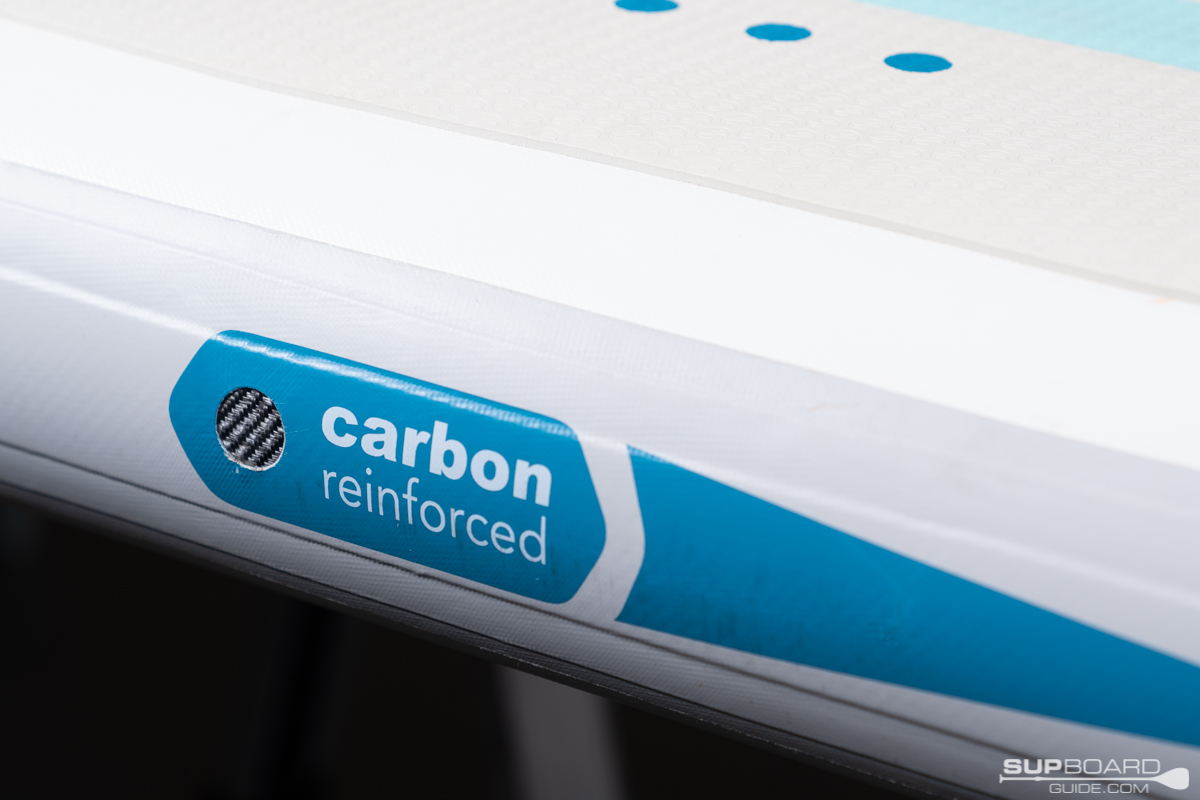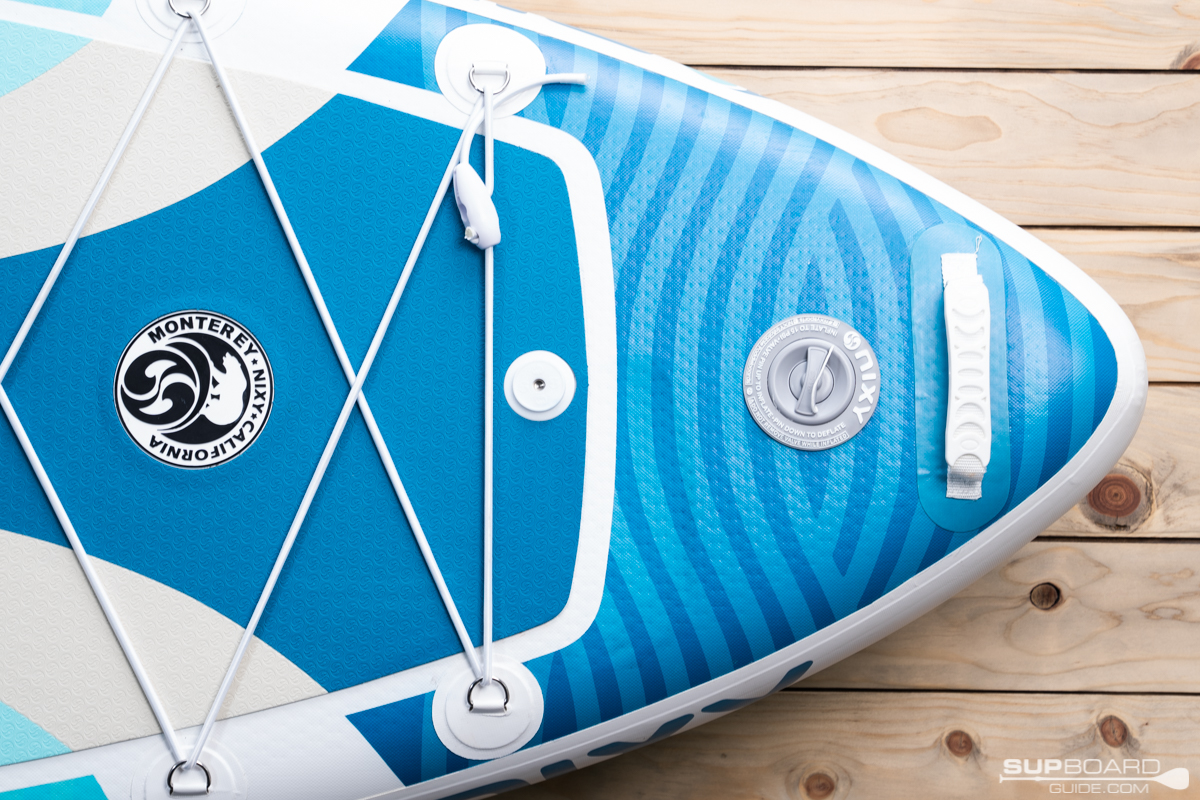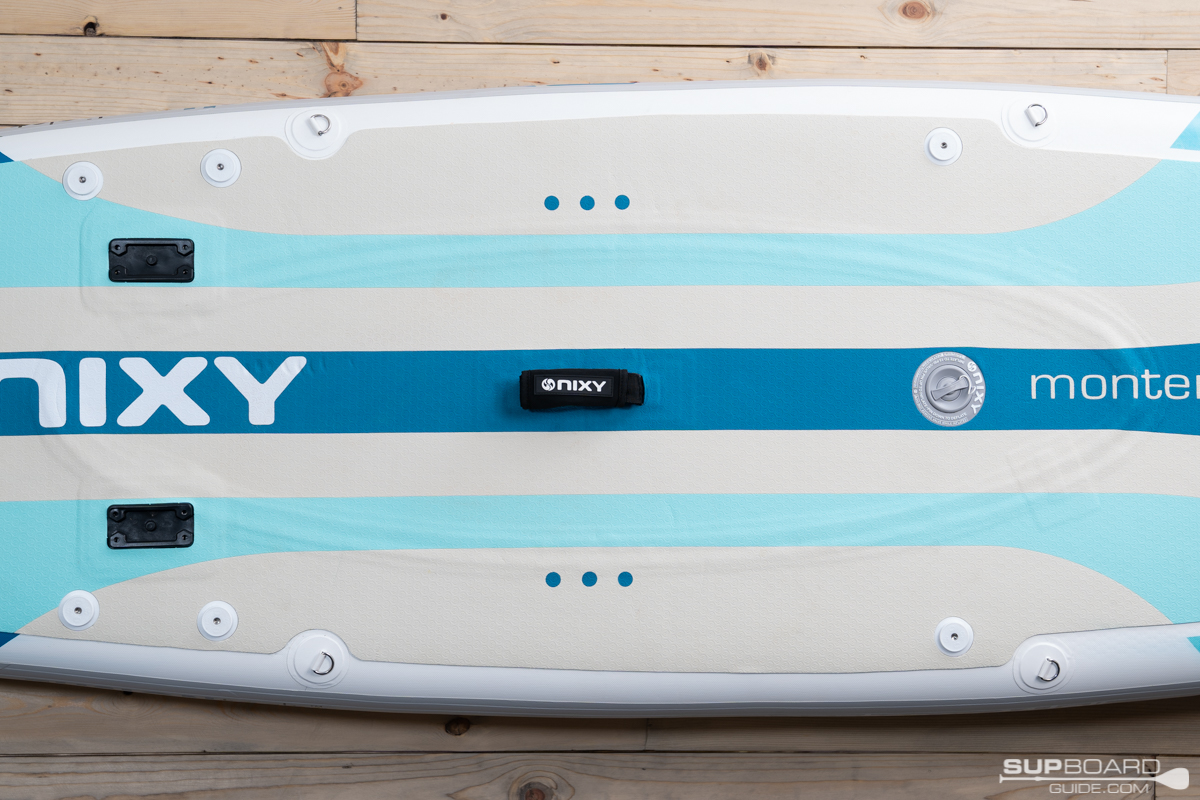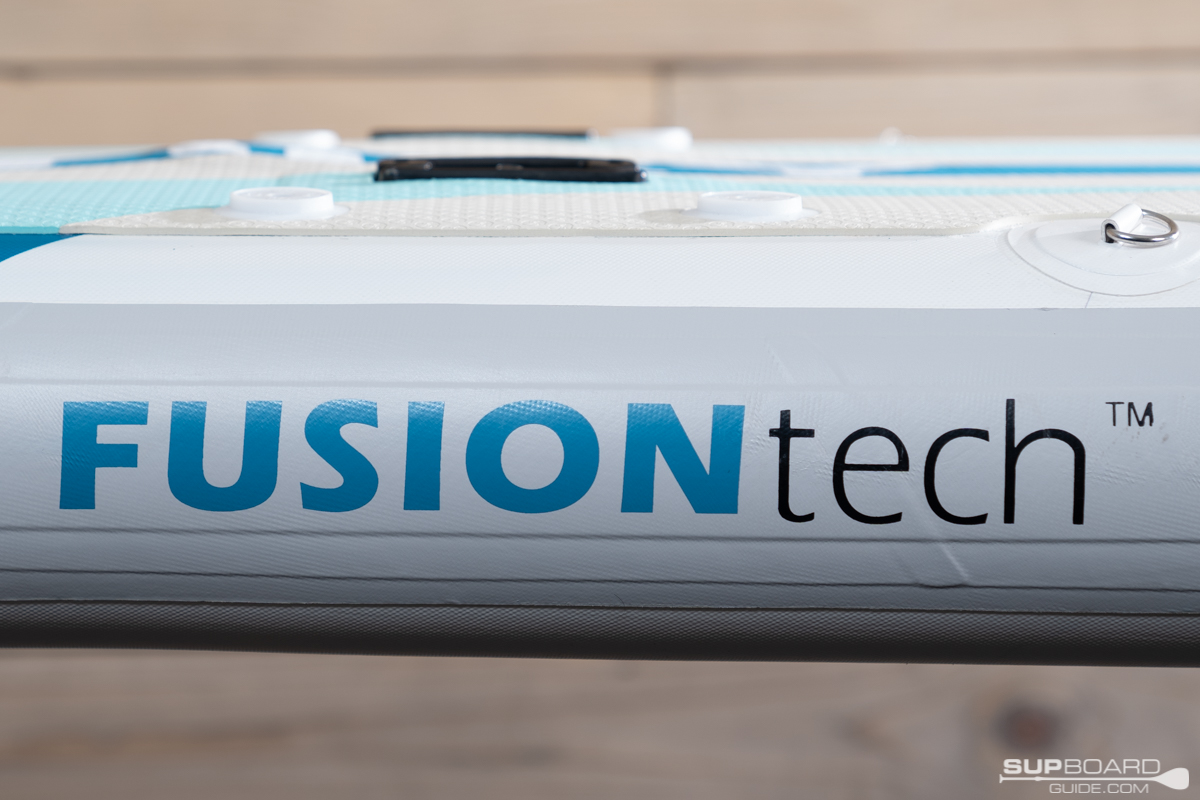 One thing that we've become accustomed to while reviewing Nixy paddle boards is that they all are exceptionally rigid. Unsurprisingly, the stability focused Monterey easily meets that standard.
The Monterey is constructed with fusion bonded dual layers of PVC surrounding an inner drop stitch core. What this means is that the PVC layers on the Monterey are molded to the drop stitch fabric layer, and to each other, using heat instead of glue. Because of the lack of heavy glue, Nixy is able to keep their boards relatively lightweight without compromising stiffness.
Another design feature to note about the Monterey is that a carbon fiber cloth layer is incorporated into the rail layers. Not only does this add just a little more rigidity, but the carbon fiber layer also makes it extremely tough to penetrate or puncture, adding to the overall durability and hardiness of the SUP.
As a final note, we also want to make clear that the Monterey is a double chamber SUP, as evident by the demarcation ring seen in the bottom left photo above. We're honestly still on the fence about double chamber SUPs; they're marketed as more durable, but to us the middle chamber seems to add a lot more potential failure points to the board. There's a ton more testing that we'd like to do to determine whether or not a double chamber poses any benefit on the durability front. For now though, we're essentially neutral to the design since it doesn't have any major effects on the paddling experience of the board.
Board Stiffness: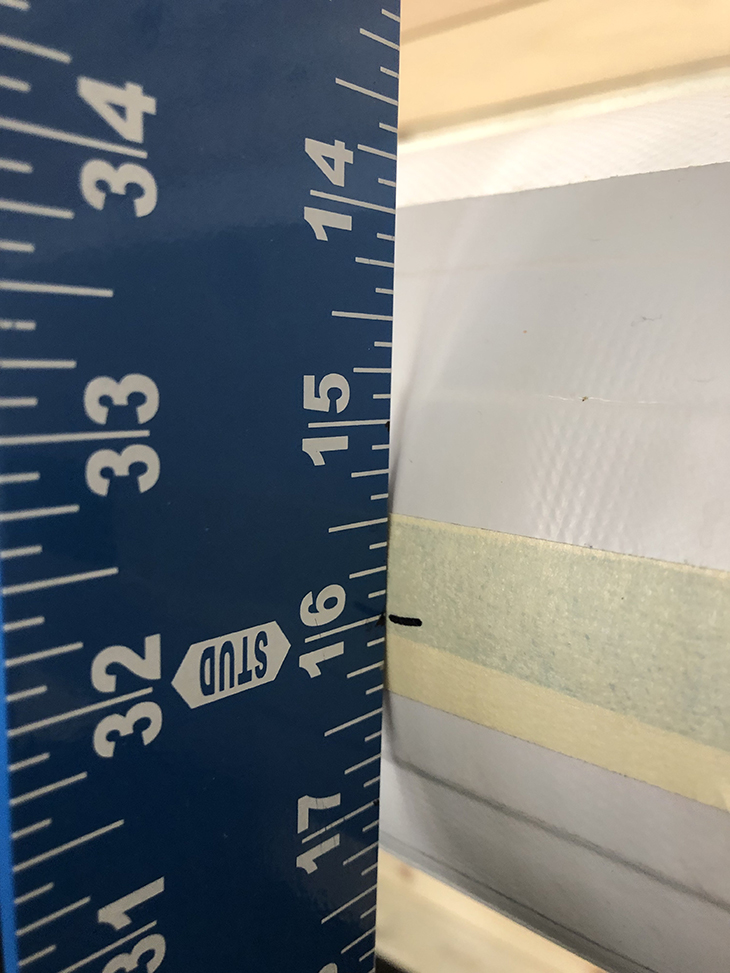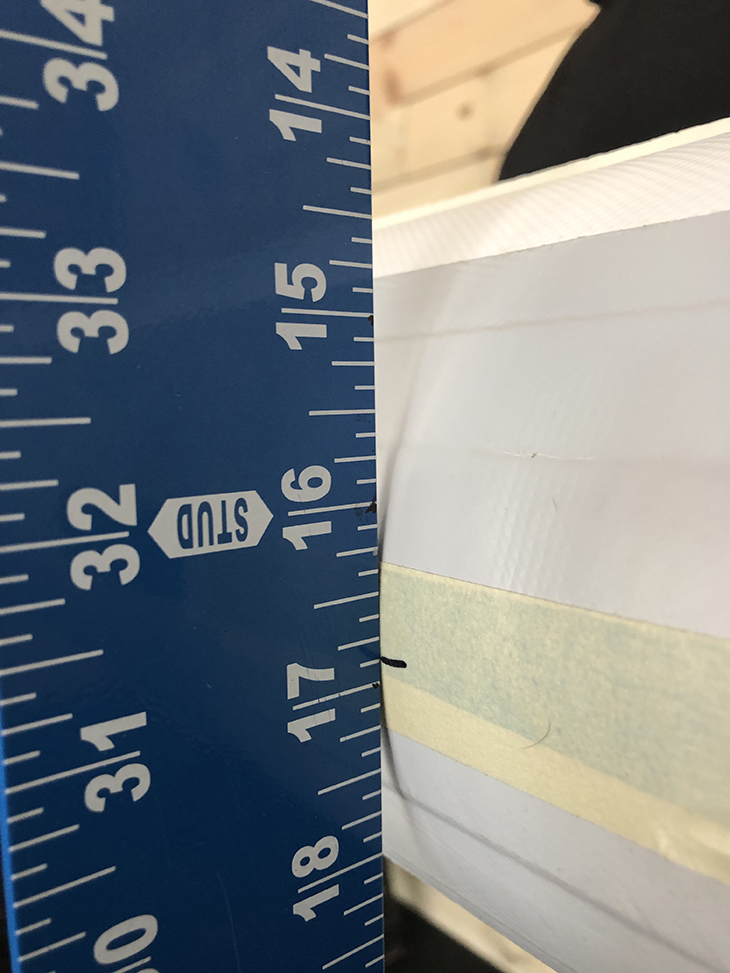 Stiffness Test: 0.9375" of bend
During our bend tests, we place the SUP on two sawhorses that are spaced 7' apart. We then load 150 lbs onto the midpoint of the SUP and measure the amount of flex.
The Nixy Monterey gave way to less than an inch of bend, which is a characteristically good result for a Nixy SUP. In the water, this performance in our bend test translates to a SUP that feels rigid, even when you load it close to its weight capacity of 400lbs. It is a testament to Nixy's impressive construction materials and processes and also is a clear way to note their consistency in producing stiff inflatable SUPs, even at an easy-to-reach 15 PSI.
Features/Accessory Review: 9.8/10
The Monterey G4 Expedition is Nixy's most versatile iSUP, and as such, is loaded with features to accommodate nearly any on-the-water activity you could think of.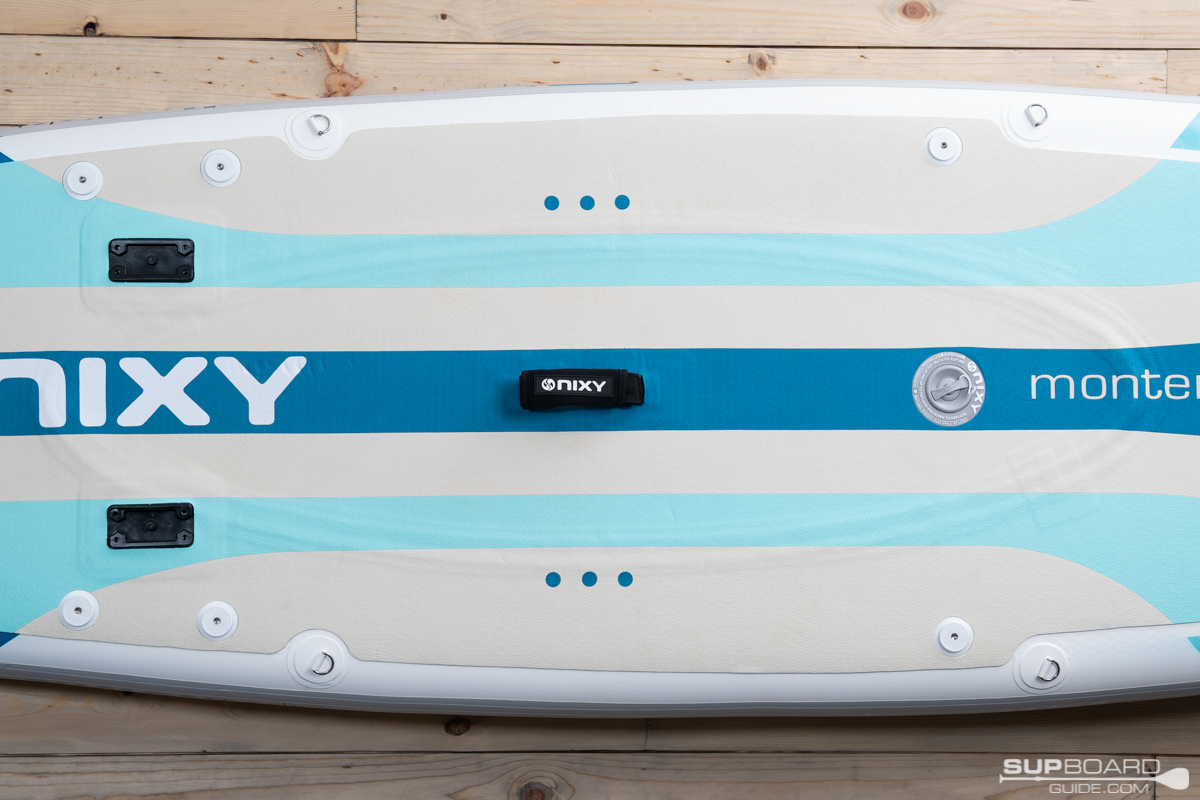 Adorned with 2 scotty mounts (for rod holders), 10 action mounts, and kayak seat compatibility, the Monterey would be a great option for a gear-heavy SUP fisherman/woman. It also has 3 carry handles to make launching and loading this 11'6 SUP a lot more manageable.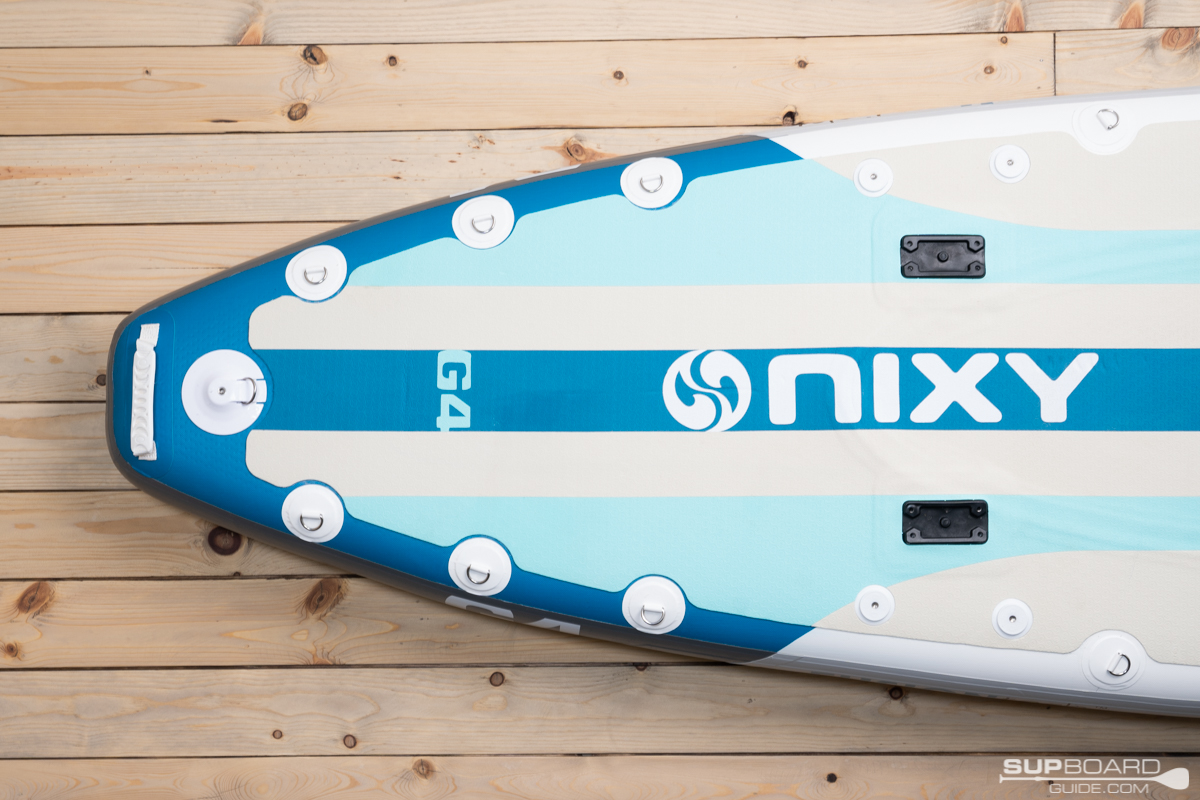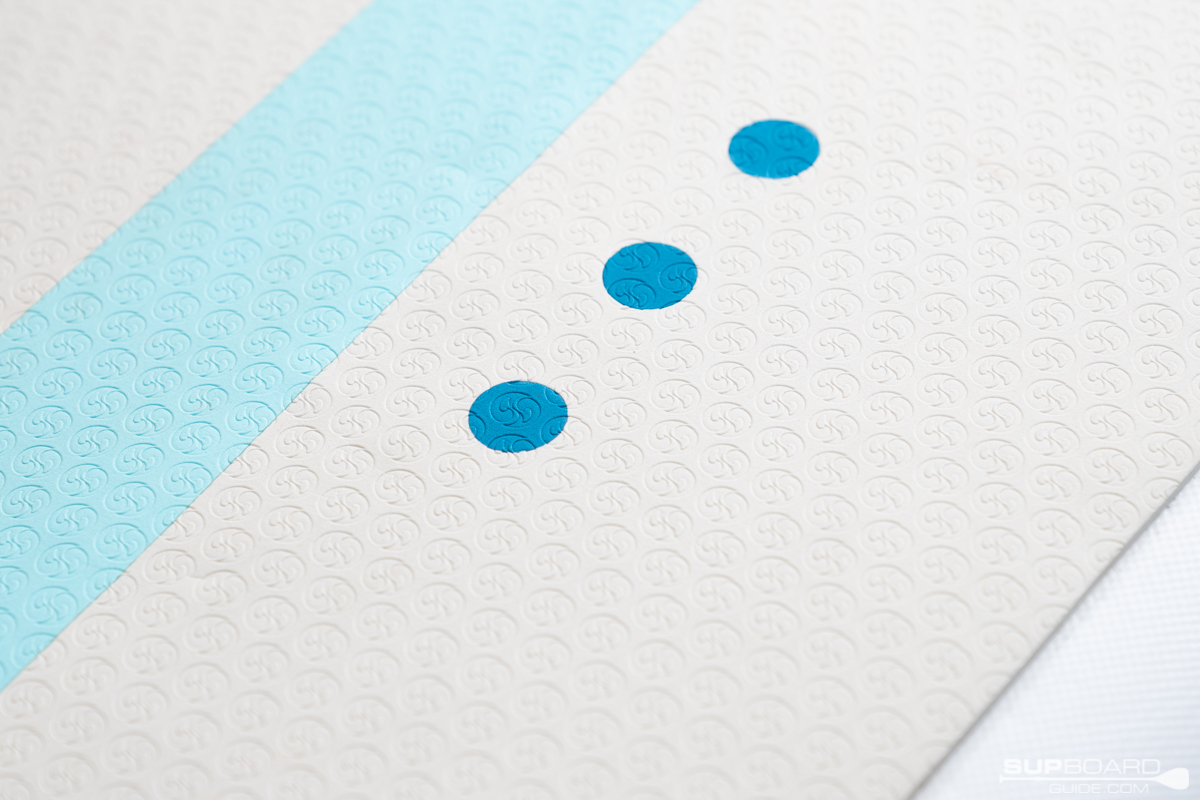 We love that Nixy opted to give you some customization ability when it comes to hauling gear, as both the front and rear cargo area are removable and adjustable on this SUP (we've removed the rear cargo area in the above left photo). They've also incorporated a full length brand stamped deck pad that provides a lot of cushion and comfort to your feet with a little bit of grip/traction.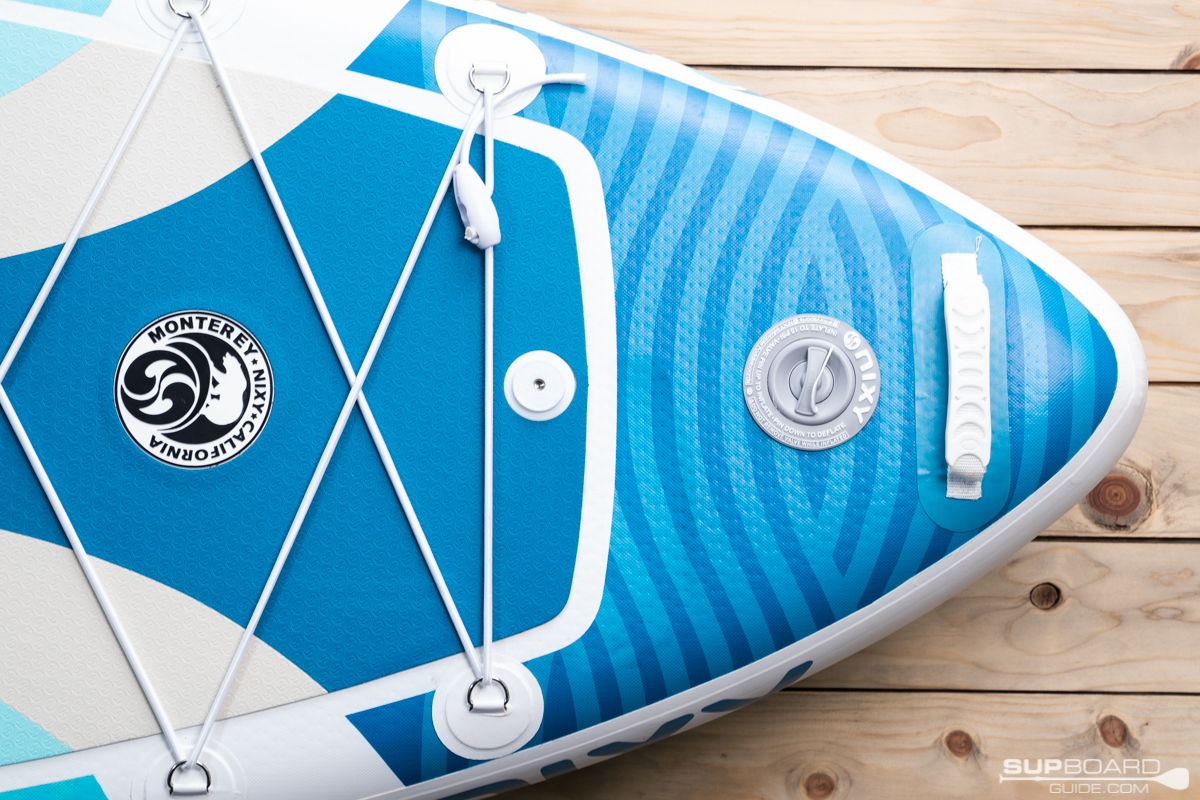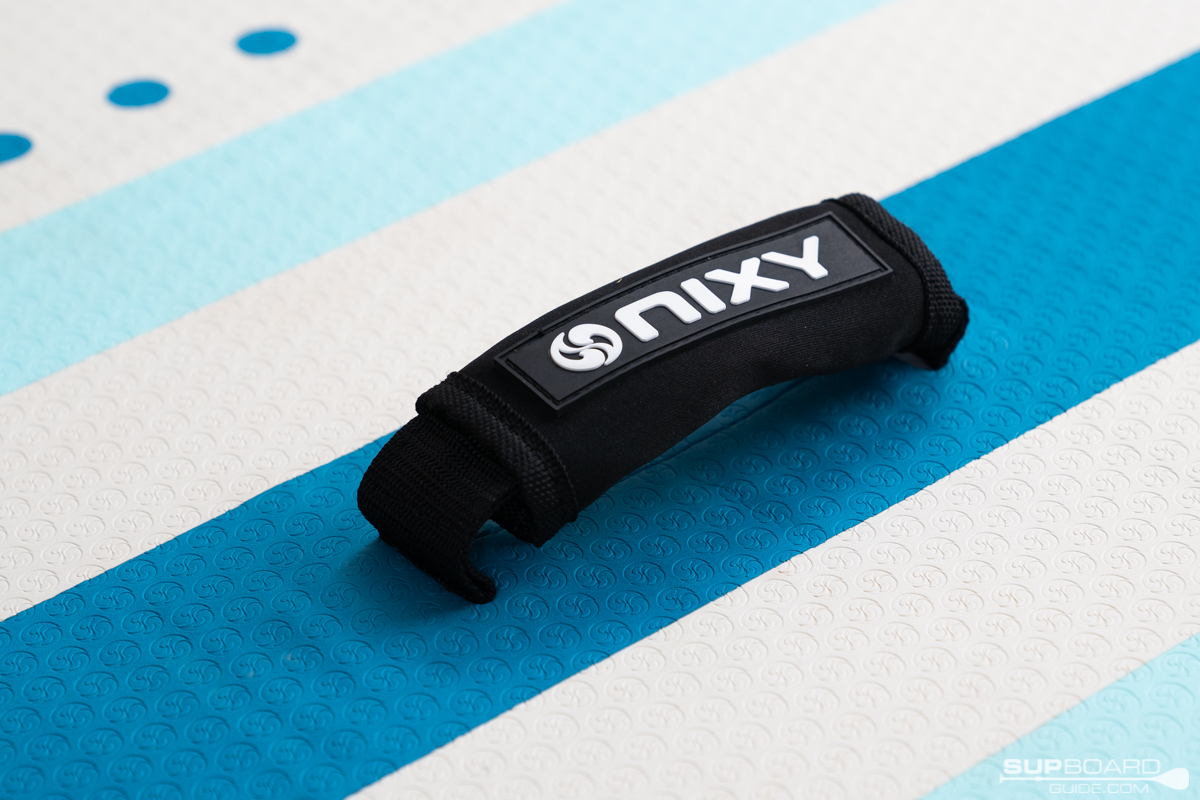 In short, the Monterey has a mind boggling amount of features, while still enabling the paddler to have options in regards to gear storage and overall versatility.
Included Accessories: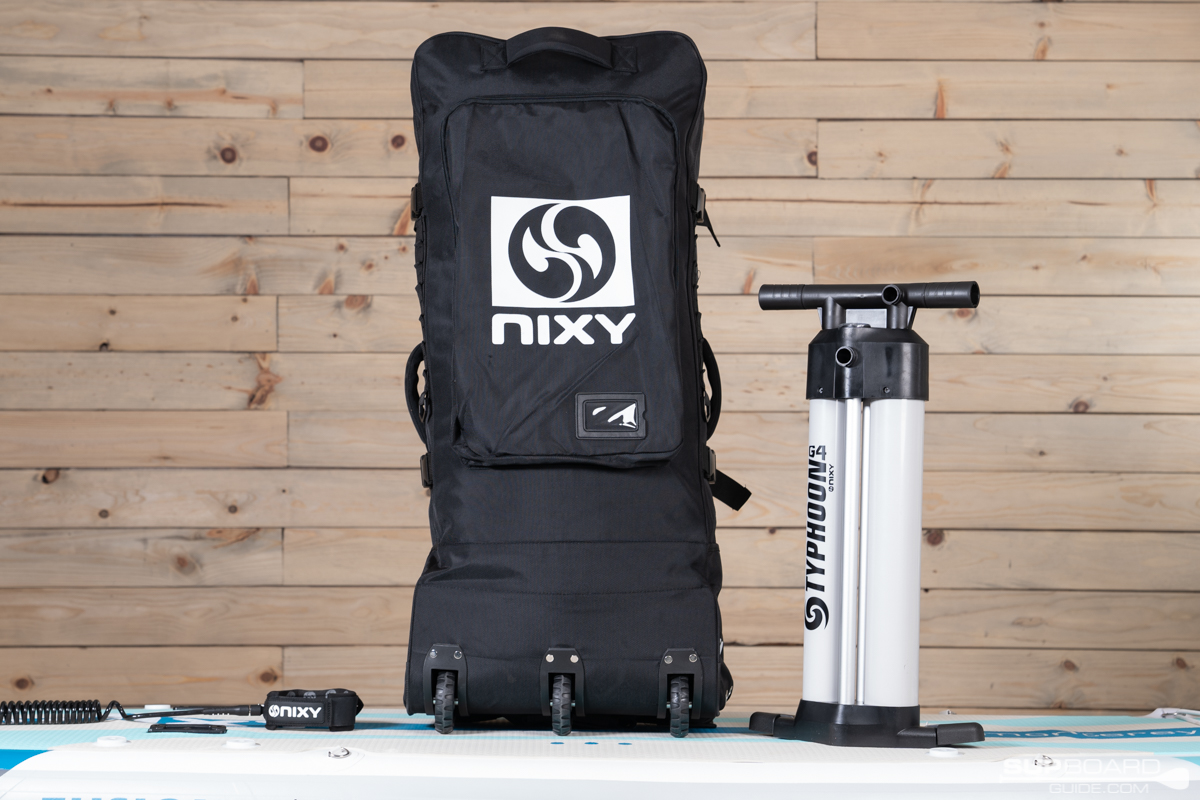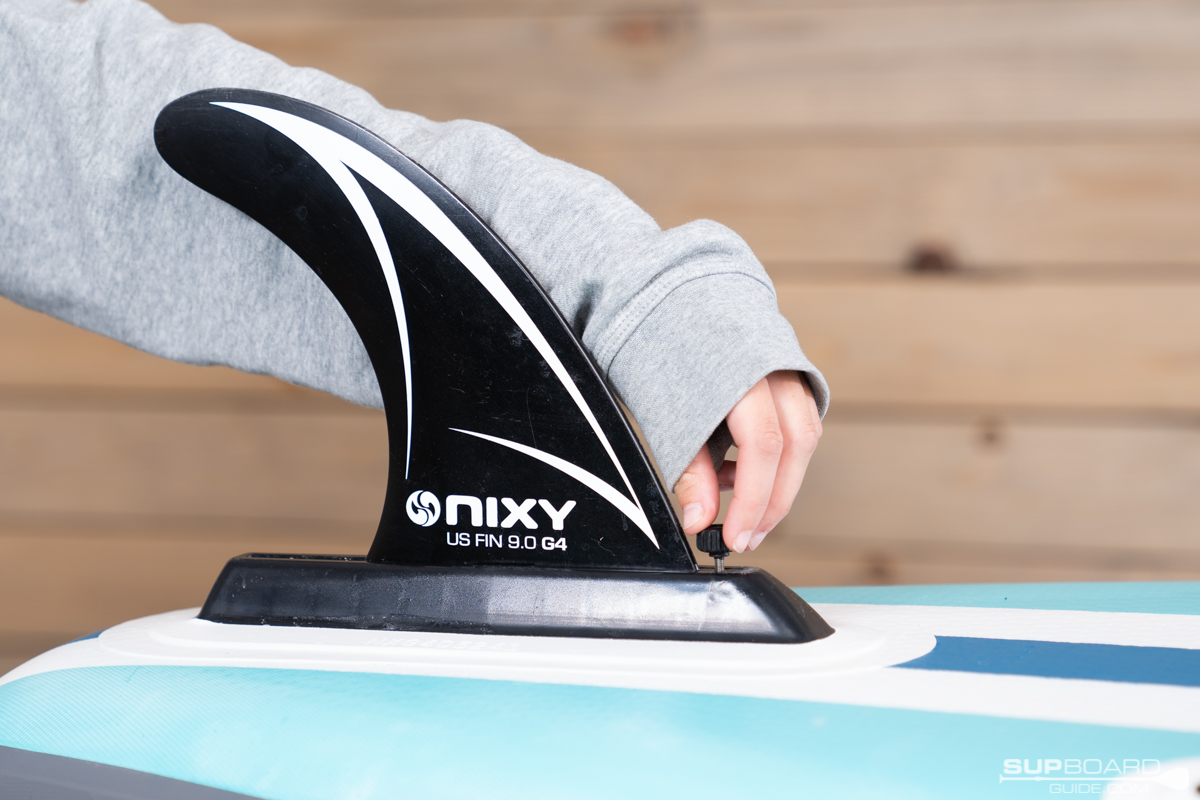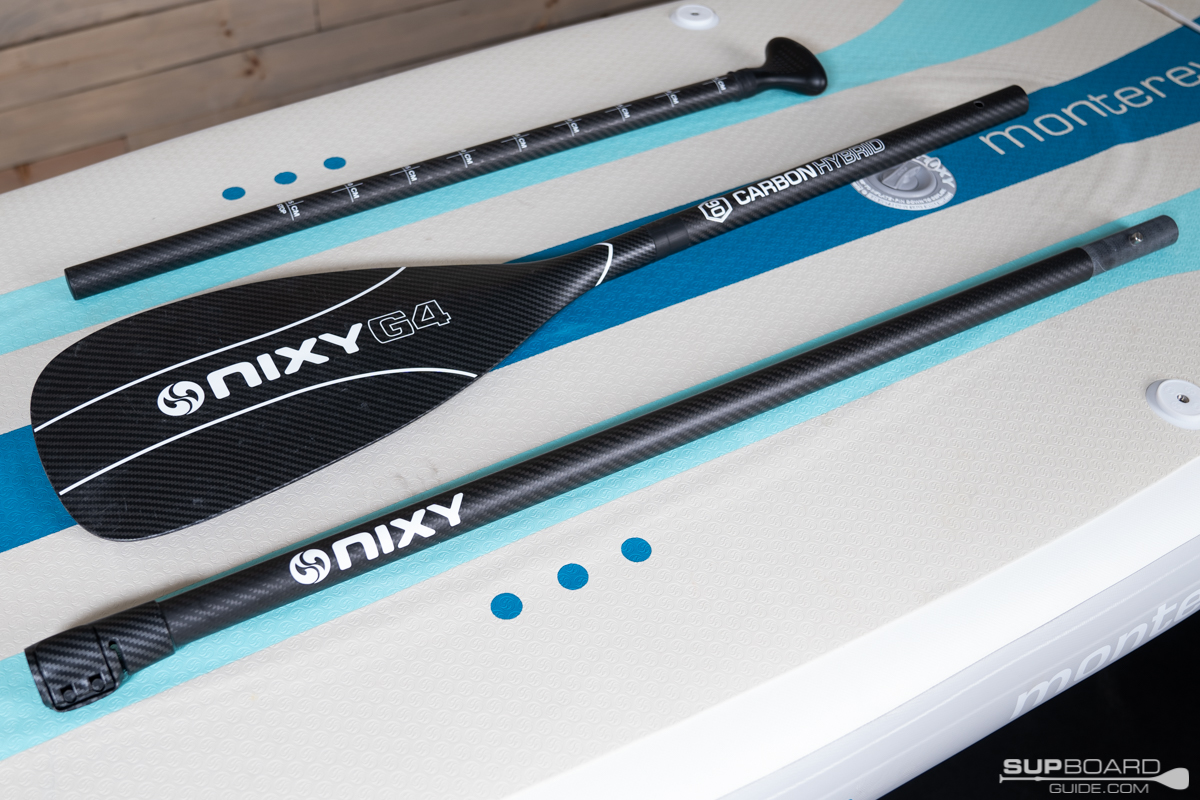 Nixy does a phenomenal job of including high quality pieces of all of the necessary equipment to get their paddlers straight on the water as soon as the Monterey hits their doorstep.
Nixy carbon fiber hybrid paddle
Double chamber, triple action hand pump
10' Nixy coiled leash
3 screw-in fins (2 side fins, 1 center fin)
Wheeled SUP backpack
Overall, the Nixy SUP kit is one of our favorites. We love the carbon hybrid paddle and we immensely appreciate the decision to include a dual chamber triple action pump; it makes hitting that 15 PSI mark much easier. Above all else though, we really like the tri-wheeled Nixy SUP bag. It's super roomy, and has plenty of organization pockets.
Summary Review of the Nixy Monterey G4 Expedition 11'6 Paddle Board
To close out this review, the Nixy Monterey is the highest volume SUP in Nixy line-up, making it exceptionally stable and the ideal option for taller or heavier paddlers that value Nixy's relatively light and characteristically rigid construction.
On top of that, it's a versatile SUP that could handle nearly any activity you could think to throw at it, whether it be SUP fishing, yoga, solo-paddling, or paddling with gear or an extra passenger. It doesn't hurt that it comes with a great quality kit as well.
As a last note, the Monterey is understandably a larger and slower iSUP. If you're looking for more in speed or a more compact design, head over to our review of the Nixy Manhattan and the Nixy Huntington Ultra-Compact.
Thanks for reading through our review of the Nixy Monterey G4 Expedition 11'6. We look forward to seeing you on the water!
The following two tabs change content below.
SupBoardGuide
Heyo! At SupBoardGuide.com we are a team who love the water, the outdoors, and are more than grateful that our full-time job allows us to review stand up paddle boards. We paddle year round (it helps that we are just about 2 hours outside of Las Vegas), and we bring in a wide range of paddlers with the goal of providing our readers with the best, most in-depth, and accurate stand up paddle board reviews.
Latest posts by SupBoardGuide (see all)