Red Paddle Co 12'6" Voyager
0.00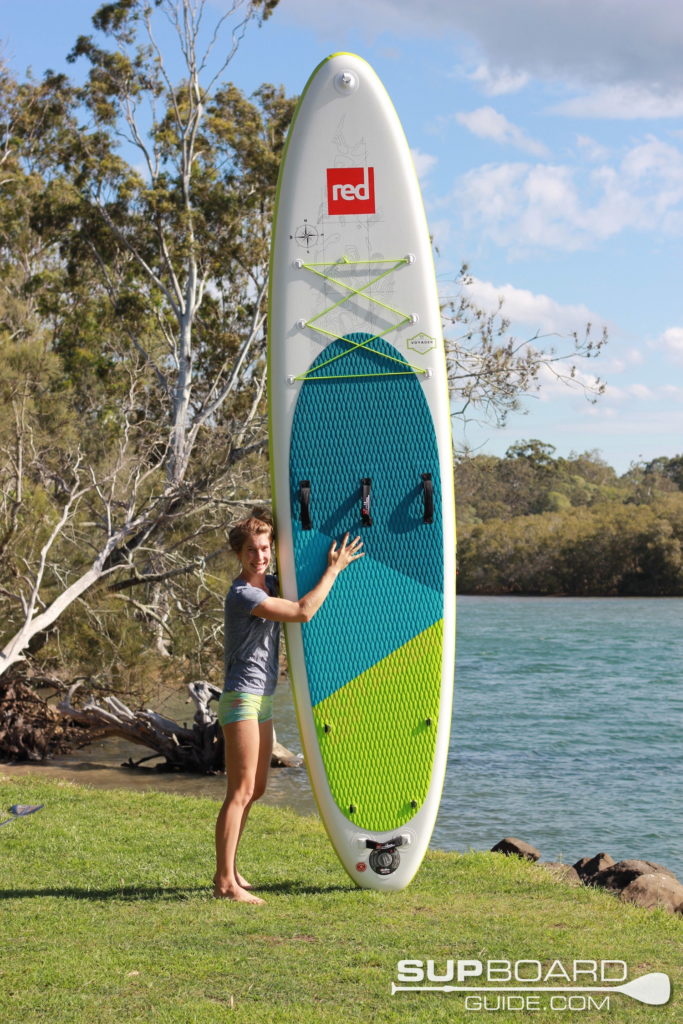 Have you ever heard of Red Paddle Co? If you haven't, you are bound to on your inflatable SUP journey.
RPC is the biggest inflatable SUP brand worldwide. They make the highest quality boards and always coming up with new ideas using cutting edge technology. They come with an increased price tag compared to most SUPs but that's to be expected when the quality of everything they produce is held to the utmost highest standards. But, is it worth it?
I recently received the 12'6″ Voyager, one of their popular touring boards to test out. If you are in the market for a quality touring SUP then you should definitely have a gander below.
Specs
| | |
| --- | --- |
| Length | 12'6″ |
| Width | 32" |
| Thickness | 5.9" |
| Weight Capacity |  330 lbs |
| Weight |  24.2 lbs |
Performance
The moment you step out on this board, you totally understand the hype. It's an amazing touring board. It tracks better than anything else I've ever paddled but still quite responsive to turn. Of course, SUPs that track well tend to also be fast. Rather than zig-zagging your way down a river if you are pointing straight, you'll fly! The better a SUP tracks the more ability it has to hold glide which adds to speed. Keep in mind, I was also using one of RPC paddles. If you paddle this board with a cheap paddle you may have a different experience.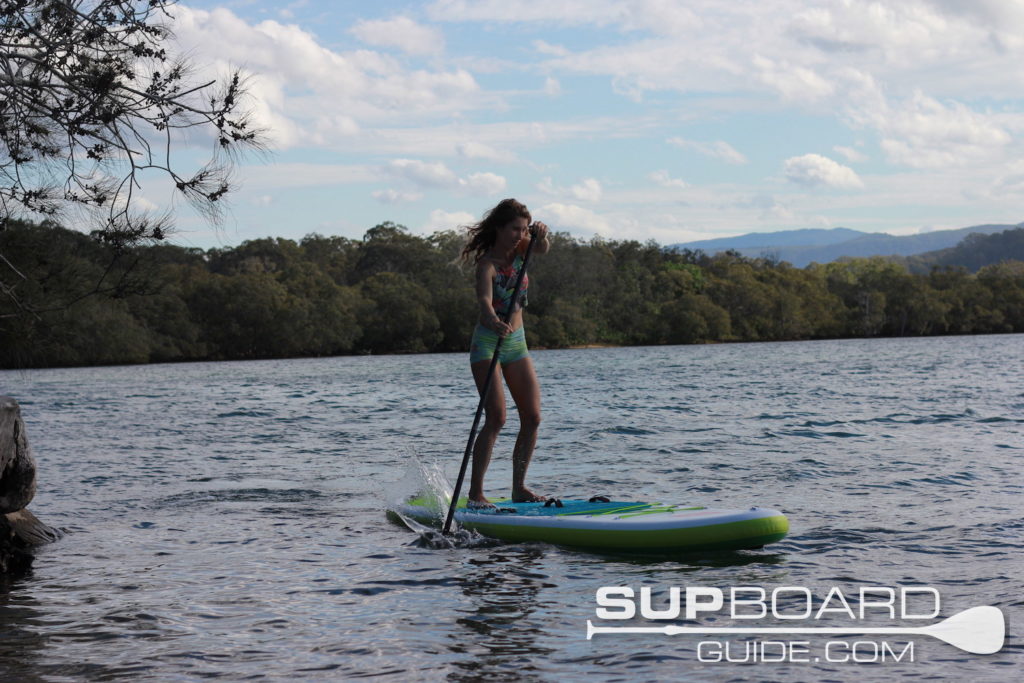 The stability on the Voyager is phenomenal due to how rigid it is, as well as it being a relatively consistent shape. One aspect is the RSS battens you insert into the rails at inflation, they definitely help to keep things feeling solid under your feet.
Definitely a beginner friendly board but also ideal for those wanting performance.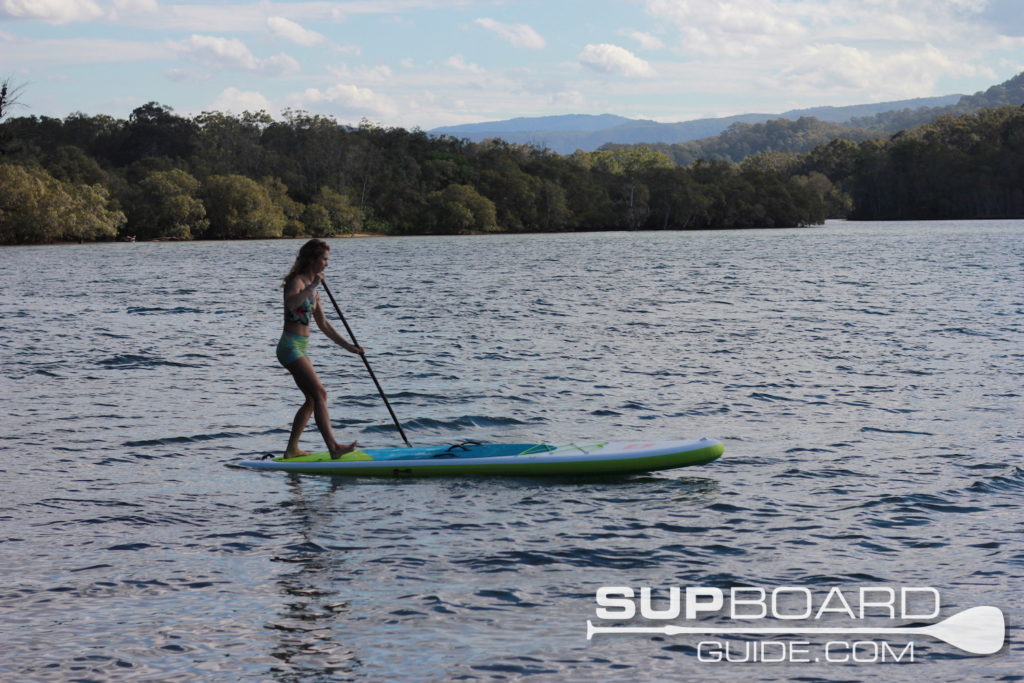 General paddling around was super fun! Like I said it tracks well and can pick up speed easily. Though just doing some wide laps I found the board incredibly responsive, even just leaning into a turn I felt the board move. While backfoot pivot turns, the nose picked up swiftly and moved easily. It was also a relatively stable board to pivot turn on thanks to the extra runners on either side of the large center fin.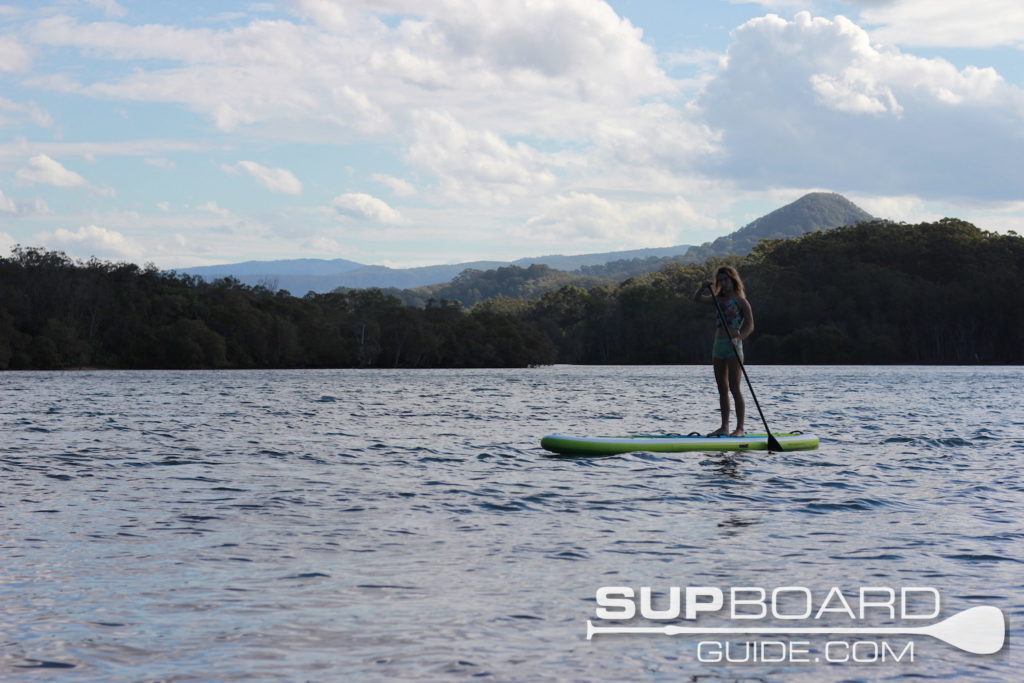 As far as conditions go, I wouldn't suggest this as a board for waves or fast waters, purely because of its length. 12'6″ board is a bit harder to move quickly and efficiently which is what the conditions call for. Though if it's mainly big ocean bays with the occasional wave/chop you'll be fine! More than fine with the extra runner under the nose. These runners help assist with tracking and provide a little more resistance in winds. There's plenty of storage on board for long trips, so this would be an absolute perfect overnighter SUP, even could double as your bed!
Materials
Red is the only company (that we're aware of) that manufactures in their own facility. It means red designs and materials stay consistent and you get a fantastic product every time. I do believe they use some of the highest quality materials that are available and still realistically affordable. The price tag that comes with RPC boards is a bit more than many are used to / can afford but I do believe it's worth it in some cases. The Voyager is one of those.
Underneath the layers, there is a drop stitch core that provides the stable core of the whole board. The layers of PVC that are wrapped around the board are applied using Red's own patented MSL Fusion, in which the layers are pressed together mechanically. It means less need for layers but the same amount of rigidness/durability of more materials. Though just in the case that you are running into rocks, Red tripled layered the rails, as they are the most commonly damaged.
To make things even stiffer therefore stable, they introduced the RSS (Rocker Stiffening System) battens. They are inserted into the rails at about 1 PSI and make the board approx 40% stiffer. Out of curiosity, I used the board with and without them. I did feel a change underfoot with how rigid the board felt either side of my feet without them. The deck pad on top then is a foam that's printed with thousands of little Red logos. A nice finishing touch 🙂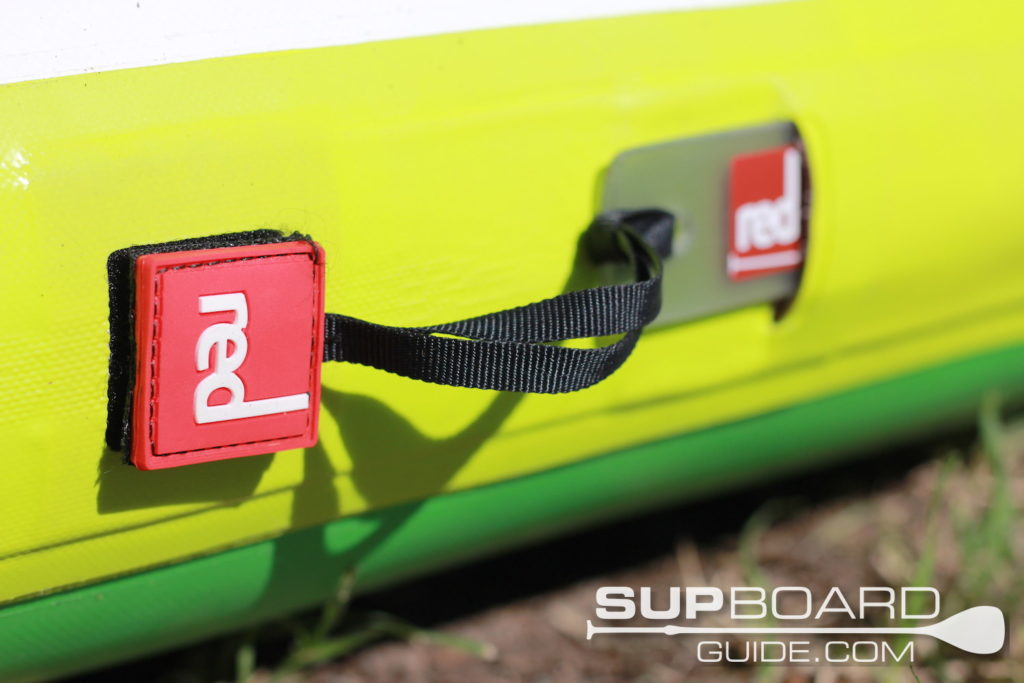 Board Design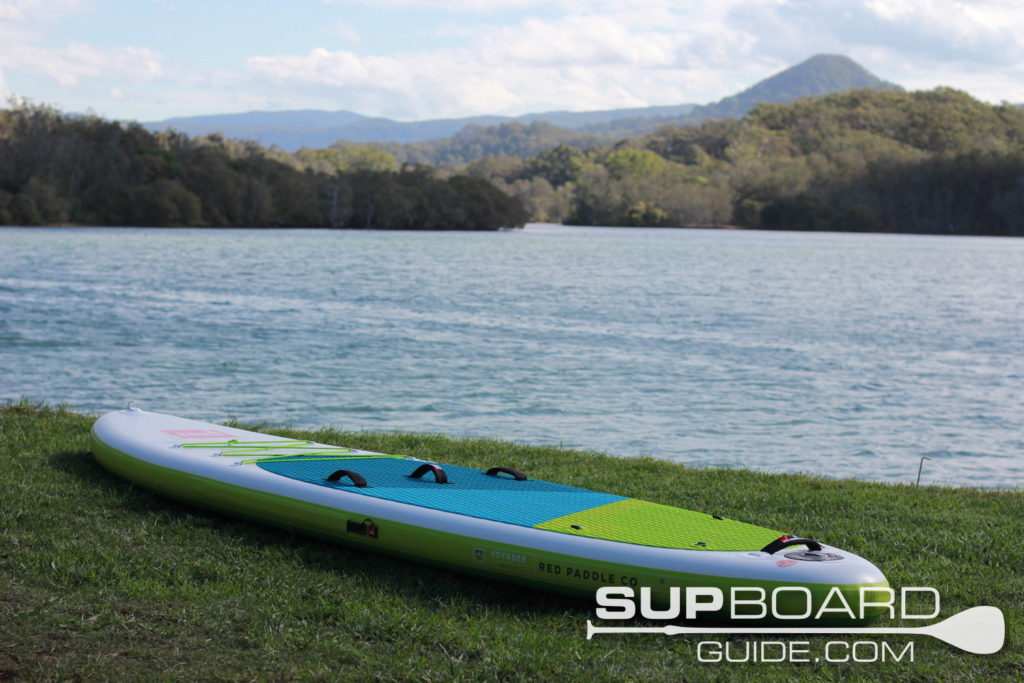 So as the name suggests, the Voyager was built for longer trips. It doesn't mean that you can't use this to get around for a cruisy paddle just that you'll get the best performance from it on a longer trip. The size and shape of the board allows the board to pick up speed and hold glide while still provide an ample amount of stability. It's also a little thicker than most RPC boards at 5.9″ which helps with stability but more importantly capacity. Seeing as this is a board you may want to load gear onto, you need the extra volume, which also makes a great board for taller riders.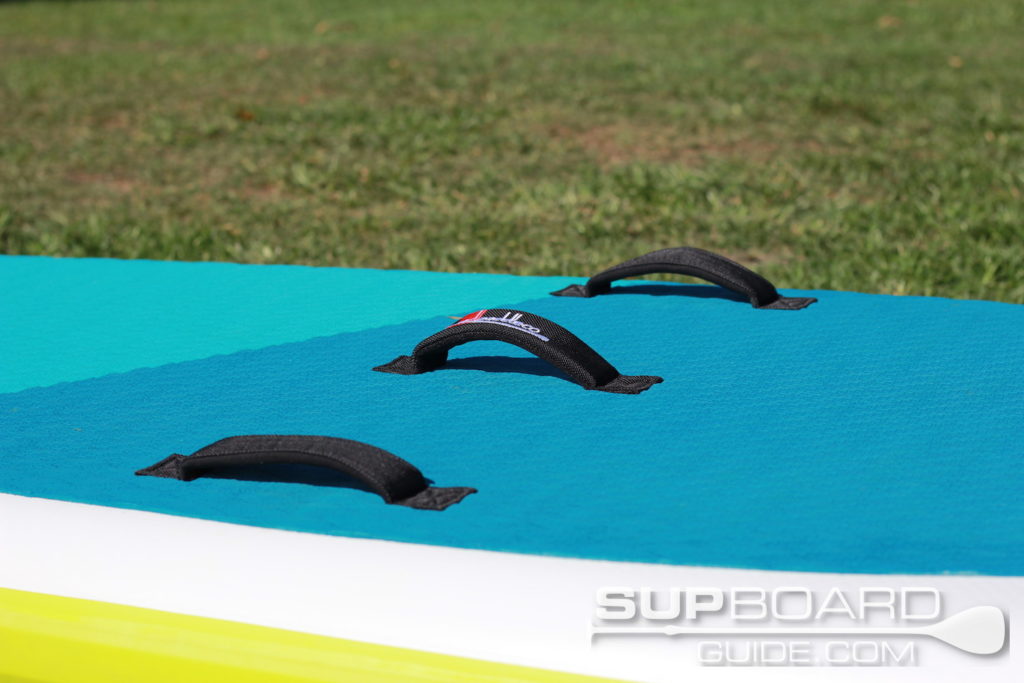 Another aspect of longer journeys to be considered is the gear. Especially if it's an overnighter, you need the extra gear. You also need somewhere to put it! Which is why the Voyager hs 6 D-rings with bungee on the nose and an additional 4 D-rings on the tail to turn into more storage if you need it. Even the quality of the D-rings and even the places where they have been joined to the board is obviously tech. The last 2 D-rings are on the nose and tail. The tail is for your leash while the nose can be used for towing/mooring. The D-ring patch on the nose also acts as an action mount of which you can attach a Go-Pro for example! While the tail D-ring is for your ankle leash.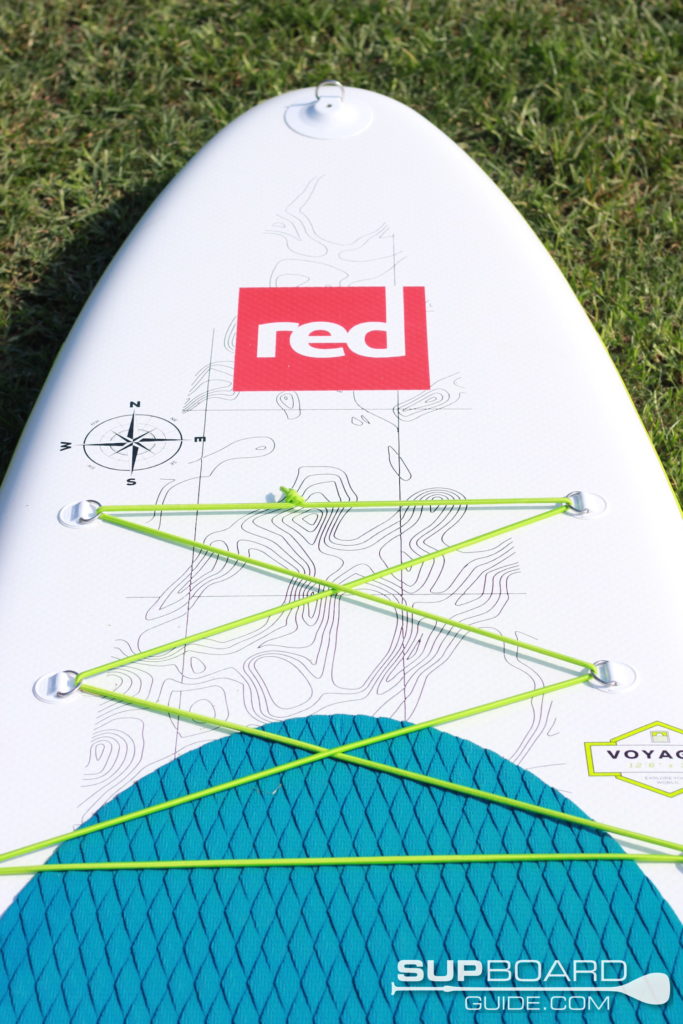 To help carry the board, there are 3 different center handles (great for different heights!) as well as one at the back. Each has an embroidered RPC logo on it, rather than a stamp, to help reduce plastics. I enjoy the overall aesthetics of this board, though the green underneath is quite intense, it's a good safety point. If you flipped that board, it would be easily seen for a while away. While the map printed onto the top gives it a real adventurers feel.
Features
Inflate/Deflate
Inflating with your Titan pump gets the adventure vehicle up and ready in about 6-7 mins. It's dramatically quicker than most pumps, though I have to point iRocker full throttle pump is close to being on par. Make sure you insert the battens at 1 PSI, otherwise it'll be impossible after! And the recommended PSI is 15 but you can safely go up to about 22. If you are taking a heavy load it's wise to inflate a bit past 15.
Deflate you'll need to push the pin in at the valve, then twist to the lock it open. I found the Voyager to take a while to get the air out. There was more effort needed to push the air out than normal, not really sure why though! I have a sneaky feeling it has something to do with their drop stitching. A little longer to deflate for a better quality board is a payoff I'm willing to have!
Fin Setup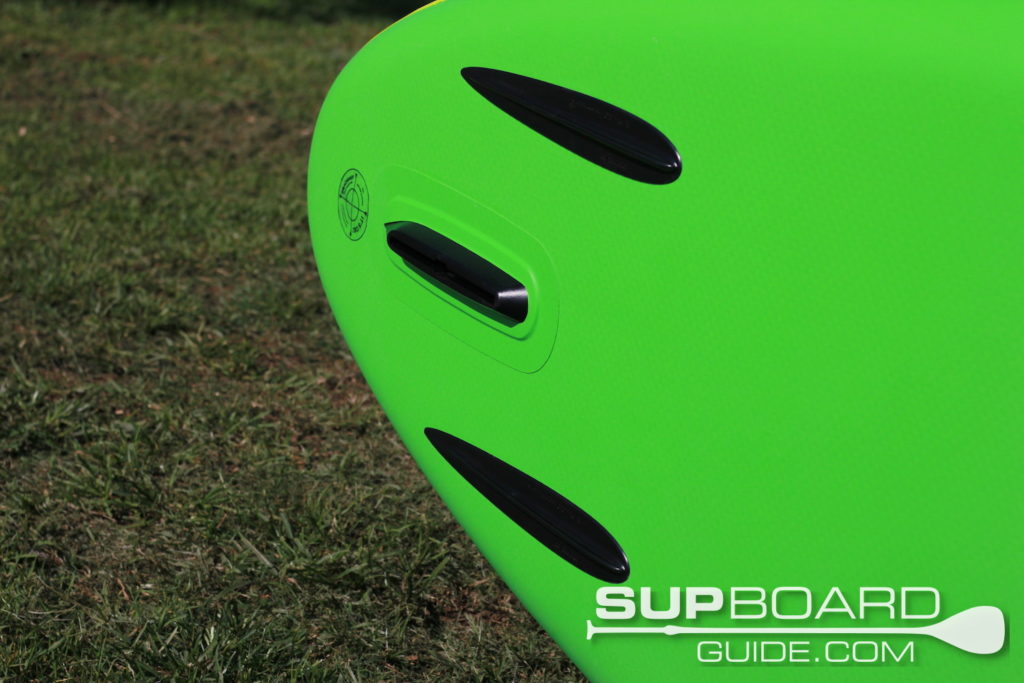 Beneath the board, you'll notice the runners as well as the one large center fin. The center fin is one of the world leading FCS fins and helps tracking as well as maneuvering. Unlike generic fins, they are manufactured to specifically aid to a boards performance. With different sizes/styles meaning different things.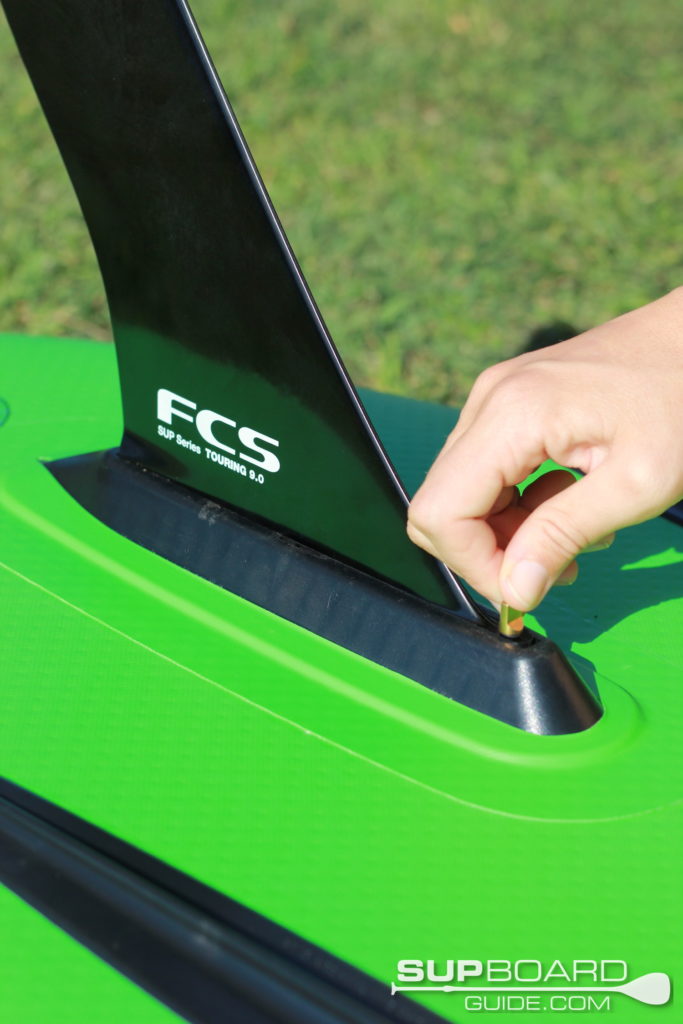 The one that comes with the Voyager is what you call a hatchet fin and is made especially for tracking. The US fin box is also compatible with a range of other fins. While the runners either side of the fin and on the nose also help with maintaining speed/glide and stability without producing drag.
Accessories
Paddle
The Voyager isn't supplied with a paddle however RPC has a range of high-quality paddles on offer.
Backpack
Moving your SUP and all it's gear from A to B is made super easy with the travel bag. Not only is it super comfortable to carry it also has wheels – perfect for travel. Back onto the backstrap/waist strap, they tick all the ergonomic boxes. They are comfortable, adjustable and all seams are double stitched. To keep the straps out of the way of the wheels there's a little velcro strap on the back that you can tuck them under.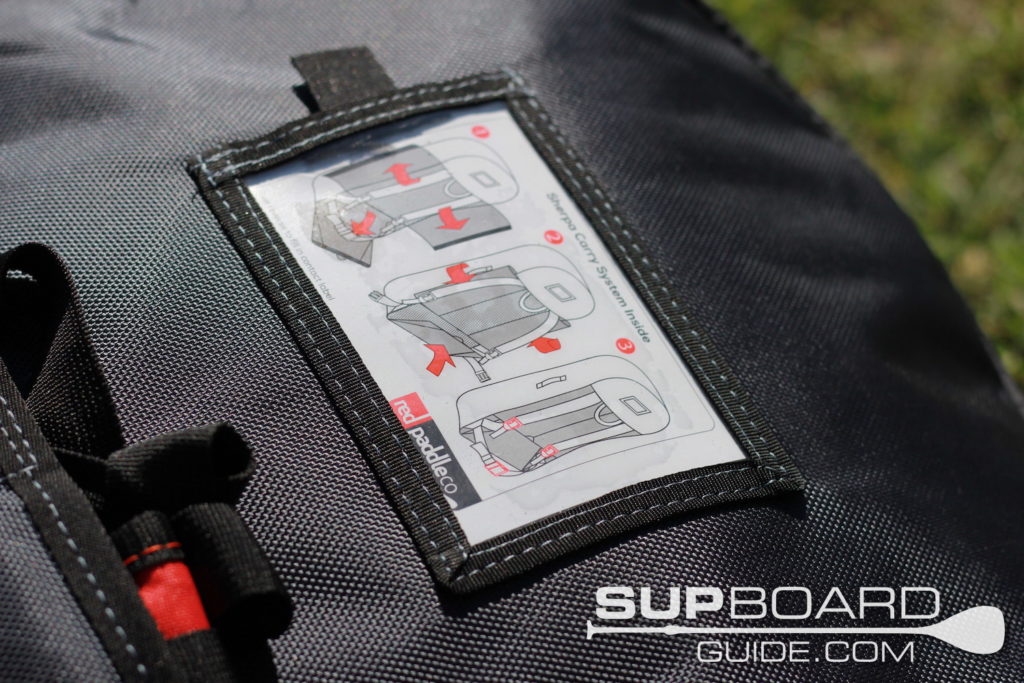 While inside there is plenty of room, a secure strap to hold gear in place and insulated walls to keep out moisture and temperature down. The handles on the sides, top, and bottom help move your bag around – again perfect for travelers. And what would a travelers bag be without a little see-through address label window! The Red bags look super smart as well as being convenient and efficient.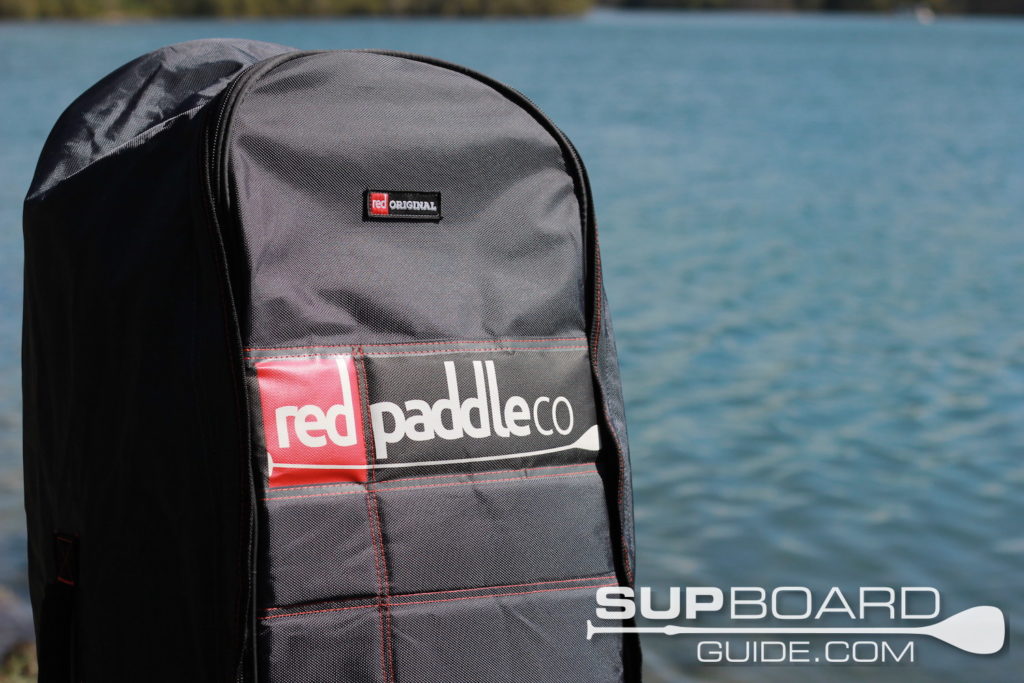 Pump
Behold the Titan! The double chamber, triple action wonderment. It delivers air to your board at speeds up to 60mph and halves the effort compared to other pumps. There's a few stand out features on the Titan that make it special. For starters, detailed instructions on how to best use your pump and extra hose nozzles for other valves.
The Titan is the best SUP pump I've ever used, though the iRocker full throttle pump is definitely giving it a run for its money. Having a good pump does make a huge difference. If you are feeling even a tiny bit unmotivated to go for a paddle, a bad pump will guarantee you'll stay on the couch. Something like the Titan makes it all that more appealing!
Leash
Again, unfortunately, no leash is supplied with the Voyager, you'll need to purchase it separately.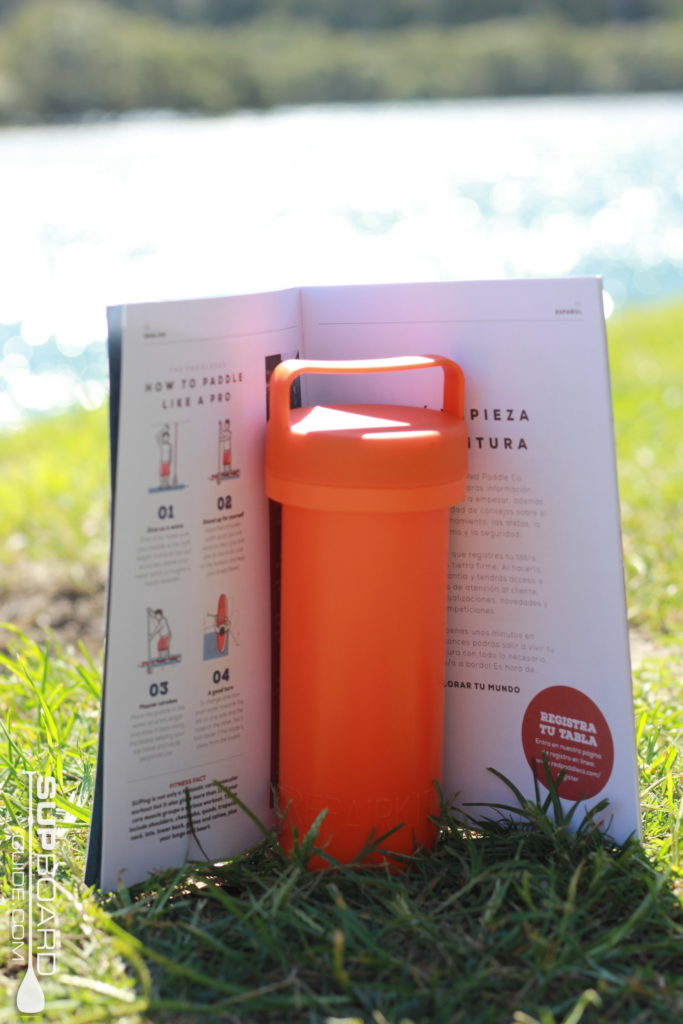 Repair Kit
The kit contains glue, patches, and a valve tool. This will get you out of trouble for small punctures (unlikely to happen) and if anything gets caught in the valve and creates a leak.
EXTRAS
Water Resistant Phone Case (Included in purchase)
Take your phone along for some snaps! Or if you are out on an adventure then you'll probably want it for emergencies. Keep it in the case and perhaps invest in a dry bag too.
Conclusion
If you are an epic adventurer looking for a quality board to cover long distances…you've found the one! It comes with a bit more of a price tag than most other SUPs we review but it's worth it in this case. These boards will last and they are so much fun to paddle! Just remember to pick up a paddle and leash 😉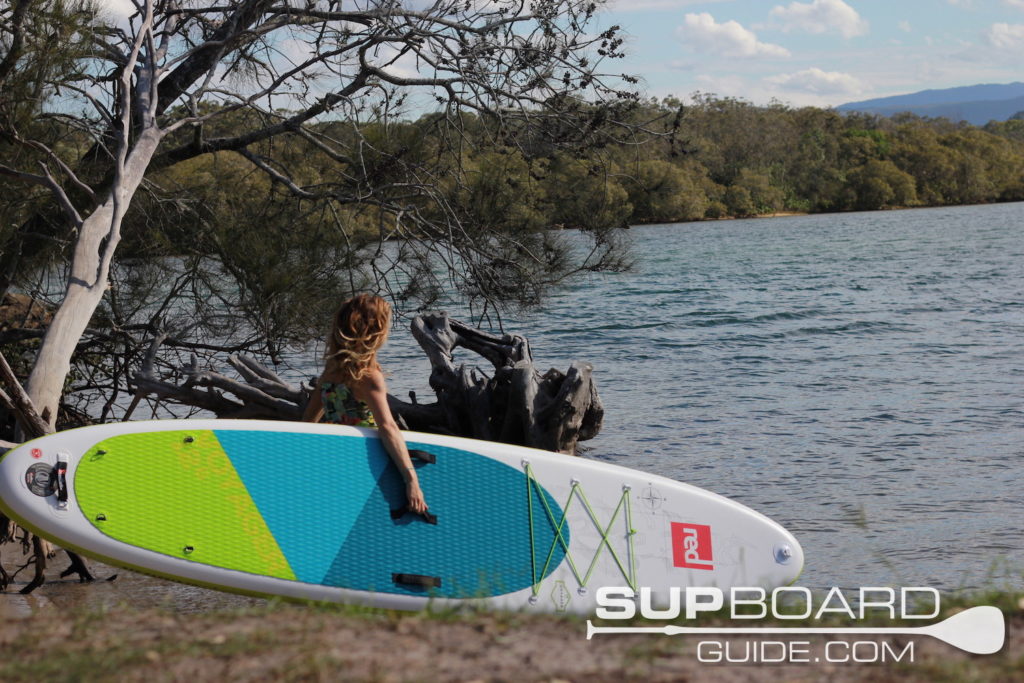 Red Paddle Co has a 1-year warranty on all boards and if you register your board that can be upgraded to 2 years in some cases. The point of contact is different in each country, so make sure you look up RPC boards in your country!
The following two tabs change content below.
Evelyn is a paddle boarder from Long Island. She's competing in SUP races ranging from 6 to 24 miles. She's a certified SUP instructor and offers SUP clinics in Long Island. She also owns Standupjournal.com and serves as the Regional Director in the SUP division of the International Surfing Association. She's also a Yoga instructor and sponsored by brands like Starboard and Kialoa.
Latest posts by Evelyn O'Doherty (see all)