Bluefin Cruise 10'8" SUP
Pros
Awesome Deck Pad + Kick Tail
Excellent construction
Gentle rocker design
Kayak kit included free in base package
290 lb. weight capacity
Made with high quality and durable materials
Cons
Repair kit not included
We would like to see removable side fins to improve tracking
Intro
We were excited to see the Bluefin Cruise 10'8" delivered. The Cruise is Bluefin's entry-level all around board. You're getting everything that you'd need for a great SUP board experience. With it comes with a dual-layer drop-stitched hull, a comfortable deckpad with kick-tail, three comfort grip handles, and a kayak conversion kit. You'll also be getting a 5-year warranty and access to an active and supportive Bluefin user community.
After testing the Cruise by Bluefin, we really liked it, and think it's a great board for those who'd like a SUP that looks great, performs great, and comes loaded with high quality features. The Cruise 10'8" even comes standard with a kayak conversion kit. With a max weight capacity of 286 lbs (130 Kg), this can fit a good-sized rider, and it can handle both a calm lake and some minor ocean surf.
Specs
| | |
| --- | --- |
| Length | 10'8" (83.5cm) |
| Thickness | 6.3" (16cm) |
| Weight | 25 lbs (11.3 Kg) |
| Weight Capacity | 286 lbs (130 Kg) |
| Recommended Inflation | 15 – 18 PSI |
| Fin | Smart Lock Fin System |
| Action mount | Yes |
| Pump Type | Dual-action, single chamber |
| Drop-stitch Density | 11200 m2 |
| Paddle Type | Fiberglass |
| PVC Layers | Dual |
Performance
Stability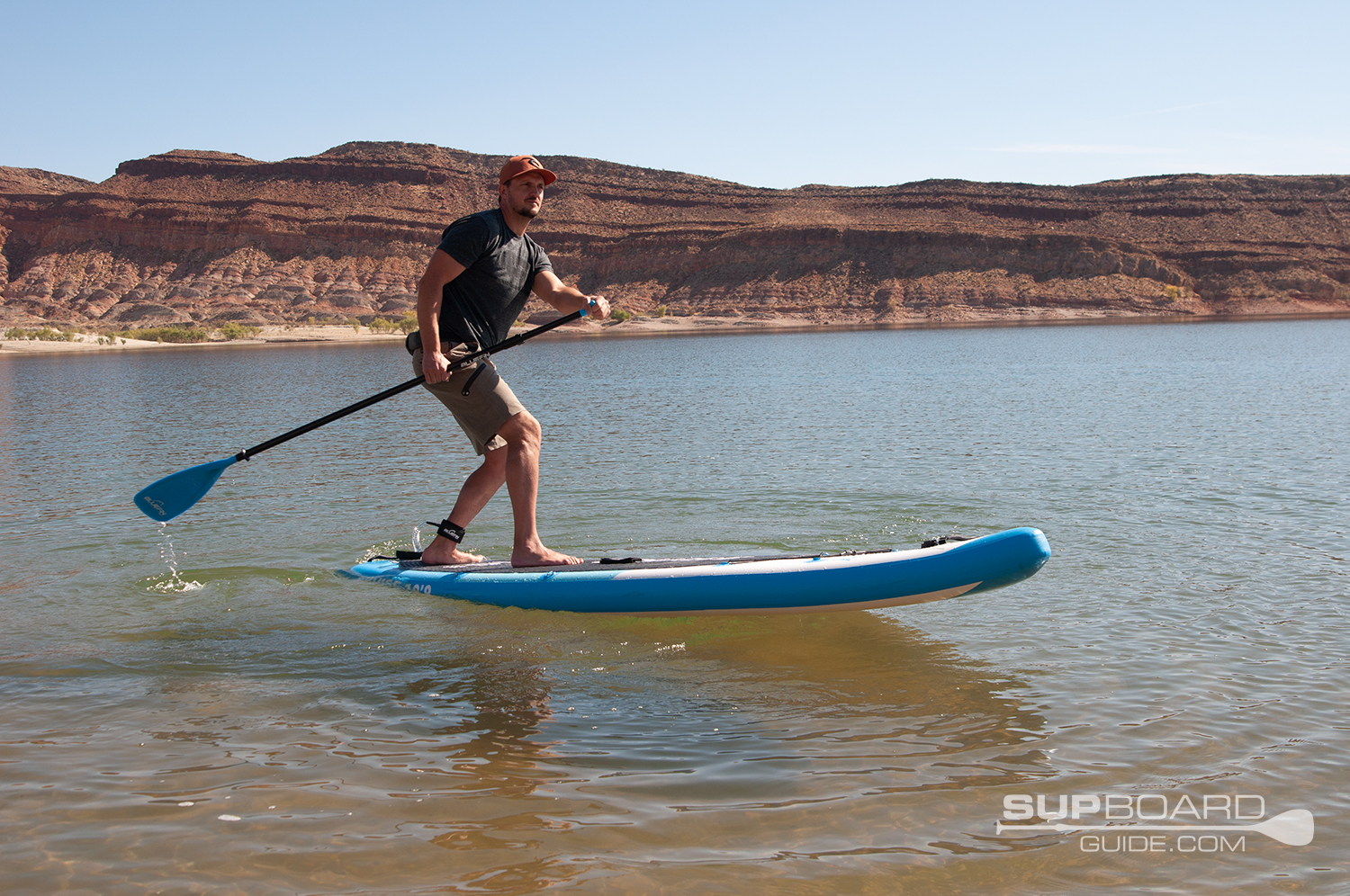 The Bluefin Cruise 10'8" is a very stable board. It could handle any turn, pivot, and balance test that we threw at it without either one of use falling in. When Justin took the board out he was able to cruise around the lake without a hiccup. He bounced on the board, rocked back and forth, and walked along its length without an issue. He's also a more advanced user. I, on the other hand, am a beginner who was teetering close to the weight limit. So things were a little more precarious for me. But I still found the board to be pretty stable all things considered. So, if you're at or under 6 ft and weigh less than 250 lbs or if you're an intermediate user then you will have no issues on this board whatsoever.
Maneuverability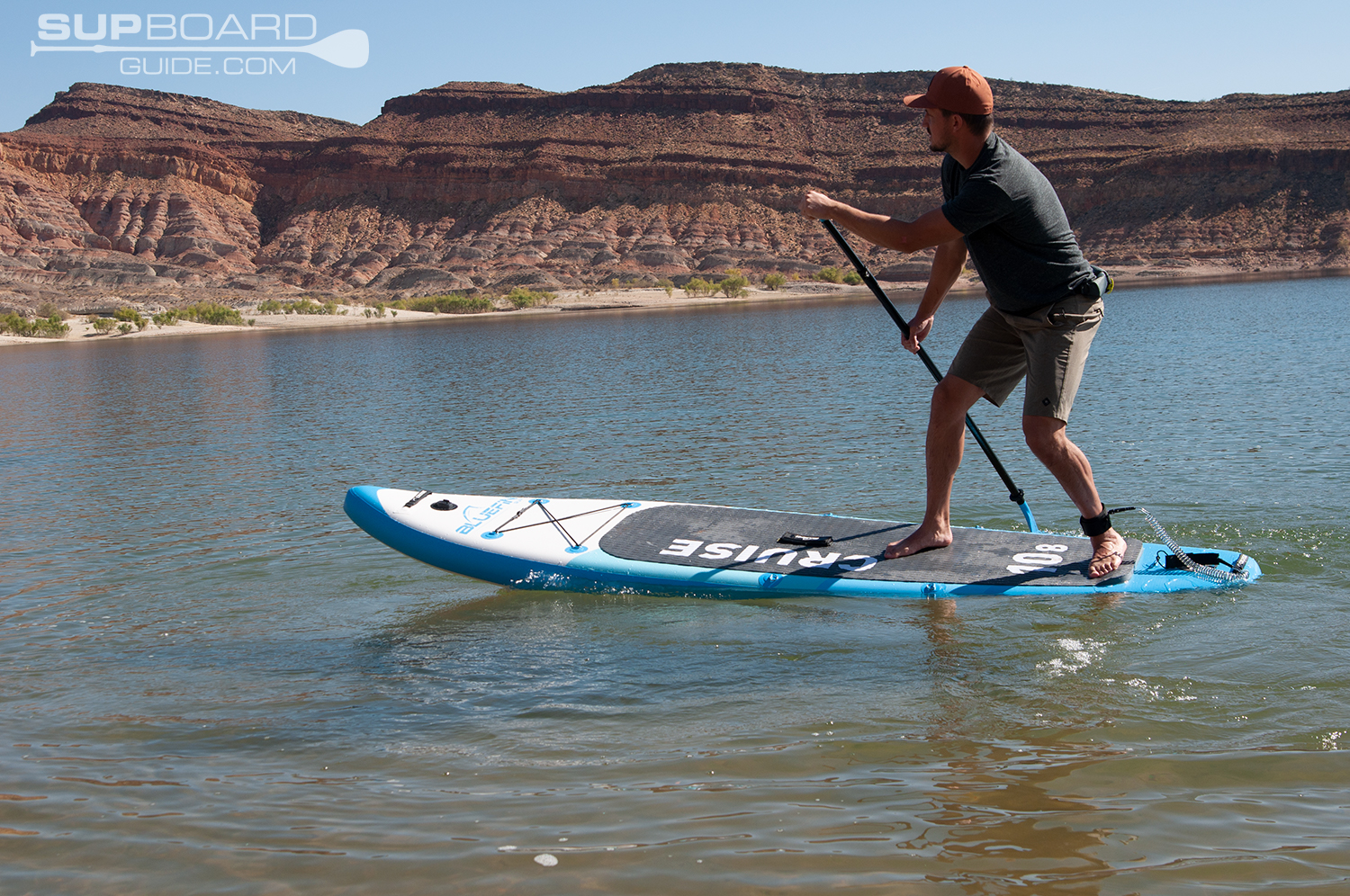 The maneuverability of this board is excellent. And it is one of the categories in which it really excels. We could get it to turn very easily, and for an all-around board, it actually felt more on the sporty side, which is hard to do. The pointed nose has something to do with that. Having a pointed nose allows the board to cut through the water turbulence to move in the water with less resistance. Having a maneuverable board is essential for SUP boarders who want to take their boards through more weaves and turns. It isn't so essential for those who want to take it down a lazy river.
Tracking/Glide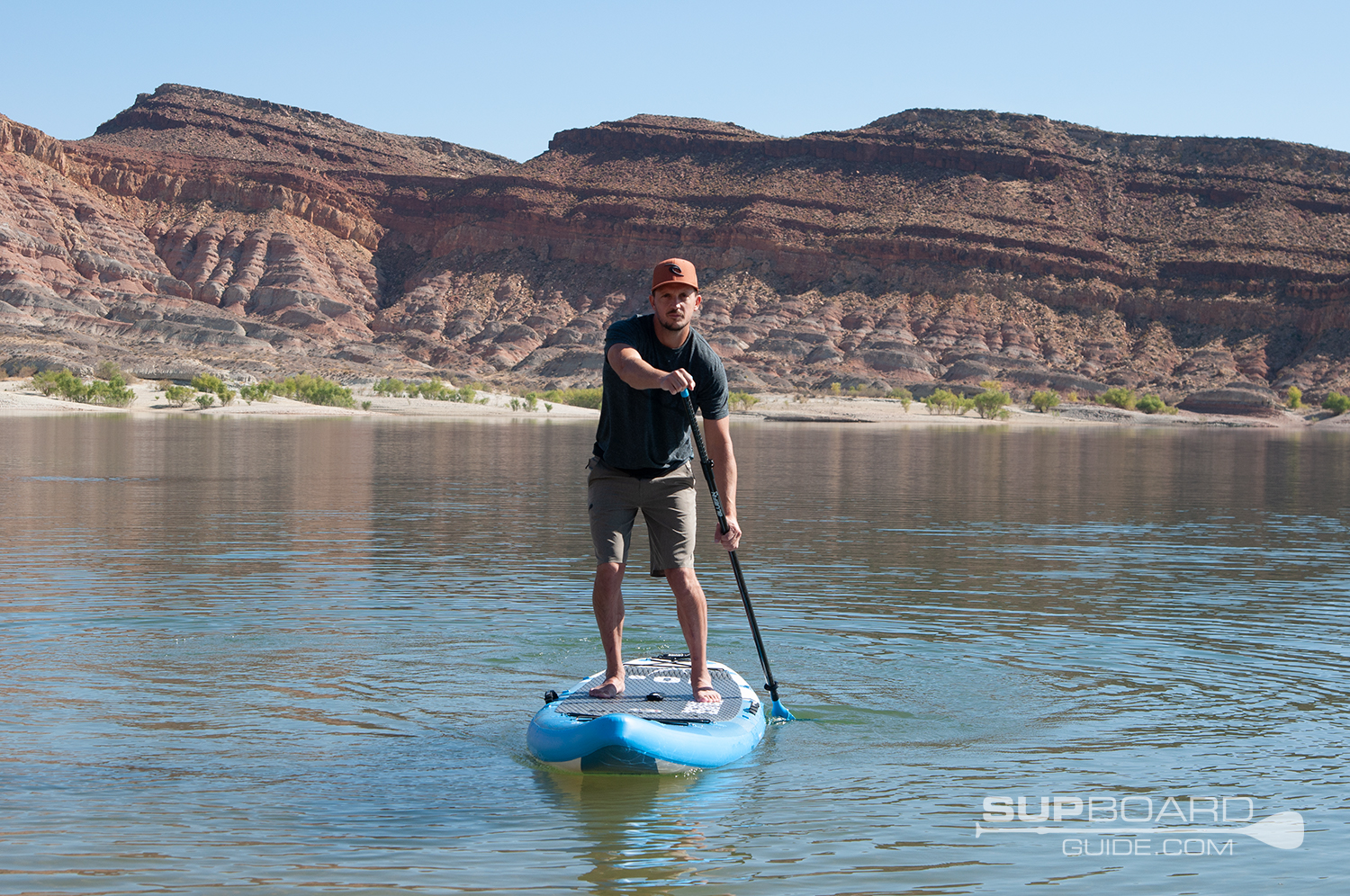 The Cruise tracks and glides very well. It is great for paddling both short and long distances. It worked well for our use on the lake and I can see that it would do great on the ocean as well. What we'd like to see is an addition of larger, removable side fins along with a US fin box. This would improve tracking by giving paddlers the option of putting in larger side fins, or even a larger center fin. For those who would want a more maneuverable board could then use shorter fins.
Materials
Upon unpacking the Bluefin Cruise we were instantly impressed by the quality of the board. It is a really nice SUP and you can tell that Bluefin took the time to find and use the best materials. The Cruise is a dual-layer design made with military-grade PVC. The sides are reinforced with two additional layers of PVC to help with board rigidity and durability. It also has a reinforced composite drop-stitch layer, a premium grade plunger valve, and a high-quality UV resistant coating, which will keep it safe from the sun on your many lake/ocean trips. All of this adds to its overall durability and longevity.
(It's still a good idea to keep your boards out of the sun. Always store your boards after use to further preserve its durability and longevity).
Now let's talk warranty. Bluefin stands behind their boards with a 5-year warranty. Which is awesome because its 3 years longer than most SUP board companies. There is a caveat though. If anything happens to the board in the first 6 months they'll cover return shipping. After that you'll be expected to cover the return shipping to Bluefin to repair the board, and they'll cover the cost to ship the board back to you. So even though you may have to pay a bit for shipping, your board will still be covered for a long time. Bluefin also includes a 60-day return policy on all unopened and unused boards. So if you buy someone a board and they don't open it for a month and a half you could totally get your money back.
Board Design/Shape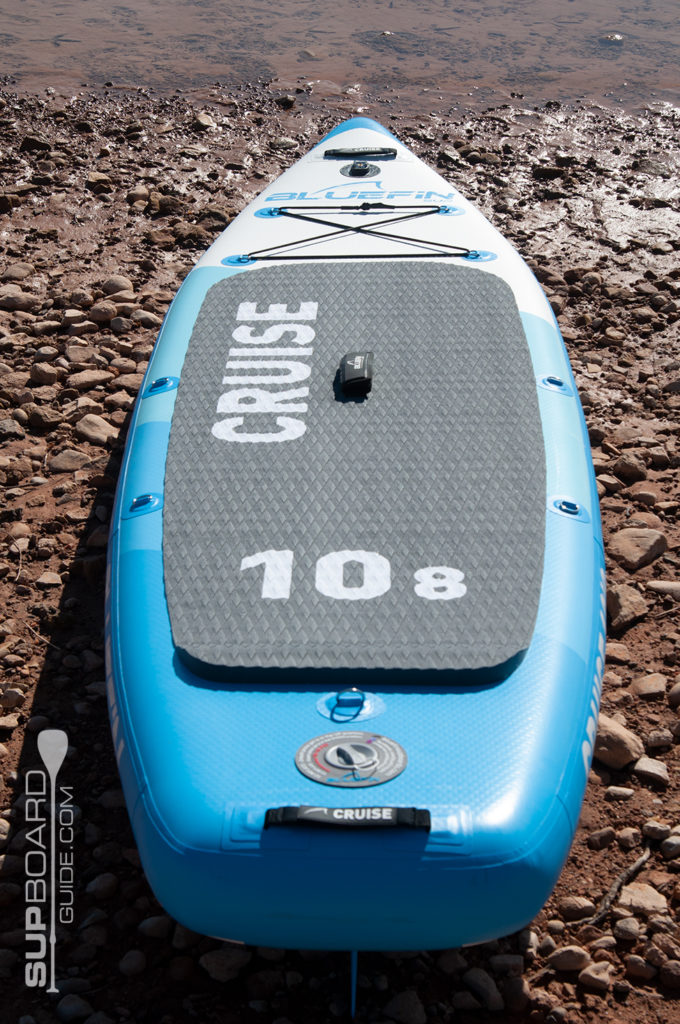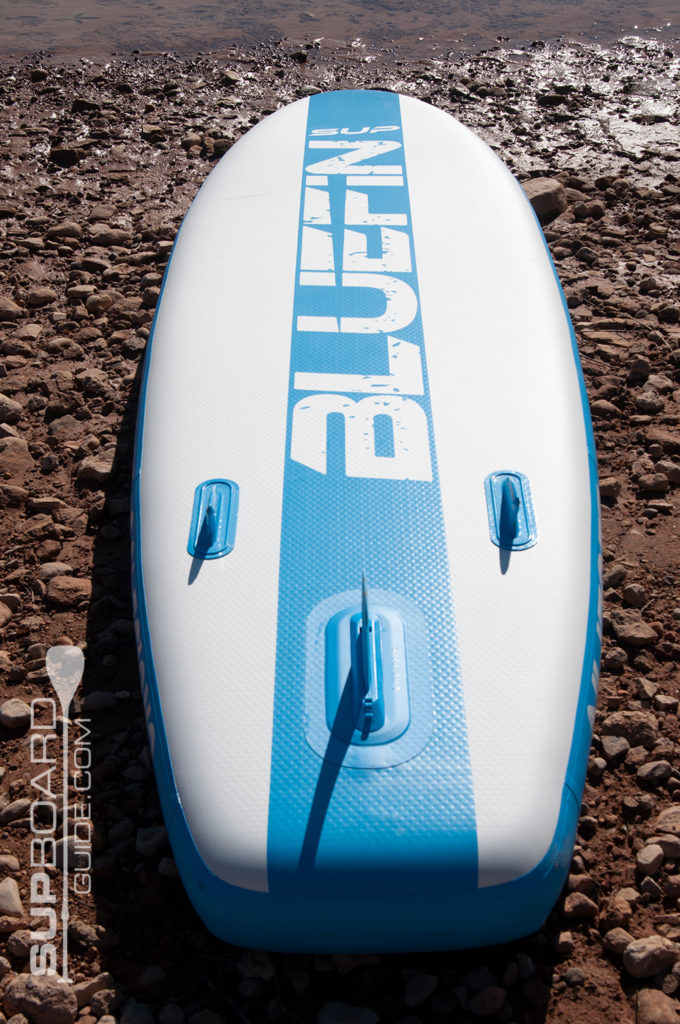 The board is designed to be an all-around contender. But the shape is more of a touring/all around hybrid. Meaning It has a thinner nose like many touring boards but not so much so that it affects stability. With this pointed nose, you cut through surf, waves, and chop. It also has a gentle rocker. A rocker is meant to keep the nose of your board out of the water by displacing it under the board. Essential pushing the water down and out of the way of the board. A gentle rocker is meant more for beginners because the rocker isn't extreme and won't cause you to lose your footing.The nose and the rocker make the Bluefin Cruise a lot more sporty than the typical all arounder.
Board Features
Fins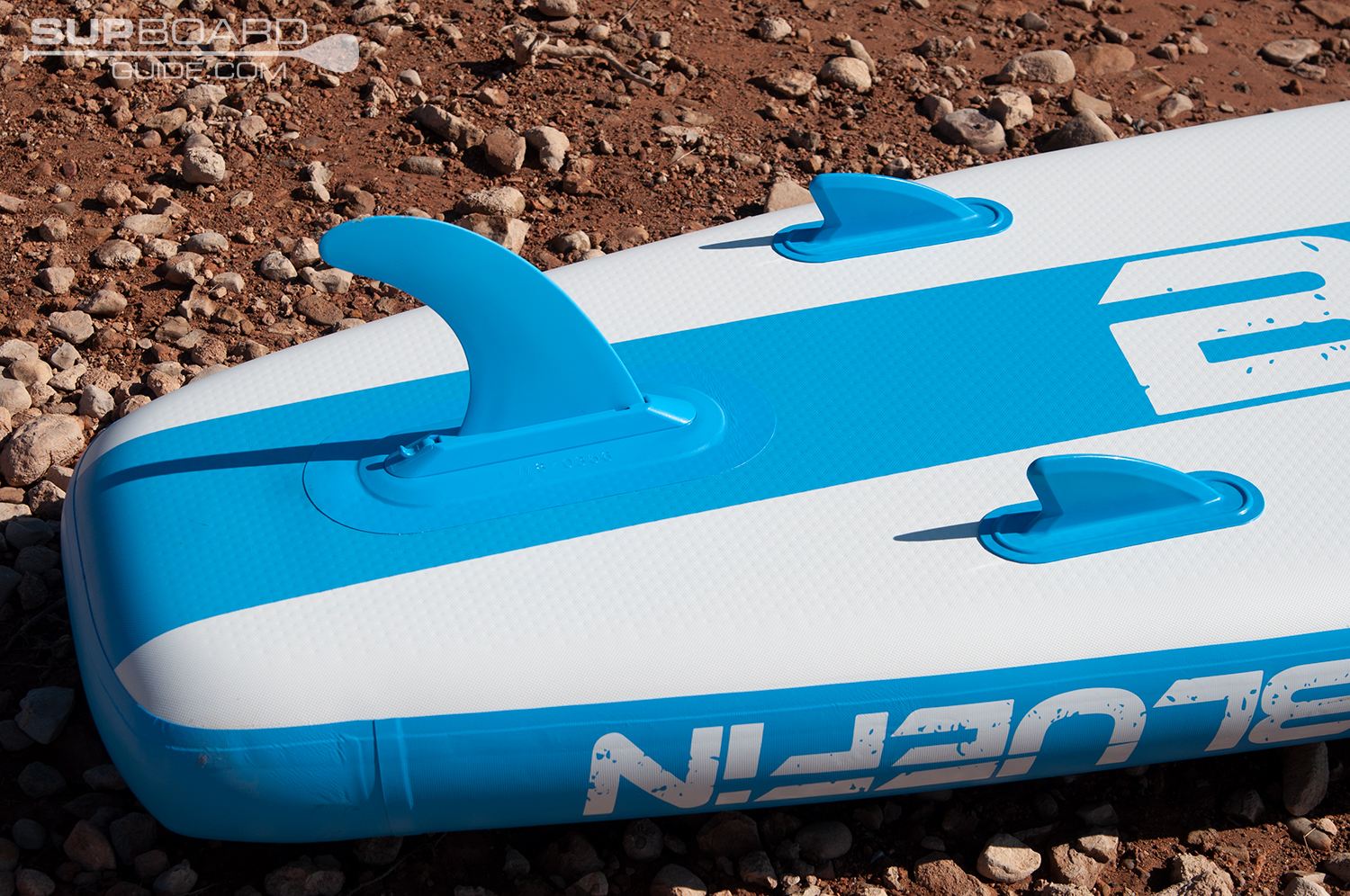 The Bluefin Cruise has a 2+1 fin configuration. The two side fins (thruster fins) are fixed to the surface while the main middle fin attaches with the Bluefins smart lock system. This allows you to rock the fin into place without the small and easy-to-lose parts that are found on US Box Fin systems. Having the smart lock system really speeds up the setup process of your board and gets you out on the water faster. The only downside to the smart lock fins is that they are not replaceable by standard US or FCS fins, so you can't upgrade them.
Croco-Diamond Deckpad + Kick Tail
A great feature of this board is the Croco-Diamond Deckpad with a kicktail. Even at first glance, this deckpad looks cool, and it provides some excellent traction. The kicktail is also a great feature to include an all-around board and is a nice edition that makes back fin turns easier and more comfortable.
Handles
The Bluefin Cruise has three attached handles. Two of which are found on the nose and the tail of the board. The other is located in the center of the deckpad. The middle handle has a builtin sheath that doubles as a paddle carrier. That handle can be a lifesaver, especially if you have a long trek to the shore, and you're by yourself.
D-Rings/Bungees/Cargo Areas
The Bluefin Cruise has plenty of D-rings for your adventure. Nine in total, to be exact. Four of them are used to make up the bungee cargo area. But can still be used for mounting additional gear. The other five D-rings are free to use for anything you want.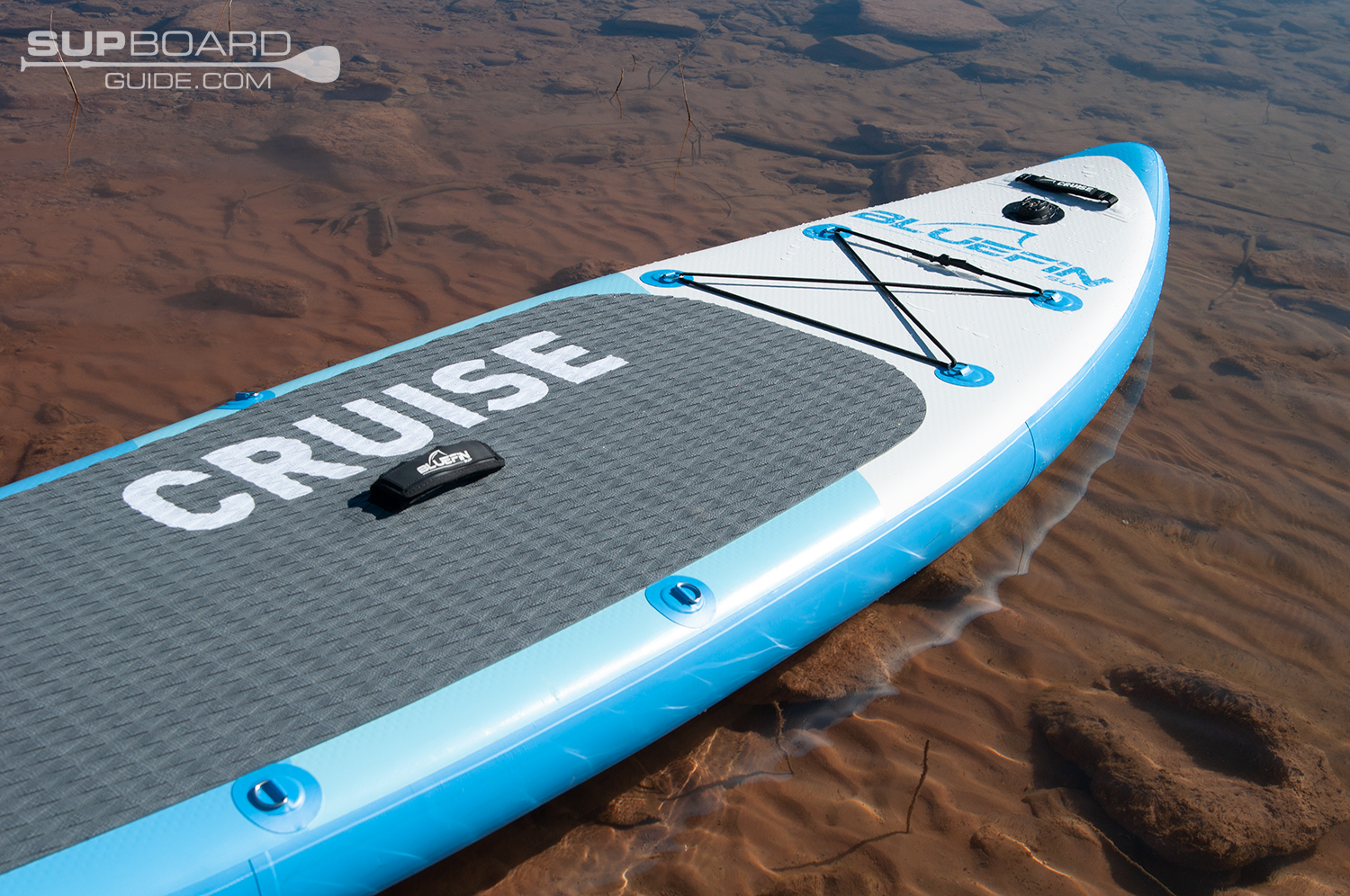 Accessories
Paddle
The included fiberglass paddle is excellent! The t-bar handle has a fantastic ergonomic feel that made paddling comfortable for the hands. The blade also had a decent rake that wasn't too much or too little. The entire shaft of the paddle has an added texture that keeps you from dropping it, but it's not so aggressive that it tears up your hands. The paddle feels more sturdy and lighter than your standard plastic paddles. Although, I wouldn't go so far as to say it's lighter than a carbon fiber paddle. It is built well and will last you a long time.
Pump
The pump that comes with the Bluefin Cruise is a single chamber dual-action pump with a built-in pressure gauge. It comes pre-greased and has a really smooth action while pumping. It worked well when pumping up the Cruise, and only took around 10 minutes. Another great feature of the pump is its ability to convert from a dual-action to a single action. Which can be a lifesaver to those who don't have enough mass to put behind it when you want to reach a higher PSI.
The pressure gauge is handy when pumping up the board to its PSI recommendation. As with most other pumps, just note that the PSI gauge did not and will not register until the board reaches 7 PSI. Keep that in mind when you are pumping your iSUP up, so you don't get discouraged when your PSI gauge doesn't register any pressure for the first minutes or so.
Having a single chamber pump has some distinct advantages when compared to the dual chamber triple action pumps. The main being that it is more compact and easy to travel with and it is offers less resistance while pumping.
The only pro a dual chamber triple action pump has over the single chamber is that it will inflate the board a little faster but it does require more strength behind the handle.
Backpack
The Cruise comes with a high-quality backpack. It's oversized so it can easily fit the board back in even if you can't fold precisely how it came from the factory. It can fit the pump, paddle, and other accessories easily without having to cram them in there. Once the backpack is repacked, it looks as if the stitching is durable and I didn't see any give in it that I've seen in other packs.
Other qualities that make this backpack great are its padded shoulder straps, lumbar pad, and hip belt. Those provide a more comfortable user experience. Something that I would like to see would be wheels to drag the bag and better padding on the carry handles. This would make sense to me to do because there are plenty of people out there who might find this board and bag a little too heavy to carry any distance. Having those options included from the get-go would be nice.
Leash
The Bluefin Cruise includes a coiled leash with a neoprene band. It also has a nylon loop that's attached to the velcro end of the band that helps you remove it quickly and easily.
Included Kayak Conversion Kit
A kayak conversion kit comes standard with the cruise models. This is a great feature that is usually a paid add-on with most companies. The included kayak seat is high-quality and comfortable. It provides excellent cushioning and a surprisingly good amount of back support. The kit also comes with an extra blade to convert your paddleboard paddle into a kayak paddle. So you're pretty much good to go if you want to take you paddleboard kayaking, without spending any more money!
Company Review – Bluefin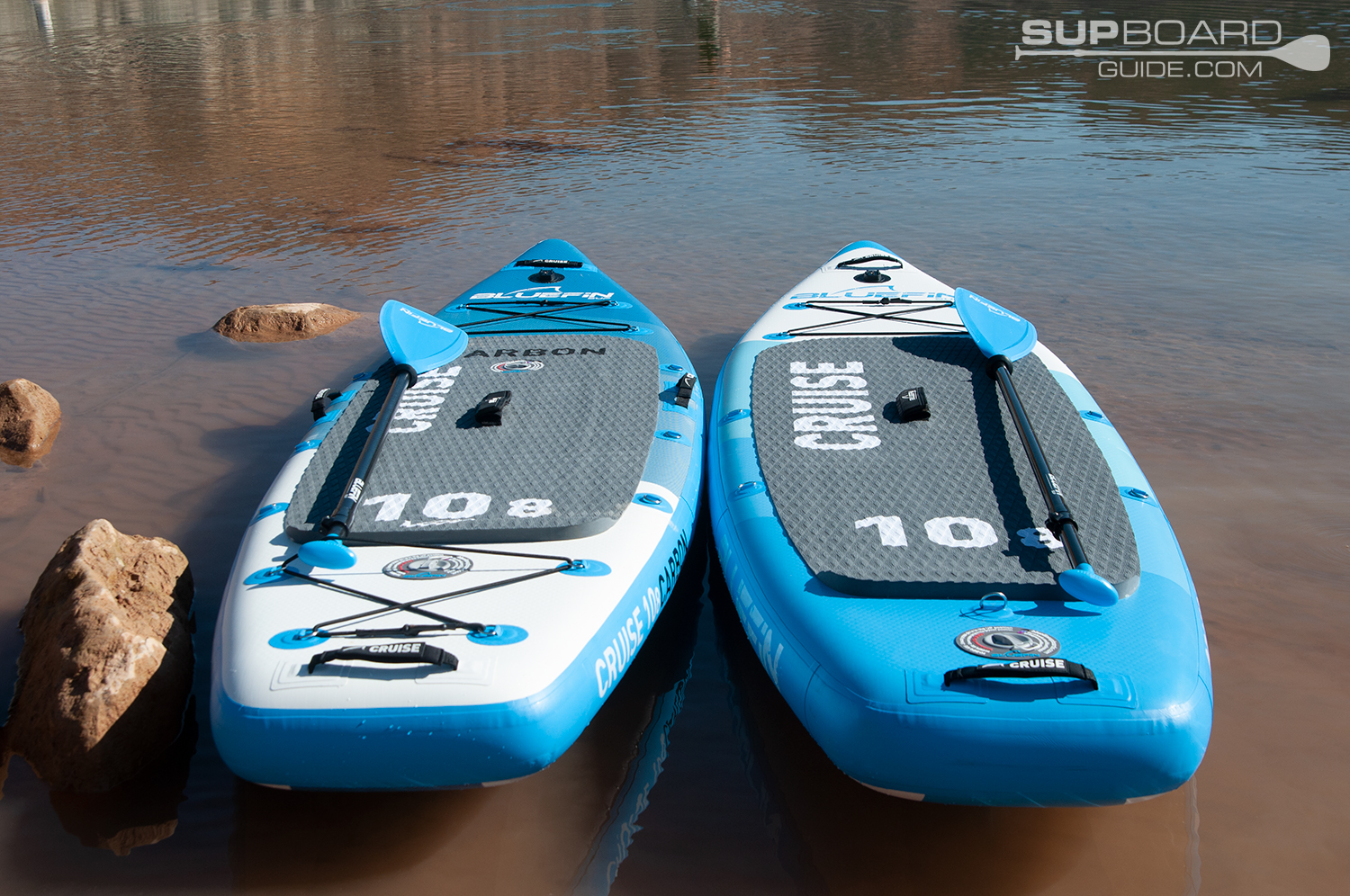 Bluefin is a company that is a major contender in the European fitness market. Their initial move was into kayaks, and a few years ago, they entered the iSUP arena. And, since, they have designed an excellent set of boards. Bluefin is focused on the general population and is dedicated to its users. They want to provide their customers with the best possible board for the best possible price.
Conclusion/Bottom line
This board is great for beginners who find themselves below the max weight capacity and for intermediate users who want a more sporty all arounder. You will not be disappointed in its quality. It is an extremely well made and durable board with a good price point. It also comes with some great accessories, including a kayak kit right out of the box.
If you have a little more to spend and you want a board with the same excellent quality with the addition of carbon side rails, dual inflation chambers, and higher weight capacity check out the Cruise Carbon 10'8".
The following two tabs change content below.
Justin Taylor, Head Paddler
At SupBoardGuide.com we are a team who love the water, the outdoors, and are more than grateful that our full-time job allows us to review stand up paddle boards. We paddle year round (it helps that we are just about 2 hours outside of Las Vegas), and we bring in a wide range of paddlers with the goal of providing our readers with the best, most in-depth, and accurate stand up paddle board reviews.
Latest posts by Justin Taylor, Head Paddler (see all)