MOAI 12'6 Touring Inflatable Paddleboard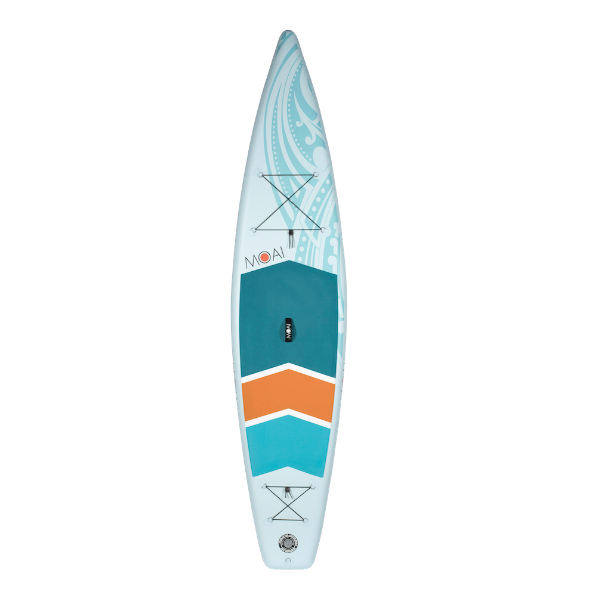 In reading through some of the comments from our readers, we've noticed that novice paddlers entering the touring and fitness paddling scene struggle in making significant trade offs in order to increase their speed. While the most common of these trade off is stability, paddlers are likely also having to put in a lot of research to maintain maneuverability as well as keep some capacity to bring alone gear. While a middle ground can sometimes be pretty hard to find, the MOAI 12'6 aims to close the gap between a novice-friendly level of stability and touring level speed.
The MOAI 12'6 SUP is a great option for beginner paddlers looking to progress into long distance touring or fitness paddling.
It's at an affordable price point and is still wide enough to have some stability, but its shape and single fin set-up help it to be a bit faster than their 10'6 all around.
We think the MOAI 12'6 SUP would be great for paddlers who:
Want a well-built, solid inflatable SUP, but don't want to break the bank
Want a touring board without sacrificing stability
Prefer a clean, uncluttered deckpad
Would like to be able to paddle with a kid or extra person
MOAI 12'6 SUP Spec Sheet:
Main Category: All-Around/Touring, Inflatable
Board Dimensions: 12'6" X 32" X 6"
Listed Board Weight: 21 lbs
Listed Max Capacity: 375 lbs
Recommended PSI: 15 PSI
Fins: Single; US fin Box
Paddle: 3 piece adjustable fiberglass
Materials: Dual layer fused PVC
Price Range: Mid
Warranty: 3 years
Performance Review of the MOAI 12'6 Touring iSUP
Overall Score: 8.0/10
Stability: 9.2/10
Speed: 8.8/10
Tracking: 8.7/10
Maneuverability: 8.9/10
Construction Quality: 8.4/10
Features/Accessories: 8.8/10
Stability Rating: 9.2/10
This board is just as wide as MOAI's 10'6" so it's not a huge surprise that it's almost as stable. There is a bit more side to side movement on the touring board, but I'd expect that to be due to the tapered nose. The single fin could also be contributing to some side to side wobble, as the side fins are not there to "grip" your spot in the water.
In general though, the MOAI 12'6 definitely falls on the more stable end of the spectrum when it comes to touring SUPs.
Speed Test: 8.8/10
Again, this board is not as fast as thinner touring boards, but that's not to say that you'll be left in the dust. At 12'6" long, it took me a decent amount of effort to build up some momentum on this board, but once I got it going, I was able to keep a decent pace. It's likely just because I am a smaller paddler (5'2" and 140 lbs), but if you're a taller or stronger person, you would likely be able to get it going much easier than I did. However, the 32" width also plays into the fact that this board is not a rocket, as most true touring SUPs will be between 28" and 30" wide, but with that, comes a loss in stability; ultimately it comes down to personal preference.
Tracking: 8.7/10
I want to preface this section by saying that tracking is about 95% reliant on your paddle technique, and only about 5% dependent on the board itself.
With that said, I did have a harder time getting this board to keep a straight line than I have had with other touring boards. I still think it could be that it's just too large of a board for me, but I also think it would help to switch out the dolphin style single fin with a hatchet fin, if tracking is really important to you. Luckily, this is super easy to do because of the US fin box.
As a side note, I would also recommend playing around with your fin positioning and moving it forwards and back to see what feels best for you. It's a nearly unnoticeable difference if your paddle technique is not 100% there, but if you slide your fin up towards the nose, you'll have slightly better maneuverability, while if you move it towards the tail, you'll have a slightly easier time tracking.
Maneuverability: 8.9/10
Like most touring board's maneuverability is not what this board excels in. The single fin and lack of kick pad makes step-back turns pretty difficult, while its sheer size just gives you a lot of board to move.
The deck pad also cuts off before the cargo area at the tail of the board, which makes it more difficult to place your feet if you were going to make a sharper step-back turn.
Construction Quality: 8.4/10
MOAI states that their boards are built using dual PVC layers bonded with fusion technology.
What this means is that the linear drop stitch core of their SUPs encased in two PVC layers that have been bonded to the inner fabric layer, and to each other, with heat instead of glue.
Because there's a minimal amount of glue in MOAI SUPs, they are able to remain lightweight while also being decently rigid and functional on the water. I think their construction could be improved with the addition of an extra layer of PVC on their rails, but realize they are trying to maintain a certain budget friendly price point.
Board Stiffness: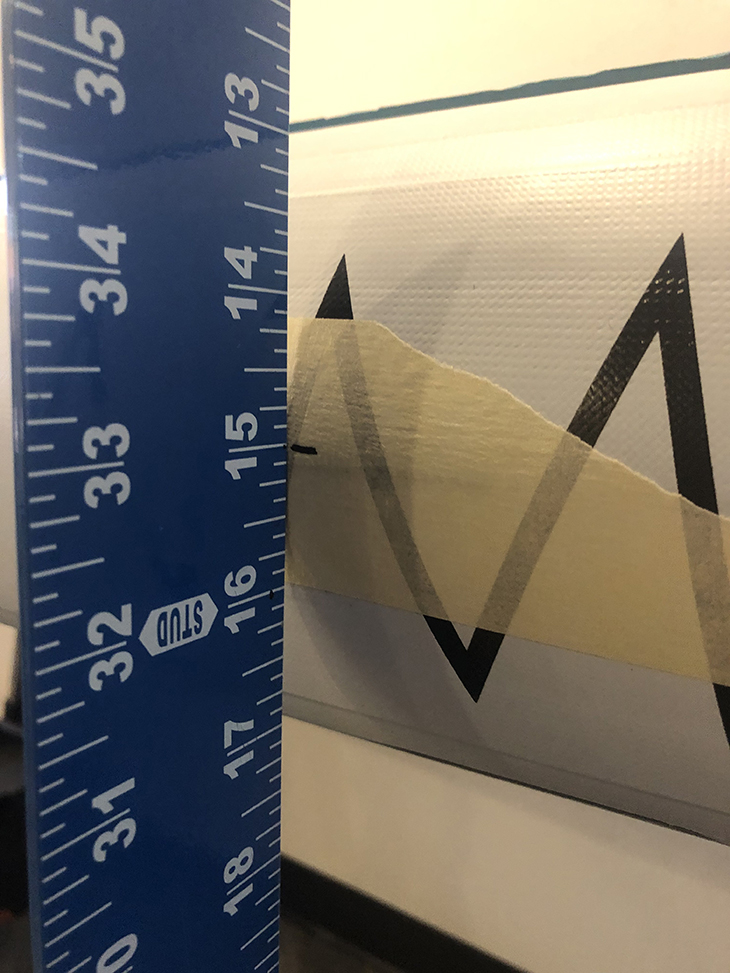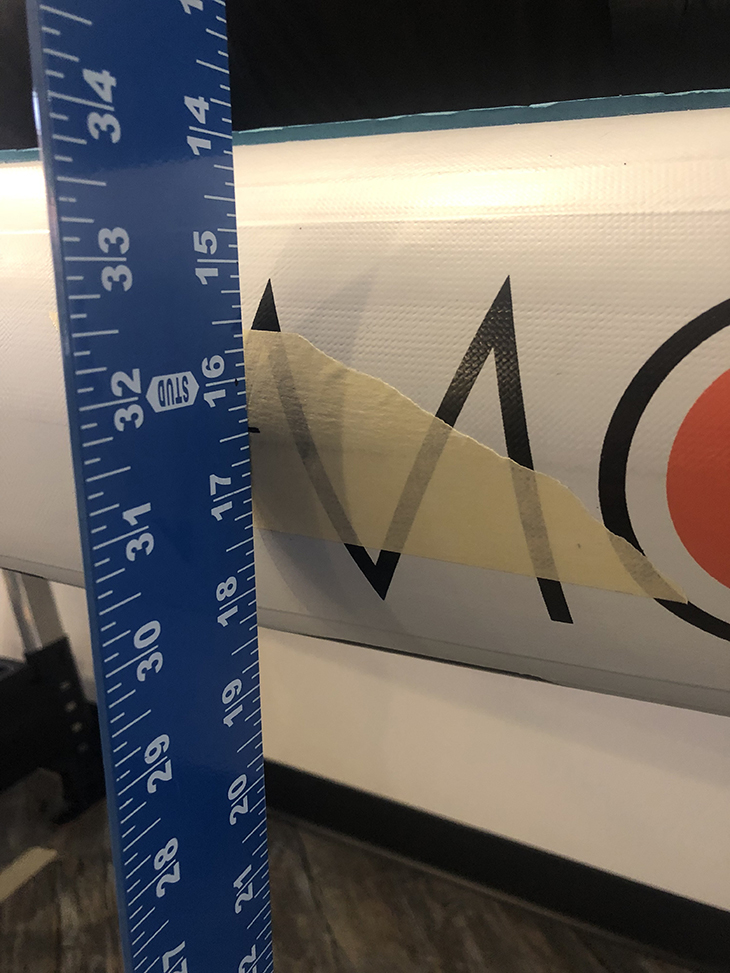 Stiffness Test: 1 7/16 " Bend
Our bend test, or stiffness test, involves placing the board on top of two sawhorses 7 feet apart and putting 150 lbs on the mid-point of the board to measure how deeply the board bends, or changes shape.
This is less of a testament to the actual performance of the board and more so to show how well the board is constructed. MOAI's 12'6" bent less than 1.5" which is on par with other dual layer fusion boards on the market. I think the stiffness of this SUP could benefit with an extra layer of PVC on the rails, but again, I realize MOAI is trying to keep these SUPs lightweight and at a budget-friendly price.
Features/Accessory Review: 8.8/10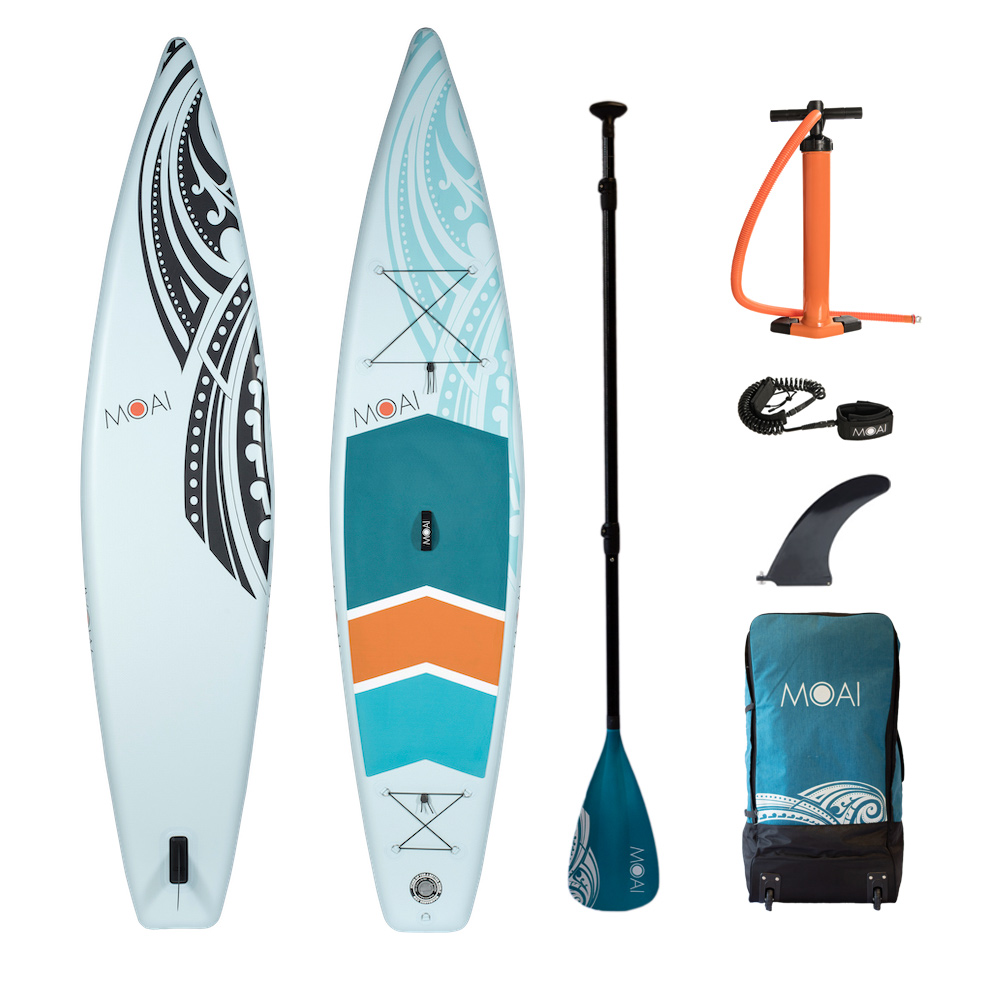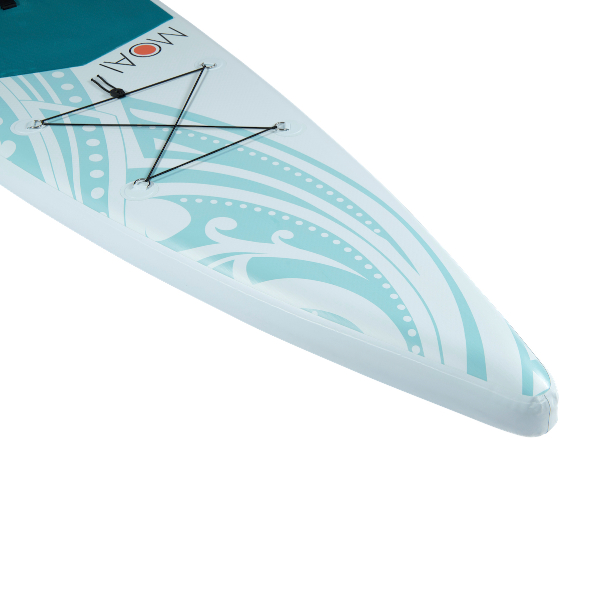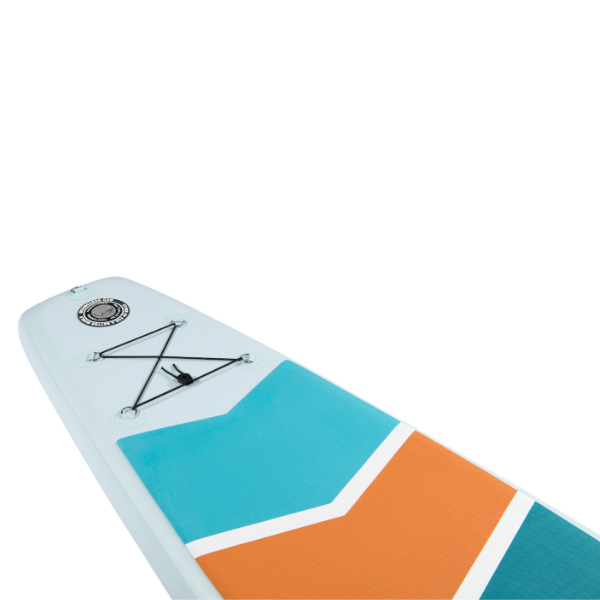 Features:
This board comes with the right amount of features to keep its functionality as a sleek touring SUP, but also to be comfortable, and provide the option to bring along some gear.
There are 4-point bungee cargo areas at the nose and tail that you could use to attach a small drybag or cooler. It also comes equipped with a center handle and a comfortable diamond pattern deck pad to cushion your feet on longer paddles.
Like most touring SUPs, MOAI's 12'6" comes with a detachable center fin that uses a US fin box. While we would have preferred a hatchet fin for better tracking on this touring SUP, MOAI's choice to utilize a US fin box does give you the option to switch the included fin out for a fin of your choosing depending on your preferences.
Included Accessories:
MOAI does a great job of including everything you need to get started out on the water for a great price point. With the purchase of your board you'll receive:
3 piece adjustable fiberglass paddle with a nylon blade
Roller bag
Double action single chamber pump
Dolphin-style center fin with US fin box
Coiled leash
Repair kit
Summary Review of the MOAI 12'6 SUP (2022 model)
The MOAI 12'6 SUP is a stable touring SUP geared towards a beginner on a tighter budget.
For a great price, MOAI gives you everything you need to get started, while the board itself will be a great segway into serious touring or fitness paddling. Like we said, it's by no means a rocket on the water, but its stability will give you the confidence to keep on paddling.
Happy paddling everyone! We hope you enjoyed this review of the MOAI 12'6 SUP. If you have any questions or comments please leave us a comment below!
The following two tabs change content below.
SupBoardGuide
Heyo! At SupBoardGuide.com we are a team who love the water, the outdoors, and are more than grateful that our full-time job allows us to review stand up paddle boards. We paddle year round (it helps that we are just about 2 hours outside of Las Vegas), and we bring in a wide range of paddlers with the goal of providing our readers with the best, most in-depth, and accurate stand up paddle board reviews.
Latest posts by SupBoardGuide (see all)