MOAI 10'6 Inflatable Paddleboard
Pros
Great price
Stable for beginners
Not too wide to lose a ton of speed
Easily Maneuverable
US fin box allows for more customization
Attachment points for a kayak seat
Cons
Limited amount of cargo space
We'd like to see the deck pad extended further towards the front
Would like snap-lock side fins instead of fixed flexi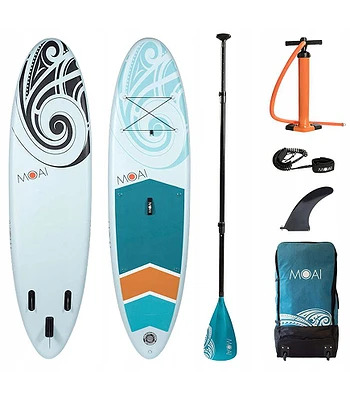 MOAI's 10'6" All-around is a great option for a budget friendly, entry level iSUP. At 32" wide, it's stable for beginners, but not so wide that it's impossible to get up to a good speed. It's also easy to maneuver and has just the right amount of features to keep your deckpad clear while still being able to bring along some gear.
This board is a great option for beginner paddlers that are not looking to break the bank to get their feet wet (literally and figuratively) with a solid all-around SUP kit.
We think the MOAI 10'6" would be great for paddlers who
Are looking for a well-built, yet budget option for a beginner all-around iSUP
Prefer a cleaner/less cluttered deckpad
Want an all around SUP that isn't too slow to go for longer paddles
Likes to have a smaller board that's easier to maneuver
Frequently paddle in a variety of environments (flat water, chop, or ocean)
MOAI 10'6 SUP: Spec Sheet
Main Category: All-Around, Inflatable
Board Dimensions: 10'6" X 32" X 6"
Listed Board Weight: 18.74 lbs
Listed Max Capacity: 287 lbs
Recommended PSI: 15 PSI
Fins: thruster set-up with center US fine box and molded side fins
Paddle: fiber-glass 3-piece paddle
Materials: linear drop stitch w/ dual layer fusion bonded PVC
Price Range: low-mid
Warranty: 3 years
Performance Review of the MOAI 10'6 iSUP
Overall Score: 8.3/10
Stability: 8.5/10
Speed: 7.8/10
Tracking: 8.0/10
Maneuverability: 9.0/10
Construction Quality: 8.4/10
Features/Accessories: 8.8/10
Stability Rating: 8.5/10
The MOAI 10'6 iSUP is not lacking in stability. I'm sure this is due to the fact that it's 32" wide, and rounded at the nose, so you don't get the same amount of wobble as boards with a more tapered nose, but the 2+1 fin set-up probably plays a role in this as well (though we're not super impressed with the molded flexi side fins).
I also want to note that I am a smaller paddler (5'2" and 140 lbs), so this board is just about the perfect size for me. If you are someone way taller or above 190 lbs, this board may be too small. If that's the case, the board would feel less stable under your feet, and you'd likely need to look into a board with a higher volume.
We have not yet pushed the MOAI 10'6" to its absolute weight capacity, but I would estimate that it would do well with anyone under 170 lbs, and would likely do well with a more skilled 190 lb rider.
Speed Test: 7.8/10
As expected with an all-around board, MOAI's 10'6" is not crazy fast but will do fine keeping up with a group of friends.
It's a smaller, lighter board and therefore does not take much effort at all to get up to speed and build momentum. It's also just wide enough to be stable at 32", but not so wide that it hinders your paddling.
Tracking: 8.0/10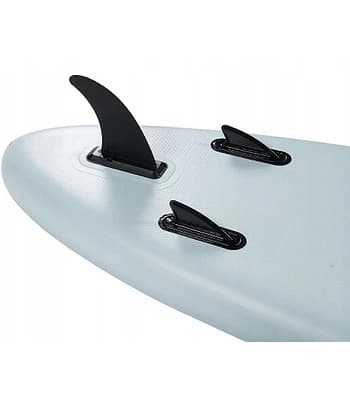 As I've said before, tracking is mostly dependent on the paddler's technique, and has very little to do with the board itself. With that being said, I was neither impressed nor disappointed with the Moai 10'6 SUP's tracking capabilities.
The Moai 10'6 tracks fine for the all-around category, but I think it could be improved with the addition of removable side fins instead of the two short flex fins. They lose their shape over time and can hinder your tracking ability, even if your paddle technique is great. Of course, you can reshape the fixed flexi side fins with a bit of heat if they get really out of whack from constantly being rolled up, but we've found that solid snap lock fins have the same level of convenience while also performing better on the water.
Another thing to consider when trying to improve your tracking is center-fin placement and shape. I cannot stress enough that this is a minute, nearly unnoticeable difference, especially if your paddle technique is not fully honed in, but the US fin box allows for a lot of customization. You can slide your fin forwards towards the nose to improve maneuverability or backwards towards the tail to improve tracking. You also have the option to switch out your center fin shape for a hatchet fin, which increases your fin's surface area on the water to help hold your straight line in the water.
Maneuverability: 9.0/10
Like most 10'6" boards, MOAI's all-around is fairly easy to maneuver. The 2+1 fin set-up combined with it being lightweight and 32" wide makes it decently stable when stepping back to make a tighter turn without a ton of effort. I also appreciated not having a bungee cargo area at the tail, so I had more options for my foot placement when turning the board.
As for more casual turns, this SUP is light enough to change direction very easily with either forwards or backward sweeping strokes.
Construction Quality: 8.4/10
In the realm of budget friendly SUPs, we're pretty pleased with MOAI's SUP construction.
Each of their boards are constructed with a linear drop stitch core encased in 2 layers (dual layers) of fused PVC. Their choice to bond their PVC using heat instead of glue is one of the reasons they were able to keep their boards lightweight, along with their decision to avoid having an excess of features and add-ons.
Board Stiffness: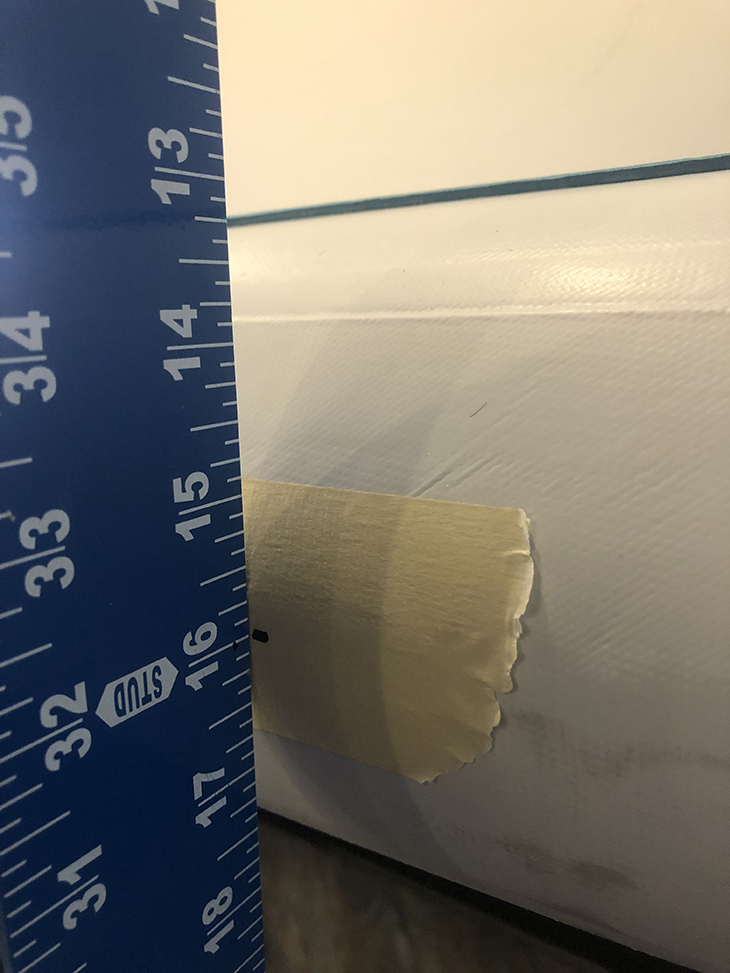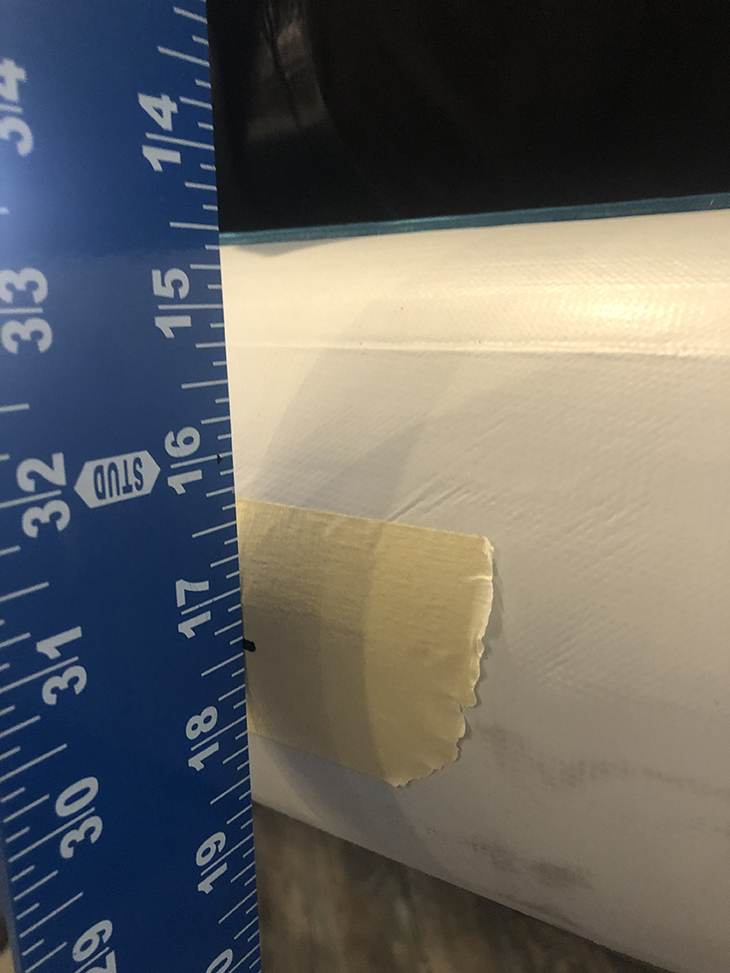 Stiffness Test Results: 1 3/16" of bend
Our stiffness test involves setting the board on two sawhorses, 7 feet apart, and placing 150 lbs at its midpoint to measure the bend/change in shape.
The goal behind this exercise is to verify differences in construction considering materials, rail systems, etc. It's less about overall performance and more about whether a board's construction holds up to a relatively small amount of weight. We generally like to see less than an inch of bend, but given that this board is constructed with fused dual layers and currently at a competitive price, I am pretty satisfied to see only 1 3/16" bend.
This is on par with similarly constructed SUPs on the market and is pretty impressive for it's affordable price.
Features/Accessory Review: 8.8/10
MOAI's 10'6' sports a cleaner, less cluttered deck space.
It has one center handle and one 4-point cargo area at the nose of the board. The diamond pattern deckpad is comfortable and also has 4 D-rings to attach a kayak seat that is sold separately on their site, giving you some versatility in your water activities.
I would have liked to see a second cargo area at the back of the board to give you the option to bring along more gear, but that ultimately just comes down to personal preference. A handle at the nose and tail would also help with bringing the board into and out of the water, but the center handle works fine as well just for carrying. I also wish MOAI would have added a couple action mounts for some compatible accessories, given that this board is compatible with a kayak seat.
Included Accessories:
MOAI boards come with nearly everything you need to get started paddling. Below we dive a little deeper into the included paddle, pump, and backpack, but overall we feel this kit offers a lot of bang for your buck.
Each MOAI board comes equipped with the following:
Adjustable 3-piece fiberglass paddle with a durable nylon blade
Wheelable backpack
Double-action single chamber pump
Center fin with a US fin box
Coiled leash
Repair kit
Summary Review of the MOAI 10'6 SUP (2022 model)
MOAI did a great job building a solid all-around 10'6" for a great price. This board is stable, reasonably fast, and easy to maneuver. It's also comfortable to paddle and has a good balance between a clear deck-pad but the option to bring some gear.
They also make sure to include everything a beginner would need to start paddling, with no shortage of additional optional gear as that person progresses. I am looking forward to reviewing more boards from MOAI and continuing to put their 10'6" to use.
Happy paddling! We hope you enjoyed this review of the MOAI 10'6" SUP. If you have any questions or comments please leave us a comment below!
The following two tabs change content below.
SupBoardGuide
Heyo! At SupBoardGuide.com we are a team who love the water, the outdoors, and are more than grateful that our full-time job allows us to review stand up paddle boards. We paddle year round (it helps that we are just about 2 hours outside of Las Vegas), and we bring in a wide range of paddlers with the goal of providing our readers with the best, most in-depth, and accurate stand up paddle board reviews.
Latest posts by SupBoardGuide (see all)