ERS 10'7 Skylake Blue Inflatable SUP Board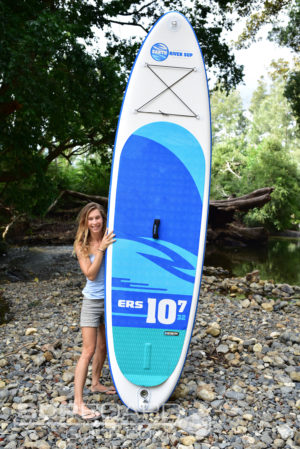 Note: If you buy through our link you will receive a free carbon shaft/nylon blade paddle worth $199 and free leash worth $50 – plus heavy discounts on other upgrades (like around 40% off an ERS pump)!!
It's getting tricky to keep comparing all these SUP's that we've had grace our doorstep in 2018. These inflatable companies are really putting on a show.
It's not all just a peacock extravaganza either. Sure they look good but they are also high-quality boards and accessories with a bargain price tag.
Here we look at one example the Earth River SUP 10'7 Skylake.
The team at ERS have been scratching heads and stroking beards since 2012, implementing new idea after new idea to produce one of the most competitive ranges on the market.
Specs
| | |
| --- | --- |
| Length | 10'7 |
| Width | 32" |
| Thickness | 5" |
| Weight | 22 lbs |
| Max Capacity | 240 lbs |
Video Review
Performance

So you are wondering how this SUP performs in comparison to others?
Well, I must say it's shaping up to be one of the best All-Arounds I've reviewed this year. It's smooth, responsive and stable all at the same time.
As riders themselves, the guys at ERS know what important when it comes to performance and how to achieve it. As an All-Around, it's important that you can get the most of our your SUP in all conditions. Not aiming to achieve to be the kings or queens but more the jack-of-all-trades.
Being able to switch fin setup between single fin or a tri-fin setup is something I love on an All-Around. The option to use a single fin in calm long flatwater conditions emphasizes any tracking performance. Choosing to ride it as a thruster with a smaller center fin give you all the moves like mick jagger.
A special uniquely designed deck pad that provides comfort and grip on par with the rigid fusion core keeping the board stable, makes it also a viable option for SUP Yoga. Depending on your size, you can take your children with you and with the handle that detaches from the center (also ideal for SUP Yoga), you can place it up front on the bungee so they have something to hang onto.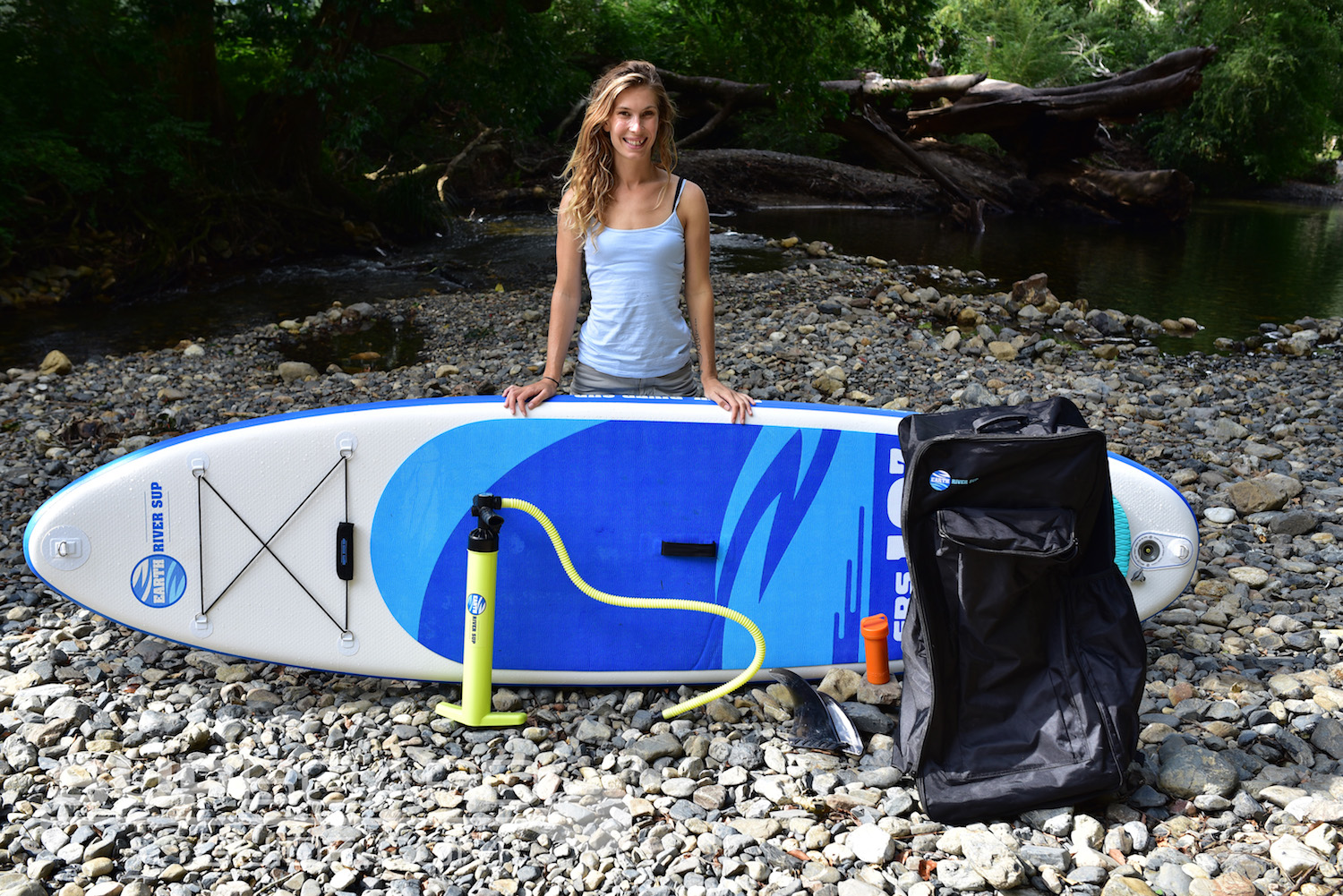 It looks like it would be a lovely SUP to paddle and it was, well still is too! First thing I noticed was how light it was (22 lbs). This can be a good thing or bad thing depending on materials. Luckily, it's a good thing with the 2018 Skylake. I go into the materials more below which explains how they kept the board's weight light but keeping it feeling rigid and definitely durable.
I could have thrown the board in the air with joy as easily as a tennis ball and it skimmed out onto the water faster than a flat river stone. The moment I jumped up I gave the board a little stability test. Rocking from side to side, jumping up and down, it wobbled – of course – but evenly. It didn't turn to spaghetti beneath my feet and have me sliding off into the soup.
Heading down a river with some small rapids and a current to tackle, it definitely got put to the test. I found the rocker in the nose to be more than substantial when I hit a few rapids and the rigid walls kept me feeling strong and stable as I moved this way and that. Now, I am normally skeptical of the 5" thickness choice. Though I must say Earth River SUP did a fantastic job at designing this SUP as I found no flex whatsoever at 15 PSI. I would even go as far as saying I enjoyed less thickness because it was nice to be closer to the water but not worrying about sinking as the board still felt very rigid!
When paddling in the calm of the river I was granted more speed than I was expecting. Perhaps it was a combination of the large dolphin dorsal shaped fin, the overall design of the board and the SKYLAKE being easy to move as a feather.
The flex in the fins means you're getting max maneuverability. If you are in the surf when you need to make quick turns, flexible fins aren't as forgiving for beginners. They make turns quicker and sharper but it's trickier to keep your balance than riding with stiff fins. So, if you are taking your ERS into the surf (which out of all the All-Arounds I've reviewed this year, this is the one you'd have the most success with) keep in mind, as a beginner, you may want to swap out your fins if you're finding it too hard to control.
Take the flexible fins into note when you are on the calm flat water and not making crazy turns, they aren't too much different. The big up for them in calm conditions is that they aren't so easily damaged. They easily bend and come back to shape, giving you a longer lasting fin and more confident ride in shallow waters.
Materials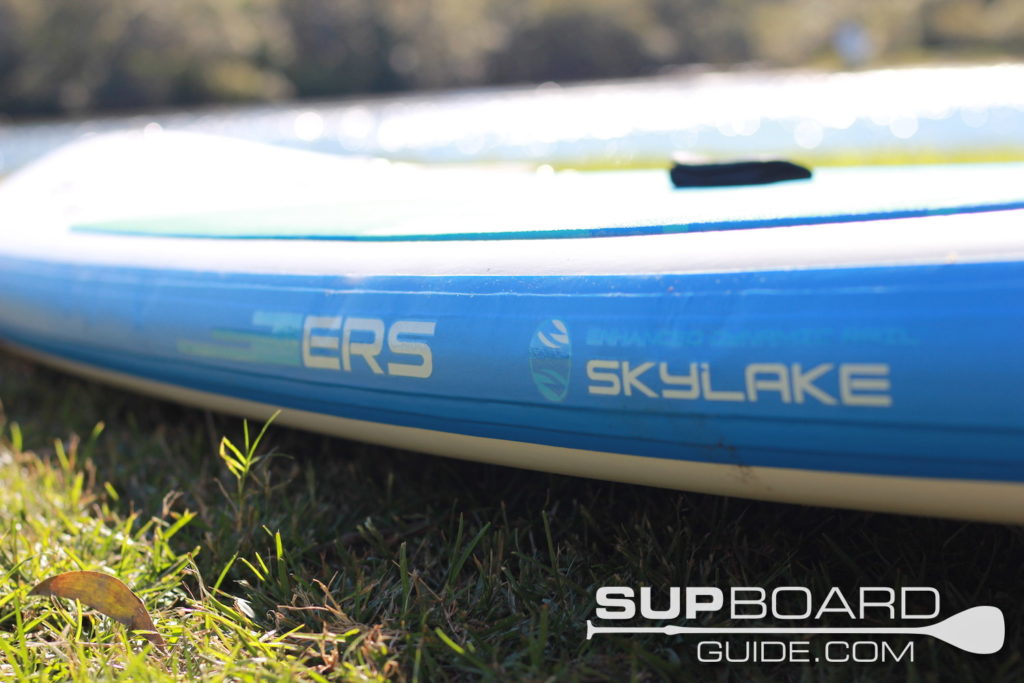 An inflatable SUP would be but a mere pool toy if it wasn't for the materials.
What makes the ERS rigid, tough but at the same time responsive and lightweight?
The drop stitch core combined with state of the art fusion technology. Which sounds like they're building spaceships. To explain, drop stitching is the technique used to create the inner core. It refers to the way the two layers are stitched together. This is what allows inflatables to be inflated to the high pressures without popping. It then is wrapped in a tough PVC which is fused to the core.
This fusion bonding of the PVC to the core creates a rigid board that also is so light that even your kids could carry the board. Just don't tell them I told you that.
Finally, ERS further enhanced the stiffness of their 2019 boards with their new 'Enhanced Dynamic Rail' system. Much different than other high end stiffening systems (such as the Red Paddle Co Rocker Stiffening System that requires you to insert a metal rail into the sides when you pump up the board), ERS uses a super high strength material band underneath the main PVC layer. The goal of the EDR system is to assist the board staying tight/rigid when you are applying force to the board.
Now that I've got the technical speak out, what that translates to is a very firm, lightweight board, that holds it's shape very well in more challenging situations such as surfing.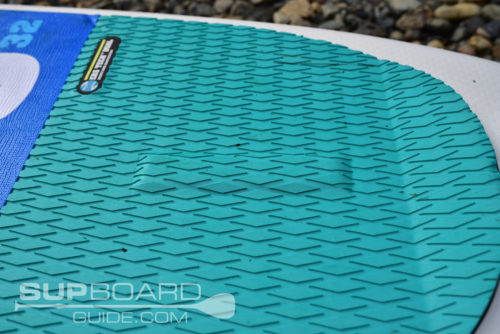 On the top of the board is your deck pad. The deck pad serves multiple purposes. It provides comfort, grip and helps spread weight evenly over the board which reduces wobbles. What's unique about the ERS deck pad is that they've designed their own. Many deck pads you see are generic pop outs with a brand name slapped on top. Which isn't necessarily a bad thing, for the most of it, they are great deck pads.
However, ERS wanted to really make sure you were getting the best of the best with everything. So they re-engineered a deck pad that is  40% thicker than others but doesn't add any extra weight. How? Well if I knew that then so would other people probably. I think they want to keep this one of their secret spices. The ERS Skylake also features a longer deck pad.
The rubbery grip is a combination of crocodile skin as well as using diamond grooves. You'll also notice at the back of the deck pad there is a kick pad as well as raised heel pad. These are here to help you explore the possibilities of a more adventurous paddle. You'll notice people using them to do things like pivot turns.
Features
Fins
Here is where ERS really tickled my fancy. They opted to for the new Skylake range to be available with fixed fins and also removable ones. While all inflatables center fins are removable for packing purposes, it's not very often you see the side fins being removable.
So what does having removable fins mean? It means that you can play with your fin setup which alters your performance greatly. This especially compliments All-Arounds. It's advantageous being able to use a thruster setup (3 fins) in conditions you need more stability but also maneuverability like surf or whitewater. Then if you are cruising rivers, a single large center fin makes for amazing tracking abilities. So you can see being able to switch between the two means you get the most of out of your board in all conditions. This is the desired nature of an All-Around!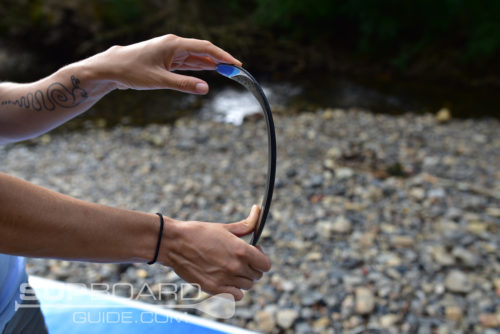 The fins themselves are made of a polymer that is flexible. They can bend generously but always return back to shape. There are two main benefits to this flexy feature. One is that it makes them basically indestructible, even if you were silly enough to run yourself aground in a shallow area with big rocks, the fins will just bend with the shape of the rock. Two, the flex provides max maneuverability in tight turning situations. You probably wouldn't notice this second benefit in calm conditions but you may feel it in more advanced conditions.
Now you can also still check out the SKYLAKE Green from previous years that has the fixed fins which are indestructible. Still take care though because it's the fin box you don't want to damage.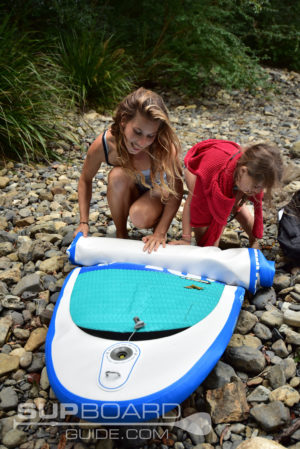 Inflate/Deflate
Inflation requires you to make sure the pin is in the "out" position. Pumping by hand will take about 5-10 mins depending on how much you're itching to get on the water! The recommended is 15 PSI. However, the Earth River Sup Skylake can be pumped to 17 PSI safely. The few extra PSI can be helpful if you are planning on having a weight near the capacity level. The extra pressure will provide a bit more stability.
While rolling your SUP up, keep the pin pushed in to continue deflation. The included pump also has a deflate option which is a fantastic feature! Being able to suck that last bit of air out makes rolling your board up a breeze!
Board Design
Seeing as these boards are a dream to paddle, naturally, we should all want to look as good as we feel riding them, right? While aesthetics are something some people would argue aren't important, we also know all know the satisfying feeling of having good looking things.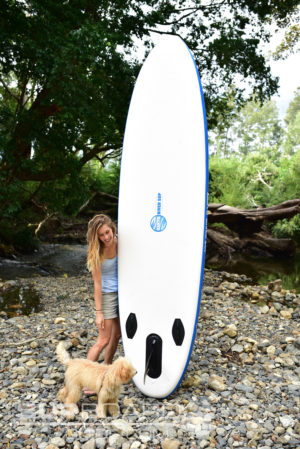 When it comes to your new SUP, we should be talking about the design.
Especially boards in this price range. The color choices, patterns, and coordination aren't anything crazy but they complement the board's sleek simplicity. Less is more in most cases. They've at least put in more thought than just slapping one color down and being happy with that. A UV resistant coat is given to all ERS boards at the final stage of production. This means logos and colors are there to stay. Keeping your board looking fresh and new even longer!
Other parts of the board design to mention are the D-rings and bungee cord area. Having an ample amount of space to store a dry bag (which is also available from ERS) or perhaps your paddle is more convenient than what you realize!
There's also an additional D-ring on the nose for towing and one on the tail for your ankle leash. (Which is a separate purchase also Update: PumpedupSUP currently offers a free leash with every board purchase).
Then there is the shape of the board itself.
All-Around are finicky things coming in all shapes and sizes. Lots of it comes down to personal preference but there is also a big difference between a generic pop out and well thought our engineered design.
The design incorporates stability, speed as well as keeping a rigid feeling, while also still providing an experience that leaves you closer to the water. The 5" thickness is a little less than most SUP's but I think thanks to the fantastic design and materials, it meant that I didn't experience any flex.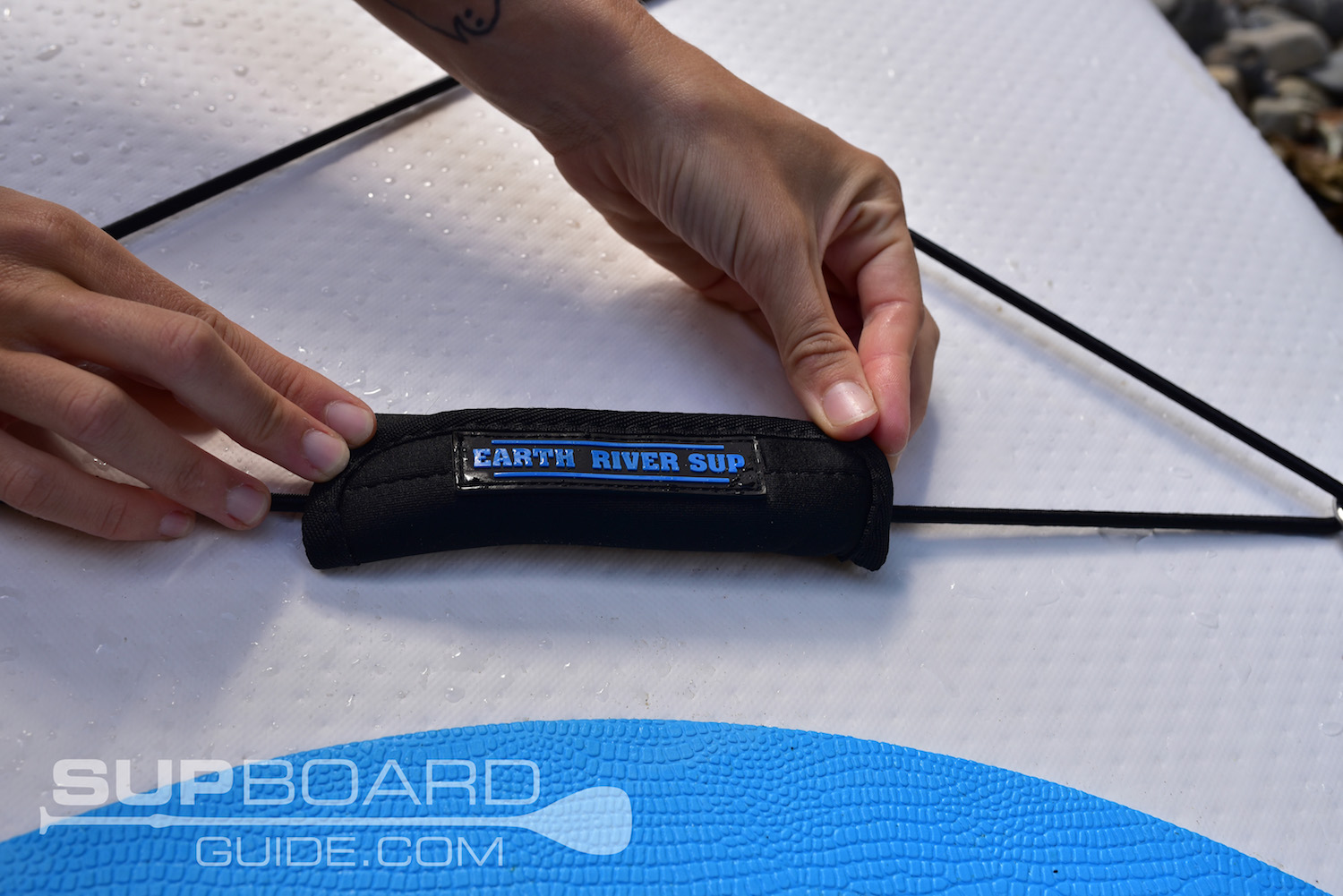 Accessories
Paddle
The ERS Skylake does not come with a paddle. However, if you buy your board on PumpedUpSUP.com (see link below) you will get a free carbon fiber shaft V-hybrid paddle worth $199. It's a fantastic paddle, and the current deal saves you quite a bit of money. The carbon fiber shaft and nylon fiber blade make it super lightweight but stiff and it's a 3-piece paddle so it will fit in your bag.
Backpack
Some people may just be bored and wanting a pool toy equivalent for a SUP. Those people are probably happy with a budget SUP. If you, however, prioritize value for money and would rather consider your SUP as a long-term investment, well you want to know it's protected!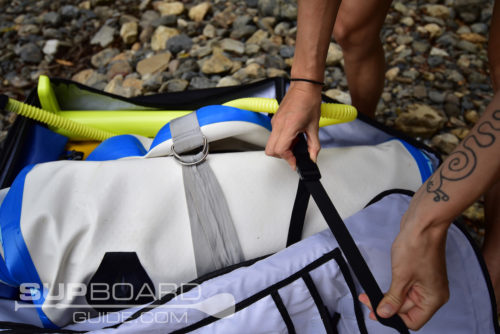 Many bags included with inflatables are there for convenience. Ones like Aqua Marina and the Scott Burke. Then you have other companies like ERS, iRockers Blackfin and Red Paddle Co producing much higher quality bags. The ERS bag is a great bag with a few key features that I really like, including: 2 roller wheels for easy transport, plenty of space and storage room for your board and paddle, handles on the top and side, and even velcro on the back so your straps don't get tangled with the wheels.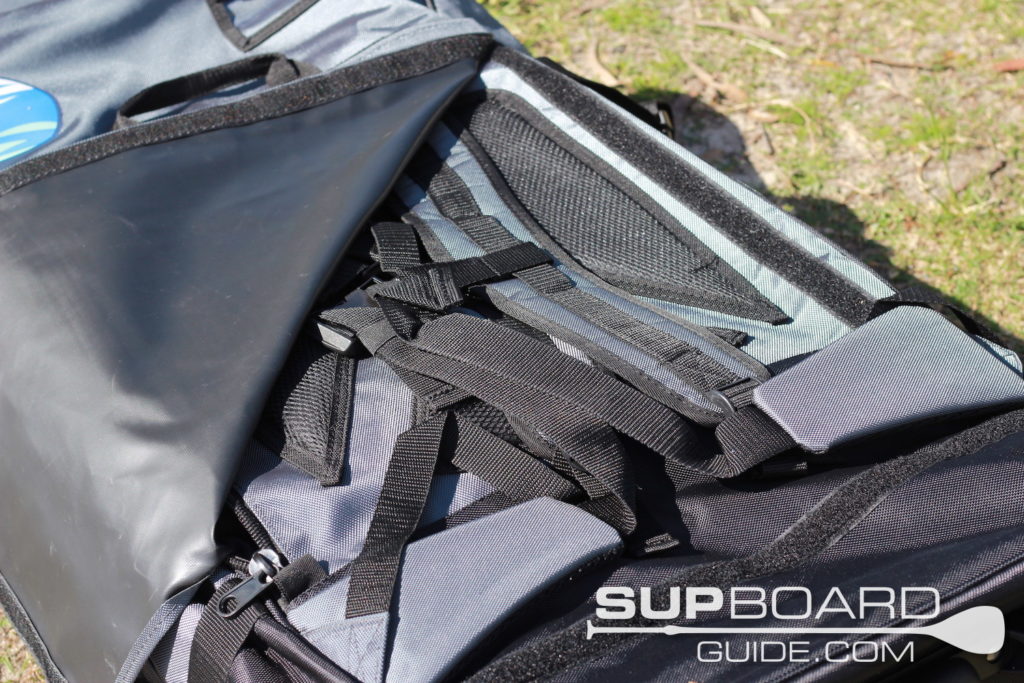 Features?
Water resistant
Lots of room and fits all your gear
Carrying or wheeling the bag is possible
Tear resistant fabrics
Loads of support in the back when carrying
Inside pockets to keep fins organized
Extra pockets on the outside for anything else!
Why not better than the other? Small things.
The wheels can catch the straps on the bag occasionally. Also, some of the other bags I've reviewed have a thicker material with more padding. While the paddling in areas that won't be touching your back may seem unnecessary, I found it helps to keep the shape of the bag, which is especially helpful when wheeling your bag around on uneven ground.
Pump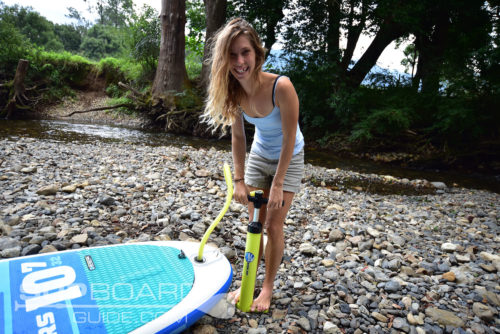 A dual action high-pressure pump is supplied to get you going. There are a few features to be pointed out here too!
Contoured handle for slip-free pumping
Integrated pressure reader on top
Inflate as well as deflate option
Repair Kit
The standard patches, glue and valve tool can be found in your repair kit. It's a common courtesy of all companies to include this repair kit, however, I highly doubt more than ever that you'll need it with the ERS.
Conclusion
Like I mentioned the ERS SKYLAKE  is shaping up to be one the best All-Around's I've tested out this year. As far as the board itself goes, it's a high-quality product I confidently endorse as something that will withstand the test of time and give you the performance you would expect from one of our top picks in the 'Best Performance Inflatable SUP' categories.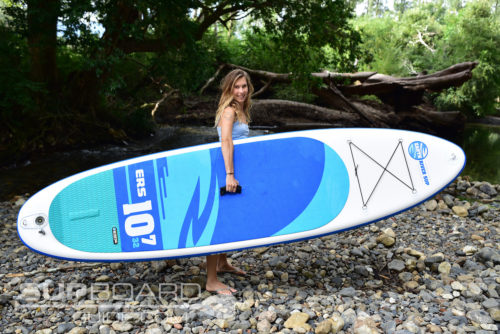 The 10'7 is a fantastic board that performs as an incredible all rounder. A thing to note about the ERS Skylake performance range is that it covers a wide gamut of boards designed for different size paddlers and purposes. So, if you are a little bigger there is an 11′ option in addition to the 10'7.
Bottom line – for a few extra $$$, you do get a level of performance our of the ERS Skylake Blue that you don't see in $600 boards. So, if you are someone who wants to take their paddling to the next level, the ERS boards are a great option – and are cheaper than some other high-end brands.
PS – as always, if you still have questions, or would like some more specific recommendations based on your height, weight, and goals just leave a comment below and we'll get back to you ASAP!
The following two tabs change content below.
Justin - Chief Paddler
Heyo! At SupBoardGuide.com we are a team who love the water, the outdoors, and are more than grateful that our full-time job allows us to review stand up paddle boards. We paddle year round (it helps that we are just about 2 hours outside of Las Vegas), and we bring in a wide range of paddlers with the goal of providing our readers with the best, most in-depth, and accurate stand up paddle board reviews.
Latest posts by Justin - Chief Paddler (see all)