Thurso Surf Waterwalker 126 All-Around Inflatable SUP
Pros
Velcro rail side paddle holder
Nice design
Comes with all accessories
Is speedy and easily manoeuvrable
Plenty of storage
Cons
The pump could be improved
Board is a little on the heavy side due to triple layer PVC (but this does make the board nice and firm/durable)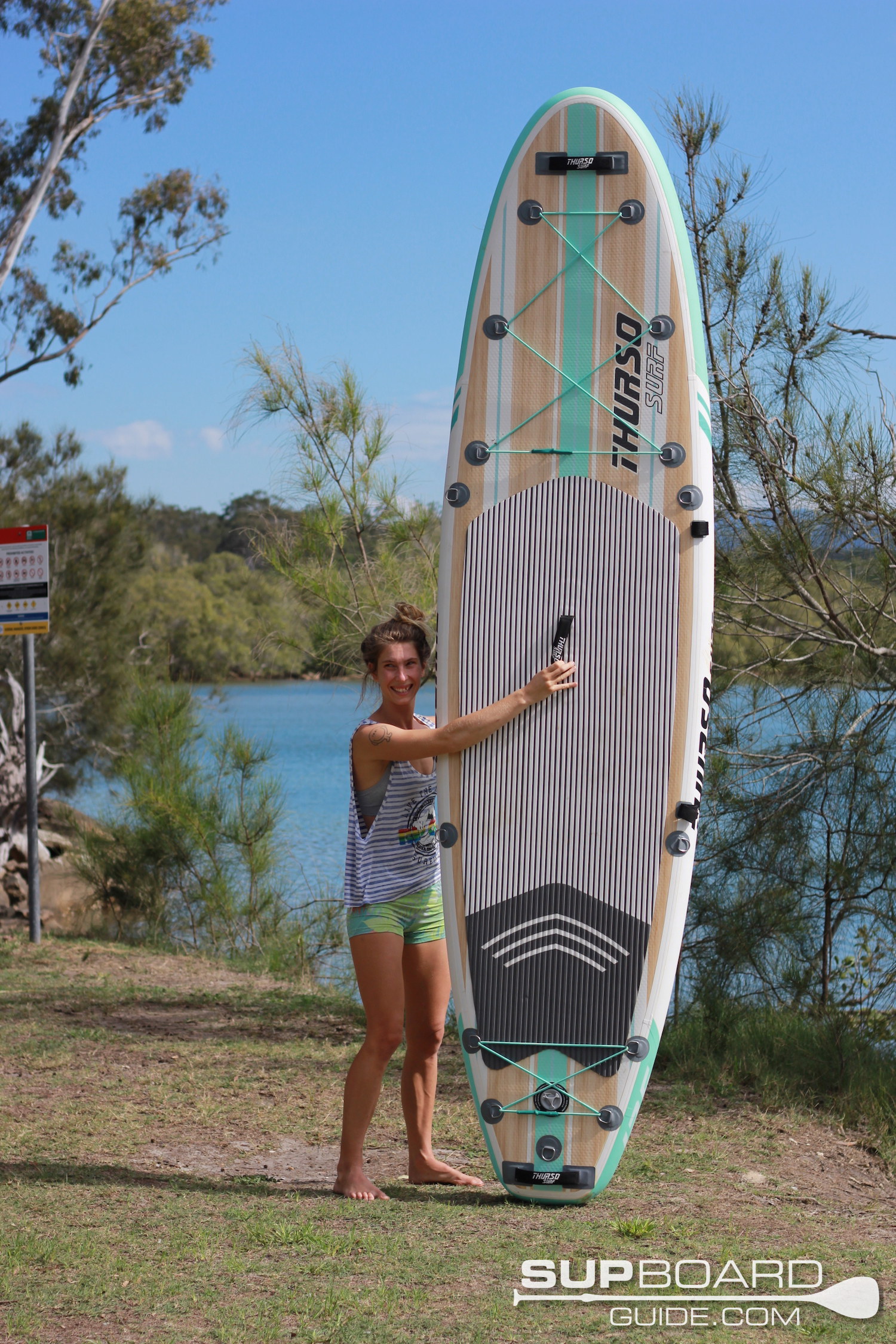 The 10'6″ Waterwalker is an awesome All-Around SUP that not only looks good but is a fun ride! The 2019 range of Waterwalkers see some changes in features and the accessories have been upgraded too. With options of two sizes, there's a variety of choice to suit any rider.
I'll cover the performance in how the 10'6″ ThursoSurf Waterwalker paddles but also where it's best suited to. Then I'll also go over the finer details like materials and accessories quality. By the end of this hopefully, you'll feel a bit more confident in making an educated decision on which SUP is for you!
Specs
| | |
| --- | --- |
| Length | 10'6″ |
| Width | 31" |
| Thickness | 6" |
| Weight Capacity | 300 lbs |
| Weight | 26 lbs |
Performance
I liked the look of the Waterwalker a lot so I was hoping that its performance would prove to make me like it more. And it did! In fact, I love it! It's definitely one of my favorite All-Arounds I have been on this year so far.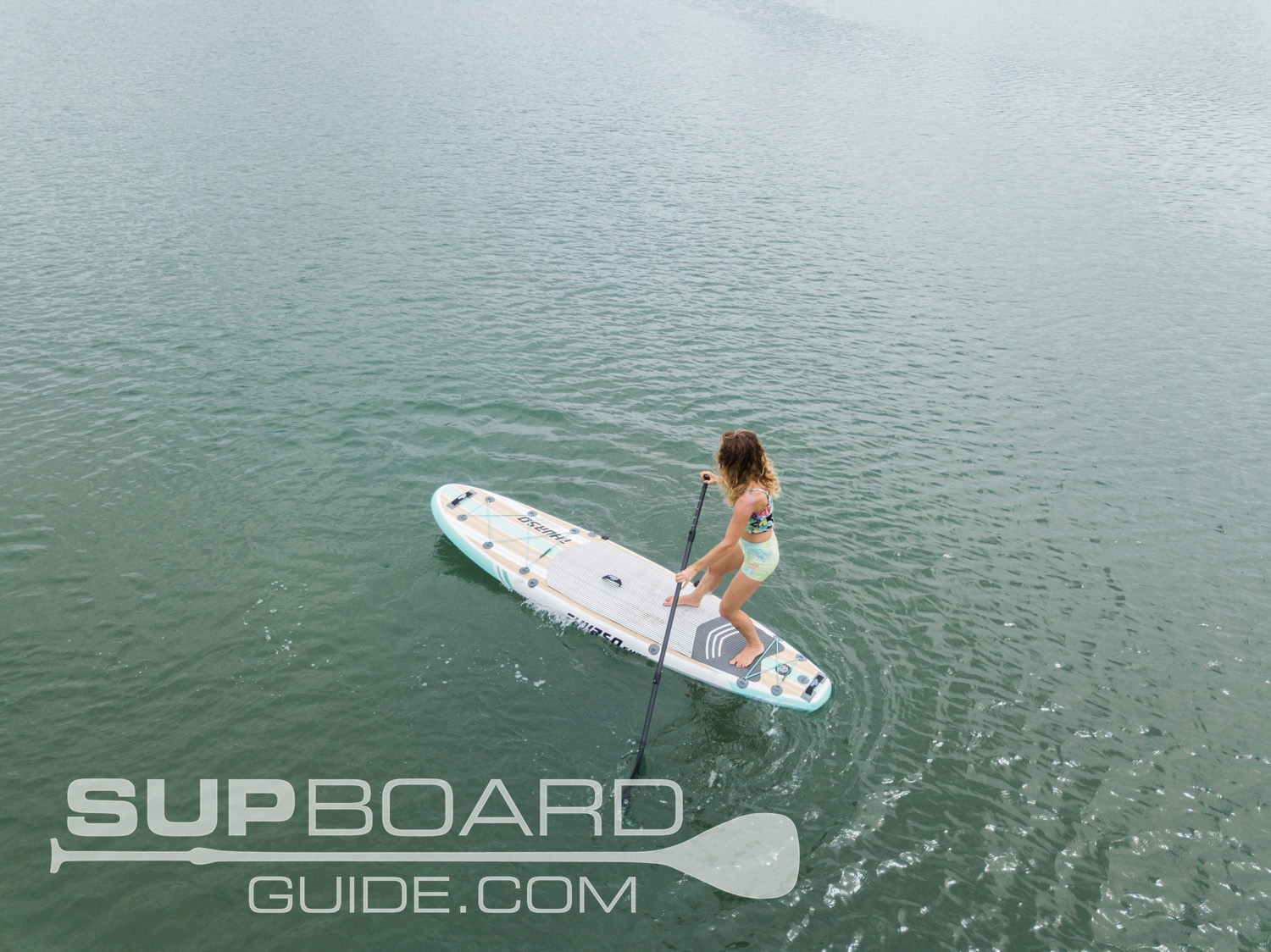 I found it to be extremely stable but still quite agile. While I was in reasonably calm waters the few times I tested it out, I put it to the test with trying to execute quick, tight turns and found it to be remarkably responsive. While just general paddling, I felt the board held a line and glided effortlessly. I think part of why it's performance seemed to stand out a bit more than some other All-Arounds is that it's quite a light board so feels faster and easier to move. While this can sometimes can mean bad manufacturing, I believe that the way they've put their boards together is a good balance between premium and affordable.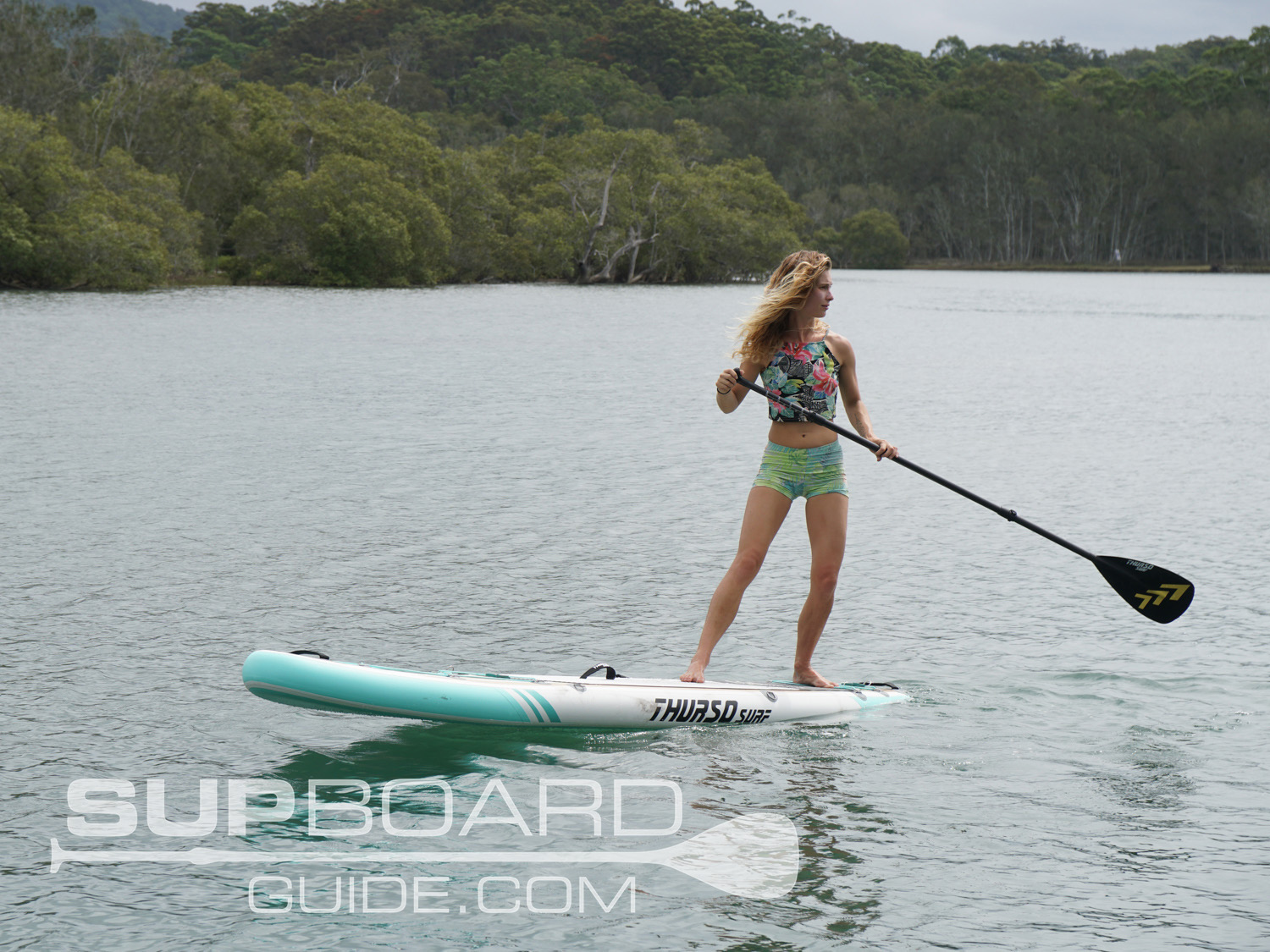 The other part of the performance to be noted is the versatility. As the fins are all removable you can choose between a thruster setup for easier turning or a single center fin for optimum tracking. The board also is wide enough for SUP activities like yoga and there's D-rings to attach a kayak seat onto. One of the new features and one that I like the most is the paddle holder.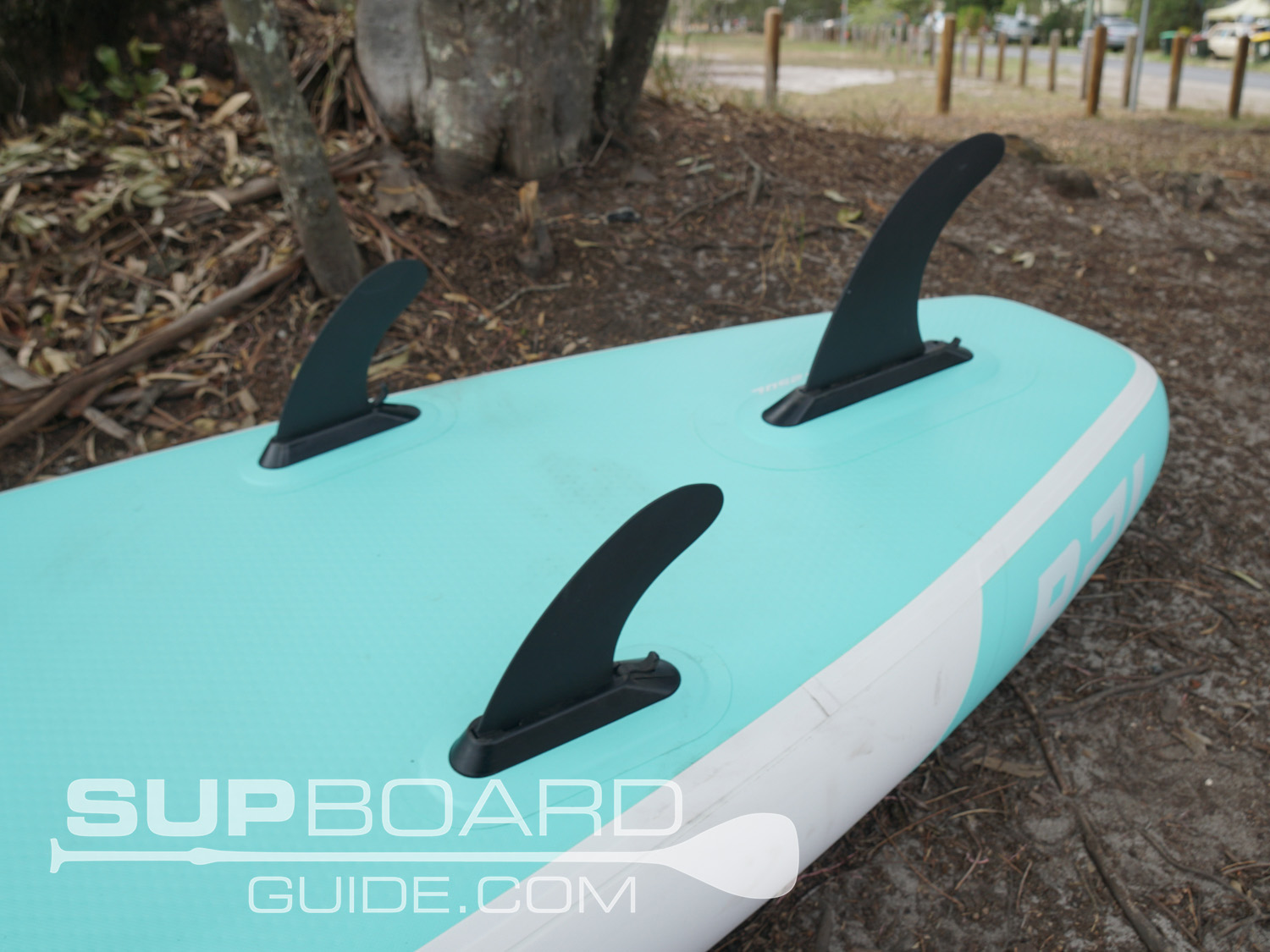 As far as conditions this board is best suited to I would suggest anything from calm rivers or lakes to open water with chop and small waves. There's enough rocker in the nose to allow give in waves as well as helping with stability on choppy waters. The body is relatively continuous throughout so the board doesn't produce heaps of speed but definitely one of the speedier All-Arounds I've been on this year.
Materials
There are many ways to make an inflatable SUP. There's only a couple of ways to make a SUP worth your money!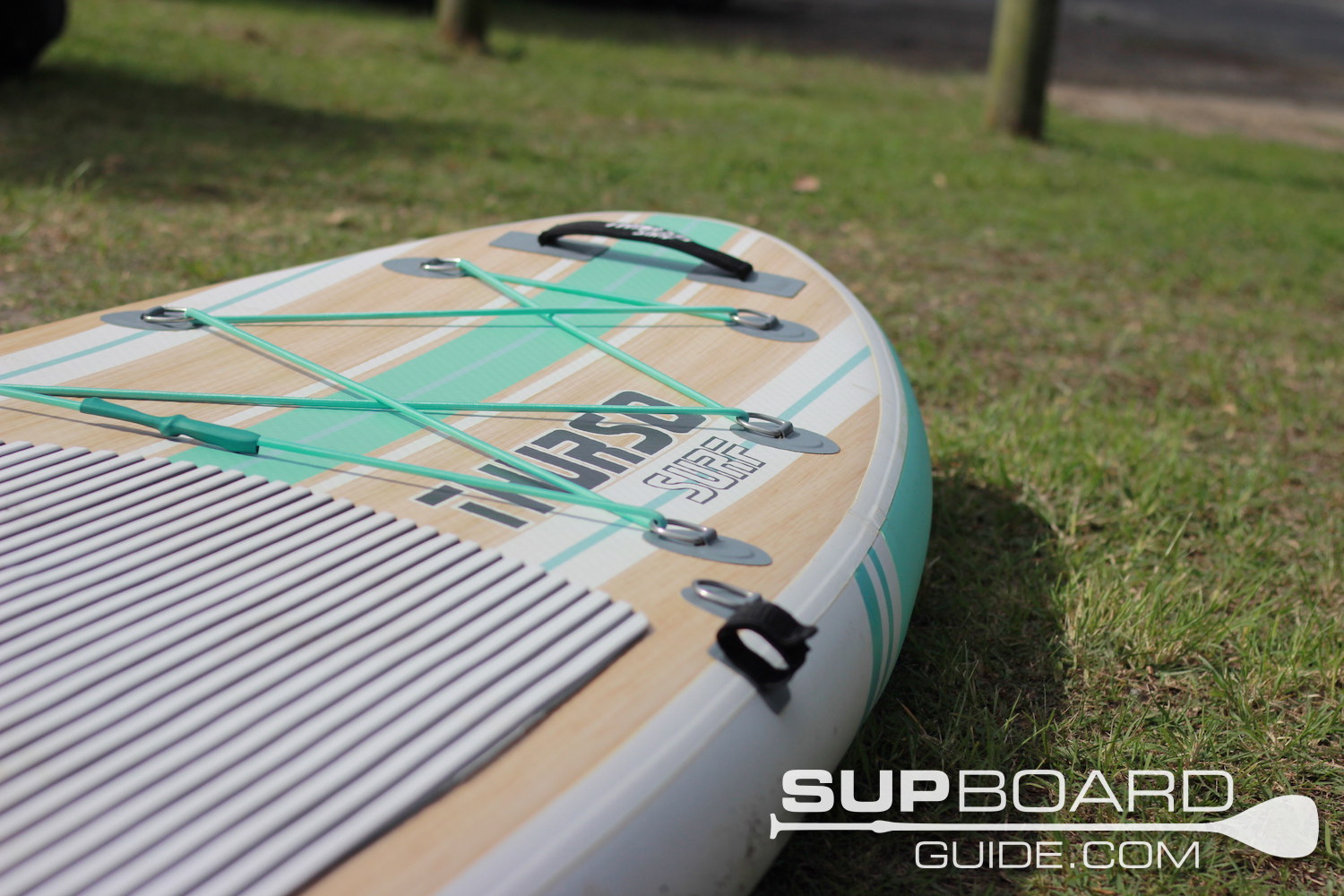 There are some advanced manufacturing techniques but they, of course, come with the price tag. To keep it affordable for the greater public Thursosurf make their boards with a triple/quad layer of PVC over the generic drop stitch core. Their way of producing boards is the best quality you can get at this price. The PVC is military grade, ensuring a long lasting toughness. What's more, is the sides have an additional layer of PVC as this is the area that is hit the most. Choosing to only do the rails as a quad-layer protects the most prone to damage area but keeps the overall board's weight down. A great decision in my opinion!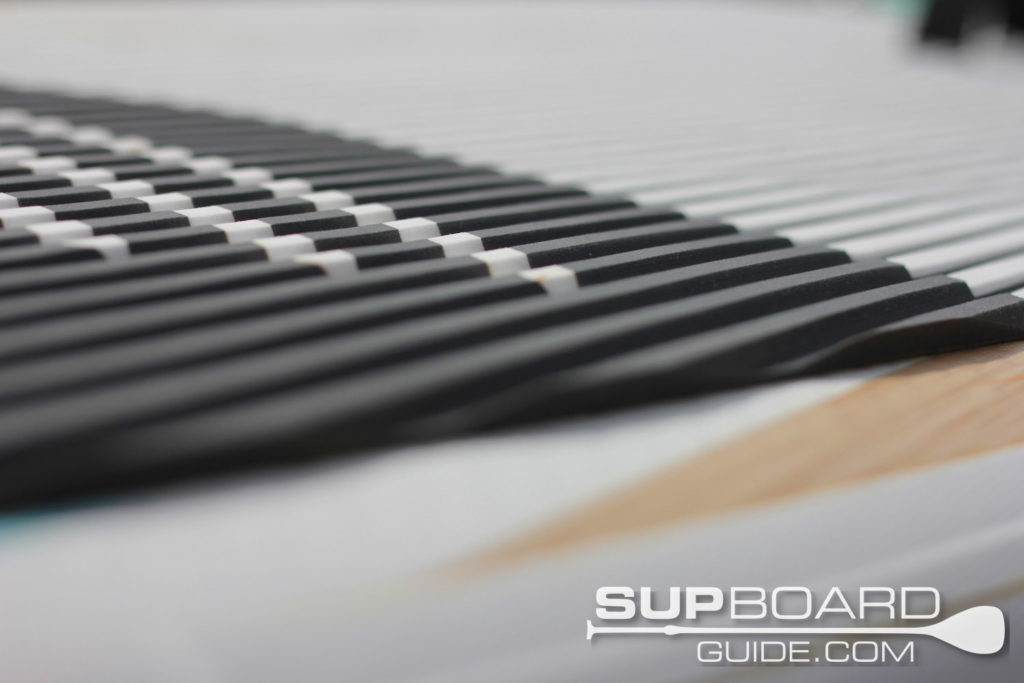 On top of these layers is the comfortable deck pad made from EVA foam much to your feets delight! Not only will your feet delight in the comfort the deck pad also offers up extra traction. Aside from your feet, the rest of your body will appreciate the support a comfortable platform offers.
Board Design
Now I already mentioned how much I love the look of the board. It's a unique design with the light wood grain effect and pairs beautifully with the teal. That and the deck pad colors match in wonderfully too. Aside from it looking nice it also has some great features. Along the rails, you'll find the velcro paddle holders which I'm absolutely loving! Most other boards I've seen utilize the center handle to double as a paddle holder though this has its issues. If you are wanting to use your board for some kind of SUP fitness, you want the paddle out of the way completely, side velcro straps solve this!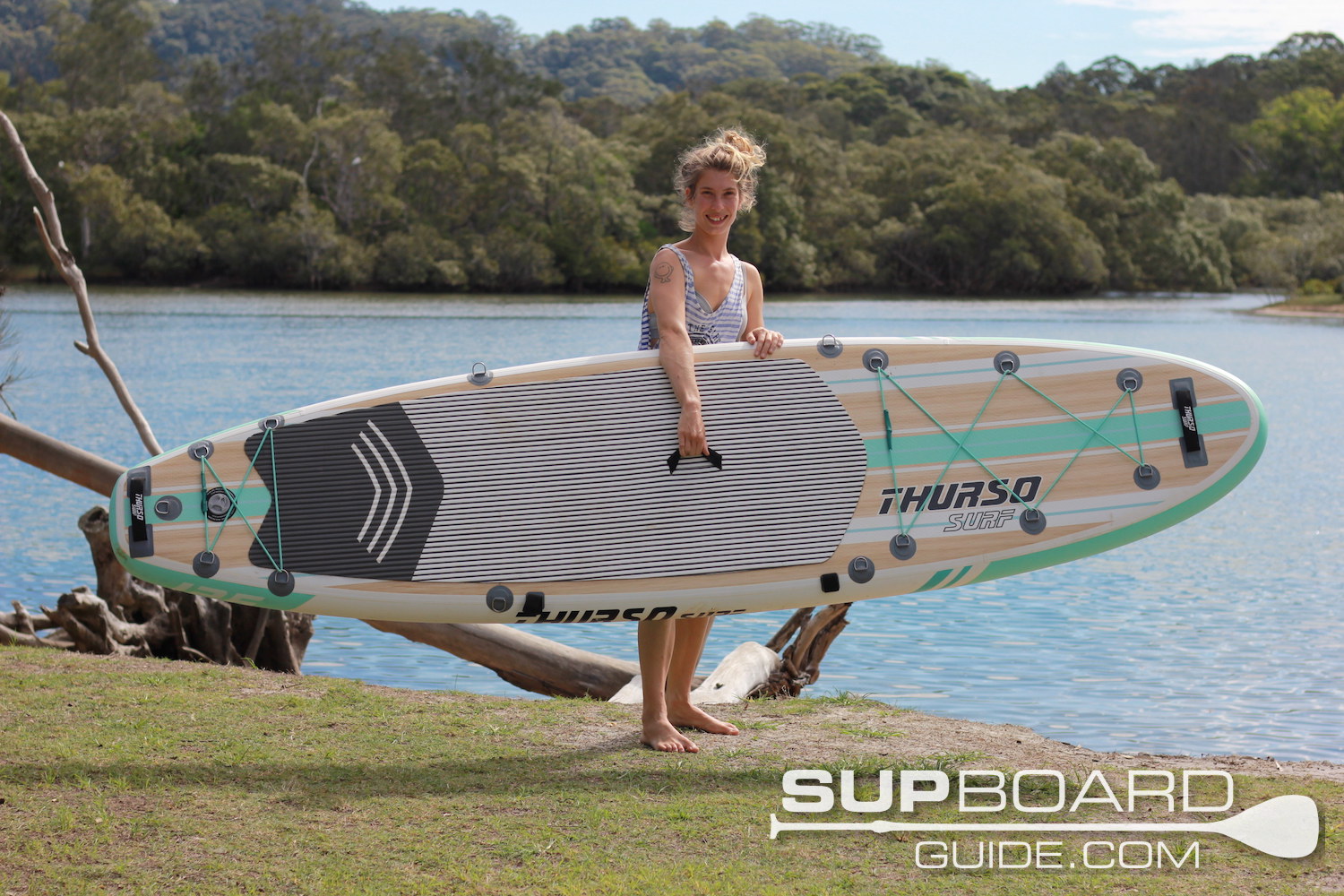 For great portability, you can find 3 handles across the board, the nose, tail, and center. While if storage is the kind of thing that gets you excited, you'll be happy to notice the bungee up front and behind. The behind bungee and the addition of 2 more D-rings up front are new for 2019. There's definitely room for the D-rings to placed a little wider for just that little more space though. These D-rings also act as attach point for the upgraded deck bag too. While the 4 D-rings in the middle of the board will accommodate a kayak seat so your stand up can become a sit-down! And finally the rear D-ring for your ThursoSurf leash.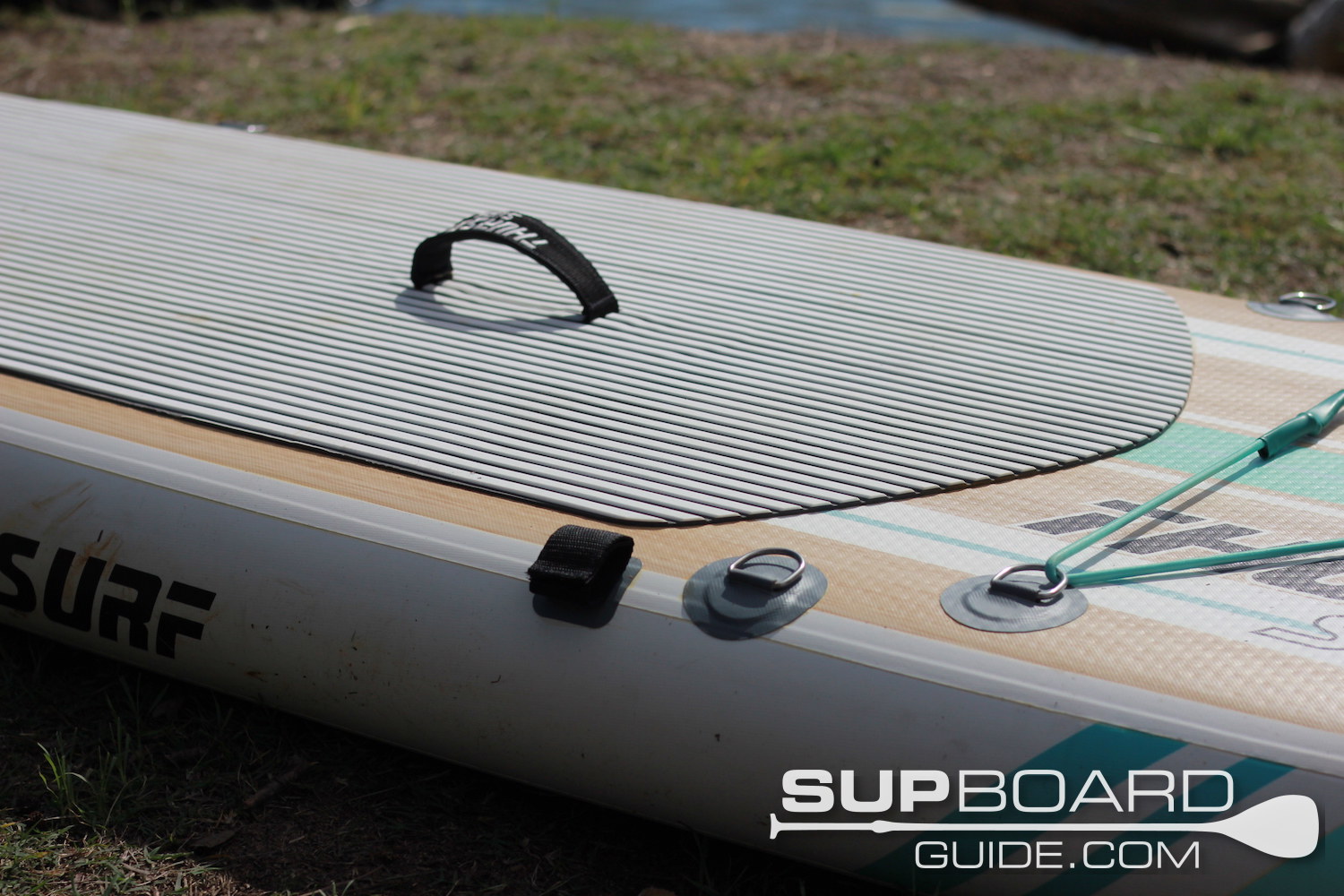 The overall shape of the board leans more towards a Touring shape than a conventional All-Around shape. It's a little narrower than most All-Around SUP's but also pulls in a bit before the nose and tail. Another contributing reason to why I found it to be a bit speedier than other All-Arounds.
Features
Inflate/Deflate
Getting your board up and ready to go should only take 10 mins max (unless you are taking big breaks!). Using the double actions pump to its full potential by making sure you switch actions will help make the process faster but also less strenuous. There are better pumps out there, but the dual action gets the job done all the same!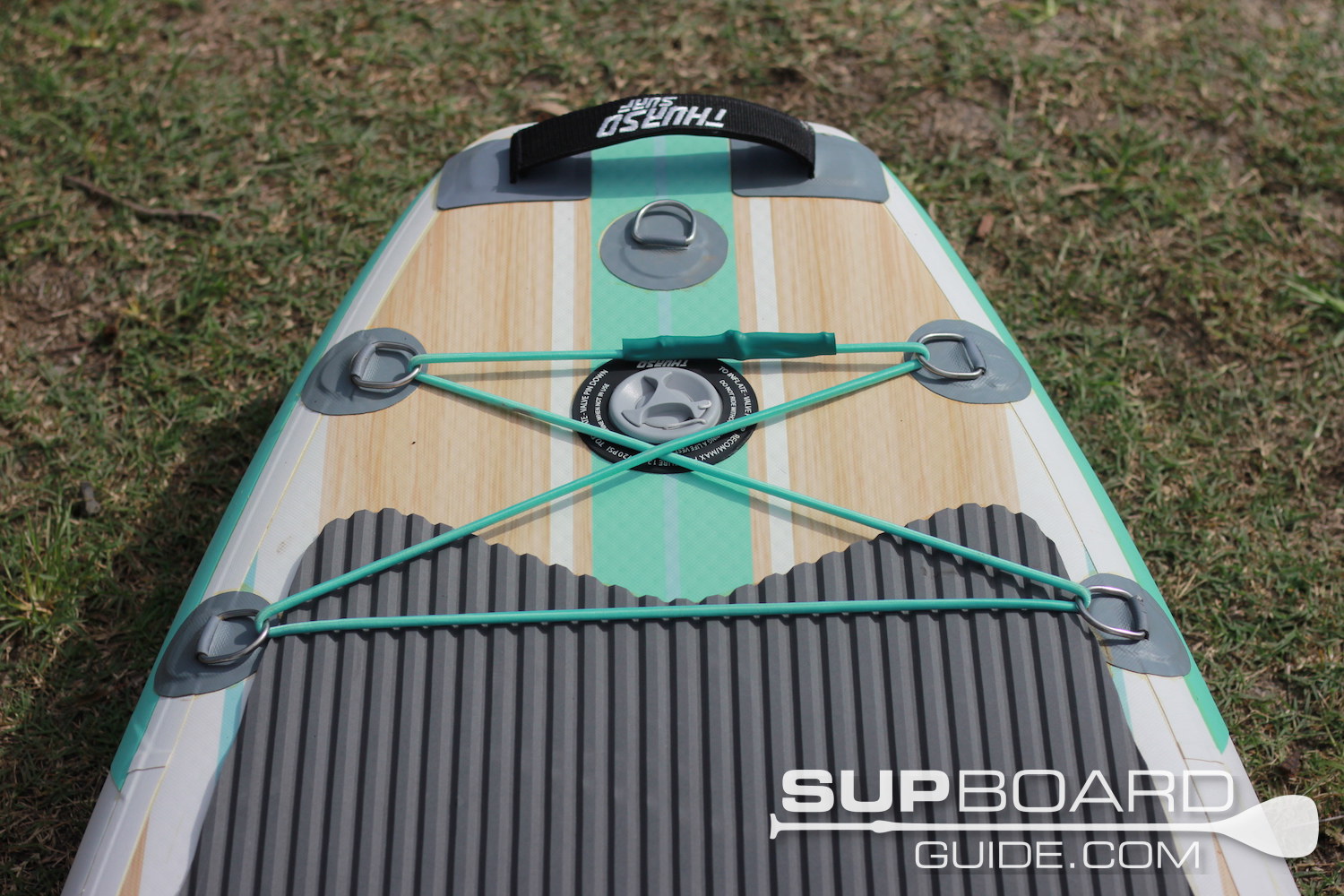 The other side of the pump there's a deflate option. You can use this to help suck out the last little bits of air from the board, making the roll up much easier. Additionally, now with all the fins being removable, you can really roll your Waterwalker up snug as a bug.
Accessories
Paddle
When you buy the Waterwalker you'll be gifted with a carbon shaft – nylon blade paddle. There were some issues with the paddles previously and it's great to see they have been updated!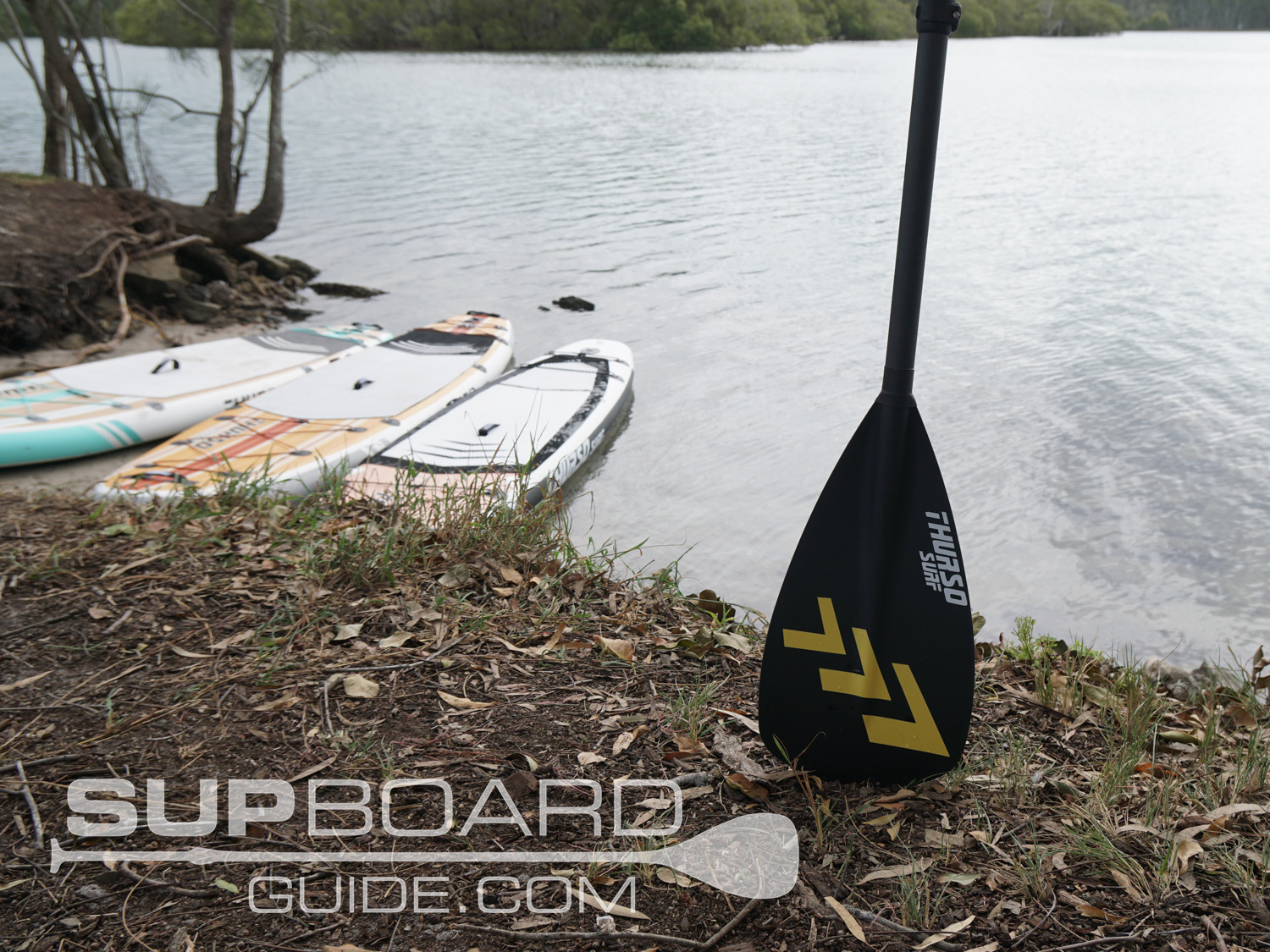 While last years carbon shaft paddle was all shiny this years they've gone with a matte finish and I must say I prefer the matte look!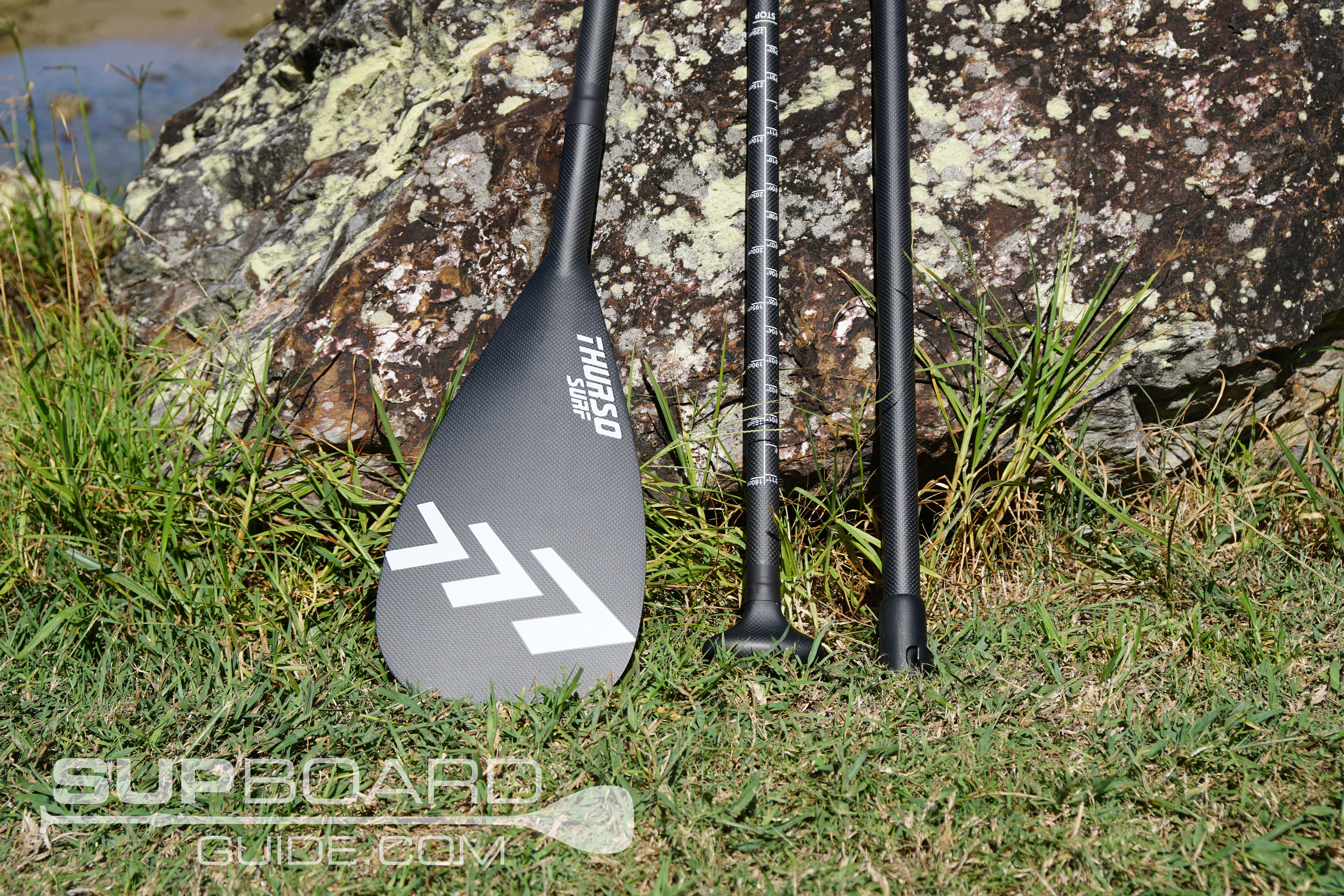 The best features of the paddle are that it floats, weighs only 2lb, is strong and durable (push off the bank with no worry!), breaks down in 3 pieces to fit in your SUP bag and be adjusted from 68″ to 84″. While they have introduced a double securing system in the joins (to prevent losing parts!) I still felt a little flex in the paddle. However, it's not a bad idea and definitely worth the money to upgrade to their full carbon paddle. A good paddle will make a world of a difference to your SUP adventures!
Backpack
Looking smooth, suave and stylish, the new design for the Thursosurf bags remind me of something James Bond would have. It's great they look good but are they practical? Certainly!
Inside you have a fair amount of space for all your gear, including accessories and a cinching strap to keep it all in place. While on the outside, there are handles to easily move the bag around. Also, you can keep belongings in the front pocket, using the plastic window to clearly label your SUP.
But the biggest win here is the portability. You have the choices of wheeling or carrying your bag! If you are going to carry it, the straps are comfortable, supportive and easily adjusted. While if you have sore shoulders or already carrying something, wheel your way to SUP paradise! The wheels are tough and can handle uneven terrain.
Pump
Your dual action high-pressure pump is your ticket to success. It's got an integrated pressure reader on top to keep track of where you are up to and clearly marked switch for the actions. If you aren't familiar with these kinds of hand pumps then you should just use your mouth to inflate the board. Joking. Seeing if you are paying attention, there are some easily followed directions on the side of the pump for you!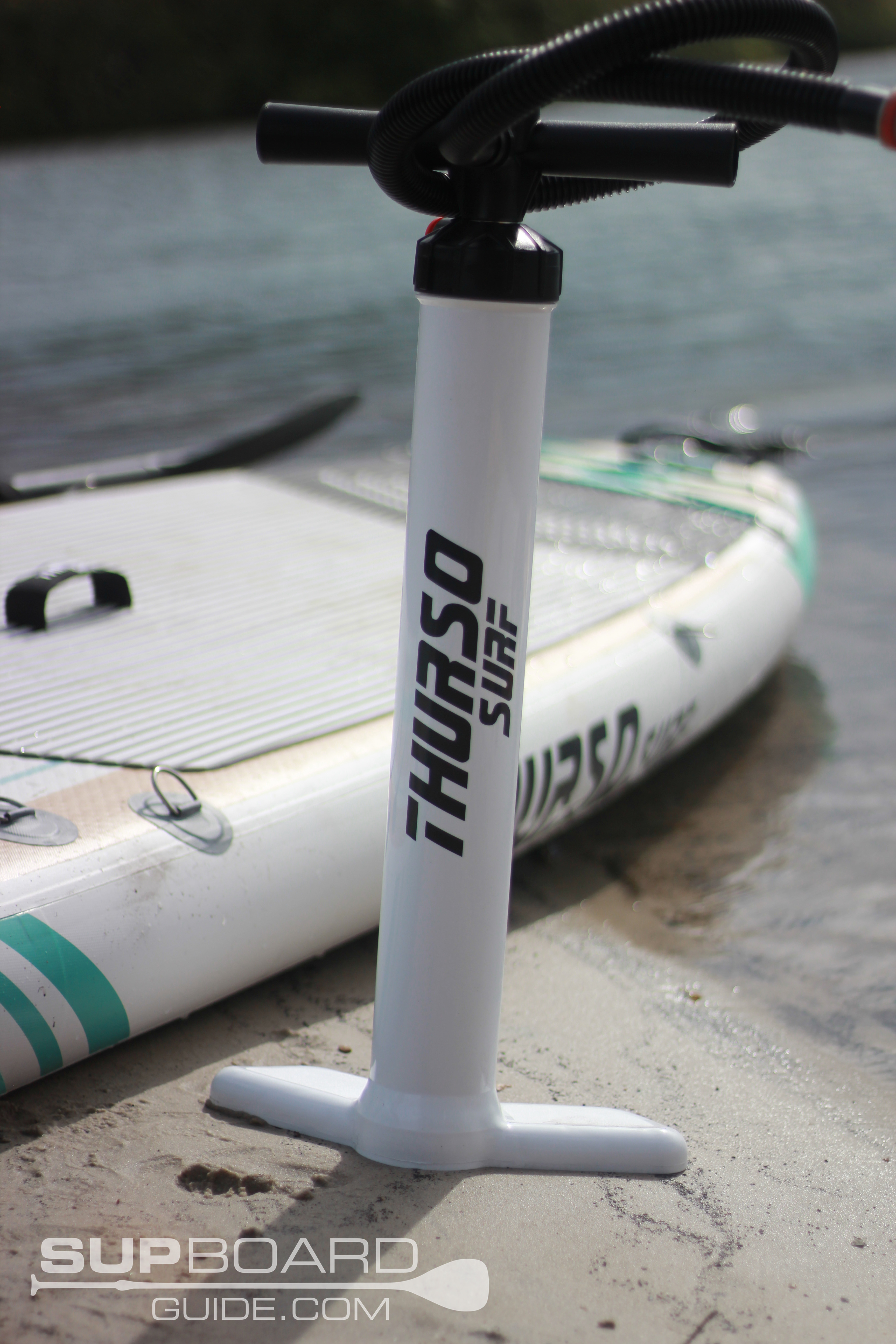 Here I feel Thurso can pick up their game a little. It's hard to not look around at other brands like iRocker who are producing similar products that are worth around the same amount but have much better pumps. The pump is a crucial part of the whole setup. It's like offering a straight or serrated edge knife to cut a loaf…Both will get the job done but I think we all would prefer the serrated edge.
While it could be better it could also definitely be worse! It's a few mins difference in the time it takes to pump up, which isn't huge. You can switch between actions to make pumping easier and can also attach the hose on the other side to deflate your board!
Leash
Nothing matters more than your safety whilst out on the water! It's recommended that if you aren't a strong swimmer or in turbulent waters that you wear your leash! The Thursosurf leash is coiled and so won't easily fall off into the water and leave you snagged on something.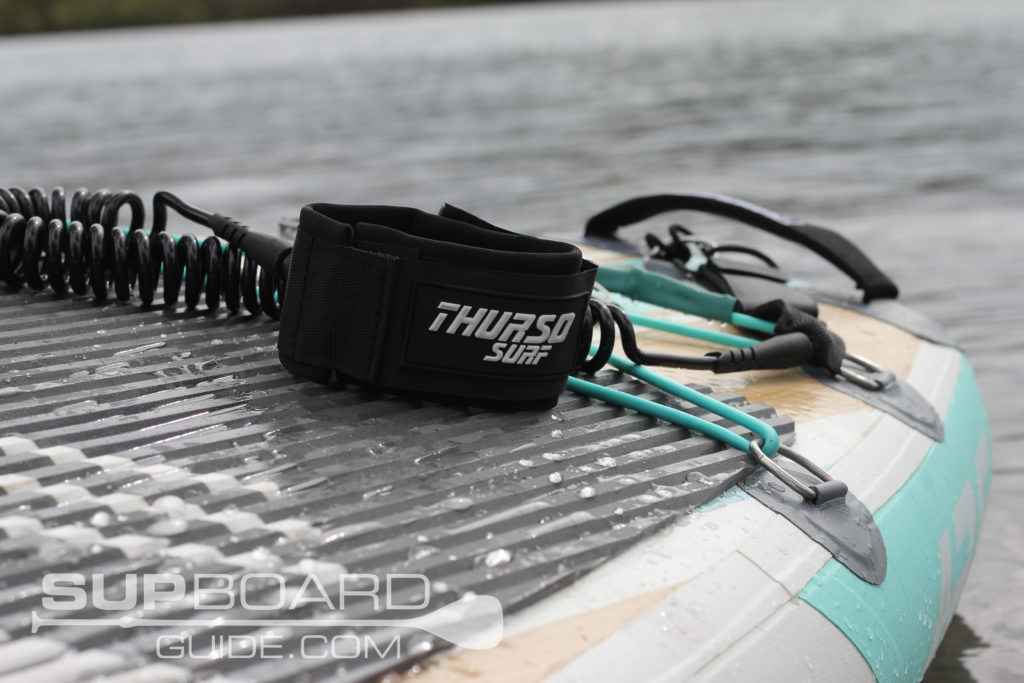 Repair Kit & Manual
Not that you'll probably need it but the board does come with a repair kit. You can find a valve tool to DIY repair leaky valves (happens easily if you don't rinse your boards). You can also find patches for any small punctures. There's also a manual included with each board with info on your board and repairs.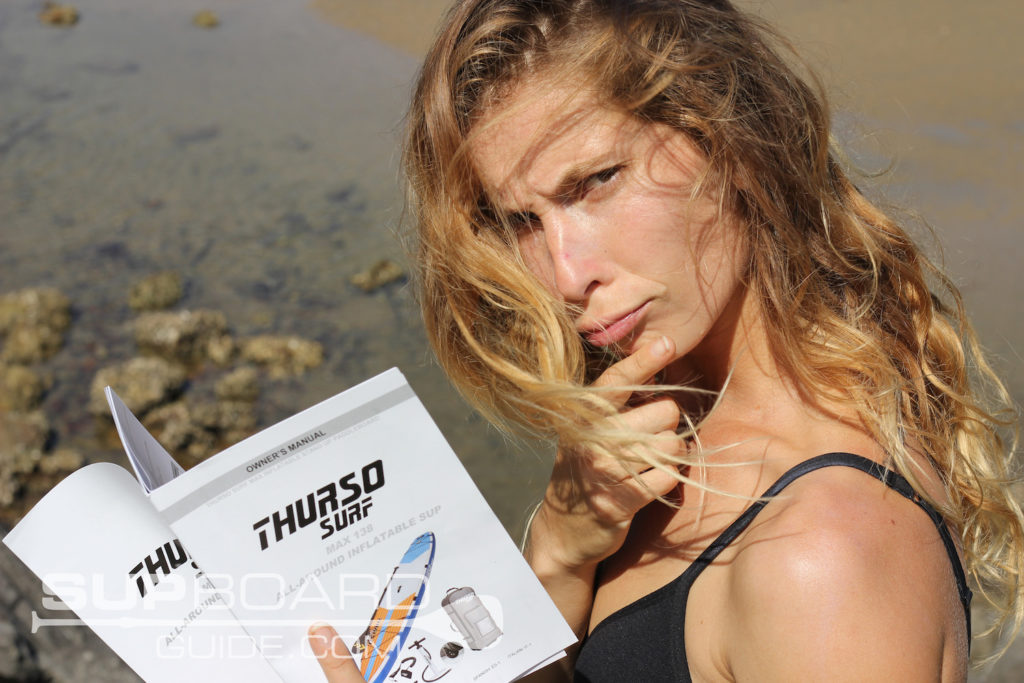 EXTRA GOODIES!
I love goodies. They make everything way more fun! Lucky me Thursosurf was generous enough to send out some samples of their goodies.
Electric Compressor 
Your little green best friend. He's not a leprechaun he's your electric pump. Or she. It can be either. All that matters is that you invest in one of these bad boys(girls) sooner than later. While the inflation time can sometimes be a little longer than what it would take with a hand pump, it's whole lot less effort! You can also leave it to inflate while you work on getting your gear together as it turns off automatically at whatever PSI you set it to. Easily attached to either your car battery with alligator clips or by the cigarette lighter port!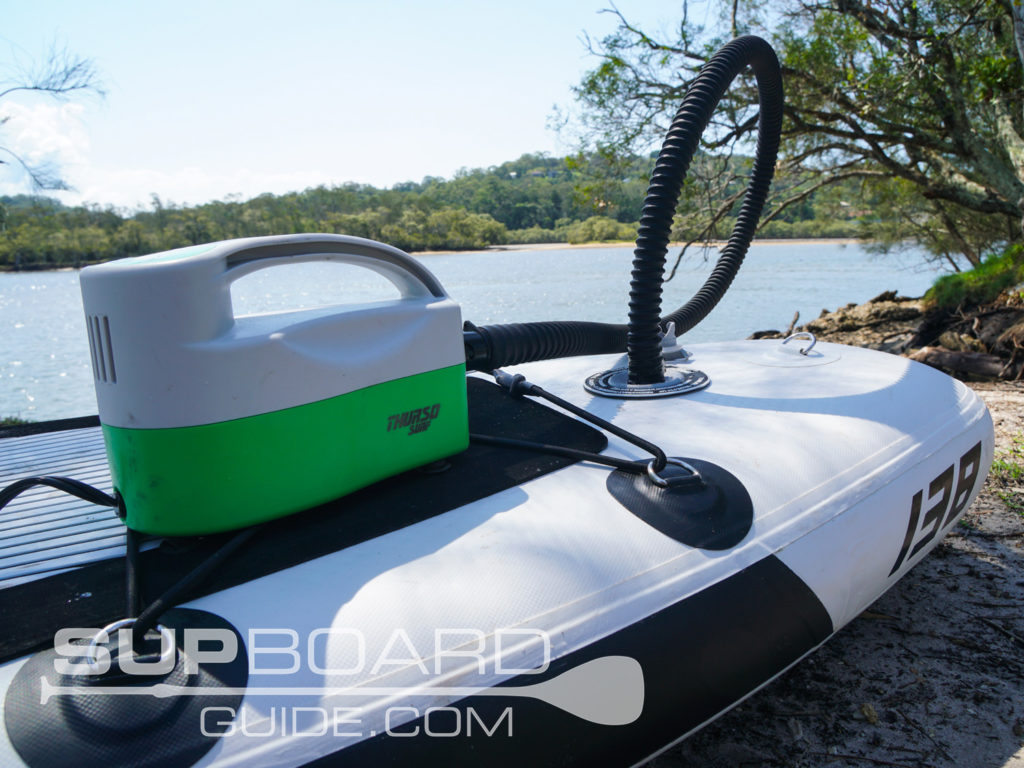 DeckBag
2019 version of the deck bag is so much better! It's a little roomier and seals up tighter to keep all your goodies dry! The zip also helps it keep its shape a bit better, which really just looks nice hehe. Insulated inside for fresh delights and even a strap incase you'd rather sling it over your shoulder!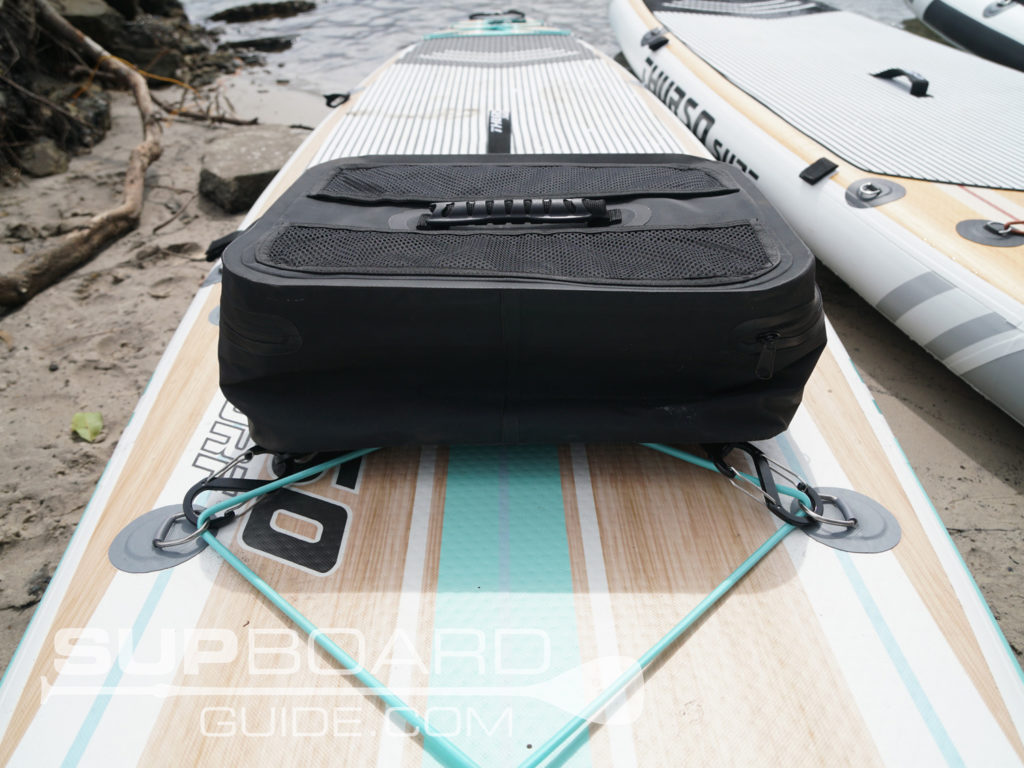 Sunnies + Hat + Bag Strap
Swag! Who doesn't love some swag? Hats to protect your face, sunnies to protect your eyes and all look pretty cool to protect your image 😉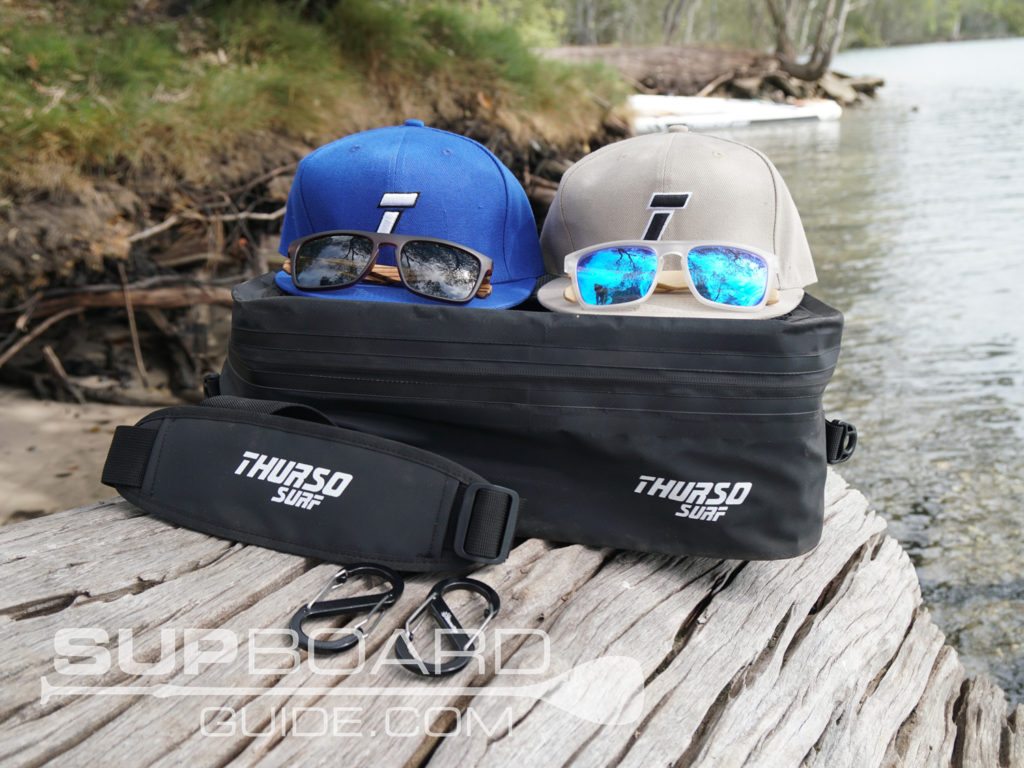 Kayak Seat And Extra Blade
Why not just sit back and relax? See where the tides take you…Maybe that's not so wise. We definitely don't endorse ending up out to sea. But, with an extra blade for the paddle as well as the seat, then you can just paddle your way as you need to. Grab the deck bag as well and complete your SUP package like in the image below.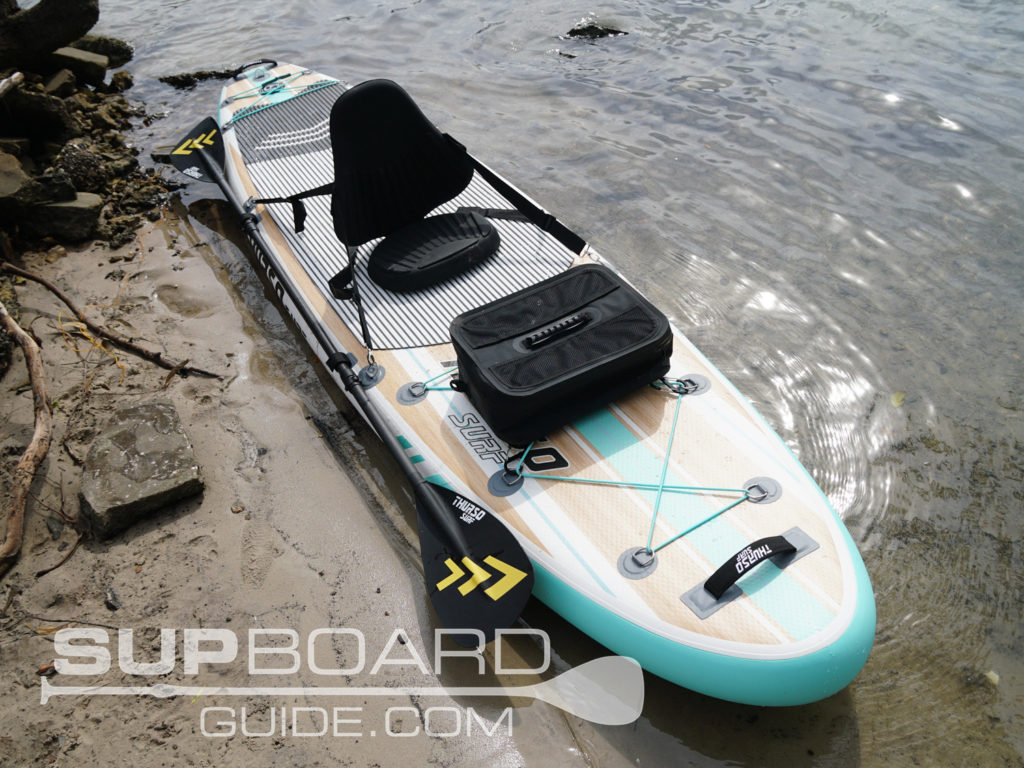 Conclusion
Thurso Surf has definitely made some changes that put them up in the best All-Arounds for 2019. With all the new features and added storage, including paddle holder it's shaping up to tick most of the boxes! As well as improved materials for durability and fixing the issues with the paddle from last year, you can confidently say they are listening and looking to improve!
One thing that makes them stand out more than most is definitely the graphics, their boards always look great! While the seafoam might not be the color for you, you can always look at the 11′. That also applies to those who love this model but want a touch more stability, you'll find the 11′ WaterWalker 132 a lot more stable.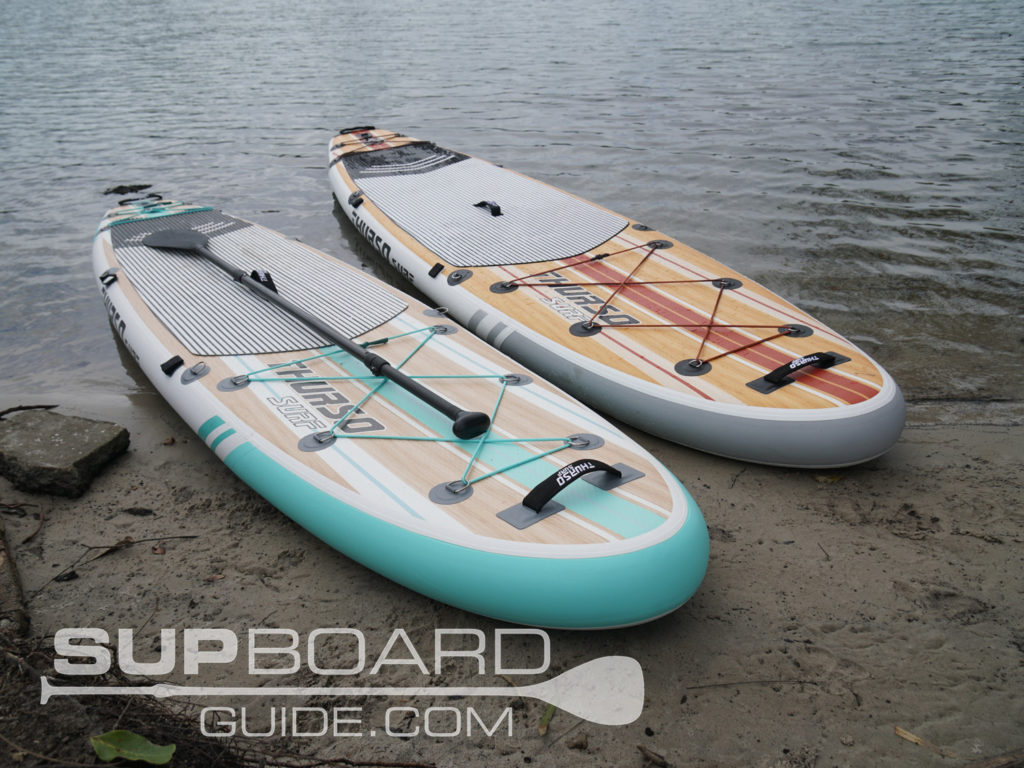 If you are starting to think speed is more your thing than the stability and versatility of an all-around, the Expedition should be your next scope. It's a zippy number and better suited to intermediates or beginners looking to make the jump.
As always, Thurso Surf offers 2 Year warranty and all of our dealing with their team has always been very friendly! They respond quickly and always ready to help.
The following two tabs change content below.
Justin - SupBoardGuide
Heyo! At SupBoardGuide.com we are a team who love the water, the outdoors, and are more than grateful that our full-time job allows us to review stand up paddle boards. We paddle year round (it helps that we are just about 2 hours outside of Las Vegas), and we bring in a wide range of paddlers with the goal of providing our readers with the best, most in-depth, and accurate stand up paddle board reviews.
Latest posts by Justin - SupBoardGuide (see all)