As most of the SUP community knows, this past July iROCKER issued a recall on their Blackfin SUPs. Over the last few seasons, Blackfin SUPs have reigned at the top of our recommendation lists – and they likely will continue to do so (we'll explain why in a bit). However, it'd be remiss of us not to shed light on what exactly happened and the circumstances behind iROCKER's decision on the recall, as well as their response that followed. Before we fully dive in though, here's some quick answers to the FAQ's that we've seen in our comments and across social media .
Blackfin Recall FAQs:
Are all iROCKER boards affected by the recall?

No. This recall only affects Blackfin Models X, XL, V SUPs that fall within the serial numbers outlined in the following section. All iROCKER, Nautical, and Ultra series SUPs are excluded from the recall.

What should I do if my Blackfin board falls within the affected serial numbers?

Customers with affected boards should visit https://www.recallrtr.com/blackfin to verify that their SUP is affected and begin the recall process.

What will happen if my board is affected by the recall?

iROCKER will replace your recalled SUP with a 2023 Blackfin Model X, XL, or V depending on the model of the recalled SUP. They will not be replacing these boards with Ultras.

What should I do with my recalled SUP?

Do not dispose of your paddleboard, or any included accessories. iROCKER will contact you within two weeks of submitting your recall claim through their recall site: https://www.recallrtr.com/blackfin to provide further instructions.

Why do I need to wait 4-6 months for my replacement Blackfin SUP?

iROCKER has recalled their remaining Blackfin inventory, so these boards cannot be used as replacements. The replacement 2023 models need to be made.

How many SUPs are affected?

An estimated 13,000 Blackfin SUPs are included in the recall. Less than 5% of these boards were actually affected by manufacturing defects.

What is iROCKER doing to handle all of the recall claims and other customer service requests?

iROCKER has added 9 new customer service reps to their customer service team. This is now a 25 person team, one of the largest in the industry, and it makes up about half of iROCKER's total staff. They've also added an entirely separate team to solely handle recall claims. They're working to get back to each claim with a viable solution and are working to improve their response time.
So, what actually happened? In the weeks leading up to the recall, iROCKER noticed an increase in customer requests regarding Blackfin SUPs. Upon further digging, they were able to pinpoint and isolate the issue to a certain production run that occurred in 2021. As a result of manufacturer errors, iROCKER determined that Blackfin boards within this particular production run were at risk of seam blowouts and air leaks. Fortunately, most of the seam blowouts and leaks happened upon first inflation. Unfortunately, it would have been impossible for iROCKER to speculate which individual boards within this identified production run were going to be affected. So, in an effort to keep their customers safe and get at-risk SUPs off of the water, iROCKER sent a notice to their customers containing the serial number of boards that are included in the recall.
Keep in mind that this only affects Blackfin boards within the serial numbers below and does not affect any iROCKER or Nautical boards, nor does it affect the Blackfin CX Ultra. The affected Blackfin serial numbers are as follows:
All numbers starting with IR-TSEBF
Numbers between IR139020 and IR141685
Numbers between IR157500 and IR160165
Numbers between IR160500 and IR163165
*Customers who've purchased boards within this serial number range should visit https://www.recallrtr.com/blackfin and follow the prompts.
We'd estimate that this encompasses roughly 13,000 SUPs, which to the untrained eye, can seem like a huge amount of boards – and it is. Some SUP brands don't even sell 13,000 boards in total. In reality though, the amount of boards that have actually been affected within this 13,000 is extremely small. iROCKER has shared that less than 5% of the boards included in the serial number ranges above have had quality issues reported by the customer. Essentially, this recall has been issued out of an abundance of caution, and iROCKER's decision to bring this to their customers' attention and temporarily pause sale of the Blackfins was 100% voluntary, and they've taken all steps possible to notify and be in contact with governing bodies in which Blackfin SUPs are sold, such as the United States Coast Guard, Transport Canada, the Australian Competition and Consumer Commission, the UK office for Product Safety and Standards, as well as various authorities across the EU. There is no agency or overarching authority that is forcing their hand, this is iROCKER taking responsibility for a mistake and working with customers to get them a Blackfin board that is of the same high quality that we've come to love and expect from this company, and for that, we think they should be applauded.
However, in order to get those high quality SUPs into the hands of these affected customers, the boards have to be constructed. This means that Blackfin owners that are eligible for replacement are looking at iROCKER's estimated wait period of 4-6 months, and on the customer end, this sucks. There's really no other way to put it. For those of you that had saved up, decided to pull the trigger on this purchase, and now don't have an operational SUP to show for it, and are waiting in the queue to speak with iROCKER's customer service team – we feel for you and your frustration is warranted.
On the surface level, this situation can appear really simple, and we've seen a lot of questions on why iROCKER can't just replace the Blackfins immediately, without the wait period, as well as concerns that their customer service team is ignoring people by disabling their chat function and taking several days to respond to customer emails. To be able to see the bigger picture though, and understand iROCKER's response, you need to know a little bit of background – and for that, we need to take a step back to the year 2020 (spine chilling, I know).
While the global pandemic was devastating to nearly every industry around the world, it actually had quite the opposite effect on stand up paddleboarding. After all, what better way to social distance than to be completely surrounded by water? SUP brands across the board were rapidly selling out of product and ramped up manufacturing in a scrambling effort to restock. In the seasons to follow, iROCKER, like many other brands, started to come down from that 2020 sugar high and were starting to have excess inventory. In addition, iRocker had spent several years developing their new Ultra series SUPs and finally brought them to market. They also decided to move on from their Original series (All Around 10, All Around 11, Cruiser, and Sport) and move forward into 2023 with their Nautical, Ultra, and Blackfin Lines. This decision prompted their biggest sale we have ever seen to date; prices were slashed up to 50% and iROCKERs, Blackfin, and Nautical SUPs were flying out of the warehouses with boxes and boxes of accompanying accessories.
All of these sales included multiple packages and all of these packages were coming from different warehouses, so some customers would receive accessories without their board or vice versa and were contacting customer service reps to inquire about the rest of their order (we don't think iRocker was clear enough in order confirmation emails how the shipping of accessories would be different than boards). It was at this point that reports started coming in of issues with Blackfin boards, and the recall followed shortly after.
We are explaining all of this so you know that iROCKER is not ignoring customers, nor do they have any intention of leaving any issue unresolved. They've added 9 new customer service reps to their team, and they're steadily trying to chew through their backlog by only answering customers when they can offer a viable solution, rather than answering just for the sake of answering. While this does increase their initial response time to customer service claims, it cuts their resolution time to a few days. If you send an email with a question or concerns, you can rest assured that iRocker will respond in around 5-7 days. Once your case is being addressed, your issue will be resolved very quickly.
In addition, another team has been brought on that specializes in recalls to dedicate their sole focus to these affected customers.
We also want our readers to know that iRocker currently has all hands on deck; even their CEO is responding to customer service questions and has helped resolve 200 customer tickets this month.
Of course, the other effect of all of this is that because they've cleared their inventory at a rapid speed, they cannot offer Blackfin customers affected by the recall an immediate replacement with an iROCKER SUP because the inventory simply is not there.
Instead, iROCKER is ramping up construction on the 2023 Blackfin SUPs to send to all recall affected customers that go through the steps of their recall process by visiting https://www.recallrtr.com/blackfin and following the prompts. The 4-6 month wait will be tough, but at the end of this, you'll be met with a higher quality Blackfin that features some design upgrades and improvements. It's these design changes that prompted iROCKER's statement that they won't be able to guarantee customer's the same colorway as their original affected Blackfin board. A preview of the new colorways can be seen below, and we'd have to say they're not too shabby: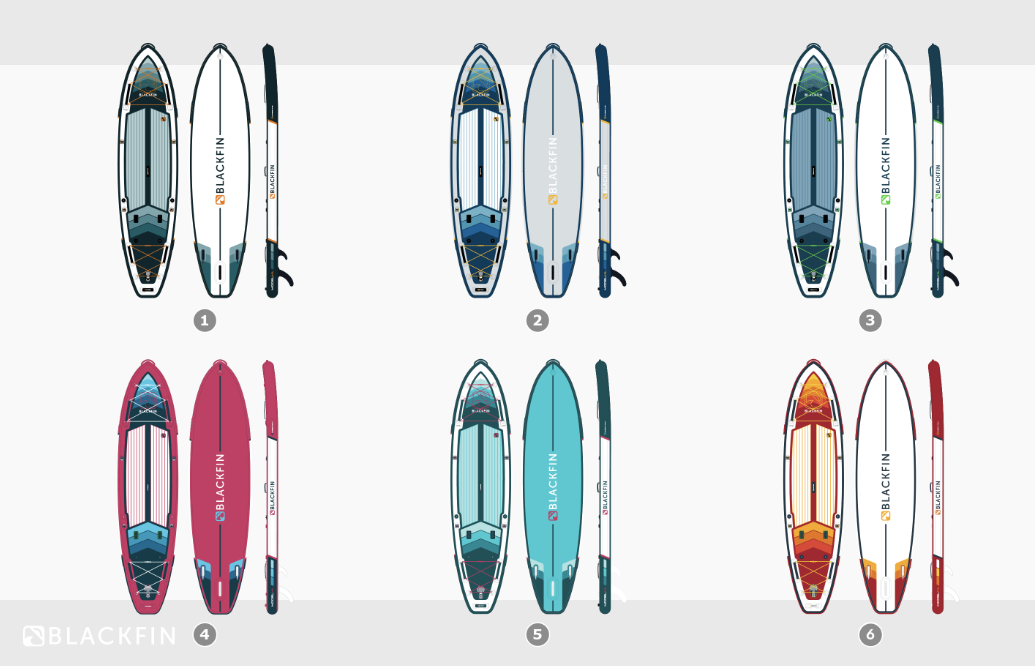 The bottom line is that there has been a ton of mis-information and a lot of concerned paddlers in just about every outlet you can imagine, from Reddit to Facebook, Instagram, and in our own comment section.
Our goal with this post, and with everything posted on SUPBoardGuide, is to give you all of the information, so that the paddling community can understand that this situation is far less scary and less encompassing than some have made it seem. And we want to note that iROCKER is not the first or the only SUP brand to go through something like this. In 2015, Red Paddle Co. faced similar challenges when one of their production runs was subject to manufacturing defects. It was actually what prompted them to move from dual layer SUPs to the development of their MSL Fusion Tech, which is now renowned as one of the best construction methods in the industry. Red was made better for it, and we expect iROCKER to do the same, which is why we continue to stand behind this brand and have faith in the quality of their products, both past and future.
As we wrap this up, we also want to remind you that iROCKER is not some gigantic corporate entity, but rather a small team of paddlers who want to put good boards in the hands of their customers. iROCKER as a whole is made up of about 50 employees. About half of that number is their customer service team, and they are working overtime and weekends to handle every and any issue that comes across their desk. As you're working with these individuals, keep in mind that they are real people like you and I, who are doing the best that they can to get all of us through this situation. And as for SUPBoardGuide, we're confident in iROCKER's commitment to move past this recall and continue to provide customers with quality products and excellent customer service. If that changes, then we will absolutely let you know.
In the meantime, if you're affected by this recall, know that we feel for you and we hope that this information has helped ease some of your concerns and helped you understand why the recall has been carried out this way. You will be back on a Blackfin soon, and it will be better than the one you've started with.
As always, we hope that this post has been helpful in understanding the Blackfin recall, but if there's any questions, don't hesitate to reach out to us in the comments below.
The following two tabs change content below.
SupBoardGuide
Heyo! At SupBoardGuide.com we are a team who love the water, the outdoors, and are more than grateful that our full-time job allows us to review stand up paddle boards. We paddle year round (it helps that we are just about 2 hours outside of Las Vegas), and we bring in a wide range of paddlers with the goal of providing our readers with the best, most in-depth, and accurate stand up paddle board reviews.
Latest posts by SupBoardGuide (see all)