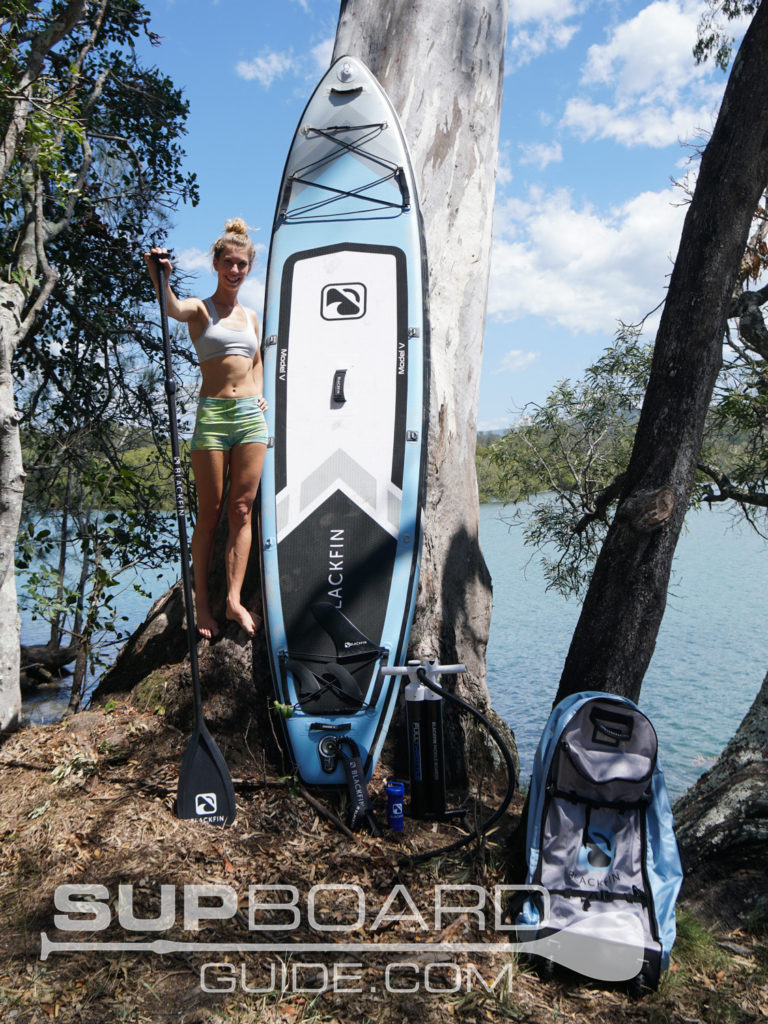 Could this be the ultimate touring board?
It's long, it's sleek, it tracks well and has a huge amount of storage on board. This is the first round of the Model V from the Blackfin range and I'm already impressed!
It's an exciting prospect to see iRocker expanding their premium range, we were very intrigued into what this new board could mean and I wouldn't be surprised if you are excited too! So let me fill you in below…
Specs
| | |
| --- | --- |
| Length | 12'6″ |
| Width | 32" |
| Thickness | 6" |
| Weight Capacity | 485 lbs |
| Weight | 27 lbs |
Performance
The Model V covers distances at remarkable speed and holds a line well. The main things you want from a touring board! It's length paired with streamline body and tapered nose, cuts through the water effortlessly. While I was expecting it to be a little faster than what I first experienced, it's still faster than all-around shapes.
Something I think this board would hugely benefit from would be being a little closer to the water. Plenty of touring SUPs are made with 6″ and perform fantastically (much like the V) however, to really stand out as a touring SUP I would love to see 5″ rails.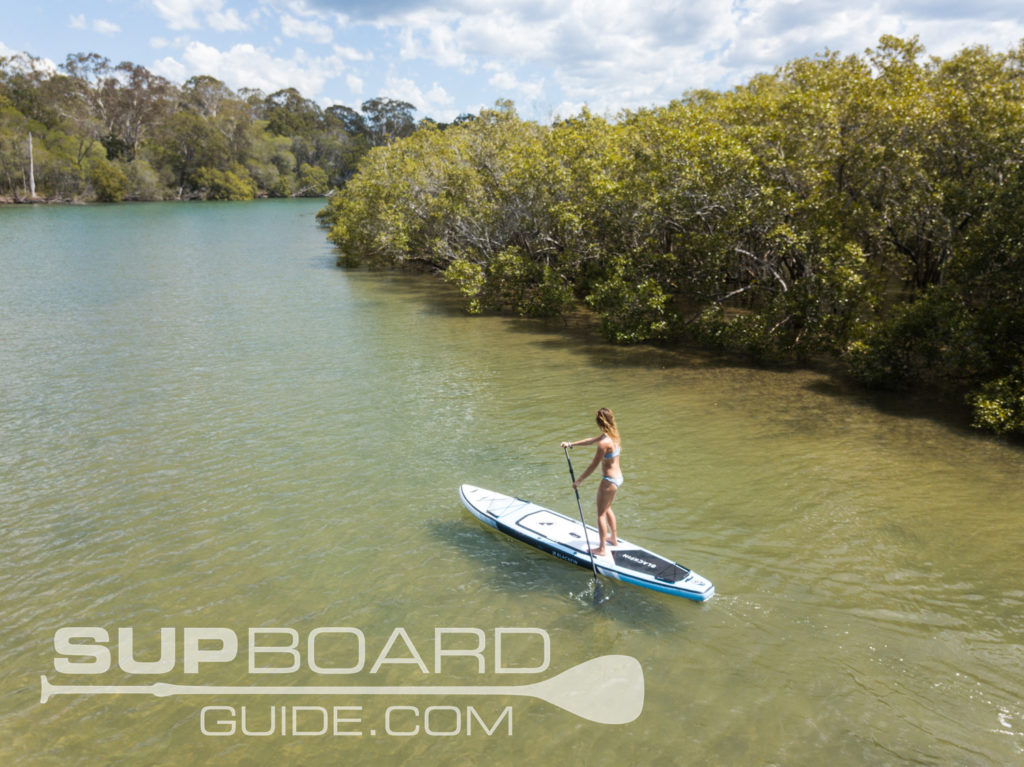 The turning on the Model V is on point! Again with the body shape, using a back foot turn, you can bring the SUP up out of the water easily to turn. Then with a squared off tail for a little stability you can really plant your back foot down to swing the board around. I was doing donuts for days!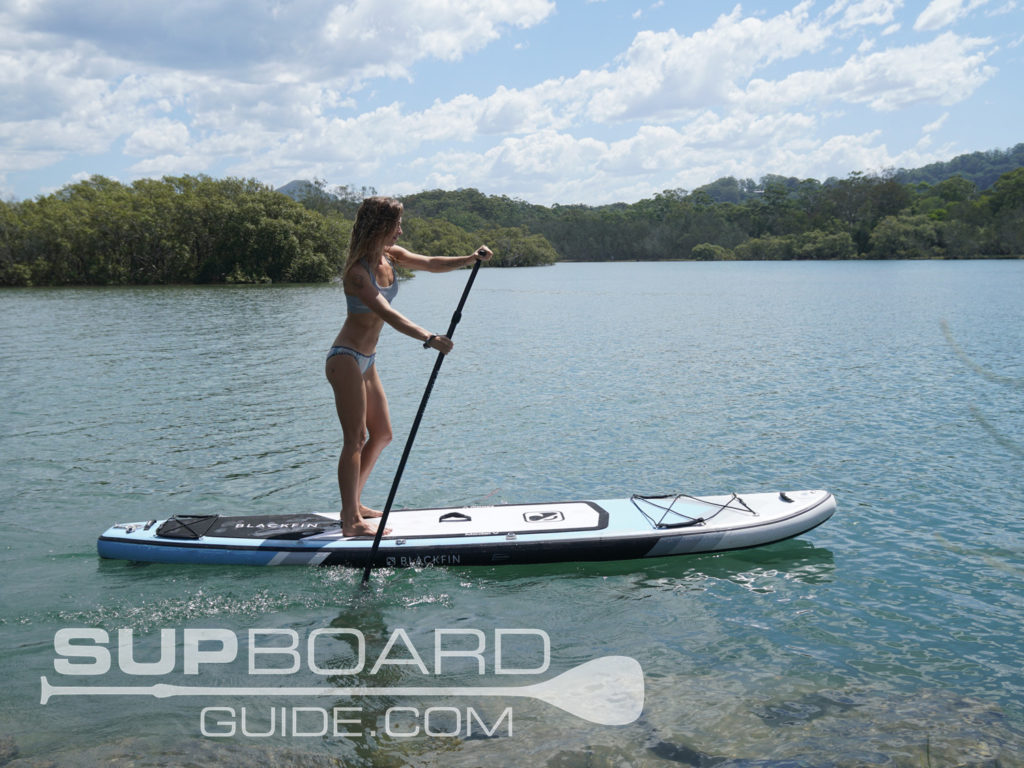 One thing that really strikes me about the Model V is that it suits an extremely broad range of paddlers. The stability for beginners can be found across many boards but having something that is stable enough in the beginning but still offers up a platform for fun when you improve, is something not so common!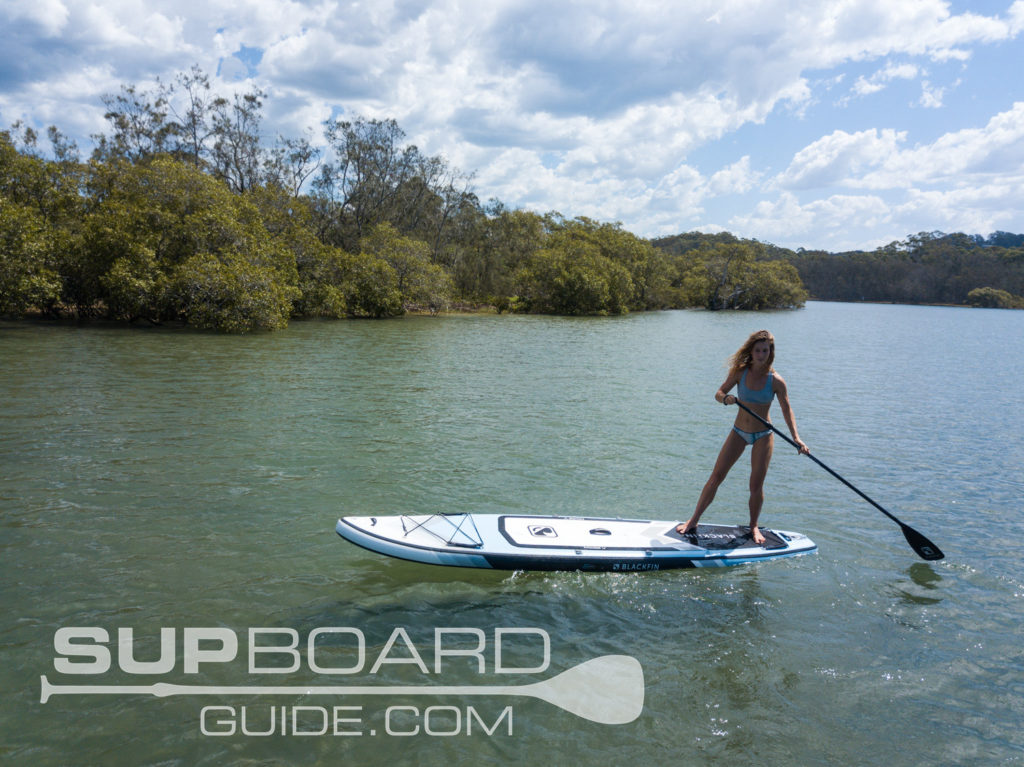 As far as where you should go paddling, I believe this board is best suited to flat water conditions and perfect for use over long distances. Another aspect you'll get a lot out of the board from is if you are getting into SUP racing, while a hardboard will always win over an inflatable, it's a perfect training board.
Materials
Using a triple layer PVC over a drop stitch core, iRocker has ensured this board will be bulletproof. While you may notice on the iRocker range, they use a quad-layer range, it's important to take note the PVC used on the Blackfins is a different type. It's machine pressed, therefore, stronger so the extra layer of PVC isn't needed. Of course, it's a little more costly, so that's why it's been reserved for the premium Blackfin lines.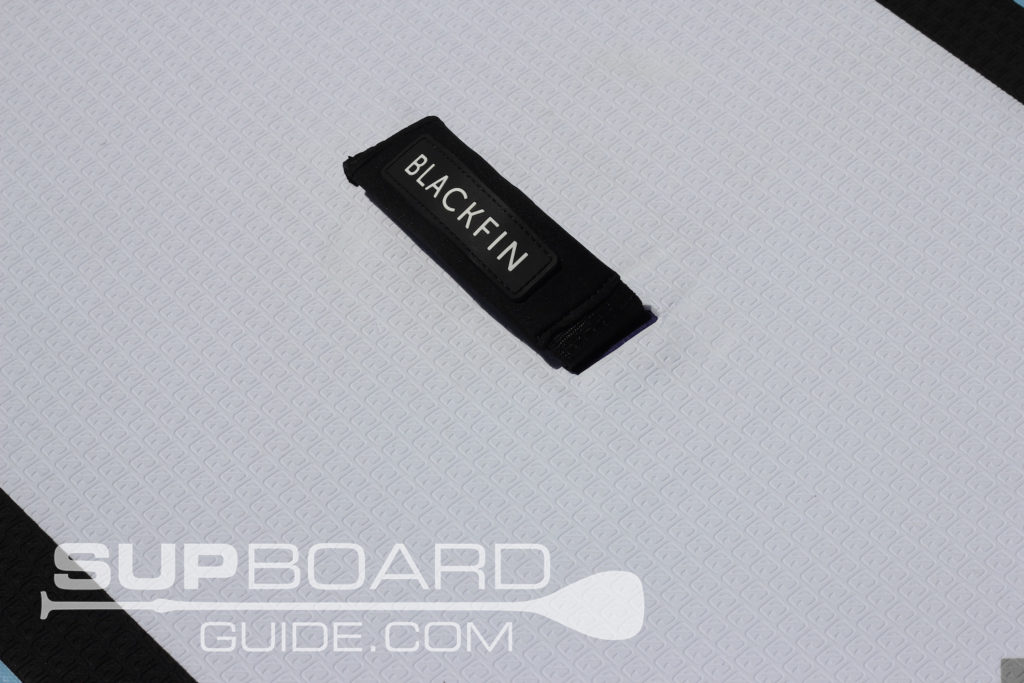 Another part of what makes the Blackfins so robust is the carbon rail. This addition adds even more strength to the most commonly knocked area (rails) but also provides an extra level of rigidness. It can make rolling the board a little tougher but a bit of a tip, you should leave the board in the sun for a couple of minutes to soften the plastic!
On top of all these wonderful layers is the deck pad. Your deck pad is made from a cushy comfortable EVA foam that is both grippy and supportive.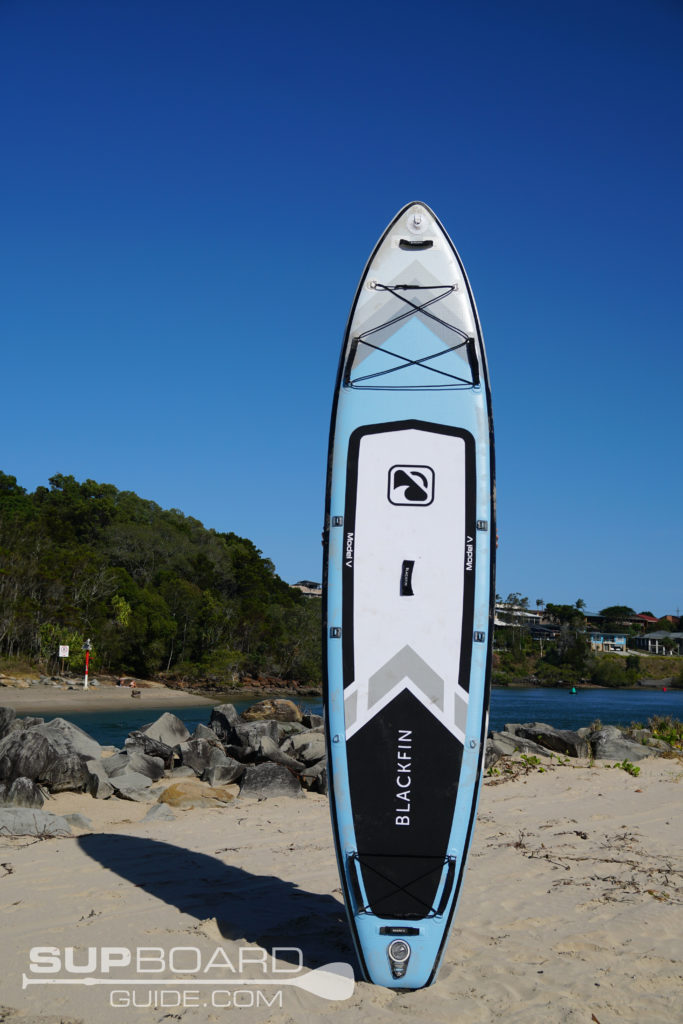 Board Design
I'm going to shake things up and start with talking about the aesthetics of this board. I love it. May have something to do with it being my favorite color. It follows a similar design to the other Blackfins but is a much lighter blue.
While it's super stylish and sexy, it's also practical. There's a huge amount of storage which can be found on the nose and tail, under the bungees. While then there are an additional 6 D-rings between the bungee for either kayak seats or tie down bags. With the length of this board it's plausible you could put tow kayak seats on and paddle together even!
Handling the board is made easy by 7 different handles. 4 on the bungees, 2 on each end and one in the middle. The handles on the bungee are also great safety hang on spots for kids! Though if they get in the way they can also be removed easily.
Finally, under the nose of the board, you'll find another D-ring for towing/mooring and an additional one on top of the board as well as at the tail, which the tail one is for your leash. All these D-rings and bungees and not enough things! Which you can change by purchasing the extras 😉 Which I detail below. Some of these extras are mounted in the action mount which can be found on the nose of the board.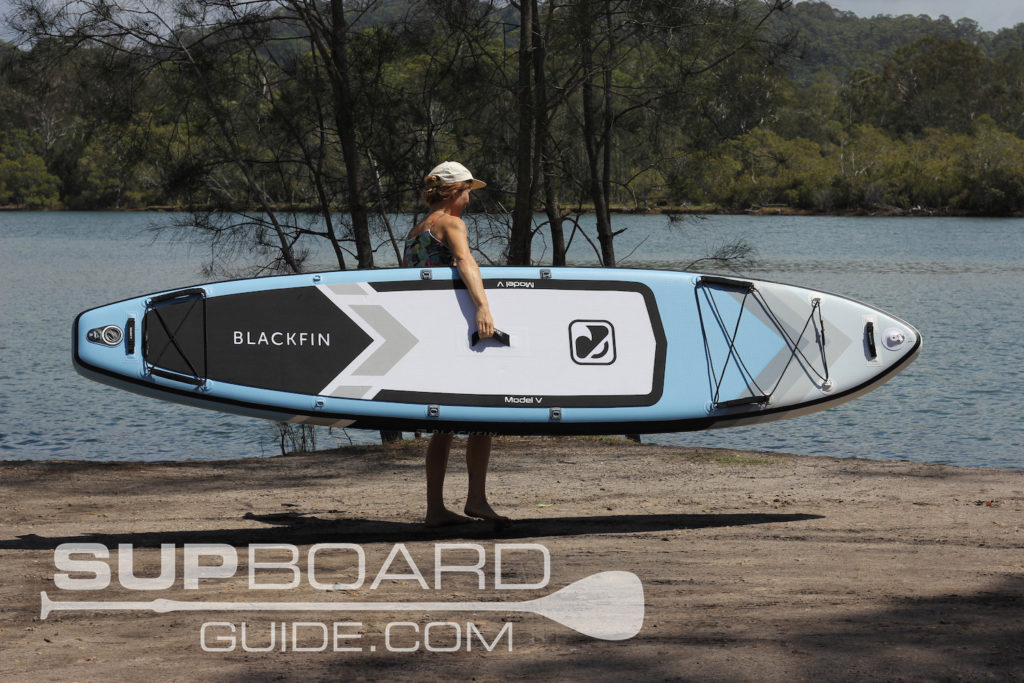 Features
Fins
Part of why the tracking is so superb on this board is the large hatchet center fin. Particularly, this type of shaped fin is great for holding a line, aka tracking. It's a screw and plate fin, so be sure to have a handy spare plate and screw around, as they are easy to misplace or forget! Maybe one day they'll get the connect II fins!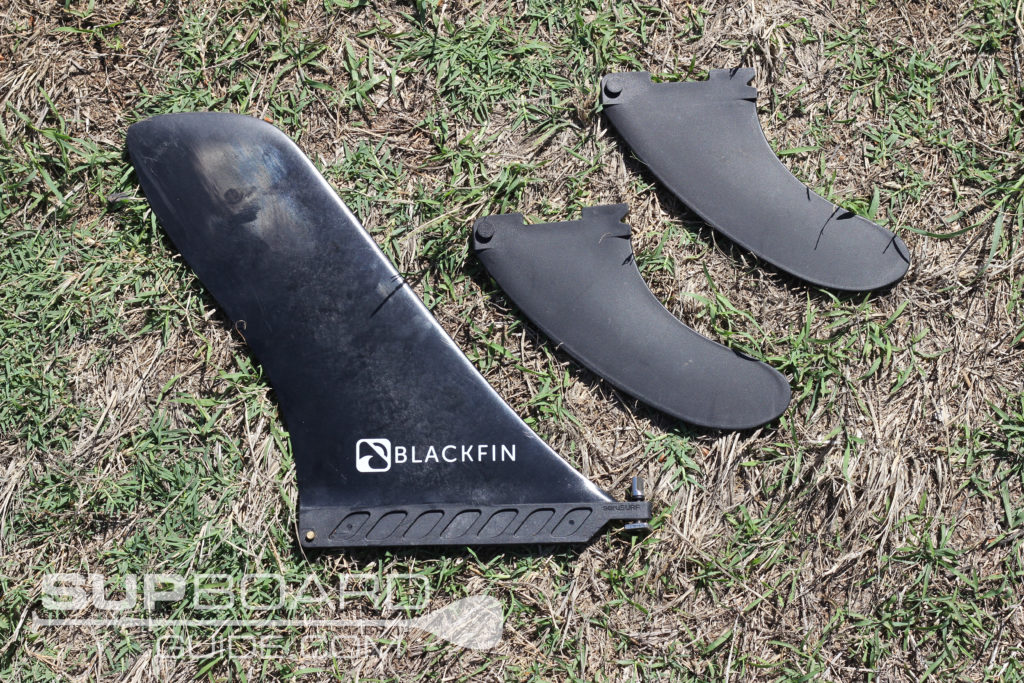 The fin box is a US fin box so it's compatible with a range of fins that can be purchased from other retailers also. You can really tailor your adventure with these different fins. It's always handy to have a low profile fin available for shallow water paddling.
Moving on to the side fine, you'll see they are made of a slightly different material but just as tough. They click in easily and the choice to remove them not only makes it easy to roll the board, but it can also accentuate your tracking having only a center fin in.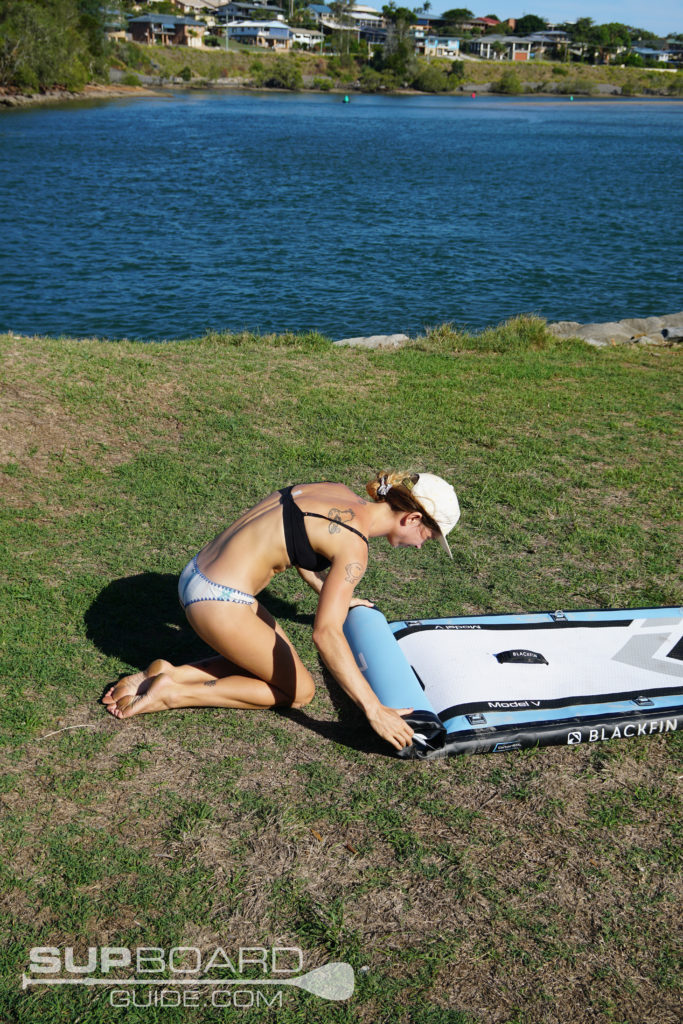 Inflate/Deflate
Pumping up by hand is a breeze with the new full-throttle pump. It takes about 5-8 mins to be inflated to the 15 PSI, that is without taking long breaks. Everyone will have a different experience depending on how hard you pump.
After pushing the pin down and twisting it to keep the valve open, you can start rolling the board up! If you are having trouble, leave the board in the sun for a bit, it helps soften the plastic making it easier to roll.
Accessories
Paddle
Your carbon paddle floats and weighs around 30 oz, making it a super lightweight addition to your day out. It breaks down easily into 3 pieces and fits snugly inside the bag. For those wondering, it can be adjusted from 72″ to 86″, by extending the handle out and clicking in place with the double pin lock.
I've found the Blackfin paddles to be strong, not flexing under pressure and propel through the water quite easily. The blade is a medium size, which suits the kind of paddling you'd be doing on the Model V. Last years graphics on the blades came off very easily so I'm glad to see they've simplified the design and moved it away from the edges where the most damage happens.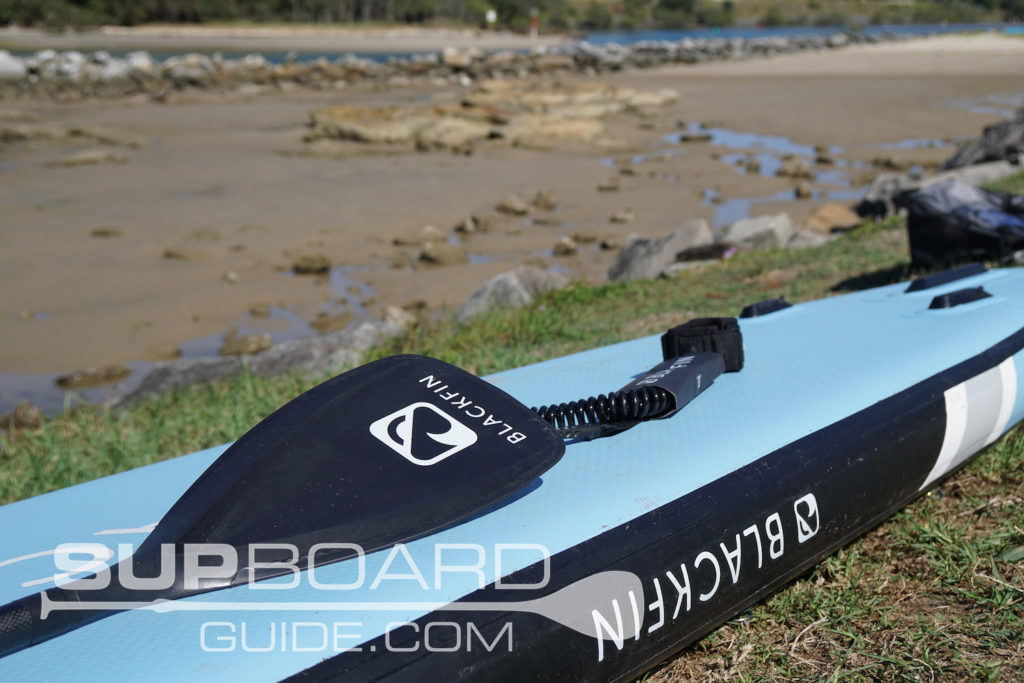 Backpack
Storing your SUP in style is the Blackfin bag. It's the same comfortable and supportive backpack from last year, just now color coded. If you own more than one Blackfin, this is actually super helpful! The Blackfins are a bit heavy, while entirely possible to carry them in the backpack, for long distances, you probably want to wheel them. Luckily for you, the bags have durable and strong wheels to roll over lots of terrains. You'll notice the wheels are placed on the front too, this is to stop the straps getting caught in them.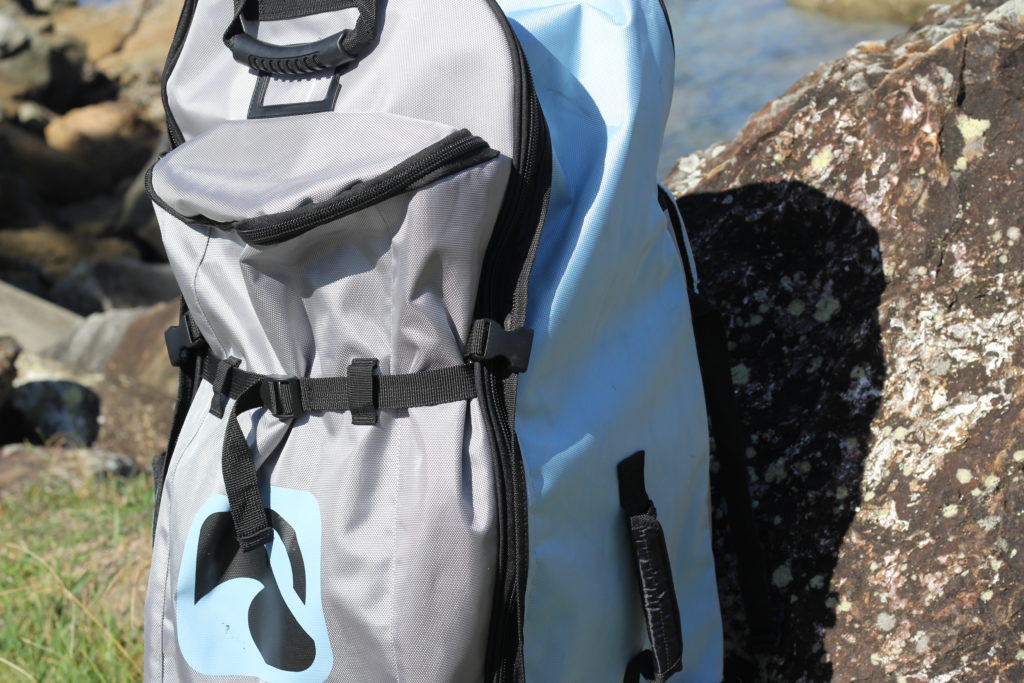 Inside the backpack, you'll find heaps of room for your board and all the accessories while the pocket up the front fits the pump in snug. There's handles all over the bag for safe handling and the materials I have found to be strong, not ripping or tearing even after a years use.
Pump
Last year a double chamber, triple action pump was brought out and announced to be included in all iRocker packages. Blackfins already had one included that was similar. This year, they've gone and improved that most recent pump again.
The full-throttle hand pump is competitive. It's small and light, but more importantly fast and efficient! It inflates up to 50% quicker than previous pumps! I'm putting it out there that it's definitely given Red Paddle Co Titan pump a run for its money.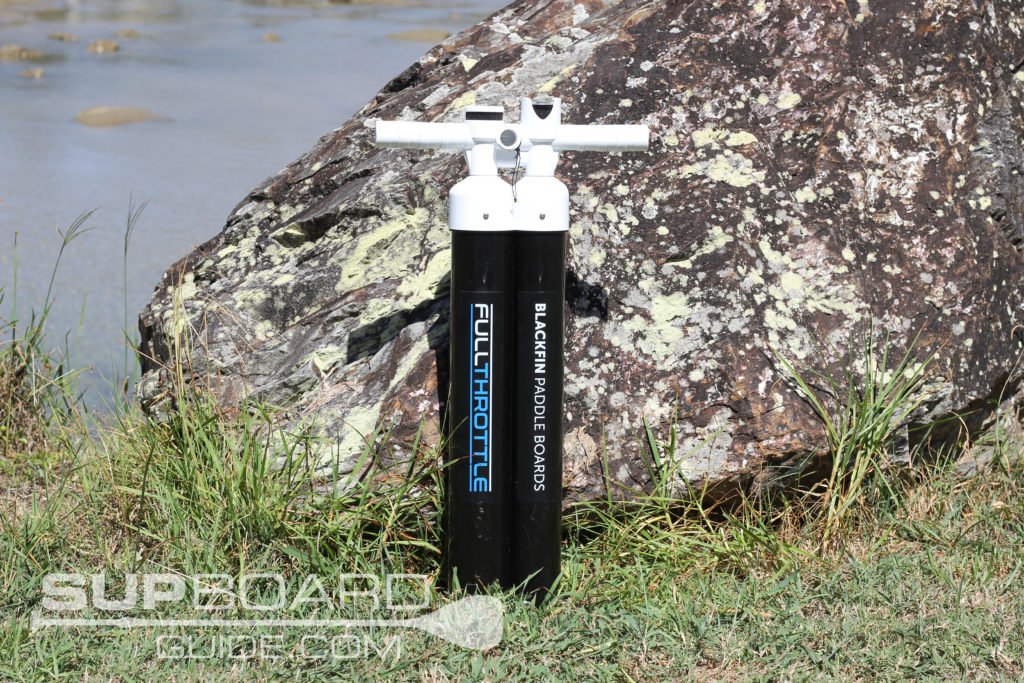 Using the triple action feature, allows you to swap as you feel you need to, making it also one of the easiest pumps to use. No point tiring your arms out before you've even got on the water!
Leash
Don't take the risk of being swept away without your board and attach your leash! Obviously, in calm conditions, it's not as futile but those who aren't strong swimmers, it's advised to wear the leash. Other problems that can arise are your board being damaged or damaging someone! The coil in the leash helps prevent it from falling in the water and being caught on objects and the cuff is very comfortable with a key stash spot in the velcro.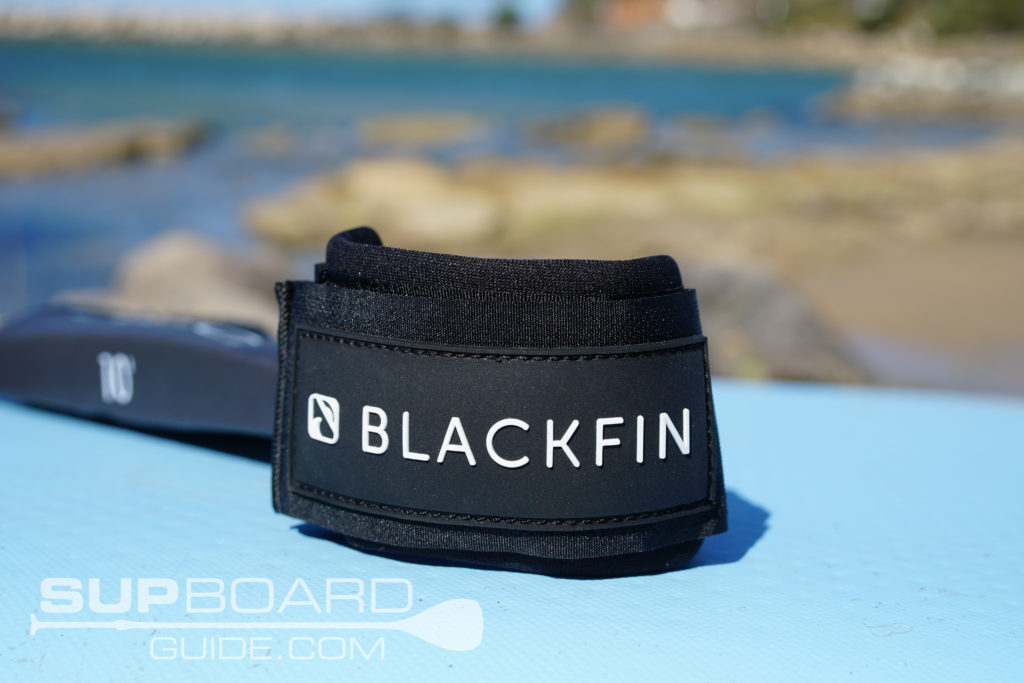 Extras
Waterproof Bluetooth Speaker
Treat the fishes to a tune or two and take this entirely waterproof speaker out with you next time. Suction cup it to the bottom of your board (okay maybe not the best idea) or can also be attached at the action mount. It stores music in the speaker so you don't even have to take your phone either! Genius!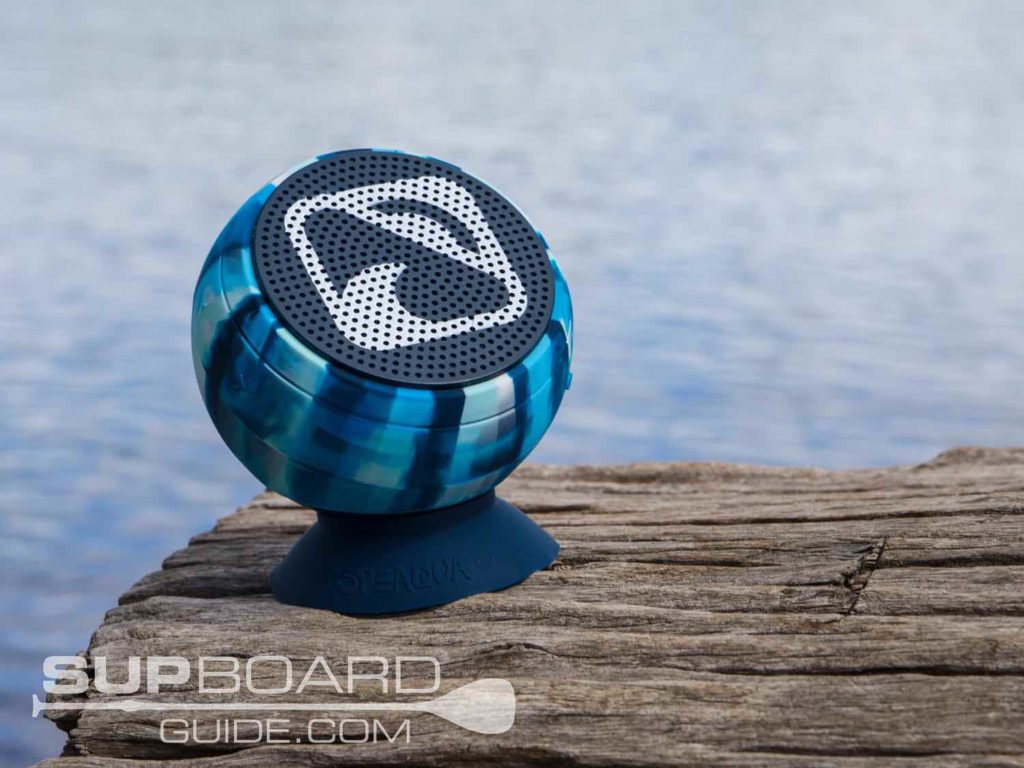 Kayak Bundle (Upgraded from 2018)
The upgrade is a little bag on the back of the kayak seat. Clip your kayak seat on the D-rings and insert the extra blade into the handle end of your paddle and away you go!
Go Pro Mount (New)
Re-live your favorite paddle adventures with Go-Pro mount that screws into the action mount.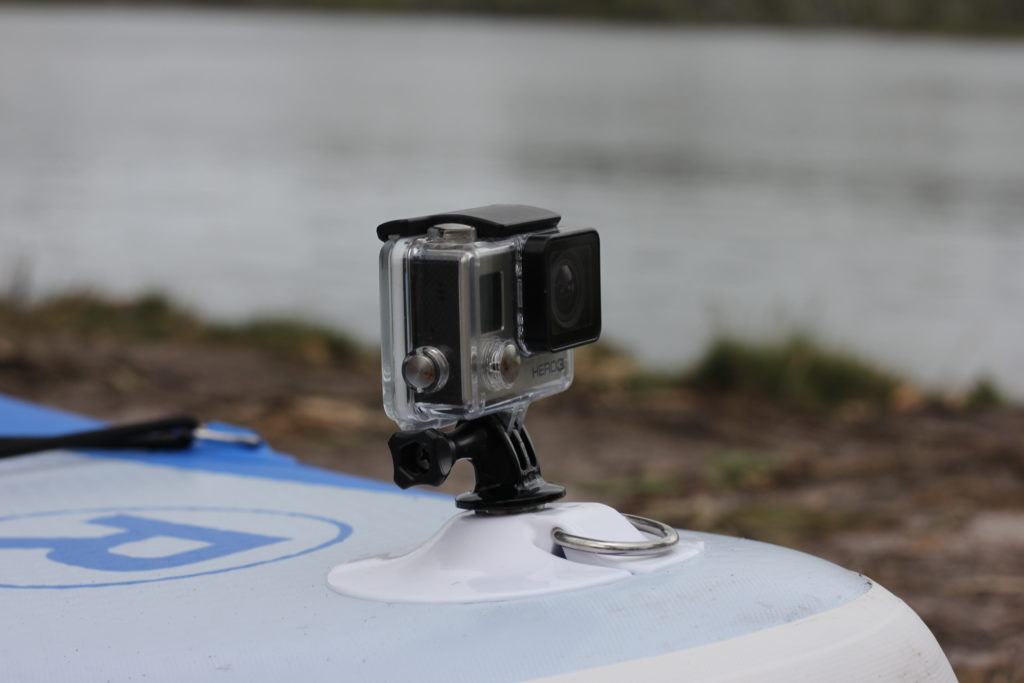 Fishing Rod Holder (New)
Imagine going for a paddle AND catching dinner…what a day that would be!
Deck Bag (Same as 2018)
Great for storing your snacks and smaller extras. Secures tightly with clips onto to D-rings.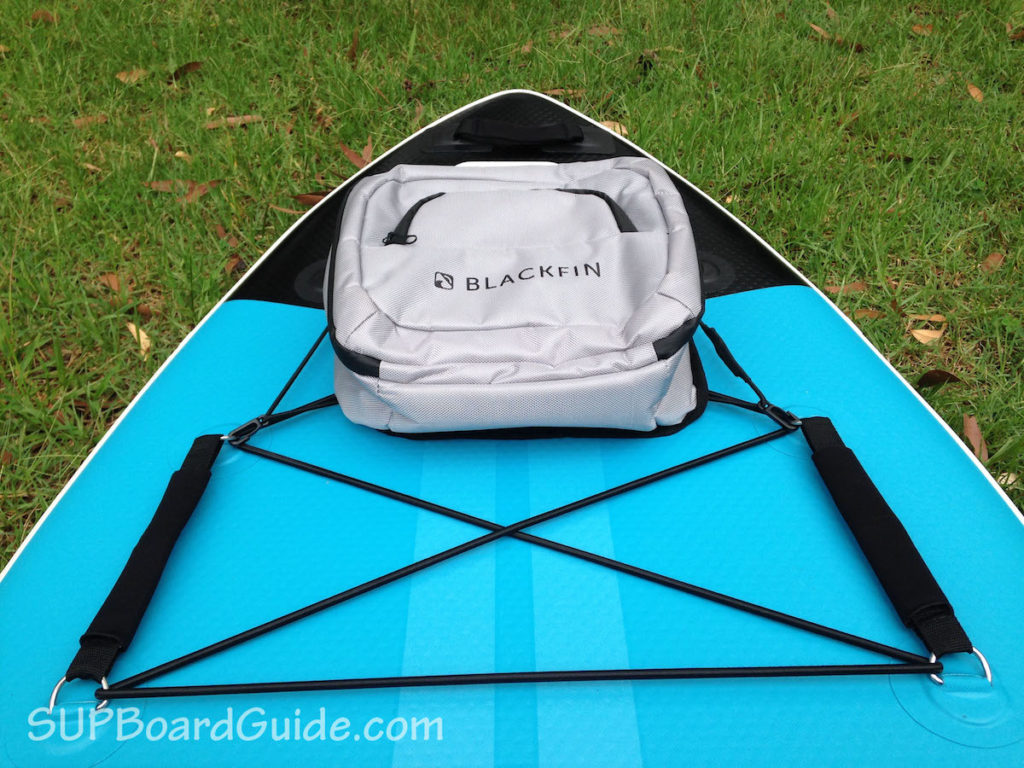 Carry Strap (Same as 2018)
For those needing assistance, the strap is a great addition.
Electric Pump (New)
Heading out at least weekly? Invest in a compressor! I promise it'll change everything! This can be utilized by either the 12V plug that goes into your cigarette lighter socket or the alligator clips straight onto a battery.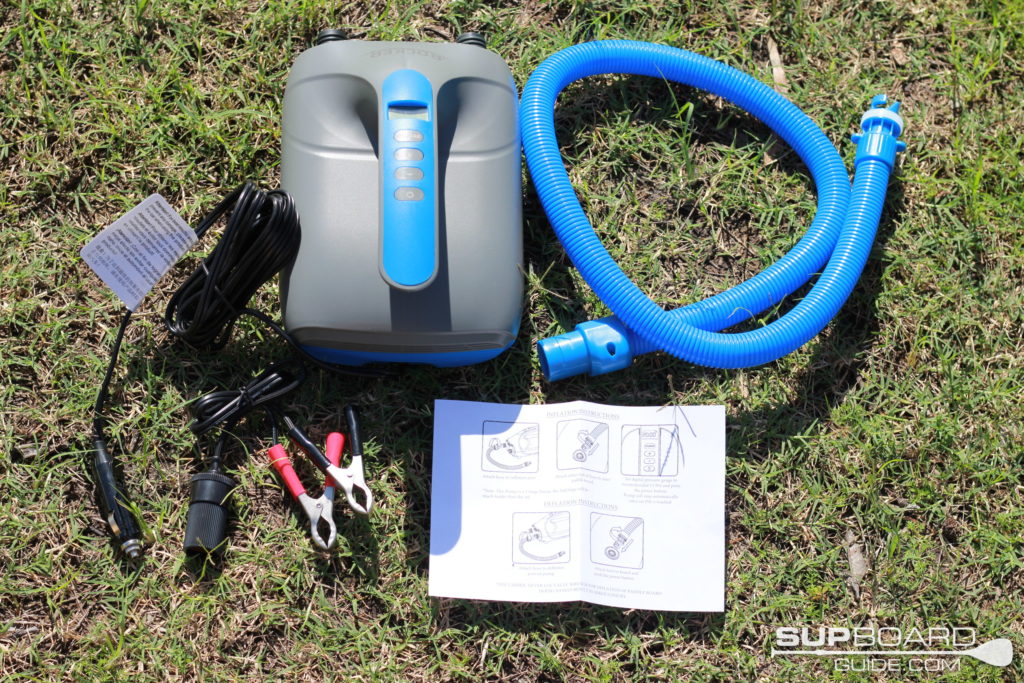 Conclusion
The Model V is an outstanding addition to the Blackfin family. While the Model X and XL are great touring boards, they are more designed for an easy ride. If you want to take others out or lots of great the X and XL are perfect. While the Model V is a really fun, speedier version while still being plenty stable for beginners too.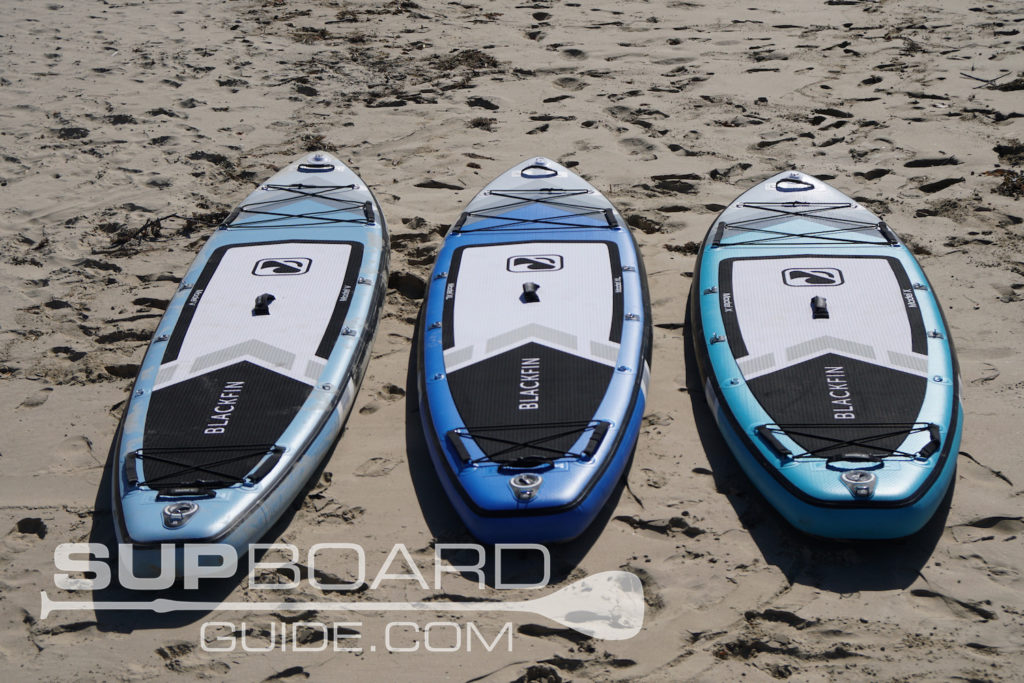 If you are wanting something even speedier the new Thursosurf Expedition guarantees a good time! It's fairly narrow so you want to have paddled before or be confident you'll get the hang of it quickly.
iRocker has a 2-year warranty on all their products, as well as a 30-day cash back guarantee. Their customer service is as premium as their boards. You'll be looked after, you have our word.
The following two tabs change content below.
SupBoardGuide
Heyo! At SupBoardGuide.com we are a team who love the water, the outdoors, and are more than grateful that our full-time job allows us to review stand up paddle boards. We paddle year round (it helps that we are just about 2 hours outside of Las Vegas), and we bring in a wide range of paddlers with the goal of providing our readers with the best, most in-depth, and accurate stand up paddle board reviews.
Latest posts by SupBoardGuide (see all)