Updated: 2/1/2018 Choosing the ideal stand-up paddle board can be tough. Don't just rush to the shop and buy whatever paddle board you can get your eyes on. Take time to decide. Consider your budget and the perfect type of board that will suit your needs.
See our Top 3 Ocean SUPs

Four Types of Paddle Boards
Generally speaking, there are four types of paddle boards. First, there are paddle boards specified for surfing. These ones are shorter and made with a narrower tail and nose. Secondly, a paddle board made for windsurfing. Aside from the main specs, this is made with a mast foot fitting so that a windsurf sailing rig can be mounted on the deck. Then, there are touring boards made for flat water, open ocean, and downwind. Lastly, there is an all-around stand-up paddle board that is popular for its versatility. This type of board is ideal for the beginners since it can be used anywhere.
The Best SUP for Ocean Paddling
When you've decided that want to do more of ocean paddling, choose a touring board. This type can be used in flat water and downwind too. These boards are a bit longer than all-around boards to make them faster. For smooth paddling, it is made with a pointed nose. The touring board has rounded rails in front. Touring boards are ideal for ocean paddling because they provide you with speed. It is also optimized for the open ocean because it makes the board slice smoothly through the water. Its shape increases glide and aids in making the board go straight. Now that we've narrowed down the selection of boards suitable for ocean riding to touring boards only let's dig deeper into what kind of board is best for the different types of riders.
My Top 3 Ocean Paddle Boards

Keeper Sports
The Keeper Sports  is a beginner SUP that is as cheap as it gets at around $600. It's perfect for beginners and definitely a great option starting out. It's light, comes complete with a paddle and other extras and offers good stability with a 32-inch deck. You can check the current price here.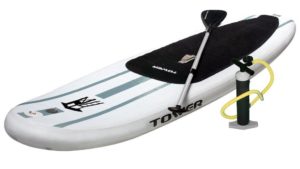 Tower
The Tower Paddle Board is another low-cost option. It's the best board under $1000 we've tested, and it's also inflatable making it very easy to transport and store. The Tower Board is very stable and performs great on the ocean surfing small waves. Check it out here.

Starboard
The Starboard Atlas is a slightly more advanced option. It is reasonably priced and offers more stability and maneuverability compared to the cheaper boards. It is designed for taller riders though so keep that in mind. If the Atlas sounds like it might be the board for you. A stand-up paddleboard is an investment. If you truly love the sport and the ocean, you'll probably spend a sum of money for it. This is why you need to figure out what the best board is for you. The three options above are all great choices and something you can go wrong with. If you want to invest a bit more money and get a professional board be sure to check out our touring section to read reviews of all boards currently on the market.
The following two tabs change content below.

Justin Taylor, Head Paddler
At SupBoardGuide.com we are a team who love the water, the outdoors, and are more than grateful that our full-time job allows us to review stand up paddle boards. We paddle year round (it helps that we are just about 2 hours outside of Las Vegas), and we bring in a wide range of paddlers with the goal of providing our readers with the best, most in-depth, and accurate stand up paddle board reviews.

Latest posts by Justin Taylor, Head Paddler (see all)