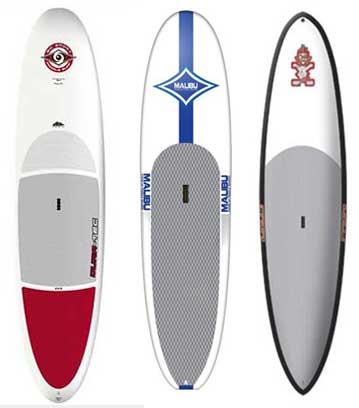 Finding the Right SUP Board for Less Than $1,000
Let's face it: stand up paddleboards are somewhat expensive. Just like skiing, snowboarding, or surfing, it's an investment into a healthier way of life. It's also just fun.
There's no need to feel too guilty, because we usually find that the benefits of owning a piece of equipment like a paddleboard are outweighed by the quality of life enhancements.
All that sounds great. But most new paddleboarders would rather find a deal on a great starter package. There's no need to spend extra money on a board with added bells and whistles if the main goal is finding a new hobby, healthy activity, or reason to spend more time outside.
Luckily, there are more than a few options in the SUP world for finding a high-quality board that won't break the bank.
To that end, we find that $1,000 is the cut off for many who are just entering the sport or even upgrading to a better board.
The below list includes 3 recommended SUP boards for under $1,000:
Each board meets the following criteria:
It's an all purpose board suitable for all skill levels and most conditions
Construction is modern, durable and light
The board is family friendly (i.e. designed with soft features, deck pads, not too large but still stable)
Our product recommendations are based on a combination of SUP board demos, significant product research, and consumer reviews.

BIC Dura-Tec SUP

A Popular and Durable Recreational Board
The Bic Dura-Tec is the go to SUP for many families and rental outfitters. The reason is simple: it's durable, relatively lightweight and budget friendly.
The Dura Tec comes in 3 sizes: 9'4″, 10'4″, and 11'4″.  The size you choose will depend on the weight of the rider. The 9'4″ is best for riders up to 135 lbs. The 10'4″ is best for riders up to 185 lbs. The 11'4″ is best for riders up to 210 lbs.
The Bic Dura-Tec is designed with a polyethylene outer shell to provide protection from all the knocks your board will take (mostly in carrying it to and from the shore). It remains lightweight thanks to a high density polyurethane foam core.
If you've rented a SUP while on vacation, there is a good chance you've already tried this board out. The reason so many shops and clubs rely on this board is because it is built to last and withstand multiple uses season after season. It's also perfect for novice and intermediate paddlers.
Reviewers of the Dura-Tec have remarked on the ease of transport, recessed carry handle, durability compared to fiberglass boards, and overall stability.
This is important, especially since stability is the biggest factor for most novice paddlers.
As we mentioned, the Dura-Tec is also budget friendly. Pricing increases with board size, but averages around the internet are as follows: $749.95 (9'4″), $799.95 (10'4″) and $849.95 (11'4″).

Pau Hana Malibu EPX 
Entry Level Stability with Style
The Pau Hana is a newly featured board on the SUP Board Guide. We've included it in this list of the best SUPs for under $1,000 because it meets all of our criteria and has some unique qualities as a starter board.
The Pau Hana surf and SUP company was founded in 2006. They produce a line of high quality boards ranging from steady platform yoga SUPs to high cadence performance rides.
The term Pau Hana is a Hawaiian term which means, "The time after work. It is considered a time for relaxation, informal socializing with friends and family, and enjoyment."
Sounds like the perfect name for a SUP company. We look forward to featuring more of their products and information on the site.
The Malibu EPX is designed as an entry-level epoxy board. There is another Malibu without the EPX added performance and durability – also great for beginners and featuring a soft top for added comfort and protection.
Each board is based on the very stable and ideal learning friendly design of the Big EZ (and Big EZ Air).
This board comes with the full package to get you up and running, including board bag,  adjustable aluminum paddle, and fin. It also comes with a standard single 9′ fin box that will accept any standard fiberglass fin, and has a center mounted handle for easy pick up and carry. The Malubu EPX is designed for use and stability in both flat water and chop.
Starboard Blend SUP 11'2″
A True Crossover SUP
The Starboard Blend offers an affordable crossover SUP. This board "blends" the features of a classic wave riding longboard (i.e,. the round nose and symmetrical design) with excellent glide for flatwater riding.
It has been described a "joy" on distance riding and well as board that can perform on most wave sizes.
The 11'2″ size works well for most adult riders looking to own a single board that they can take out for both cruising and surfing.
This size will accommodate riders up to 210 lbs, but it is still maneuverable for smaller, lighter riders. The  board's glide features, such as the V shaped tail and nicely elevated nose, add to its maneuverability.
One of the unique features of the Starboard Blend is the full EVA deckpad. This pad covers a large portion of the board and is designed with 4mm square grooves, adding significant traction and comfort.
This is one of the reasons this board is great for novices. At 30″ wide, it is also plenty stable for most flatwater conditions.

It also comes with a wave ready triple fin thruster set-up. The fin set up also helps with tracking and stability
Starboard Blend Slick SUP Paddleboard 11Ft 2In X 30In regularly $999.00 on sale $799.95
Those are just three SUP boards among many excellent choices within the $1,000 range.
Find a brand you trust, review their construction process, read reviews, and if you have a chance, demo the board to really get a feel for whether it's the right fit.
The following two tabs change content below.
SupBoardGuide Editorial Team
At SupBoardGuide.com we are a team who love the water, the outdoors, and are more than grateful that our full-time job allows us to review stand up paddle boards. We paddle year round (it helps that we are just about 2 hours outside of Las Vegas), and we bring in a wide range of paddlers with the goal of providing our readers with the best, most in-depth, and accurate stand up paddle board reviews.
Latest posts by SupBoardGuide Editorial Team (see all)