SUP board bags serve two purposes: 1) a bag makes the paddleboard easier to carry and 2) the bag protects the board during transportation. It's most common to start looking for a bag for the second reason, a concern of scratches and dings grows the more you lug your board to and from the shore.
A bag can also protect the board's shape and finish from excessive heat. You'll see many bags designed with UV coatings and reflective materials for this reason. Padded shoulder straps, handles, paddle attachments, and extra pockets for gear and fin storage also make it possible for you to comfortably carry your whole rig across rocky shores and over longer distances.
Transportation vs Storage
In general, it is not recommended to keep your SUP in a bag for long-term storage. This is because the board needs to breathe, and storage in a moist environment can result in molding and blisters on the surface of the board. Look for ways to reduce this problem through ventilated bags. Certain bags are designed with air vents, mesh or breathable sections, so they are more appropriate for extended transportation of even long-term storage.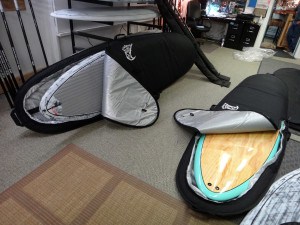 Check the Foam
Most bags  are designed with foam padding to protect the board. You will also find thicker foam padding along the ridge of the board and on the nose and tail to protect these more vulnerable points of the board. If you are more concerned with board protection, compare the thickness of the foam padding among bag options. It is common for boards to have approximately a 1/4″ layer of foam in the main body of the bag, with reinforced areas as mentioned. If you need something lighter and easier to pack, a thinner layer of foam may help.
One thing many SUP bag shoppers overlook at times is the quality of the zipper. Think about how the elements can wreak havoc on a metal sipper. That is unless you find a bag with rugged, marine grade zipper that are made to withstand corrosive environments.
Bag Sizing
This is obviously an important consideration. Many people prefer to find a bag fitted to their board's size. You can find bags for most sizes, usually up to 12′ but with some options hitting the 14′ mark.
If you have more than one board, or if you anticipate having a new board but keeping your bag, there are several adjustable options on the market. These boards will usually state the range of adjustable sizes (i.e. 10'6″ – 12′). It 's always nice to have a little flexibility. However, some prefer to have a fitted bag and claim that there is more quality protection.
Recommended SUP Board Bags
The No.1 bag I always recommend is the FCS SUP Adjustable Dayrunner. I use it myself and am super happy with it.
You can read my full review here.
The following two tabs change content below.
SupBoardGuide Editorial Team
At SupBoardGuide.com we are a team who love the water, the outdoors, and are more than grateful that our full-time job allows us to review stand up paddle boards. We paddle year round (it helps that we are just about 2 hours outside of Las Vegas), and we bring in a wide range of paddlers with the goal of providing our readers with the best, most in-depth, and accurate stand up paddle board reviews.
Latest posts by SupBoardGuide Editorial Team (see all)