Starboard 10'8 iGO Deluxe SC iSUP
Pros
Lightweight and rigid; has a fun, nimble feel to it while paddling
Extra couple of inches in length and an extra inch in width makes this SUP just a bit more stable than a more standard 10'6 x 32" all-around
Comes with a good quality accessory kit from Starboard
Included shoulder carry strap makes long walks to the water a bit easier
Cons
Comes with a higher price tag than others on the market due to Starboard's advanced construction and excellent reputation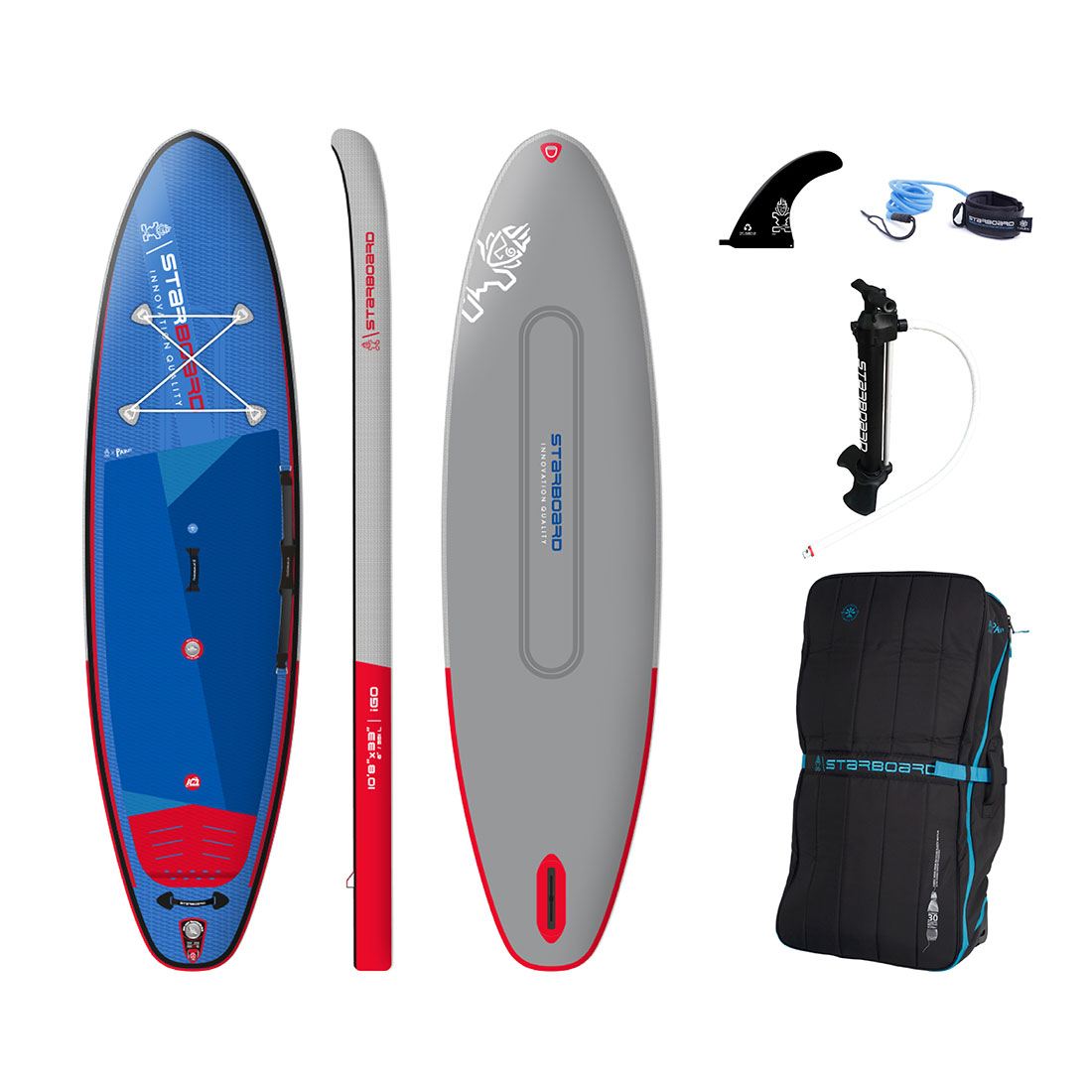 Admittedly, we underestimated Starboard's all-arounds before getting through this series of reviews. Of course, we've been massively impressed with their inflatable race series, but we expected the all-around SUPs to be a bit of an afterthought for this championship-winning brand. However, as we reviewed Starboard's 10'8 x 33" iGO Deluxe SC it continued to win us over, and we became increasingly smitten with its on-the-water feel.
This all-around board from Starboard is their version of a higher-performance all-around that provides a bit of extra stability. By making this SUP slightly larger than a standard 10'6 x 32" all-around, Starboard maintained a fun level of maneuverability and comfortable speed capabilities while their lightweight and rigid construction made this board impressively responsive.
It'd make a good, versatile addition to any paddler's arsenal, whether that be an entry-level paddler looking to mitigate their learning curve without getting bored, an experience paddler that needs some extra volume, or a taller/heavier paddler that doesn't want to sacrifice stability for the sporty, agile feel of an all-around SUP.
And, when we say 'versatile' here, we mean in terms of performance, not necessarily in features and add-ons. Starboard takes a minimalist approach and exemplifies the statement 'less is more'. While not decked out with action mounts and scotty mounts, the 10'8 x 33" iGO Deluxe SC can handle a wide range of paddling environments and disciplines regardless of if you're paddling in a flatwater lake, powering through boat chop and wake, exploring ocean habitats, or cruising down slow-moving rivers – this SUP can handle it all.
We think the Starboard 10'8 iGO Deluxe SC would be great for paddlers who
Need a little bit more stability than they'd get from a 10'6 x 32" all-around
Want a board with a sporty and nimble feel to it
Value lightweight, but rigid construction
Need a board capable of tackling a wide range of water conditions
Starboard 10'8 iGO Deluxe SC: Spec Sheet
Main Category: All-Around, Inflatable
Board Dimensions: 10'8 x 33" x 6"
Listed Board Weight: 19.8 lbs
Listed Max Capacity: 265 lbs
Recommended PSI: 15-18 PSI
Fins: Single center fin
Paddle: Not included
Materials: Woven drop stitch w/ fusion dual layer
Price Range: high
Warranty: 2-year
Performance Review of the Starboard 10'8 iGO Deluxe SC Stand Up Paddle Board
Overall Score: 9.6/10
Stability: 9.0/10
Speed: 8.9/10
Tracking: 9.1/10
Maneuverability: 9.5/10
Construction Quality: 9.7/10
Features/Accessories: 8.7/10
Stability Rating: 9.0/10
This SUP is 33" wide, making it more stable than a standard 32" all-around. Because of this, it's a good option for entry-level paddlers that need a forgiving level of stability or for heavier paddlers that need more volume than more standard all-arounds can offer. I've also loved it as a stable option to bring along my dog or carry some heavier gear. It also has a bit more stability for taller paddlers than a 10'6 all-around, due to those extra two inches in length.
Speed Test: 8.9/10
The Starboard 10'8 iGO performed fairly well in our speed testing considering its 33" width. It keeps its momentum well and was able to hold at about 3.62 when paddled at a moderate pace, probably at 70% effort. It picked up speed easily during our sprint test also, reaching 4.53 mph for about 10 seconds while paddling at 90% effort.
For an all-around these results are great, and it shows that this SUP could easily keep up with or out-paddle narrower, 32" all-around boards.
Tracking: 9.1/10
Given that this is an all-around board, and therefore more maneuverability-focused, we weren't expecting immaculate tracking capabilities. However, this board tracks surprisingly well, especially when we consider how maneuverable it is. We found that we needed to switch sides every 4-7 strokes, which is slightly above average for SUPs in this category.
Maneuverability: 9.4/10
Maneuverability-wise, this SUP again faired extremely well in our testing, and it feels very playful and nimble.
It's very responsive overall and can be turned quickly using basic turning maneuvers like sweep strokes from the nose or tail. It's also a ton of fun to practice your pivot turns as well, since its stability makes it easy to walk back toward the tail and the raised kick pad provides a perfectly placed brace for your foot.
Construction Quality: 9.7/10
The 10'8 x 33" iGO Deluxe is constructed with Starboard's woven drop stitch which means the base fabric is a woven material while the threads are oriented in an 'X' pattern. This enables Starboard to achieve a higher level of rigidity using less material than would be needed to reach the same level of stiffness with linear drop stitch, making the board lightweight.
They've also stiffened their rails by using dual layers of PVC and cut weight further by fusing their layer of PVC to the top and deck of this board rather than using glue alone. Lastly, Starboard heat welds their seams to reinforce their airtight seal and limit the risk of seam failure.
Clearly, Starboard prioritized lightweight and rigidity in their Deluxe models, and it definitely paid off in terms of performance.
Board Stiffness: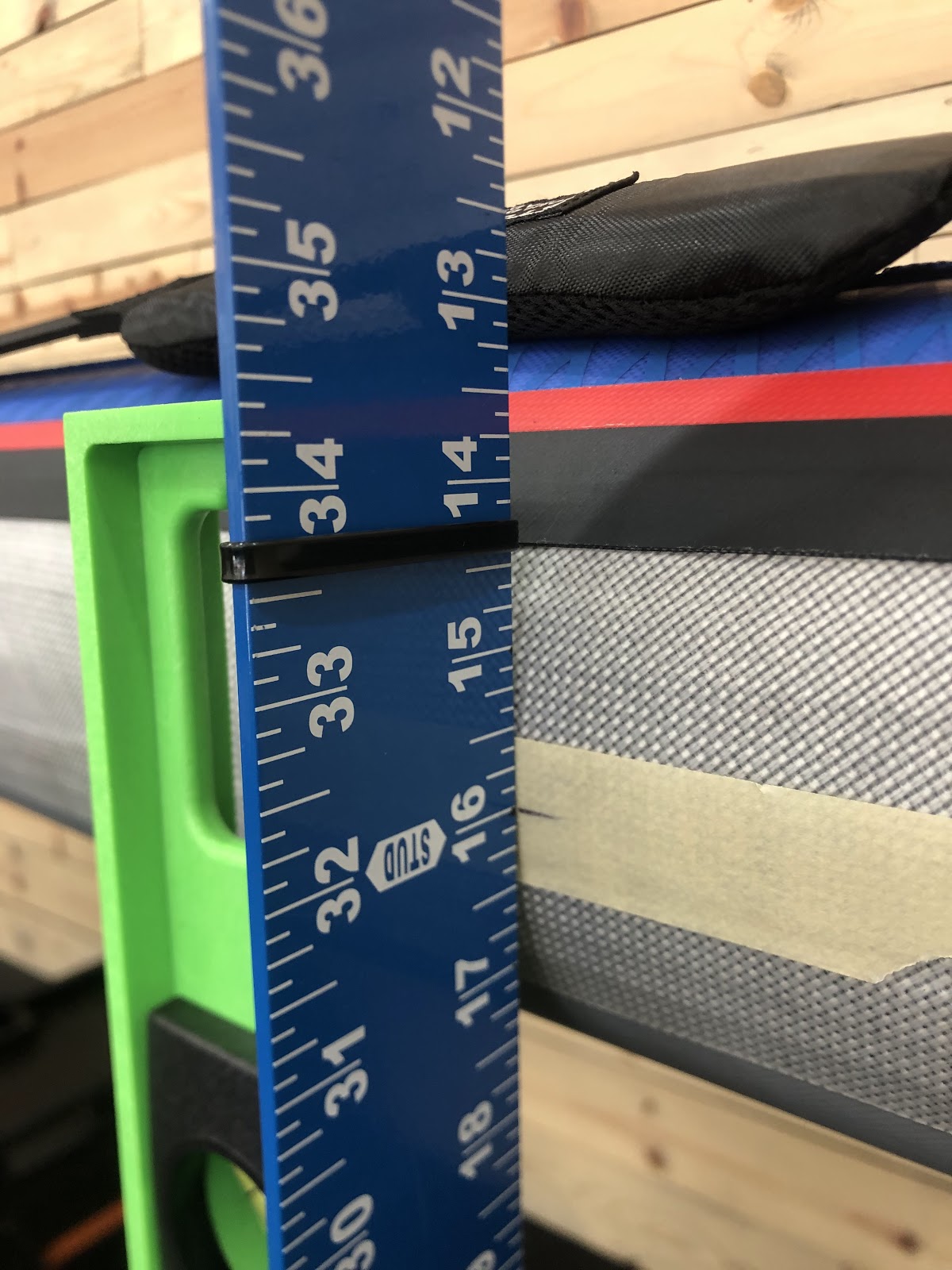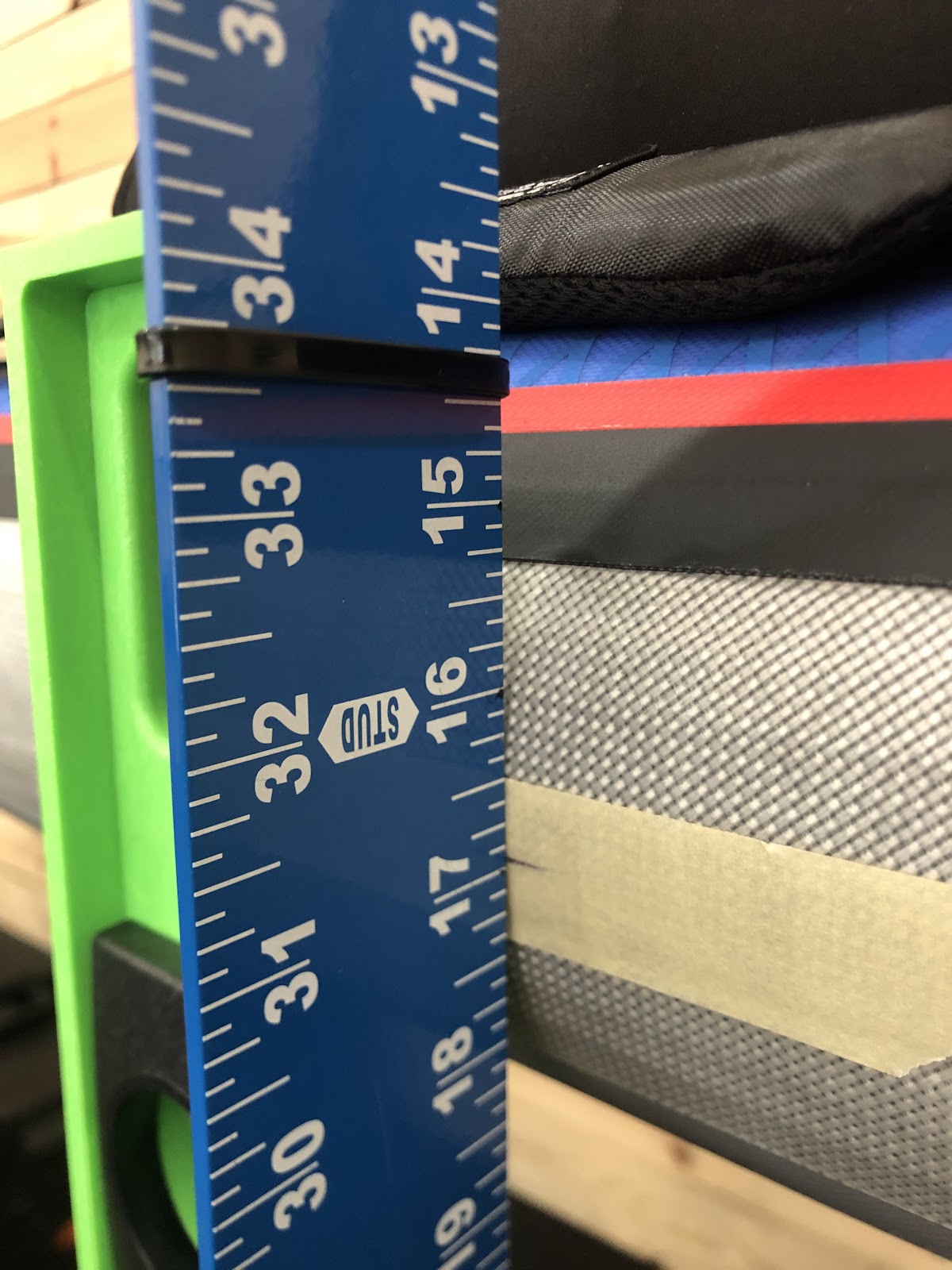 Stiffness Test: 1" Bend
Our stiffness test is completed by pacing the SUP on top of two sawhorses spaced 7' apart. We then load the board with 150 lbs at its midpoint and measure how much it bends under the weight. This isn't meant to replicate conditions on the water, but it does give us a qualitative value to compare different construction techniques and materials and understand how they contribute to stiffness.
The 10'8 Starboard only gave way to about 1" of bend, which is impressive considering how lightweight this SUP is. It's among the top boards we've ever tested, despite being less than 20 lbs. And, this rigidity can be felt on the water through this board's responsiveness and ability to carry heavier loads.
Features/Accessory Review: 8.7/10
This board definitely leans towards minimalism when it comes to added features.
On the nose, there is a small cargo area that can fit a couple of dry bags of day gear, which we think is perfectly appropriate for an all-around SUP. There is also a standard center carry handle and an additional carry handle on the tail to help with launching or bringing this SUP back into shore.
The deck pad is a comfortable diamond groove pattern, which balances grip and comfort. Though our favorite feature on the 10'8 iGO Deluxe is its raised kick pad. It is perfectly placed to add a fun level of maneuverability to this board and makes it even more fun to execute some pivot turns.
We also do appreciate the included shoulder carry strap, though it's not the most comfortable strap we've ever used. It is still nice to use if you have a longer walk to the water.
Included Accessories:
This SUP comes with a shorter accessory list, though does still include most of the necessities to get you started. Shipped with the 10'8 x 33" iGO Deluxe are the following:
Center fin
Leash
Single chamber hand pump
Wheeled SUP backpack
There is a lot to like about this kit. All of the accessories are good quality, and we particularly like Starboard's included leash. Though simplistic visually, we love that it flattens out when stepped on. It makes moving around the board more comfortable as you won't be tripping over your coiled leash.
Summary Review of the Starboard 10'8 x 33" iGO Deluxe SC iSUP
Overall, this is simply a fantastic all-around board that can suit a wide range of paddlers and conditions.
Starboard has found a sweet spot when it comes to added stability without taking away maneuverability, speed, or a lightweight build. Their 10'8 x 33" iGO Deluxe has quickly become one of our favorites and we've found ourselves reaching for it more and more whether we're going out for a quick paddle after work, or need a versatile board to take out with a group of friends.
The one thing to note, however, is that this board is undeniably more expensive than other all-around options on the market. And, the reason for the price tag is due to Starboard's advanced construction techniques and its stellar reputation across the industry – though with these types of construction techniques becoming increasingly common for lower prices, we're interested to see how Starboard continues to evolve and set the standard for stand up paddleboard design and construction.
As always, we hope you've found this review helpful and we encourage you to reach out in the comments below if you have any questions or feel that we've missed something.
Stay safe and happy paddling!
The following two tabs change content below.
SupBoardGuide
Heyo! At SupBoardGuide.com we are a team who love the water, the outdoors, and are more than grateful that our full-time job allows us to review stand up paddle boards. We paddle year round (it helps that we are just about 2 hours outside of Las Vegas), and we bring in a wide range of paddlers with the goal of providing our readers with the best, most in-depth, and accurate stand up paddle board reviews.
Latest posts by SupBoardGuide (see all)