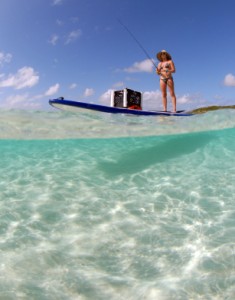 Stand up paddleboards and fishing are a perfect match. Just think about it . . . You can approach schools of fish quietly and access the shallow waters, jetties, rivers and inlets that boats cannot. You can paddle right up and move along the pilings where fish often hide out.
If you're an adept paddler, you can even troll by fastening your rod to the board (or using a rod holder if available) and tracking your bait or lure on a straight, quiet line (a great way to attract striped bass).
You might even get lucky and catch a rare breed for your area (as in catching an Atlantic salmon in the waters off New York City).
Practice First
Many people are able to find their balance and begin stand up paddle boarding pretty quickly. However, fishing from your board may involve a little more balance and agility.
To feel confident during your first foray into SUP fishing, first spend some time with your board on the water practicing, either with a rod or mimicking the movements of casting and bringing a fish aboard.
Think about the balance and feet movements that would be involved in fighting a large fish. If you catch one, you may be in for a little tow (be prepared – but this often the fun part). Many people choose to kneel on their boards when fishing, or when paddling out to the fishing location.  A lower center of gravity can help when navigating choppier waters or reeling in a fish.
Use the right board
Many paddleboards are designed with fishing in mind, with rod holders off to the side, deck organizers, and mountable fish boxes for storing gear and tackle.
However, if you don't own or have access to a fishing specific board, your standard all-around  SUP may work just as well for your purposes. Use a board that is wide and stable enough for casting and reeling in fish. You also need places to store and hold tackle, gear and your pole (while you paddle) and paddle (while you fish). Webbing, elastic straps, and/or tie-downs work well for storage and transport.
This may all seem obvious, but the thrill of getting out on the water in solitude and up close to schools of fish can sometimes overshadow the basic needs for our trip. You don't want loose gear and distractions when you're out on the water.
Finally, unless you're planning to catch and release, which is certainly common among stand up paddlers, you should have a place to keep the fish for your journey home. Webbing or elastic straps will often work well for this.
Need some inspiration?
Check out some great YouTube footage of catching fish on a SUP.
Fishing from a SUP adds a whole new level of excitement and soulfulness to the sport. Now is the season to get out there and catch dinner from your SUP . . . or release it and enjoy the experience just the same.
Check out Fishing SUP Board Reviews Featured on The SUP Board Guide:
The following two tabs change content below.
SupBoardGuide Editorial Team
At SupBoardGuide.com we are a team who love the water, the outdoors, and are more than grateful that our full-time job allows us to review stand up paddle boards. We paddle year round (it helps that we are just about 2 hours outside of Las Vegas), and we bring in a wide range of paddlers with the goal of providing our readers with the best, most in-depth, and accurate stand up paddle board reviews.
Latest posts by SupBoardGuide Editorial Team (see all)