How glorious is that feeling of owning something new and shiny?
And how much more satisfying is it when you also know it's good quality!
Hornets Watersports Jaws MX2 paddle is high quality, eye-catching and easy to use. A trio of options; being fixed length or 2 types of adjustable for your convenience. Taking your paddle overseas? Choose the 3-piece that packs down neatly. Staying put? A fixed length to your optimum height or the 2-piece adjustable if you're sharing!
Upon taking a closer look at the paddle, I noticed it's up's and downs depending on who you are and where you'll predominately be paddling. So I thought I better point them out!
Let's start with the basics.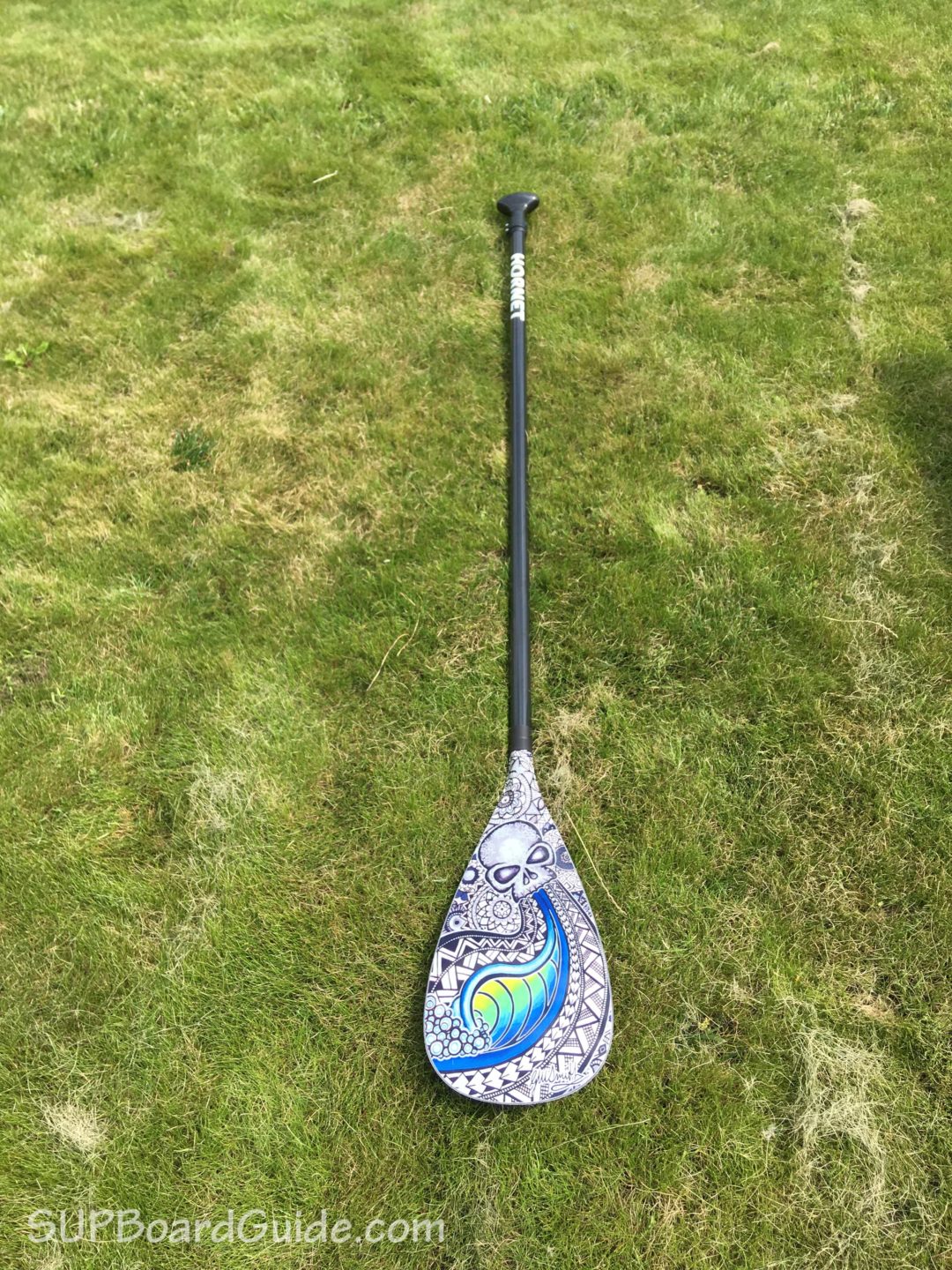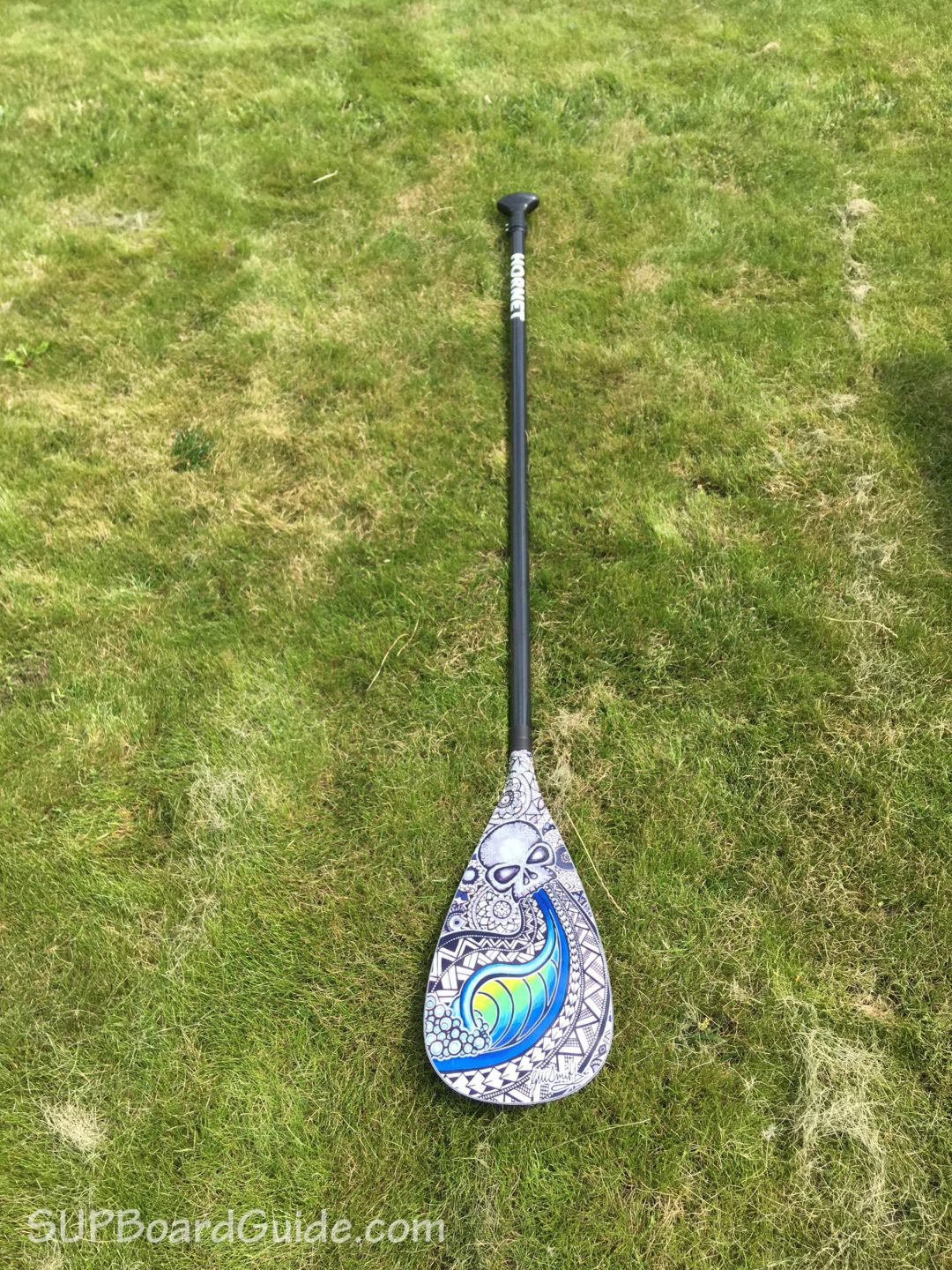 Paddle Specs
1 PIECE FIXED LENGTH
2 PIECE ADJUSTABLE
3 PIECE ADJUSTABLE

Materials

Paddle
100% Carbon Fibre

Shaft
100% Carbon Fibre

Handle
Carbon Fiber Ergo Palm Grip

Materials

Paddle
100% Carbon Fibre

Shaft
70% Carbon Fibre, 30% Fibreglass

Handle
Carbon Fiber Ergo Palm Grip

Materials

Paddle
100% Carbon Fibre

Shaft
70% Carbon Fibre, 30% Fibreglass

Handle
Carbon Fiber Ergo Palm Grip

Paddle Size

Paddle Size

Paddle Size

175cm (70") to 215 cm (85″) or you can buy one uncut.
155 cm (61″) to 230 cm (91″)
155 cm (61″) to 230 cm (91″)

Blade Dimensions

Length: 47 cm (18.5″)

Width: 20 cm (7.8″)

Weight: 220 g (7.05oz)

Surface: 613 cm2 (952")

Blade Dimensions

Length: 47 cm (18.5″)

Width: 20 cm (7.8)

Weight: 220 g (7.05oz)

Surface: 613 cm2 (952")

Blade Dimensions

Length: 47 cm (18.5″)

Width: 20 cm (7.8")

Weight: 220 g (7.05oz)

Surface: 613 cm2 (952")
Getting A Bit More In-Depth
Material
If you have chosen the fixed length, you'll get rewarded with a 100% carbon fiber paddle, the lightest and strongest paddle on the market. Don't be fooled that this means the adjustable isn't still of high quality, next in line of quality comes fiberglass paddles. Seeing as the adjustable is 70% carbon fiber and 30% fiberglass, you'll still have yourself a paddle made out of the best materials on the market. The carbon fiber makes the paddle super stiff. That way every paddle stroke will be as efficient as possible.
You can see a more detailed report of the materials on the Crush FX2 paddle. The two Hornet Watersports paddles are identical in materials.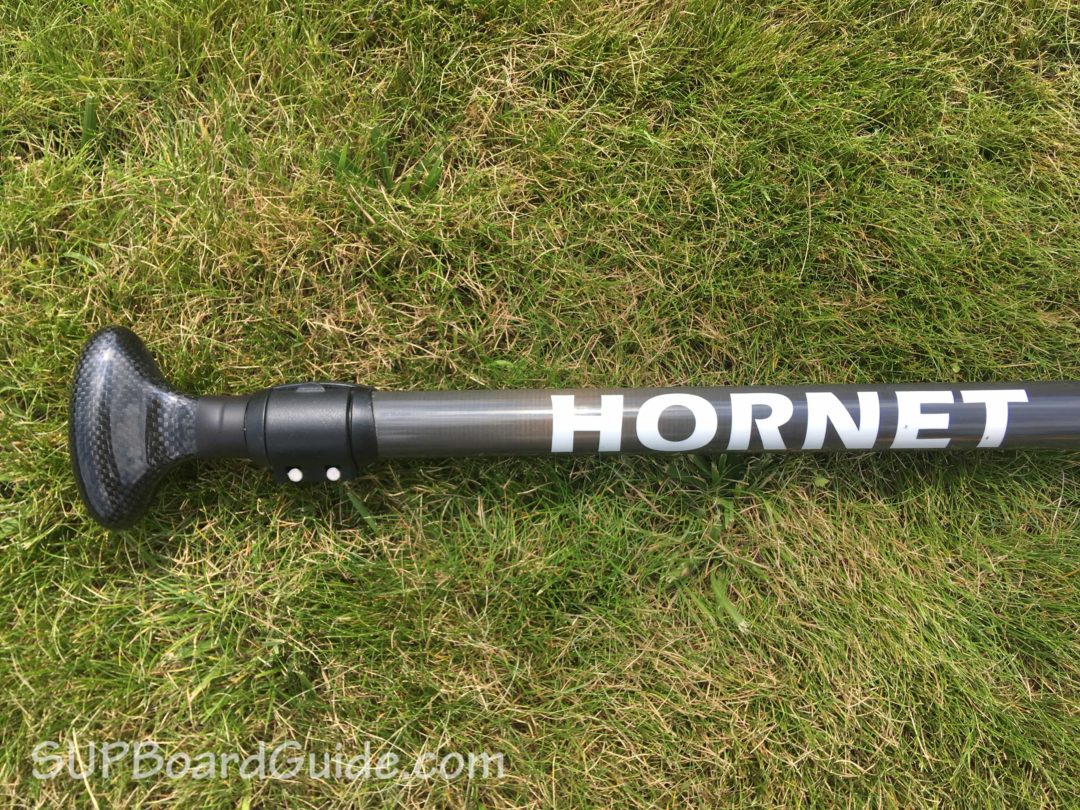 Weight
The weight of the Jaws MX2 is slightly more so than other Hornet Watersports paddles because of it's slightly larger paddle blade. The bigger blade has its advantages though which I'll explain below. A guarantee of it being one of the lightest paddles of its size is still in place though!
I weighed the paddle, and it weighs about 670g (about 1.47lbs). I weighed a few different aluminum paddles, and they weigh about twice as much. Even though 2.5lbs+ might not seem super heavy at first, it will feel like a massive difference when you see them next to each other. And trust me, after a couple hundred paddle strokes you will feel the difference as well.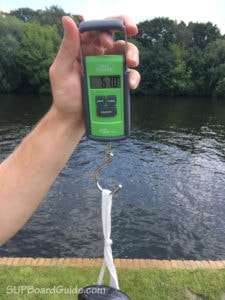 Blade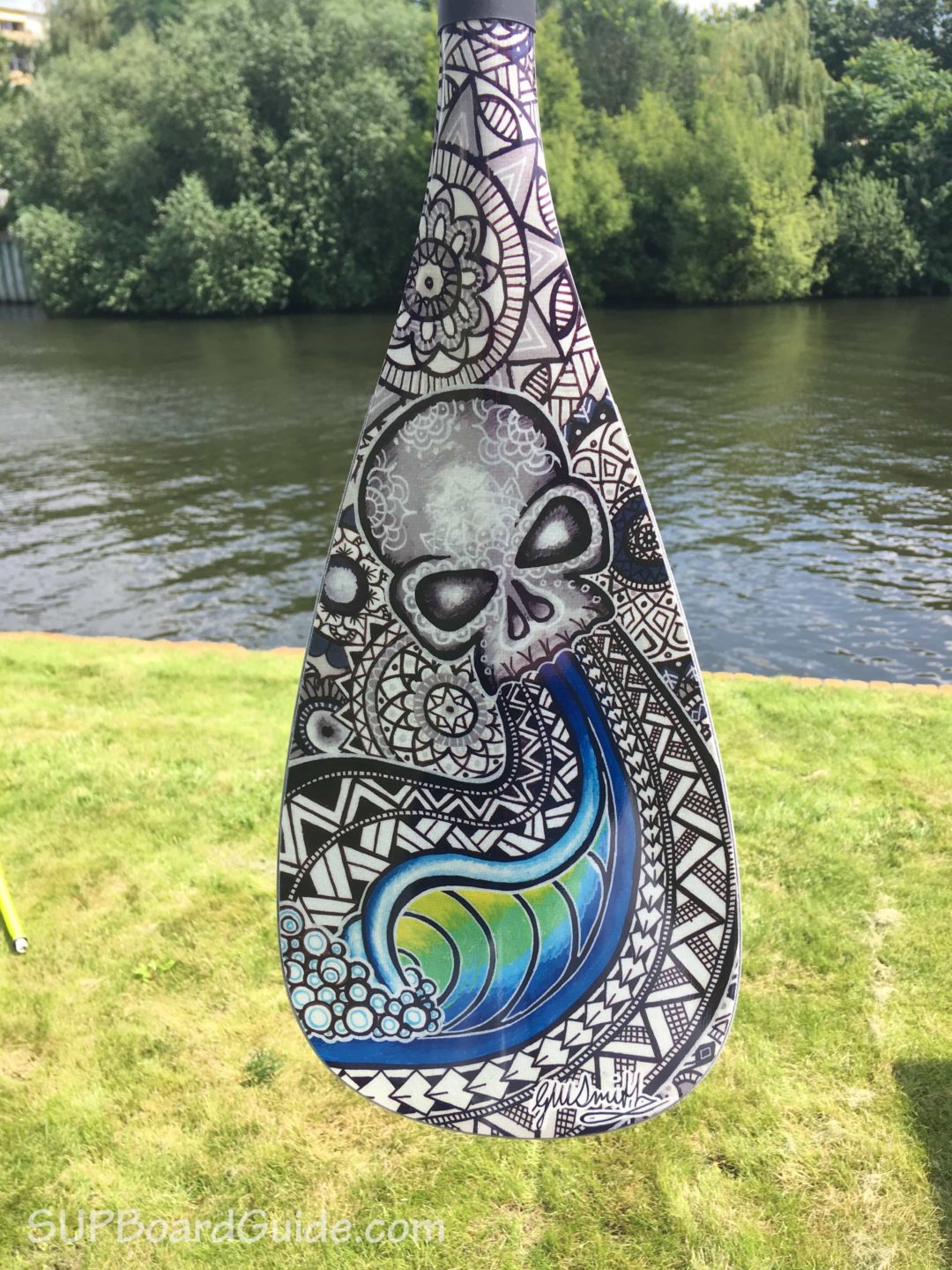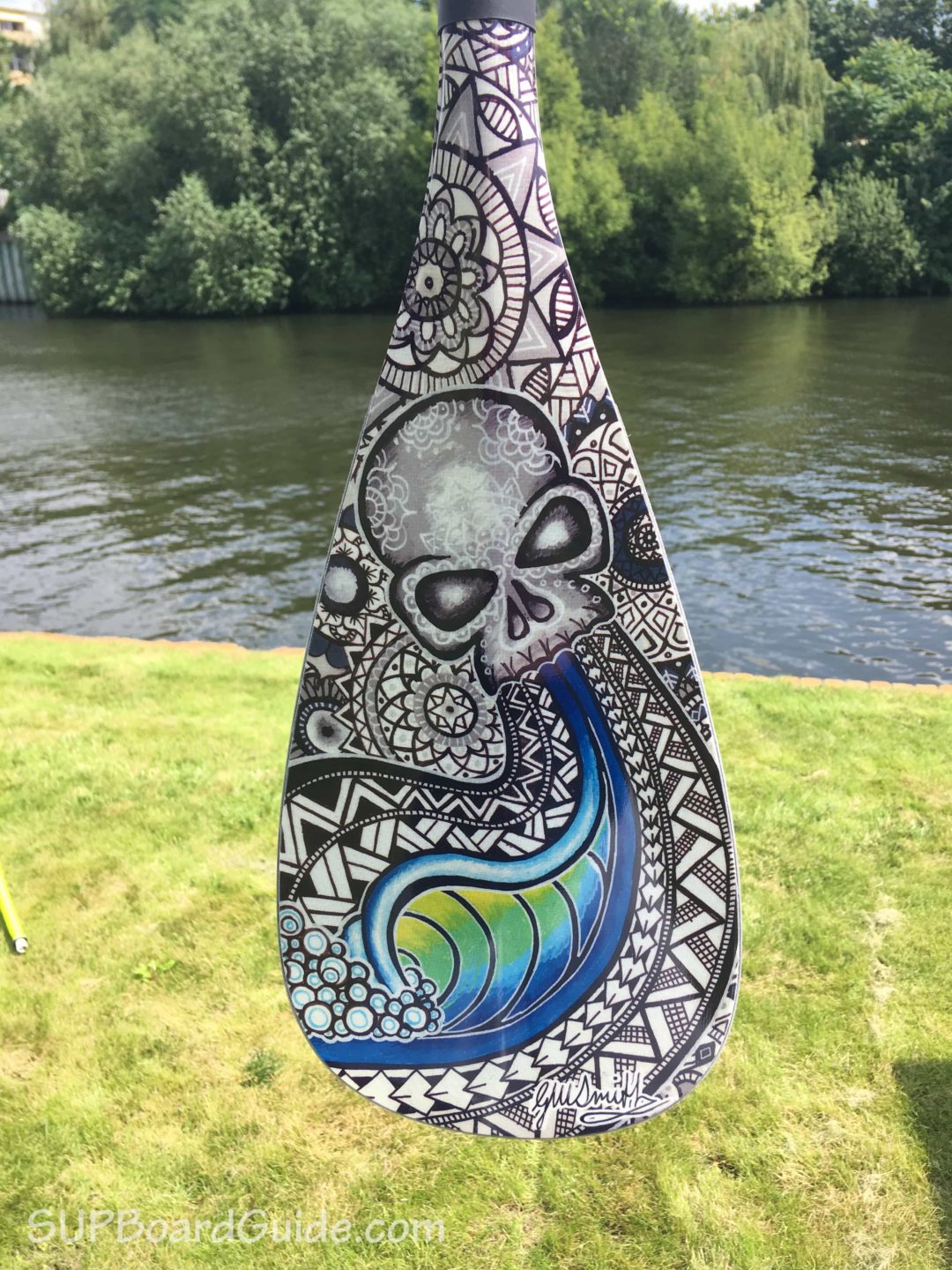 Measuring paddles blades, there is no general rule. If I had to split them into three sizes it would look something like this:
Small: 450cm² – 550cm² (70²"-85²")
Medium: 550cm² – 650cm² (85²"-100²")
Large: >650cm² (>100²")
Here is a pretty useful blade size chart by Quickblade.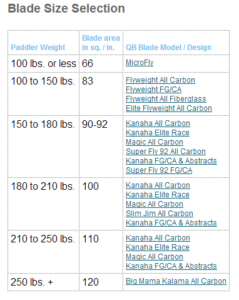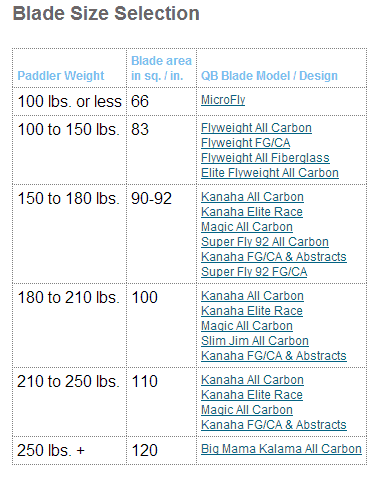 The Jaws MX2 blade, therefore, falls under the medium size. Blades in that size range are suitable for beginners and advanced paddler alike. If you're a beginner, you won't find the paddle too much too handle unless you're a 105lbs female (in that case you want to check out the Crush FX2). If you're an advanced paddler, the Jaws MX2 will still be a great choice. It's insanely lightweight and performs extremely well. You will be able to paddle all day. If you weight 200lbs or more I'd recommend you try a paddle with a larger blade.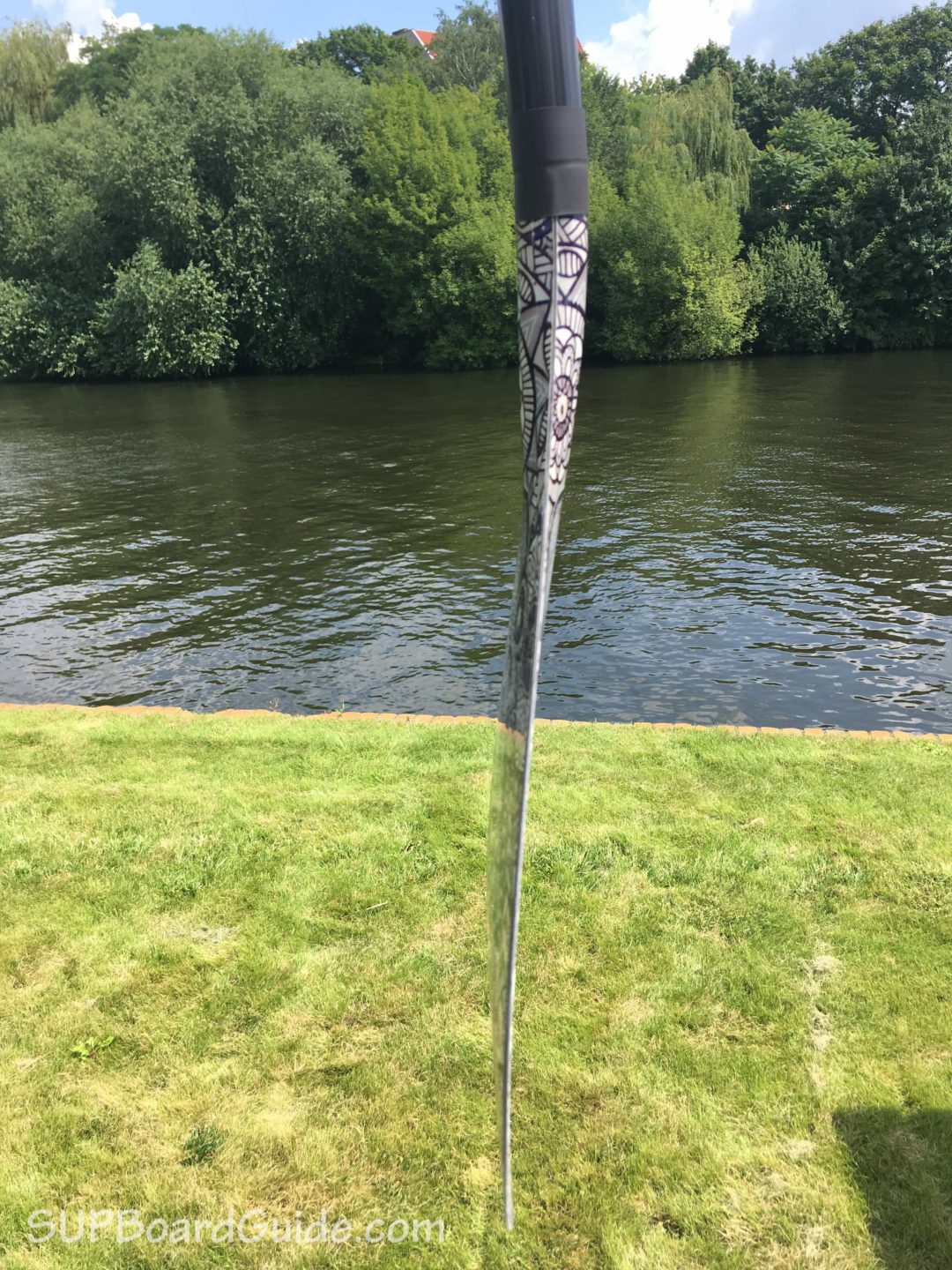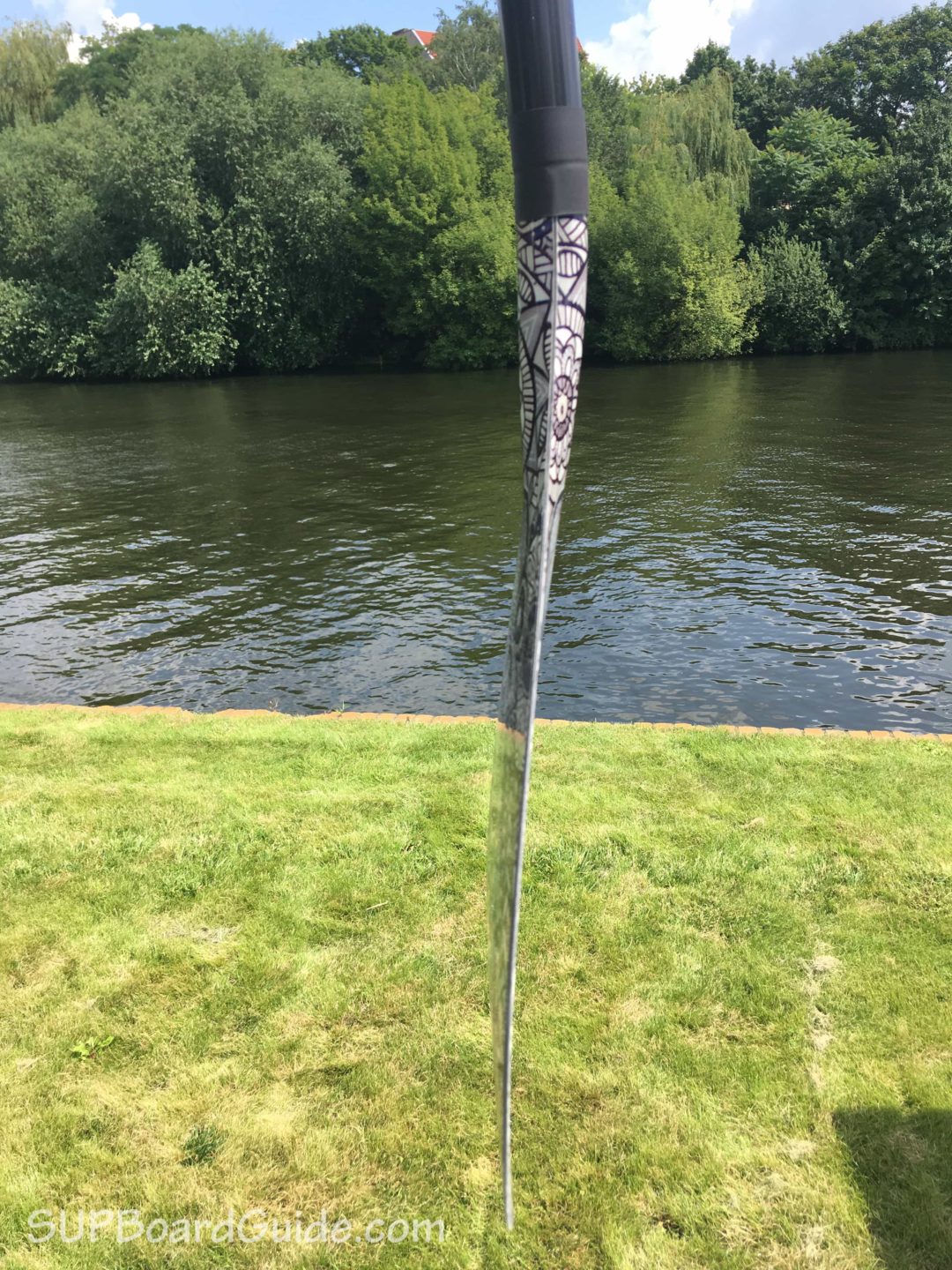 As mentioned before the shaft is extremely stiff and sturdy. The paddle I used is the 2-piece version. The length is adjustable from 155 cm (61″) to 230 cm (91″) in length. Adjusting the paddle is super easy, and once the handle is locked, it doesn't twist which is an annoying issue you encounter with a lot of cheaper paddles.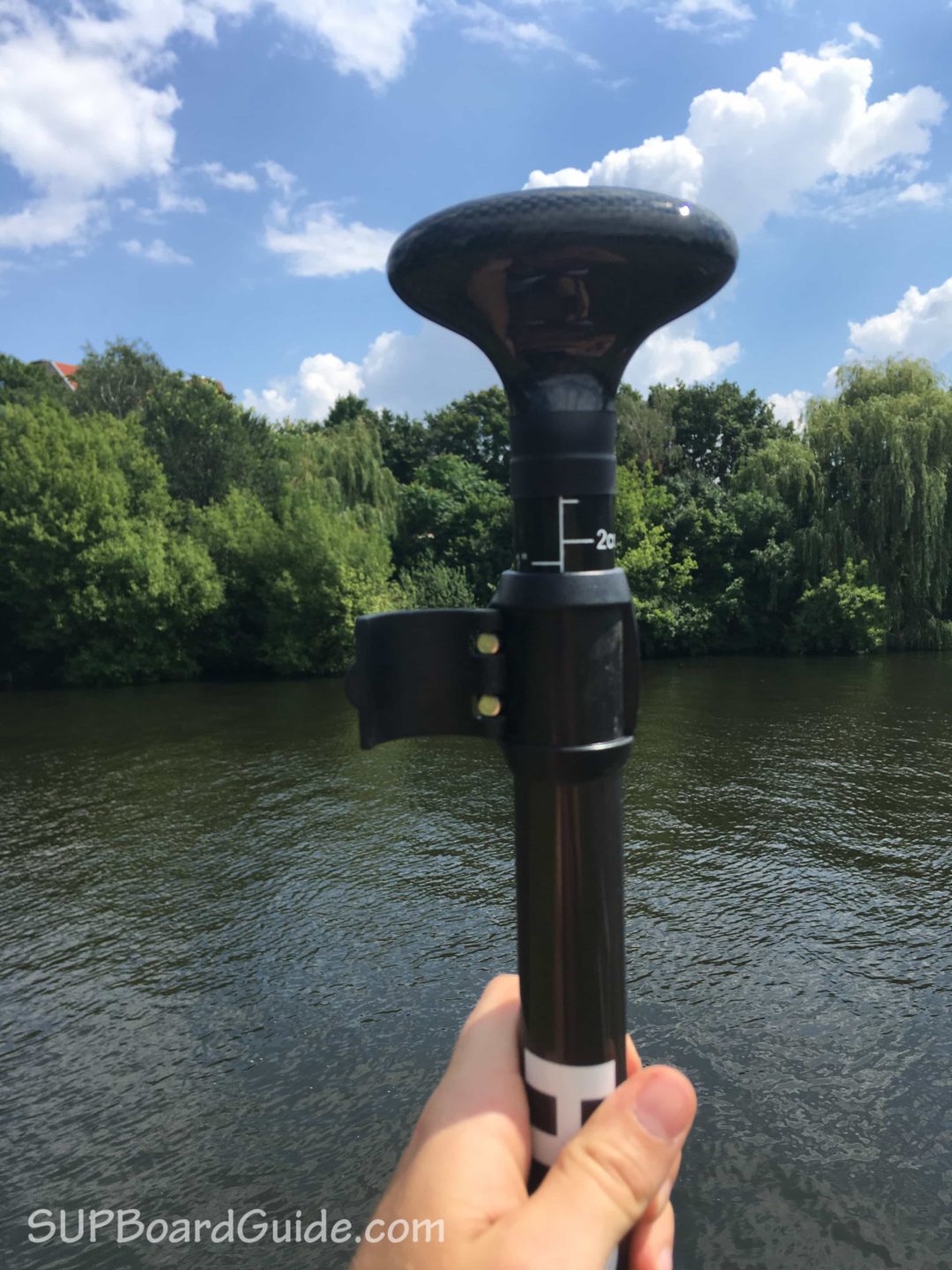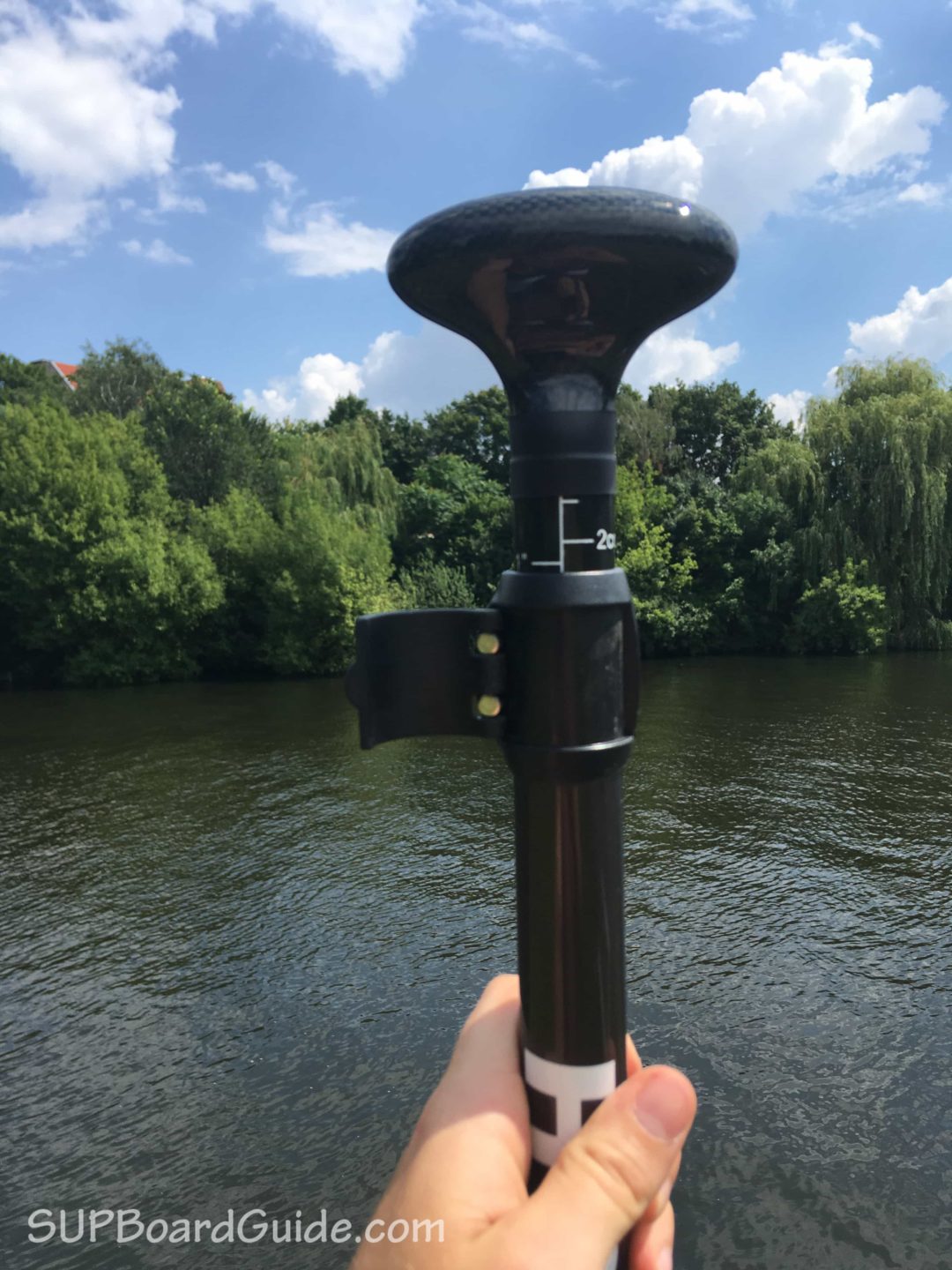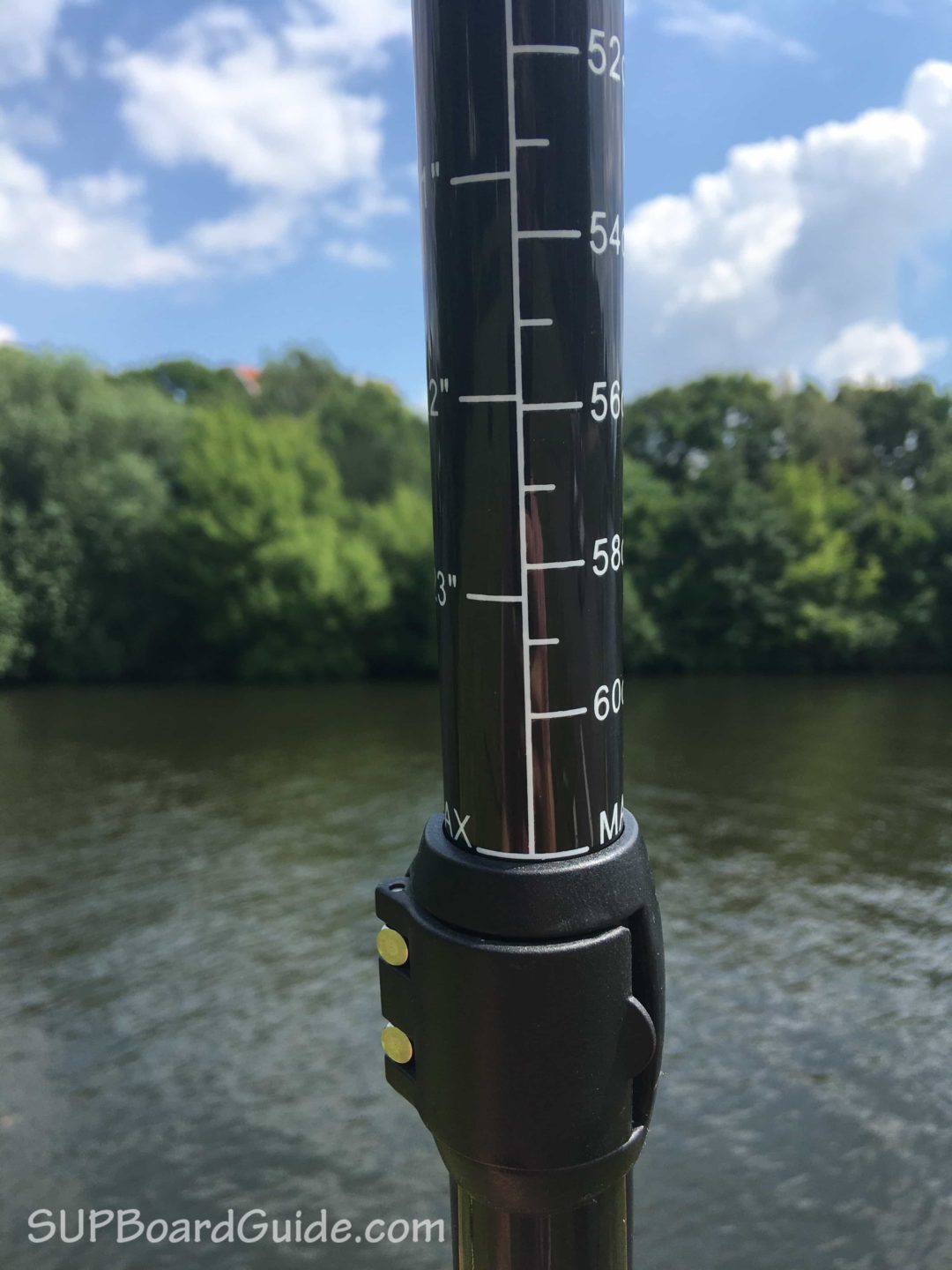 Style
The stand-out design featured on the blade of the MX2 is part of the artist series by Hornet and is the handiwork of mastermind Gareth W. Smith. The artist, surfer, and shaper has a unique style that can be seen printed over Hornet Watersports Artist Series paddles. His designs make these paddles some of the most aesthetically pleasing paddles I've ever seen!
You can have a look at the range and find out more about Gareth here.
The Jaws is the more masculine design of the Hornet Watersports SUP paddles, especially in comparison to the Crush. There are no questions the design is unique, awesome and will stand out anywhere you go. I love the finer detailing of the lines which give a tribal effect. Unfortunately, my pictures don't do it justice. It looks even better in real life.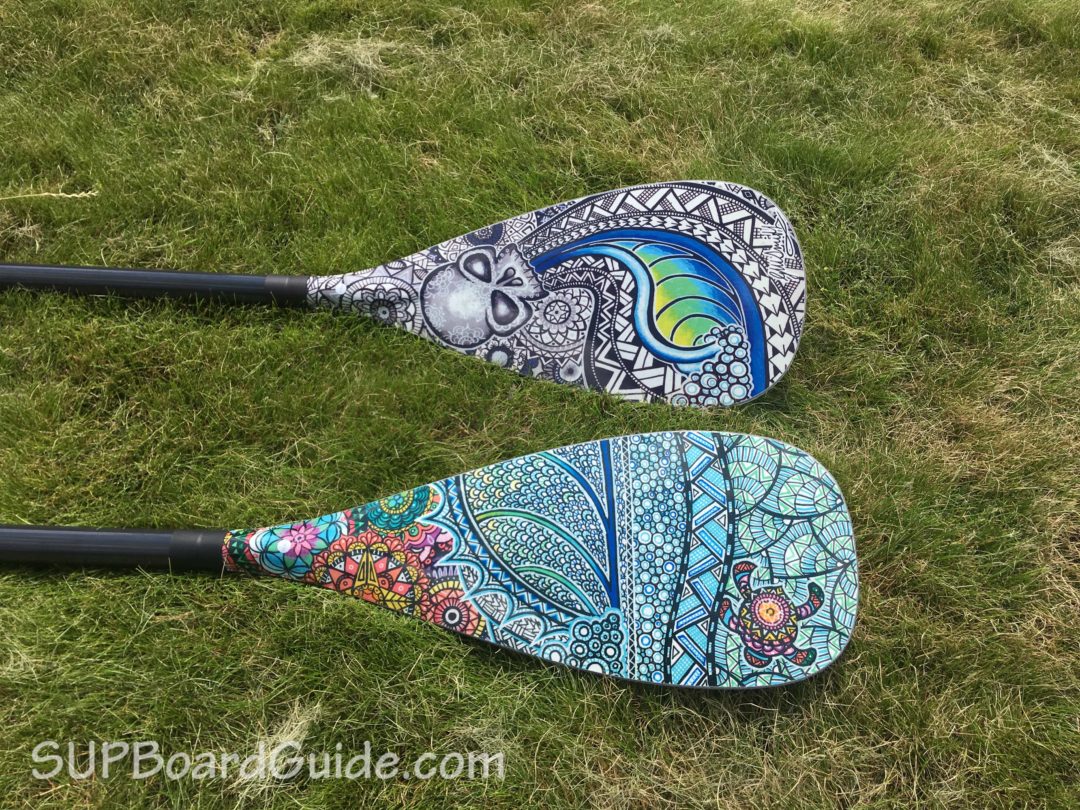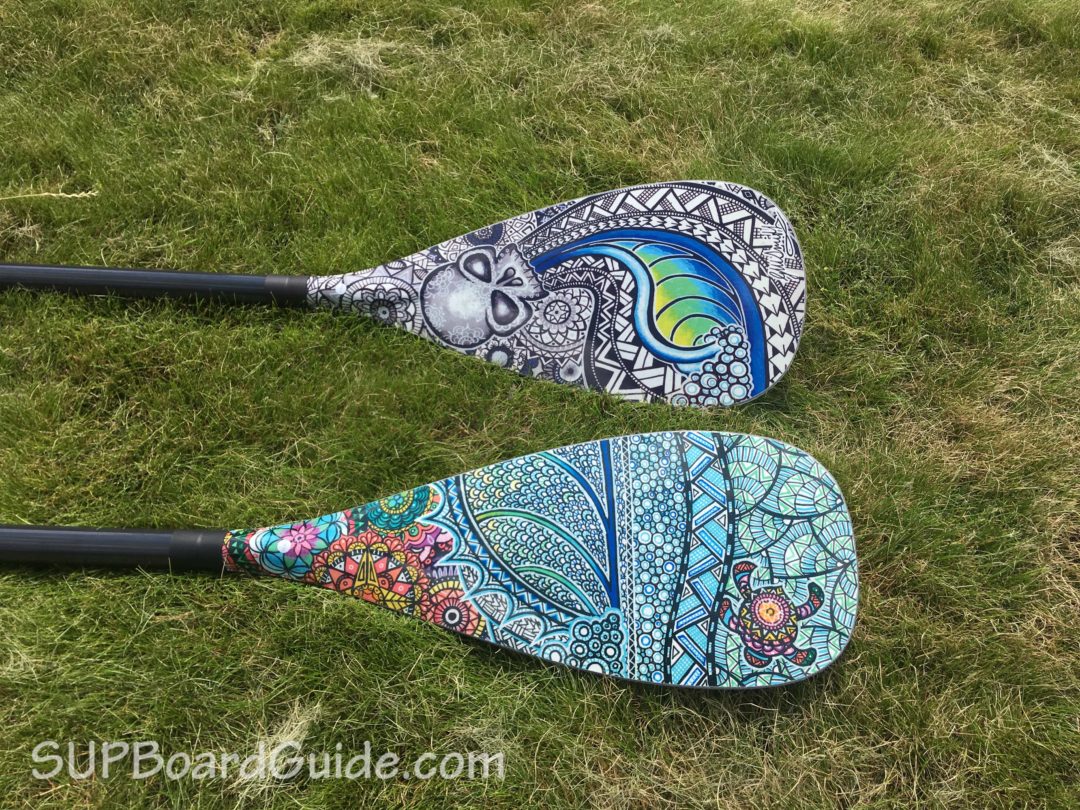 Now most paddles scratch over time and the logo or whatever you usually see printed on the blade starts to wear off. With the Jaws, there's little worry about the designs fading as they are printed directly onto the carbon fiber, not spray painted on.
The Who, Where and Why
I recommend the Jaws MX2 paddle to anyone starting out or even the experienced paddler. Basically, anyone looking for a really high-quality paddle will love this one. If you follow SUPBoardGuide.com, you will know that I rant about the paddles included with most SUP packages all the time. I think for anyone who wants to enjoy their new board an upgrade from the aluminum paddles you usually get with your boards is essential. This is a paddle you should definitely consider
Going in the surf or for a leisurely cruise the Jaws is an ideal option, it's small enough to give extra power in the surf but not so small you'll lose momentum on the river/lake. The only feature I'd be wary of is the blade shape if you are spending all your time in the surf. You may find a blade with more angled ridges allows for a better performance.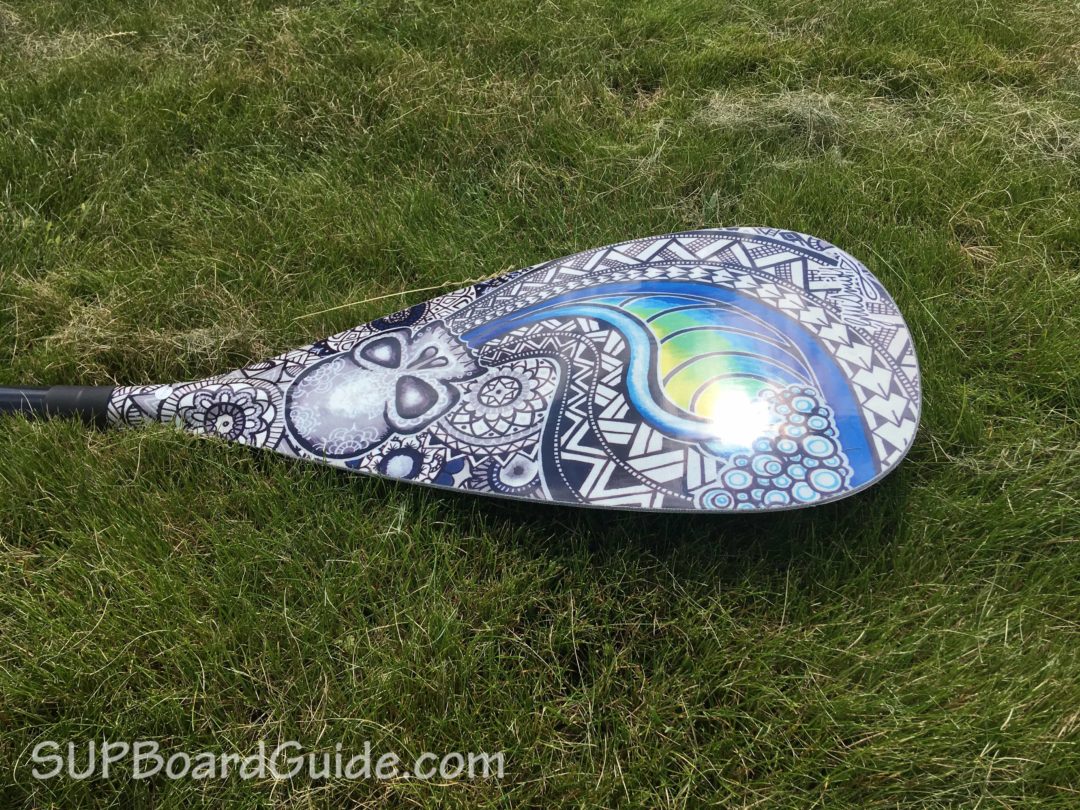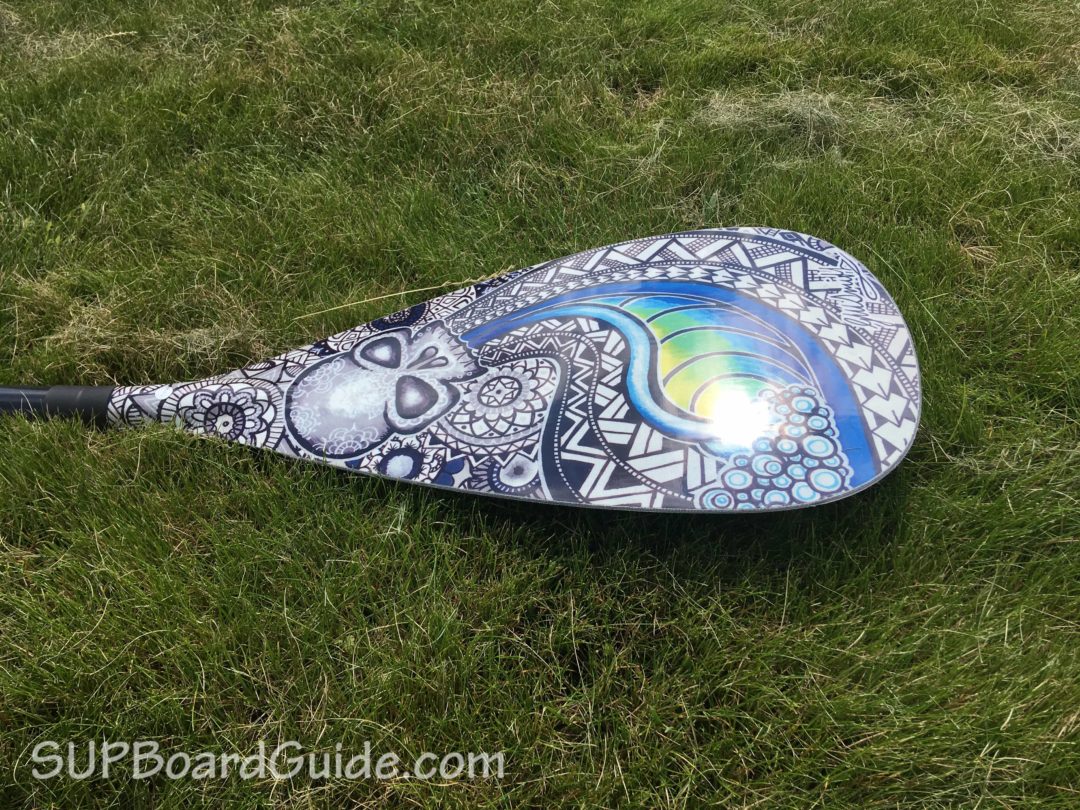 The Final Word
As far as SUP paddles go, the Jaws is one of the lightest, strongest and most versatile options. Which should be expected in this price range. The fact it's available in 3 different types, shows that Hornet Watersports are thinking of everyone!
The brilliantly designed blade ensures you'll be standing out in the crowd and make these paddles a perfect gift. Be one the first to own one, and you'll definitely be getting asked questions.
Beginner or experienced; the paddle provides both types of paddlers an enjoyable experience. If you are, however, a very tall man and beginning, look for a paddle with a bigger blade size.
The same as you need to match your board size to you, a paddle should compliment your size as well. The smaller blade is easier for a beginner. While you are learning to perfect your technique of paddling, something smaller will be more forgiving with endurance. But, once you have got that technique sorted, you can spend time on finding your perfect match.
If you're interested in buying the Jaws MX2, you can get it on the Hornet website.
The following two tabs change content below.
SupBoardGuide Editorial Team
At SupBoardGuide.com we are a team who love the water, the outdoors, and are more than grateful that our full-time job allows us to review stand up paddle boards. We paddle year round (it helps that we are just about 2 hours outside of Las Vegas), and we bring in a wide range of paddlers with the goal of providing our readers with the best, most in-depth, and accurate stand up paddle board reviews.
Latest posts by SupBoardGuide Editorial Team (see all)