Gili 11' Adventure Inflatable Paddle Board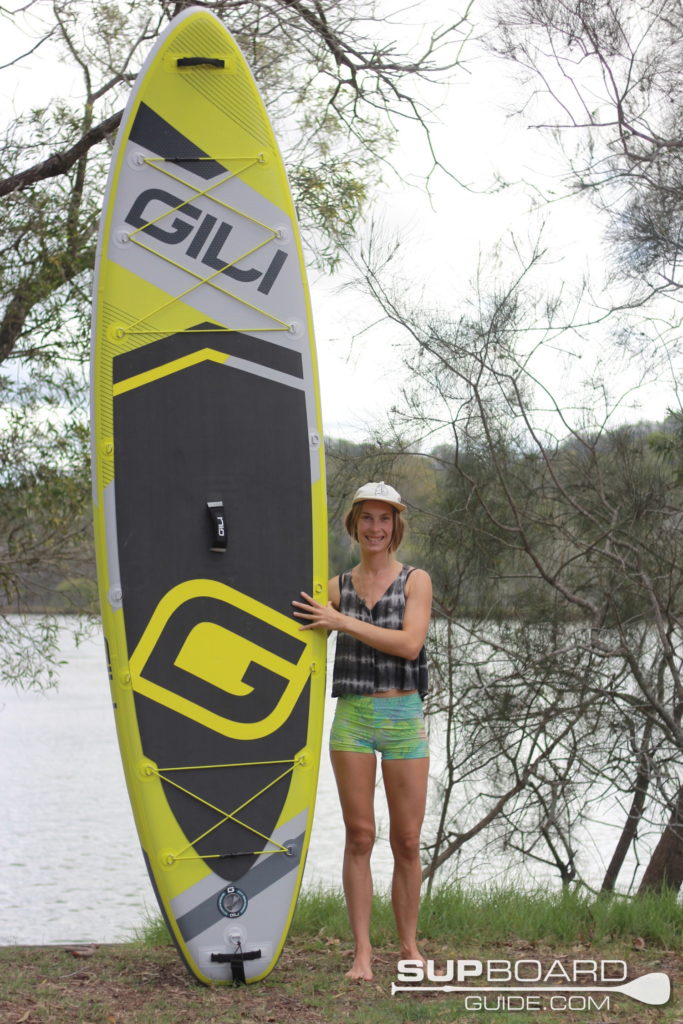 Do you remember how impressed we were with Gili last year?
The release of the Gili Air took us by surprise how good it was considering the cost price. It ranked #1 in the boards $500 and under and it's still going strong!
So, the introduction of the 11′ Adventure had us pretty curious! Especially given that it's a Touring board and so rather different to the Air which is an All-Around. I'm glad to say that Gili has done it again producing a quality board for an affordable price. Of course, you can get better but not at this price! Found on where it excels and what we think below.
On a side note and something that I'm personally super passionate about…
Gili Sports donate a portion of every board's sale straight back into ocean conservation and all their packaging is made from recycled materials. This is a HUGE win in my eyes, as SUP riders we are passionate water people, so we should be always looking for ways to give back to the waters of the world!
Specs
| | |
| --- | --- |
| Length | 11′ |
| Width | 32" |
| Thickness | 6" |
| Weight Capacity | 290 lbs* |
| Weight | 19 lbs |
* Experienced riders may exceed the weight limit
Performance
The Adventure outdoes the Gili Air in performance for sure! But it is a different shape. While the Air was more for All-Around use the Gili Adventure is shaped for better Touring performance. The shape plays into it but an upgrade in accessories and materials also makes this board outshine its former brother the Air.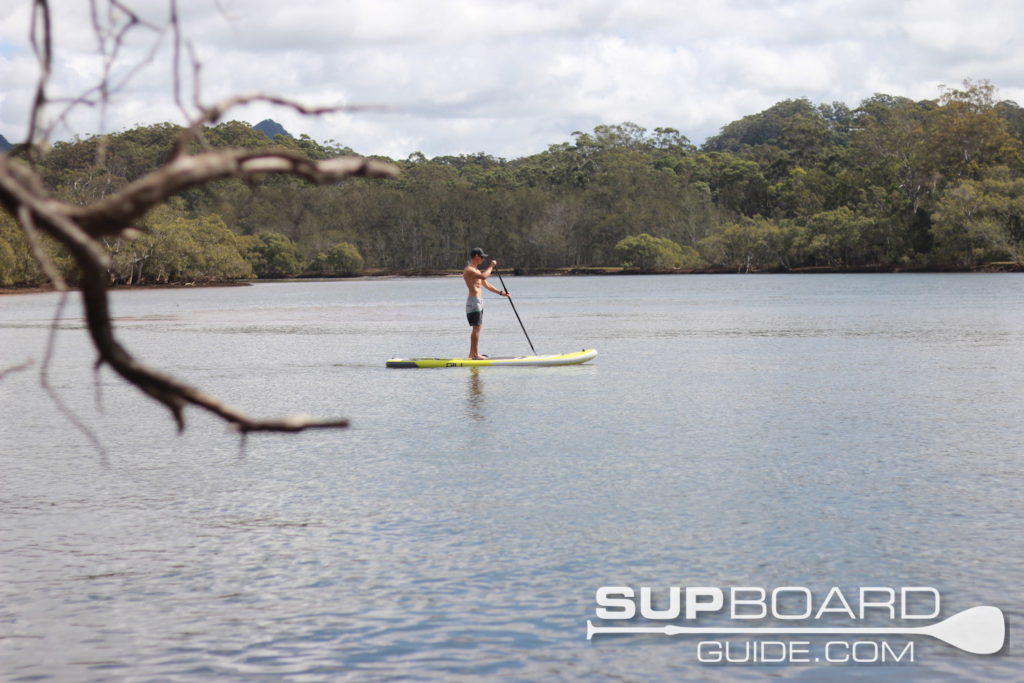 I found paddling the Adventure super stable and wouldn't expect much less from a 32″ wide platform and a gentle decrease in width to the nose and tail. While at the same time it picked up speed and maintained it at a level that surprised me slightly. Speed and stability in harmony is a perfect equation for a premium Touring board in my opinion.
Being a Touring board you would want to be planning to be paddling reasonable distances. Don't get me wrong, there is no harm is short distances. However, it definitely excels in areas where you can get some speed up and use the glide of the board to assist in getting yourself in a nice state of flow. It's loaded with storage areas so you can take everything you need for a day or two.
If you happen to encounter chop or any kind of rough waters you'll find that the Adventure handles it quite well as the rocker in the nose helps the board move with the water better, keeping you more stable. Though given it's a 6″ thick board, choppy waters paired with winds, say large ocean bays, you may find that you are too buoyant. I would recommend looking at the more premium lines of Touring boards like in ERS & Red Paddle Co. They tend to be 5″ thick but still rigid and easier to maneuver in those conditions.
Materials
The Adventure definitely is a step up in manufacturing quality compared to the first board Gili Sport made. They decided to go with a Dual Layer Fusion. Perhaps you are wondering what on earth that is and what it means? Basically, there are two ways in which you can wrap the layers of PVC on an inflatable SUP board (currently anyway). Either by hand gluing or machine fusion. The machine laminating means the layers are more compressed and less prone to error which results in needing fewer layers for the same amount of rigidness.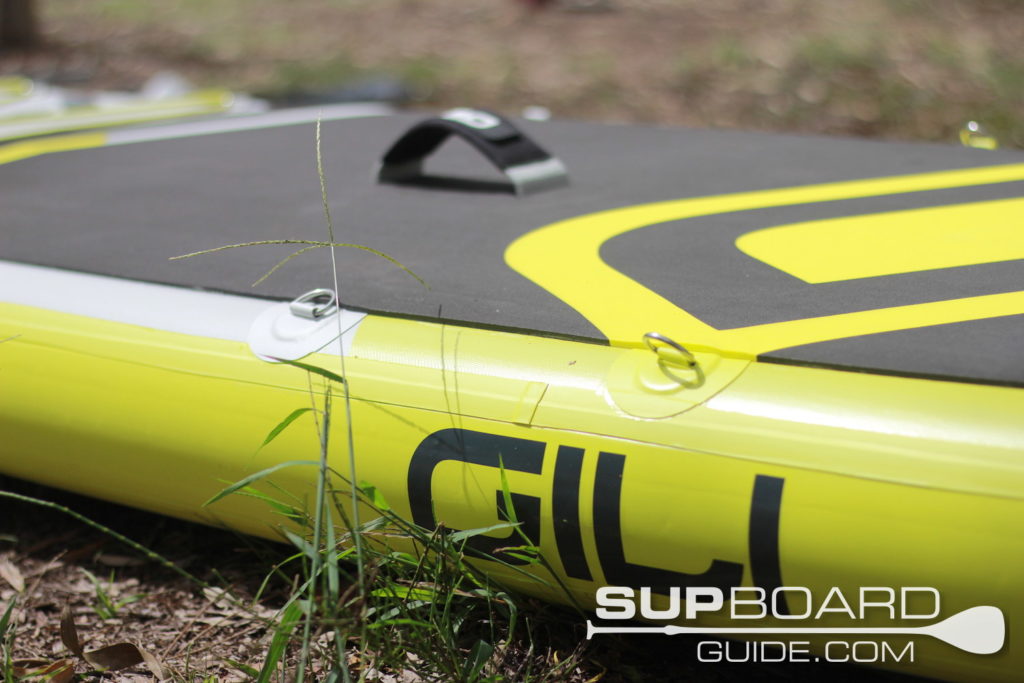 The other factor that Fusion layering provides is that of a weight issue. It keeps the overall weight of a board down which results in better performance eg speed, agility. In the core of all these layers is a drop stitch core, which is what allows a SUP to inflate to high pressures without popping. This may be interesting to some and I could talk about it for ages! Though for the majority of you, you probably just want to know..is it good? Yes. It's great! Either way of making boards will provide a strong, durable, SUP. The 11′ Adventure materials are strong and durable but lightweight so you get premium performance. The best you can do really!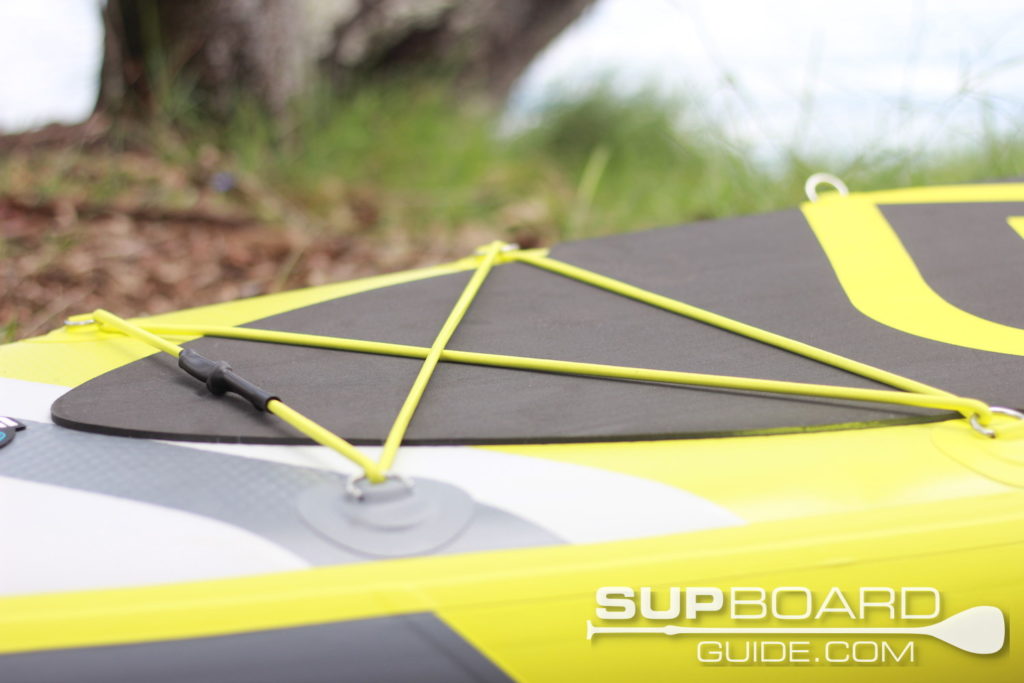 While on top there is your deck pad which is made from a thick foam which not only supports your body but also provides extra grip, especially once your wet!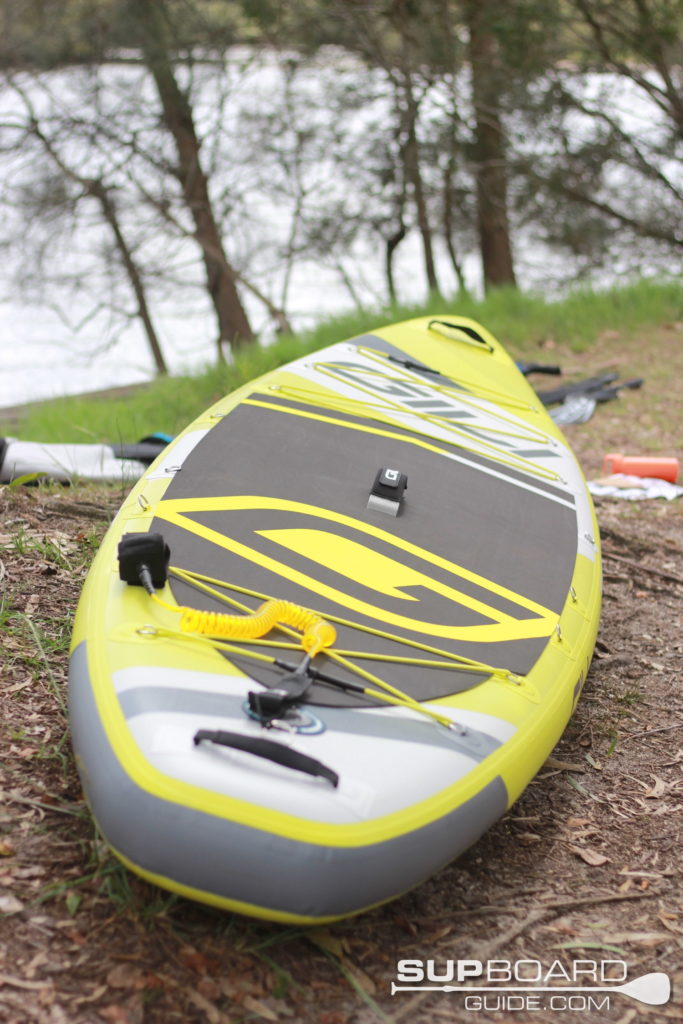 Board Design
With the introduction of the Adventure, we also got introduced to some new colors! While the Air was only available in the blue and grey, the Adventure you can choose between the yellow and grey ( what I got ) and the Blue. The yellow has a real sporty feel to it while the Blue is a bit more subdued. Both color schemes look great in the flesh (plastic?), sometimes pictures on the internet tell lies but not here!
I mentioned in the performance that the board boasts heaps of storage area. Upon the nose, you can see 6 D-rings with a bungee cord, while the tail has an additional 4 rings and cord. Get yourself a carabiner and clip your belongings into the rings or store them under the cord so you can enjoy a day out with all the necessities! Gili even sells its own branded dry bags 😉
The D-rings on board are used for a variety of things. The ones you find in the middle of your board are there to attach a kayak seat onto while the single one at the tail is for your leash.
Moving the board around is made super easy by the 3 comfortable handles! Located on the nose, center, and tail. I say comfortable because I'll never forget the time I tested a board where its handle was so tight I couldn't properly grip it and so uncomfortable it tore my skin a bit! So it's worth noting when a company does it right! Good on you Gili.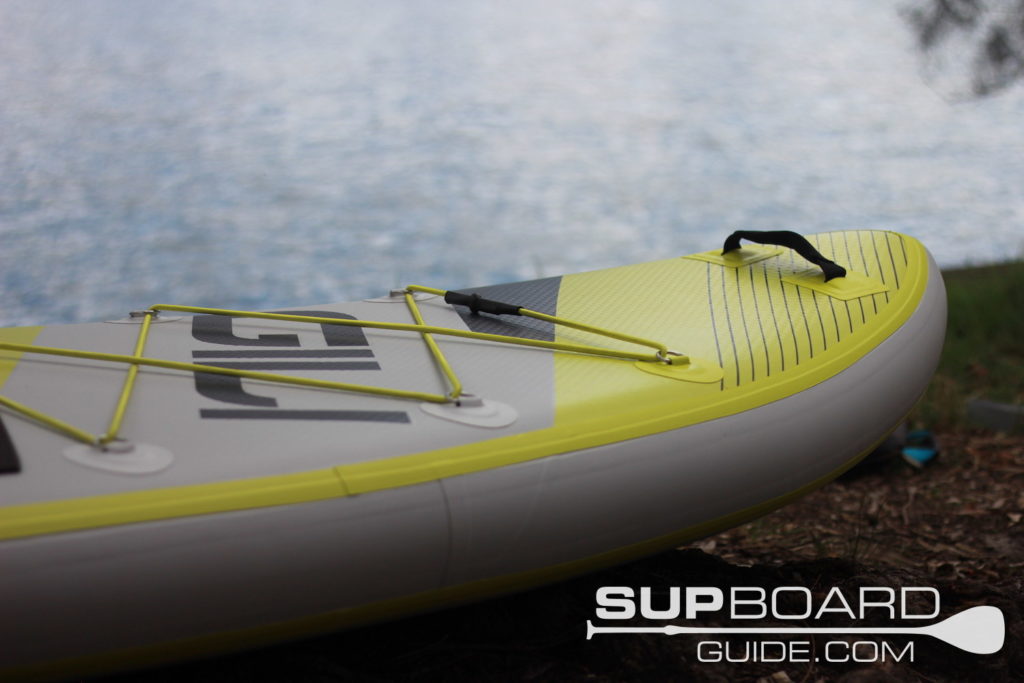 If there are any changes I would like to see it would be some kind of paddle holder. The new Nixy boards all have velcro straps on the rails and I really like that design. Being a touring board, if you are on a big trip there will be moments you want to take a break and put the paddle somewhere.
Features
Inflate/Deflate
Using the Gili hand pump, you can get your board inflated to the 15 PSI in around 10 mins. It does take a little bit of oomph but there's no harm in a bit of a warm-up! Would love to see an upgrade in pump quality to a dual chamber pump in the future to make things quicker and easier! But of course, upgrades like that also come with a cost.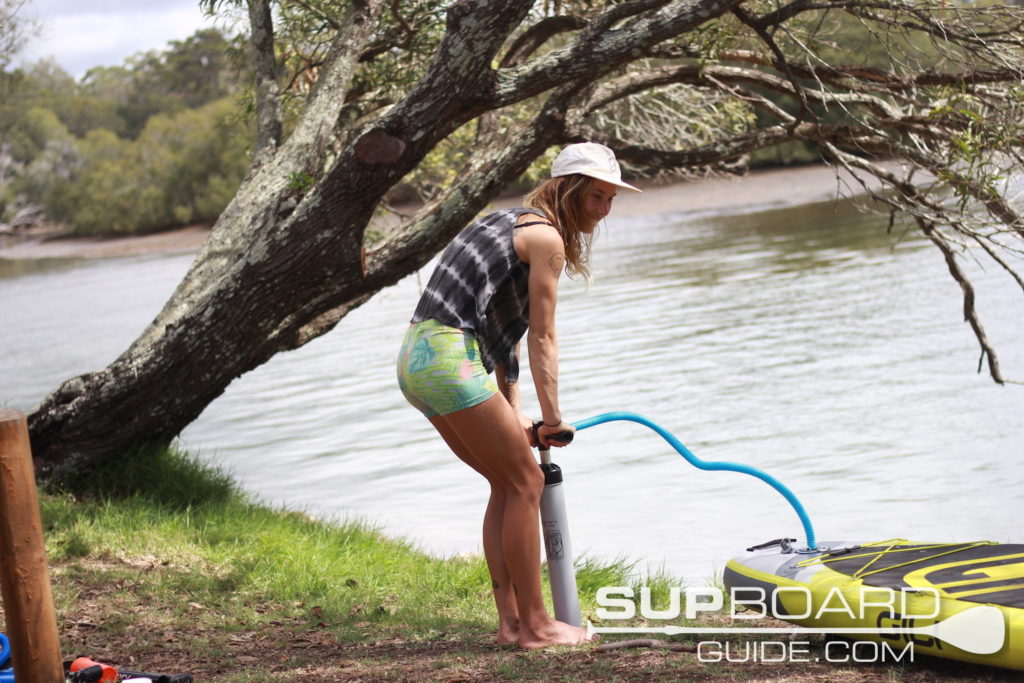 When deflating, push the pin in at the inflation valve then twist clockwise. This will keep the valve open and allow the air to continue while you start to push the remaining air out. You then can roll your board up for the last bit of air, remembering to push the pin back out! Otherwise, you may get a bit of a shock next time you inflate. If the pin stays in, when you pull the hose out after inflating, you'll lose all your hard work instantly!
Fin Setup
Flip the board over and you'll see a tri fin setup. The side fins are fixed and low profile, while the center fin is removable. The center fin installment is super easy and tooless with a click in system. The same fins and fin boxes can be found on many SUP's in this price range.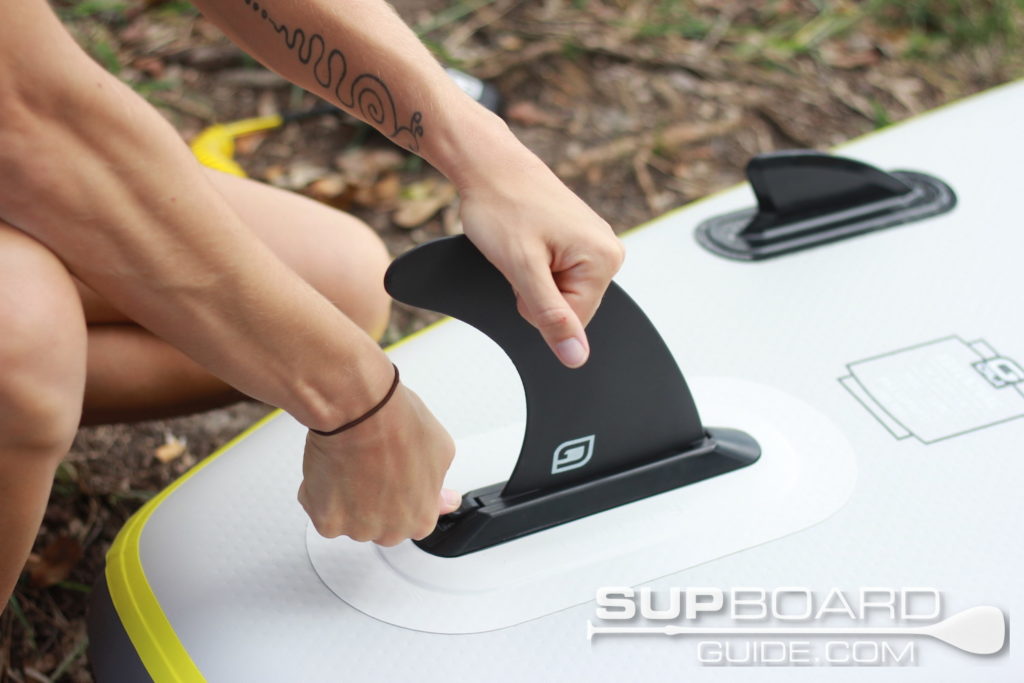 A tri-fin setup allows for stable backfoot turns and great maneuverability, while it would be great to see the side fins removable in the future. It's always nice to be able to switch between tri fin and single fin setups depending on the conditions. The other plus is that no side fins will allow a board to roll up tighter.
Accessories
Paddle
Another upgrade compared to the other board in the Gili range is the paddle. The Gili Air came with an aluminum paddle that was quite clunky.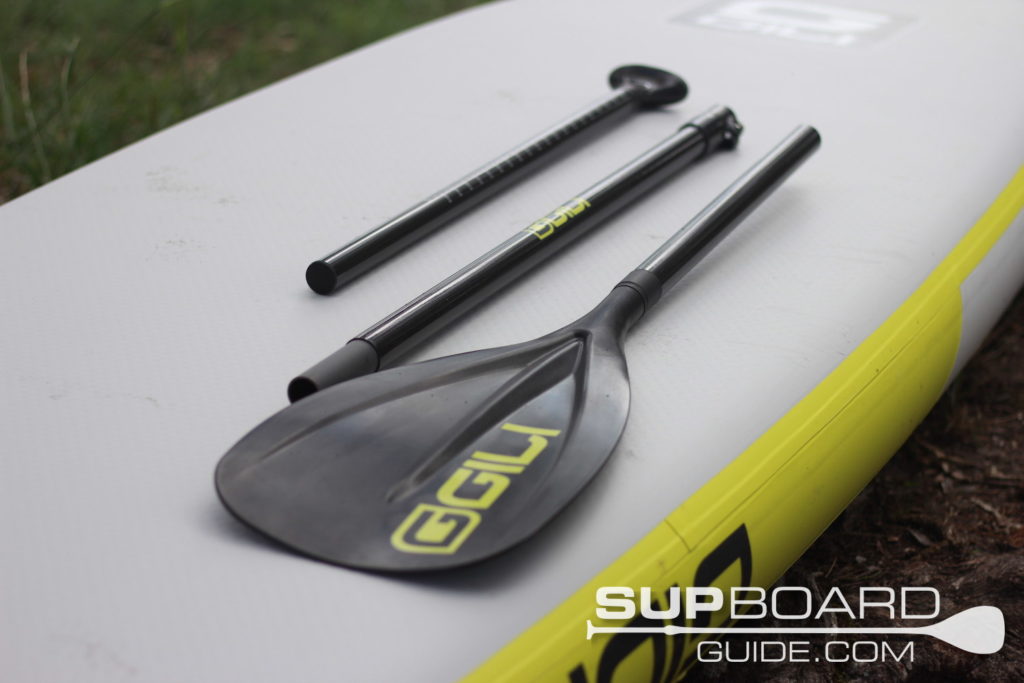 Now with the 11′ Adventure, you'll receive a carbon fiber paddle with tough nylon blade. It's both a lightweight and durable paddle, made to float and safely push yourself off objects with. I couldn't feel any flex in the shaft even when paddling against some headwinds and felt all the joins were secure. The blade itself has a nice wide entry point to maximize your stroke and help with stability.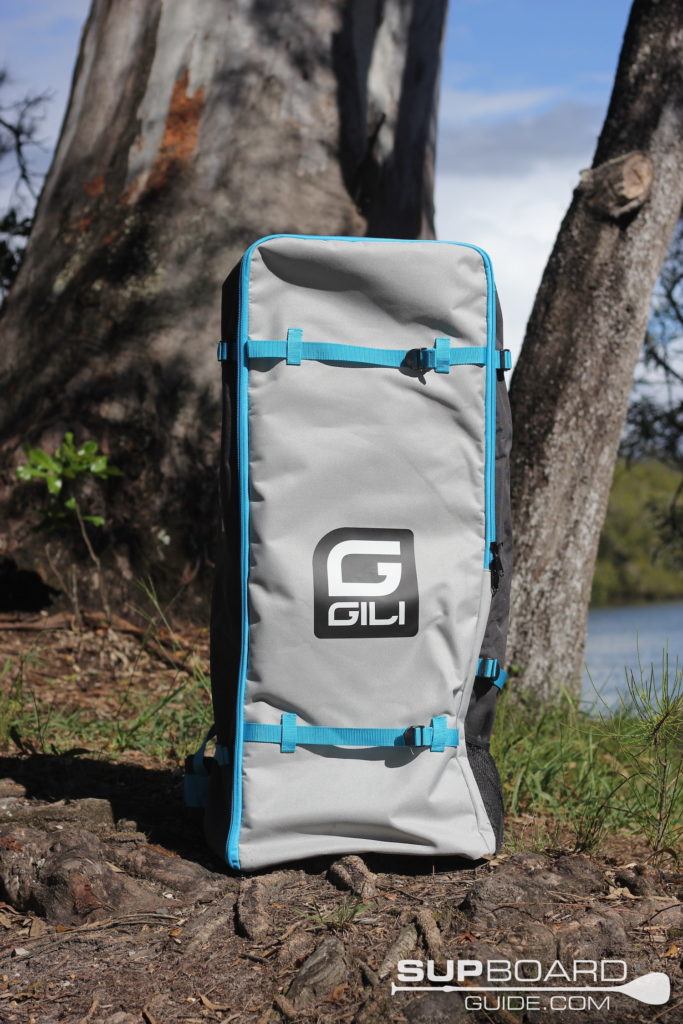 It pulls apart into 3 pieces and stores easily in the bag and is clearly marked with heights. The carbon fiber makes the handle comfortable to grip.
Backpack
I remember clearly from last year how much I liked the board's bag. I can't exactly put my finger on it but something about the simple style and color choices really does tickle my fancy! So glad to see it's carried through into the Adventure.
It's holding capacity is more than enough for the board and all its accessories though there's also the mesh pocket on the side of the bag for extra room. The straps are thick, supportive and adjust a fair range, making it comfortable to carry. Along with the straps, the back has a thick breathable mesh for more comfort and to keep your sweaty back from ruining the board! The tightening straps used to come over the zipper which was a slight annoyance but no longer an issue.
Moving a SUP bag in and out of a car, it is useful having straps on all sides of the board, so I would like to see at least one side handle in the future!
Pump
The Gili pump being a single chamber is going to be a little slower and more strenuous than many other pumps you find in similar price ranges these days. Though being a high-pressure pump and still allowing dual action, it definitely isn't something to completely turn your nose up at.
Leave the toggle in the pump in the beginning and take it out when it starts to get hard for easier pumping. The dual action feature just means that when the toggle is in, you are inflating on the pull-up and push-down while the toggle out is just the push-down.
Leash
The Yellow leash matches your board, as will it if you choose Blue! Attaching at the rear of your board, you can wear the cuff around your ankle or calf, keeping you attached to your board in case you capsize. A coiled leash will always be preferable as it doesn't drag in the water as easily, which lessens the chance of it being caught on things.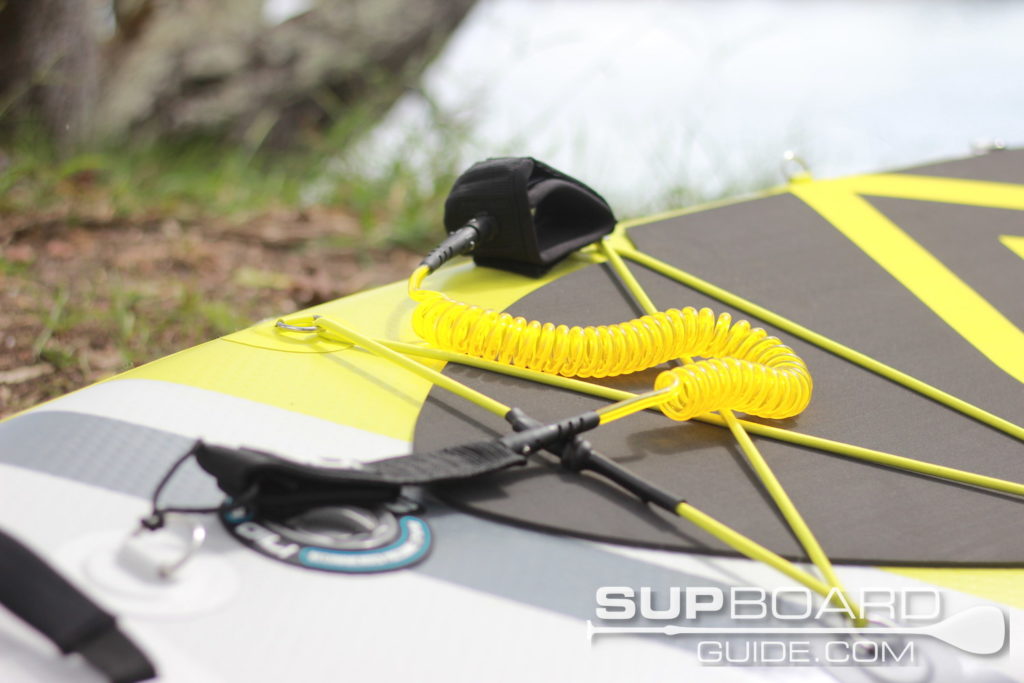 Repair Kit & Manual
Of course, for a full kit and caboodle, you need a repair kit! Inside the little tube, you can find some patches and valve wrench tool. If the unlikely occasion occurs you damage your board or the valve is leaking you can do some DIY fixing! There's also a manual with helpful tips for you and your Gili Adventure!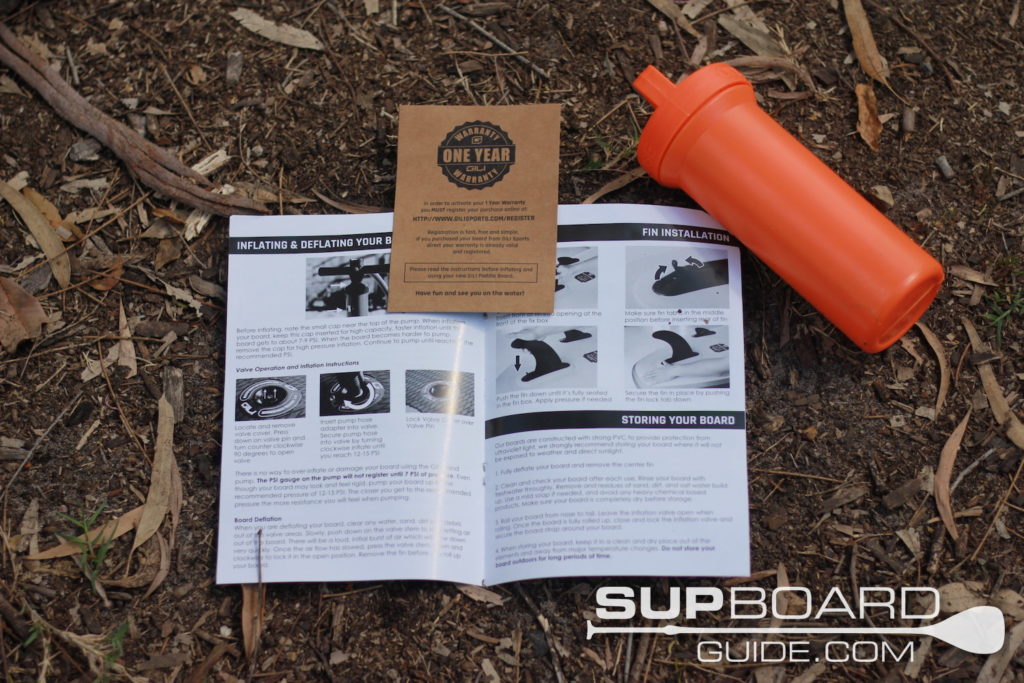 Conclusion
If you are looking for a reasonably priced touring option that has all the accessories you need to get going, then you may have found the perfect board for you! The brilliant 11′ Gili Sports Adventure has that perfect balance of speed and stability and the versatility of all the storage area and the option to be turned into a kayak. Outside of the accessories having some room for upgrades, there isn't much I would change on this board.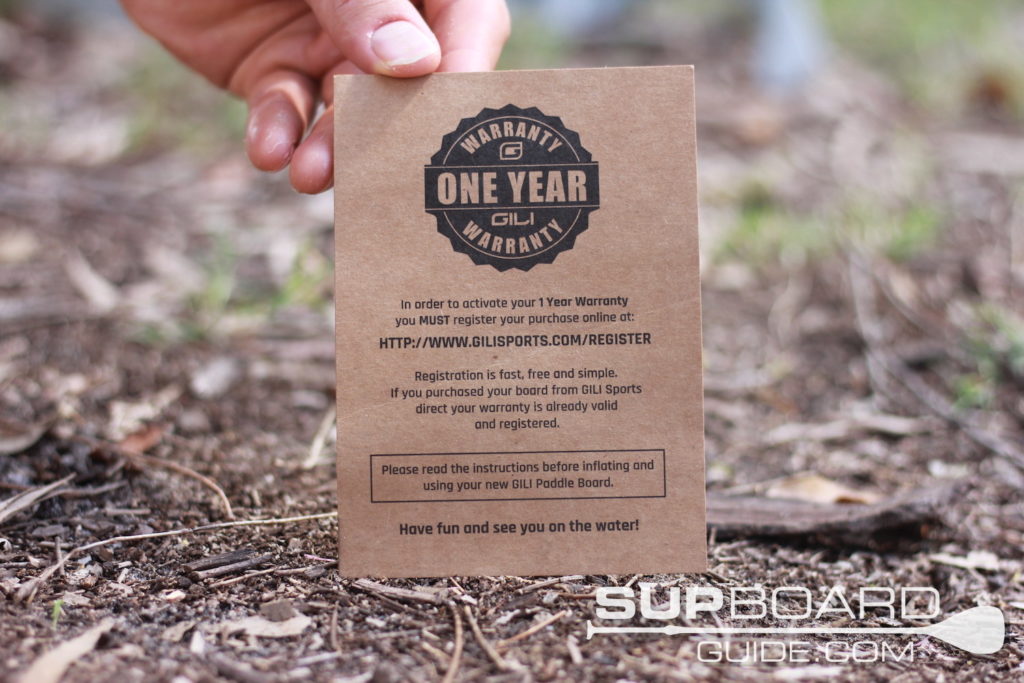 Gili Sports offer a 1-year warranty on their products and Jay, their founder is a passionate and proud owner. He ensures great customer service but also gives back where it's due. A portion of Gili Sports proceeds goes back into ocean conservation and their packaging is made from recycled materials. By buying Gili you are giving back to the places that allow SUP to exist! Go Gili!
The following two tabs change content below.
Justin - SupBoardGuide
Heyo! At SupBoardGuide.com we are a team who love the water, the outdoors, and are more than grateful that our full-time job allows us to review stand up paddle boards. We paddle year round (it helps that we are just about 2 hours outside of Las Vegas), and we bring in a wide range of paddlers with the goal of providing our readers with the best, most in-depth, and accurate stand up paddle board reviews.
Latest posts by Justin - SupBoardGuide (see all)