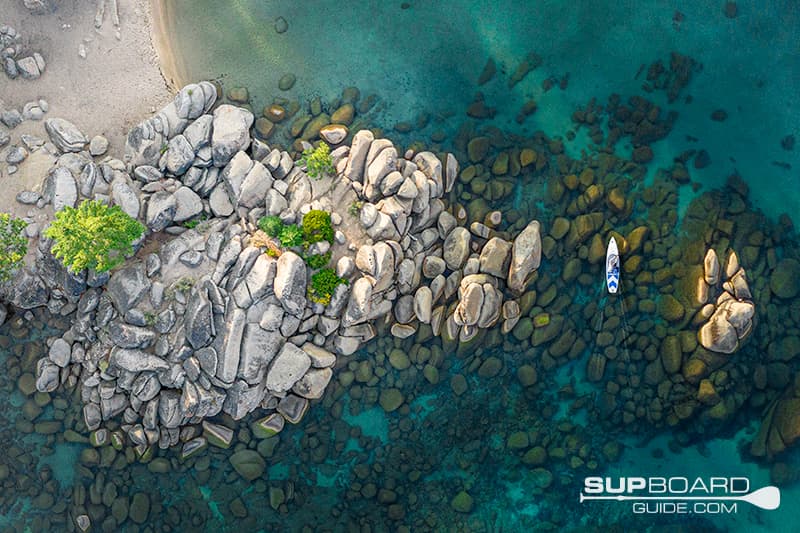 Paddleboarding is a sport that not only tests your skills and endurance but also allows you to experience some of the most beautiful vistas in the country. There are many reasons to pack your bags and hit the road with your SUP so you can experience the best that paddleboarding has to offer. Fortunately, as paddleboarding becomes a more popular sport, many destinations throughout the US offer paddleboard rentals, allowing you to go on big SUP adventures even if you can't afford to bring your own gear with you.
We here at SUPBoardGuide.com are developing a list of some of the best paddleboard locations by state, but there are going to be those who only want to visit the best of the best. As such, based upon our own experience and reviews left by other paddleboarders, we've developed a list of fifteen places that will offer unforgettable paddleboarding experiences. While personal preferences will vary, we personally selected each of these locations based upon their typical weather and water conditions, ease of travel, equipment rental ability, motor vehicle restrictions, and just the beauty of the surrounding landscape. We're sure that you'll fall in love with one of the places that we've listed below, destinations that will truly help you have the ultimate paddleboarding experience!
Lake Tahoe, California/Nevada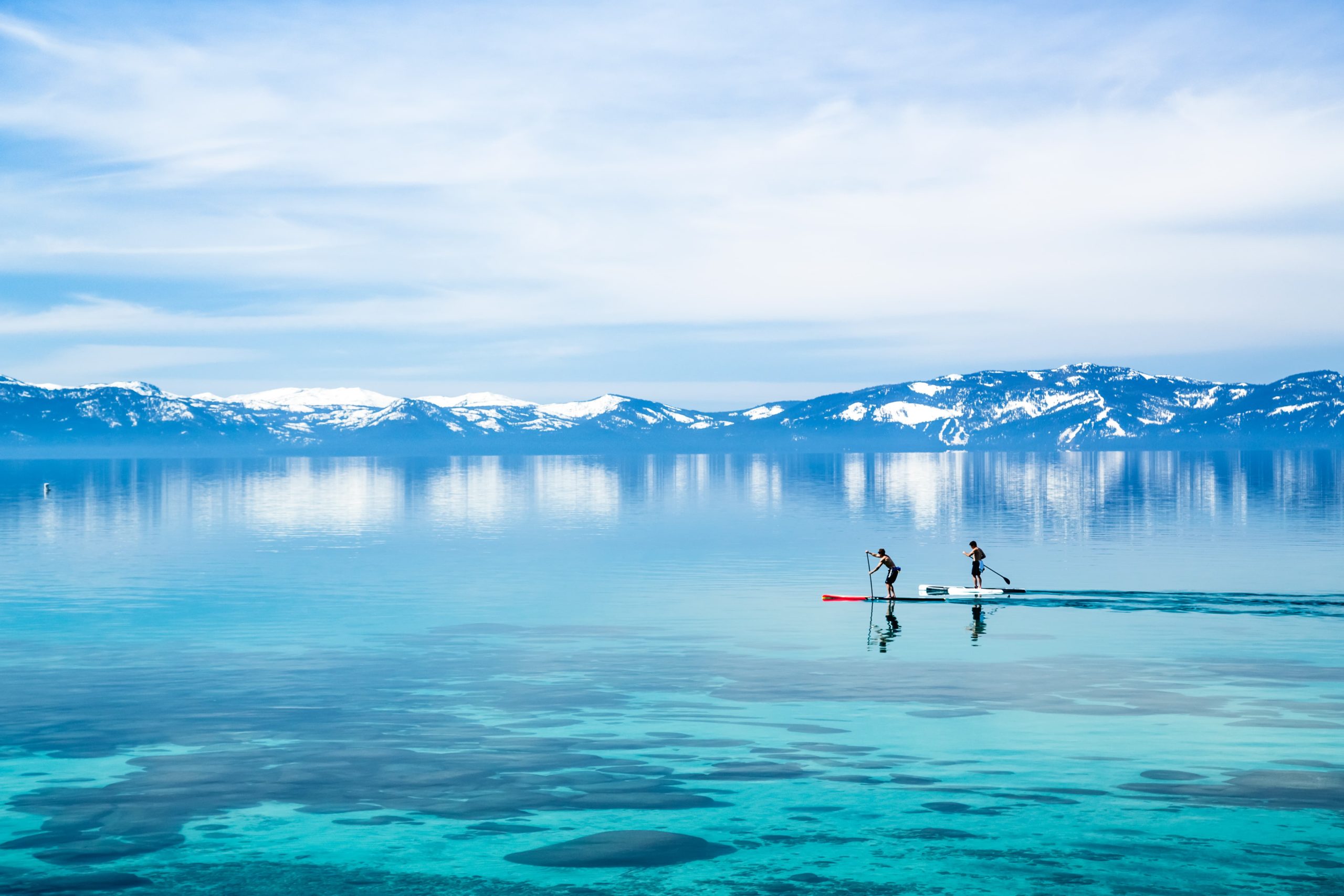 Located on the border of California and Nevada, Lake Tahoe is an absolute dream to SUP on given it's truly crystal clear waters, and beautiful mountainous backdrops surrounding all of the lake. One of the largest and deepest alpine lakes in the world, you will always have something new to explore at Lake Tahoe as it is 191 square miles of beautiful glass water. Lake Tahoe is just a short drive away from Reno and Sacramento, making it easy to drive or fly into for out of state visitors, with multiple vendors ensuring that there's always a SUP available to rent.
If you are looking for a family friendly, shallow portion of the lake that is easy to get to, you'll want to check out Sand Harbor. Photographers who want to bring a camera with them and are interested in capturing some great shots of the mountain landscape, launch your SUP from Carnelian Bay. Alternatively, if you want privacy and don't mind hiking a bit with your paddleboard, we highly recommend going to Emerald Bay for peace and quiet, the cobalt blue water soothing to paddle through and fun little islands great to rest and explore. Wherever you go, you'll want to dress warmly given how cool the temperatures are year round, with some parts of the lake even getting frozen over during the winter. If you want to experience one of the cleanest lakes in the US and don't mind the cold though, Lake Tahoe is the place to go for your next SUP adventure!
Average Clear Weather Days per Year: 249
Distance to Major Cities: 30 Minutes to Carson City, 2 Hours to Sacramento
Motor Vehicles Allowed: Yes
Paddleboard Rentals Available: Yes
Lake Powell, Utah/Arizona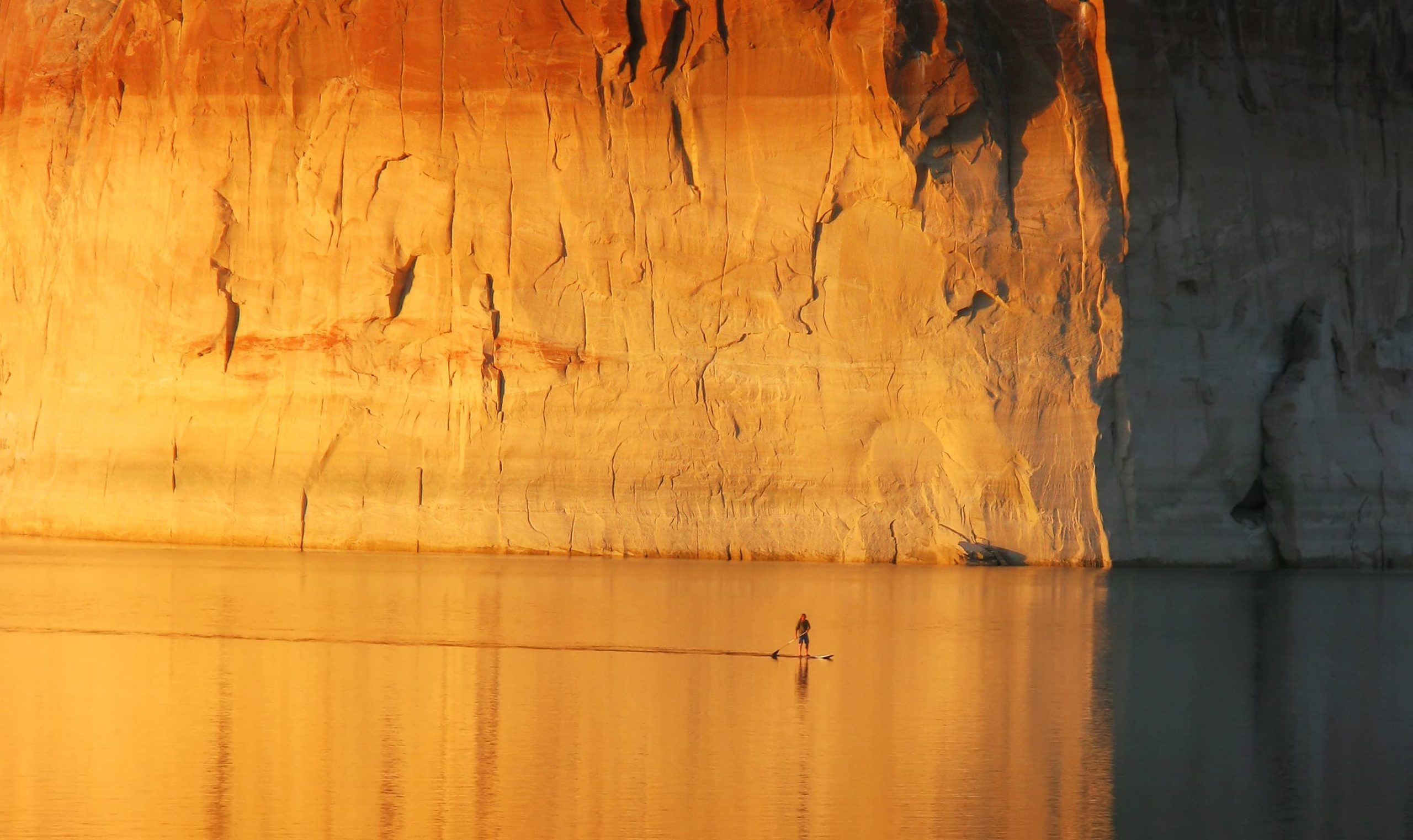 There is something magical about being able to paddle through canyons and red rock, which is why we definitely recommend Lake Powell as a top destination trip for paddleboarding enthusiasts. While technically a man made reservoir, you can spend a decade paddling Lake Powell and still fail to see every corner as it is 250 square miles, or over 160,000 square acres of desert bliss and has more shoreline than all of the continental North American west coast. It is a bit of a drive to get there, even if you do fly to get close to Lake Powell, but the trade off is that you'll have privacy and space to paddle around without having to deal with noisy and disruptive boaters once you leave the marinas and begin to enter the many different slot canyons.
Unlike Lake Tahoe, Lake Powell is also a fantastic option for those looking to get some sun and work on their tan as they paddle, the warm but friendly Powell waters are great for swimming in once you've worked up a sweat and need to cool off. So, if you want to experience the majesty of paddling through canyons and the wonder of being on the water in the desert, we suggest heading out to Lake powell for your next SUP adventure!
Average Clear Weather Days per Year: 264
Distance to Major Cities: 2.5 Hours to St. George, 2 hrs to Flagstaff
Motor Vehicles Allowed: Yes
Paddleboard Rentals Available: Yes
Florida Keys, Florida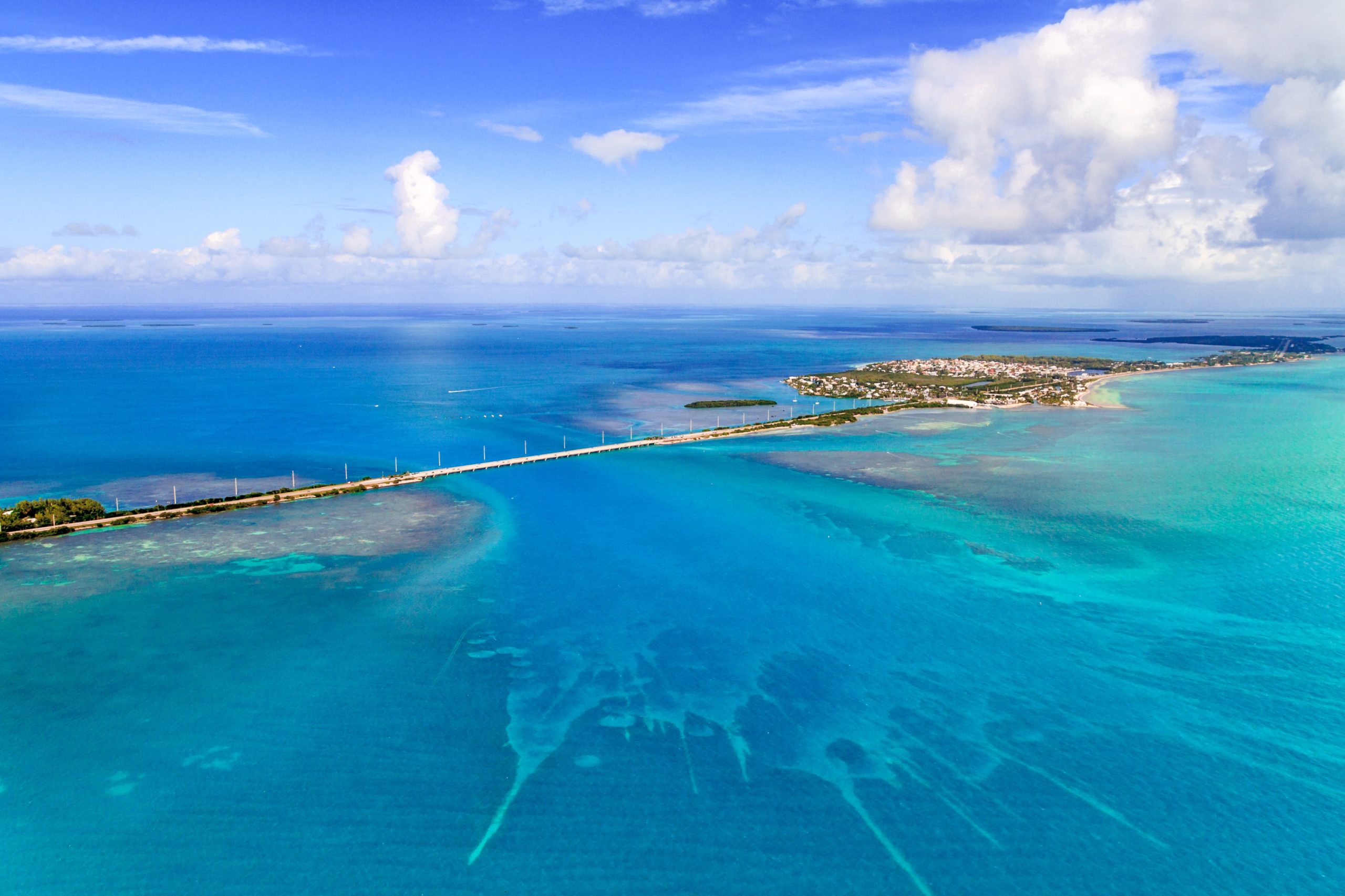 When it comes to coastal paddleboarding, there aren't many places better than the Florida Keys. A coral archipelago off the southern tip of Florida, the Florida Keys consist of 137 square miles of tropical sand, with almost anywhere along the archipelago a great spot to leave and get out into the ocean. Out of state visitors will find it very easy to fly into Miami, at which point you can either rent a car or hop on a bus that will take you out to any of the popular Florida Key beaches, many of which offer paddleboard equipment rentals.
Sticking close to the shore, you'll be able to cruise or even tour along the length of the Keys, but by paddling out into the ocean itself you'll find plenty of spots for fun, casual SUP surfing. Furthermore, this is one of the hottest locations on our list of most recommended locations for SUPing in the United States, so you'll be able to enjoy the sun and cool off with ease with a quick dive into the Atlantic ocean. If coastal paddling is on your agenda, and you want to enjoy the heat with a trip to the southern tip of the east coast, you will want to visit the Florida Keys for your next paddleboarding adventure!
Average Clear Weather Days per Year: 260
Distance to Major Cities: 1.5 Hours To Miami
Motor Vehicles Allowed: Yes
Paddleboard Rentals Available: Yes
Glacier Bay, Alaska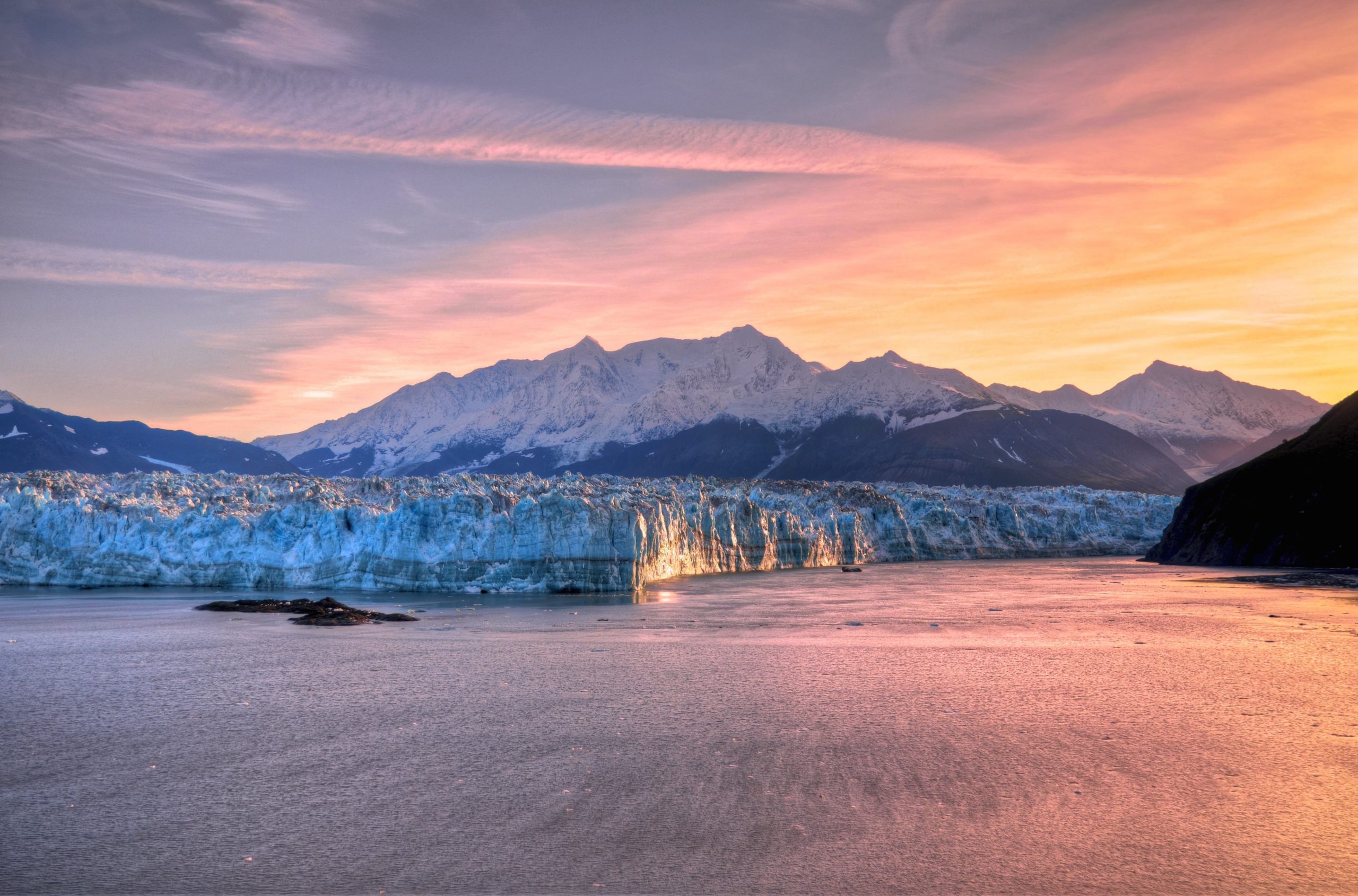 Going from warmest to coldest, you will truly be in an arctic wonderland as you explore glaciers and mountains that dot the Glacier Bay in Alaska. If you've ever wanted to just reach out and touch an iceberg, Glacier Bay is the place to do it, the vast bay also littered with fun islands that are great to explore as you eventually make your way out to the Pacific ocean. Navigating the greater Glacier park is a bit tricky, as you will need to fly directly to Gustavus or opt to take a ferry from the nearby city of Juneau.
However, once you make the trip you'll quickly wall in love with the sights and wonders, and will have a blast as you fish from your paddleboard or go on grand touring adventures that will take you to untouched coves and awe-inspiring icecaps. Besides dressing warmly in a drysuit, you will also want to make sure you have a very stable paddleboard, as falling into the water here can lead to serious health problems like hypothermia. For the brave and those who want a truly unforgettable adventure at the last frontier of America, we highly recommend considering going to Glacier Bay for your ultimate SUP adventure!
Average Clear Weather Days per Year: 86
Distance to Major Cities: 30 Minutes by Plane to Juneau
Motor Vehicles Allowed: Yes
Paddleboard Rentals Available:No
Hoover Dam, Nevada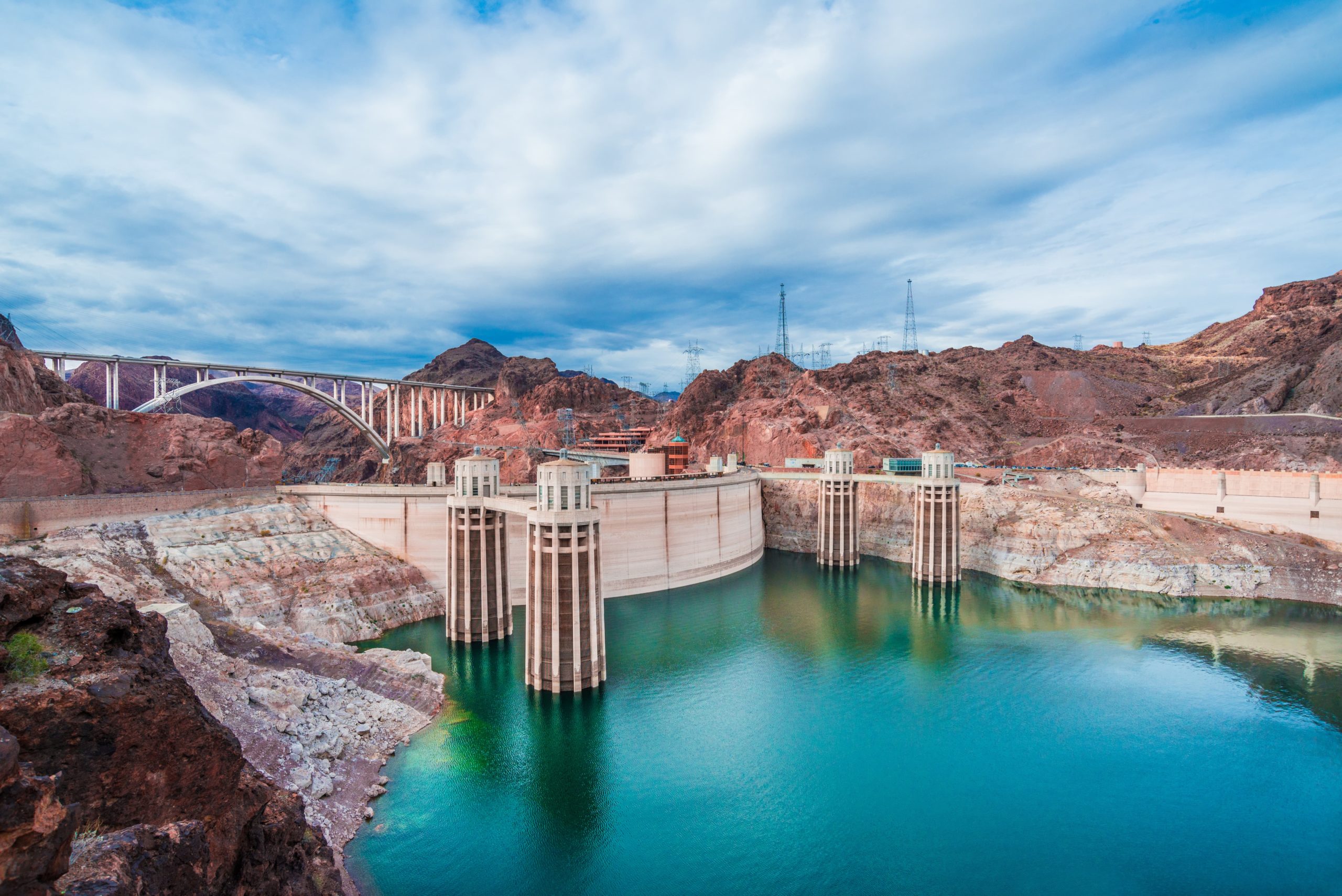 The Hoover Dam is one of the most famous tourist attractions in all of the United States, but did you know that it was a great spot for paddleboarding as well? Thanks to the fantastic warm Nevada climate, Lake Mead, the Hoover Reservoir, and the dam itself are all fantastic sites to see with plenty of vendors that will rent out equipment and teach paddleboarding lessons as well. The calm but deep waters are great for SUP yoga, with a number of paddleboard yogis willing to help you find your inner peace if you want something more guided for your adventure.
Alternatively, you can also either head out on your own or go on a guided tour down the reservoir to the cool south cove and Colorado river, helping you see more of the Grand Canyon area. Given that it is a popular tourist spot, the Hoover Dam is very easy to drive to as well, while those who are flying from out of state will have less than a 45 minute drive after their plane touches down in Las Vegas.. If the Hoover Dam has been on your list of national monuments that you've wanted to see in person, make a paddleboarding trip out of it by visiting the Hoover Dam reservoir for an awesome SUP experience!
Average Clear Weather Days per Year: 290
Distance to Major Cities: 15 minutes to Boulder City, 45 minutes to Las Vegas
Motor Vehicles Allowed: Yes
Paddleboard Rentals Available: Yes
Grand Teton National Park, Wyoming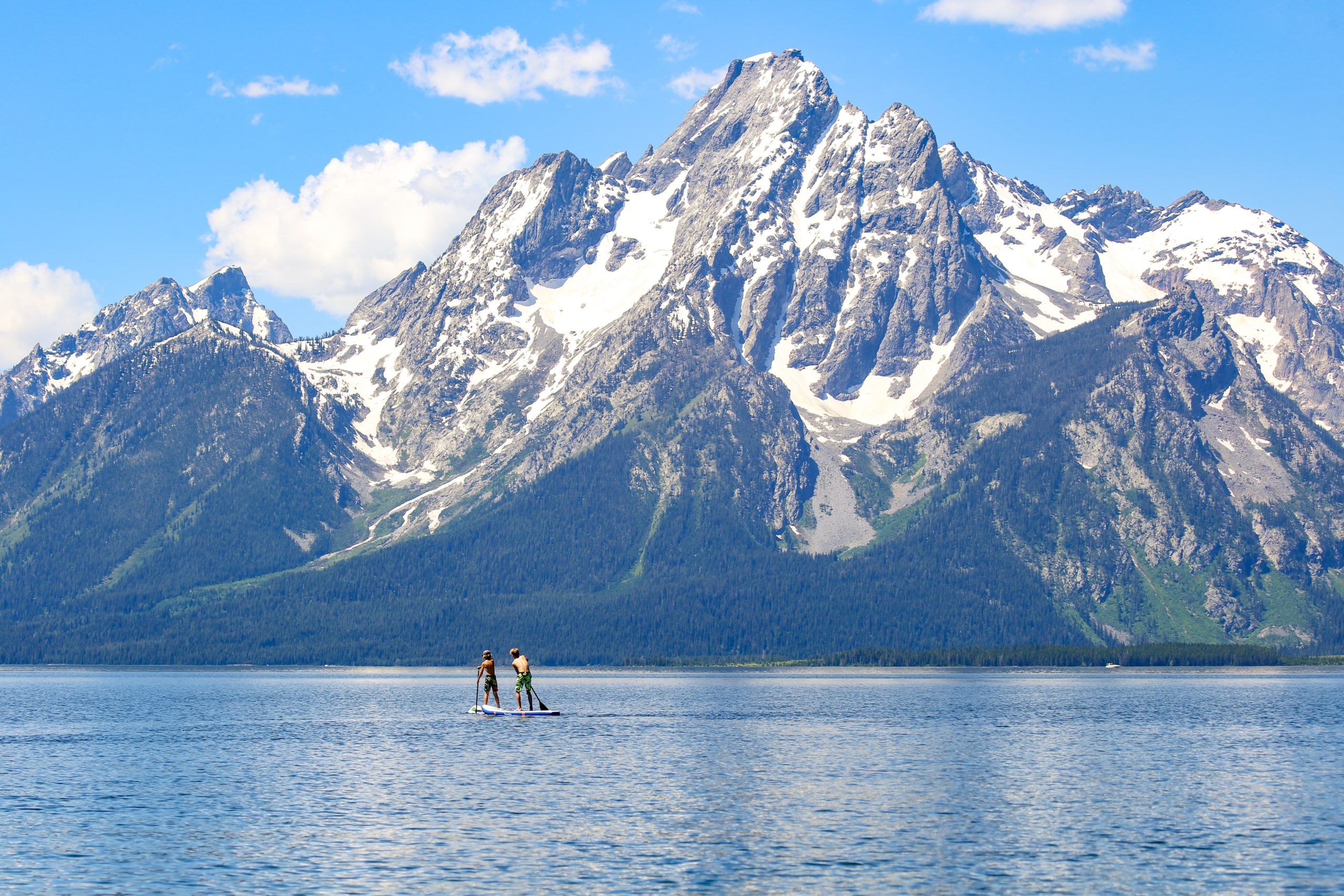 For many of the places on our list, you can paddle every day for a year and still fail to see everything that the waterfront has to offer. With Grand Teton, you could paddle every day for the rest of your life and still fail to see half of what the majestic mountain range and national park has to offer. The Grand Teton National Park has over one hundred lakes that are all accessible by paddleboard, each of which offer a different experience. If you want to try windsurfing with your SUP, Jackson Lake is the place to do it! If you want to get some yoga in instead or want to cruise around for a more relaxing experience, Two Ocean Lake and Emma Matilda Lake are superb, letting you paddle against the beautiful backdrops of mountains without dealing with boats. Out of state tourists who want to pay Wyoming a visit without having to bring their equipment, or are interested in getting a touring experience in, Half Moon Bay and Colter Bay are the perfect places to go! For the daring who want to hike to the water, exploring beautiful scenery largely untouched by civilization, Bradley, Taggart, and Phelps Lakes are all highly recommended as well.
There are dozens of other lakes that we haven't listed, only so that you can make your adventure truly wondrous as you explore and search out the water for yourself. Furthermore, once you do tire out of paddleboarding or need to take a day off to rest, Yellowstone National Park is just a short half hour drive away to the North of Grand Teton. The nearest major airport is a bit of a drive at two hours, but if you're the sort that wants to try something new and completely different every day of your paddling journey, we highly suggest visiting Grand Teton National Park!
Average Clear Weather Days per Year: 184
Distance to Major Cities: 2 hours to Idaho Falls, 5 hours to Helena
Motor Vehicles Allowed: In Parts
Paddleboard Rentals Available: Yes
Caddo Lake, Texas and Louisiana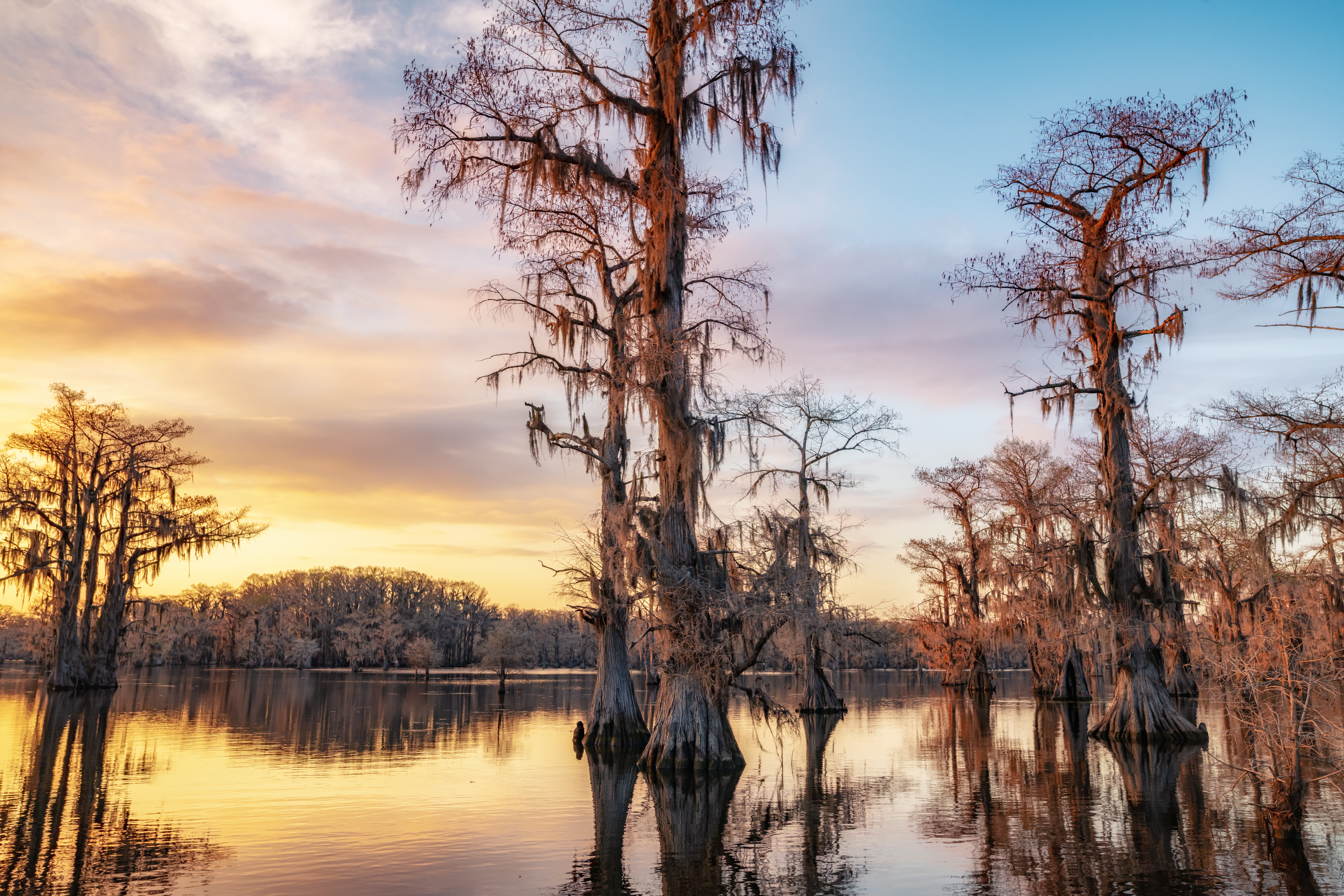 If you're visiting the southern states, you eventually have to cross off 'paddling in a bayou' off your bucket list, right? Well, when you get to that line, you'll want to visit Caddo Lake for a paddleboarding adventure that is equal parts eerie, gorgeous, mystical, and bizarre. Caddo Lake is one of the few natural lakes in Texas, and the second largest lake overall at approximately 25,000 acres of water you can explore by SUP. Unlike other locations on our list, which are remarkable for how clear the water is, the muddy, vegetation filled water of the Caddo Lake bayou is part of the fun that makes it so exciting to visit!
Enthusiasts going on long touring adventures, you'll find it thrilling to just barely squeeze by through the cypress trees decorated with spanish moss, keeping an eye out for owls, bobcats, otters, beavers, and the rare alligator or eagle. In fact, Caddo Lake is one of the most popular places for hunters who have reported to have seen Bigfoot! Caddo Lake is a destination you may want to consider visiting sooner rather than later, as the Caddo Lake of today will be quite unlike Caddo Lake a few years from now. Dams and other local construction efforts, along with invasive species introduced to the area by accident continue to eat at and shrink the wondrous lake despite local conservation efforts. As such, if you want to get the ultimate bayou paddling experience, and perhaps even go on a Bigfoot hunt (or just say hello to your local alligator), we would suggest checking out Caddo Lake for your next SUP adventure!
Average Clear Weather Days per Year: 211
Distance to Major Cities: 30 Minutes to Shreveport, 3 hours to Dallas
Motor Vehicles Allowed: Yes
Paddleboard Rentals Available: Yes
Tennessee River, Tennessee and Alabama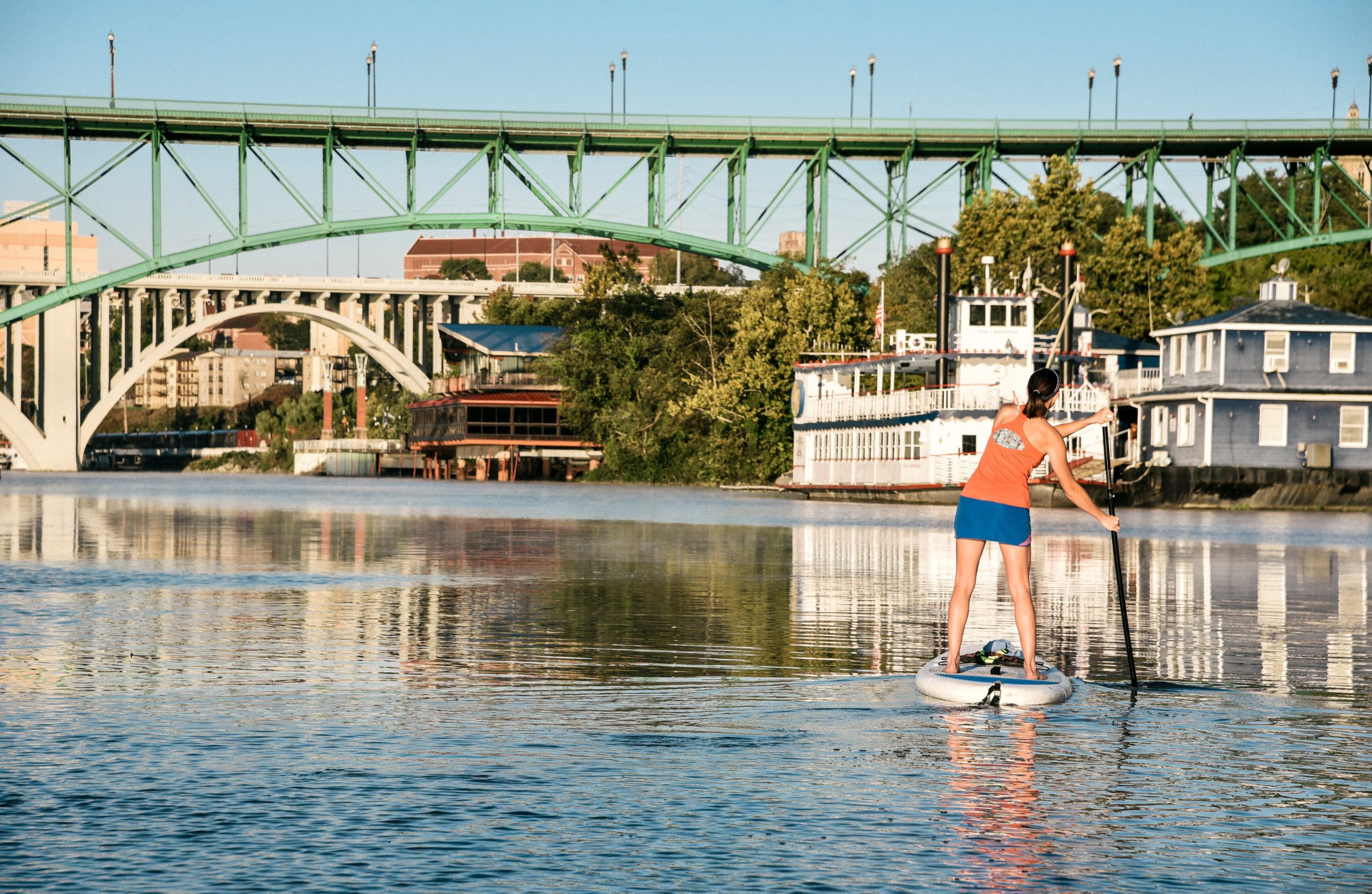 While the Tennessee River is named after Tennessee, most of the river (and some of the best SUPing sports) are actually in Alabama. A tributary of the Ohio River, the 652 mile long Tennessee River is perhaps the best touring river in the United States due to its length and average depth. Furthermore, there are dozens of towns and a few major cities along the way, allowing you to basically tour across the state on your paddleboard. You can start in Savannah on one side and paddle along the river, resting or pulling out at places like Waterloo, Florence, or Decatur. For fishers who want to try their luck out on a paddleboard, Sheffield and Decatur offer great rental options that will get you the gear you need, be it typical SUPs or fishing paddle board setups.
The river is fairly easy going, but there are a few rapids in spots as well, making it a fun river to go to with a trick board or for anyone who wants to develop their skills and see how stable they really are on a paddleboard. Given how long the river is, you can drive and approach it from almost any direction and find a good place to go out on, or fly into a number of major cities near it in order to compliment your next vacation. For these reasons, the Tennessee River is one of our top recommended SUP rivers in the United States, an option that will provide you with an adventure of a lifetime, especially for paddlers who want to go on the ultimate touring quest!
Average Clear Weather Days per Year: 205
Distance to Major Cities: Varied, depending on your preferred beach. Around 2 Hours to Birmingham, or 30 Minutes to Huntsville.
Motor Vehicles Allowed: Yes, but uncommon due to shallow river depth.
Paddleboard Rentals Available: Yes
Great Lakes, Michigan/Wisconsin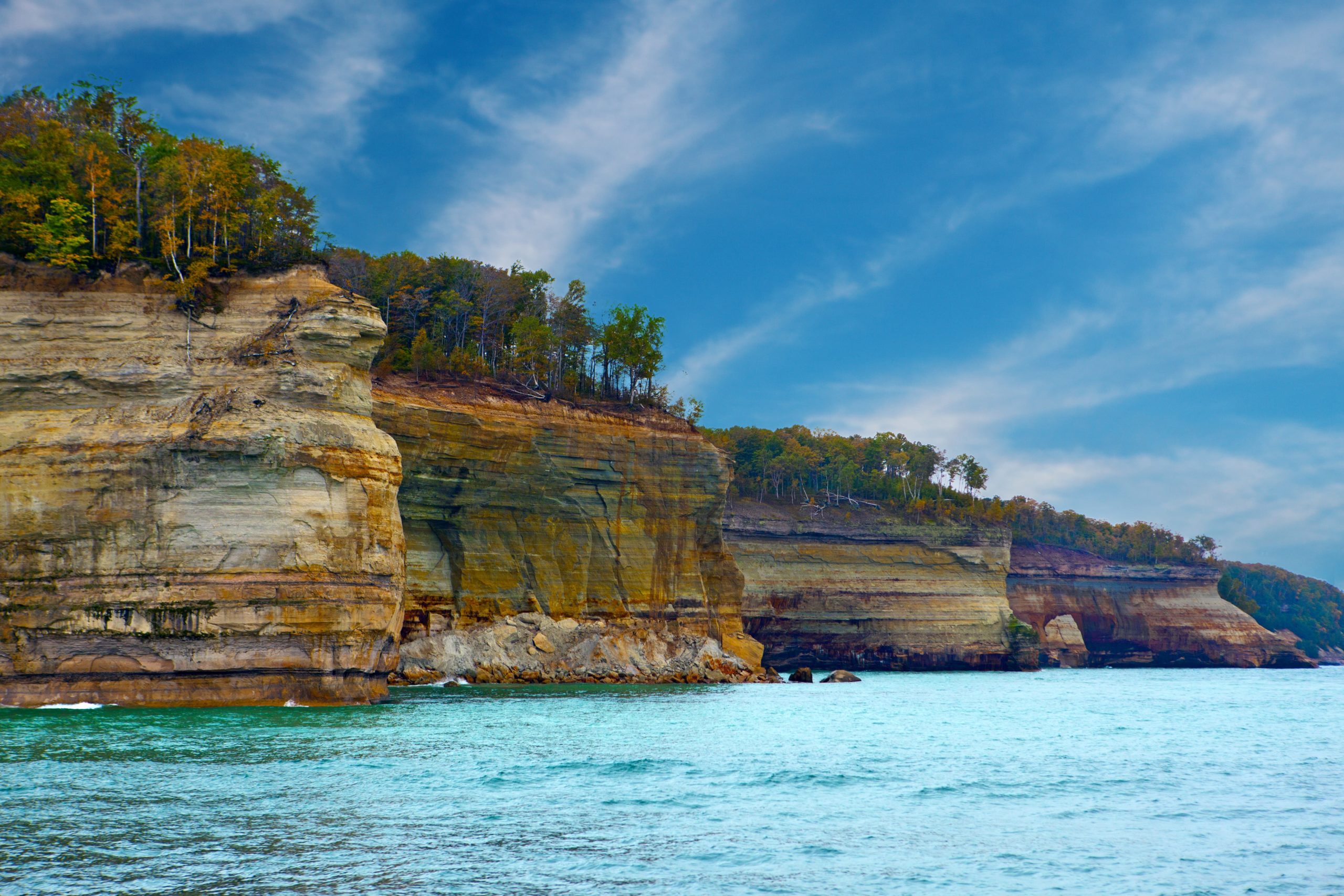 Similar to the Grand Teton National Park, the Great Lakes offers ample opportunities to paddleboard every day for the rest of your life without seeing everything the Great Lakes have to offer. For those who want to explore Lake Superior, the Pictured Rocks offer a fantastic landscape of sand dunes, coves, waterfalls, and exotic teal/blue water to help you have a wonderful time. If you're living in Chicago already or need to visit there in the future, make sure to grab a paddleboard and head out onto Lake Michigan, trying your luck at fishing for salmon, smel, trout, and other major catches. If you are willing to brave even colder waters or want to try their luck at some SUP sailing, Lake Huron is the body of water you'll want to visit. Those living or visiting Ohio will have a blast out on Lake Erie, while those living even further up North or in Canada will benefit from the glassy waters of Lake Ontario.
Outside of these five major lakes, there are also dozens of ponds, alcoves, and other small watering holes that you can hike or drive out to for a more private and secluded experience. Wherever you go, you can expect dozens of paddleboard rental companies, guided tours, and instructors who will teach you how to improve your stability or help you find your inner peace with guided yoga sessions. There's a lot you can uncover and see, and no matter which direction you come from you'll find something that will make a trip to the Great Lakes a memorable and exciting paddleboarding experience!
Average Clear Weather Days per Year: 205
Distance to Major Cities: Varied, depending on your preferred beach. Direct access from Detroit, Chicago, Hamilton, and Syracuse
Motor Vehicles Allowed: Yes
Paddleboard Rentals Available: Yes
Glenwood Springs Whitewater Park, Colorado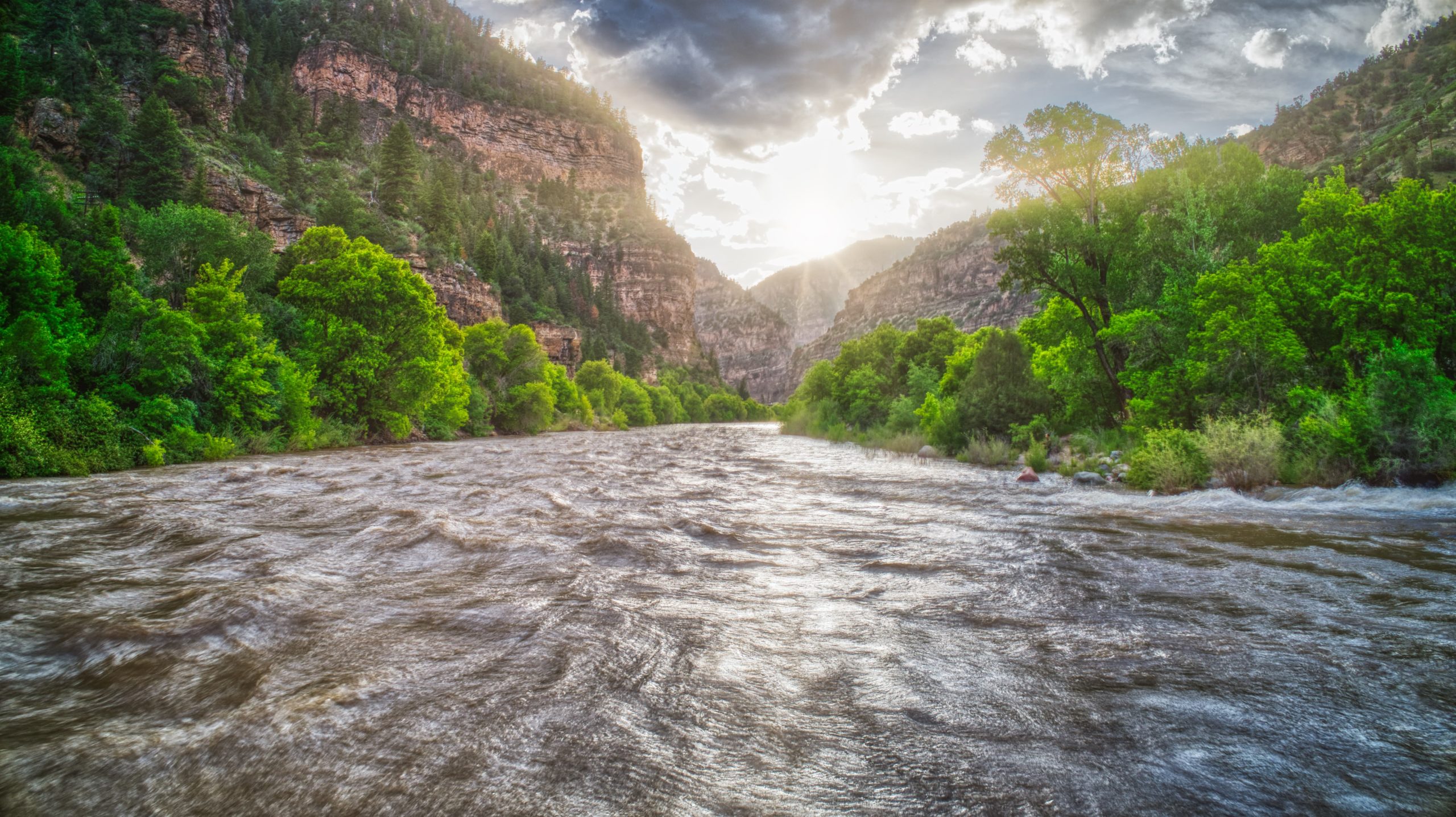 SUP white water rafting is a tricky sport, requiring advanced paddling skills along with well-designed premium paddleboards designed to handle rushing rapids. You also have to find the right place to do it at, and while the Colorado River is great it is also approximately 1,450 miles long, stretching along the borders of California and New Mexico and going all the way to the heartland of Colorado. While there are plenty of great spots that you can ride the rapids at along the river, we personally suggest just driving and checking out the Glenwood Springs Whitewater Park.
The man-made park is one of the first and one of the largest white water parks in the US, built in the North West quadrant of Colorado, with plenty of paddleboard vendors who will give you the gear you need to tackle the rapids. Furthermore, this is a great hub for finding guided tours and other instructors who will help you gain the experience you need to learn on class 1 and 2 rapids so that you can eventually take on more challenging class 3, 4, and 5 rapids for the more experienced SUPers. Once you've mastered the whitewater challenges at the park, you can also start paddling directly into the Colorado River for greater challenges. Glenwood Springs Whitewater Park is also an easier destination to travel to for out of state visitors, thanks to the airport that is just a fifteen minute drive away. So, if you want to have a fantastic whitewater rapid experience, we highly suggest one day checking out the Glenwood Springs Whitewater Park!
Average Clear Weather Days per Year: 239
Distance to Major Cities: Direct access from Glenwood Springs. 4 Hours from Colorado Springs.
Motor Vehicles Allowed: No
Paddleboard Rentals Available: Yes
Kelly's Whitewater Park/Cascade Lake, Idaho

Glenwood Springs is a family friendly whitewater park, but what about something for paddlers who want an ultimate challenge? Or, alternatively, what about something paddlers who want to go white water paddling one day but are interested in practicing yoga or just cruising the next? Kelly's Whitewater Park would be a great fit for you then, and is another place to consider after you tackle Glenwood Springs. Kelly's Whitewater Park is the newest destination on our list, having just opened up back in 2010 to the general public, and features five great courses of varying difficulties to conquer for the dedicated whitewater paddler.
Whereas Glenwood Springs Whitewater Park is mostly made up of friendly courses, Kelly's Whitewater Park in Idaho is constructed with some of the trickiest and most extreme rapids in mind, the true ultimate challenge for paddlers across the country. However, once you do find yourself tiring out and wanting to wind down, you can opt to travel just across the road in order to tour, cruise, practice yoga, fish, or just hang out on the majestic Lake Cascade. 620 square miles of crystal blue water, you'll have plenty of room (and plenty of beach space) as you enjoy the Idaho air, which ranges from refreshingly cool in the winter to a familiar desert warmth in the summer. Between these two fixtures, Kelly's Whitewater Park and Lake Cascade have something to offer everyone, including great lodging at places like the renowned Tamarack Resort!
Average Clear Weather Days per Year: 206
Distance to Major Cities: 2 Hours to Boise
Motor Vehicles Allowed: No at Whitewater Park, Yes at Cascade Lake
Paddleboard Rentals Available: Yes
Manhattan, New York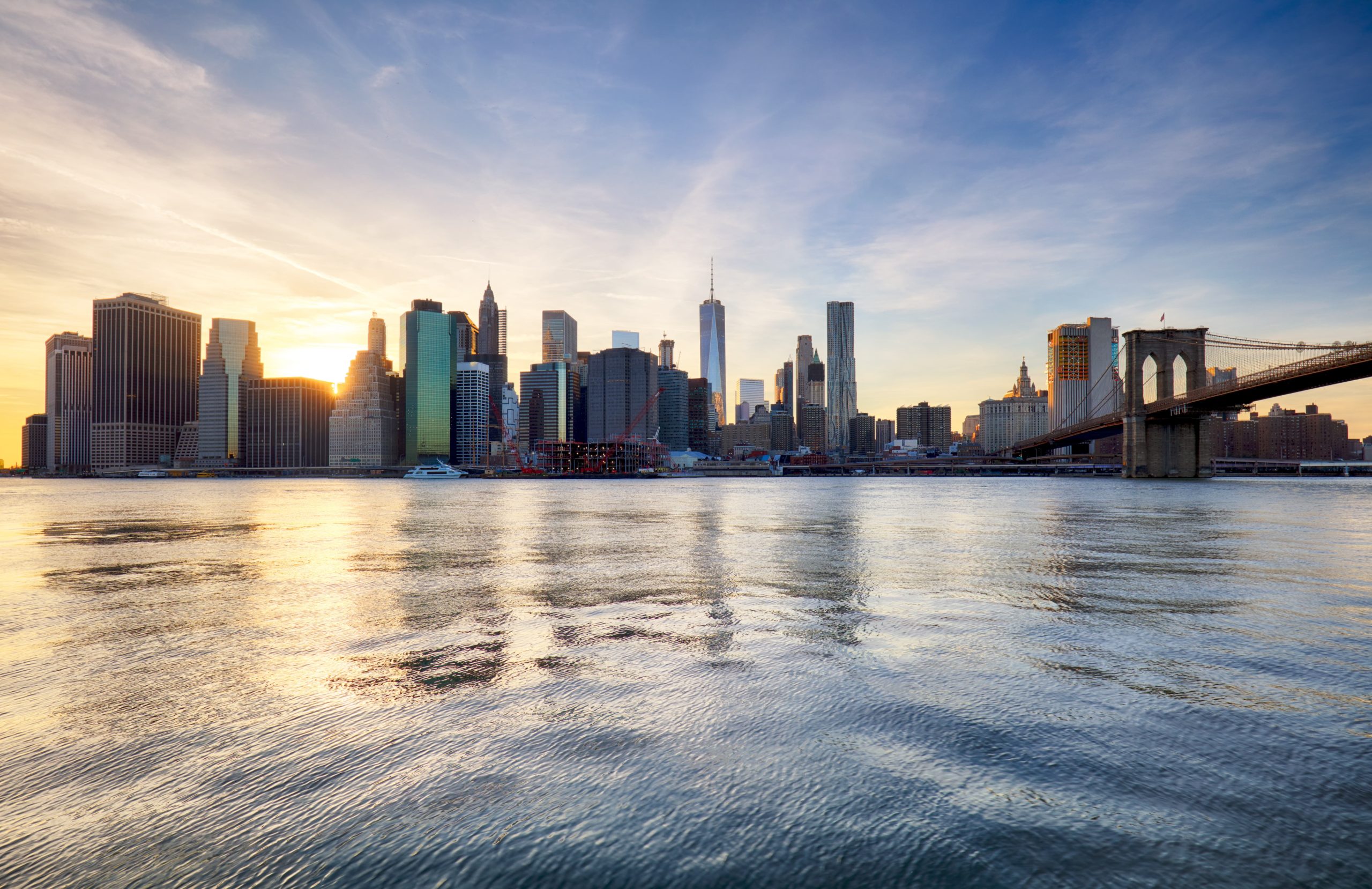 There's a hundred reasons why you'll want to eventually visit the Big Apple, and stand up paddleboarding is also one of them! While the water will be icy cold for most of the year, there are plenty of sites that are great to look at from shore, and even better once you're on a paddleboard. The Hudson river is smooth most days, but you'll have a great time navigating it as you get up close and personal with museum boats such as The Intrepid.
If you are interested in guided yoga offered by veteran yogis, Croton Point Park near Tappan Zee Bridge is where you'll want to go. By heading to the Manhattan Community Boathouse you can have some fun experiencing rapids in a contained practice area that also gives you a great view of the Manhattan shoreline. If you've been keeping track of this bucket list, then paddling beneath the Brooklyn Bridge is something else you'll be able to cross off the list while you're in the city. You'll definitely want to dress warmly even in the Summer, but make your trip to New York City an even more memorable experience by turning at least part of the trip into a SUP adventure!
Average Clear Weather Days per Year: 233
Distance to Major Cities: Direct Access from New York City
Motor Vehicles Allowed: Yes
Paddleboard Rentals Available: Yes
Columbia River, Washington/Oregon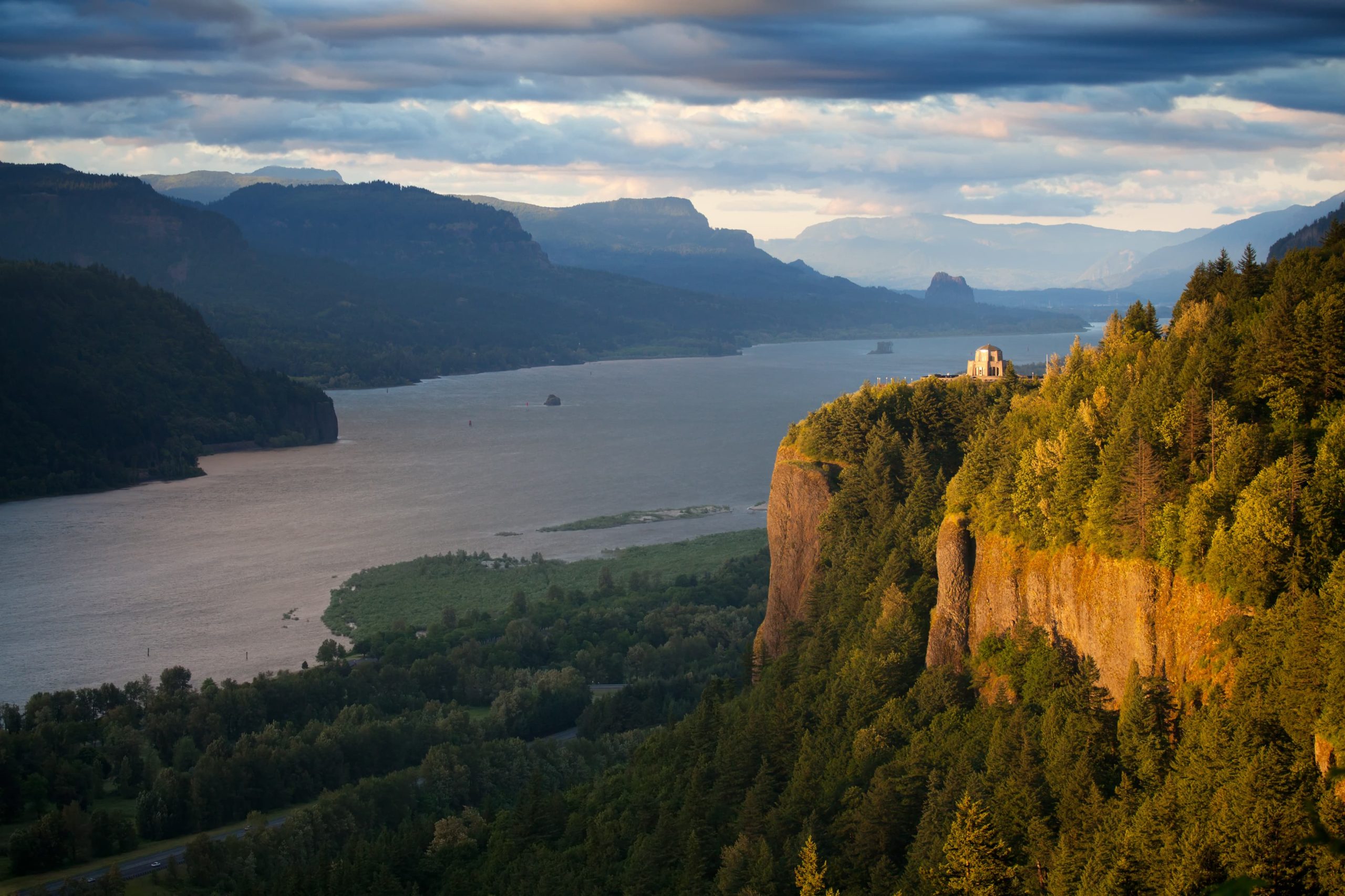 Different locations are well suited for different activities, but for our last recommendation we've waited to unveil our top spot for SUP fishing. If you can get over how cold the water is, and have a heavy enough and stable paddleboard to put up with the wind, the Columbia River is the dream destination for SUP fishers. Kept well stocked year round by fisheries and the Oregon/Washington state governments, there are diverse fishing spots that offer all kinds of fishes that you can try to catch for your fishing journey.
You'll find a variety of trout by wandering off to Taylor Lake, or you can go to Rowland Lake if you're interested in Cappie. John Day fishing offers Smallmouth Bass and Catfish, while Salmon, Steelhead, and Sturgeon can be found throughout much of the length of the Columbia River itself. Ranging from as light as 4 lbs to 16 lbs and larger, you'll have plenty of opportunities to fish from your SUP, though depending on where you go and what you want to keep you will need to make sure you have the proper tags and license. Even if you aren't a fisher though, there is fantastic wildlife, vast green forests, and beautiful rolling hills that make much of the length of the Columbia river. So, for fishers and non-fishers alike, take a trip out to the West Coast and visit the Columbia River for a cool but serene SUP adventure!
Average Clear Weather Days per Year: 144
Distance to Major Cities: Direct Access from Portland
Motor Vehicles Allowed: Yes, but rare due to depth of river
Paddleboard Rentals Available: Yes
Conclusion: A Whole Country to Explore!
Thank you so much for reading our top fifteen SUP destinations in the United States! Each of these locations are exciting for their own reasons, and support a wide assortment of SUP activities. Outside of this top fifteen list, we are also working on developing the top five locations to paddleboard in each state, allowing you to visit cool and exciting waterfronts that should be near your home. As such, we would love to hear from you! If you have been to one of these above locations, or have a place you think we should add to this or another list, be sure to leave a comment below or send us an email with your thoughts! Furthermore, if you would like to know more about one of these destinations, or have a question about paddleboards in general, you are welcome to leave your question or comment below as well.
Wherever you go though, make sure to pack some sunscreen, wear a PFD, and have a blast while you're on the water. Have fun SUPing!
The following two tabs change content below.
SupBoardGuide
Heyo! At SupBoardGuide.com we are a team who love the water, the outdoors, and are more than grateful that our full-time job allows us to review stand up paddle boards. We paddle year round (it helps that we are just about 2 hours outside of Las Vegas), and we bring in a wide range of paddlers with the goal of providing our readers with the best, most in-depth, and accurate stand up paddle board reviews.
Latest posts by SupBoardGuide (see all)