One of the products I recently tested is a SUP carrier system called SUPWheels, that allows you to either walk or bike your board to the water.
Let me start at the beginning though. Alan, the founder of SUPWheels reached out to me and told me about his product. He had suffered an injury to his collarbone and was looking for ways to carry his SUP with just one hand. Now we all know that it is not the easiest task. Well, necessity is the mother of invention and Alan combined his processing power with passion for paddle boarding to invent the SUPWheels. He started out in his garage and turned SUP Wheels® into a global water sports manufacturing company selling his product in 17 countries worldwide. Needless to say I was intrigued when he offered me to test and review the product (Thank you again Alan!).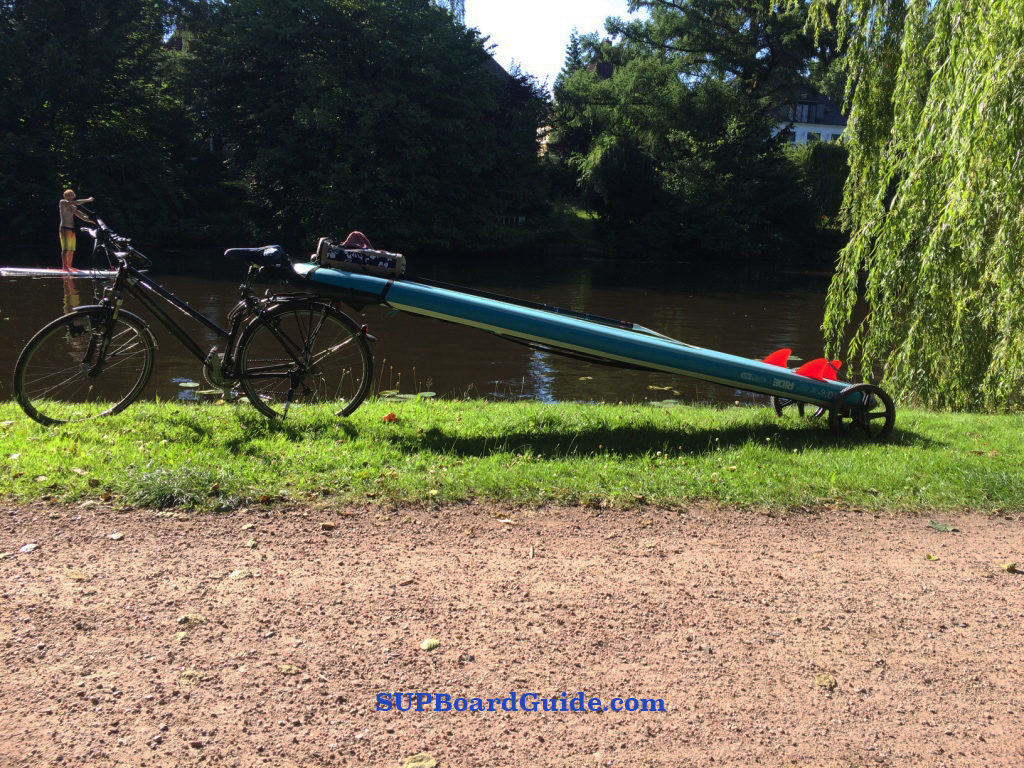 Silent And Strong
You probably have heard the phrase, "He's the strong, silent type." That's a perfect description of the SUPWheels. Crafted from top quality materials, the product feels very much like a labor of love. It showed from the first second I used the product. It runs smooth and quiet, even on bumpy roads; which did surprise me, as I was expecting it to be a bit shaky. There was nothing of that.
Easy To Use
Assembling the product is done in seconds. All you need to do is attach the wheels and adjust the straps to the correct size of your board. By the time you say 'SUP Wheels', I already have my board locked into it and ready to be rolled out. Yes, it is that easy to use.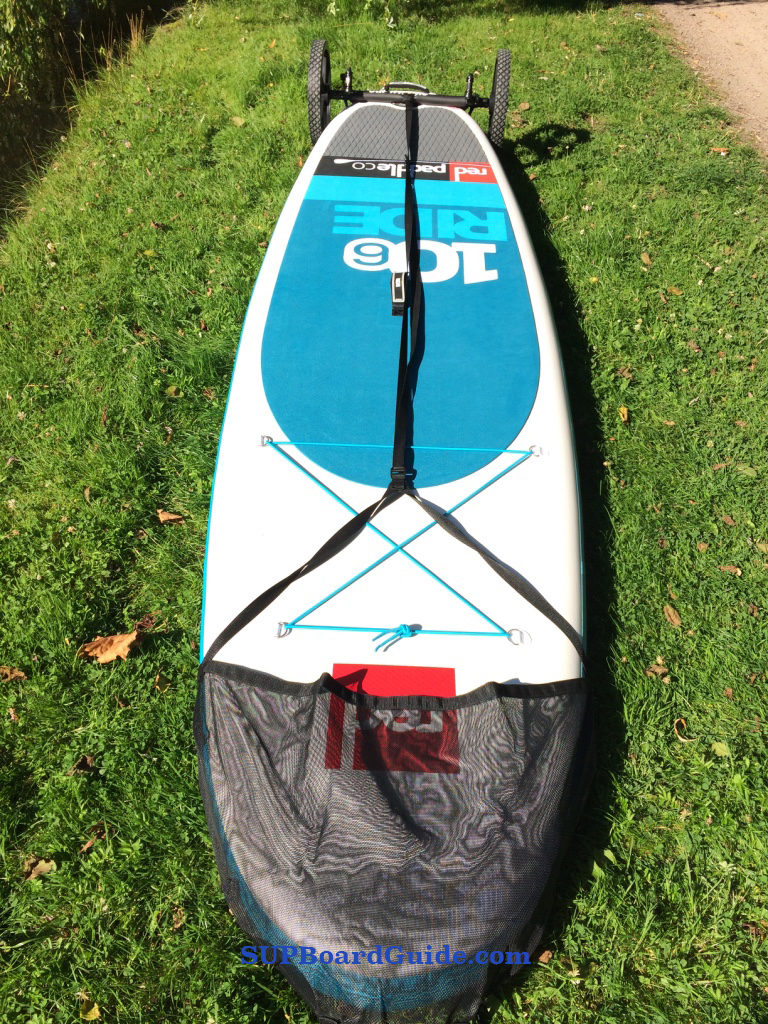 Carry More
This can be a godsend to especially those with families. You may have a million things to carry and hold on to your kids. With SUPWheels, all you need is five fingers (or less) of a hand to carry the board. You have one free hand plus your partner's to carry other stuff. You could even strap a shoulder bag on the arm carrying the board. Carry more, stress less.
I bike to the water most of the time and deflating and inflating my board every single time is pretty annoying. Plus the backpack can get really heavy. The SUPWheels allow me to just keep my boards inflated all the time or just bring a hard board, something that wasn't possible before!
Advanced Features
Now the accessory looks pretty basic at first, but boy did it impress me with some of its features. First up, you don't have to worry about the SUPWheels once you hit the waters. You can even leave it behind on the shore, locked to your bike. Or you can actually carry it on your board. Yes, it is that light. And if for some reason, the Wheels were to roll off into the water, there is nothing to worry. They float!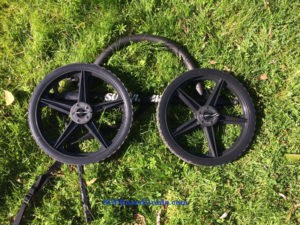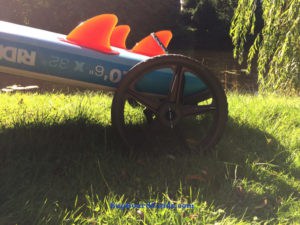 The second thing is that the accessory has been coated with a non-corrosive paint. Take that, harmful salt water. Plus, it is resistant to UV rays too. Your SUPWheels will remain new and shiny for a very long time.
Third: It can be used with a whole wide variety of SUPs. You can even transport 14′ boards.
Choose Your Type
There are two models available – the Classic and the Evolution. The only difference is that the latter comes with a strap handle to hook your board to the bike. My advice: go for the Evolution. It doesn't cost that much more, and the strap will come in handy.
All Passion And Heart
Alan is a very passionate man. The SUPWheels is an example of that. The product was born in his garage; now it is manufactured from a unit in Pensacola because of the high demand. It is very much a family business where everyone pulls in their weight. The result: SUP Wheels is shipped to 17 countries worldwide.
Get On Your Wheels
The SUPWheels are a total game changer. They are super easy to assemble, can be stored anywhere and make it hassle free to get your board to the water. The product also comes with a 1-year warranty and a 100% satisfaction guarantee so trying it is absolutely risk-free. If you have any issues or run into questions, Alan and his team will be there to help you out, or you can email me at any time.
Interested?  You can check out the Evolution model here or take a look at the Classic version.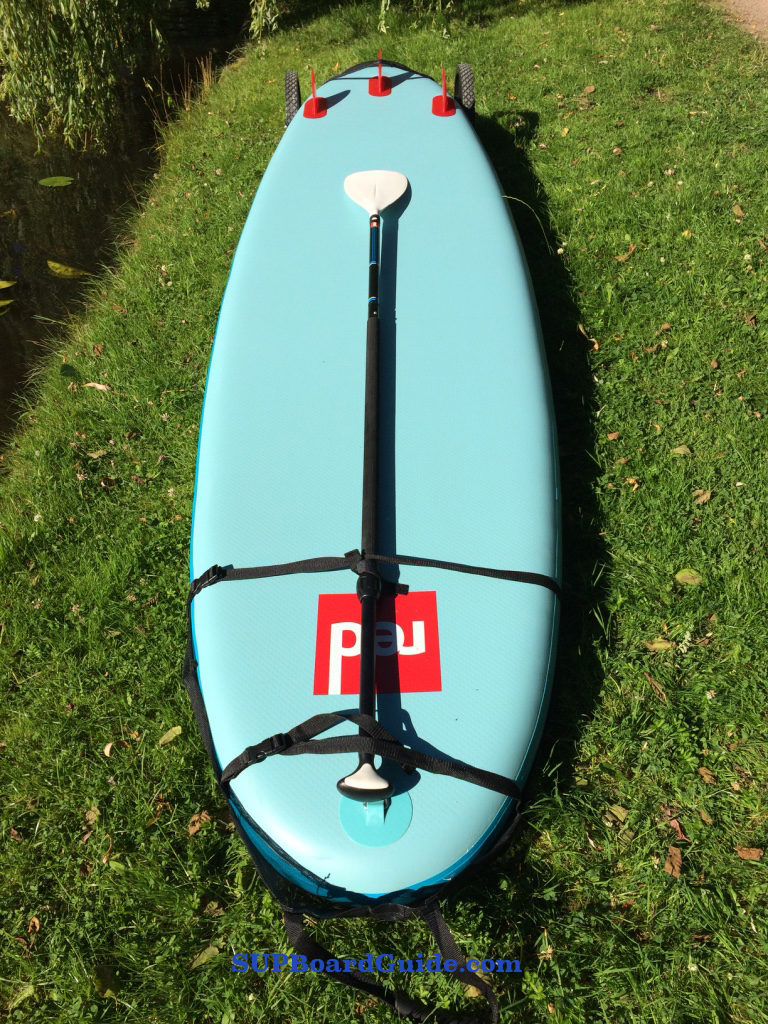 The following two tabs change content below.
SupBoardGuide Editorial Team
At SupBoardGuide.com we are a team who love the water, the outdoors, and are more than grateful that our full-time job allows us to review stand up paddle boards. We paddle year round (it helps that we are just about 2 hours outside of Las Vegas), and we bring in a wide range of paddlers with the goal of providing our readers with the best, most in-depth, and accurate stand up paddle board reviews.
Latest posts by SupBoardGuide Editorial Team (see all)