When buying a new stand up paddleboard, you may come across some new terminology unique to the sport.
We decided it would be helpful to briefly explain certain terms and clarify how they might inform your SUP board selection. Below is a list of some of the commonly used terms in SUP product descriptions and articles.
All Arounders:
All-around boards (commonly referred to as "all-arounders") are pretty self explanatory. These boards are designed for use in most, if not all, SUP conditions. This includes waves, chop, and flat water.  They are typically longer (10' – 12'), wider (29" – 36"), thicker, more stable and suitable for novice riders.
These boards are best for paddling closer to shore and general recreational purposes.
However, within this general category, there are boards that are more suited for the needs of beginners, fitness, surfing, advanced riders and more.
View the All-Arounder category page
Bottom of the Board:
Okay, again, this one's pretty obvious. But the bottom shape (or hull) of SUP board is important.
You'll find that flat-bottom boards are quite stable and easy to find your balance on. However, for maneuverability and planing needs in racing and touring, board bottoms will feature different angles, concaves and contours.
Pay attention to these descriptions in board reviews and on dealer product pages. If you're looking for more cruising performance, you will likely seek a board with some planing features in the hull.
Deck Pad:
Refers to the soft surface (usually foam or rubber based) used on the board for traction, foot control and general comfort. Deck pads are great features for beginners and recreational paddleboarders.
They are also an excellent feature for families and on-the-water yoga enthusiasts. Many boards in the all-arounder category feature soft deckpads. It's an important component of the board when it comes to getting on and off. Also, after a long paddle, you'll appreciate the softness and grip a good deck pad can provide on your feet.
You'll find that a lot of deck pads feature a diamond pattern, such as with BIC boards. This is a nice feature for extra traction.
Fins:
Fins are used in stand up paddleboarding to facilitate "tracking" – i.e. keeping a straight line on the water. Tracking is essential to efficient stand-up paddling. You want to maximize strokes per side, rather than constantly switching. Certain fins and boards are geared more towards tracking. Many simply include a single fin of specified length; the longer fins will generally give you nice tracking and stability.
Other boards, including kayak/SUP hybrids, have double fins, triple or integrated molded fins. These will facilitate both tracking and stability, as hybrid SUPs can be used for both stand-up and sit-down paddling.
View this post to learn more about fins.
SUP Handles:
Most SUPs include built-in, ergonomic handles to make the board easier to carry. Depending on the board type, these may be attached along the rails and/or integrated into the tail or nose of the board.
This may seem like a minor detail, but it's a detail that is always well-appreciated and highlighted in customer reviews. A SUP board can be cumbersome and hard to carry without a useful and well-placed handle.
Hybrids:
SUP hybrids combine the features of a kayak and stand-up paddleboard. Most hybrids include storage options and hatches to hold gear and other provisions for longer journeys.
They also may include seat backs and heel rests (as in a kayak), as well as rod holders or other accessories.
As the description implies, these boards give you the option of sitting down while paddling, as well as packing extra food, gear and anything else to take with you on a leisurely paddle or long distance exploration.
Certain hybrids are specialized for certain activities, i.e. fishing, advanced whitewater pursuits, or longer distance paddles.
Inflatable SUPs:
Inflatable SUPs are becoming a very popular options for many different stand up paddling activities. They're very convenient to store and carry. They are lightweight, comfortable and forgiving.
Another reason: quality inflatables (i.e. inflatable SUPs we cover on this website) are made using durable, high PSI drop-stitch construction. These boards are made to withstand the elements. You'll find inflatable SUPs used for yoga, fishing, touring, and general family recreational use.
Visit the Inflatable SUP category page to view examples.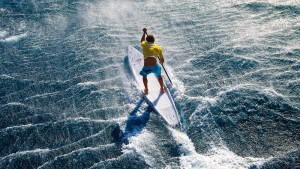 Racing and Touring Boards:
Racing and touring stand-up paddleboards are usually designed for speed and efficiency, including longer and sleeker designs with pointed noses (bow).
Most boards in this category range from 12' to 14' long. There is a little less stability for beginners in a racing or touring board, although some are still built for more recreational purposes and cruising in flat-water environments.
Finding the right balance of performance and stability may be the best formula for beginner to intermediate cruisers in this category.
View the Racing and Touring SUP category page to learn more.
Rails:
The rails of a SUP refer to the side or edges of the board.
You'll generally find low volume and tapered rails on boards designed for maneuverability in surf, while higher volume rails with consistent widths add stability in all arounders, inflatable SUPS and other versions of beginner or hybrid boards.
High volume rails also keep you above the water and dry on long-distance touring runs.
Rocker:
The rocker of a standup paddleboard refers to the curvature of the board from the nose to the tail of the board (tip-to-tip). This makes more difference when surfing than it does when flat-water paddling.
A rocker profile also helps in touring, though, and generally makes it easier to turn and maneuver the board.
Soft-Top SUPs:
These boards are usually designed for beginners and family usage. As you would guess, the board features a soft top (often foam), usually spanning the entire deck surface.
This makes it nice and easy to roll on and off, put your dog on, and learn when you're just getting used to balancing on a SUP. Here's an example.
The disadvantage to soft-top SUPs is that they tend to run on the heavy side. But if you're looking for an affordable, entry-level, family friendly option, a soft-top can be a great choice.
Tail:
Refers to the rear of the SUP. The tail design – including thickness, shape and edge – is important when considering how the rider will turn. A more angular tail allows for more precision in making turns. Rounder tails are made for smoother turning with longer arcs.