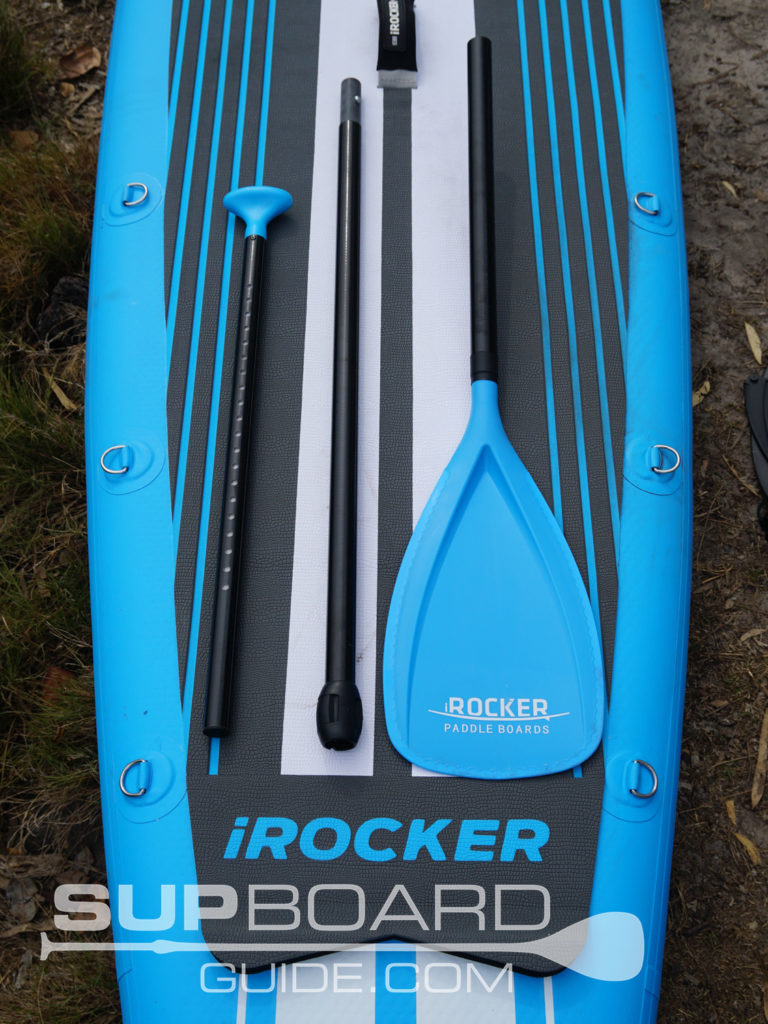 Have you paddled before and looking for something that offers up some speed and agility? Also looking for that something to be of awesome value? Something that has great accessories as well as being a fun board?
Then this is the review for you. The iRocker Sport 2019 is the narrowest and most agile of the iRockers. It excels in many areas but some also may find it hindering, to find out more, read on below!
If you are interested because you've seen or have the 2018 model, you'll be happy to know there are some improvements this year in materials as well as accessories.
Specs
| | |
| --- | --- |
| Length | 11′ |
| Width | 31" |
| Thickness | 6" |
| Weight Capacity | 485 lbs |
| Weight | 32 lbs |
Performance
Well considering the name, you would hope the board is 'sporty', which it is! It zips along easily and you can maneuver quite easily. The backfoot turn on this board is highly responsive, which you can contribute to the Sports narrow shape. While it's also a balanced turn thanks to the raised heel pad at the back of the board.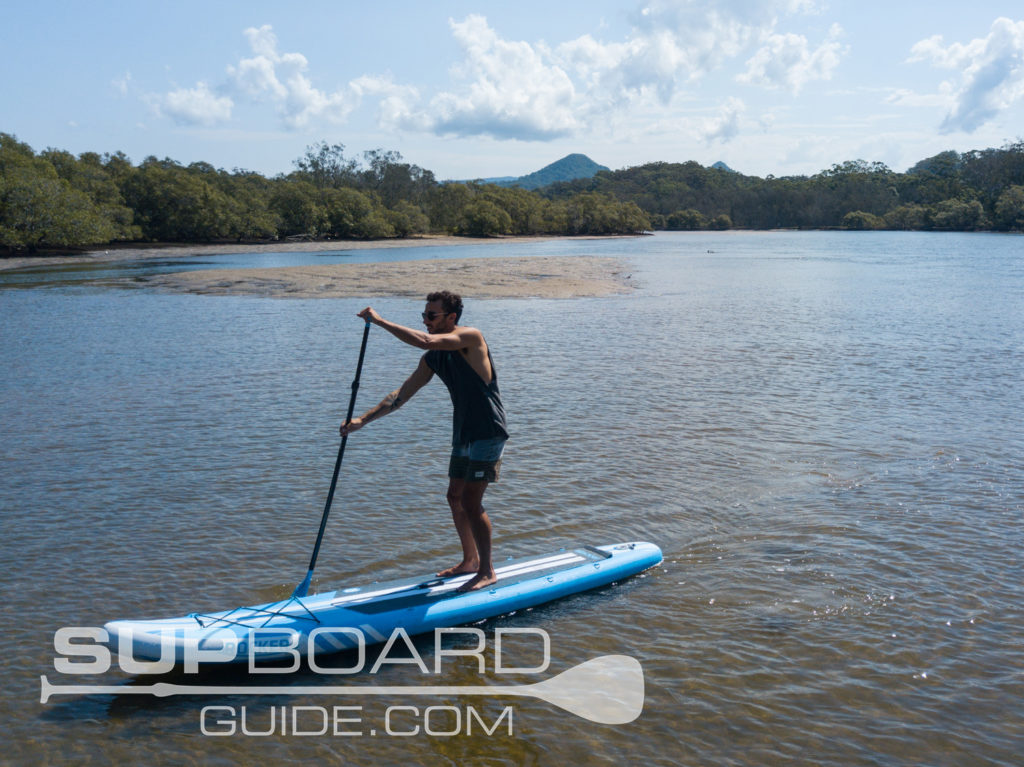 While this board is narrower throughout the whole body, it's still surprisingly stable (especially with 1″ wider than last year). I put it down to the 6″ thickness and such a long length. Though if you are brand new to SUP I would suggest looking at something more like the iRocker All-Arounds. Though, those who have previous water experience in surfing or something similar would be fine on the Sport.
The Sport is a bit of hybrid between a racer and a touring board. It's not quite sleek enough to be a racer but not quite the right shape to be a touring board either. It performs somewhere in the middle too. It's an ideal board for those wanting to get some speed in their paddle outings and cover distances.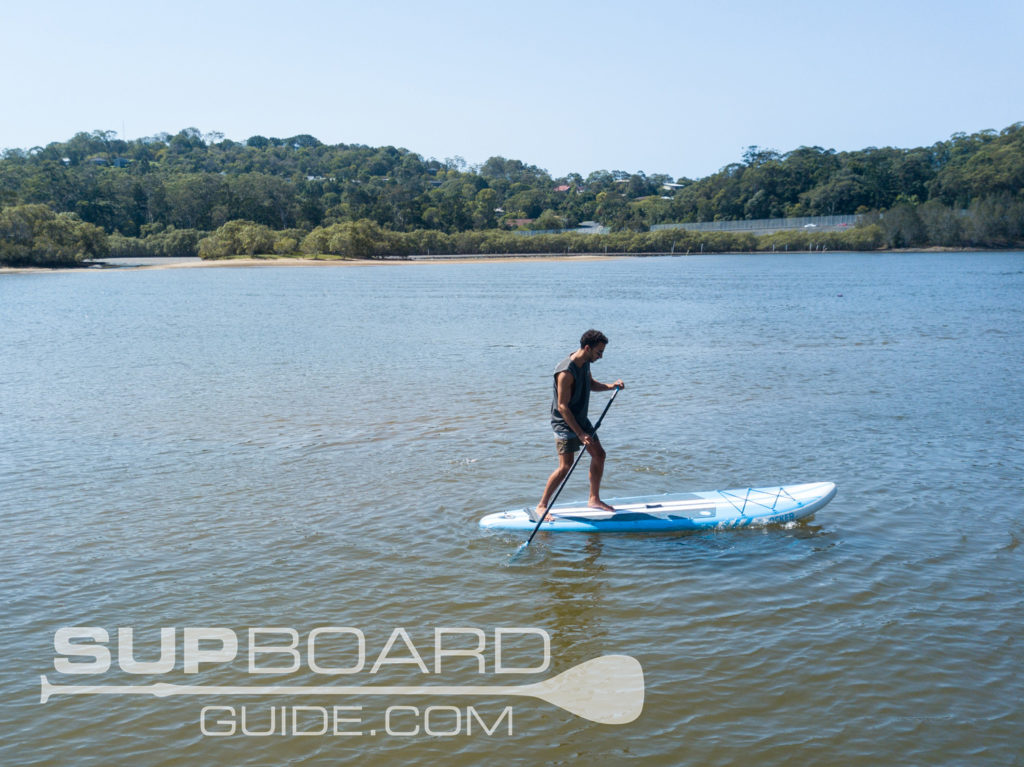 The conditions in which this SUP performs best is flatwater conditions but can handle a bit of turbulence. While it's not ideal for waves, if you encountered some light rapids or winds, you will find the rocker through the nose will tackle it head on and you'll still be left standing on the other side of it.
Materials
Rolling over from 2018 is the same quad layer PVC snuggly wrapped around a drop stitch core. Inside the board, your drop stitch core is what keeps the board from popping at high pressures and allowing a rigid feeling on par with hardboards. The layers of PVC protect and reinforce the stiffness of your SUP.
From what I have seen, I'm yet to see quad layer PVC being used anywhere else. While it does add a bit of extra weight, it makes these board unbreakable but also provides a platform for huge weight capacity. By being able to take the extra weight, you open up every board to extra possibilities. Take along fishing gear, another companion or if you are a bigger rider, you'll feel super stable!
From what we have been told another point that iRocker uses the quad layer PVC as opposed to Fusion is that fusion manufacturing (so far) has a higher return rate. They decided they'd rather have their board weigh a couple of pounds extra and have a more consistent product. They have one of the lowest return rates in the iSUP world, so perhaps they are onto something!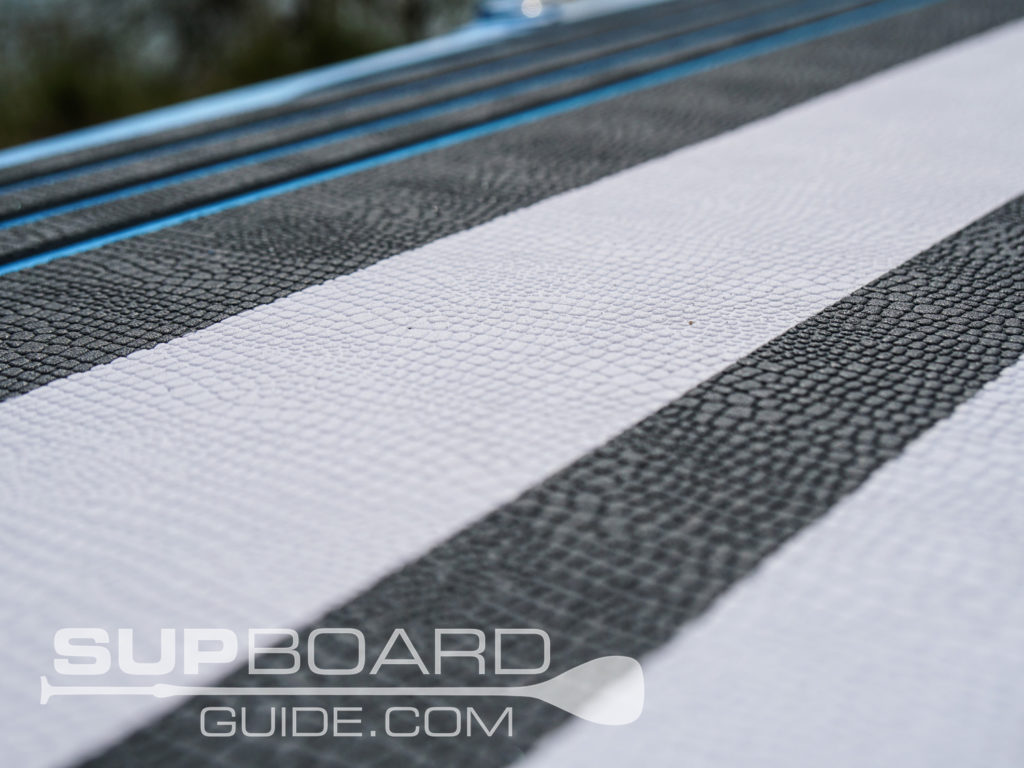 The deck pad which provides your grip and comfort is made from a thick EVA foam and it does particularly help with support on your knees and back over long distances.
Board Design
This year's design boasts a bunch of new features! First of all, the bungee area up front has been extended to spread further for more storage room on the nose. While if you look down the body you'll see there are now 8 D-rings on the sides, which last year there was none! This is for a kayak seat or more storage space with additional bungee being able to be purchased too.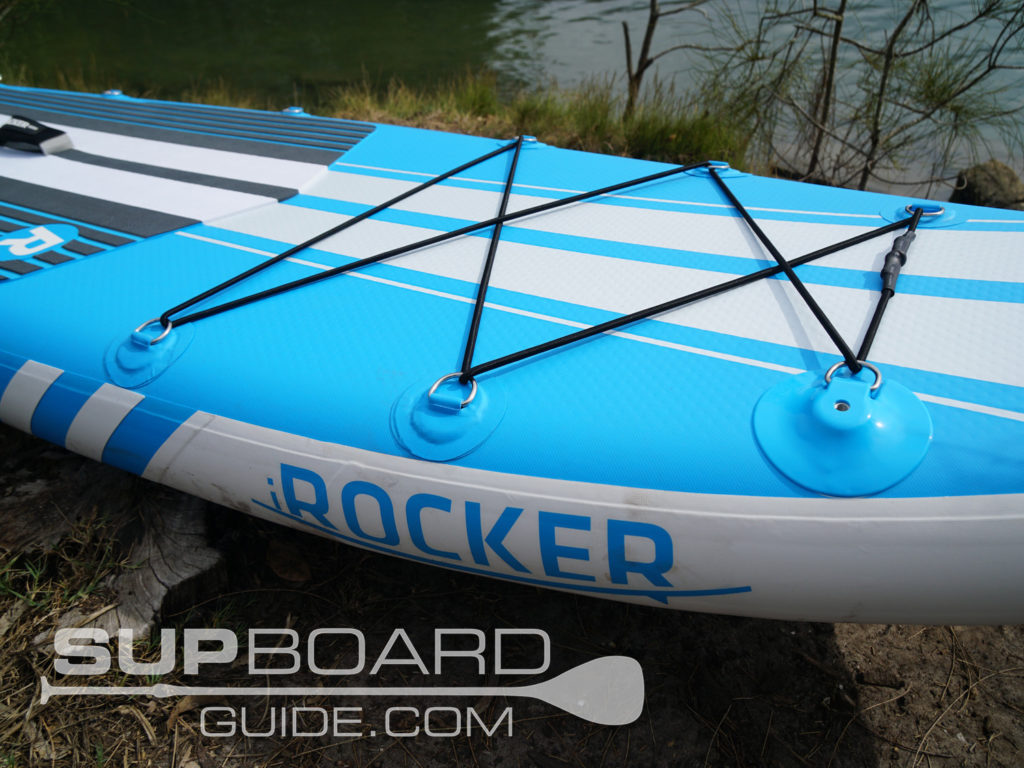 The D-ring on the tail is for your leash (included) and also can be used to tow someone! Up the front on the board where the top right D-ring is, is the action mount. Your action mount hosts a range of fun extras like a fishing rod holder, go pro or the super cool new Bluetooth speaker!
On top of some added features, the whole board's aesthetics got a facelift. The deck pad has color-coded stripes through it and has been brought a bit closer to the leash ring and inflation valve. This years Sport model is available only in blue, but I at least prefer the new design!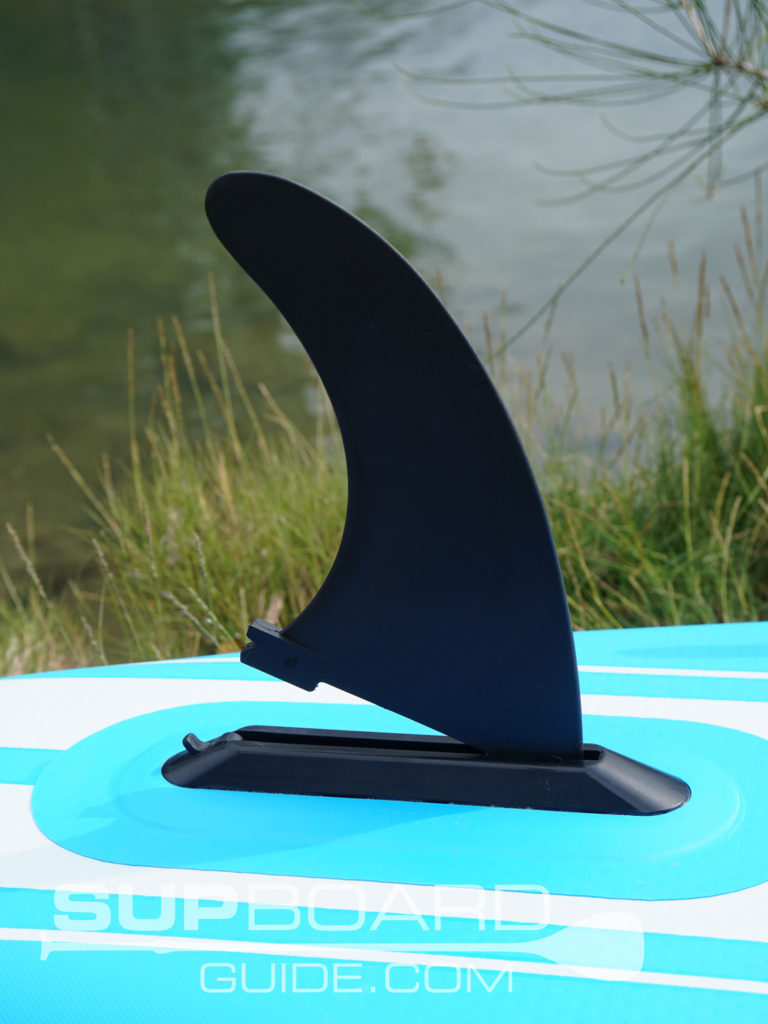 Features
Fins
The side fins on the sport are now removable, allowing your board to be rolled up tighter but also giving the option of going with just a center fin. Using only a center fin improves your tracking fractionally but can mean you need to be more precise with your turns. Without side fins, you lose a little stability in the back of the board.
There's also an option of a lower profile center fin, for shallow waters. All of the fins are the original click in type, easy and quick to install!
Inflate/Deflate
It'd take longer to squash a mosquito than inflate your Sport! Maybe a slight exaggeration but the new triple action, full throttle pump makes life much easier/quicker. I'd say 10 mins max to inflate your Sport to 15 PSI. Deflating is just as fun as paddling, you can get pretty creative with how you expel the air from your board.
After you have pushed the pin down and twisted it off, roll, step, jump, tackle your friend…onto the board and push the air out before rolling it up. With the removable fins, it rolls up even easier now, but if you want to be really quick, leave it in the sun a little first and it helps make the plastic softer to roll.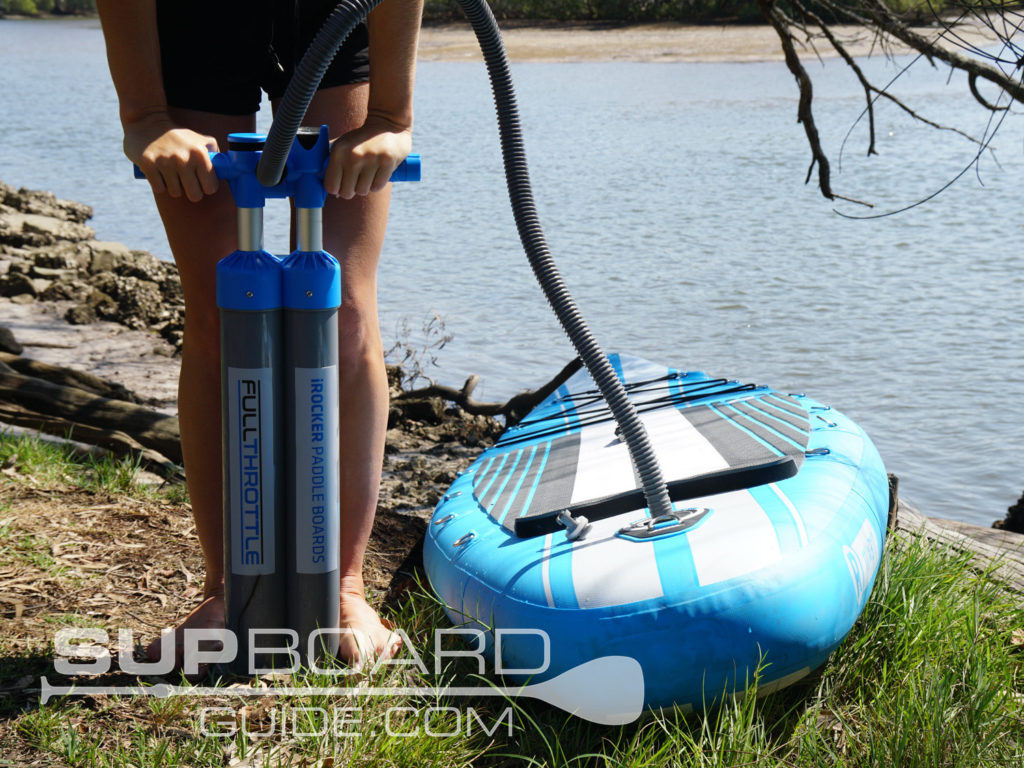 How Does the iROCKER Sport compare vs other iROCKER SUPs?
As I mentioned above, the iROCKER Sport is skinnier and more maneuverable than either the iROCKER 11'/10′ All Around or the Cruiser. As such, it's also going to be just a bit less stable, so keep that in mind when it comes time to make your purchase.
Accessories
Paddle
Included with your board's purchase is a color-coded 3 piece paddle. This paddle is made from fiberglass, weighs nothing at 2.1 lbs and breaks down into 3 pieces to fit in your bag easily. Its blade is strong as well as the joints so you'll feel no flutter or bends even when giving it your everything while paddling.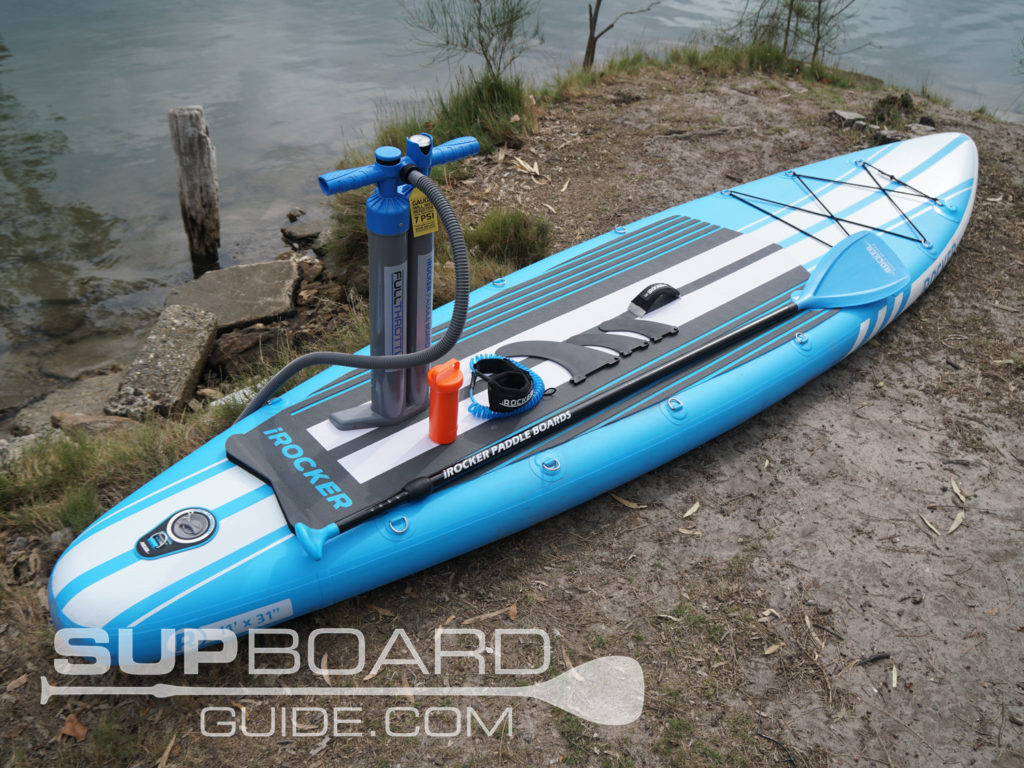 The locking system is a 2 pin at the top, so you are unable to put it in crooked unlike the snap lock joins and final perk, it floats!! You can extend your paddle from 72″ to 86″ so even the taller riders can use this paddle.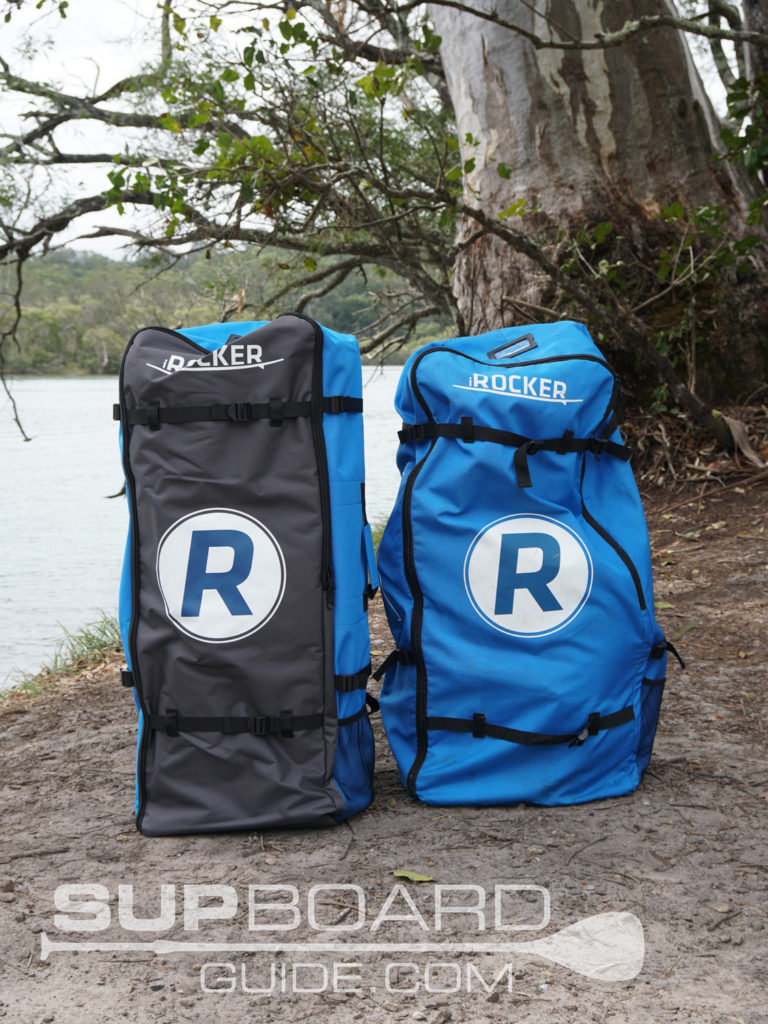 Backpack
Aside from the design, the bag is the same from last years. It's got a new grey front which I think makes it look smarter and extra rings on the front to attach the extra purchase of a kayak seat. While you can still find the same comfortable, supportive straps and handles on all sides of the bags. Inside there's heaps of room for all the gear and the zipper comes down all the way to make it easy loading it in.
As far as materials go, I can vouch for them to say they are strong and reliable. I've only got a few minor tears on the bags from last year and my bags don't just sit in a car boot or cupboard. They are thrown around and used A LOT!
Pump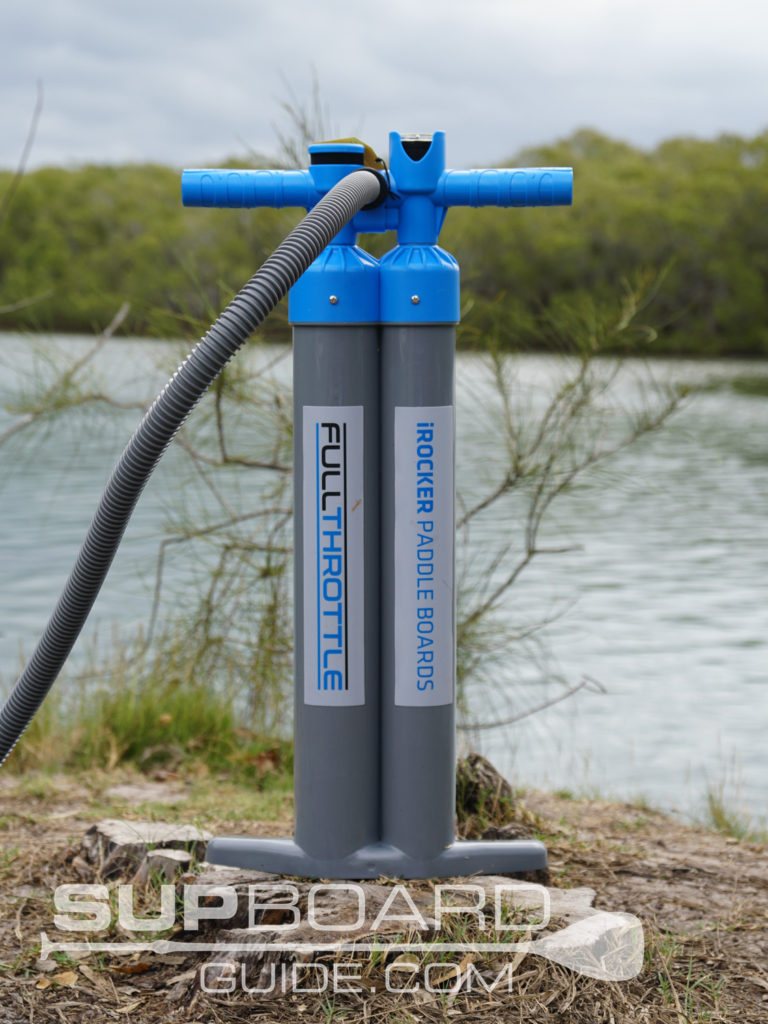 Last year iRocker swapped out their pumps for a double chamber, triple action pump and we were all impressed. That just wasn't enough and they've gone and improved their pump again! It gets the job done 50% quicker and it's also 1.5lbs lighter! It truly is one of the best hand pumps I've used and considering it's included in the package and the price of which the whole package costs, it's amazing!
The design is a little smaller also, making it easier to fit in the bag. Just remember while you pump you won't see a recognition on the pressure reader until you hit 7PSI!
Leash
Securing you to safety if the leash. Same as years before, with being color coded and a comfortable branded cuff. In the cuff you can find a little secret (maybe not now you know) stash spot for your keys, so you can get out on the water without a worry of your car being stolen!
Glad to see they are carrying on with the coiled leash as it does lessen the chances of your cord falling in the water and being caught on something.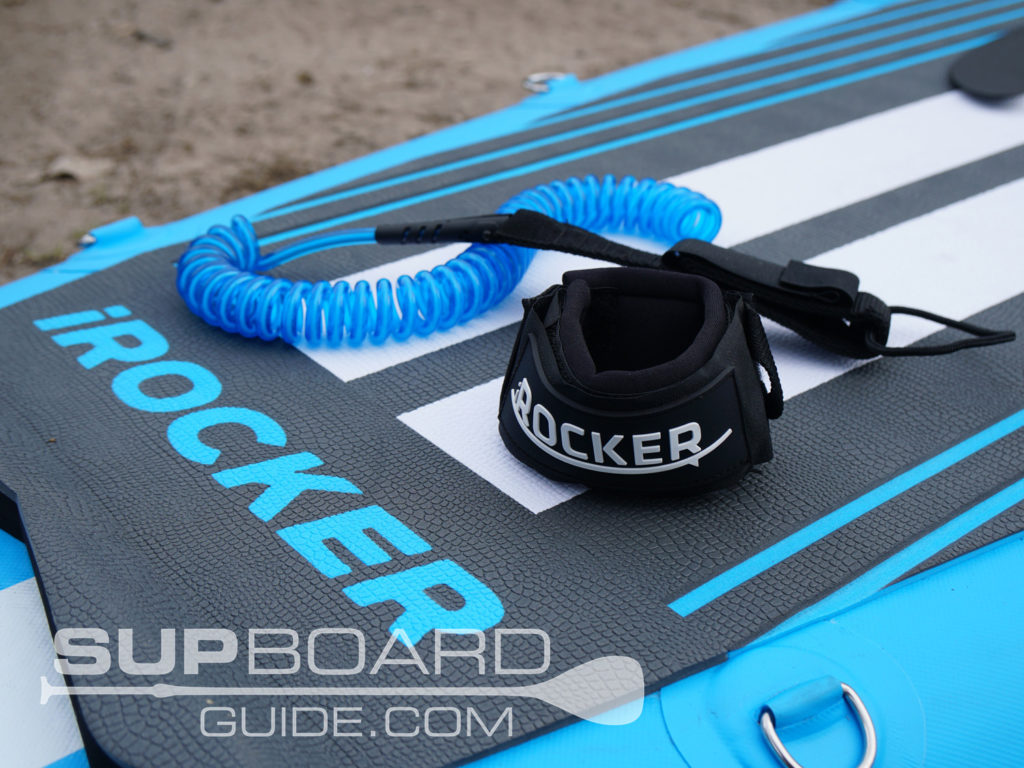 Extras
Waterproof Bluetooth Speaker
This cool little blue ball of fun can store 4GB of your music in it so no need for your phone! It's entirely waterproof, has an attachment point for your board, a suction cap and a little clip to hang it. It bangs a tune out too! No worries if you drop it overboard either, it floats and is entirely waterproof, in fact, it'll continue to even play music underwater. If you are near enough and bluetoothed to your phone you can even answer calls with its built-in mic and caller ID function!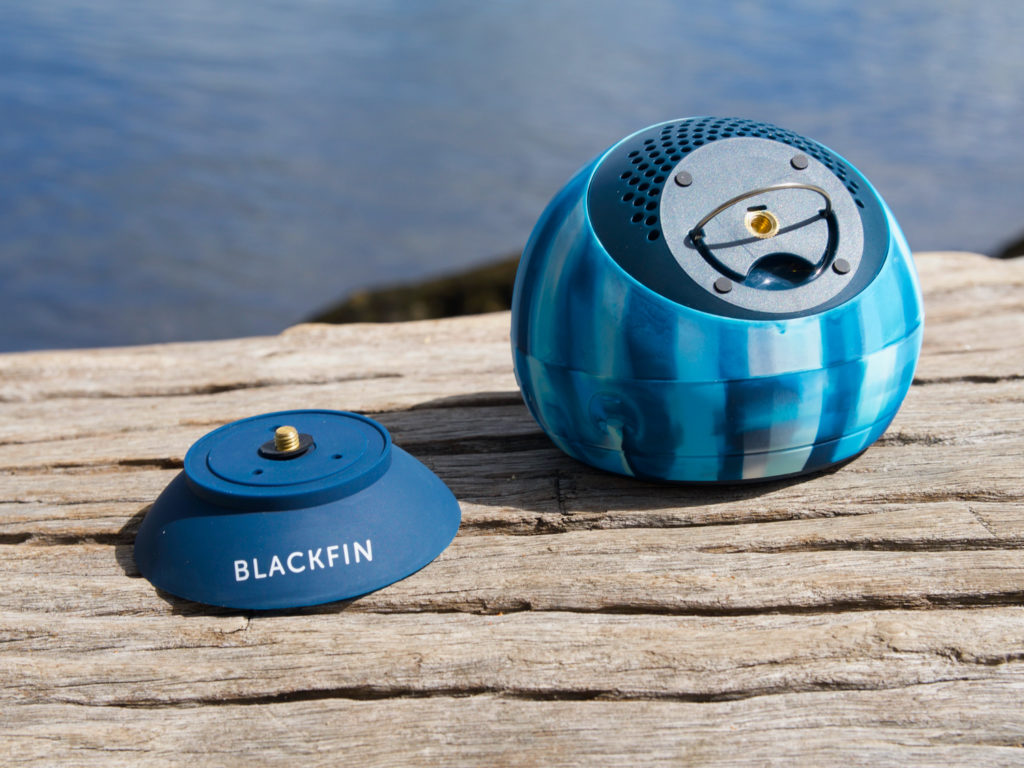 Kayak Bundle (Upgraded from 2018)
You get a seat and an extra blade. The seat attaches to the D-rings on any iRocker or Blackfin board and the blade also made to fit at the end of their paddles. 2019 sees a little bag on the back of the seat.
Go Pro Mount (New)
Never miss that shot of when that bird came and stole your fish!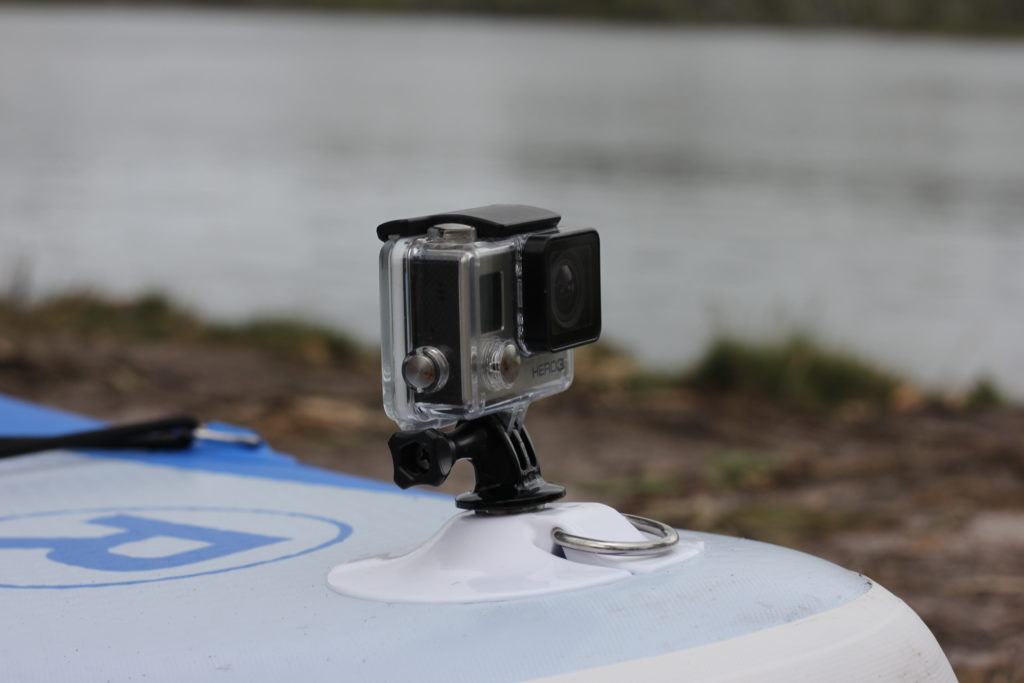 Fishing Rod Holder (New)
Upskill your SUP game with this rod holder.
Deck Bag (Same as 2018)
4 attachment points to clip onto D-rings, this bag keeps things insulated and fresh!
Carry Strap (Same as 2018)
If you have trouble carrying your SUP, this may your answer!
Electric Pump (New)
Attaching to your car, an electric pump is probably the first upgrade any iSUP owner should get. Plug in at the cigarette socket or use the alligator clips! This is THE best SUP investment.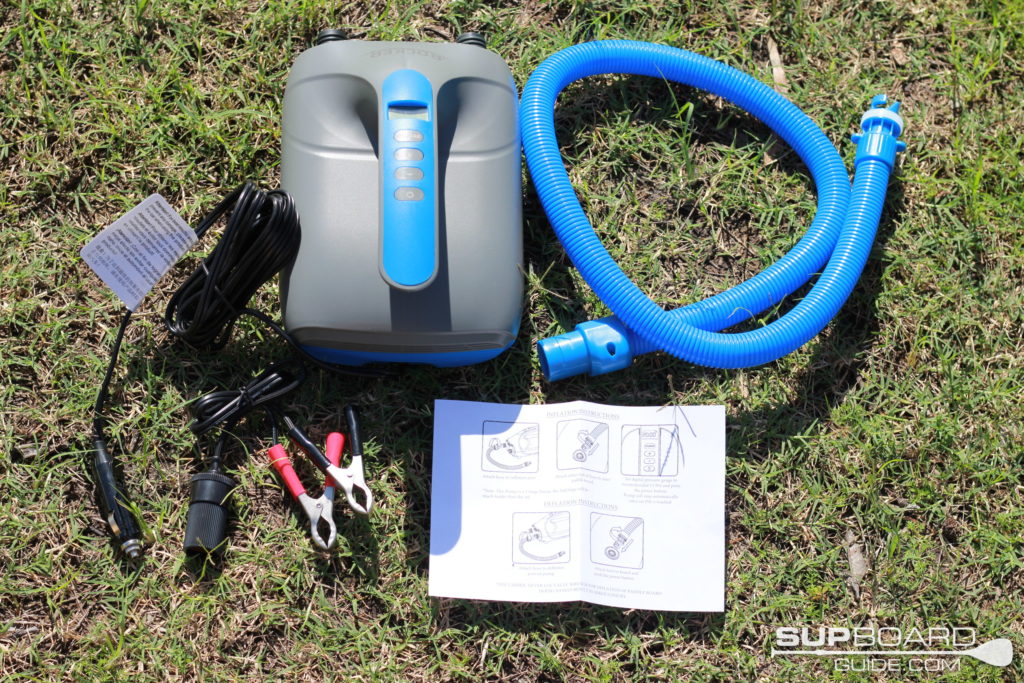 Conclusion
Does a fun, speedy board sound like what you want? Then the iRocker Sport is going to be a good option. If you are looking to cover distances and have either previous SUP experience or are a confident beginner, you will love the Sport. If you are wanting something a bit easier, the Cruiser and All-Arounds are also fantastic options and have all the same epic accessories.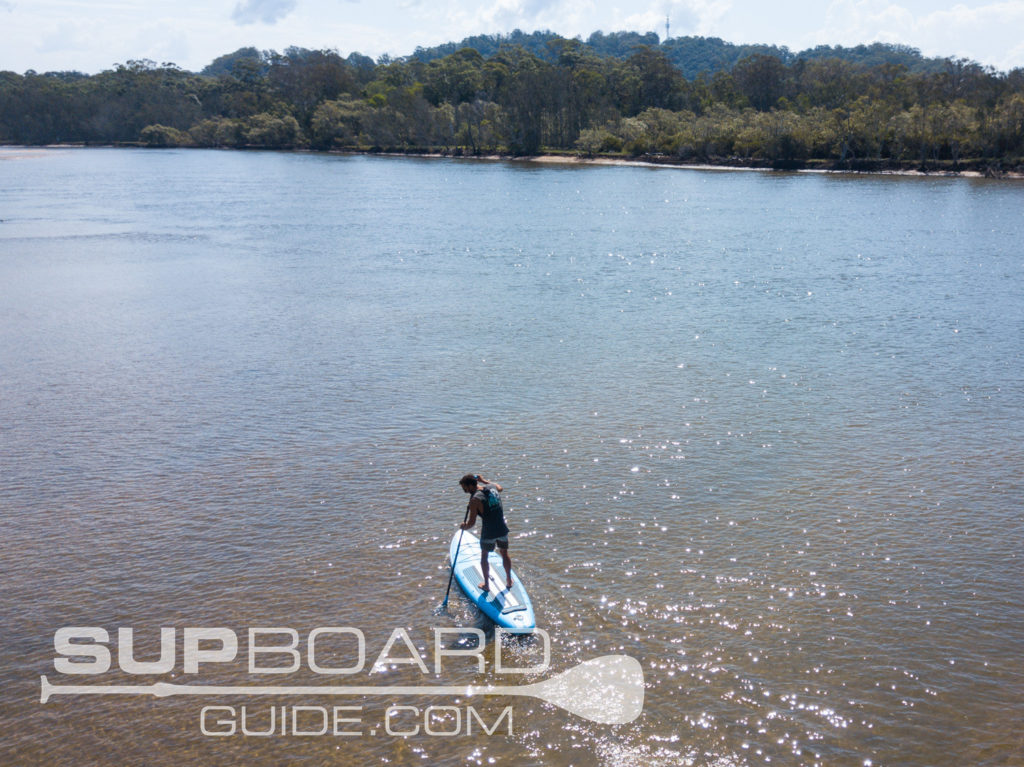 Those who still would like to have a little more stability/weight capacity, the Blackfin range is probably going to be more down your alley.
To make the decision a little easier, iRocker have a 2 year warranty and 30 day cash back guarantee on all products. They've become a big name in the iSUP business and quite quickly with good reason. Aside from being an extremely helpful and friendly team, their products are consistently the best of what you can get at that price.
The following two tabs change content below.
Justin - Chief Paddler
Heyo! At SupBoardGuide.com we are a team who love the water, the outdoors, and are more than grateful that our full-time job allows us to review stand up paddle boards. We paddle year round (it helps that we are just about 2 hours outside of Las Vegas), and we bring in a wide range of paddlers with the goal of providing our readers with the best, most in-depth, and accurate stand up paddle board reviews.
Latest posts by Justin - Chief Paddler (see all)