Gili Meno 12'6 Touring iSUP Review
Pros
Classic touring shape with an extended wide section and a squared-off tail for extra stability
Speedy with a nice glide due to the pointed nose, 31'' width, and minimally squared-tail that reduces drag
Great stability for its size, more than enough to make the board relevant for beginners
Lots of great features including kayak seat holders, paddle holders, with integrated action mounts, D-rings, and multiple grab handles
Excellent rigidity due to the carbon fiber rail system and fusion construction
A comprehensive package of accessories including a dual-chamber hand pump, 3 different fins, and a 3-piece travel paddle
Cons
The tail kick pad could be slightly further back
The paddle blade in the nylon version is quite heavy so we'd definitely recommend upgrading to the carbon paddle option.
Great performance with a bit more stability than your average 12'6 touring SUP, and an awesome array of features too!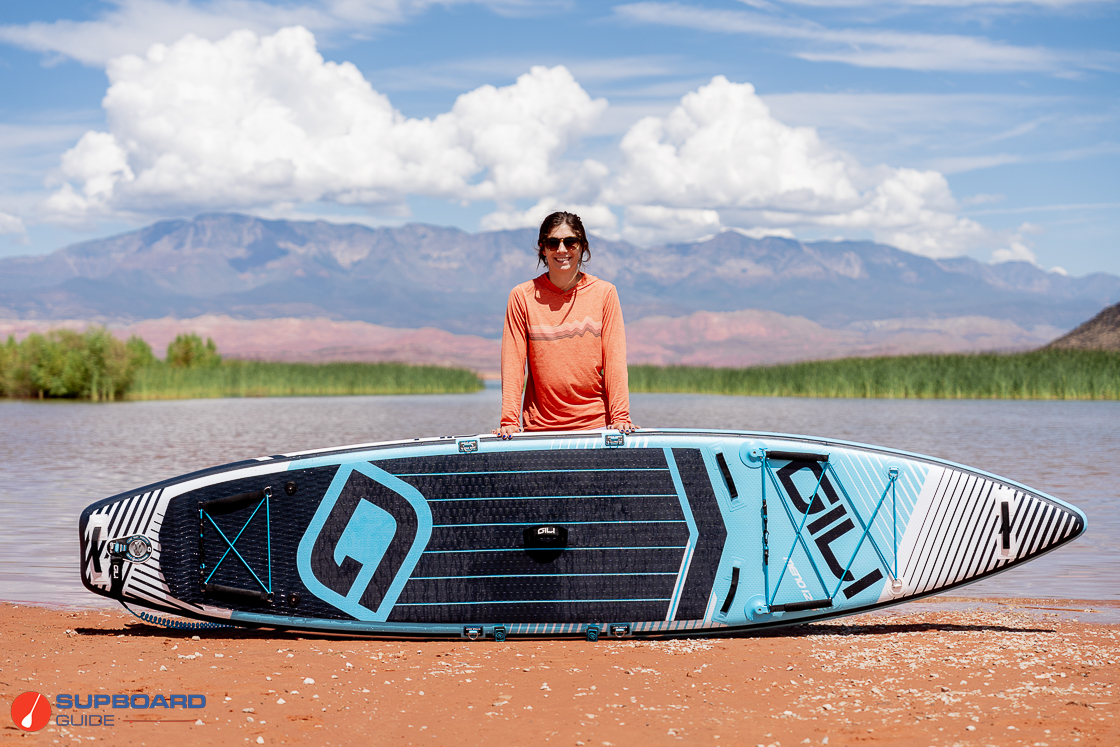 Before we dive into our in-depth Gili Meno 12'6 inflatable paddle board review, let's set the scene. The 12'6 tourer has become a staple of the iSUP market, with pretty much every respectable brand now offering something in this category – so if this is the sort of board you're after, then there's a whole lot of choice out there! Which of course, means it's more of a challenge for a manufacturer to make their 12'6 touring iSUP stand out from the crowd. In this review of the Gili Meno 12'6, we set out to see whether Gili has managed to achieve that with their Meno 12'6 – and we're happy to report that they've actually done a really good job; we like this board a lot! Gili has pulled off a neat trick by making the Meno 12'6 just a bit more stable and beginner-suitable than the typical 12'6 touring SUP, yet without significantly reducing those essential touring qualities of speed and directional stability, as we'll explain in more detail in our review.
We think the Gili 12'6 Meno would be a great SUP for paddlers who:
Are looking for a stable touring iSUP that also doubles as fun for the whole family
Want decent performance for distance/fitness paddling
Like to have a whole lot of features and fittings on their board
Gili 12'6'' Meno: Spec Sheet

Board Category: Touring
Listed Board Dimensions: 12'6 x 31'' x 6''
Measured Board Dimensions: 12'4 x 31" x 6"
Listed Board Weight: 24 lbs
Listed Max Capacity: 24 lbs
Recommended PSI: 12-16PSI
Fins: Click in
Paddle: carbon fiber travel
Board Shell Construction Materials: dual-layer PVC
Drop-stitch type: Knitted
Warranty: 2-years
Performance Review of the Gili 12'6 Meno Stand Up Paddle Board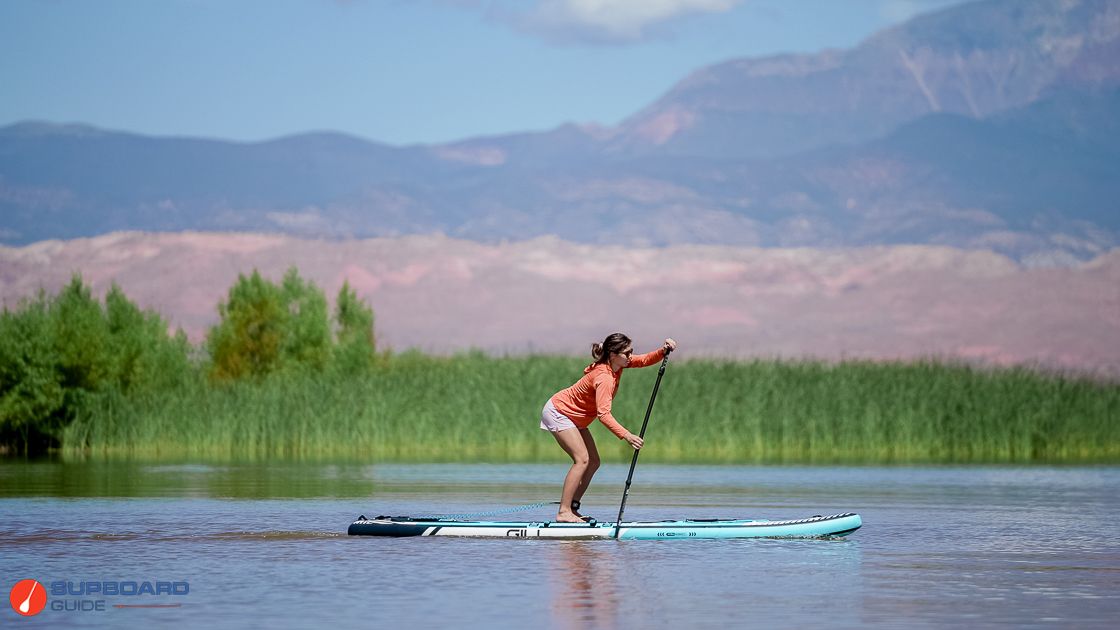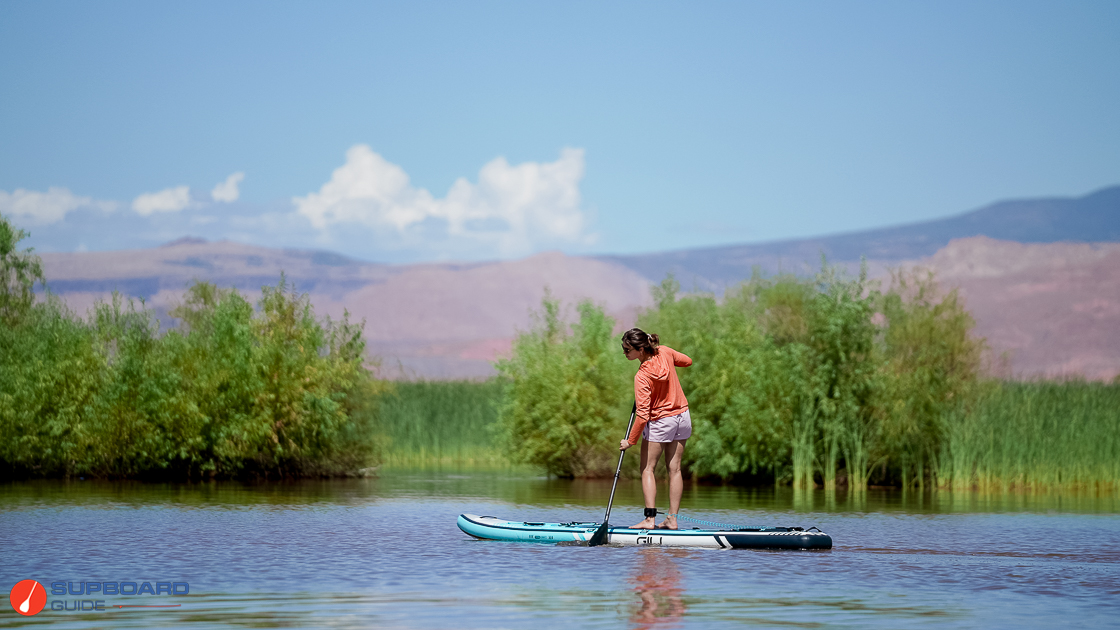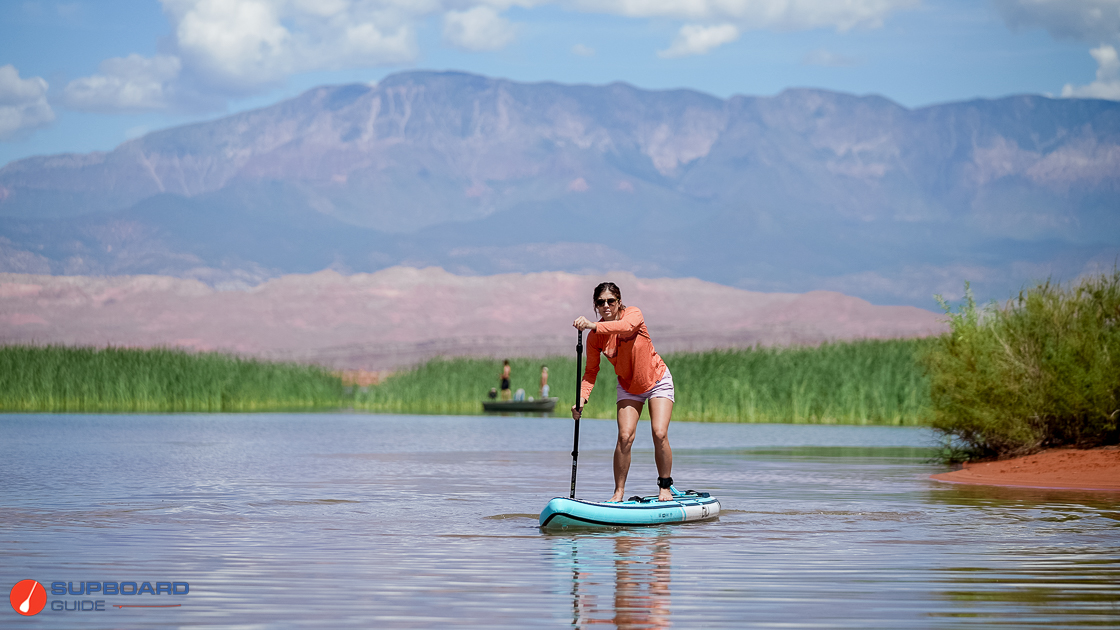 Overall Score: [9.5/10]
Stability: 9.1/10
Speed: 9.4/10
Tracking: 9.3/10
Maneuverability: 8.7/10
Construction Quality: 9.1/10
Features/Accessories: 9.7/10
Stability Rating: 9.1/10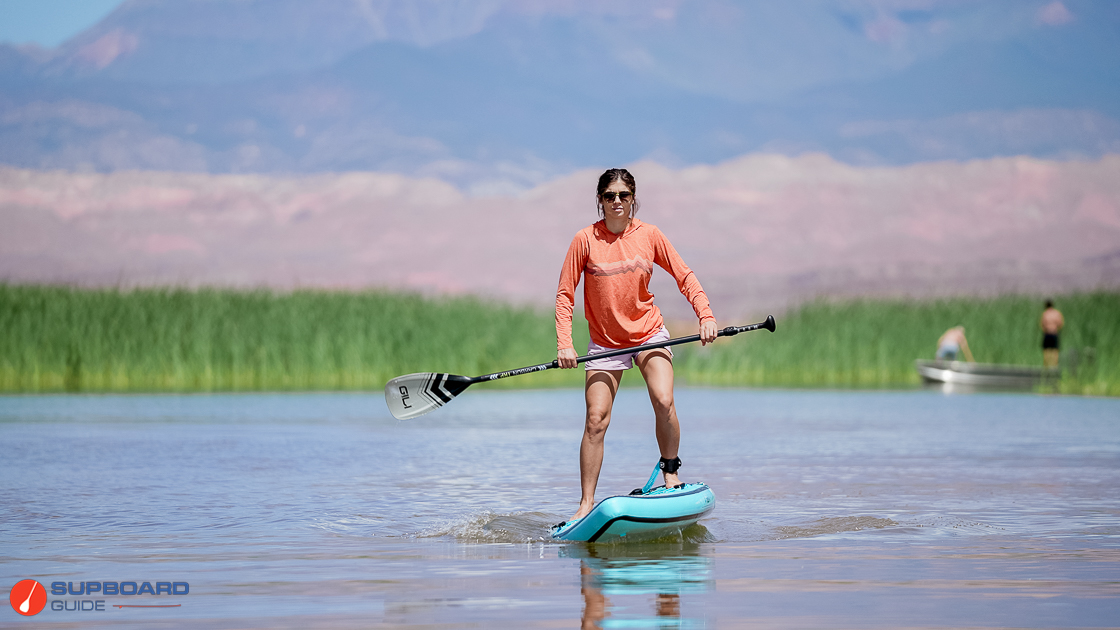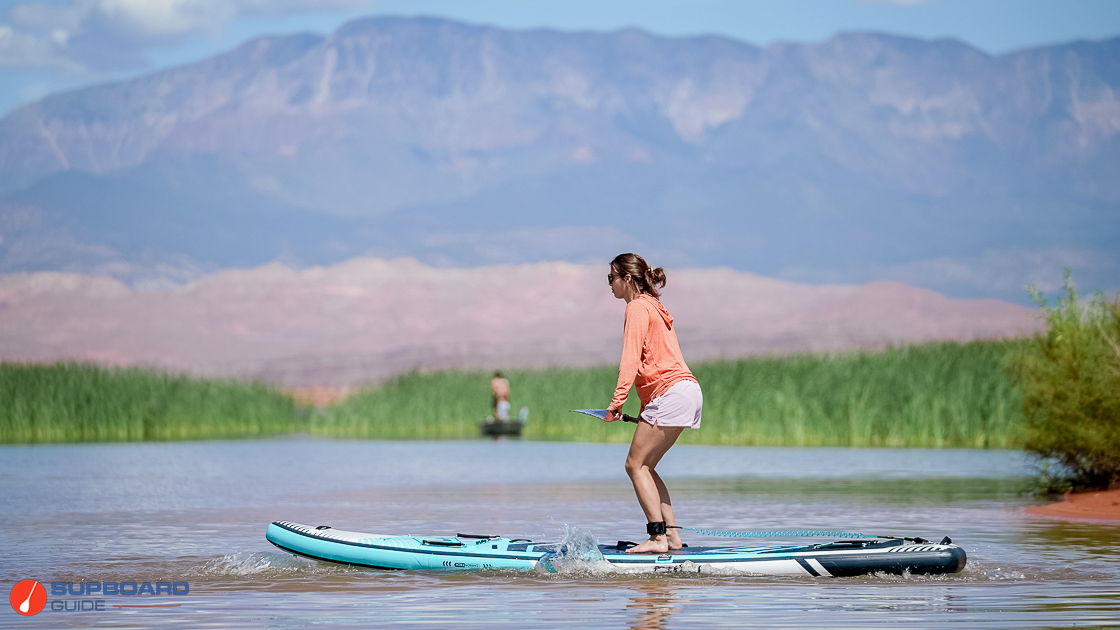 By making the board an inch wider than your typical 12'6 touring SUP, Gili has managed to build a useful bit of extra stability into the design. It feels stable; you can easily move around on it, and we'd be quite happy putting an average-weight newbie paddler onto the board. Indeed, for the beginner paddler wanting a board to progress quickly onto longer distance and/or fitness paddling, the Gili 12'6 Meno would be a very good bet.
The stability is also aided by the substantial wide area, which extends forward of the main standing position, and quite a long way rearwards too. Yet despite all this stability, the board still maintains a lively feel, noticeably more so than you'd find on a 32-34" wide board.
Speed Test: 9.4/10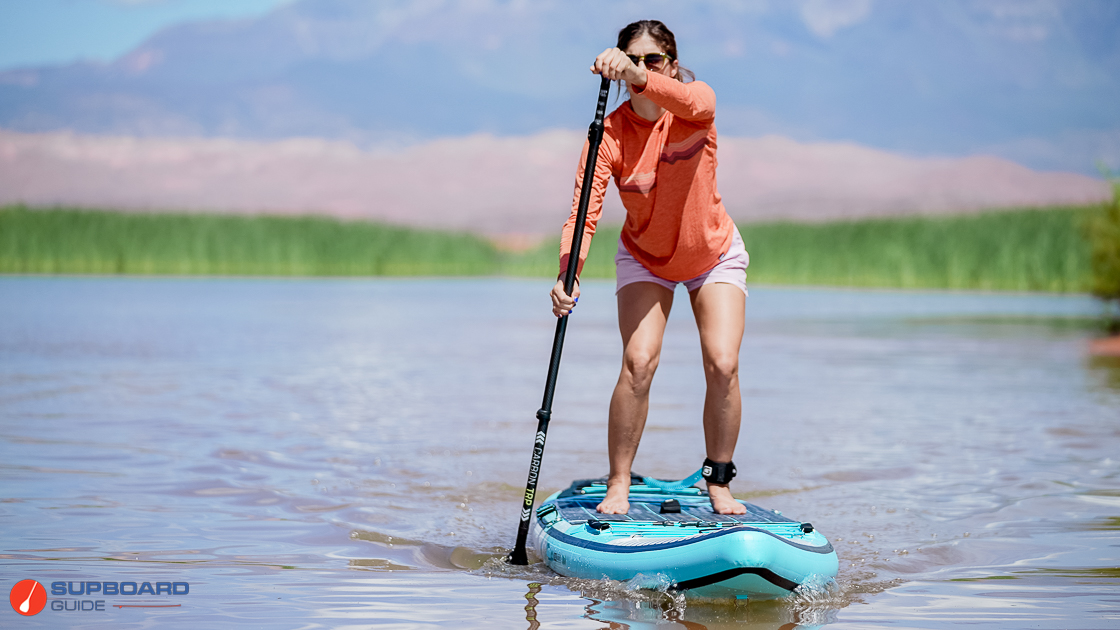 | | |
| --- | --- |
| Gili 12'6 Meno | |
| Top Sprint Speed: | 5.85 MPH |
| Average Cruising Speed: | 5.0 MPH |
SUP Board Guide's Speed Testing:
To obtain our speed test results, we use a Speed Coach Sup 2. This gives us accurate readings on how fast we are paddling and our current stroke rates. For the top sprint speed, we paddle as hard as we can for approximately 10-15 seconds and then record our average speed. For the casual test, we paddle at 35-40 strokes per minute for approximately 30-60 seconds and record the average speed.
Considering the extra inch of width that Gili has built into the design of the 12'6 Meno, we were very impressed with its speed performance. It cruises very nicely through the water, the nose is well shaped and has just enough rocker to keep it clear of the bumps. The board feels stiff and light, and it's easy to maintain a very good cruising speed – the 5.0mph is an excellent result, right up there with the best 12'6 touring iSUPs we've tested. We're certainly happy to recommend this board to the paddler wanting a board for fitness work and generally faster paddling.
The plan shape is really nicely designed to maximize stability without reducing the speed potential. We feel that they've got the board shape just right – the nose shape is really good but actually a lot of the less obvious good stuff is happening back in the tail area, which is just the right width to give that square-tail stability, yet without creating too much drag in the board release.
Another factor which plays a part in the good speed delivered by the Gili 12'6 Meno is the fin box positioning, which is about as close to the tail as it can be. Most brands prefer to locate the fin box further forward because it makes it easier to roll the board up, but for maximum speed and tracking performance, having that fin a long way back definitely delivers the goods, particularly on a board of this style.
Tracking: 9.3/10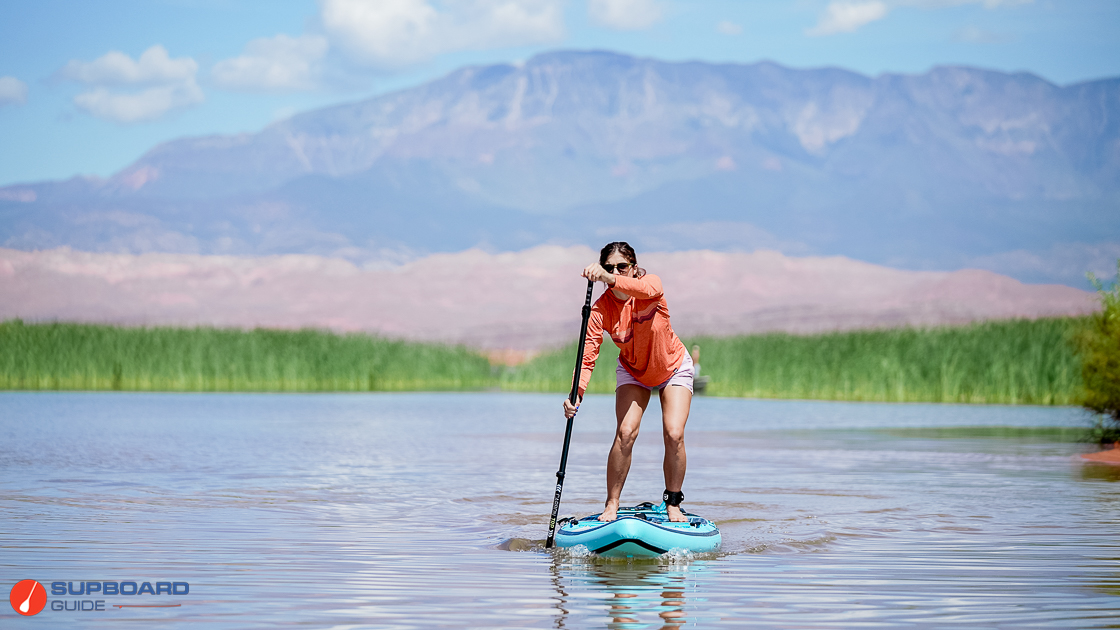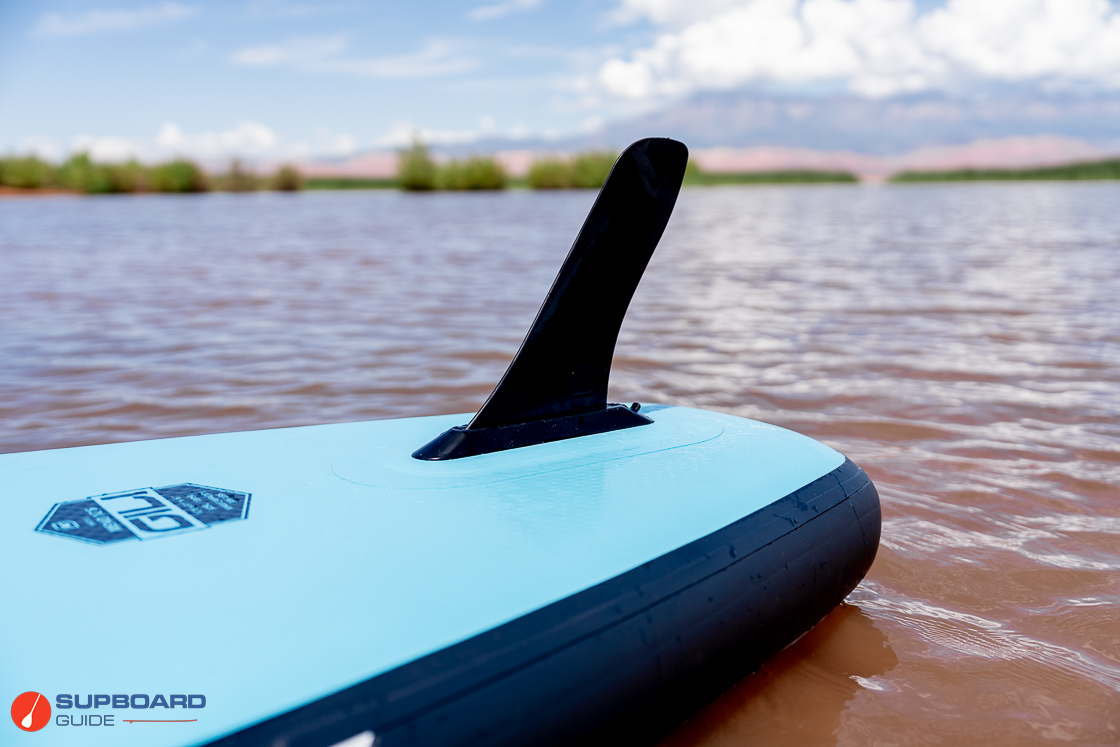 The plan shape of the Gili 12'6 Meno again delivers great performance in this department. A 12'6 board should track pretty well anyway, but when you introduce extra width into the design there is always the risk that it will loosen up the board's line through the water. However, the square tail and relatively parallel sides do their job nicely to keep the board on course. The 9" touring fin that the board is supplied with does its job well too, but more significant is that rearward placement of the fin box, which plays a big part in keeping the board locked in.
Maneuverability: 8.7/10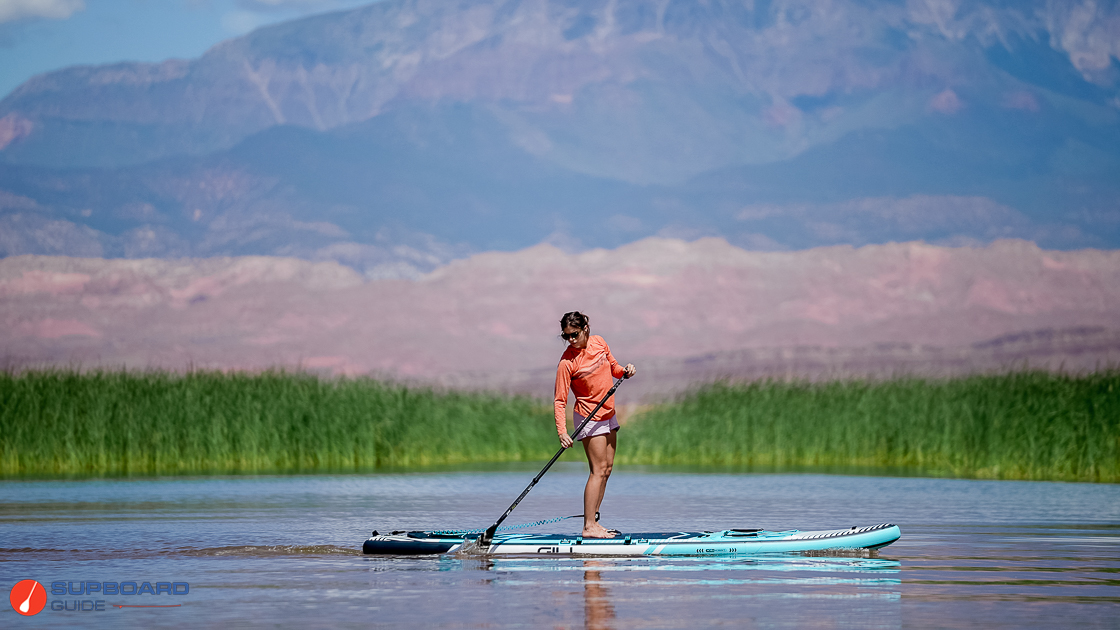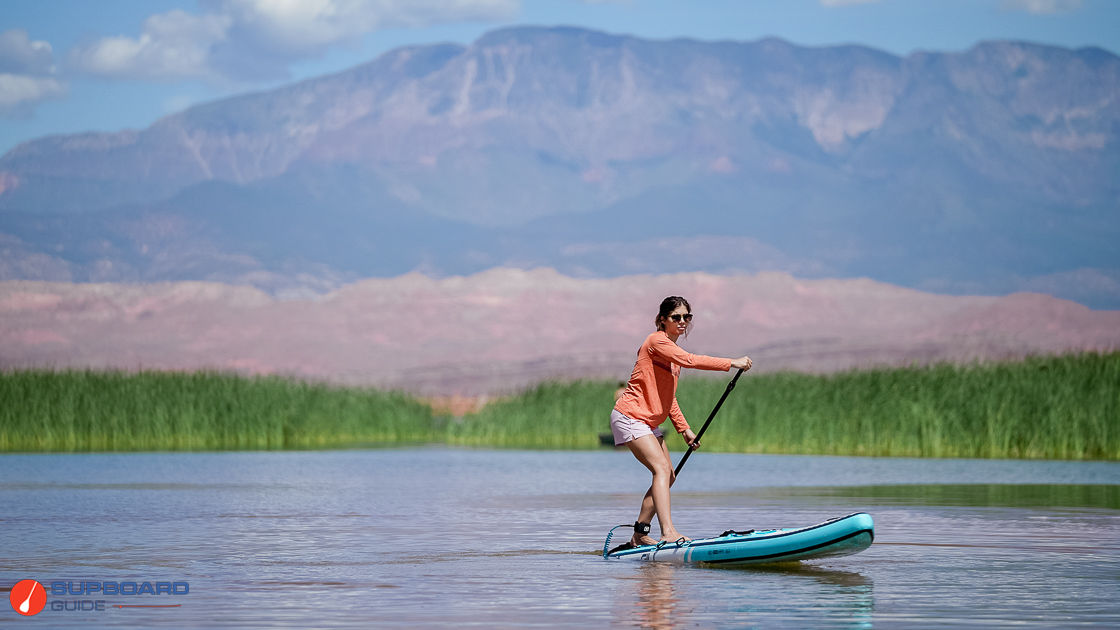 No-one is buying a 12'6 board for maneuverability; turning a long board quickly requires more advanced techniques such as cross-bow draw strokes, or step back turns. If you know how to do these, you can turn any board reasonably quickly, so what it then comes down to is how easy the board makes it for you. The Gili 12'6 Meno scores reasonably well in this department because it has a light, snappy feel to it, which encourages you to go for more punchy turns. It's nice and stable for walking back to the tail, and the kick pad feels comfortable underfoot. Because the fin box is positioned so far back, the kick pad isn't quite rearward enough to be directly over the fin, so it's not the very best at really fast pivot turns, but this is a pretty minor point – the ease of moving around on the board largely makes up for this in terms of comfort and fun anyway.
If you're not yet up to more advanced turning techniques, and find the board a bit slow and reluctant to turn using normal sweep strokes, then it would be worth trying the 4.5" fin which will loosen the tail up a bit and allow the board to turn more easily.
Construction Quality: 9.1/10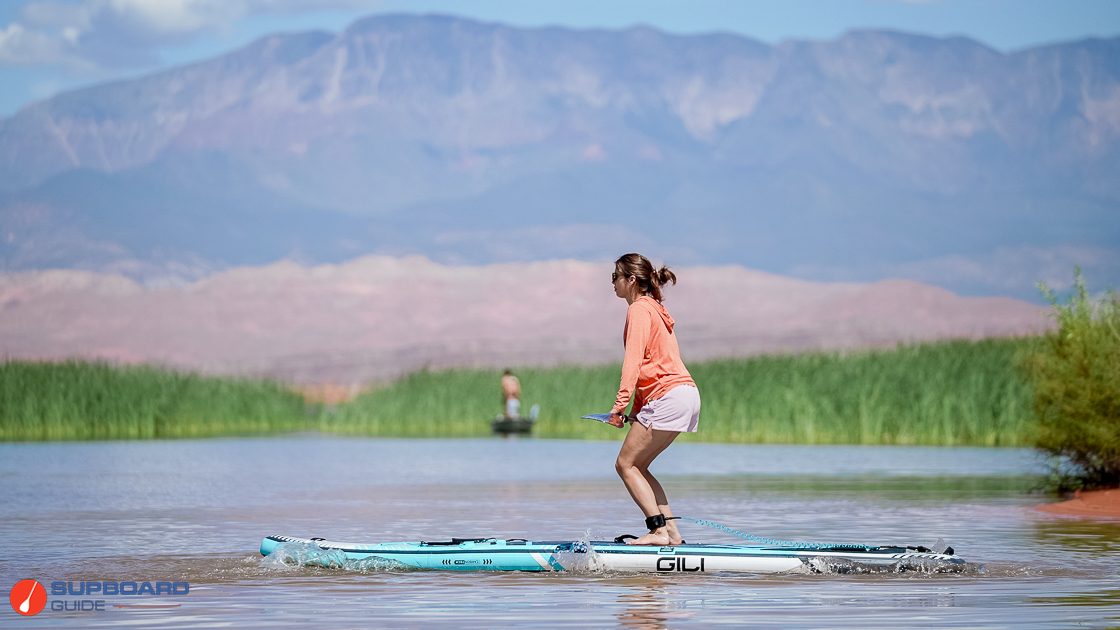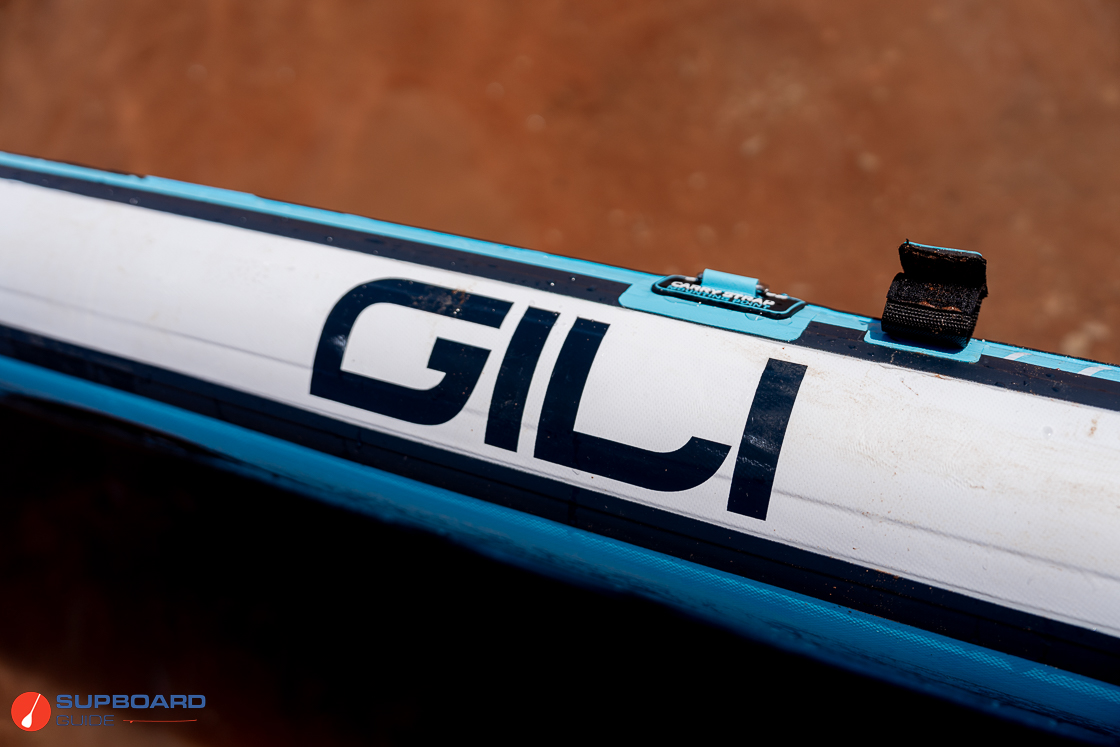 The Gili 12'6 Meno features 'fusion' construction, whereby the two PVC layers of the outer skin are laminated together using heat and pressure, which removes an entire layer of glue, creating a considerable weight saving compared to traditional double-layer boards. The drop stitch core is of the knitted variety.
Gili are clearly proud of their 'Carbontech' stiffening system, a fairly substantial layer of carbon fiber material is added to the rail on each side, extending from just about where the nose rocker starts, right back to the fin box, and then covered by a protective extra layer of PVC cloth. So this plays its part in significantly stiffening up the main weight-bearing area of the board when it's inflated, and adds a lot of extra general protection to the rail area too.
Overall the board feels well made, and comes with a 2 year warranty.
Board Stiffness: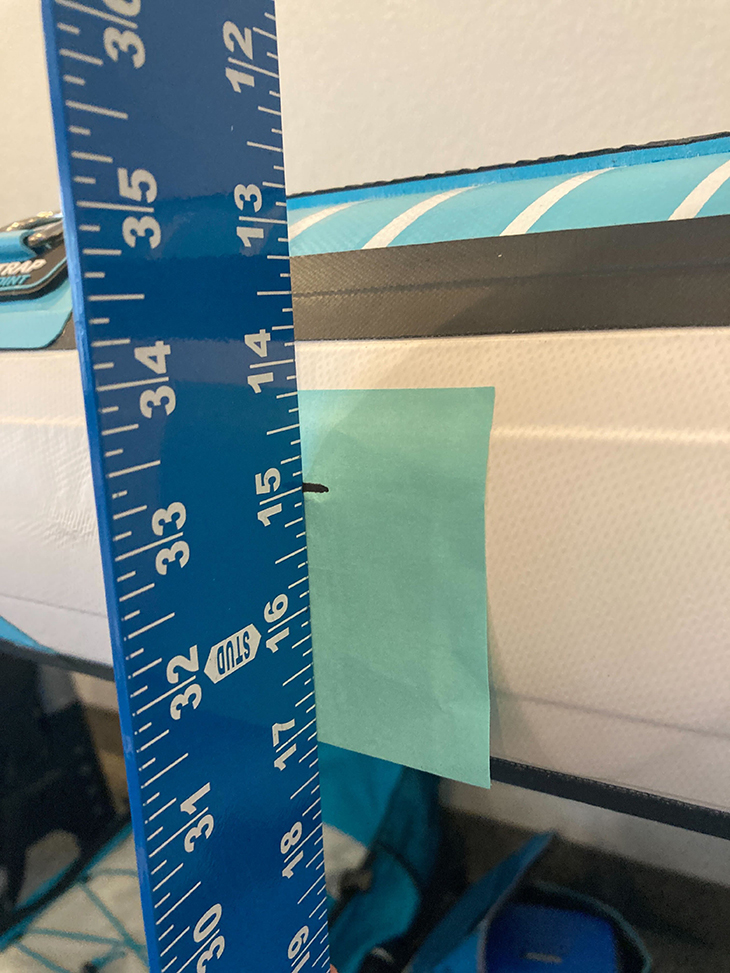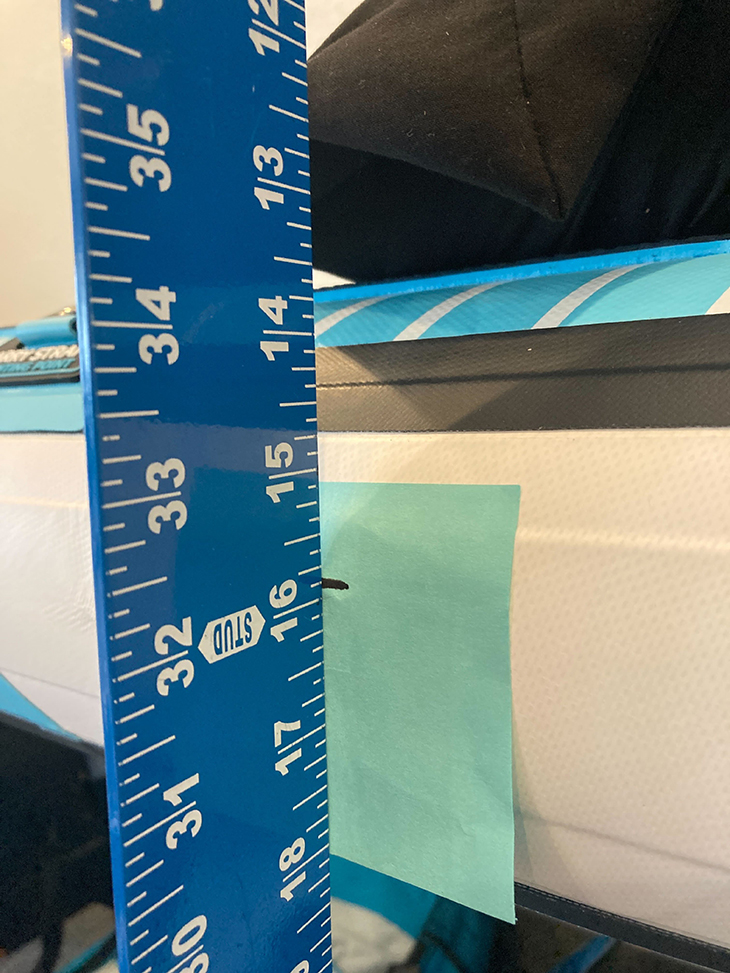 Stiffness Test: 0.875" Bend
SUP Board Guide's Bend Testing:
In order to attest to the rigidity of each board, we use a bend test curated by Supboardguide. In order to obtain the results, we inflate the board to its maximum recommended PSI and then place it across two sawhorses that are 7 feet apart. We then take a measurement in the middle of the board. Then, we place 150 lbs worth of sandbags on the middle top of the SUP. Last, we record its displacement (the movement from its original position). We use this method for every board we test as a way to mathematically compare boards across a common denominator.
The amount of bend recorded in our deflection test on the 12'6 Meno is just under an inch, which is a good result for a 12'6 x 31" design. The board feels comfortably stiff on the water; it has a pleasingly light, snappy and immediate feel to it, with no noticeable sag or bounce. You would definitely feel comfortable putting a decent amount of cargo on board.
It's always useful to consider where the stiffness is coming from in a design. The Gili construction is 'normal', inasmuch as it isn't boosted by woven dropstitch, nor is it set up for a higher-than-average internal pressure (we had the board pumped to the recommended maximum of 16PSI for the test.) So the stiffness is primarily coming from the plan shape, with the cleverly distributed width, and those Gili 'carbontech' rails will also be playing their part in preventing flex.
Features/Accessory Review: 9.7/10
Features:


Starting at the rear of the board, the diamond grooved deck pad on the kick pad and general tail area is very comfortable and grippy underfoot. As mentioned elsewhere, the kick pad is not actually directly over the fin box, because the fin box is located a long way back on this board. The deckpad could extend a little bit further back, so Gili might want to look at that for future adjustments. It's a very minor point though, and only a consideration if you're a hardcore step-back turn afficionado!
The tail area boasts 4 D rings, set up with longitudinal handles and a bungee, and 2 action mounts. The bungee terminates in plastic hooks at each end, so it can quickly and easily be removed, which is a really good idea. Indeed, unless you're planning on doing a whole lot of touring you might just want to remove that rear bungee anyway until you need it, as it gives you a whole bunch more uncluttered deck area.
Moving forward, as we get to the main standing area, we find four heavy duty fixings to allow a kayak seat to be fitted to the board, and also a pair of velcro paddle holders on the right hand side. The deckpad in this area is less aggressively gripped, with the Gili logo embossed into the rubber rather than the raised diamonds. Nevertheless it's still very comfortable and gives good traction underfoot. The longitudinal grooves allow for easy drainage of the deck area.
Forward of the main standing area, we encounter a whole bunch more fixtures – this board is undoubtedly extremely feature-rich! There's a pair of hang-on handles for a passenger to hold onto, and then another 6 D rings, bungees and longitudinal handles, plus another 2 action mounts. (Gili sells a range of options that fit into these action mounts via their website, including GoPro mounts, fishing rod holders and cup holders).
The board certainly allows for a whole lot of cargo carrying, really befitting its potential as an adventure board for paddling longer distances, multi day trips, that sort of thing. We'd like to see the front cargo area moved just a few inches further back so it's not pushing the nose down when loaded heavily, but again this is just a minor point.
We're not totally sure what the role of the longitudinal handles would be – they're not positioned in places where a passenger would tend to sit or want to be holding on, unless you're going for the good old how-many-kids-can-we-get-onto-the-board summer fun stuff, in which case you can never have too many handles! But maybe we're missing something else, so do let us know if you've got this board and found them useful!
Finally, as well as the well-padded center handle, there's also a basic non-padded handle at the nose and tail for carrying the board. We'd suggest that Gili might want to upgrade these to a more padded version, for carrying the board when it's fully loaded.
On the underside of the board, there's a steel D ring under the nose for towing the board, and the fin box at the rear is the 'snap lock' click-in style, rather than the US box style. There's no doubt that these click-in style finboxes really are extremely easy and convenient to use. The downside to not having a US-box is that you can't use higher performance fins; but as Gili provides no less than 3 different fin options with the board and they also sell a variety of other options you're well covered.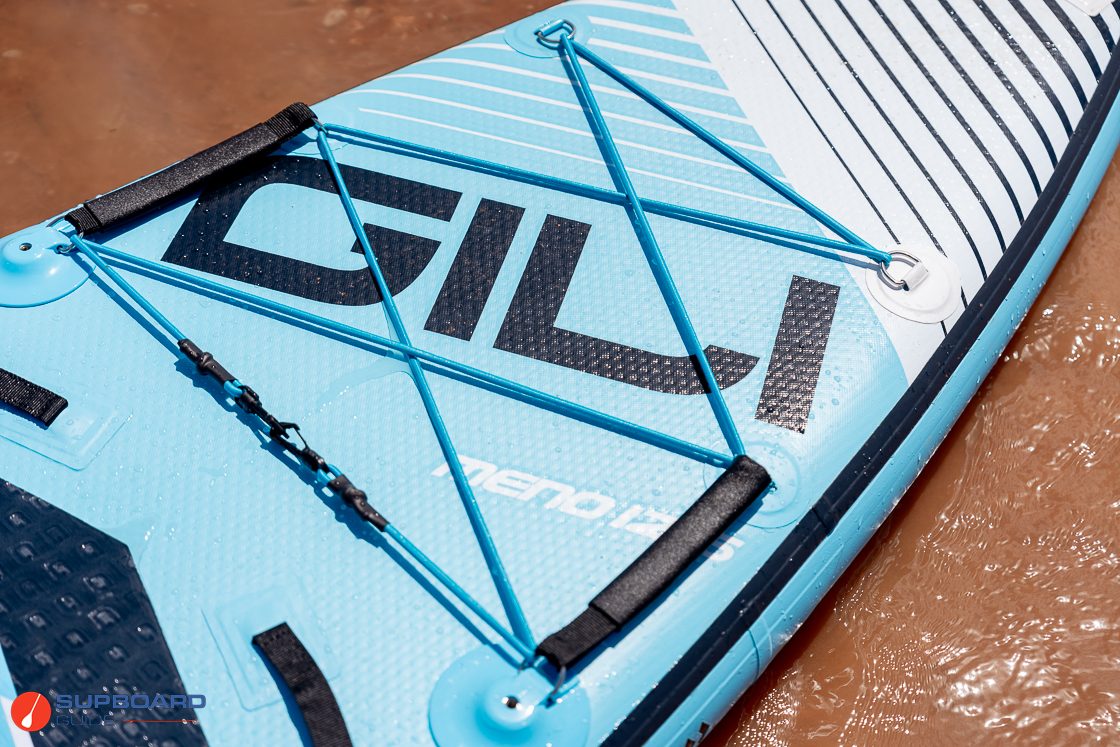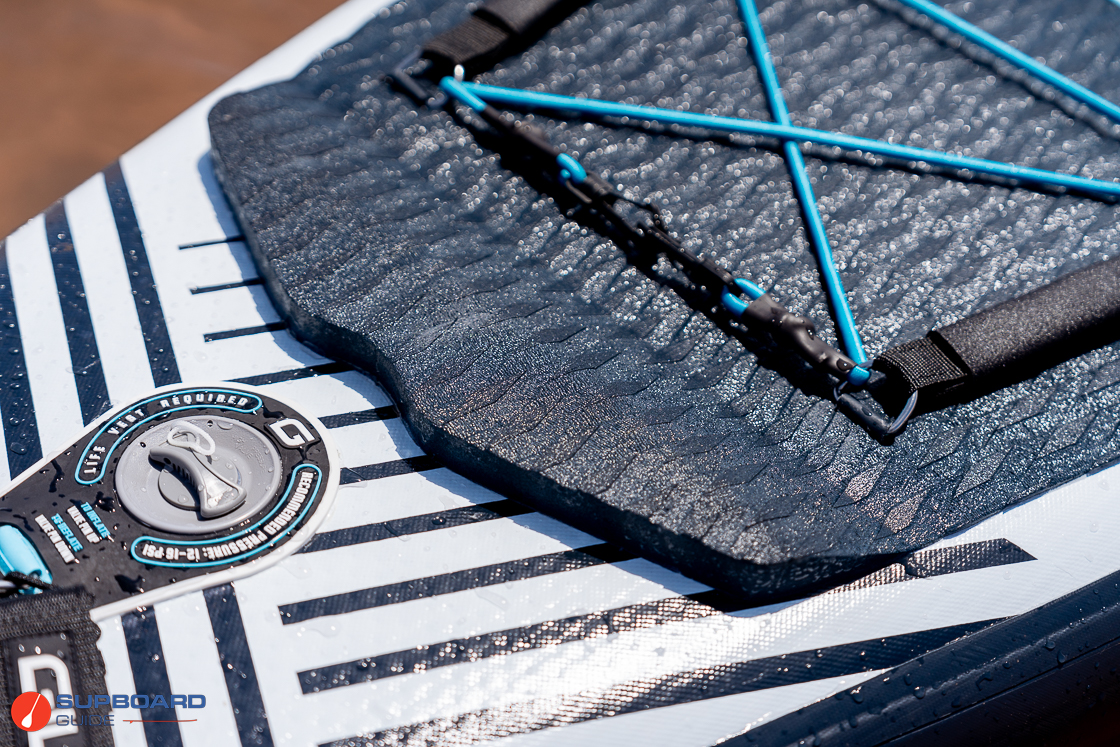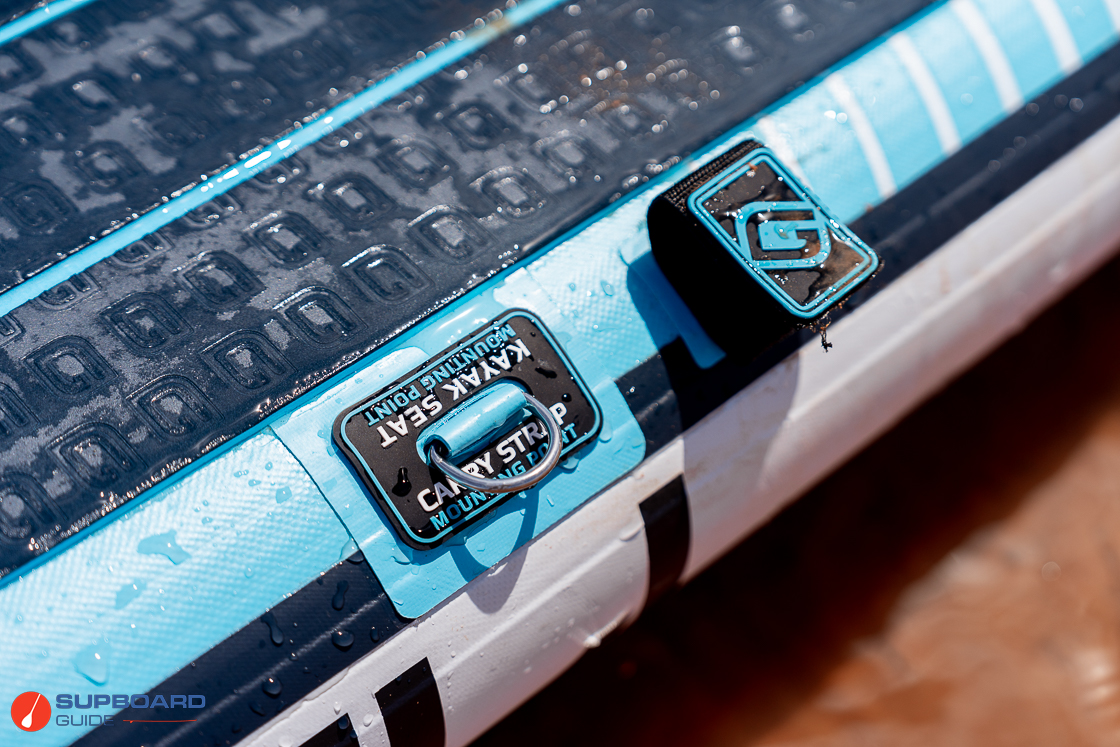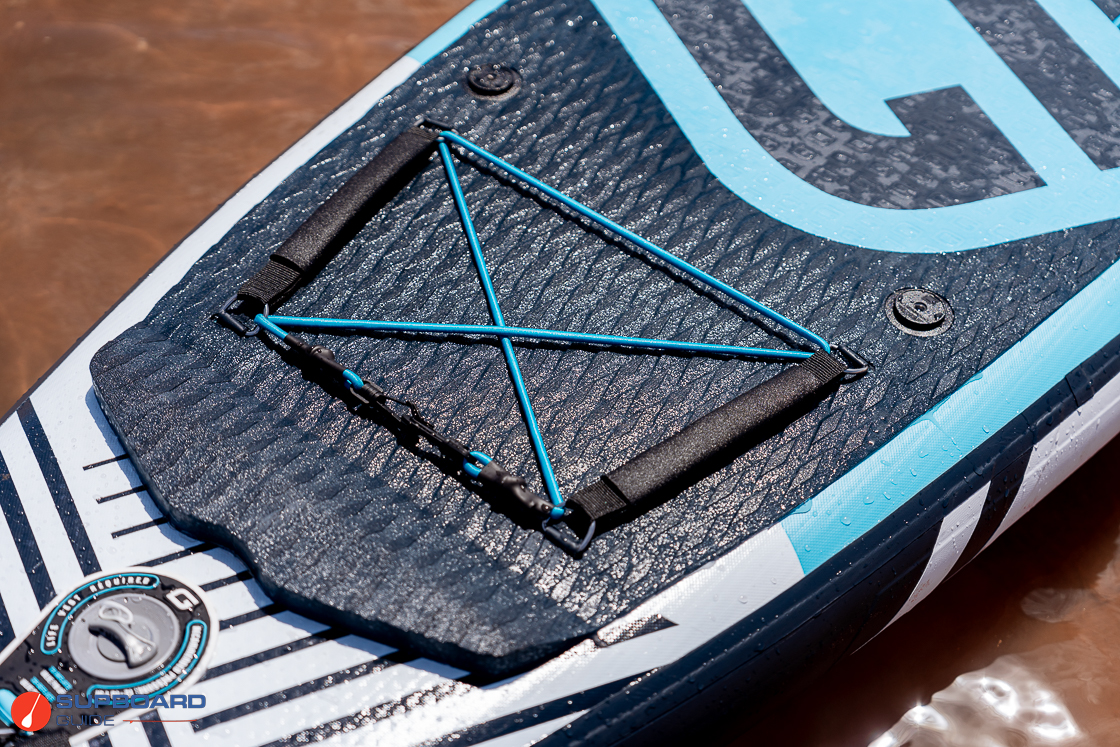 Included Accessories: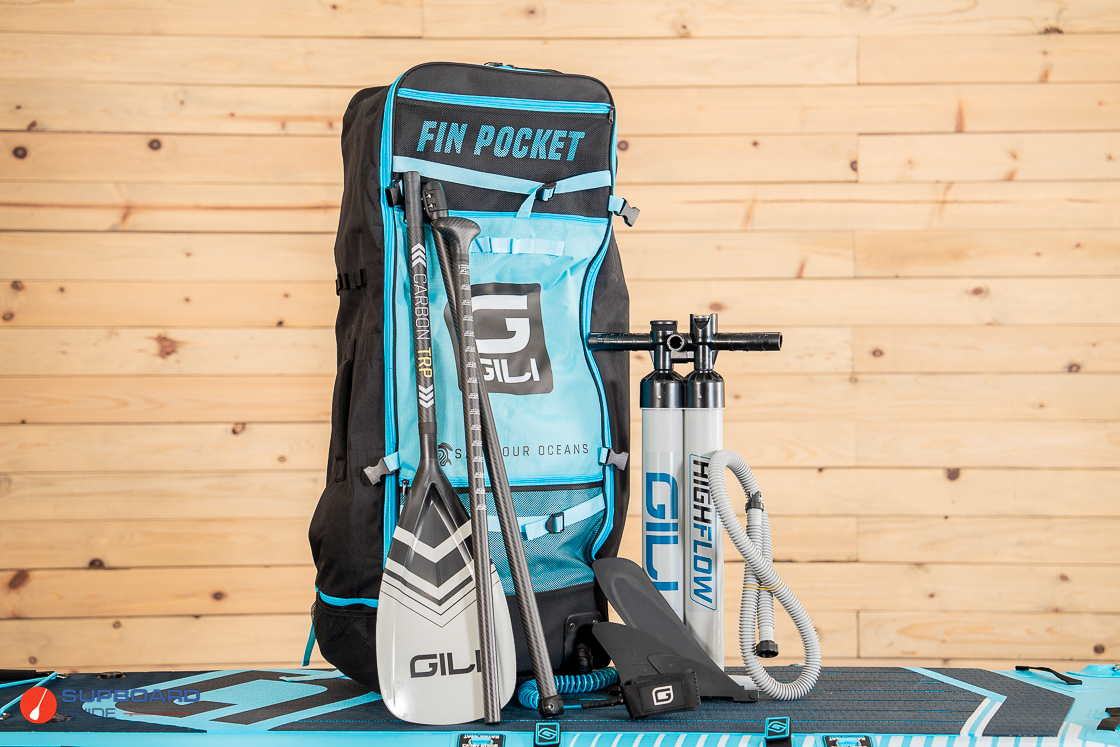 The Gili 12'6 Meno comes with a decent set of accessories, all presented in a generously sized and feature-rich bag with wheels. (We always appreciate wheels on a boardbag!). The choice of three different fin options (9" touring, 4.5" allround, 3" rivers) is a very nice touch. The dual chamber hand pump cleverly allows you to switch between three different inflation modes (maximum inflation, medium pressure and high pressure), keeping it easy as you get up into those bigger PSI numbers.
The 3 piece paddle is fairly light, easy to assemble, and available with either a nylon or carbon blade. The coiled leash nicely matches the color scheme of the board.
Summary Review of the Gili 12'6 Meno – 2023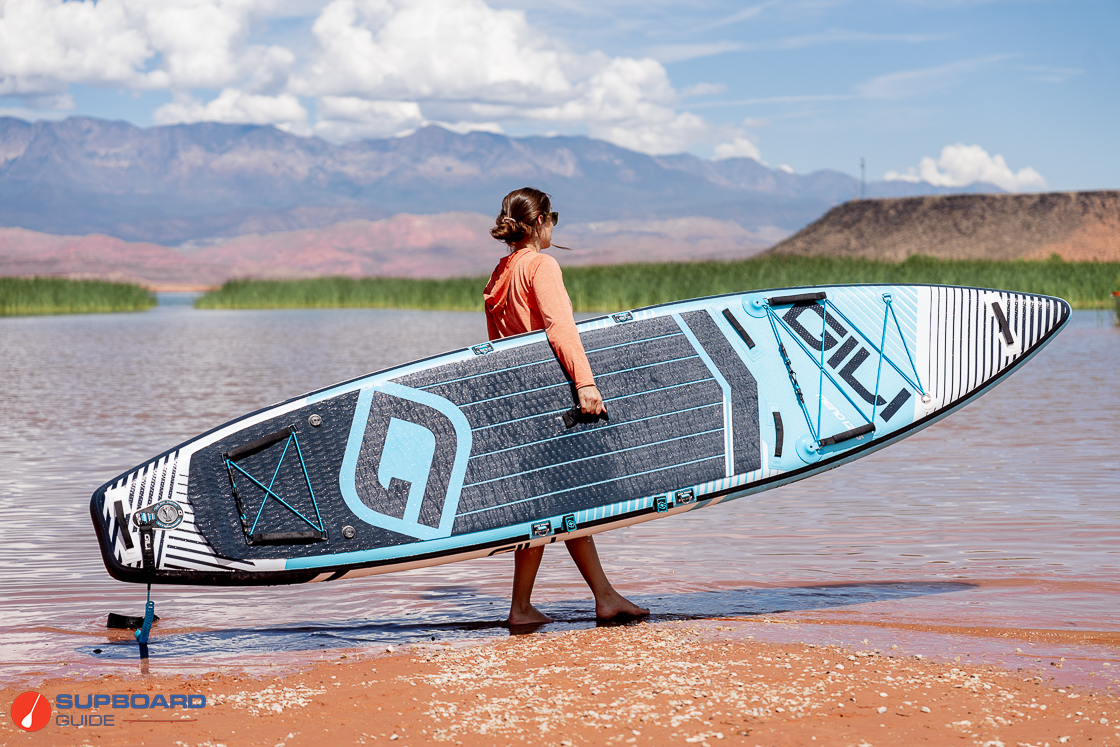 Overall, we like the Gili 12'6 Meno a lot. It's a very intelligently designed take on the 12'6 touring board, offering plenty of performance but plenty of stability too, along with a really impressive array of features, fittings and fixtures. It will be a great choice for the ambitious beginner, or indeed anyone wanting an all round board for fitness and fast paddling, but also very capable of loading up with cargo and/or family members. So it could work very well as an all-round family board too.
The board is backed by a two year warranty, and Gili also offers a no quibble 60 day return period (with a full refund minus 20% restocking fee) if you decide it's not the right board for you, which is always good to know. They also donate a portion of each sale to a charity that helps our oceans, coral reefs, and endangered sea creatures
Happy paddling! We hope you enjoyed this review of the Gili 12'6 Meno. If you have any questions or comments please leave us a comment below!
The following two tabs change content below.
SupBoardGuide
Heyo! At SupBoardGuide.com we are a team who love the water, the outdoors, and are more than grateful that our full-time job allows us to review stand up paddle boards. We paddle year round (it helps that we are just about 2 hours outside of Las Vegas), and we bring in a wide range of paddlers with the goal of providing our readers with the best, most in-depth, and accurate stand up paddle board reviews.
Latest posts by SupBoardGuide (see all)