Why Storage Is Important
Your board is at its most vulnerable between your SUP outings. This is the time it needs some tender loving care, especially the deck-pad. Excessive heat, moisture, or cold can cause some serious damage to the board. Enter: Storage.
The way you store your board is directly proportional to its performance on the water. Master storage and you will have a paddle board that can probably last a lifetime. And that is exactly what I am gonna help you with.
The S To E Of Storage
There was a time when I made elemental mistakes with storing my board. What helped me out was the advice I received from fellow paddle-boarders and some research on the big G (Google). This post is my own way of distilling the information and passing it forward. First up, different kinds of storage…

Racks, Racks, And More Racks
If there was one word to define SUP storage, then it probably would be racks. You will find a variety of them, and then some more. This is not without reason. Racks are one of the most sound, secure ways to store your board. Here is a quick look at the different kinds:
Ceiling Racks
This will keep your board up and away from any trouble. When placed at a comfortable height, it provides one of the quickest and easiest ways to unmount your board and be on your way. I suggest a ceiling rack in a well-maintained garage or carport. This way, you can just pick up the board, mount it on the roof of your car and ride away to the beach. The picture below shows the COR SUP Rack. It's a really cheap and good option that can be used as a wall or ceiling rack.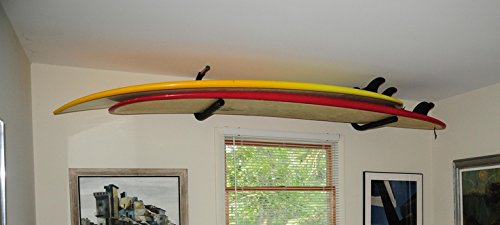 Wall Mounts
Have you ever thought of displaying your beauty of a board and impress visitors? Then you should go for wall mounts. Better yet, have it right in your living room as a centerpiece! Your board will love the cozy, dry conditions inside your room; and you will love the praise you receive from guests. The one on the picture can hold two boards at once and is ideal for a garage. If you really want to show off your board the Naked SUP Storage Rack seems to be a great option.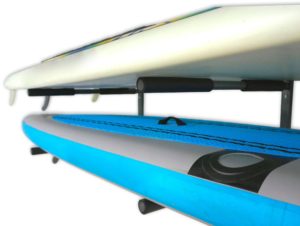 Personalized Display Racks
This is for the arty. You can personalize the rack with prints and designs. Show off your art skills and leave your signature behind. Tell the world how much you love your board and SUP.
Board Bags
They are indeed a good way to store your board, and they do offer protection from the elements, especially moisture and dust. Since the bags are wide and spacious, you can store your SUP accessories in them as well.
But I like to think of board bags as only a secondary storage option. The reason being that the bags cannot be used for an extended period. It could affect the deck-pad and the core of your SUP. Now there are people who will say otherwise. In my humble opinion, racks are the best form of storage.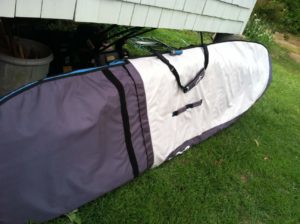 SUP Straps
The new kid on the block. They are a bit like racks in functionality; the difference is that you have a pair of straps that hold your board in place. This is a good option for those who are not comfortable with racks. An added advantage is that the straps will hold the paddle along with the board.
Off Season Care
Some paddle-boarders may chuckle at the idea of an off season. There is hardly any month when they are not out on the water. But for the rest of us, the cold winter months may be the time we take a break from SUP. An offseason can be the ideal time to service your board. Repair any damages, add a fresh coat of wax, maybe even do a makeover for the board with a new look or design.
Storage during the cold months is critical. It is best if you can bring your board inside your home and keep it dry and warm. A clean garage or tool shed will do too; just ensure that moisture or excessive wind does not creep into the room.
A Final Piece Of Advice
You may have heard this before, or read it on another blog, but it is worth repeating. Don't store your boards in the bubble wrap.
It is natural to think that the original wrapping of the board can be its ideal protection. It is not. Period. The plastic wrap tends to stick to your board, especially if the weather is warm and sunny.
That's a wrap folks. Store your board and protect it from harmful elements.
The following two tabs change content below.

SupBoardGuide
Heyo! At SupBoardGuide.com we are a team who love the water, the outdoors, and are more than grateful that our full-time job allows us to review stand up paddle boards. We paddle year round (it helps that we are just about 2 hours outside of Las Vegas), and we bring in a wide range of paddlers with the goal of providing our readers with the best, most in-depth, and accurate stand up paddle board reviews.

Latest posts by SupBoardGuide (see all)